Here at Fast Bikes we like our asses intact, bikes fast, and products to be as slick as possible. So, just for you guys we test out the latest and greatest bits from the world best manufactures. And they don't come more important than a good skid lid, so we've given Shoei's NXR a good bashing…
I've always had a bit of a thing about using lids from Shoei's sports range, in that I always tend to use the lid that's one down from the top. The flagship helmet over the past few years, the X-Spirit range (including the recent X-Spirit III), is an incredible piece of noggin engineering. However, I've always found them not as comfortable over long distance as lids such as the XR1000 and 1100, and the latest 'nearly best' which replaced those, the NXR – which is by far the best helmet I've ever worn.
This one, replete with my usual custom design by Rich Art, I received just a few weeks after my wee lad had been born and he's now over three and half years old. So, really, this lid is coming to the end of its useful life, given that one should ideally change lids every four years and most especially if it's seen a lot of use, which this has. I've used it nearly every day over those three years, it's been soaked through a hundred times, been baked a lot more, and is sporting its chips and scratches with pride. The venting is beyond excellent, so good in fact that shutting the vents when raining is always a good call, although it doesn't matter so much as the Pinlock always keeps my visor clear. I have replaced the cheek pads and the cranial padding once over that time, as when something gets wet over and again, no amount of washing can get rid of that manky smell. Plus, sticking in new cheek pads is nearly like getting a brand new lid all over again!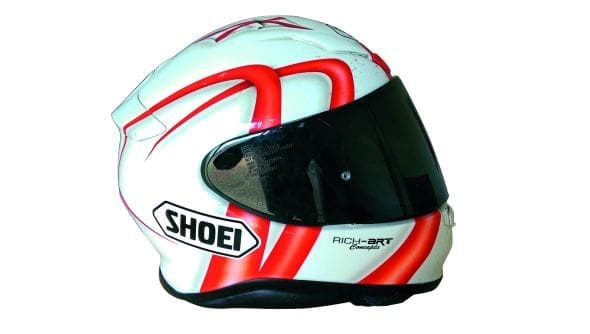 The best part is the sound, or lack of, as I hate wearing ear-plugs and with the previous XR models you had to fit a 'whisper strip' to dull noises correctly. Not so with the NXR, there wasn't even a strip available last time I checked, but it doesn't need one, so well designed it is. While we await the NXR II (or whatever it ends up being), I will try an X-Spirit III to see what that is like. However, I will likely up coming back in this direction because it's a superb helmet at what I think is a bargain price.
TESTED BY:          BJ
MILES:                 20,000+
TIME:                   3 Years
PRICE:                  £369.99 (plain white)

Enjoy more Fast Bikes reading in the monthly magazine.
Click here
to subscribe.