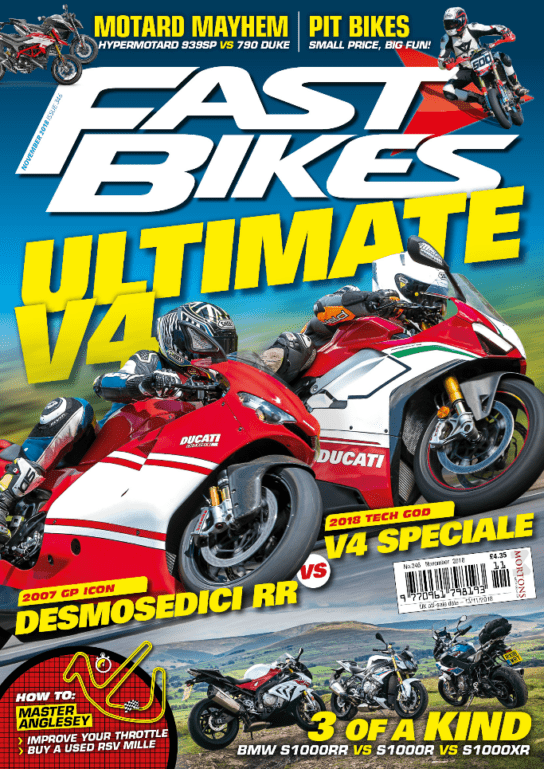 The latest issue of Fast Bikes is out now. Get yours at any discerning newsagent or subscribe to get yours delivered to you each month.
The Ultimate V4
Is Ducati's new Panigale V4 Speciale as 'Speciale' as their MotoGP derived Desmosedici RR? We found out.
Motoring on
Which Beemer makes the best use out of the 'S1000' engine? We put the miles in to find out.
Motard Mayhem: Ducati vs KTM
Boothy took to the streets and the track to find the most masterful motard.
Pit Bikes. Small bikes = big fun
We sent Ben to play with the kids… and get his arse kicked.
A Taste of the Exotic
We caught up with Dave from The Bike Specialists to get the lowdown on everything you need to know about buying exotic.
IT'S THE NEWS
Upfront
All the tastiest biking titbits.
GEARED UP
Products
All the latest, coolest and trickest products.
THE KNOWLEDGE
Used Buyer's Guide
Everything you need to know about buying a 1998-2003 Aprilia Mille.
MASTERCLASS
Legal
Can you claim when a crash causes you to miss your holiday?
Track Attack
How to master the best of British circuits. This month: Anglesey International.
Track Craft
Dean Ellison talks us through suspension.
Know Your…
Quick action throttles – what are they and why do you need one?
YOUR LIFE ON BIKES
Addiction
If you think you have seen a trick R6, check out Brian Carter's YZF-M6.
You & Yours
All of your adventures!
Chatter
It's only right and proper that we give the world's best readers a page of their own.
OUR LIFE ON BIKES
Staff bikes
More models, more miles and more mods.
• Suzuki GSX-R1000
• Suzuki GSX-S1000
• Yamaha R6 Track
• Yamaha YZF-R1M
• Yamaha YZF-R6
• KTM 1290 GT
• Kawasaki Ninja 400
• Kawasaki H2 SX
• Honda CB1000R
RACE SECTION
Pit pass
The lowdown on BSB, WSBK and MotoGP.
Sam Lowes: Moto2 Maestro
Lowes on what it takes to become British and World Supersport Champion ahead of his assault on the 2019 Moto2 World Championship.
Race Riot
What we get up to when we're not putting together the best mag in the world.
COLUMNISTS
Neave twins
Tim's called time on his R6 in favour of good mate Steady's Superstock thou' Gixer.
Gary Johnson
This month Gaz has had a ball.
Christian Iddon
Trials and tribulations for our buddy on his Beemer.
Steve Parrish
Parrish's view on all things bike-racing.

Enjoy more Fast Bikes reading in the monthly magazine.
Click here
to subscribe.