So naughty combustion engines are ruining this planet, along with microwaves, atomic bombs and lawnmowers.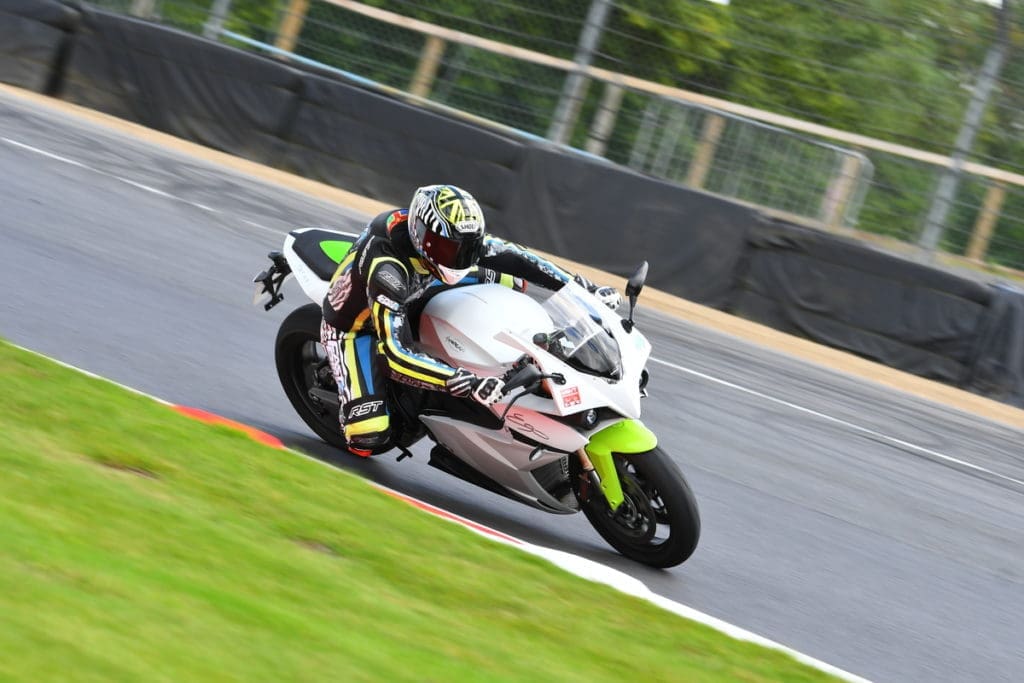 But fear not because the electric motor is here to save the day… and one's eardrums from the relentless rhetoric of tree hugging folk that clap hands and drink green tea. Now, I'm a conscientious person and I get that we all need to do our bit to keep our environment as healthy and vivacious as is humanly possible, but all I ask is that due consideration is given to the upkeep of our much needed two-wheeled kicks. I love motorbikes. They're more than a passion to me, and I find it staggering that every year manufacturers manage to up their game and better their stock while working to ever more stringent emissions legislation. Well, at least in most instances.
But things are getting tougher and it's only a matter of time before motorcycles, and other combustion engine offerings, will be so castrated that you'd be better off lighting your farts to power a push bike (an organic form of jet engine, if you like). So where do we go from here? Well, that's the big question. Change is very much needed, especially so as the UK Government's made it clear that it intends 80% of our current carbon emissions are to be but a distant memory come 2050. And while that might seem ages away (it's too many sleeps for us to count), in technological terms it's tomorrow.
The good news is that most major manufacturers are already working on tackling this planet saving task, and some have even produced credible goods that are arguably fit for purpose. Well, assuming you don't want to travel as far as Frodo Baggins and you're happy moving at a snail's pace. Of course, I'm being a little harsh here, and I also realise that if we don't support such innovations they'll never catch on. Personally, I don't care if my bike is powered by grass cuttings, but what I do care about is performance without compromise.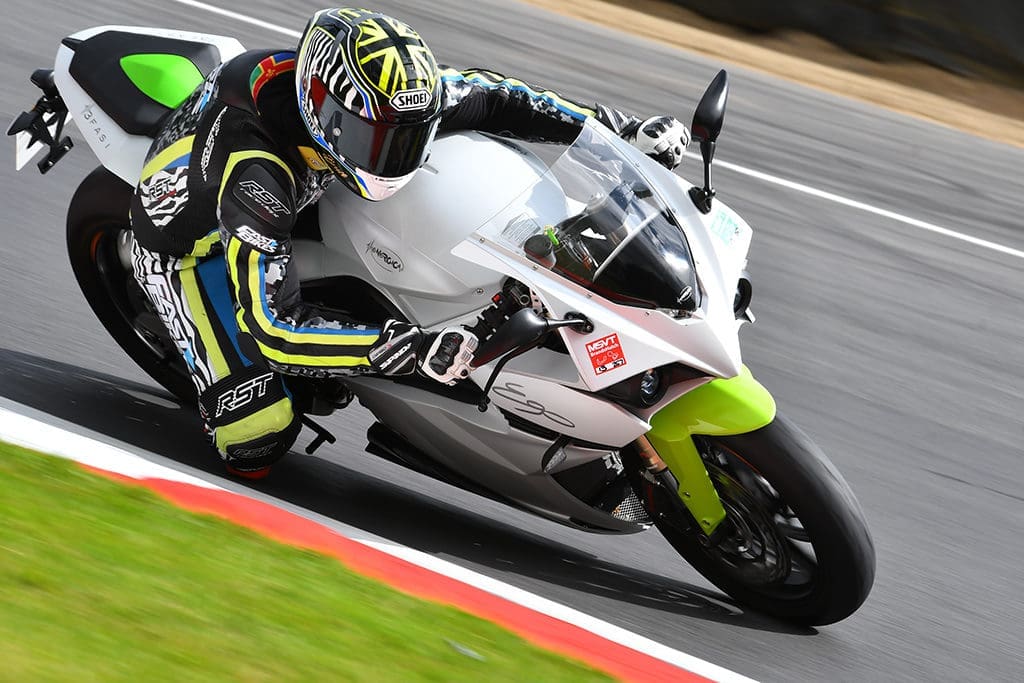 Nothing ventured
You might remember the Energica Ego from a test we did this time last year. It was box fresh back then and performed like a trooper on the roads. It's arguably the best electric sportsbike on the market, though it comes with a tear inducing price tag of (just) £32k. That kind of money would buy you a street where I live, and you'd still have enough change for a bag of chips. But thankfully there are richer folk out there than myself, and ones that want to do their bit for the world. Consequently, I've seen a few Energicas out on the roads, but I'd never seen one on track… which got me thinking. Because we all know that if you want to find the true calibre of any bike… you take it to the TT. And if the TT's not open that day, you resort to the racetrack, which was to be the battleground of the Energica's second coming.
Brands Hatch was the choice of circuit, and we'd made a point of asking trackday organisers MSVT if it was permissible for our futuristic friend to attend. It might seem a daft question, but when was the last time you saw an electric bike on a course? Probably never, is the answer. Brands said they'd never had one out either, so that got them checking amongst themselves before giving us the greenlight to rock up at Kent's finest stretch of tarmac.
It was an exciting proposition which had 'surprise' written all over it. In my heart, I wanted the Ego to do its thing and elate me in the same way as a lucky lottery ticket, or a free coupon to crazy golf (it's the little things). Yes, I was optimistic of the results, having been inspired by this very model's performance at the 2017 IOM TT, but I could see the disbelief in my fellow trackdayers' eyes when MSVT announced my antics during the morning briefing; the kind of looks you'd get for saying you were set to use a rowing boat to cross the Atlantic, with a pair of underpants on your head. To most, it just didn't make sense; what on earth was an electric toy going to do amongst a pit lane rammed with race-spec track bikes? Well, we'd soon find out.
Plug and play
This was not my first electric bike rodeo, having sampled the delights of squeaky clean motoring a good few times before with a real mixed bag of results. Even so, I had a rough idea of what to expect from the Ego, but only when bested within the confines of Her Majesty's Highways. Today, the limits were to be set by my gonads and my right wrist, which was itching to let rip with the Ego's claimed 107kW output, putting it on a par with a well-tuned 600 (over 140bhp). Or at least in theory. See, while a race tuned 600 would be expected to weigh around 160-180kg wet, this white and bright behemoth clocked in at a toe crushing 258kg. And it felt as if I was battling with a whale as I manhandled the thing out of our van and down to terra firma. It was an exhausting process, and that was before I manoeuvred it into the garage and got a pair of warmers slotted on its OE fitment track-friendly Pirelli Diablo Rosso rubber.
From this one exercise it was easy to tell that the bike's weight was far from centralised or sporting a low centre of gravity, like all good sportsbikes purport to have. Far from it. Behind its sleek fairings and elegant infills harboured a heavyweight 11.7kWh lithium polymer battery that was the size of 104 briefcases (roughly) and capable of powering this bike from 0-60 in just three seconds. Oh, and it was offering max torque (200Nm) from zero revs. That's a cray-cray proposition, and one of the many virtues of electric powered vehicles. But it also got me wondering how easy it was to operate the bike at slow speeds and whether a slip of the wrist would see me performing the first electric powered back flip down Brands Hatch pit lane? As my session got called to arms, my moment to find out had arrived.
---
---
TT Zero
If you want to see the state of the art in electric powered performance, you need to check out Isle of Man's TT Zero race. It was an initiative that was kicked off back in 2010 (won by Mark Miller who averaged a 96mph lap), following in the carbon-free footprints of the inaugural TTXGP race that took place the year before, with a winning lap average of 87mph. Now having run for the past seven years, the TT Zero scene is a high-tech hub of innovation that's drawn top named racers to its ranks, including the likes of John McGuiness, Guy Martin and Michael Rutter. And manufacturers haven't held back either, with brands such as Victory and Mugen. At the moment, the race takes place over a single lap of the Isle of Man TT course (37.733 miles), and the lap record is held by John McGuinness with a 119mph average.
---
---
Power to the people
I could sense the eyes of onlookers as I worked my way down pit lane. The bike was proving much more manageable than anticipated at slower speeds, with no need to consider a clutch or gears. It was a simple point and squirt procedure that blew my socks off when I got to the end of the track joining lane and let rip. I'd only been on the throttle for all of three seconds, but the pace of the bike smacked a smile on my face and caught me out a tad. So much so that Paddock Hill nearly finished me off, because it arrived so quickly.
And then there was the other problem; the bike's weight. As I squeezed on the powerful Brembos the Ego soon started to rein its neck in, but it was about as stubborn as a mule when it came to pitching into the downhill first corner. After manning up a bit and regaining some composure, we were on our way to up to Druids and passing the odd bike in the process. Speed wasn't the bike's stumbling point, or cornering stability, but I was hit once more by the Ego's reluctance to pitch in on that very next corner, and every one that followed.
A lap or two in I was getting a grip for the thing, and adapting my style to suit its inabilities. Slow in and fast out was proving to be the best approach, and the Energica was holding its own; reaching an impressive 134mph down the start straight and proving it had something about it. The motor would hook up the minute I got on the gas, and despite the huge amount of torque on tap, the rear tyre felt as planted as an oak tree. If there was one benefit to the bike's weight, squashing the thing into the ground had to be it. Still, I was generally impressed and the novelty of this silent assassin wasn't going unnoticed as I stalked and passed everyone that came into sight. The more I rode it, the more familiar its limitations became.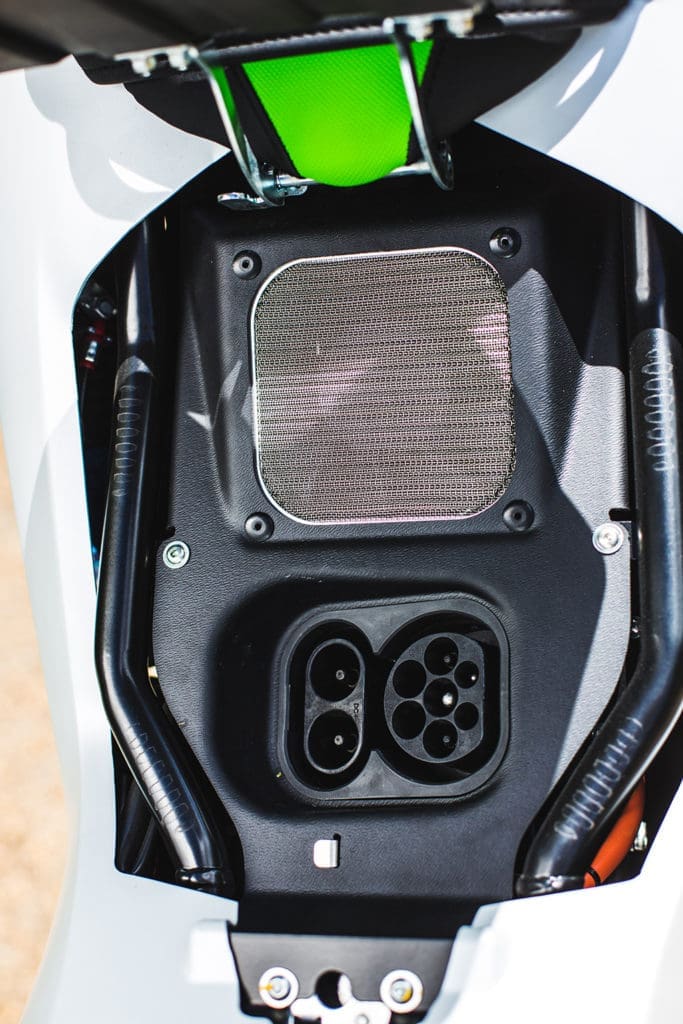 They were workable problems, with the biggest necessity being to ease the front end into an apex, with very little trail braking on tap. Squeeze too much and the bike would've gone down faster than a hooker's draws, but the Ego's supple suspension was doing a good job of communicating that risk. What it wasn't telling me was the warmth of the battery. Just as I was really getting into the swing of things, the drive was snatched from me like candy from a baby.
The TFT dash, which had been quietly going about its business and looking pretty every step of the way, began flashing up a temperature symbol and making me wonder whether I was going to have to abandon ship? But intrigue got the better of life preservation, so I just kept the throttle pinned and hoped the bike's motor would put its toys back in the pram. Two laps later, I realised that simply wasn't going to happen.
Feeling flat
To help the day run smooth, a guy called Gary had rocked up from the UK distributor of Energica. He wasn't surprised when he saw the bike was in limp mode, going on to explain that the bike was never intended as a track weapon and that asking so much of the bike's motor for so long was only ever going to result in it having a hissy fit. But I struggled to digest that. Arguably, it was being ridden harder than it ever would be on the roads, but that didn't mean it was OK to get a monk on after four laps of Brands Indy – all of four miles. Worst still, there was little more to do than sit and wait for the batteries to cool, which took longer than the time I had left in that session. I'd have to wait for my next slot to get another taster of what was on offer.
As minute followed minute, the time eventually came to get back out there for another scrap. This time round the Ego felt that bit more familiar, so we were on the pace from the off. I was beginning to like the feel of its ergonomics, which stretched you out like a race bike along its lengthy wheelbase and planted your weight down on your wrists. The rearset position was sporty too, and I found the fairing vast enough to hide behind. Cosmetically, there was little not to like about the bike, and for the first four laps I was yet again getting a buzz from riding the battery powered beauty. Well, up until the point it had another melt down.
Once more, there was no warning of its impending restraint, which kicked in mid corner and caught me out a good'un. I wasn't impressed, and knowing better than to stay out and trail around with a max speed of 90mph, I headed into the pits once more. This recurring theme was set to carry on all day if I'd of let it, with Gary's only suggestion being to change the selected power mode from Sport to Standard. But compromising wasn't what I'd gone there to do. The day had gone flat; it was game over.
Tomorrow's tech
When you look at bikes like the Energica you can't help but acknowledge the hard work, thought and passion that's gone into making such advanced steeds a reality. But there's still a lot more advancing to do. Battery powered bikes are the future, but it's a future that's still a long way off if the Energica's track performance is anything to go by.
Too heavy, too compromised and, arguably, way too expensive, I can't see why anyone would turn away from a much more affordable, dependable and exciting combustion powered trackday weapon for the limited virtues of a plug and play placebo. But this is the score now, and it will undoubtedly change.

You've only got to look at TT Zero and see how the best of the bunch are lapping the TT at the same speeds as Lightweight TT machines, and comfortably going the one-lap distance. It's a movement that's building momentum and as long as manufacturers and governments keep pointing the ship in the right direction, tomorrow's intentions will become today's reality. But you might have to wait a while.
---
---
ENERGICA EGO
ENGINE
Type: Oil cooled, three-phase electric, permanent magnets
Bore x Stroke: n/a
Compression: n/a
Fuelling: n/a
Power: 143bhp @ 10,500rpm
Torque: 200Nm @ 4700rpm
ELECTRONICS
RBW/Riding modes: Yes, Four
Traction control: No
ABS: Yes
Quickshifter: No
Wheelie control: No
Launch control: No
CHASSIS
Frame: Steel tubed trellis
Front Suspension: 43mm telescopic forks, fully adjustable
Rear Suspension: Monoshock, preload, rebound adjustable
Front Brakes: Four-piston calipers, 330mm disc
Rear Brake: Twin-piston caliper, 240mm disc with
DIMENSIONS
Wheelbase: 1465mm
Seat height: 810mm
Dry weight: 258kg
Fuel capacity: n/a
PRICE
Price, from £27,999, visit: www.energicamotor.com
---
A huge thanks to MSVT bike trackdays for letting us out on track at Brands. If you're after quality track time without hassle, find an event today at www.msvtrackdays.com/bike or call them on 0843 453 3000.
---
Want more Fast Bikes? Subscribe from just £10
URL: https://www.classicmagazines.co.uk/fb130

Enjoy more Fast Bikes reading in the monthly magazine.
Click here
to subscribe.