Into your sporty tourers? Well MV tell us they've created the sportiest of them all; an F3 800 you can ride to work on, with an innovative clutch system thrown in for good measure. Meet the Turismo Veloce 800 Lusso SCS…
Between you and me, even though I'm not 70 years old I do love a good sports tourer. You can piss about all day, hoon your tits off and still arrive at your destination with your wrists and bum cheeks intact. The problem is though, even the sportiest of sports tourers aren't really sharp enough, so when the invite came through to test out MV Agusta's Turismo Veloce 800 Lusso SCS (which is said to accelerate almost as quickly as a World Superbike), I couldn't wait to get my mitts on one…
Clutch-less
With a price tag of over 17 and a half grand, you'd like to think that the Turismo Veloce 800 Lusso SCS is packing some serious punch in the tech department – and thankfully the Italian brand haven't disappointed. The big hitter on offer here is the clutch, which will leave your left hand free to flick people off as you effortlessly hit 60mph in an impressive 3.15 seconds. Sounds weird right?
Well this is all thanks to the SCS, or Smooth Clutch System, which means you don't have to touch the clutch lever whatsoever, whether stopping, starting or manoeuvring at slow speeds, although the lever is still there for the purpose of popping minging wheelies – or something like that. Don't mix the SCS up with the weighty DCT or un-sporty CVT styles you've seen before though, as it's essentially a standard manual gearbox with an automatic Rekluse clutch, which engages in gear as the engine revs, and is then electronically controlled via the ECU to balance the amount of clutch slip to how much gas you're giving. So basically, the ECU takes over from your left hand! Clever aye?
And it's not just the clutch that's new either, as MV have equipped the same powerplant you'd find in the Brutale 800RR (with the same upgraded jazz to meet Euro4 regs with the same power figures) with new transmission, balance shaft, primary gear set and a load of ECU algorithms for good measure.
Throw that combo into the same gorgeous chassis from the previous Turismo Veloce with some new electronically dampened Sachs suspension, and you're left with the lightest bike in its sector, with the best power to weight ratio in its class. Die hard tourers shouldn't fret though, as it's not all sport and no tour; MV have cleverly equipped some slightly lower pegs and higher bars (with heated grips), a 21.5 litre tank, impressively designed 30L panniers and a range of engine maps for a smoother ride – if that's what you fancy.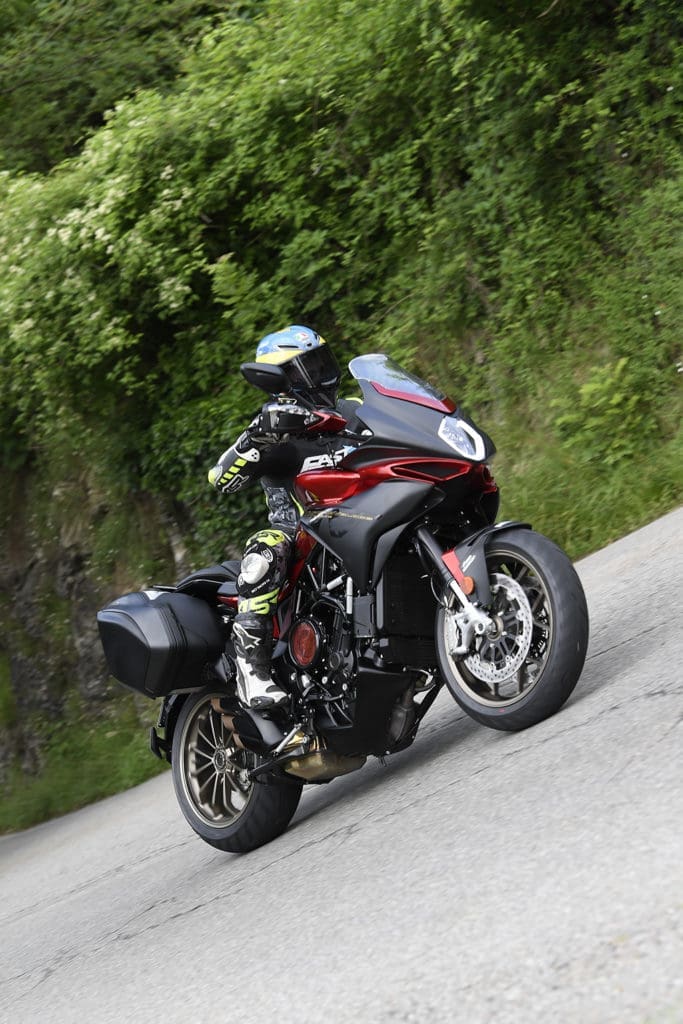 For our first taste of the Turismo Veloce 800 Lusso SCS, MV let us loose in a parking lot where they'd set out some CBT style cones for us to try the Smart Clutch System at slow speeds. Jumping on, the cockpit felt instantly comfortable and not too high, with a crisp TFT dash giving all the information you need although things did get a little bit busy when looking on the go. The controls were well placed and firing up the engine induced that stunning soundtrack, before giving the MV its first real test.
It's a funny old feeling not touching the clutch, and the gearbox flicked effortlessly into first as I doused the power on and drove out, with the refined ride-by-wire throttle making starting and slow speed manoeuvring smoother than Hugh Hefner's pick-up lines. The real test came with a quick launch though, and to see if the head of R&D's claim of being able to go from 0-100% with the bike taking care of the rest was true. Not one to turn down such a kinky proposition, I gave the MV a fistful from nothing and closed my eyes as the MV fired off in the smoothest, fastest fashion; a start you could only dream of having whilst sitting on a starting grid as the algorithms worked like guardian angels, keeping everything from wheelspin to wheelies in check.
Sh*t, this really could be the future…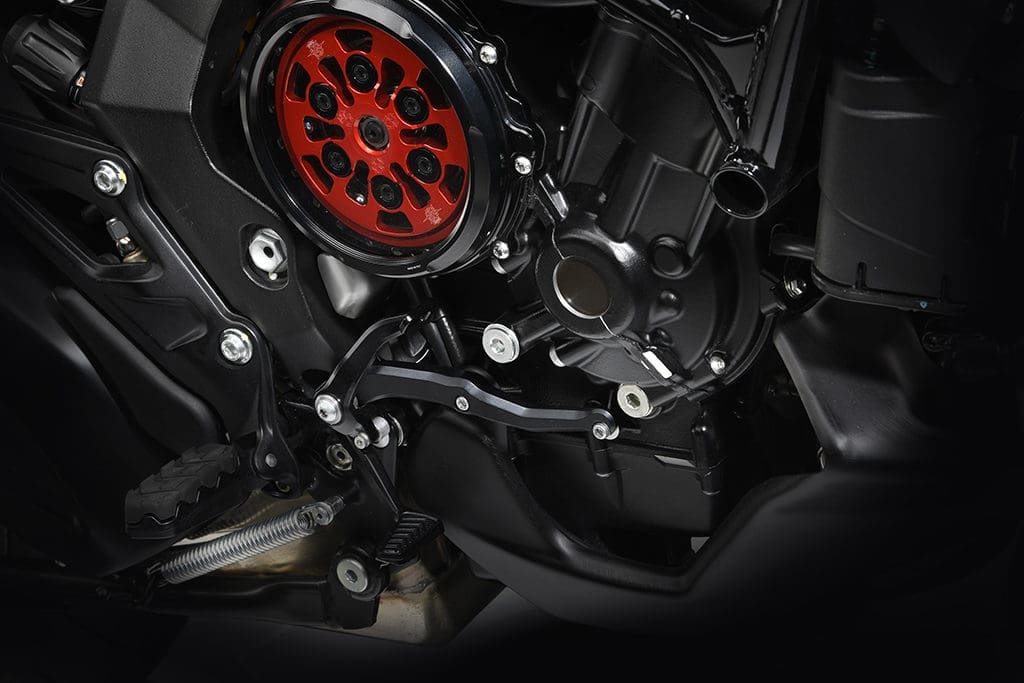 ---
---
Rekluse… who are they?
Nope, it's not a spelling mistake! Think of Rekluse as the clutch equivalent of your Brembo brakes, or Ohlins suspension – a company based around one sole element of a machine, for the best, most focused results. The brand was founded in 2002 all the way over in the States, and now sixteen years down the line, Rekluse has become a huge brand in the off-road world. Besides starting to do work on the roads with MV Agusta, Rekluse supply a whole host of Motocross teams, including the factory KTM and Husqvarna squads.
---
---
Real World
It wasn't just the car park where the MV impressed though, as we headed out on the roads to get a true taste of the Turismo Veloce 800 Lusso SCS. Starting off in the 'touring' maps to get through city traffic, the peaky motor was instantly levelled, quiet and easy to ride, with the clutchless action and refined shifter making the stop/start process easier than Boothy after a few pints – so much so that I didn't even touch first gear, just rolling around happily in second.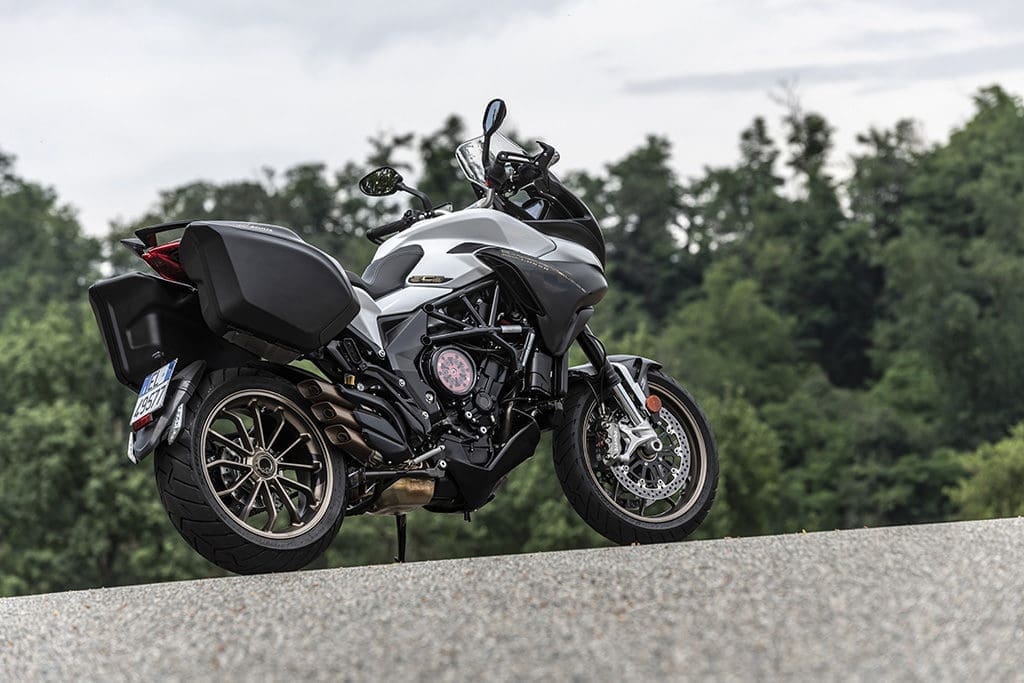 Even the design of the panniers being within the width of the handlebars made life easy, flicking through traffic without the worry of clobbering mirrors everywhere. It didn't take long for the touring box to be ticked, before we found some open roads to see if it really was an F3 800 under that skin… and it's safe to say it was. As soon as I flicked it back into 'Sport' mode (on the fly, may I add) the engine burst into life, screaming its tits off as I threw gears in return for that gorgeously engineered soundtrack – okay it would've been nice to have a little extra punch (and a few hundred cc) but I didn't feel cheated, and that 110hp does enough to keep you entertained, being just as happy pushed hard as it is pottering on a motorway.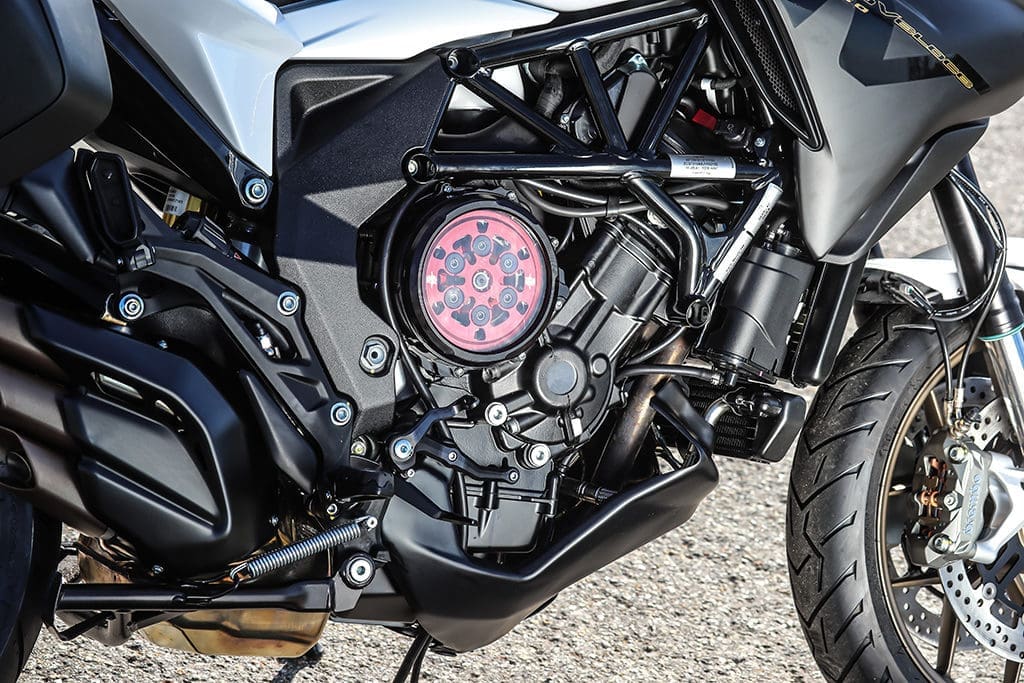 It's when we entered the twisties though that the MV really came into its own, with those big ol' Brembos offering a monumental amount of stopping power and feel, before abusing the gorgeously plush chassis to the point where you really could show up a sportsbike or two. As ever, ground clearance is exceptional and the Semi-active suspension works nicely on the sporty base settings, although if I had one myself, I'd have to bugger about with the mechanical preload slightly for a firmer ride. But no one's perfect, and the more miles we crunched, the more at home I felt.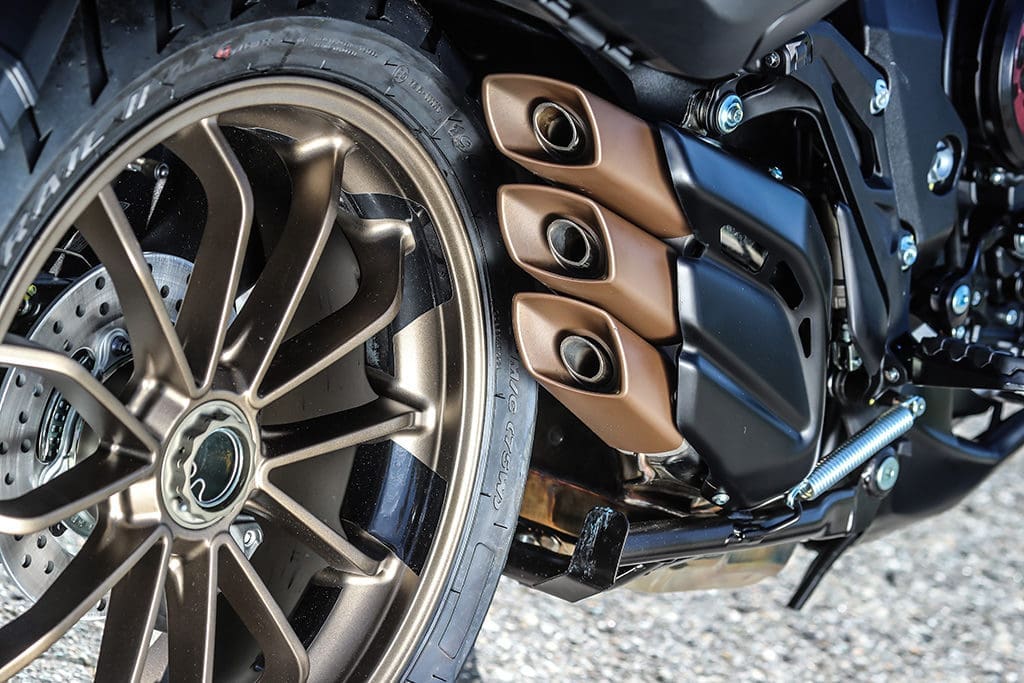 Refined and MV Agusta don't usually come hand in hand, but the Italians have genuinely pulled of a corker with the Turismo Veloce 800 Lusso SCS. Okay, it comes in at a fair wad of money, but chances are if you fancy an MV that's not going to be a worry. After a long days riding the seat did leave my ass a little sore, but aside from that, the Turismo Veloce 800 Lusso SCS exceeded my expectations. It's a true sporty machine that you could crunch some fair miles on, and bloody fast. Oh, and once you try a launch on the SCS clutch, you'll be instantly converted…
---
---
Q&A: Brian Grillen, R&D Technical Director at MV Agusta talks us through the tech!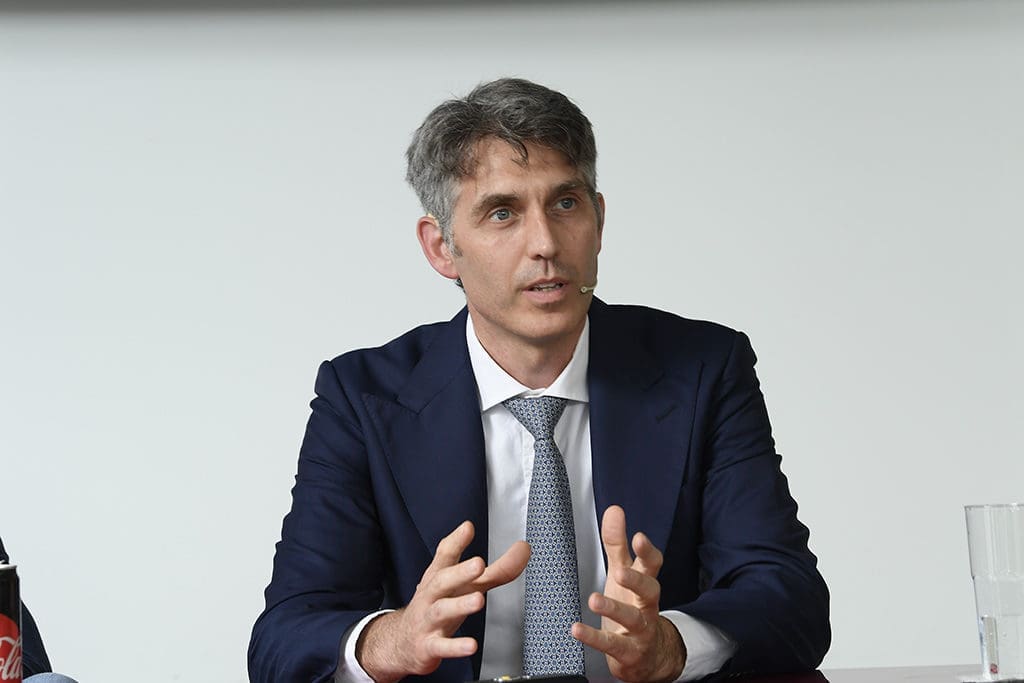 FB: What made you go down the path of making the clutch lever redundant?
BG: Here at MV Agusta, we have a technical roadmap we're following with even more advanced technology coming on the drivetrain side, but the first step towards that was having an automatic clutch. We always want to strive at being pioneers in the market as we did with the Ride-by-Wire throttle systems, although this has turned out a lot better!
FB: How did you decide on the Smart Clutch System?
BG: We started analysis back in 2015 looking at everything from dual-clutch systems to Magnetti Marelli car systems, but everything we came up with was heavier and more complex than what we already had, which wouldn't work as our goals are always to be performance orientated first. Anything that puts another gram on the motorcycle is going the wrong way for us, which led us to Rekluse!
FB: How did you come up with the system, and how easy was development?
BG: Being an avid off-road rider, I knew about the brand Rekluse and what they were doing in the off-road market, and had the opportunity to talk to them. They wanted to do something for the road, so we sent them a bike and they put together a kit for us, and after about a year and a half of pure development we got the system functional. From there on it took another two years to hone in the electronics and the algorithm changes on the software side – even just to get the first contact point right. If you touch the gas and you get a kick in the ass, you aren't going to enjoy it, which is why it's so important to test so much, in so many different conditions. The truth is, developing the system was incredibly challenging.
FB: What was the most important aspect of development, and how durable is the system?
BG: The most important thing with controlling a clutch is consistency. When you have electronics controlling something mechanical that has a lot of tolerances, it makes things difficult to keep the feeling constant. The clutch uses a 12 pin drivepin kit which are DLC plated for really low friction inside the action of the clutch, so that the action is consistent. As far as durability goes, if you want to kill a clutch in a day you can kill a clutch in a day! But no, it will be absolutely no different to the normal systems, and throughout the durability tests the kit has been incredibly robust.
FB: So you've got a new Brutale coming up this year, and an F4 next year. Would you ever translate this technology into any of the proper sporty models?
BG: You're definitely going to see this technology on sportsbikes in the near future, as even on a racebike the starts are faster. We are looking to develop a race kit and a street kit, as if you have one less thing to control, that's one more part of your brain that you have to concentrate on your riding.
On these models though, I can't say…
---
VERDICT: 8/10
An F3 800 with added comfort! The sportiest of sports tourers, with more tech than a spaceship.
+ Impressive clutch, incredible handling
– Price, seat, could do with a little added punch
---
Want more Fast Bikes? Subscribe from just £10
URL: https://www.classicmagazines.co.uk/fb130

Enjoy more Fast Bikes reading in the monthly magazine.
Click here
to subscribe.