Most things in life come better in pairs, such as socks, chocolate bars and naughty sisters…
But before I get all side tracked and tell you about the dream I had where the Cheeky Girls were covered in chocolate while wearing knitted footwear, I'll keep things focused on the real topic at hand; a pair of cylinders. Namely, cylinders in the shape of Winston Churchill's acclaimed gesture; the humble V.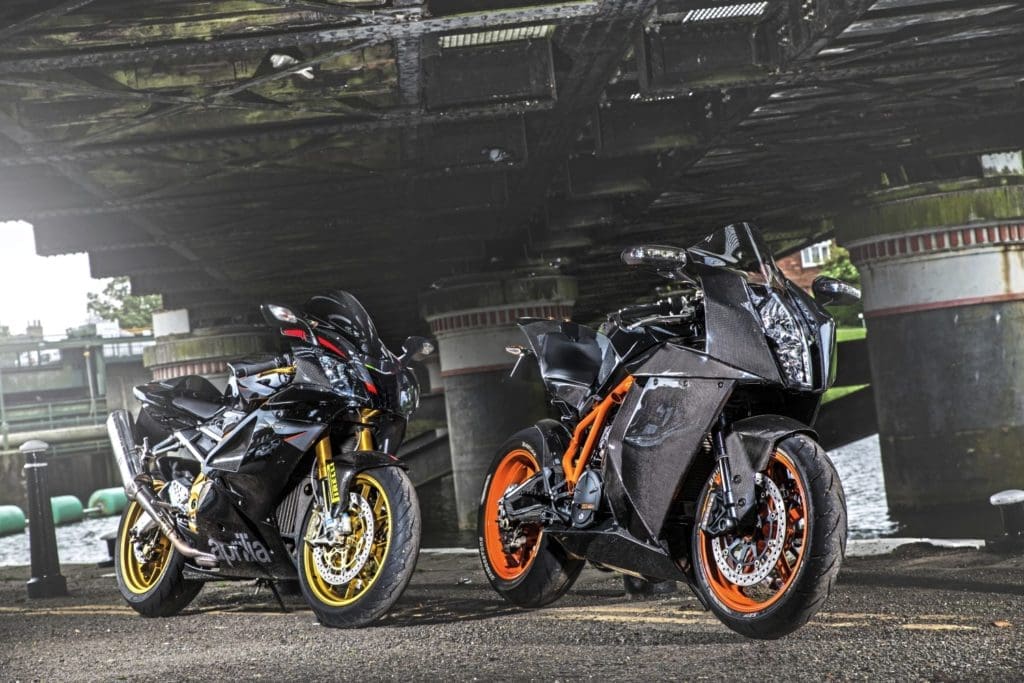 There was a point in time, not all that long ago, when every Tom, Dick and Harry had a stab at rivalling Ducati's consummate v-twin performance, which was dominating the global race scene at home and away pretty much concurrently throughout the 90s and early Noughties. While some would argue the benefits of larger displaced motors was what truthfully gave the Italian brand its edge over its 750cc in-line-four rivals, others would argue the torquey and mechanical grip inducing disposition of a thumping great v-twin was the real secret to their success.
Whatever it was, everyone appeared to want a slice of the action, including Suzuki with its TL1000R, Honda with its SP1s and SP2s, and Aprilia with its RSV Milles. Come the turn of the new millennia, v-twins appeared to be more common than whip-lash claims, not just on race tracks, but on the roads too. But just as quickly as they arrived, the v-twin dream began to shrivel faster than a pecker in an icebox. With the coming of new seasons came the arrival of new tech that meant in-line-fours were achieving unequivocal heights of power, torque and usability.
Want more Fast Bikes? There's loads to see on our Facebook, just click here! If Twitter's the social space for you, well you're in luck! Follow Fast Bikes on Twitter here!
Fours were often cheaper to build, easier to maintain and far less challenging to ride than a race focused two-pot. But here's the thing; not everyone was ready to walk away from the stuttery, booming nature of a charismatic big-V. Ducati had built its legend around the iconic configuration, and rivals Aprilia had also thrown its lot in whole heartedly with the V-twin fraternity. The original RSV was around for a good handful of years, and in 2004 the second generation Mille came to life. Called the RSVR, there was also a higher spec Factory version that came our way, with forged wheels, Öhlins suspension, shed loads of carbon and mahoosive Brembo monoblocs as stock.
If you need more clues, it's the bike you see before you with Aprilia written on it. And as for its partner in crime, that would be KTM's perfected stab at a real sportsbike; the RC8R. Flying the flag for being the last big twin sportsbikes to rival Ducati, Boothy and I dragged ourselves away from our frantic schedules to sample their delights.
KTM RC8R
It's a very fine line between pleasure and pain, and as the RC8R barked an earth shaking 127dB from its unsilenced Jester end can, my cochleas felt like they were getting the kicking of a lifetime.
Man, it was loud. Probably louder than any other bike I'd ridden before, with a resonance so deep I could feel my lungs being bounced around my ribs with every blip of its motor. And that noise only got louder, deeper and even more mischievous when the throttle met gears and the booming v-twin launched itself forward with the eagerness of a shoplifter being chased for their stolen bag of crisps.
Having ridden the Aprilia first I was surprised at how much quicker the KTM sprung to life, as the Mille was no slouch. But this second generation KTM motor (larger and faster than the original RC8 lump) was a definitive game changer, that took the goal posts and booted them Jonny Wilkinson style into a field somewhere over the horizon. Feeling somewhat more beastly and raw, the aura was quickly added to when throttling off and hearing the succession of backfires that were to haunt me over the next several hundred miles every time the revs dropped below 5,000rpm – which was pretty damn often.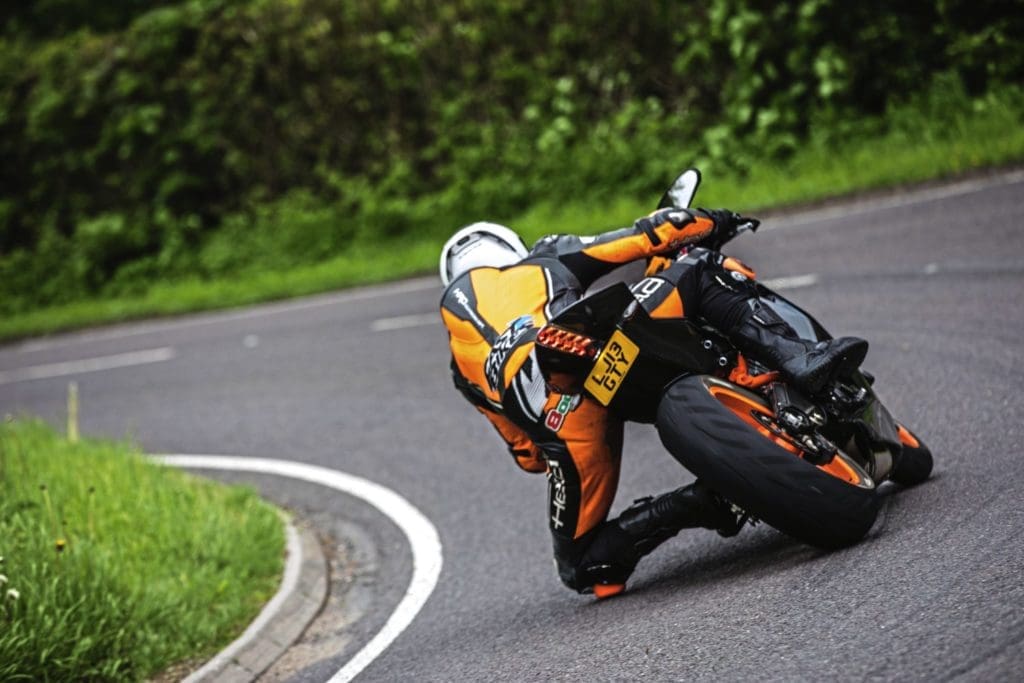 Like a Friday night shootout in Compton, onlookers would stare confusedly as I rode past, not knowing whether to run for cover or hang around and try to determine the culprit's identity. It wouldn't have been easy. Clad entirely in aftermarket Carbon Fibre and devoid of any KTM branding, there was an air of mystery around the 1,195cc v-twin, which was never the most common of bikes even its heyday. This was only my second ever time riding one, with my first being the Outlon Park round of BSB back in 2009. I remember it being a decent enough bike, albeit with a gearbox so harsh it made step-throughs look good. But that was the original RC8, not the newer and enhanced R-spec, like this one. This bike's 'box felt decent, made all the better by the aftermarket HM quickshifter that'd been bolted on by its owner, Ash. Just like the Aprilia, the R had hit the market before gadgets were so plentiful, meaning it neither had any traction systems, ABS or wheelie control to shout about. Unlike the Aprilia, it had a clear to read gear indicator smack at the bottom of its Dot Matrix-type dash. You beauty!
It didn't take long to start adapting to the KTM, actively nodding in appreciation of its makeup that included a very spacious and comfortable ergonomics package. Well, so long as you were prepared to accept the wafer thin saddle that felt about as comfortable as a plank of wood with nails in it – how on earth was Boothy going to cope with his piles?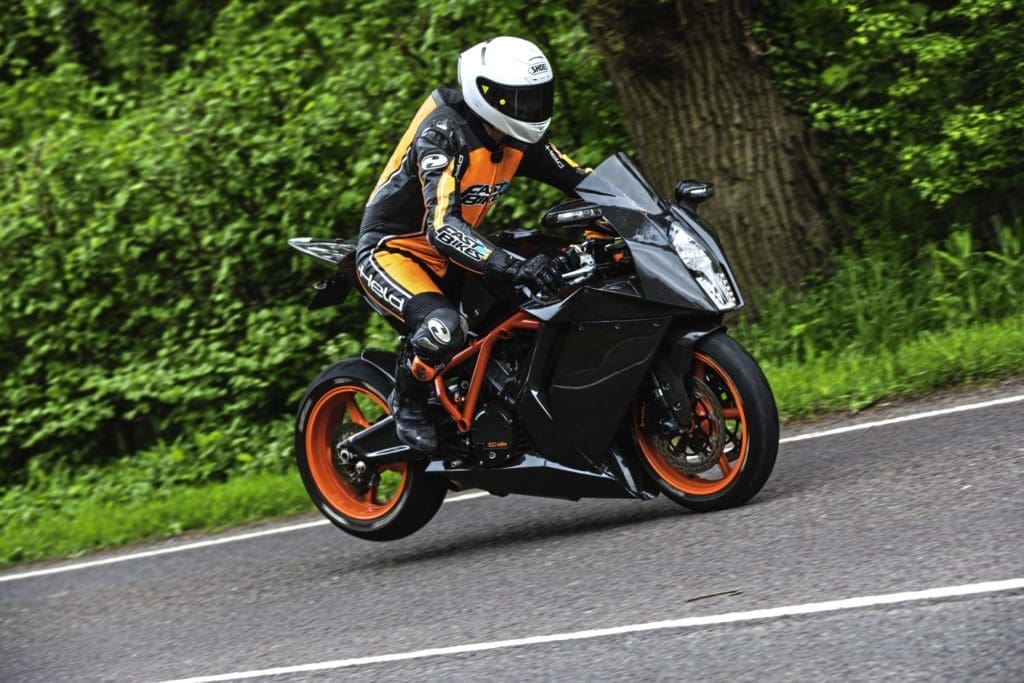 The clip-ons felt broad and raised, with low pegs that laughed off any thought of cramp or achy knees. It felt a very man-sized motorcycle, effortlessly accommodating my boy-sized frame and leaving me genuinely sheltered behind its fairings. How could they not have done? They weren't much smaller than my garden shed, but don't see that as a complaint as they made the transitory stints between corners all the more enjoyable. I liked what I was finding, aside from those occasional false neutrals that showed their heads when clicking from fifth to sixth. But hey, on a bike with such a broad spread of torque all the way up to 10,000rpm, where the red line kicked in, there was never much need to get into sixth anyway.
The motor was an animal, comprising a sumptuous delivery of oomph throughout its rev range, made all the sweeter by its smooth fuelling. For such a big v-twin, the backlash from throttling off wasn't all that notable and the initial throttle pickup was just as decent. Sure, it was no in line four, but being a Euro2 spec motor, it was produced at a time when manufacturers were allowed to ease harsh feeling motors by throwing extra fuel down their throats.
Another thing that made the engine feel good was the stock slipper clutch that did a good job of absorbing the bucket loads of additional revs that uninvited(ly) joined the party when changing down two or three gears in quick succession. The rear end would get a bit waggy, but it was all good spirited stuff, and only added to the endearment of the KTM. Its motor was a charmer, but it handling took the package to the next level.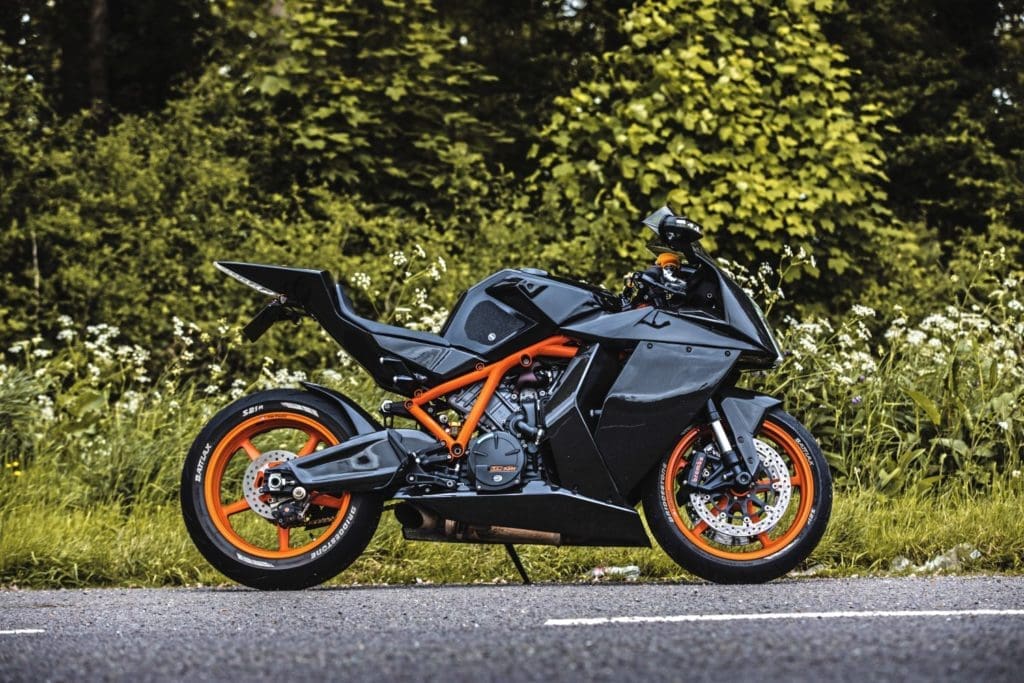 Here's the thing, a bike like this could never compete with a 2018-spec sportsbike in a straight dance off, but that's not to say the Katoom can't hustle. Being trellis framed and looking slightly unimaginative with a wheelbase so big it'd suited a Harley, I wasn't expecting the most from the package, but it genuinely surprised me. The bike felt quite neutral in bends, which was nice, and it instilled bucket loads of front end confidence in its user. It felt planted in turns, rolling hastily but predictably onto its ear and making light work of fast and slow corners alike. Those wide 'bars and the upright stance emanated a sudo-naked feel, which really came to the fore when flicking directions on higher speed flip-flops. Direction changing was never an issue, and nor was grip….
---
Boothy's Bluff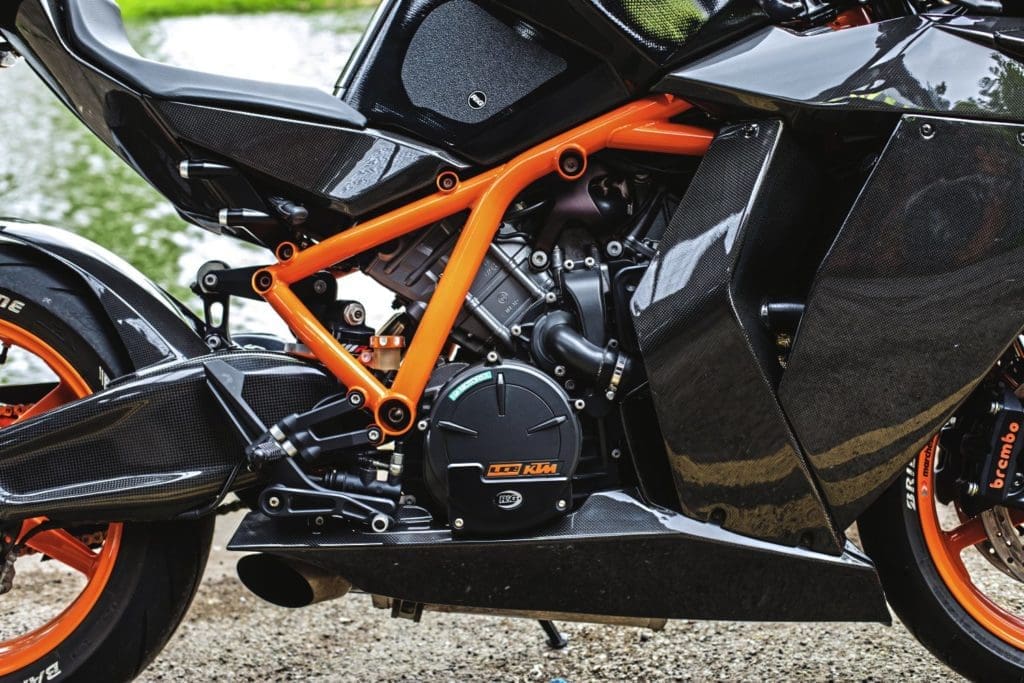 For me, the striking thing about the RC8R is its marmite looks. It's as though back in the day KTM got a team of Blue Peter badge winners to design a sportsbike of the future. And they were a little wide of the mark if you ask me. The low pegs gave the KTM a fairly naked-bike-esque riding position but the 'bars (although fairly wide) didn't seem to translate the same levels of comfort at their end. From the dash, to the way the bike handles, everything about the R felt more modern than the Millie.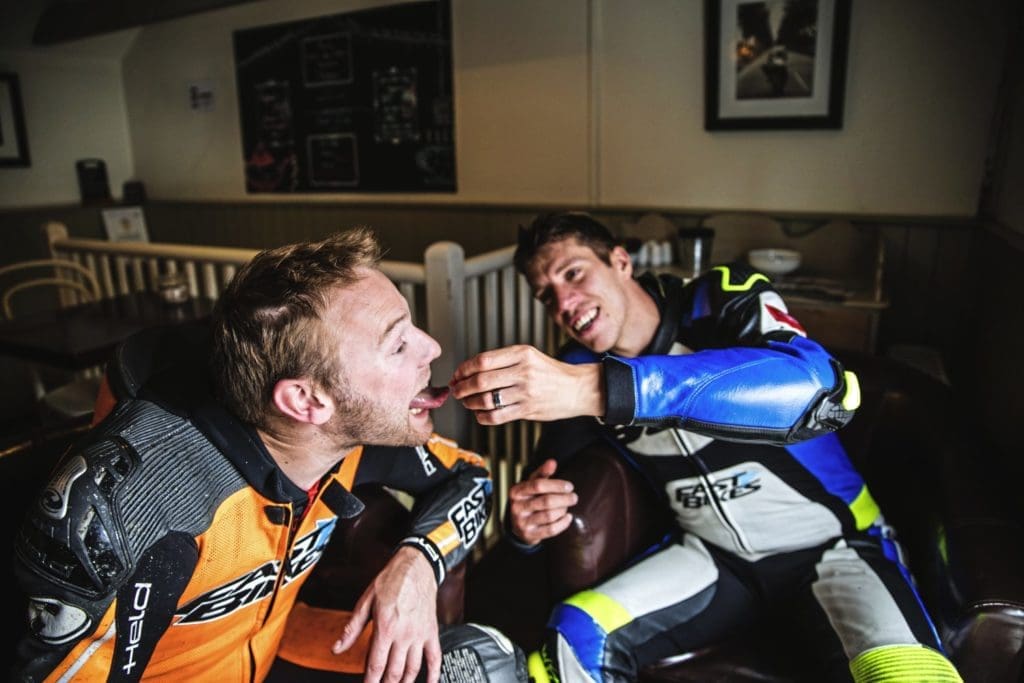 Despite its slightly more upright riding position, it did feel sportier, more confidence inspiring and altogether better at going round corners. This particular example had a naughty exhaust pipe that popped and farted loudly on the over run, which was funny at first but soon got on my tits. It was a decent bike but I didn't quite gel with the KTM like I did the Aprilia.
---
(continued)….
There were times when I ham-fistedly tried to break traction, and it was only through bloody mindedness that I succeeded. The twin's grip inducing nature was very much noticeable, and often meant that rather than sliding out of corners you just pulled a big fat wheelie instead. That kind of antic never got boring, along with the bike's booming soundtrack or quirky nature. Admittedly, we never took it to a track to speed test it, but it never felt slow and one of the things that caught me out time and again was how quickly the thing got up to pace.
Whatever speed you think you're doing, it's often 10-20mph quicker than that, which is something to take note of. To counter that, the front brakes made slowing down child's play. They proved to be right pearls… and pretty playful too. Being devoid of ABS and razor sharp, it didn't take much squeezing to get the rear wheel lofting merrily when braking into corners, often causing the back end to slew round a few inches opposite to your intended direction. They were mega, and gave a bit of a crowning edge to the package.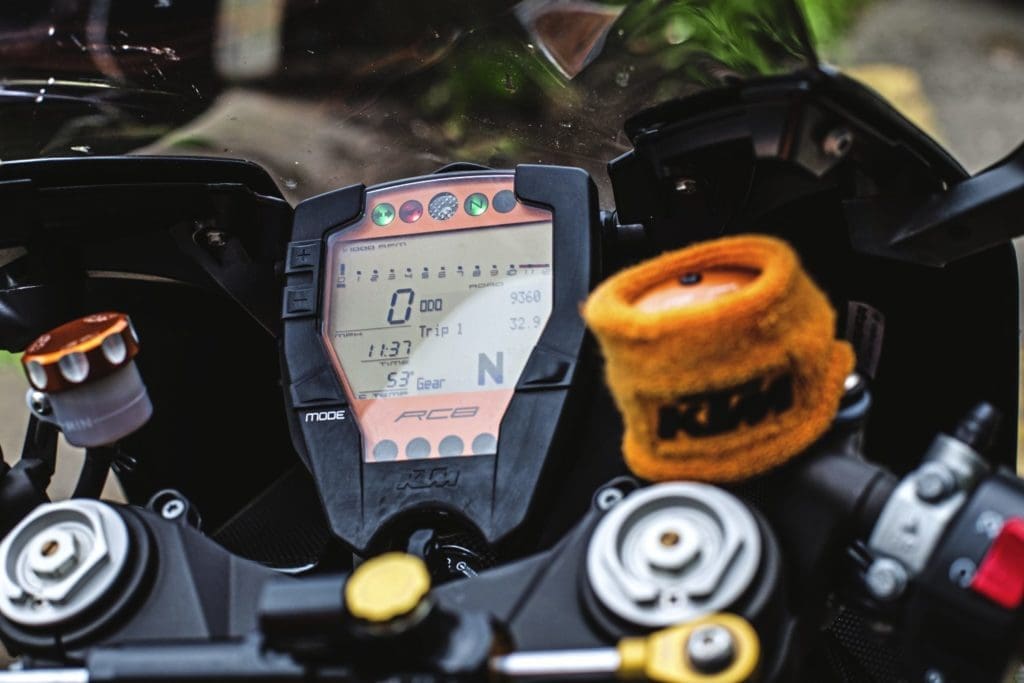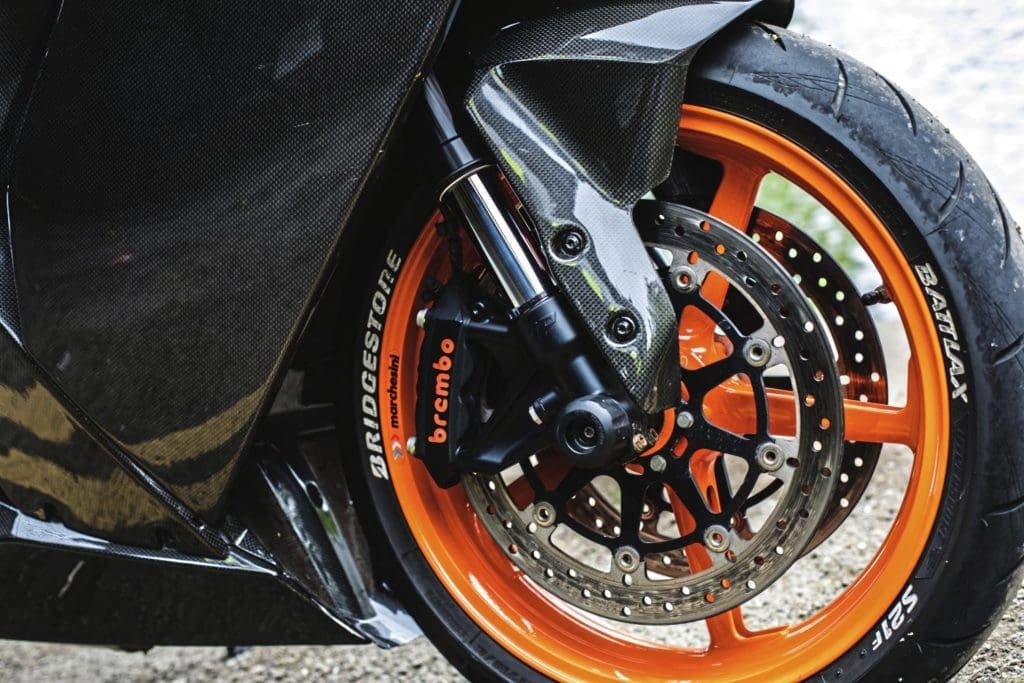 With just under 10k on the clocks and having an owner that cares unrelentingly about his bikes, this particular steed was a glimmering example of a top notch RC8R. I had a great time blasting around on it and found myself drawn in by its spell. But to own one of these, especially one as tidy as this, isn't cheap. You're up in £10k territory, for which you'll find there's a whole raft of nearly new litre bikes up for grabs. In honesty, I don't think people buy the KTMs based on performance, newness or any such other mild considerations. They buy them because they're different, quirky and bloody enjoyable to ride. There's something endearing about a big v-twin, and the RC8R captures that magical experience wholesale. Pleasure is paramount, and that's what you're paying your money for. I get it. I want one.
---
I own it… Ash Currie
I had a GSX-R 1000 that I'd made a bit special and had no intention of parting ways with, but then I got an offer I couldn't refuse. With that gone, I was on the lookout for something that was a bit different. I tried a 1299, I loved the motor, but I couldn't get on with the riding position. That's when someone suggested an RC8R. I liked what I saw, to the extent I bought mine based on its looks alone.
My first six months with the bike weren't all that great, and I was regretting buying it, but then it suddenly just clicked. The v-twin motor started making sense, and once I'd put some decent tyres on it, the whole package came to life. I've owned it for two years now and I've clocked over 6,000 miles on it, and I've falling in love with it. I've also done quite a bit to it aesthetically, such as fitting HF carbon fibre fairings and a Jester exhaust silencer. There's still quite a bit I plan to do with it, but I'm not in a hurry to switch to something else. She's a keeper.
---
Buying a KTM RC8 or RC8 R
Prices: From £4500 to £10,000.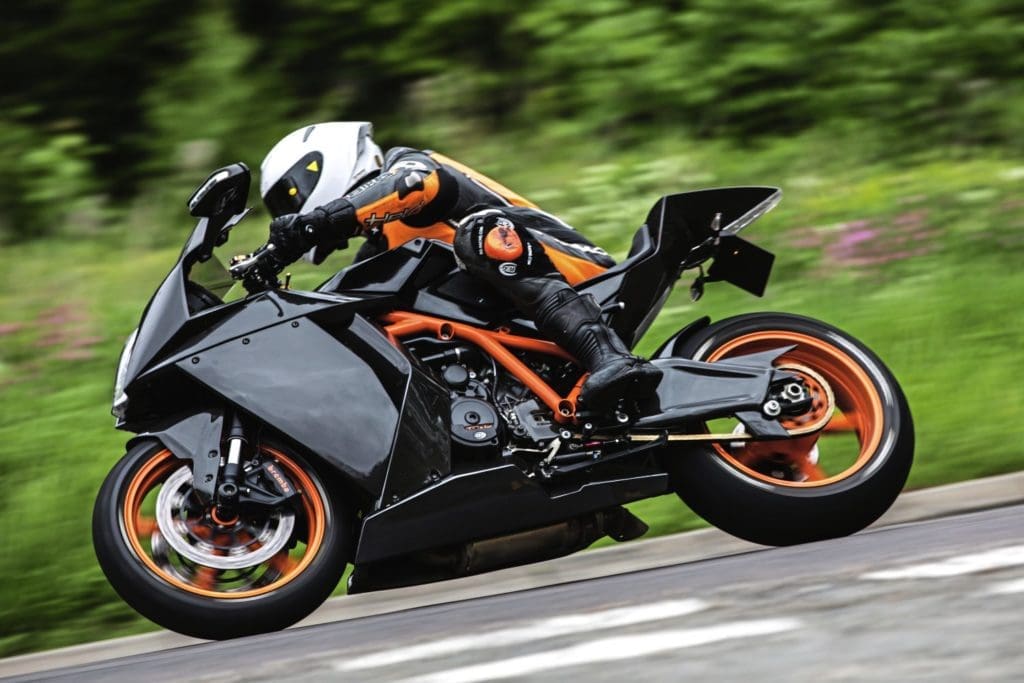 When buying an RC8 you first have the option of the (cheaper) 1148cc RC8 or the more expensive 1195cc R version. The RC8 had a few teething issues (gearbox) and was discontinued in 2010 with only the R remaining. If you buy the stock model, ensure the update to the gearbox has been completed and justify the fact it is underpowered when compared to the R with your financial saving. If you buy an R, the post-2011 model gained the more powerful twin spark head and chassis upgrades while the 2012-generation added a slipper clutch and small chassis mods.
Want more Fast Bikes? There's loads to see on our Facebook, just click here! If Twitter's the social space for you, well you're in luck! Follow Fast Bikes on Twitter here!
There are two main issues with the RC8 R – its water pump seal and its sprag clutch. Inspect the breather on the back of the pump for oil or water and if there are signs then the seal has gone, which happily is a cheap job to fix. If the bike makes a squeak when the starter is hit, assume the sprag clutch is damaged and factor in a £300 repair bill. A good service history is important on an RC8 as KTM release TIs (Technical Improvements, not recalls) that only KTM service centers have access to and often these are crucial updates. The rest is down to good maintenance, well balanced throttle bodies and changing the air filter more regularly than the 6000-miles KTM suggest a it tends to get clogged up, robbing the bike of power.
Specs: KTM RC8 R
Engine:
Type: 1195cc, liquid-cooled, 8v, V-twin
Bore x stroke: 105mm x 69mm
Compression: 11.5:1
Fuelling: Electronic fuel injection
Tested Power: 150bhp @ 10,300rpm
Tested Torque: 112Nm @ 6,750rpm
Chassis
Frame: Chromium molybdenum trellis
F Suspension: 43mm WP inverted forks, fully-adjustable
R suspension: WP monoshock, fully-adjustable
Front brakes: Four-piston radial Brembo calipers, 320mm discs
Rear brake: Two-piston caliper, 220mm disc
Dimensions:
Wheelbase: 1425mm
Seat Height: 805/825mm
Dry Weight: 182kg
Fuel Capacity: 16.5-litres
Speed:
0-60: 3.02 sec
0-100: 5.81 sec
0-140: 11.42 sec
Stg ¼ mile: 10.63sec @ 136.54mph
Standing mile: 27.88sec @ 166.43mph
Top speed: 171mph
———————————————————————
Aprilia RSV-R Mille Factory
Contrary to my missus' fears that I was constantly on my phone owing to a sordid affair, she seemed even more concerned when I came clean and told her I'd actually been eyeing up a new toy; one of these.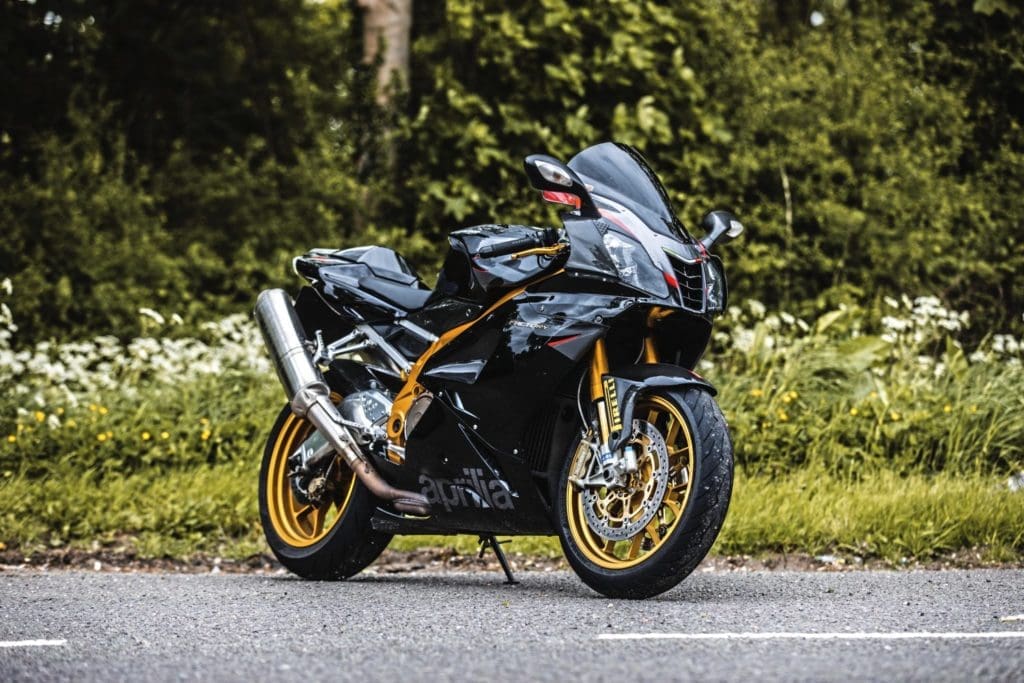 I first fell in love with Milles when I was just 16, and typically spending my days terrorising the local neighbourhood on my wasp-sounding Aprilia RS50. To me, back then, the same brand's big brother v-twin represented the pinnacle of sportsbikes with its charismatic soundtrack, race-crafted persona and looks that made the hottest girl in my school appear as comparably attractive as a doughnut that had been peed on. The Mille was my first true love, despite having never even sat on one, revved one or knowing the first thing about them.
Young, naive and financially destitute, not much has changed in the 14 years that have come to pass other than the fact I've finally got a few credit cards… and I'm not afraid to use them. But is lust alone enough to make me part ways with around £5k in borrowed readies, chancing it all on a bike I'd never ridden? No, was the simple answer to that one. Despite the many bargains I'd seen on-line, with some privately owned Factory spec Aprilias up for grabs for less money than what you'd pay for a box fresh learner legal 125, I still wanted to try before I buy(ed). Which is where my mate Rob stepped in. He bought his 2007 RSV-R Factory back in XXXX and he's more smitten with it than he is with his streak-free fake-tan. Drawn to it for being slightly different and brimming with spec, he's never regretted his purchase, which he's spec'd up with stubby levers and a screen so dark it makes the night seem bright.
Being handed the keys was a defining moment for me, prompting the chance to finally scratch that Aprilia shaped itch that'd left me more confused and pondering than the time I caught Boothy trying on a wedding dress. My first impressions revolved around its size, being much taller in the saddle than I'd expected, with my legs parted unceremoniously by the tall and broad fuel tank; the 'bars felt low and the pegs sportily high. It appeared every bit the race-focused street bike, with a simple dash that fixated more on showing revs than trivial secondary matters such as what speed you were doing.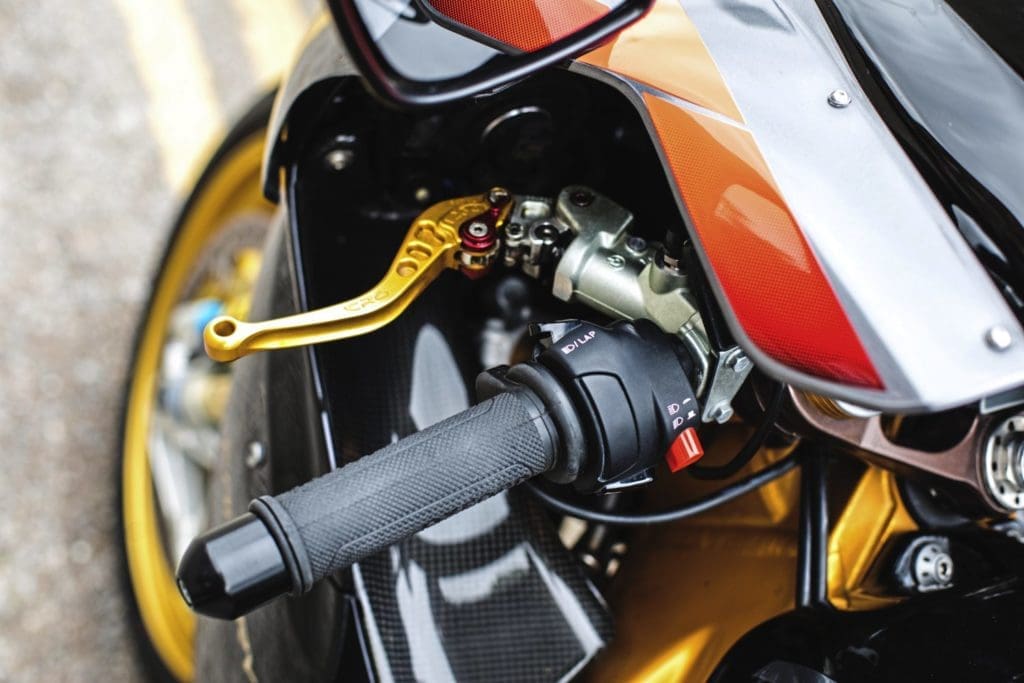 More alarmingly, as I'm terrible for being in the wrong gear at the best of times, I clocked the half analogue/digital display had no gear indicator on tap. Feeling panicked like the time(s) I filled a bike's tank before realising I'd left my wallet at home, starting the Aprilia's motor and hearing it release its heavenly booming soundtrack distracted me from my qualm. The stock Factory spec twin cans still had their baffles in place, but they sounded perfectly loud and endearing to me, emitting a deep, low grumble that got infinitely better as I slipped the bike into first and powered away. The initial pickup was smooth, strong and enjoyable and I was even more impressed at how user friendly the gearbox was proving. I'd heard complaints about the Mille 'box's tendency to make finding neutral feel all but impossible, and how used examples were particular bad for slick shifting owing to years of abuse at the hands of ardent wheeliers. But not this one.
Admittedly, a quickshifter would have made the job all that bit more enjoyable, but the tech wasn't essential. Hitting the market at a time not long after abacuses had been outlawed, the Factory is all but devoid of rider aids, with no engine maps, traction options or even ABS to write home about. This bike reflects motoring at its rawest, comprising a hefty arsenal of horsepower and torque with no handbrake technologies to spoil the party. It's a technophobic's Havana.
Having clocked a good few miles I was really beginning to warm to the Aprilia. It wasn't stupidly fast and neither was it the sharpest of handlers, but it felt engaging and comfy. By today's standards the bike's bulbous fairings felt wholeheartedly protective, and while getting crouched behind the non-transparent double bubble screen was akin to closing my eyes and wandering across a minefield, it did a great job of shielding me from the elements.
Like a chubby best friend who always goes the extra mile to make sure your plate's full when you visit, the Mille's overflowing enthusiasm never seemed to lack, especially so when getting on the power. With such a characterful motor, I was pleased to note the riding was just as endearing as the engine, made all the fruitier by the Aprilia's tendency to lift its front wheel every time I wrung the throttle's neck. It wasn't an instant explosion of oomph, but by the time the big V had crested 6,000rpm there was a rush of urgency to the rear wheel which got the front hoop airborne. Our bike, which I'm told isn't typical for the model, was also prone to some pretty fruity slappers that I put down to setup more than anything.
The Factory's Öhlins suspension is a nice bit of bling to behold, but it only takes a few wrong guesses with a screwdriver to rule its brilliance null and void. To me, it felt like this bike was squatting at the rear, as it didn't just slap itself silly, but proved a bit of a pig to pitch into slower corners, made worse by a vulnerable front end feel when at knee down angles. Some fettling with the adjusters made a good amount of difference, but not enough to stop the front wheel from feeling heavy handed at a snail's pace – like you get on long wheelbase bikes. The slower the pace, the more awkward the bike felt, but it came into its own on long sweepers. It was an enjoyable bike to hoon around on, only getting better with time.
The motor is obviously the heart of the Aprilia and that was its biggest draw. I never felt bored of its eagerness, or surprised at how obligingly it could tootle along without getting all spasmodic and jittery like big twins typically do. Don't get me wrong, being in the right gear was very much crucial, and while at first the lack of a gear indicator made this necessity hard work, I soon learned to hear and feel my way around the gearbox.
Using engine revs, exhaust notes and a general gauge of speed, I felt as predictable as Mystic Meg when it came to working out where I was with the bike's six-speed 'box, helping me to keep the 90̊V buzzing at all times. And what a buzz it was, literally. Being about as tactile as a frying pan to the face, the vibes from the motor seemed to filter their way through to the pegs, 'bars and saddle. Never annoyingly, but very much always present. What was annoying though were Rob's stubby CRC leavers. They might have added a bit of bling, but they made operating the Aprilia's hydraulic clutch far more painful than it should have been. The other daft thing was the 'bars' tendency to trap my hands against the tank when performing tight turns.
Opening up the clip-ons would have proven a simple fix, and probably made the ride that bit comfier at the same time. Still, these were only small foibles and while we all love a rant, my gripes stop with these superficial hang-ups that could be sorted out in a jiffy. On the whole I really enjoyed blasting around on the Aprilia and only wished my three day loan of it could have gone on a little bit longer. It'd charmed me in a way that modern bikes can't, pushing all the right buttons and winning me over with its strong looks, and throaty motor.
Even when gawping my way around the bike in my garage, I found its build quality impressive, with no rust or poor paint to criticise. That's not bad going on an 11 year old bike that's clocked 20,000 miles and has been used in all weathers; even the carbon fibre panels looked cracked free. I very much liked what I'd seen, felt and heard to the extent I'm now back on my phone and searching for a keeper. But if the missus asks, I'm having an affair.
---
Boothy's Bluff
I really liked the Mille. It's not going to break any land-speed records but it had a certain character that, for me, translated into nothing but charm. The sound of the motor, through those big twin cans, quickly aroused me and had me blipping the throttle at any given opportunity. I wasn't a fan of the fuel tank; the rear of which is wide and square and digs into your inner thighs, although I soon got used to it.
The front brake was sharp and strong, refreshing un-adulterated by ABS and more than obliging of standing the Aprilia on its nose with a two-finger squeeze. Cornering, though, wasn't where the Millie shone. Direction changes were acceptable but mid-corner, the RSV's soft front end felt worryingly vague, especially on some of Lincolnshire's less than billiard-table smooth roads. Ok, so it looks and feels a bit dated, but I had an absolute blast riding it.
---
---
I own it… Rob Boston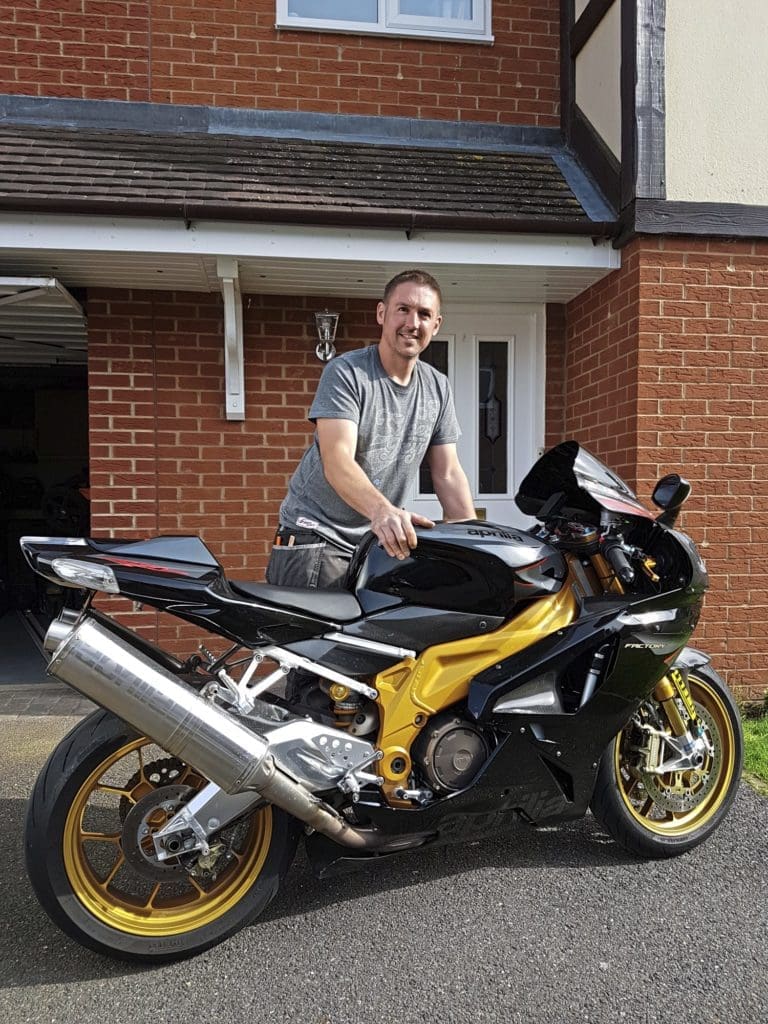 I bought this Mille back in XXXX and I'm so glad I did. Most of my mates stick to mainstream fours, but I was after something a little different. It's a stand out kind of bike that draws people in with its looks as much as it exhaust note. I know there are quicker litre bikes out there, but I've never found it slow. It's good for going long distances too. Me and my mates go all over Europe on our bikes and I've never felt especially uncomfortable or wished I was on anything else. For the money, it's a great piece of kit and I won't be getting rid of it in a hurry. It suits me perfectly.
---
Buying an Aprilia RSV-R Factory
Prices: From £4500 to £7000.
The Factory uses the second generation of Aprilia's V-twin motor called the V90RR or 'Magnesium' due to its cases. This engine gained larger valves in 2006 (in the eye-bleeding gold framed bike), boosting its power slightly in its only update. With the RSV-R there are lots of small irritations that are easy to fix, but if left unchanged ruin the owning experience.
For a start there is the battery, which needs to be upgraded from a 90CCA unit to a 230CCA one to preserve the bike's sprag clutch. If you use the rear brake a lot, fit rearsets as the stock positioning of the master cylinder (horizontal) allows air into the system, often rendering it useless. Repositioning it vertically sorts this issue. The clutch system also lets air in, making selecting neutral a mission. You can either fit an aftermarket slave cylinder, bleed the system regularly or fit a later 0.4 type oil jet (it may already be fitted, depending on model), which helps.
Like the RC8, properly balanced throttle bodies make a world of difference to the bike's throttle response and on the Factory check the area around the fork pinch bolts as over-tightening them can crack the bottom of the Öhlins forks. The RSV's motor is very robust, but hard track use can lead to valve damage due to the lack of slipper clutch, so avoid track hacks. Finally, give the bike a very good look over for damage (and get an HPI check to see if it has been written off) paying particular attention to the areas on the frame and swingarm behind the pegs and exhausts as these can get pushed into the bike in an accident, dinging the frame/swingarm and writing the bike off in the eyes of insurance companies. Hence the need for the HPI.
Specs:
Engine:
Type: 998cc, liquid-cooled, 8v, 60-degree V-twin
Bore x stroke: 97mm x 67.5mm
Compression: 11.8:1
Fuelling: EFi
Tested Power: 118bhp @ 10,000rpm
Tested Torque: 101Nm @ 8,600rpm
Chassis
Frame: Aluminium twin spar
F Suspension: 43mm inverted Öhlins forks, fully-adjustable
R suspension: Öhlins monoshock, fully-adjustable
Front brakes: Four-piston Brembo radial calipers, 320mm discs
Rear brake: Two-piston Brembo caliper, 220mm disc
Dimensions:
Wheelbase: 1418mm
Seat Height: 810mm
Dry Weight: 185kg
Fuel Capacity: 18-litres
Speed:
0-60: 3.68 sec
0-100: n/a
0-150: 18.51 sec
Stg ¼ mile: 11.52sec @ 130.67mph
Standing mile: n/a
Top speed: 168.3mph
Rounding off
As different as these two weapons proved to be, the one concurrent theme than ran rich in their veins, oil pumps and cylinders was their seductively joyous, thumping dispositions.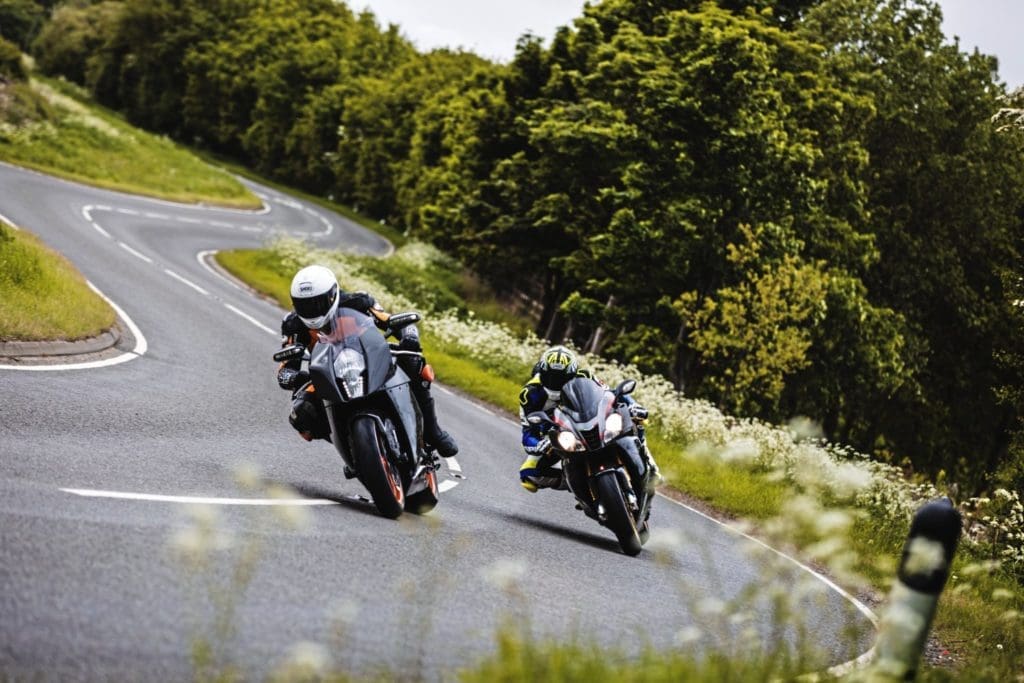 Big wheelies, big noise and big smiles flowed as fluidly as beer in a Benidorm happy hour, charming the socks of us indulging jockeys. Like a couple of pissheads hooked on their adrenaline delivering mannerisms, neither me or Mike could get our fill of the good stuff on tap. For a twin outright speed comes second to torque, and smoothness comes second to character, and that's what makes them so great. By today's standards, these bikes are small fry, underpowered and technophobic, but that doesn't make them incompetent or forgettable. While their days as headliners might have come and gone (like Boothy's hair line), it's impossible to ignore their unique looks or performance focused DNAs.
Here are two bikes built with purpose and passion, both being more than capable of smashing your back doors in if you for one second choose to disregard the 150ish ponies they pack locked and loaded. For outright bursts of torque, the KTM had the edge for me, and that was also my preferred bike for hustling into corners sporting the precision of a thoroughbred racer. But the Aprilia's iconic makeup gave it the edge in the allure offensive.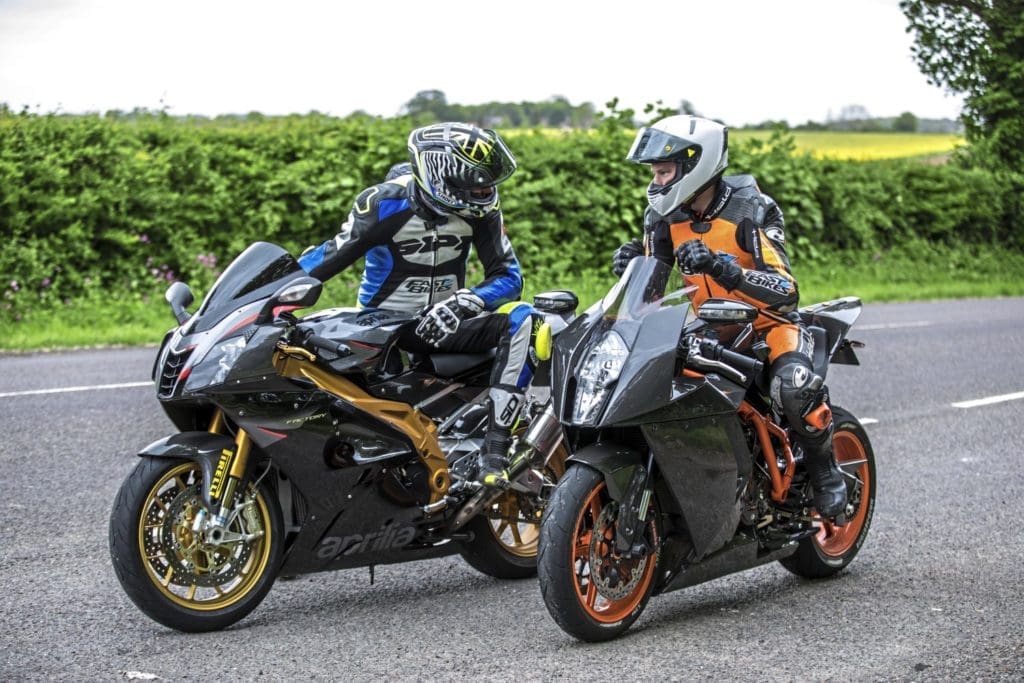 It always has been and always with be a thing of beauty, littered with all the right bling in all the right places. On track things might be different, but on the roads I found it offered more than enough to keep me from wanting. And the same goes for the KTM. Neither of these bikes are overly logical or common purchases, but those brave enough to step away from the mainstream and sample something from the exotic will appreciate why their owners love them so much. It might not have made sense to me before, but it sure as hell does now.
The nearly v-twins…
To be fair to Aprilia, the second generation of RSV-R (which came in stock R form and higher-spec Factory) did sell very well initially. However when Ducati released the 1098 and then the subsequent 1198 the Aprilia was never in the same ballpark and sales tailed off. The RSV sold on the fact it was cheaper than the Ducati and yet boasted cool bling such as Öhlins suspension, OZ Racing wheels and Brembo brakes and its passionate fan base were prepared to overlook the fact it lacked some of the Duke's trick bits such as traction control or onboard datalogging when upgrading from the older generation. Well for a while, towards the end of its life the Aprilia's popularity dipped considerably, hence the need for the all-singing V4. Or were they just forward thinking as Ducati have now followed suit…
The RC8, however, came fresh to the party and that was its downfall.
Initially released in the underpowered 1148cc capacity, the RC8 failed to hit the ground running and never really recovered. The R version brought 1098/1198-matching power with its bigger 1195cc capacity motor, but it always lacked the flash electronics and where Ducati moved the game on by introducing traction control on the 1198 and then knocked the ball out of the park with the Panigale's advanced electronics, the RC8 R was left treading water with KTM claiming 'you don't need traction control when you have traction' to excuse their bike's lack of technology. The buying public didn't swallow this line and with no WSB credibility, a lack of modern electronics and a high price tag, the RC8 R was soon killed off.
Want more Fast Bikes? There's loads to see on our Facebook, just click here! If Twitter's the social space for you, well you're in luck! Follow Fast Bikes on Twitter here!

Enjoy more Fast Bikes reading in the monthly magazine.
Click here
to subscribe.