Is it a bird? Is it a plane? Or is it Triumph's prototype for a Daytona 765… in the guise of a Moto2 mule?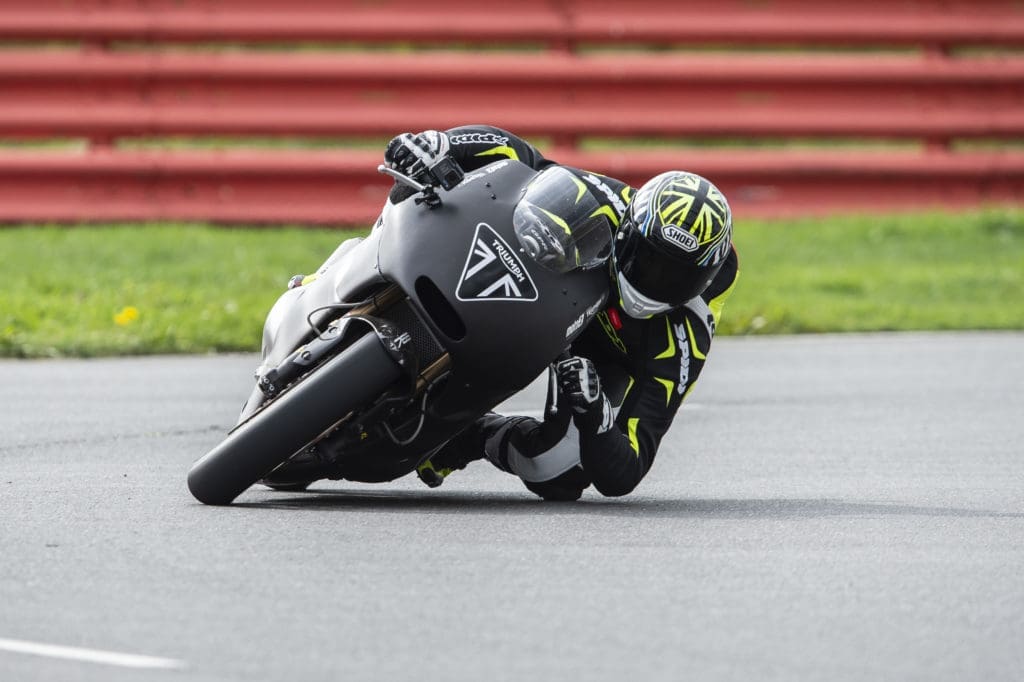 I'm sweating my nuts off, my adrenaline's bouncing off the limiter and my head's pondering whether the stiffy inducing bike I've just been spanking is an early iteration of the new Daytona 765? Of course, it wasn't sold to me that way. The invite was to test Triumph's Moto2 'mule' around Silverstone's tight and technical Stowe circuit, but there's not much Moto2 about this particular steed. Well, aside from a few stickers and an ear obliterating Arrow race system. Hear me out: the frame's from a Daytona, so too is the swingarm, the forks, the brakes, electronics and even the dash. Sure enough it's got some race fairings on it, and the larger than life rear wheel looks broader than a chopper's, but we're otherwise talking about a Daytona with a Street Triple's engine in it; the dream we've all been calling for, right?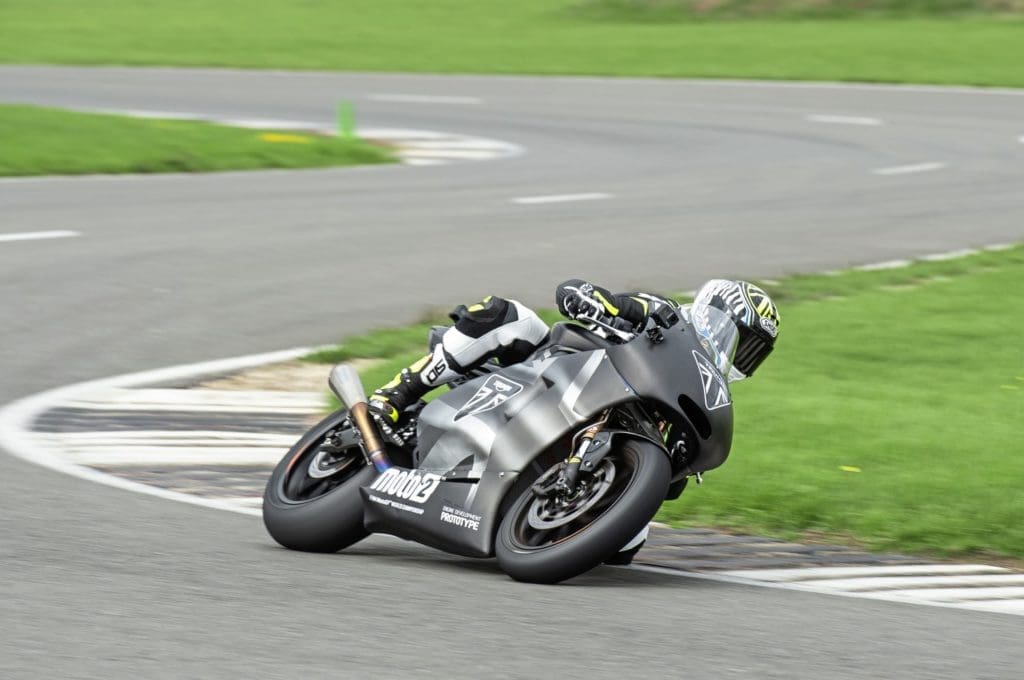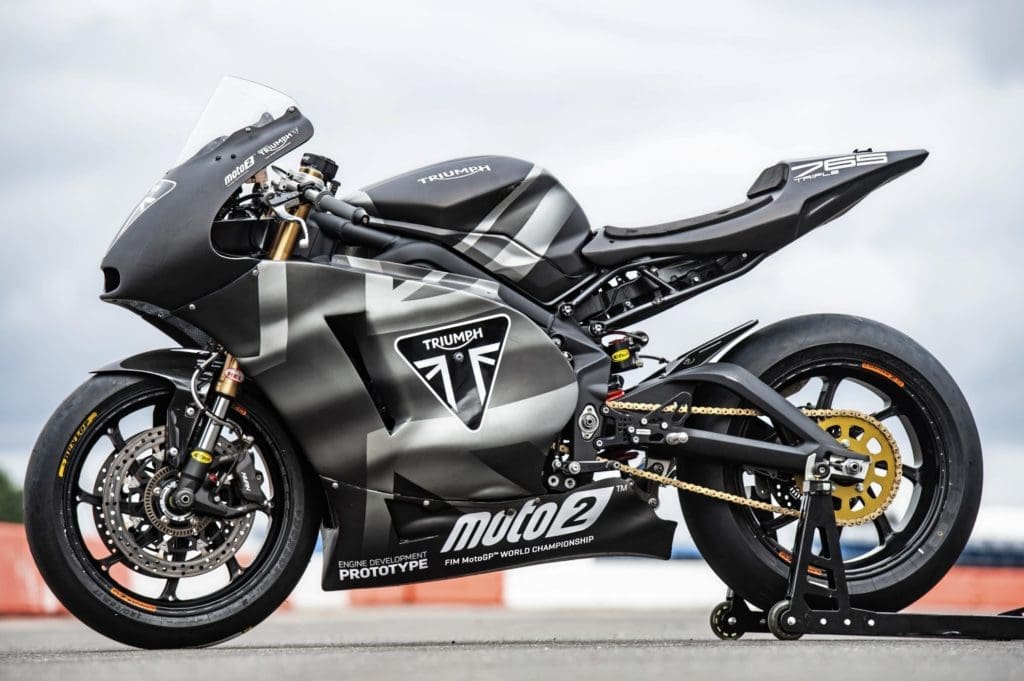 Its horsepower's a guessing game, but 135-plus ponies is what's being muted around by Triumph, backed up by a knockout 80Nm of torque. The kind of digits that work nicely with the guestimated sub-160kg kerb weight of this weapon that feels so light it could do with tethering down. Exactly how lardy it is remains anyone's guess, but Triumph's been pretty floosy in lots of other areas. Two years on from the Hinckley brand's signing to become the official engine supplier to the Moto2 world championship, we've had more flashes of leg than you'll get down Amsterdam's Red Light District. But like any well-honed seductress, Triumph knew the time for teasing was over. We were in need of a bit more substance, and what better way than to cock-a-leg.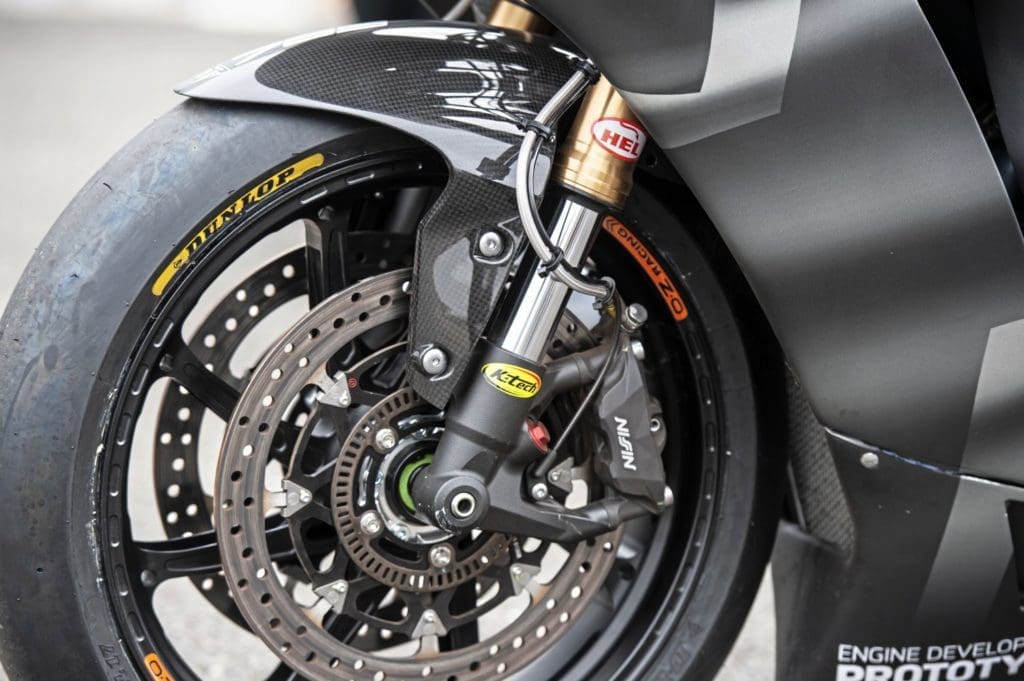 Having waited like a saint as F1's Damon Hill and T.V's Charley Boorman edged successively further into the 'mule's' rather large chicken strips, my time finally came to straddle this beast and feel rapidly at home on its firm but familiar furniture. It felt every bit a 675, albeit glitzed up with tall-mounted rearsets and a wide Moto2 fairing. The stock tank was in place, and the Street Triple's standard switchgear made the starting process all the more simplistic; a simple thumbing on a button got the three-cylinder booming like a bear, sending an electrifying resonance throughout the bike with every self-indulgent blip of the throttle. Oh yes! There were no modes, no limiters or any such tat to delay the bike from action, which got underway after hooking first from the revised gearbox.
Unlike the stock Triple, the first and second ratios had been made taller at the bequest of Moto2, but they didn't take much getting through as I joined the track and pulled the throttle to its stop, and took advantage of the integrated shifter. The torque was impressive, lofting the front on the power in first, before having another stab after hooking second. I've ridden a lot of tuned supersport bikes and never have I known one so potent low down; they're all about the top end buzz. But the Trumpet had other ideas, excelling at both ends of the field as I reached the back straight and gave it the berries. Knowing the stock Triple's ECU had been remapped to allow 14,000rpm (just under 2k up over standard), and made all the better by a revised fuel map, the 765 was given no mercy as I bounced the backdoors off its uprated titanium valves, squeezing every last ounce of naughtiness up to its raucous sounding limiter.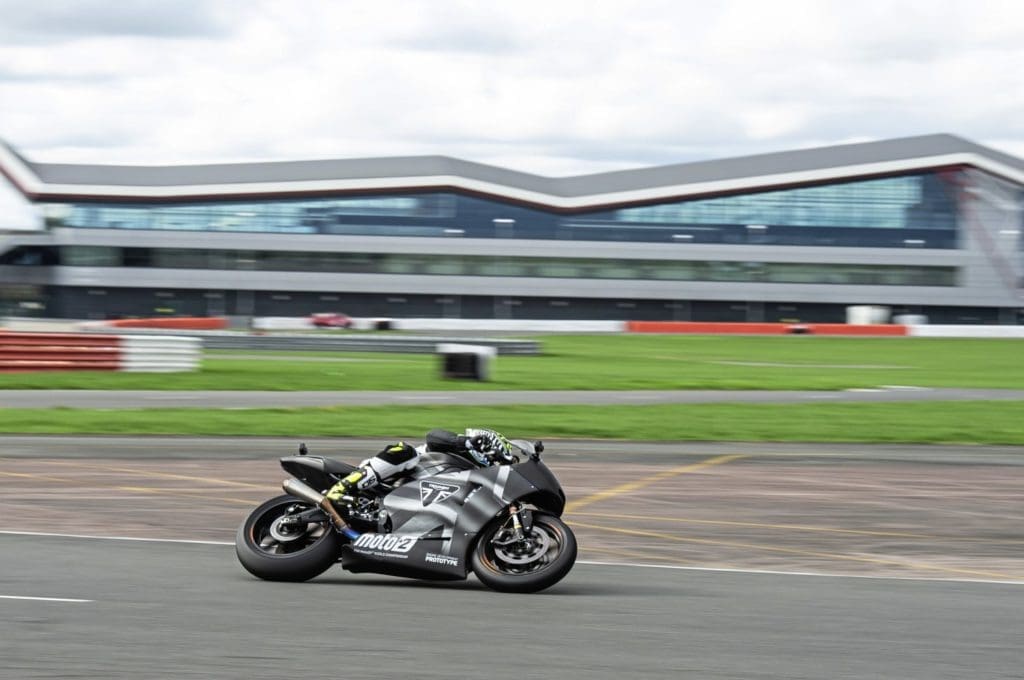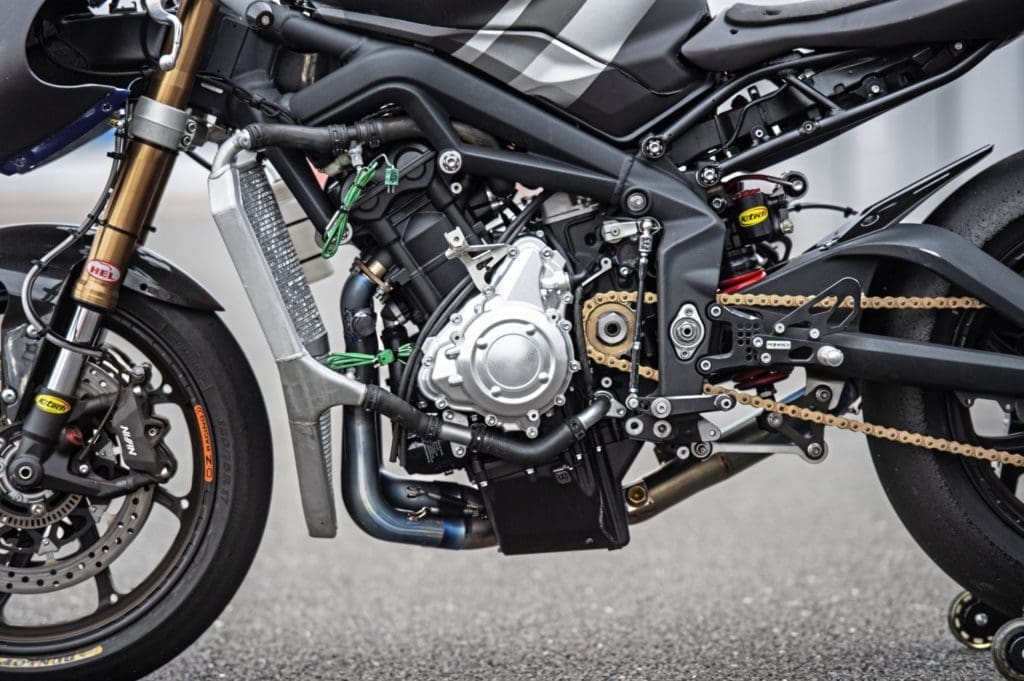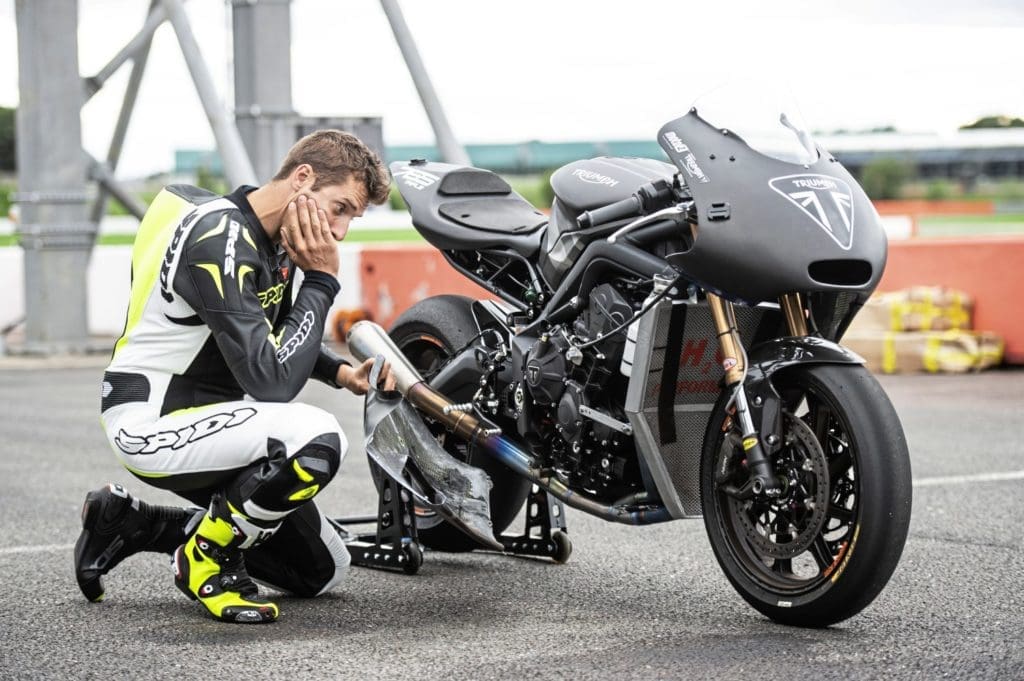 The motor didn't disappoint but, being honest, the taller second gear did drag out the acceleration process a little, unlike third and fourth which seemed to fly by with the same pace Boothy selects and drops his women. The Trumpet felt better than good; it was racy, raw and accompanied by a soundtrack so orgasmically brilliant you could've bagged it up and sold it down the local sex shop. Impressive for other reasons was the standard motor's slipper clutch. Having warmed up on the circuit by abusing the living hell out of a Street Triple, the concurrent way the bike backed-in, grabbing slightly awkwardly and inconsistently when changing down from fourth to second, told me this had no trick plate spinners on-board. But who cares? If anything it added to the experience, and reiterated this was more a Daytona than a refined Moto2 maestro.
---
Stuart Wood: Triumph's Chief Engineer
If there's one man that knows whether a Daytona 765 is truly on the cards, it Triumph's Stuart Wood. Over a tea and some biccies, we picked his brains…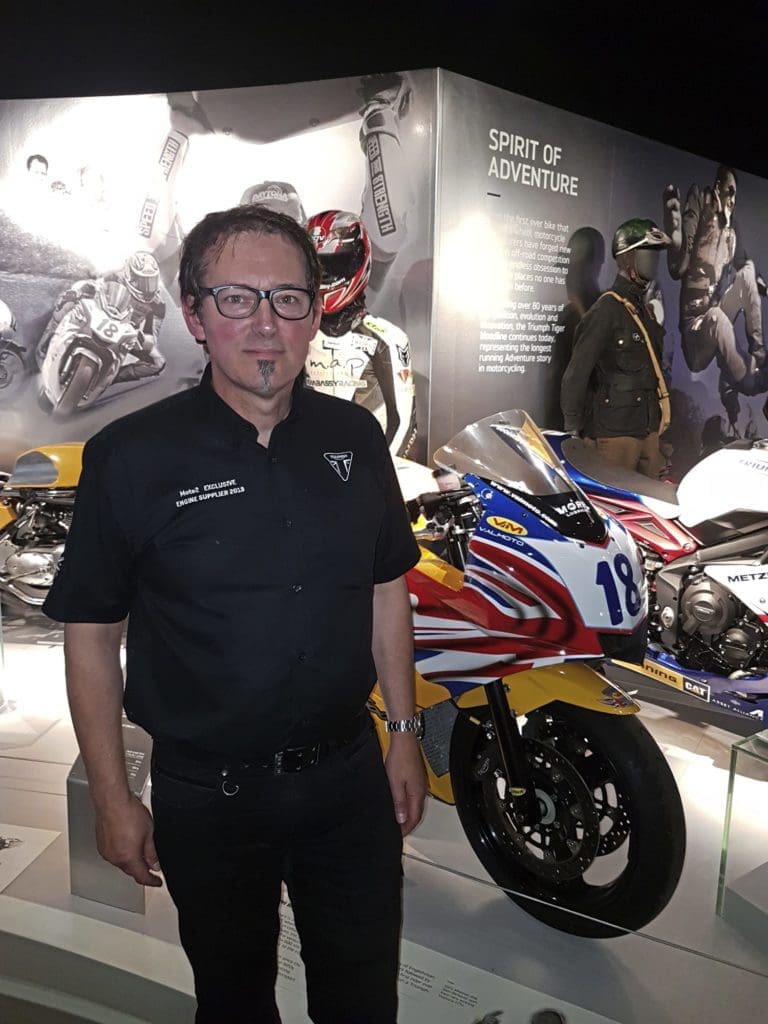 FB: What can we expect from the 765?
The 765cc engine was an evolution of the 675cc which we've been building for years that we understand from a road and race engine, so even though the 765cc engine was designed for the road it's got the same attributes which will make it work incredibly well on track. For us, it's not so much about the torque or even the peak power, it's mainly about the torque spread and the power delivery, and how the engine interacts within the chassis being a triple. It's a great challenge, but a great opportunity. What we're at liberty to say is that the engine's producing in excess of 135bhp, and in excess of 80nm of torque. We don't have the previous suppliers motor to compare against, but what we know is that at the very first test with the manufacturers, first time out, the Triumph engine was already matching the existing brands lap times, which really shows its potential.
FB: How different is the Moto2 engine to the stock engine?
We've increased the power and torque, alongside increasing the rev range to 14,000rpm. The details within the engine aren't currently being discussed but we obviously have changes such as a higher compression ratio, titanium inlet valves, race springs and a few components to allow it to achieve those figures – we don't just take a stock engine and increase the rev limit. Although revs have been increased by nearly 2,000rpm so the 765 now has a 14,000rpm ceiling. The principles of the engine are exactly the same as the Street Triples', albeit with more power and torque through a better range of revs, with a better response, which gives the rider a more flexible use of gearing as well. The only other key differences are to the first and second gear ratios, which are now taller, plus engine has a much lighter race spec generator, which saves weight on the crank and helps the motor to spin up faster. The feedback we've had from the first test was that it's much more akin to riding a MotoGP bike, as rather than corner speed it likes to be stuck onto the fat part of the tyre and fired out of corners, so it will be interesting to see how the current Moto2 riders get on with the machine next year as it will be challenging.
FB: Why build this mule?
What you see here is essentially a modified Daytona chassis, which has been utilised purely as a basis for us to test the engine; it's basically like a mule bike. What we needed to do was test the engine, as the engine isn't designed as an engine; it's designed as part of a motorcycle. This means that the engines characteristics on the road help to determine its attributes on track, as it's not about hitting the right power figure, it's about getting the feeling. There were very few modifications made to get little things in like the Moto2 wheel sizes and slick tyres, but there's not a huge difference to an actual Daytona's geometry; we're only talking a single degree sharper headstock angle and a 4mm increase on trail, to help the bike turn. There have been two stages of engine tune, with the second one featuring an FFC slipper clutch for instance, so riders can tune it for things like how much they want the bike backing into corners and things like that. The next stage is to pair the motor up with Magnetti Marelli electronics for full adjustability, which is actually in use on another test mule machines – it's getting very close to sign off as well which is good.
FB: Do you have to supply teams with a whole mule?
No, not all. We only have to supply engines, as the initial work was done with the chassis manufacturers so they understood what they were designed for – they had engines and details from us to build the actual chassis. The teams will get a complete bike for the first test in November, and throughout the season teams are supplied with a sealed engine which they aren't allowed to have apart, and then after a certain amount of time it comes back to us and we supply them with another while we service the used one – the motors are fully refreshed every three rounds. We don't manage the engines, and it's actually a Dorna approved company that looks after all the servicing side of things – we just supply all the components, which works well for us. A lot of our work has been to ensure consistency engine to engine, and in terms of measurements every engine has been as close as can be. A lot of effort goes into making the series successful, and it's very professional.
FB: People are expecting a new Daytona. Do you have the inclination to build one?
Yes, if there is demand. That's not looking at sales figures, that's talking to customers, and potential customers all the time. We are asking, we do want to know what people want, and it's an exciting bike, but there has to be a real market. If there is, there's every possibility. We keep hearing from the press, from many people, saying why aren't you building a new Daytona? The truth is, at the moment people are buying other styles of bike. I don't know how we can be persuaded, but maybe, just maybe, the positive feedback from this race bike will get broader awareness of what we're capable of, and then who knows from there. We've done very well over the years, and the really positive thing about Moto2 and people seeing it right now is that they're seeing an engine used hard and raced fast, that they can genuinely go and buy a version of for the road. It's not just the shape of the engine and the fact it's three cylinders, the way it feels, the way it delivers power, the way it sounds and the way it allows you to ride a motorbike is the same; we've taken our values, and how we feel a bike should be set up and put it in a race engine.
---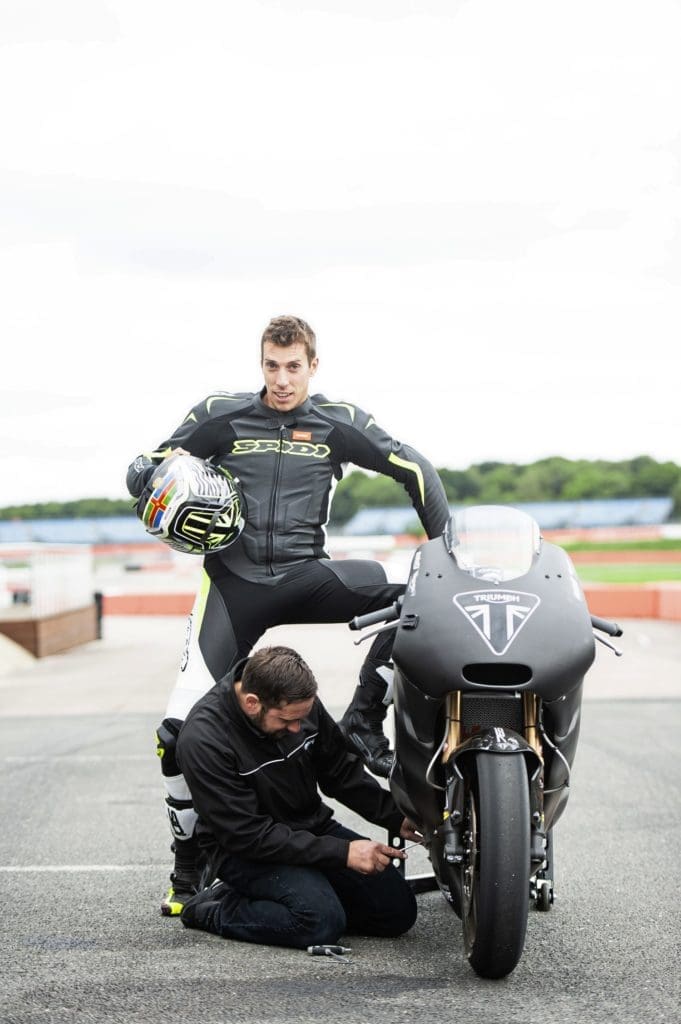 Frame:
The main frame and swingarm are Daytona 675 derived. The only real changes to standard setup are special rear wheel spacers to accommodate the larger Moto2 rim, and a 1̊ sharper headstock angle to help the bike steer a little sharper. To save weight, the rear subframe is also bespoke. The rear shock's K-tech and the stock Daytona forks have been uprated by the same brand's race cartridges.
Wheels and brakes:
Forged magnesium Oz wheels reduce precious unsprung weight and allow a wider 190-profile rear hoop. The Nissin radial monoblocs are the same as the Daytona's, being coupled to the stock mastercylinder and lever. For added oomph Brembo Z04 pads have been thrown into the mix.
Fairings:
Triumph have nabbed a set off existing Moto2 carbon weave items for their 'mule', keeping weight low and helping to mirror the profile teams are familiar with. Along with additional bracketry for fixing, a channel had to be fabricated to link the air scoop to the stock airbox.
Electronics:
The 'mule' benefits from the Triple's ECU, with a race map and increased rpm (14,000rpm), plus its fly-by-wire throttle. There's no traction control, but the package features a Triumph blipper and shifter. A bespoke wiring harness has also been made for the bike. In race trim, the Moto2 bikes will run with control-spec Magneti Marelli ECUs.
Engine:
The stock Street Triple 765 motor has been kitted with titanium valves, race-spec valve springs, a raised compression ratio and a lighter generator to help the motor spin faster. The heads are also ported, the injectors are higher flowing and the first two gears have been given taller ratios. On the 'mule' the stock ECU has been altered to allow for a 14,000rpm ceiling, helping to produce in excess of 135bhp and 80Nm of torque. The finished Moto2 spec engines will also incorporate an FCC slipper clutch.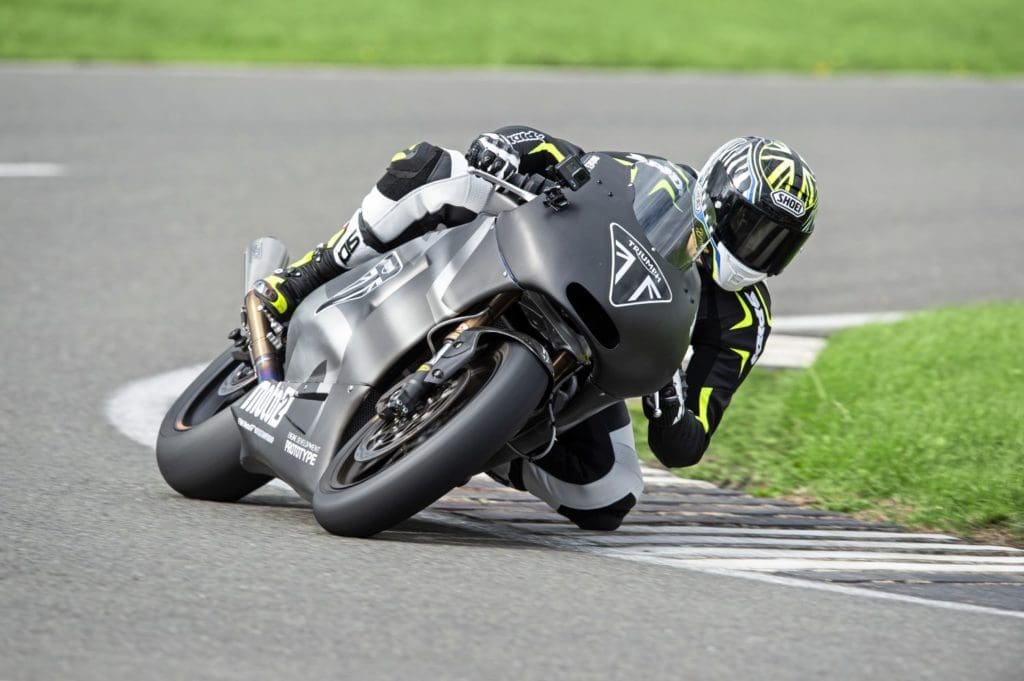 See that's the funny thing in all this. The engine is what all the hype's been about, but if Triumph really wanted to align its motor with the full Moto2 experience, surely they'd have gone banging on the door of Kalex and asked for a spare frame? Add in a few brackets and away you'd go, grasping categorically how the engine paired with a proper GP chassis and proper GP suspension. Unless, of course, that was only partially their intention. I've yet to find a ridiculer of the deceased Daytona's handling, which was once again hammering home its utter brilliance around Stowe's bumpy and tight curves. To sharpen up the package, the headstock angle's been made one degree sharper, aided further by K-tech cartridges up front and a race-spec mono at the rear.
Taking into account its basic race loom, lack of lights, no switches and a featherweight bespoke subframe, the 'mule' must have been 25kg lighter than standard, which translated tantalisingly in the corners. You only had to look at a bend and the Triumph would flop over with more obedience than a Crufts winning cockapoo. Better still, it felt planted, with a plush front end that lapped up trail braking and egged you on for angle. The rear was as great, being a trooper into corners and as delectable as a stringy bogey on the way back out. Folk always talk about triples being so tractable, and this 'mule' was no exception to the rule.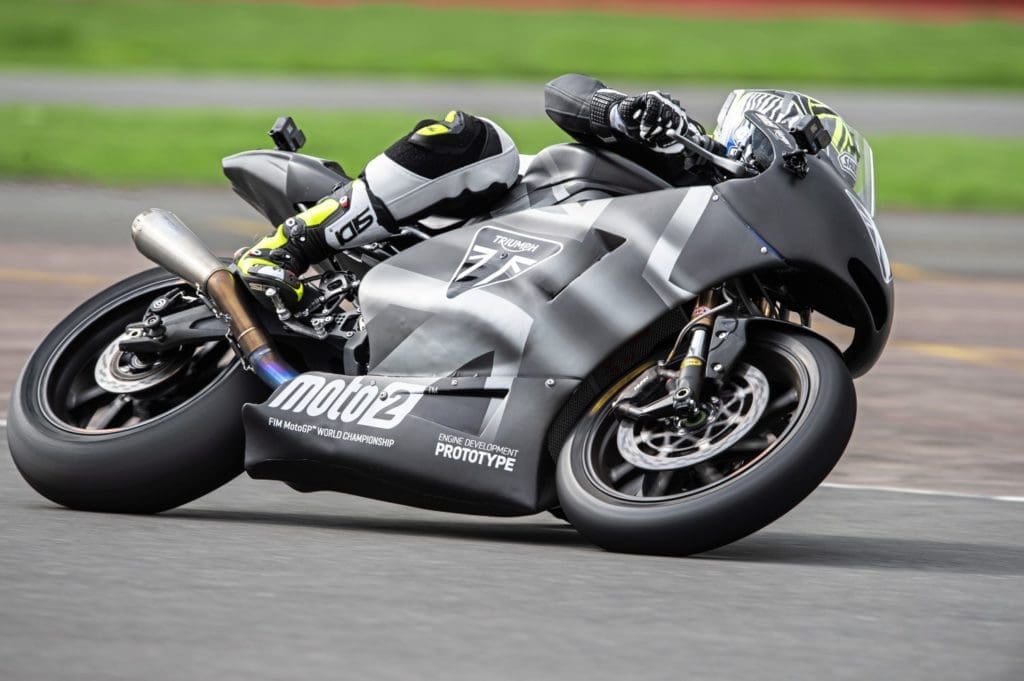 You could feel so wholly the way the motor translated its drive to the rear wheel, digging in and punching like a heavyweight with its real time connection from the throttle to the tarmac. Early on in the lap was a left hand hairpin that fed you onto the back straight; the kind of corner that can make or break a lap time depending on how you get out of it. Its exit was one of those places you had to go Billy Big Balls, which would cause the rear to break traction with the silkiest of slides. That alone got pretty addictive, along with the wheelies you'd hook up on the pacy drive out. It never got old, and that finite connection from the throttle proved just as much a winner around the back end of the circuit where the corners merged relentlessly.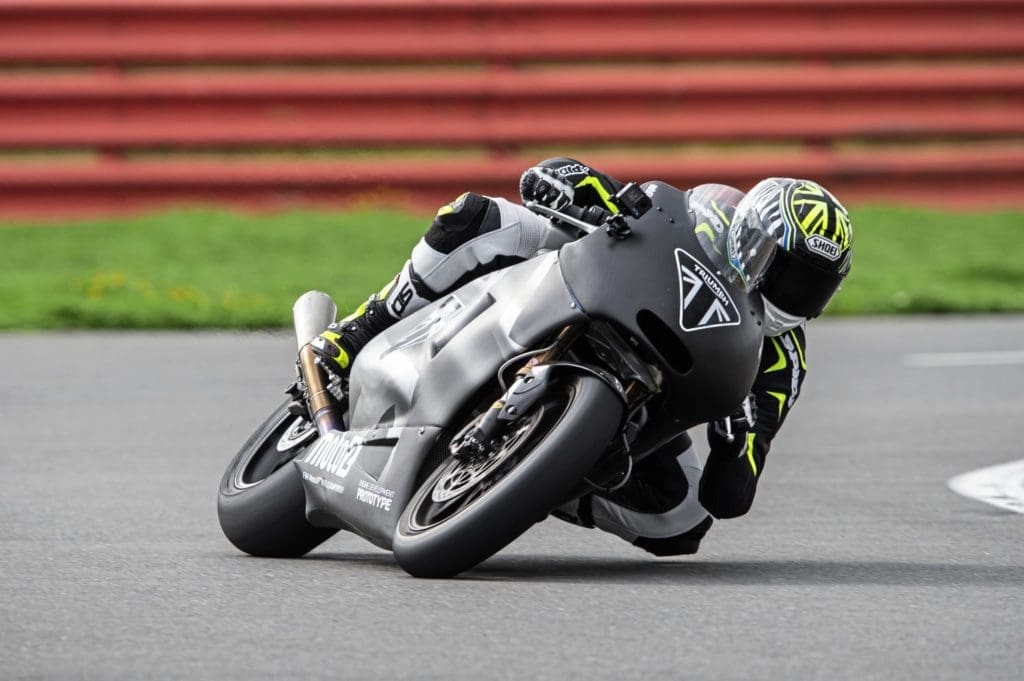 With no demand to brake but too little time for full gas, it was a case of joining the apexes through a moderation of drive. I could list an A4 sheet of bikes that would've made this hard work, but the Trumpet seemed to lap it up, launching controllably into corners, and flowing gracefully out of them.
As experiences go, the mule ticked my every box, cementing my lust for a street bike of this exactness. When Triumph ditched the Daytona the motorcycling world became a darker place, but there is now light at the end of that tunnel. I'll cut the bull and clarify that there's been no definite statement of intent that the British brand is set to make the Daytona 765 a reality any time soon, but they've stopped just one step shy of that.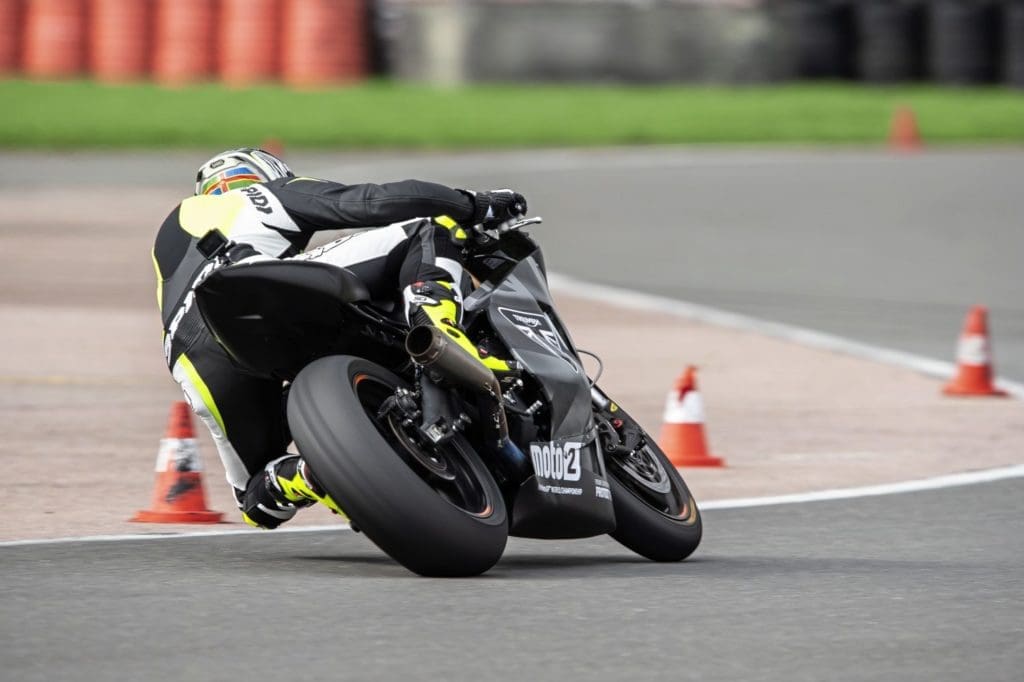 Continuing with the teasing, the statutory retort from every senior source I spoke with went along the lines of, 'if people want it, we'll build it'. So let's get that bloody petition going, folks, because this is too good to miss out on. Believe me. On a personal note I reckon it's on the cards, and with Triumph being the smart cookies they are, I'd expect to see it sooner rather than later, tying in nicely with the launch of their Moto2 endeavours. Only time will tell.
---
Triumph and Moto2…
Triumph's Chief Product Officer Steve Sargent's been hands on from the get-go with the whole Moto2 tie-up. Here's what he had to tell us about it the story so far and what it'll entail.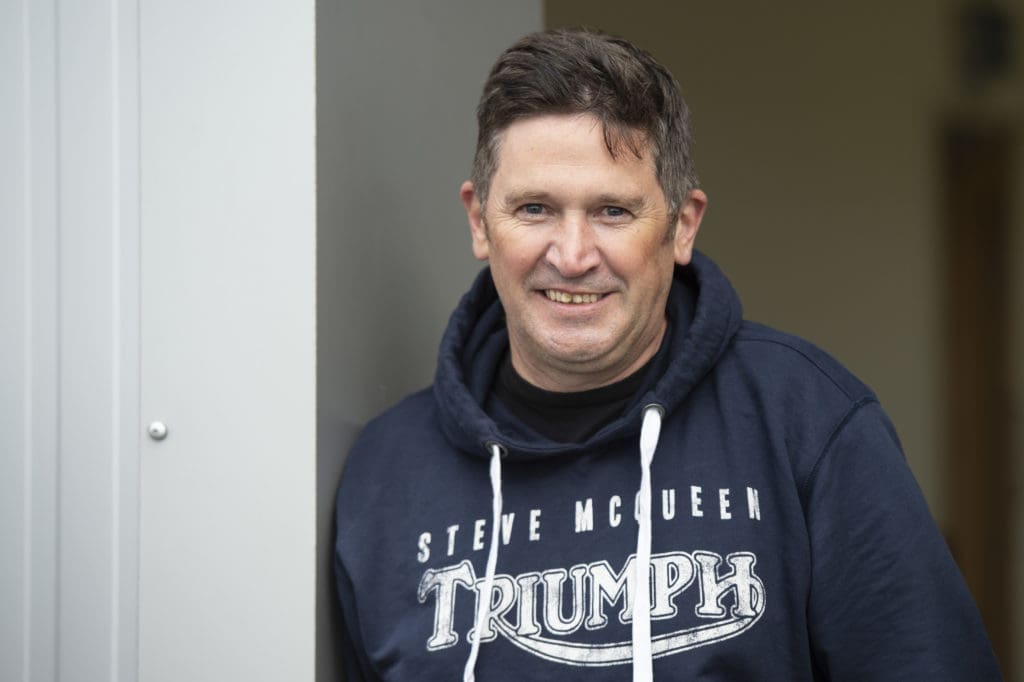 "I got involved with Moto2 gig right from the start, back in 2016. We were made aware of the fact the Moto2 engine contract was coming up for renewal via a mutual acquaintance that put us in touch with DORNA for preliminary discussions. Basically, we wanted to know what they were wanting with regards to engine supply, and they were interested to know what it was that we could offer them with our 765 motor. Quite clearly Moto2 has been a very successful and popular championship for DORNA, and they wanted to make sure their next move was as considered and enticing as their first one. Fundamentally, they wanted to make sure that the series' replacement motors could be as reliable and dependable as the Hondas that've seen the championship flourish.
"Obviously they were also interested in upping the ante, with a more powerful, more dynamic and exciting powerplant; something that could offer a bit more of a challenge for the riders and the teams. They also wanted to know what we could offer electronically to try and technologically advance the championship, and put it slightly more in line with the premier MotoGP class. We liked the challenges they were putting forward and knew that we were able to meet all of their demands and more. In terms of horsepower, the 765 has upped the game substantially as we're achieving more than 135bhp from our motors. And in terms of torque, we're talking about 80Nm – both figures being considerably greater than what the Honda was making. And then you've got the tractability of a triple, which has proven a massive hook to the GP test riders who've been putting the Triumph Mule through its paces. Anyway, DORNA liked what they were hearing and we saw the move as a big opportunity to broadcast Triumph in the premier racing paddock. It was a deal that suited both parties.
"We've obviously been working very hard to develop and test the proposed specification engines, which are now in their final iterations. The engines will go for three rounds before a refresh, and there's a thorough schedule for their regular overhauls, which will done by a company called ExternPro, who current look after the series. They have a robust process that they go through when it comes to building engines, and re-building engines. We've actually had some of our specialists from the factory spending time with the guys at ExternPro to help educate them on how we build a triple engine, which has brought good co-operation between the two of us. At the end of the day it's in everybody's interest that we have fantastic reliability and the very best performance. The motors are obvious derived from the 765 motor.
"Fundamentally, we've tried to help the motors breathe a bit more freely, and to spin up a bit faster. The way in which we've done that is by porting the cylinder head, fitting titanium valves and stiffer springs, plus a race kit alternator to reduce inertia. We've also kitted the engines with higher flow injectors, an FCC clutch and taller first and second gears. And then there's all the electronics. The standard bike revs to 12,650rpm, and the Moto2 bike engine will rev to 14,000rpm, which helps free more peak power. We've been very pleased with what we've found, both in terms of performance and durability.
"We've also simulated extensive stints of racing conditions on track to try and evaluate any potential wear. But everything's been fine. We're ready to roll, DORNA's happy and now our focus will be on supplying the necessary number of engines needed for all the teams, who'll undoubtedly be hoping to get an engine in their chassis ready for November's official test – that'll be when the true Triumph Moto2 machines will be making their debuts, and we really can't wait. It's going to be very special."
---
Triumph Daytona Moto2 'mule'
Highlights
135+bhp triple
160(ish)kg kerb weight
Quickshifter/blipper
Awesome agility
Effortless handling
GP bike for the masses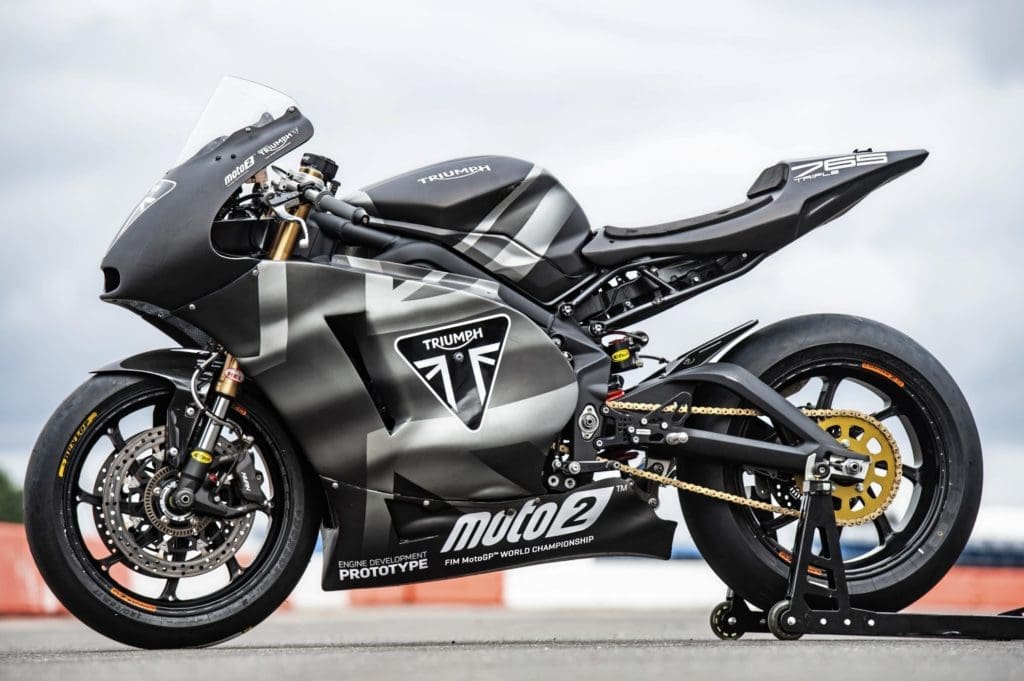 No effort needed
Planted as they come
Look and it leans
Strong for its size
How could it not be?

Enjoy more Fast Bikes reading in the monthly magazine.
Click here
to subscribe.