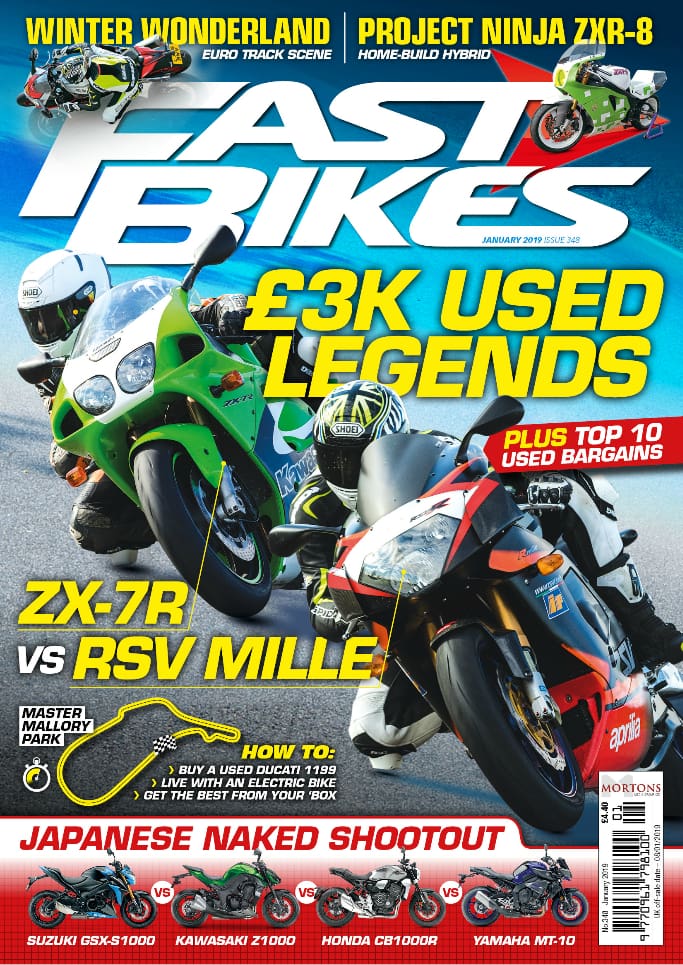 The latest issue of Fast Bikes is out now, and as per usual, it's an absolute bloody stonker. Here's a little taster of what we have in store this month…
£3k Used Legends
Bruce and Boothy took to the streets on a pair of budget bullets and had a blast while they were at it.
Get Naked Part Deux
Having thrashed European nakeds to within an inch of their lives last month, part two sees four of the best Japanese bikes put to the test.
Zero FXS Supermoto
Will Frodo be buzzing after riding the electric supermoto?
Winter Wonderland
Bruce flew to Spain to take in the Euro trackday scene.
Top Ten Sensible Superbikes
Ten of the very best bikes you can buy with a budget of £5k.
IT'S THE NEWS
Upfront
All the tastiest biking titbits.
GEARED UP
Products
All the latest, coolest and trickest products.
THE KNOWLEDGE
Used Buyer's Guide
Everything you need to know when buying an 1199 Ducati.
MASTERCLASS
Project
Rob's been doing some more decorating and the ZX8 is starting to take shape.
Legal
When your bike goes pop, should you take it to court or take it on the chin?
Track Attack
How to master the best of British circuits. This month: Mallory.
Know Your…
…Gearboxes. The lads from Nova tell us a thing or two about 'boxes.
YOUR LIFE ON BIKES
Addiction
Like supermotards? You're going to love this month's centrefold.
You & Yours
All of your latest adventures around the UK and beyond!
Chatter
It's only right and proper that we give the world's best readers a page of their own.
OUR LIFE ON BIKES
Staff bikes
More models, more miles and more mods for our fleet of test bikes.
• Suzuki GSX-S1000
• Yamaha YZF-R1M
• KTM 1290 GT
• Kawasaki Ninja 400
• Honda CB1000R
RACE SECTION
Pit pass
The lowdown on BSB, WSBK and MotoGP.
Supersport: Sink or Swim?
With the factories churning out fewer 600cc sports bikes, is there a viable future for Supersport racing?
COLUMNISTS
Neave twins
Tim tells us about his new job and his 2019 signing.
Gary Johnson
Gaz looks to the New Year, fresh from his stellar performance at the Macau GP.
Christian Iddon
It's the off season but Iddon's keeping busy.
Steve Parrish
Parrish's view on all things bike-racing.

Enjoy more Fast Bikes reading in the monthly magazine.
Click here
to subscribe.