When it comes to sports-touring, Kawasaki's rewritten the rule books…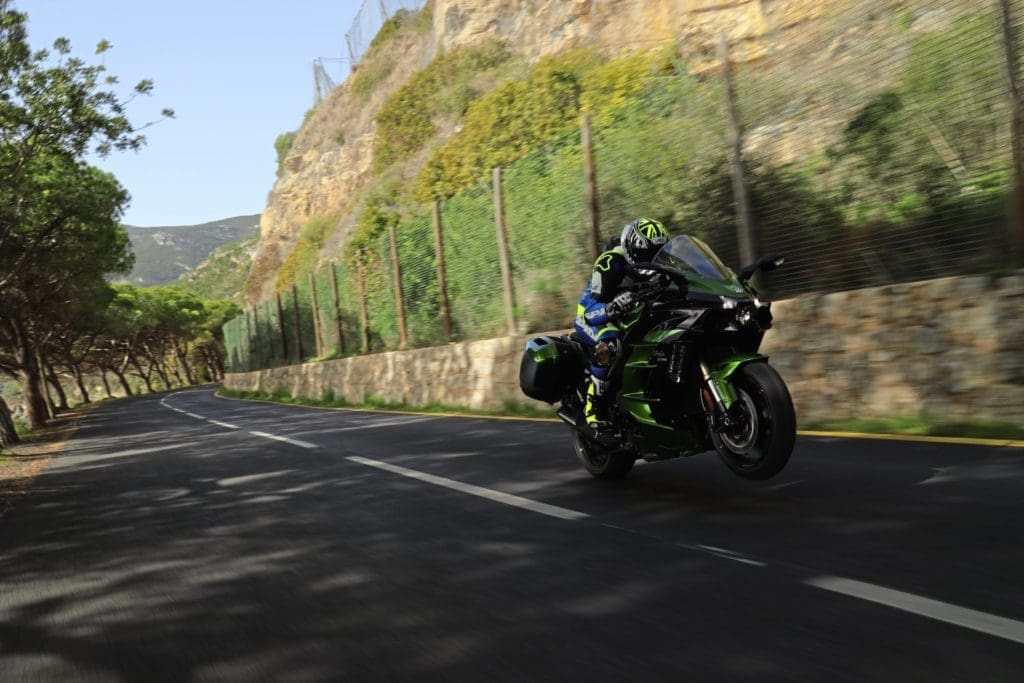 It's the kind of thing that'd pop-up in conversation down the pub with your mates; how to build the perfect sports-tourer? Of course, it'd have to be fast; something that pumped out a manly 200(ish) brake horsepower. And then you'd want it to handle like a sportsbike, because how else are you going to get through your year's supply of knee sliders? Good stowage would also be up there; a couple of beer-crate size panniers wouldn't go amiss. Oh, and a supercharger just for good measure (because who doesn't love that jet fighter soundtrack?). You'd think that's not such a tall order, but unbelievably it's taken until now for anyone to come up with a tourer that's less bore and more phwoar! Yes, I'm talking about Kawasaki's new H2 SX, which is set to be one of the most innovative new additions to the market in 2018.
High-tech hustler
Of course, it's a familiar proposition on face-value; a slightly subdued H2 with a few added manners thrown in, and some luggage-haulers for your undercrackers. Or at least that's how you'd be forgiven for perceiving it. Because while that would have been the easiest route to getting a supercharged bahnstormer into a showroom near you, Kawasaki decided a lot more effort went into the melting pot. Let's start with the engine. While it shares many similarities with the H2 it was nabbed from, tens of changes have adapted it into a much more palatable, economical and user-friendly powerhouse.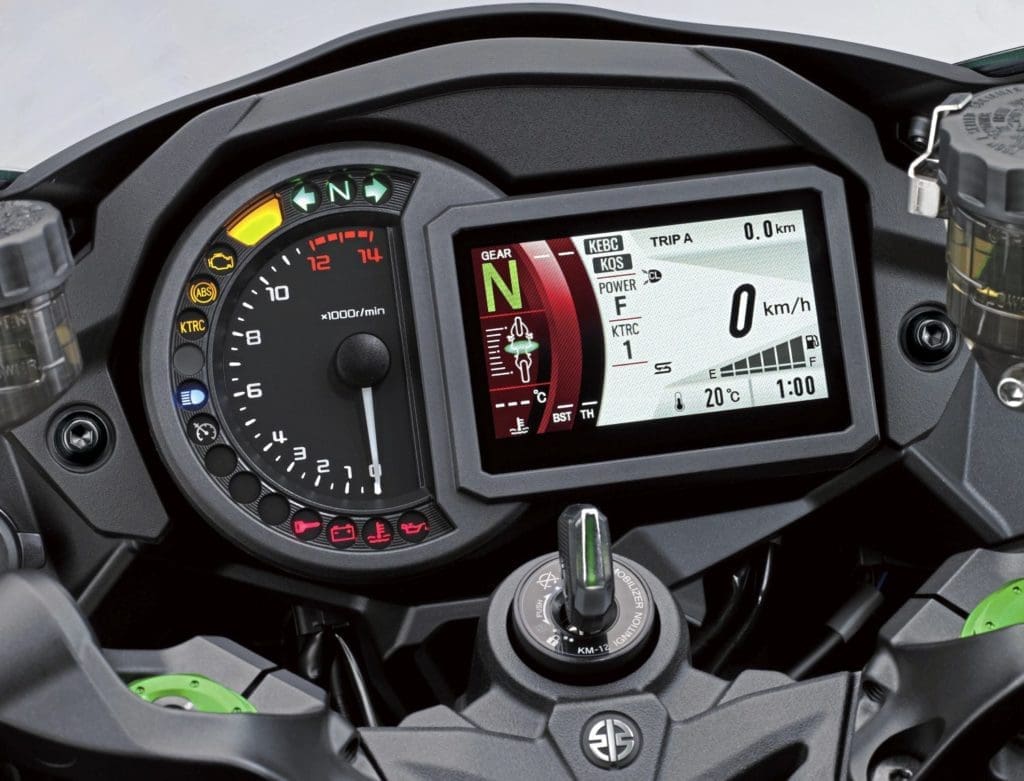 But that's not to say the thing's gone boring. Quite the opposite, in fact. While the H2 is all about top end mentalness, the H2 SX brings more low-to-mid-range wallop to the fore, making it far better suited to road riding and lugging some fat bird around on the back. By increasing the size of the supercharger, the compression ratio of the engine, plus introducing changes to the gearing ratio, piston shape and a multitude of other technically brilliant intricacies, Kawasaki achieved big gains in the 'real world' mid-range of the motor, while still being able to claim a licence-violating 197bhp. Not bad for a bike that will undoubtedly be bought by people such as your good selves… and those that choose to patrol the mean streets of Britain with their freshly ironed 'Polite' vests adorned.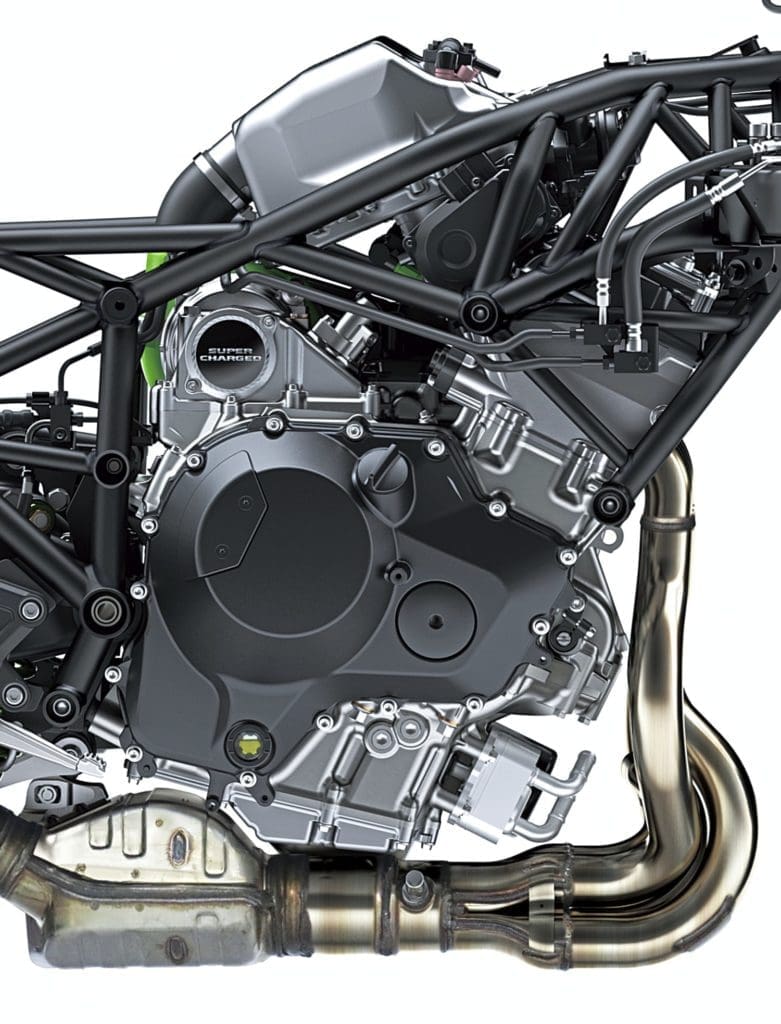 However, there is a saving grace for our less-sporty-lovin' brethren, in that the SX comes with a self-castrate arsenal of power modes. If life gets too exciting, there's the option to alter between full (100%), medium (75%), and low (50%) outputs, with three further tiers of traction control on the cards to ensure no one accidently pulls a fourth gear power wheelie… heaven forbid!
---
Counting the costs
There are eight versions of the H2 SX on the cards. Here's a breakdown of how they'll hit your bank balance…
H2 SX – £15,099
H2 SX Performance – £15,999
H2 SX Tourer – £16,399
H2 SX Performance Tourer – £17,299
H2 SX SE – £18,099
H2 SX SE Tourer – £18,899
H2 SX SE Performance – £18,949
H2 SX SE Performance Tourer – £19,749
K-Options PCP plans
H2 SX – £3k deposit – £141.87 per month
H2 SX SE – £3k deposit – £182.91 per month
More: www.kawasaki-kalculator.co.uk
---
Kerb crawling
Motor aside, to help cater for the aforementioned fat bird, plus you after a large curry, and your panniers filled with said fat bird's favourite cake selection, Kawasaki elected to brace up the bike's tubular steel trellis frame, and fire in a whole new subframe while they were at it. Though it looks very similar to the proposition on the H2, the 6mm thicker tubing has been toughened further by extra bracing to counter the model's weighty disposition – as it all got a bit too wallowy at the development stage. At 260kg, the H2 SX SE version we got to sling a leg over on Portugal's slipperiest coast roads, most dug-up city streets and coned off Estoril race track, was not exactly a featherweight. And while it blatantly imitated the hyperbike image of the H2, it's slightly larger silhouette, added pillion seat, and newly introduced cornering lights, made sure there was no way of confusing the SX with its trend-setting sibling.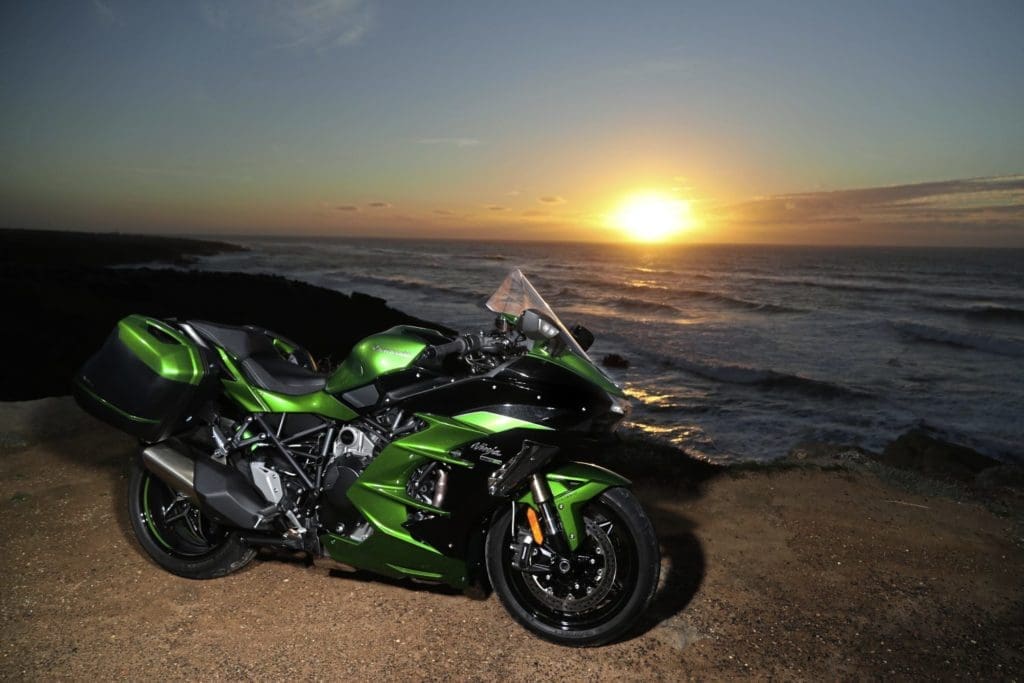 Especially so once you'd clambered aboard the bike's 835mm tall saddle. Raised 'bars, pegs and an all-new, colour TFT-dash made damn sure the cockpit looked unique. The same can be said for the screen, which dwarfs the H2s and offered me some much needed protection as we trundled off at the start of a 180-mile road test in 4̊C. Arguably, it would have been warmer in Blighty, but while I fought back the tears and winced at my decision to wear leathers over the more politically correct textiles we were encouraged to bring (ahem), I did at least find some solace in the SX SE's heated grips.
With my digits warmed I had much more control over the bike's light hydraulic clutch (with a fancy span adjusting lever) and the accompanying front anchors. But as good as life had become, there was no denying the frustration incurred by having to calve one's way through Lisbon's rush hour, at a pace so slow it meant the odd mobility scooter blitzed us on the adjoining pavements. Still, at least it gave a chance to weigh up the agility and demeanour of the heavyweight hauler, as we did our best not to bounce off of car mirrors for the first hours of our ride. I was impressed by the general feel of the bike.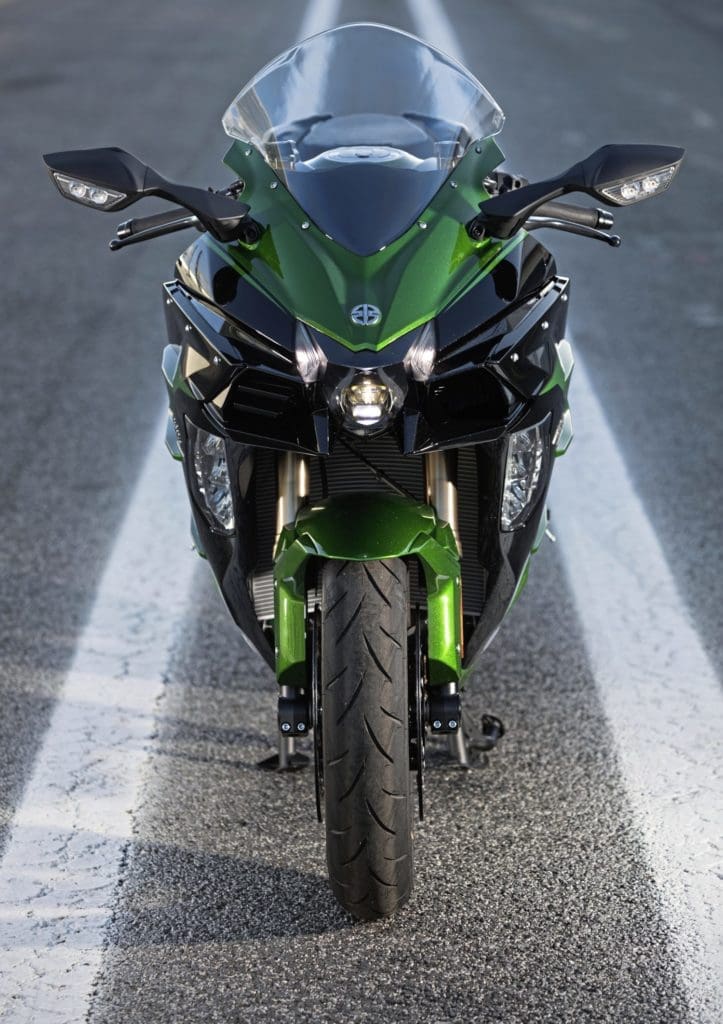 There was no denying it was a heavy machine, but it seemed to steer light enough, sit well-balanced and the motor wasn't being half the brute I thought it would be. It just skimmed along nicely, aided by a commendable connection between the throttle and rear wheel, with my only real hang-up being the harsh backlash that hit you every time you throttled off. You've got Euro 4 to thank for that. As the bike's development rider put it, tight emissions meant there was no scope to lob a bit more fuel down the SX's throat when letting off the throttle, to help cushion the transition from open-to-close throttle. To make things less jerky I switched down to medium power (please don't tell my mates), and that sorted the job out.
The beast unleashed
Thankfully, there came a point in the journey where we were able to get out of first gear and reach speeds in excess of 14mph. Without any hesitation full-power was reinstated, and with traction control out the window (you can only turn it off when static), spinning the rear wheel off the throttle became my new favourite game. Well, it was most of my group's favourite game. There was never any question as to whether this bike was going to be an animal, but these tyre destroying actions certainly helped to put the motor's capabilities into perspective.
Even when not riding ham-fistedly, the SX proved a charmer. The raw power was one hook in the engine's arsenal and the noises it made were another. While superchargers are fast becoming the norm in cars because of their abilities to improve fuel efficiency, they're mostly there for performance on bikes. And even though Kawasaki were trying to push the virtues of better economy with the SX (on a par with what you'd expect from a Versys 1000 – around 45mpg), for me it was the quirkiness of hearing that charger spin up that got me giddy. Hell, I was firing revs at the motor just for my audible pleasure, and people on the street were egging us on to crank the throttle wide open – negating the fuel benefits of the carefully reworked blower.
Regardless of the revs, the engine showed good usability up and down the range, with a seamless flow of power and torque. It helped that the SX SE we were riding came kitted with a blipper and shifter, making the riding experience smoother than Swiss Tony. Yes, life was very good and the big Kwacker was making far more sense once we'd reached some traffic free coast roads and got chance to see how this thing hustled.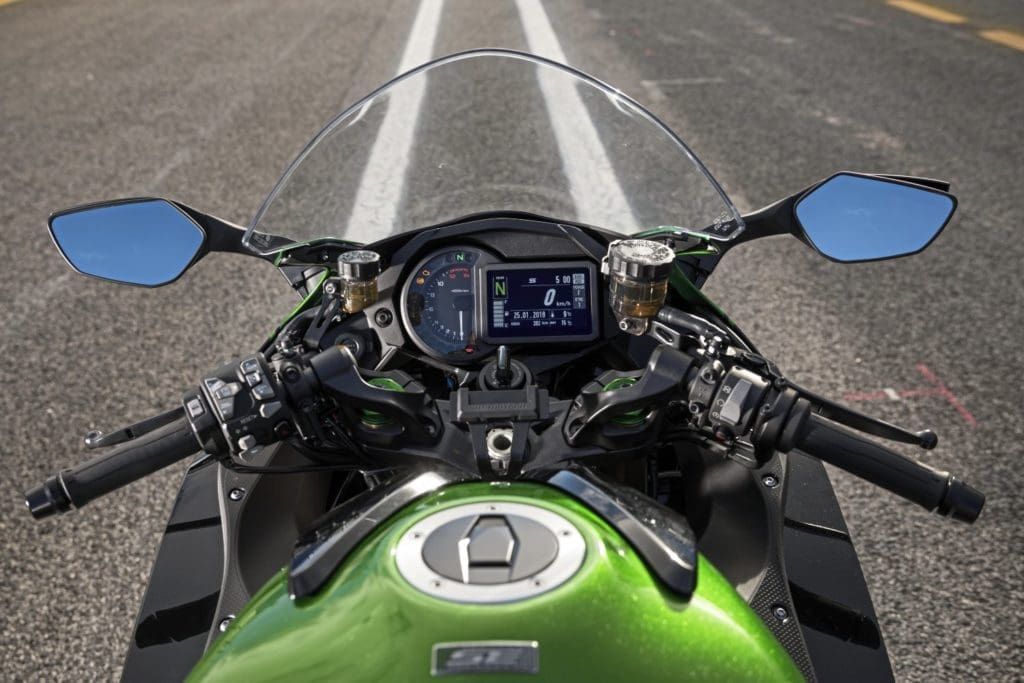 Get a grip
While being agile at slower speeds, things got a bit fruitier on our photoshoot road. Its surface might have been smooth, flowing and grippy at one point in time… but on this day it was none of the above. And while it failed to launch any of us off its sheer cliff face and into the roaring Atlantic below, there were many sketchy moments to write home about. If anything, the route's awkward cambers exasperated the SX's substantial weight and supple suspension.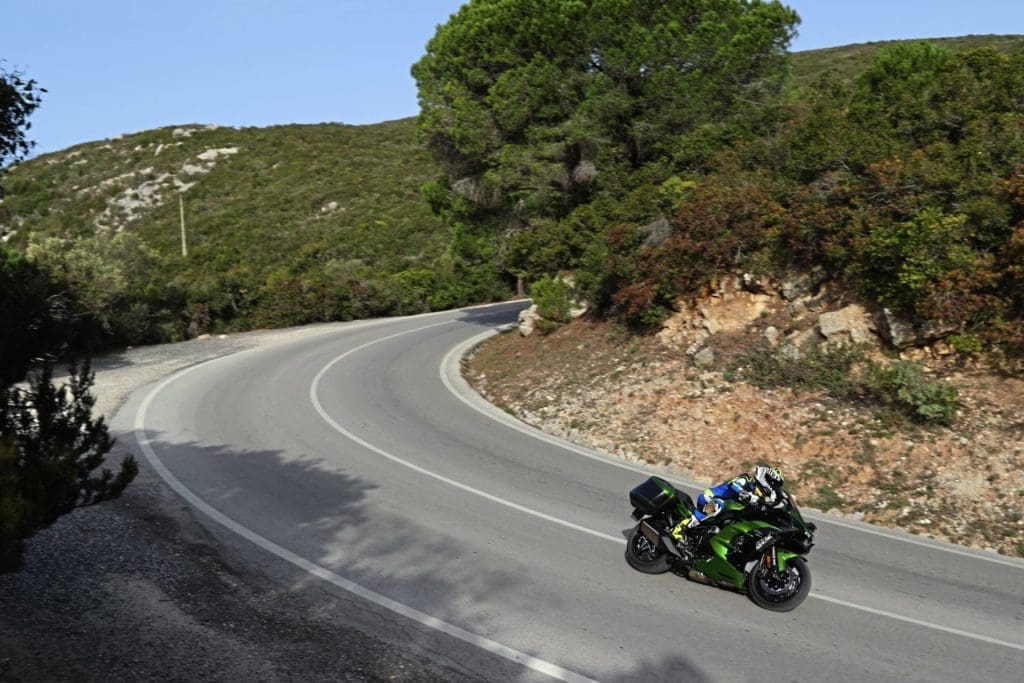 It was no turkey, but it wasn't the easiest of bikes to throw from side-to-side, or have complete faith in at knee down angles. But the same goes for any 260kg behemoth, with the SX proving to be one of the better handling 'big' bikes I've ridden in a long time. On a more positive note, I was a fan of the electronics that kicked in a few times and saved my backside. With level 1 (the least intrusive of three KTRC traction options) engaged, I was still getting a bit of slide from the rear end when driving out of bends, but the system was quick to bring things back under control in a smooth and welcomed manner. No surprises considering the SX is kitted with the same 5-axis IMU featured on the brand's ZX-10R, and is arguably one of the best traction packages on the market. The ABS was pretty decent too; never being shy to show its face, but not slowing the stopping procedure in the process.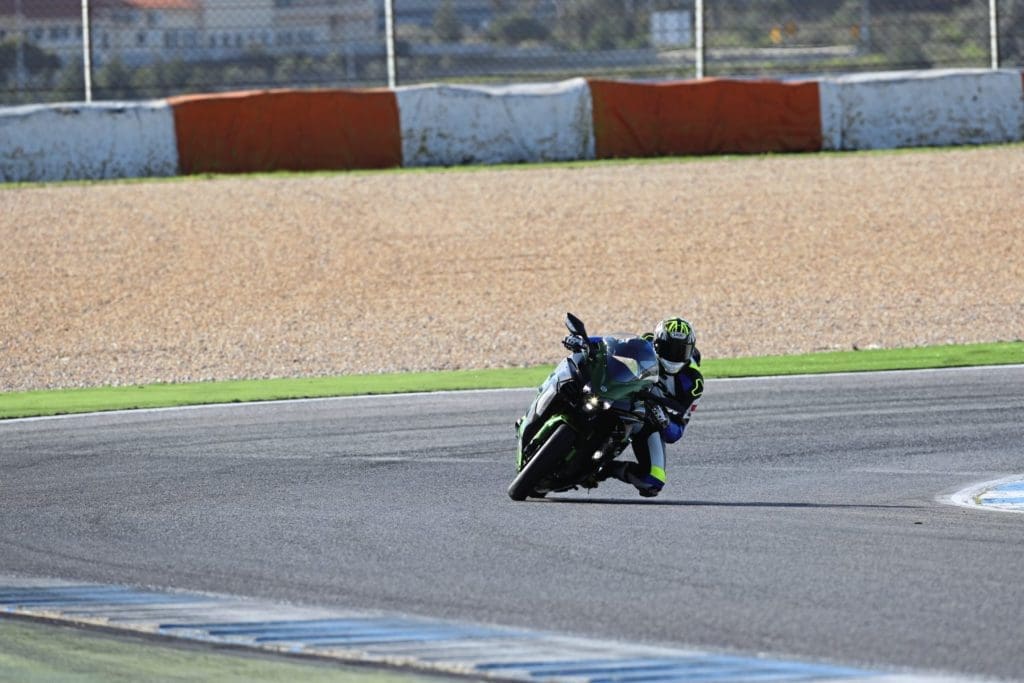 I was glad to leave those ice-rink-esque roads behind and stumble onto much more affable alternates in due course. With smooth, open corners being devoured, the SX proved to be a much more manageable and planted steed. It showed a completely different image of the bike, which was much more sporting and closer in line to what I knew of the H2's character.
Tracking progress
Still, it was only that next day when we headed to Estoril race track that we got the full low down on the bike. This was it; a chance to pitch man against machine on Portugal's most famous race track. The idea was to go there and test out the bike's launch control system (another sports-touring essential), and as a special treat we were allowed to ride between some cones on the back straight. So there I was, poised to unleash hell with the aid of my launch tech with the throttle wide open and the motor being limited to 6,500rpm on the fancy pants colour dash.
With the clutch out, all kinds of bangs, whirls and other wonderful noises boomed their way into the atmosphere, as me and the bike blasted off into the distance. It was a seamless operation, and one which is guaranteed to get you one over your GS-mounted touring mate from any set of traffic lights. I was staggered by the pace the thing blitzed off at, and equally so by the speed at which the SX could be brought to a halt at the other end of the proceedings. Well, after a bit of fishtailing as the rear had a tendency to start coming round if you went down too many gears at a time. Still, it'd been a hoot and showcased a pretty cool feature.
What was less cool was the handling course, which just seemed to highlight the bike's soft setup once more, as the springs seemed to struggle to hold firm under load, or support the bike fully as you flicked it from side-to-side. With the pegs decking out and the bike getting all awkward, I was pleased to ride the rest of the track unrestricted and grasp the true qualities of the bike, which could hold a steady line on the longer corners, and allowed for effortless power wheelies on the exits of bends. I enjoyed it… right up until the point of lining up once more to ride through those killjoy cones.
---
Engine:
Everything from the cylinder head to the pistons, supercharger impeller to the gear box ratio has been changed from the stock H2 offering. The result is a more useable powerplant, with bucket loads of additional mid-range and improved fuel economy.
Frame:
To counter the additional weight of the SX, the H2's trellis steel frame saw its tubular steel components increased by 6.4mm in diameter (28.6mm over 22.2mm), and additional bracing was also added to help stabilise the bike. The rear subframe is all-new and offers the much need strength to carry luggage and a pillion.
Tech:
The SX SE version features innovative three stage cornering lighting that works via a lean angle sensor. It also comes with a colour TFT dash, launch control and a quickshifter and blipper. The standard SX has three power modes, non-switchable ABS, three levels of traction control, cruise control.
Comfort:
Like all good sports-touring bikes the SX's relaxed ergonomics offer raised 'bars, lowered pegs and a tall (non-adjustable) screen. The rider's seat (835mm) can be replaced by a 15mm lower accessory unit, while the integrated design of the panniers mean they offer a clean look when on or off the bike.
---
Performance at a price
Perception's a funny thing. To some the SX will be a comfortable, economical and slightly quirky tourer. But to me it's much more than that. On its test it'd proven to be a top laugh, made all the better by its good dose of tech, sexy soundtrack and willingness to go a little cray-cray with only the slightest bit of encouragement. Surely that's what it was made for? Why else would Kawasaki produce a bike with so much power, features like launch control and sportsbike(ish) handling if it wasn't there to hustle?
When looking at it from this point of view, I found myself a big fan of its abilities and antics. I could see myself tackling a big tour on that bike, lording it piles-free, and taking in the odd track day too. It's the perfect compromise between two very defined genres of motorcycling, but I'd argue its sway is more sporting than touring. But here's the big question; is it better than the ZZR1400? Well, yes. The SE version is 9kg lighter than its larger capacitated sibling, while it matches it on power, and offers a much more sporty and techno-aided riding experience. It looks better, sounds better, and general goes better… But all that better-ness comes at a price.
Our SE-spec bikes waged in at £18,099, while the base model SX (£15,099) still cost £2,900 more than the base model ZZR1400 (£12,199). But, and here comes the good news; owing to Kawasaki's K-Options PCP plans and the H2 SX's higher residual values, the monthly repayments on a H2 SX on PCP are actually cheaper than a ZZR1400. As the Yanks say, go figure! But don't go thinking about things too much, because you might find yourself missing out on one of these weapons.
---
Verdict – 7/10
The sexiest sounding sports-tourer ever. Loads of character, oomph and stowage for your pants. What's not to like?
+ Supercharged motor, All-day comfort
– Ground clearance, Weighty
---
---
---
Project Leader – Hiroyuki Watanabe
The mastermind behind this model talked us through some of the challenges and focuses of the H2 SX…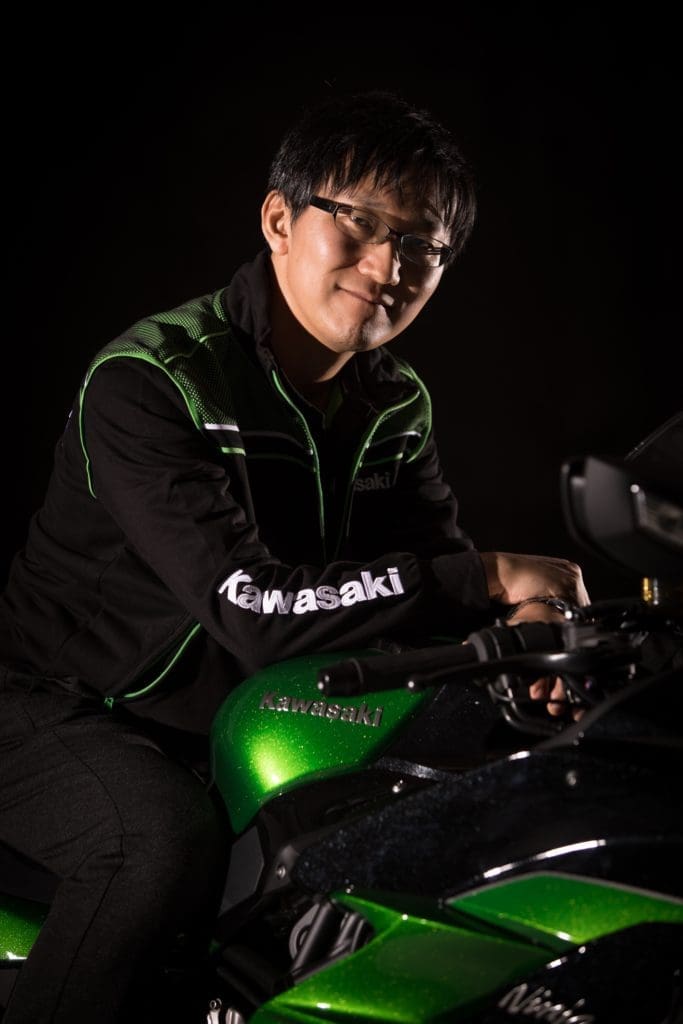 Stability was a big issue…
We needed to work on the cornering stability of the H2 SX. We tried it at first with the H2's frame and there was too much flex. It didn't deliver the riding experience we were after, so we went back to the drawing board and decided to brace the tubular framework and increase the diameter of the steel tube we used in the construction. We also altered the pitch of the engine to sit the weight lower and lower the Centre of Gravity. The other big challenge was the high-speed nature of the bike, because we didn't want it to weave.
To make sure we had no problems we had to concentrate on the aerodynamics of the package, and this meant we decided against an adjustable screen. By increasing the screen height it caused instability, so we went as big as we could go while not compromising the riding experience. The panniers are not speed rated, which means they can be used at any speed. We are very proud of this and worked hard on their profile to make sure they didn't upset the bike.
The supercharger changes demanded a big rethink…
Because we had very different goals between the H2 and H2 SX, we had to completely alter the design of the supercharger impeller. Its fins are the same number as before, but they have extended fin profiles, which helped us to achieve our targeted pressures. As a result, we then encountered knocking problems with the motor, which meant we had to change a lot to get rid of the issue.
The engine's compression ratio (it's now much higher), the cylinder head design, and even the piston profiles were altered to make the motor run smoother and more efficiently. It was a lot of work, but we are pleased with the result. Because of the compact nature of our supercharger, we were able to get around these challenges, and one of the most beneficial additions to the build was a diffuser in the air box, which slowed the air and cooled it at the same time.
---
---
Want more Fast Bikes? Subscribe from just £10
URL: https://www.classicmagazines.co.uk/fb130

Enjoy more Fast Bikes reading in the monthly magazine.
Click here
to subscribe.