A test of time, wallet size and of exotica, we pitched Ducati's GP-inspired Desmo RR against the firm's decade fresher Panigale V4 Speciale.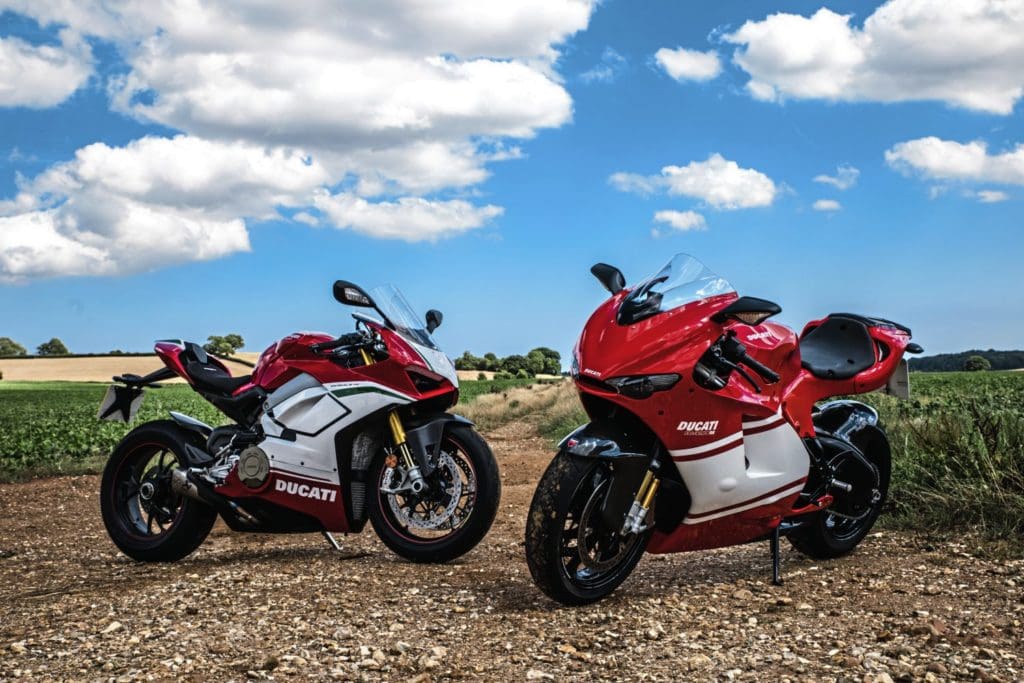 Silk sheets, the finest of wines and not even Ron Burgundy's wind flute performance can hold a candle to the suave delights of the charismatic V4. From a performance point of view it's possibly the greatest configuration of all time, typically comprising a rich delivery of torque with a high-revving disposition, meaning you get the ponies and the punch. And to make the deal even sweeter V4s are compact in all the right places, being only two cylinders broad and, dependant on the angle of the cylinders, petite in length too, meaning you can achieve short wheelbases and aerodynamically pleasing silhouettes.
Oh, and then there's the traction inducing drive to mention, and the perfectly harmonised primary balance (90̊). That's got to make them the perfect engine, right? Well, kind of. If you've ever changed the exhaust on one or, worse still, tried to remove or fit a bank of carbs (or injectors), your battered knuckles, crooked neck and willingness to put that bike on eBay the moment the job's done, would suggest you disagree.
To work on they can be a nightmare, and good luck trying to get the rear cylinders balanced or running at the same temperature as the front ones. Then there's the added costs involved in producing two lots of cylinders, heads, cams and what-not. Nah, they're not perfect, but they're still bloody brilliant. So brilliant that it's hard to ignore their consistent prescience in GP racing over many, many decades, on two-strokes and fours, always at the foreground of the field. It's the configuration that powers Marquez's conquering Honda RCV and, more fittingly in this case, Ducatis GP18, which is said to have inspired the Italian firm's first iteration of a mass-production V4 sportsbike… the Panigale V4.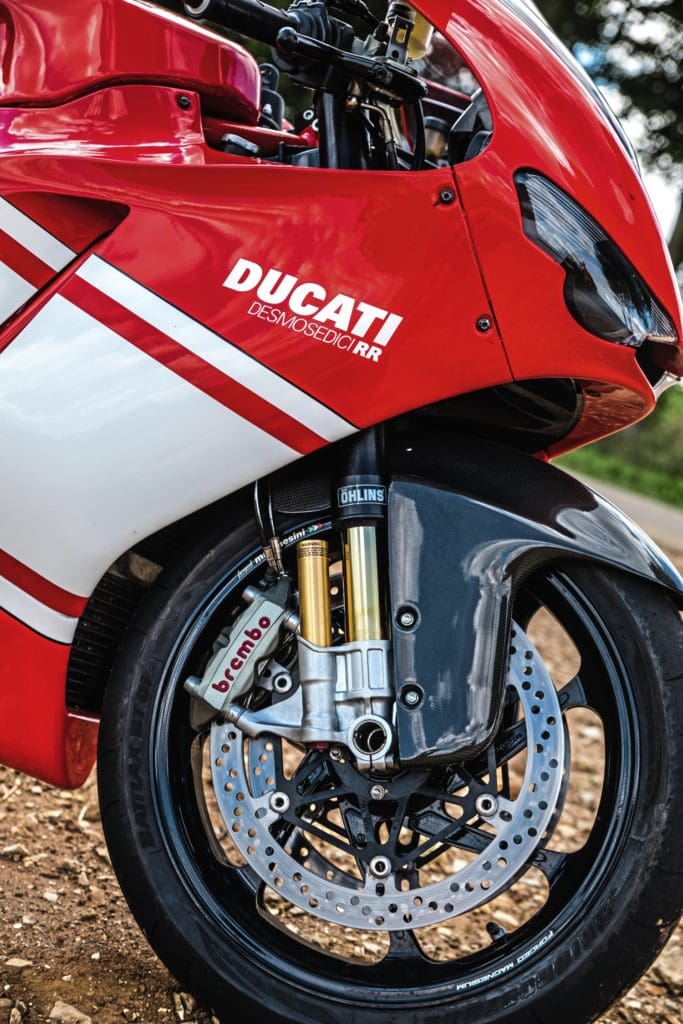 Of course, that's if you choose to ignore the last mass-production V4 they made, which was a much closer mirror image of the firm's 2006 MotoGP steed. Yes, I'm talking about the 'sell your kidneys to own one' Desmocedicci RR you see before you, which had me and Boothy acting like pubescent schoolboys when arguing who should ride it first. I won (if you're asking?), but more importantly, here's what we made of this most exotic of pairings…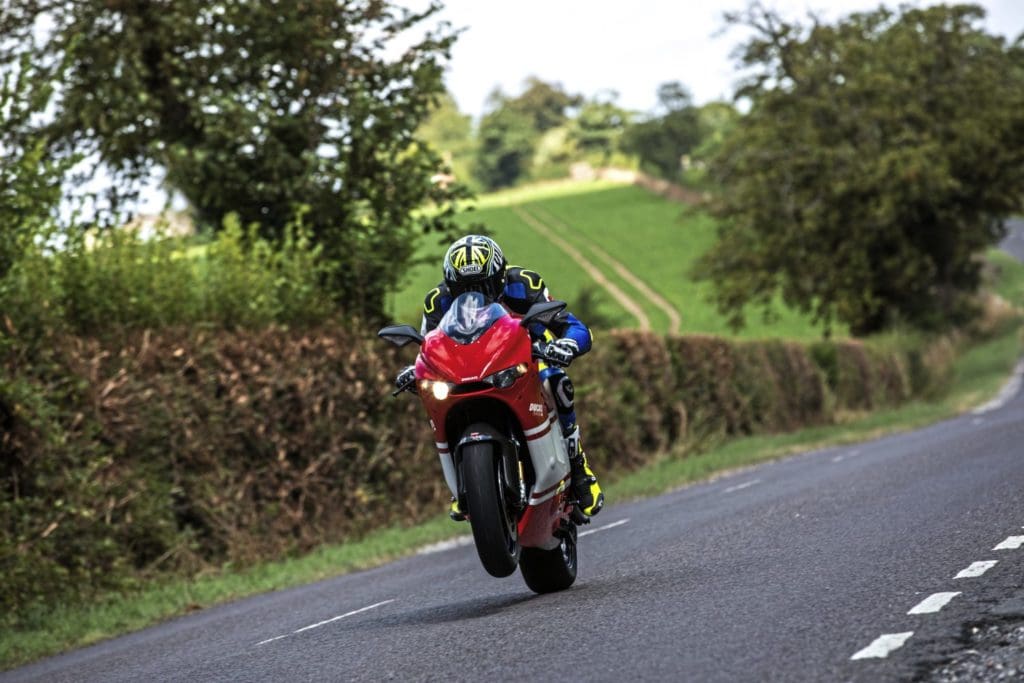 ---
The V4 origins…
Having first appeared in an automobile in the late 19th century, it wasn't until the 1930s that V4s became apparent in two-wheels.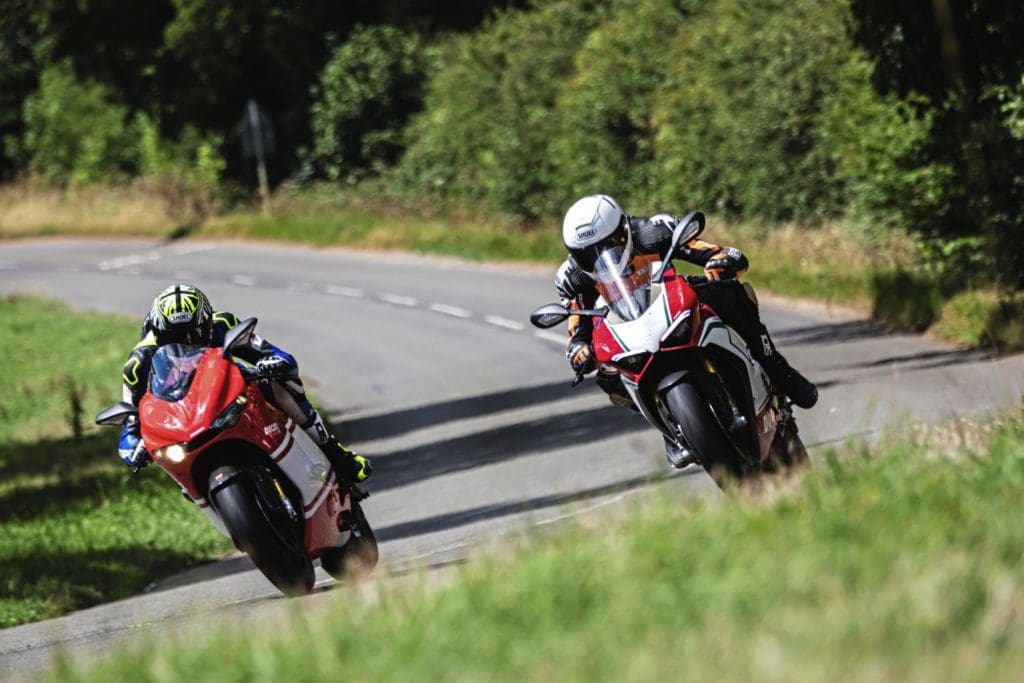 Pioneering the configuration was Matchless with the 592cc Silver Hawk, which used the same unique monoblock 26̊ cylinder design, as had been perfected on the brand's V-twin Silver Arrow in 1929. The extremely narrow angled cylinders allowed the engine to be compact, and fed by a single carburettor for all four cylinders.
Sporting OHC technology and a dry sump, the Matchless was ahead of its time, but it failed to sell successfully and was dropped from the line-up in 1935. Picking up where Matchless had left off, rivals AJS showcased its Bert Colliers designed 50̊ V4 racer in '35, which never made it into production despite four years of development work. This fact aside, the V4's many virtues had been highlighted and other manufacturers would pick up where the British firms left off. Throughout the following decades many more brands toyed with the V4 concept, with Honda picking up the mantle in 1978 when it unveiled its NR500 V4 GP Racer. Built to challenge the reign of the two-strokes, the motorcycle never achieved what it was intended to do, but Honda's obsession with V4s was well and truly solidified and remains a core configuration for the Japanese firm to this day.
The V4 is the motor of choice, proving to be that perfect compromise between a v-twin and in-line-four.
---
Ducati Desmodedici RR
Any fans of roast chestnuts out there? Me neither, especially when they're your own, cooking slowly on a Desmo's underseat exhaust.
But sometimes there's a price to be paid, and this was the going rate for blitzing around on a one-time MotoGP machine. Well, as near as dammit. 2006 might seem a long time ago now, but I remember it like yesterday, watching the vertically challenged Loris Capirossi scrapping it out with his unwieldy Ducati GP6, hoping for some form of submission. It looked a right weapon; a fire breather with an iconic look and an equally iconic soundtrack. What wasn't there to like about the steel framed wonder that sported the only V4 engine on the Grand Prix grid?
Clearly I wasn't the only one to think that way as following a mid-season announcement that the Italian maestros were looking to make a road-going replica for 2007, over 1,500 sold as quickly as they were built. And this was one of them… number 583 off the production line. Box fresh in'07 it'd hit the showrooms with a cool £40k price tag, but owing to limited numbers and the natural effects of aged desirability, current owners The Bike Specialists want a tear-jerking £59,980 to part with its company – and you'll pay even more if you want one of their zero mile examples. For me, there was only ever one question: Was it worth it?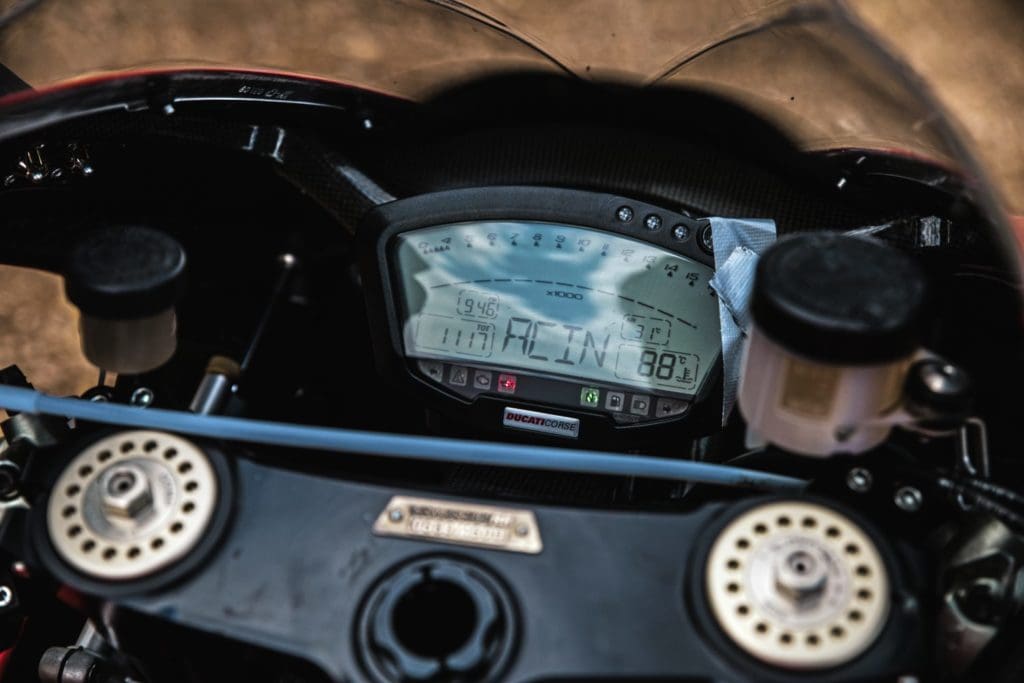 On stats alone the answer was no. The bike claimed in the region of 200bhp, but on the dyno it showed 177 ponies. Still respectable, but by today's standards it was some way short of the mark. And the same could be said about its tech arsenal… or lack of; I've seen more sophisticated saucepans. If you're a traction control abuser, or love a bit of ABS, it's time to stop reading because the Desmo has none of that. And don't even think to ask if it's got one of those fancy pants coloured dashes, because I think we both know the answer.
Being a purveyor of raw, unadulterated motorcycling, this would've typically been music to my ears, but glancing at the bike's shiny, brand-new, decade old Bridgestone BT-01s got me bricking it like the time Pretty Boy took me to his favourite gentleman's club. Thankfully Boothy came up with the smart idea to slot tyre warmers on the rubber before taking the Desmo for a walk. While they were cooking, we were looking, scouring every inch of this stunningly crafted masterpiece. I could see it was old, somewhat basic even, but the design, the finish and general aura of the Desmo had me hooked, line and sinker. It was dripping in carbon, from the fairings to the clock shroud, and nice little touches like the remote brake lever adjuster helped it carry that air of racing goodness.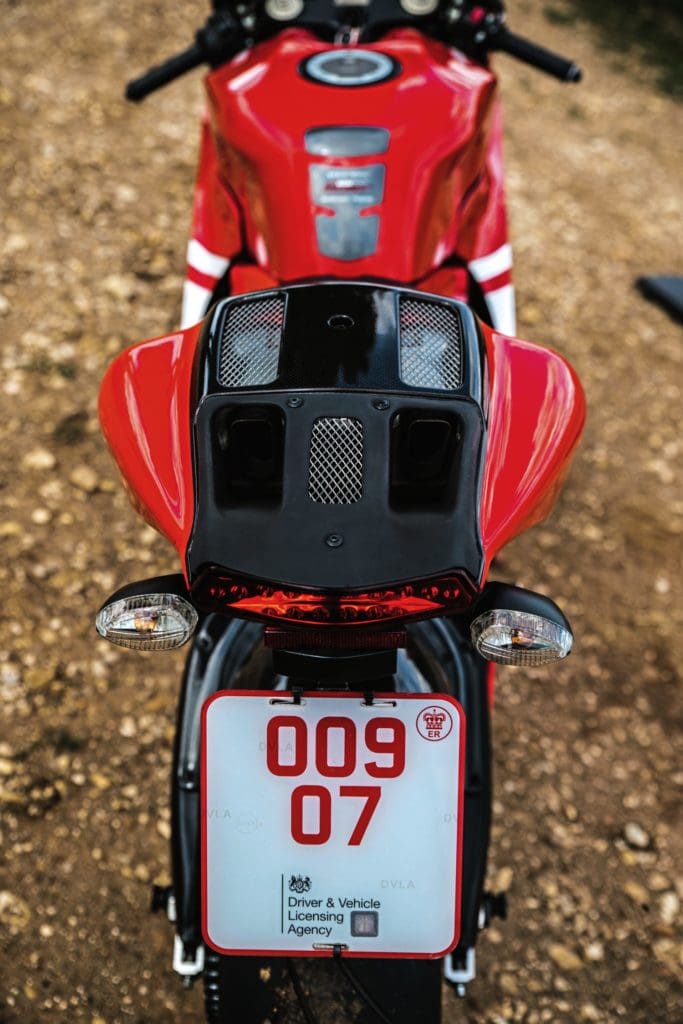 This was no two-bit tribute. It might have been a few years old, but the motor had clocked less than a thousand miles. Without any hesitation, at the touch of a button, the V4 boomed into life, scaring off the local cats and building our excitement. It had the looks, it had the noise, but it didn't have an obliging clutch. There's nothing surreptitious about the Desmo, which means you get a crowd wherever you are, and the office car park was no exception. Just as I went to dump the clutch, the bike lurched a foot and stalled. It was hard to concentrate through all the laughter on my second attempt, but by the third time the sticking clutch had unstuck… and we were away.
First impression; it was no rocket. Maybe I'd built up the hype in my head, but as I made it out onto the main road and opened up the throttle, the Desmo failed to deliver. Sure, it was fast, but not fast in a way I'd expected it to be. It felt a little asthmatic even, though the torque from low down was decent enough, and the power delivery seemed straighter than a line of cocaine. The fuelling was good and the joyride was aided by the weirdest looking quickshifter that sported a 'built in the garden shed' appearance. It was about the only rider aid on the bike, which seemed to operate via two springs and a pressure plate; looking more like an antiquity than a state of the art system – which it would have been back then.
Looks aside, it worked a treat, and I only wished the bike could've boasted a blipper too. Heaven forbid, as it didn't I had to apply a little manual labour on my downshifts, squeezing in the clutch lever each time I notched the 'box down a selection. The process was slick enough, but the mechanical noise seemed exaggerated and strained. Here was a bike purposely crafted for abuse, yet because of a few funny noises I felt obliged to treat it with kid gloves, gingerly suggesting it did a certain gear change or revved to a certain level. I just didn't feel as at home on it as I would've been on a new bike a tenth as costly.
As it happened, the sensations in the corners were equally as un-endearing. With the tyres up to temp, I didn't hang about when getting the sheen off of them, firing into corners and reaching full lean long before the rubber had chance to cool off. But the stiff, almost wooden, feel from the bike's über stiff Öhlins took some getting used to. I've ridden bikes with the same feeling before and setups that stiff demand your commitment. You've got to work them hard to be operating them in their range, and on the roads that was near impossible. Here was a bike built for Grand Prixs, for rear wheel drifts and entering corners pinned in sixth. Essentially, for all the antics I wasn't partaking in as I tickled the beast through bumpy bends along battered back lanes. Of course it was going to feel a bit of a handful, made all the more queer by its 16-inch rear.
The Desmo was unorthodox in every possible way, but that didn't make it un-rideable, it just meant you had to get used to it. One thing in particular both Boothy and I got spooked by was the way the front end seemed to flop unsupported when cranked on its ear. The bike proved fast to steer, even stable in a corner, but it had this weird habit of the 'bars flopping inwards marginally, at full lean. The HR department would not have been happy about writing one of these off, but luckily that conversation never made the airwaves. It was just another trait we had to learn, and a reality we could have possibly even dialled out by fettling the pogos – if we'd of had the right tools.
With the bike on loan for a few days, it meant I also got chance to ride it less intensely – you know, to pop to the shops on and take in the odd cream tea. At the faster end of the scale the Desmo had been unnerving on the roads. At a slower pace, it proved torturous. On a hot day, tootling through traffic, there's arguably no worse bike to ride. For starters it's quick to overheat, with the temperature gauge on its Dot Matrix dash rising faster than Boothy's bar bill. This bike craves air to cool it, which means, principally, you can't get stuck in traffic.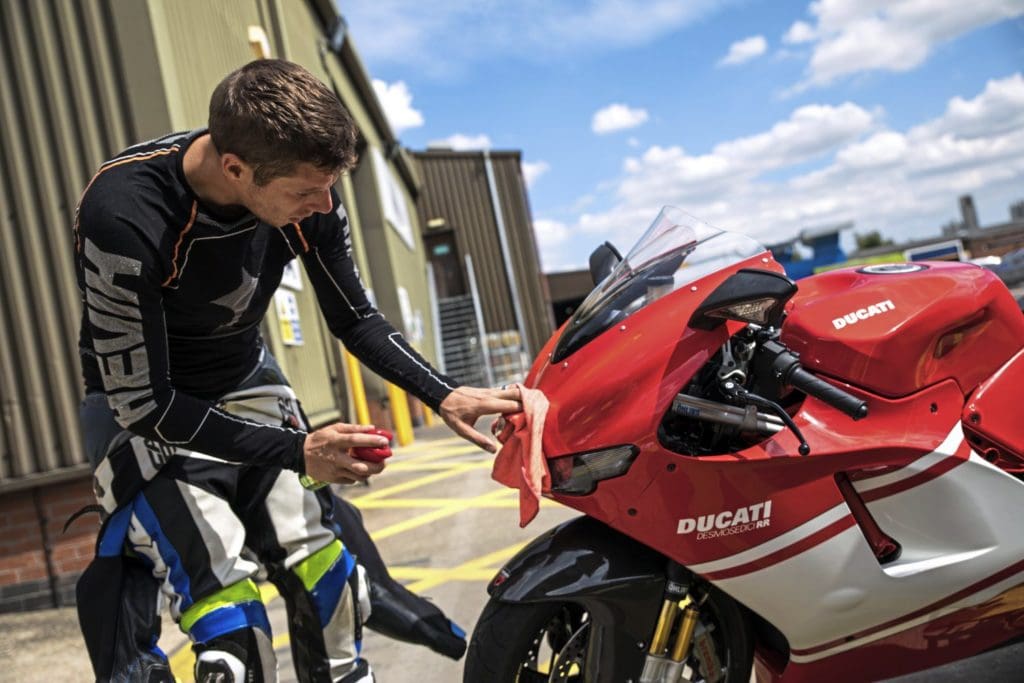 And if it does, your balls pay the price – big time. Like a sadistic 10th century torture device, the heat hits you from the seat below and the metal tank in front, reducing your sperm count to zero before you'd had chance to scream. The heat's relentless, forcing you into standing on the pegs or making rash overtakes to seek that much craved cool air. I've never known another bike quite like it, but then again, this Ducati's pretty unique. Another few points worth mentioning are the extremely limited steering lock, just like you'd find on a race bike, and the practically hidden side stand, which leave you with the option on scratching up the carbon fairings to try and hook it, or bending down and using your hand –regardless of the looks you get.
For the sake of my wallet, I quickly adapted to the latter system. Still, despite it few idiosyncrasies, I really enjoyed my time with the Desmo. It's not a great road bike, it's not particularly fast, but there's something unexplainably special about rocking up at the traffic lights on a GP-mirroring motorcycle. As to whether its £60k special, that's one for my bank manager to decide.
Verdict – 7/10
If you dream of riding a GP bike, this is possibly the closest you'll ever get. A special bike to ride and guaranteed to turn heads. It's pricey but you're buying a piece of history.
+ Looks, sound, iconic status
– No tech, steady motor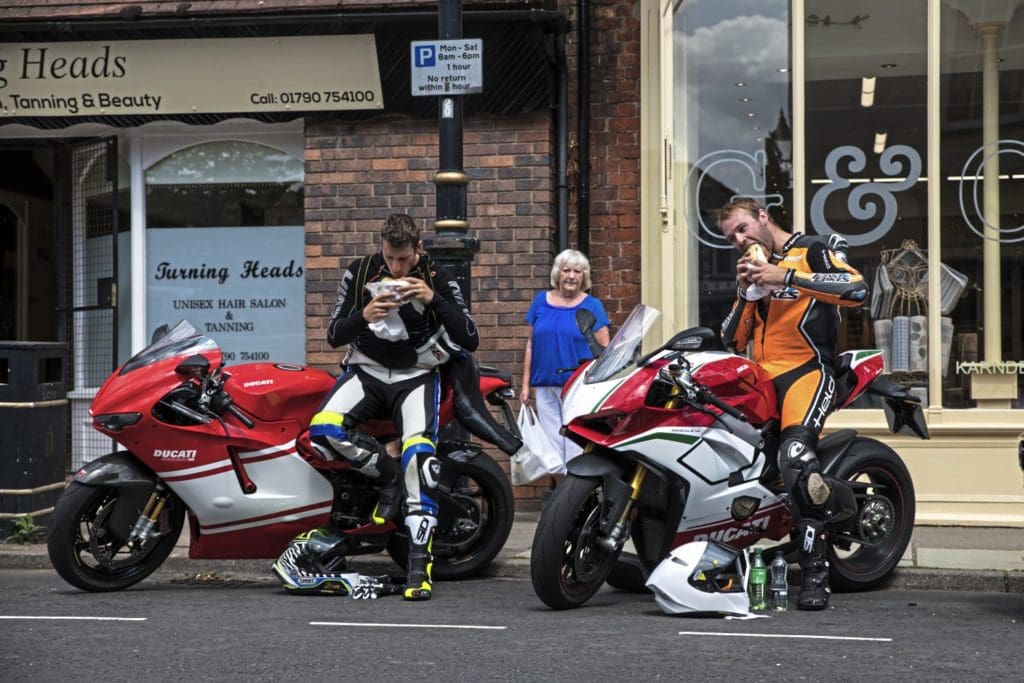 Ducati Desmosedici RR
Highlights:
177bhp V4
171kg dry weight
Dripping in carbon
Awesome agility
GP looks and noise
Investment
Braking – 7 – Not the best
Stability – 8 – Best bump-free
Agility – 9 – Loves to flop
Drive – 7 – Above average
Fun – 7 – It does the job
---
Boothy's bluff – Desmo RR
I always wanted to be a MotoGP rider, so when I got the chance to ride the Desmo I was like a kid at Christmas. I couldn't wait.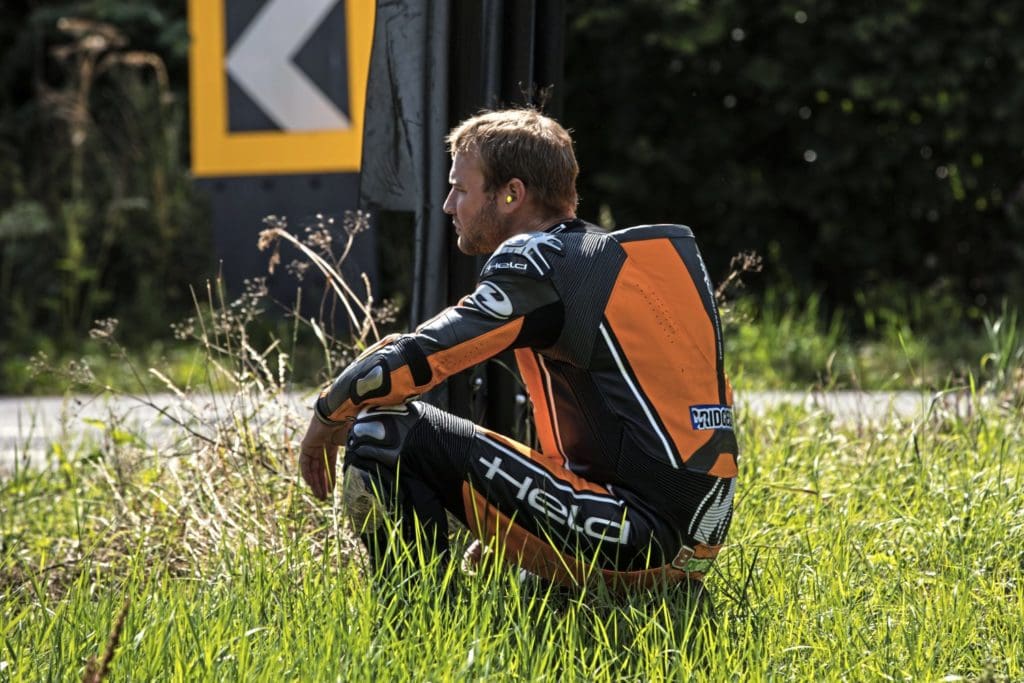 It wasn't until I actually got on-board, though, that I grasped the reality of the situation – I was sat on a £60k MotoGP bike for the road, a bike which has been designed for professional GP racers to use on billiard-table-smooth circuits, not a washed up second rate Superstock racer on Lincolnshire's finest highways.
The novelty of riding such a valuable and exciting bike soon turned into fear and panic. What if I broke it, or worse, crashed it? I'll give the Ducati its due; it was quite a thing to ride. It was super stiff and I could feel how eager the thing was to get on its ear, but its willingness to turn made everything feel a bit twitchy and nervous. Which made me even more twitchy and nervous. I'm really glad to have had the opportunity to ride a Desmosedici but, in all honestly, I enjoy telling people that I have ridden one more than I enjoyed actually riding it.
---
Ducati Panigale V4 Speciale
I'll admit to living a little crazy at times and opting for the profiteroles off a specials board, regardless of the few quid extra they might cost. But whether I could defend spending £35k on a spec'd up Panigale V4 Speciale, when the justifiably good base model weighs in some £15,745 cheaper, kept me up pondering at night. It was a question that needed answering, and one which I managed to do so during a two week loan of the fanciest V4 on the market.
Like a kid at Christmas, minus the crappy jumper and piles of shredded wrapping paper, my life was lit up exponentially when the van doors opened and a 222bhp beauty was wheeled out before me, regaled in a striking tricolore design and sporting more shiny bits than you'll find in a tart's handbag. Did I like the look of it? I loved it, especially once I'd taken the time to explore all of its intimacies. There was no ignoring the serpent like flow of the stunning titanium Akrapovic exhaust system, or the adjustable CNC machined rearsets or the detail-stitched Alcantara saddle, which felt as nice as it looked. For a good few moments my eyes didn't stop twitching… But then they did, and my mind started ticking.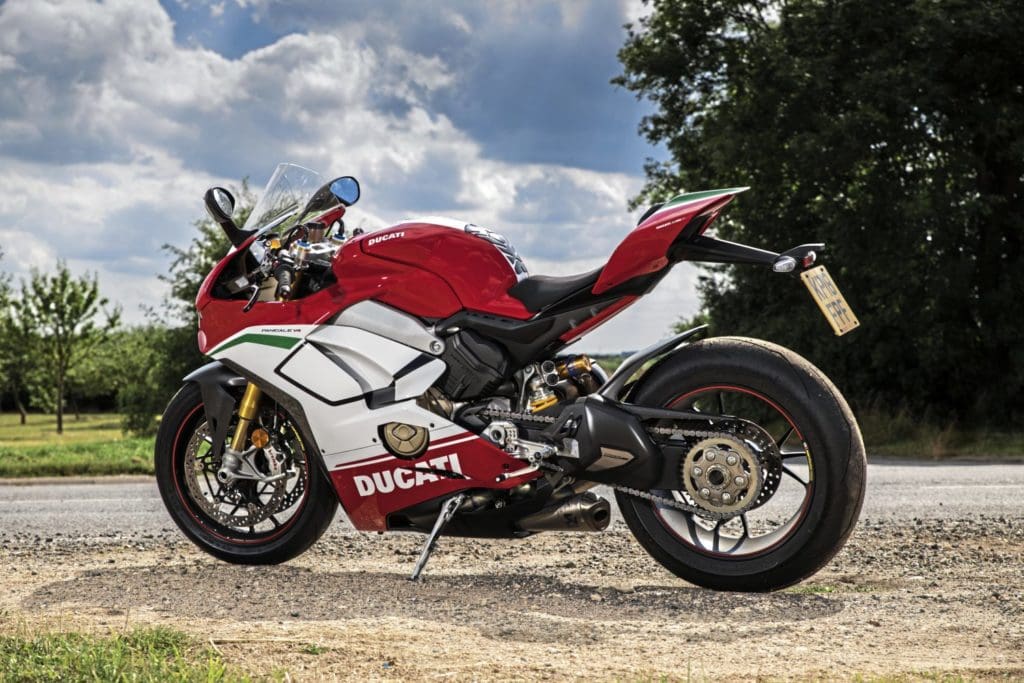 Paintwork aside, there were relatively finite differences between this and the mid-range V4S, which packs the same second generation Öhlins electronically adjusted suspension, the same wheels, the same motor and mirrors it in a multitude of other ways (including the same shaky mirrors) – all for £11,100 less. Now call me cynical but after my scant orgy of an overview I was left 'wanting' for some epic wow factor that, as delectably presentable as the Speciale was, kitted out with its race-inspired front brake lever guard, carbon heal plates, mudguards and an exhaust cover made from the same featherweight material, I just couldn't find.
Not even the machined top-yoke with its exclusive and numbered yoke (number 108 of just 1500 in production, if you're asking) warranted the massive price difference over the V4S, or at least to my penny-pinching mind. Surely, there had to be something more to the Speciale, something that would make it a bit more special, and I hoped that would become clear when giving the bike a good old throttling.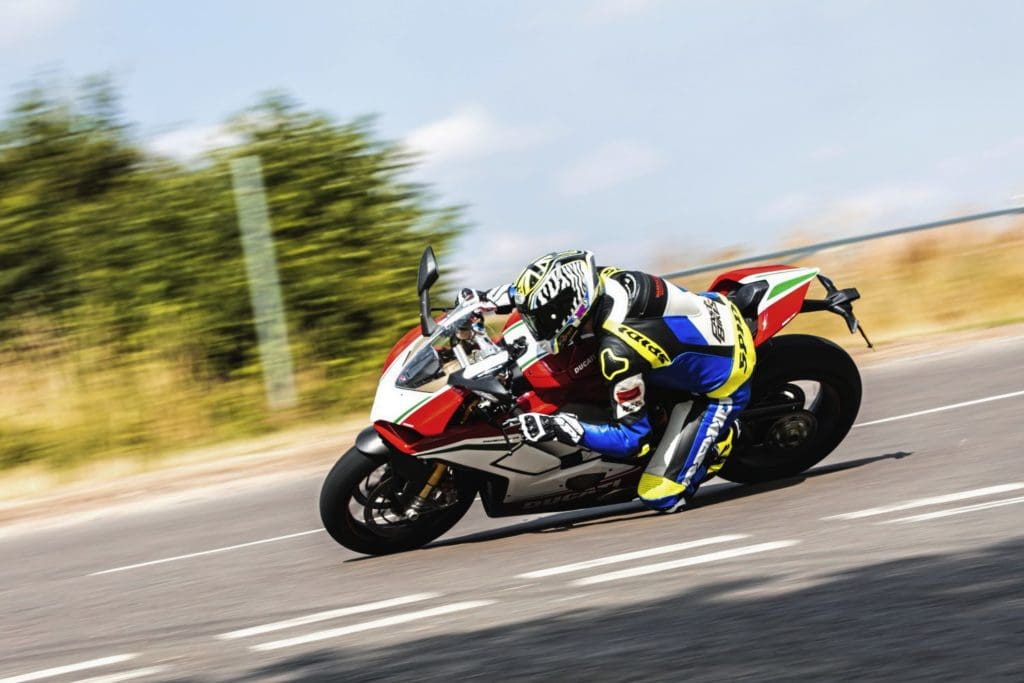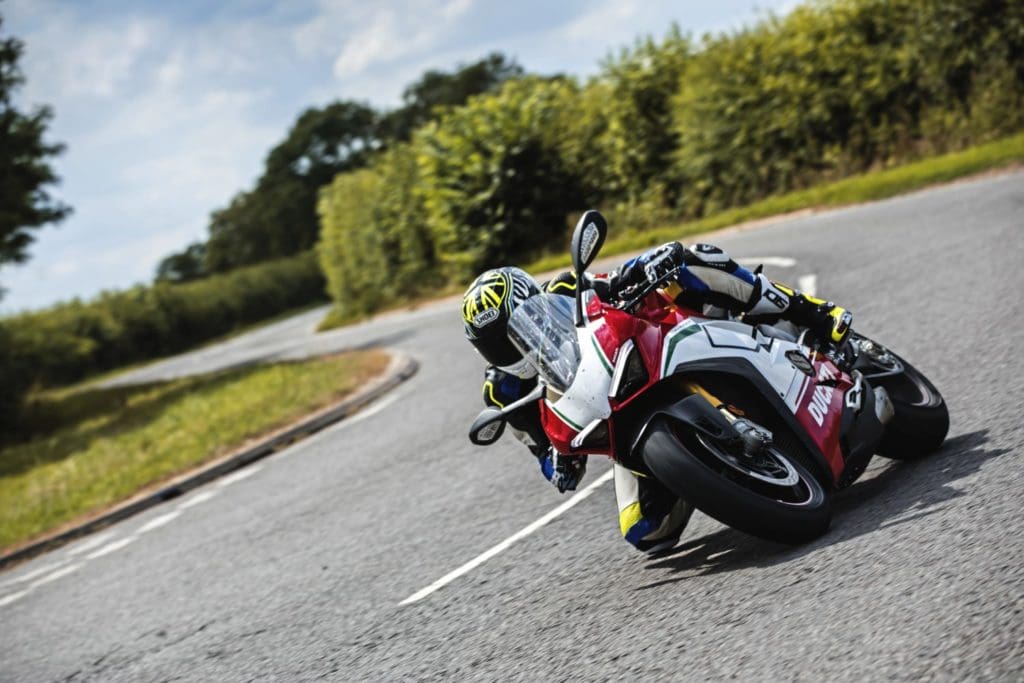 Firstly, a word of caution; this bike is loud.
Seriously loud!
Alongside the race screen, a fancy bike cover and the altered mapping that comes as part of the 'race package', you also get the funky looking titanium Akrpaovic race system and that makes the biggest of impacts; both visually and audibly. It's largely responsible for the 2kg weight saving over the V4S, and it's also the main reason the output gets cranked up by 10bhp. And the other thing it's good at is pissing off your neighbours. Just below the hi-tech colour TFT dash, on which you'd think you could monitor the stock market and launch nukes, is a 107dB sticker that shouldn't be taken with a pinch of salt. It means it, and it also means you can wave your neighbourhood friendships goodbye. But more importantly, and devastatingly, it means trackdays are off the radar… aside from those once a year delicacies where you get to ride unsilenced.
That was something I hadn't factored in, and I wasn't pleased to learn. Still, all was forgiven after I'd taken my first ride and realised the brilliance of the beast. On the roads every V4 I've ridden has proven to be an absolute hoot, arguably even the best street bikes on the market.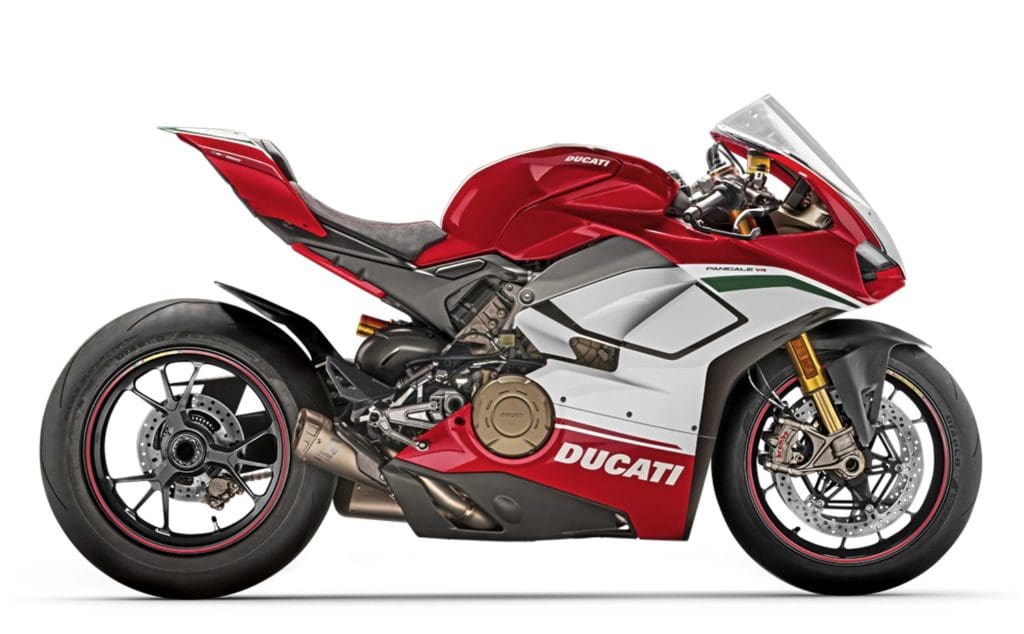 They're big, comfy and pack shed loads of torque. When the V4 first came out people were concerned that the motor wouldn't deliver the instant, hard hitting fix of drive that L-twins possessed. They were wrong to. Arguably, the torque isn't as intense, but that's not such a bad thing. The spread of power seems greater, and you've got extra revs at the top end to play with (thanks to a higher 14,500rpm limiter), assuming you've had your spinach and can handle the pace of this thing. V4s are rocketships, regardless of spec, as the Speciale reiterated. Of course, this particular Ducati came laced with an extra 10bhp of madness, but I'd be a liar if I said I could notice it.
What I did learn over that inaugural blast, and the many, many others I had, was a lack of power was never on the cards. The initial pickup did feel slightly abrupt, but once rolling the fuelling was creamier than a slice of Wensleydale. It stopped for nothing, being governed by a light and accurate electronic throttle, sporting special Speciale handlebar grips – simply lovely!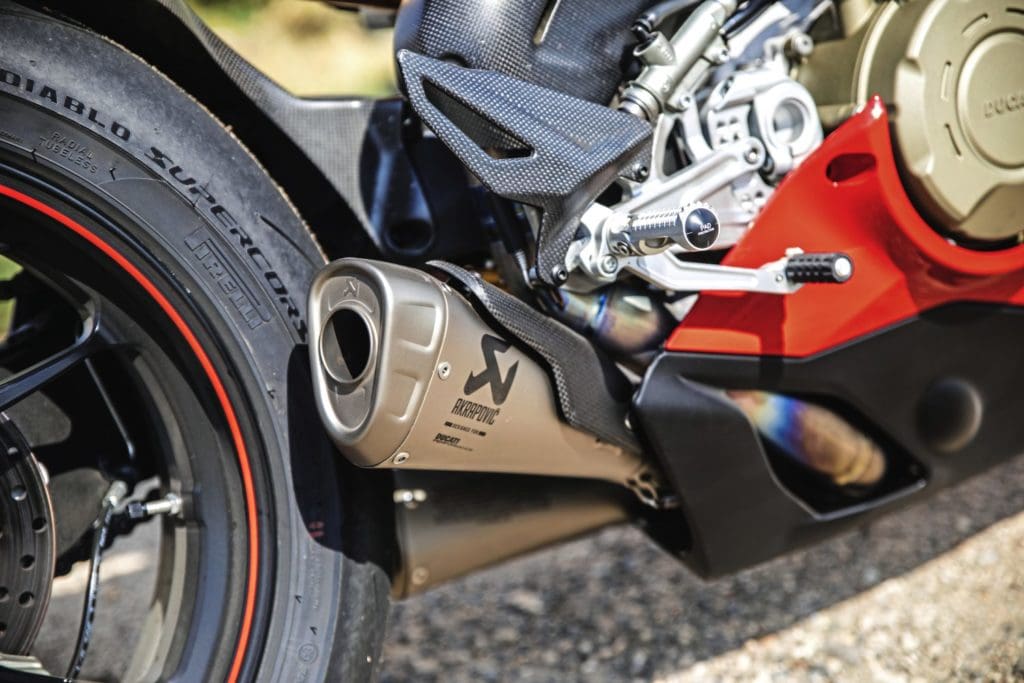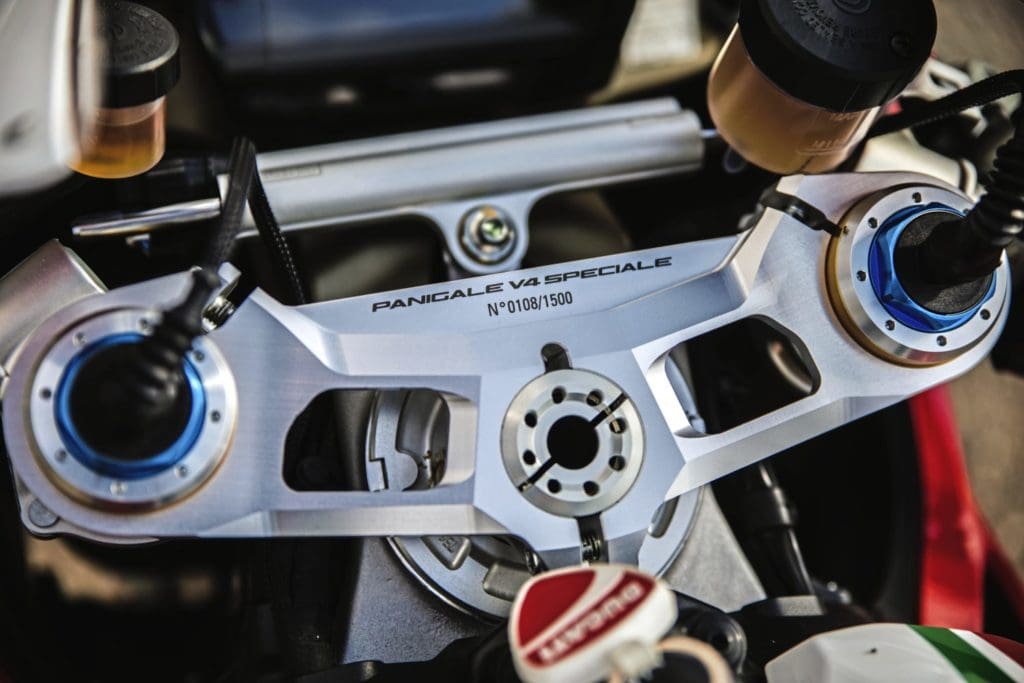 What wasn't so lovely was the motor's tendency to stall when setting off from junctions, if you were anything like meagre with throwing revs into the mix. Boothy managed the feat on a few occasions, and I couldn't stop laughing at him, mostly because he didn't know I'd been stalling it too. The clutch purchase doesn't help in this department. The Speciale gets spec'd up with Rizoma folding levers which is all well and good, but even using the span adjustment they offer you can't substantially alter the biting point of the engine, which sits not far off of the 'bar.
It takes a bit of getting used to. In Race mode, the sportiest of the three riding modes (Race, Sport, Street), I found the throttle a little too eager in town, making for a jerky ride, but switching to Sport proved a good solution. To be fair, even when out of town Sport mode never failed to deliver the drive and excitement I hoped for (I reckon it was worth an extra mile per gallon, too).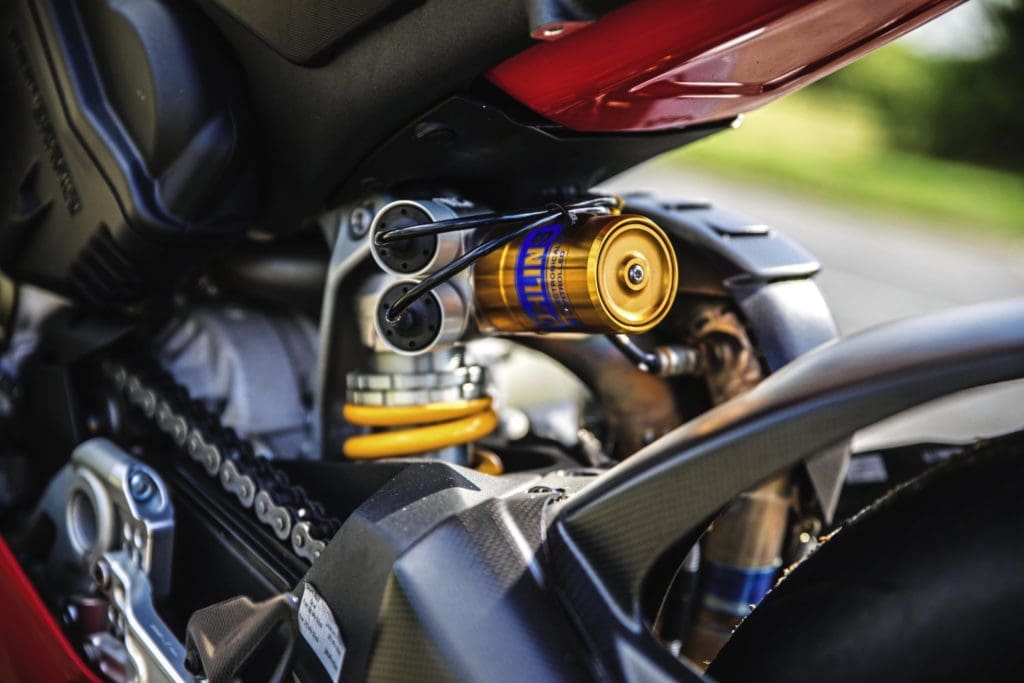 So far so good, and that's the general theme of the V4 Speciale; In fact, it's better than good – it's brilliant. But much of what I'm telling you would be relatable to owners of the base or S versions. If it wasn't for the racing fuel filler or 'Speciale' branding that stares up at you from the side of the slightly taller racing screen, I could have easily believed I was riding a V4S. With the same geometry and same firm Öhlins suspension, the Speciale felt familiar from the get-go. I liked the way it handled, proving lithe and effortless to throw around. The stiff, minimalist chassis fought the pogos in the same way the 'S' did, letting off a tell-tale weave when ridden hard out of bends as the carbon-clad swingarm worked hard to stabilise the package.
That said it felt a largely planted bike, but a characterful one at that, mostly down to the punch of the motor. It's not normal to get fourth gear power wheelies on motorcycles, but the V4's torque would claim otherwise. And it's because the motor is so ferocious, and the frame so small and stiff, that you get these playful notions from the Ducati when you're cracking on. I kind of liked it, but I couldn't adapt to the sheer stiffness of the ride when I wasn't striving for lap records. The Speciale was clearly designed for silky smooth race tracks, not my local back lanes. I played around quite a bit with the electronically adjustable setup, which allows you to prioritise between handling or comfort. Even with the bike on the softest of its 10 settings, it still felt too hard and proved only marginally more forgiving on the rough stuff. At least that fancy saddle was comfy, albeit a little toasty at times. Whether it was down to the sleeker carbon fibre exhaust guard or even the makeup of the titanium system, the Speciale definitely felt hotter than its siblings.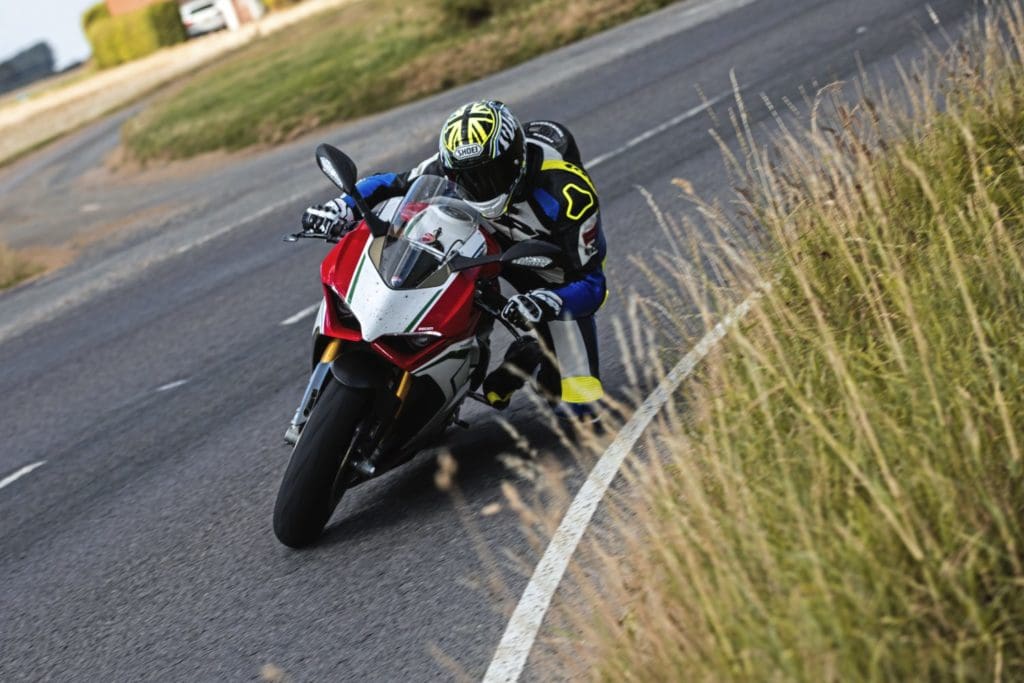 In total I clocked over 400 miles on the £35k wonder weapon, which hooked me under its spell. Great ergonomics, sharp looks and a monstrous motor were its biggest draws, topped off by the knowledge that you were riding something more than a bit glitzy. The other things that deserve a strong mention are the flawless electronics the bike boasts, including a blipper, shifter, engine brake control and even slide control function. On the road there's no chance you can properly grasp their potential, but everything from the traction control package to the less-invasive ABS (which can be switched off up front), proved a notch above any other brand's offerings –as has been the case for a while now on Ducatis. Hell, the Speciale even sports GPS and a data analyser to you can check out your lines, your braking pressure, lean angle and loads of other factors that you've just unleashed on your last thrash.
The V4 concept is next level, but I'm not sure I can say the same about the Speciale when compared to the standard and V4S models. Sure as hell I could see the bike's wow-factor, even Stevie Wonder could've, but it was near identical to that of the other two models – only much louder. As for image, yeah, it might get you a few more bras thrown your way, but no more than you could achieve by splashing out on a base model and tarting it up with a new painjob and some glitzy bits to help you look like a racer. Personally, I'm not sold on the massive price hike, but don't let me stop you delving deep in your pockets. I think I'll stick to the profiteroles.
Verdict – 8/10
Great looks, awesome power and a truly rich character make this bike as special as its name suggests, but it comes at a price. If you've got the cash, here's your chance for a bit of exclusivity.
+ Unreal motor, GP soundtrack, killer looks
– Too pricy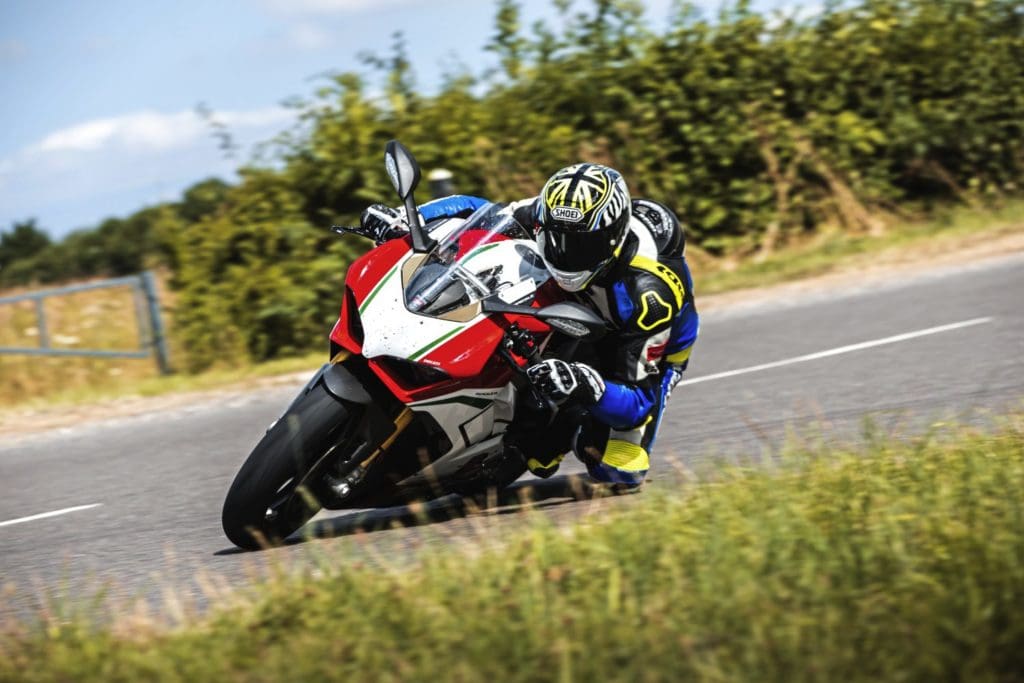 Ducati Panigale V4 Speciale
Highlights:
122bhp V4
172kg dry weight
Razor handling
Something different
Loads of carbon
Amazing tech
Braking – 10 – As good as it gets
Stability – 8 – Likes it smooth
Agility – 9 – Happy hustler
Drive – 10 – Heavyweight bruiser
Fun – 9 – Oh yes!
Boothy's Bluff: Panigale V4 Speciale
Even in its base trim, I love the new Panigale V4 – it's such an exciting bike to ride, so I was really excited to ride the Speciale. So much so that I forgot to put my earplugs in. Huge mistake.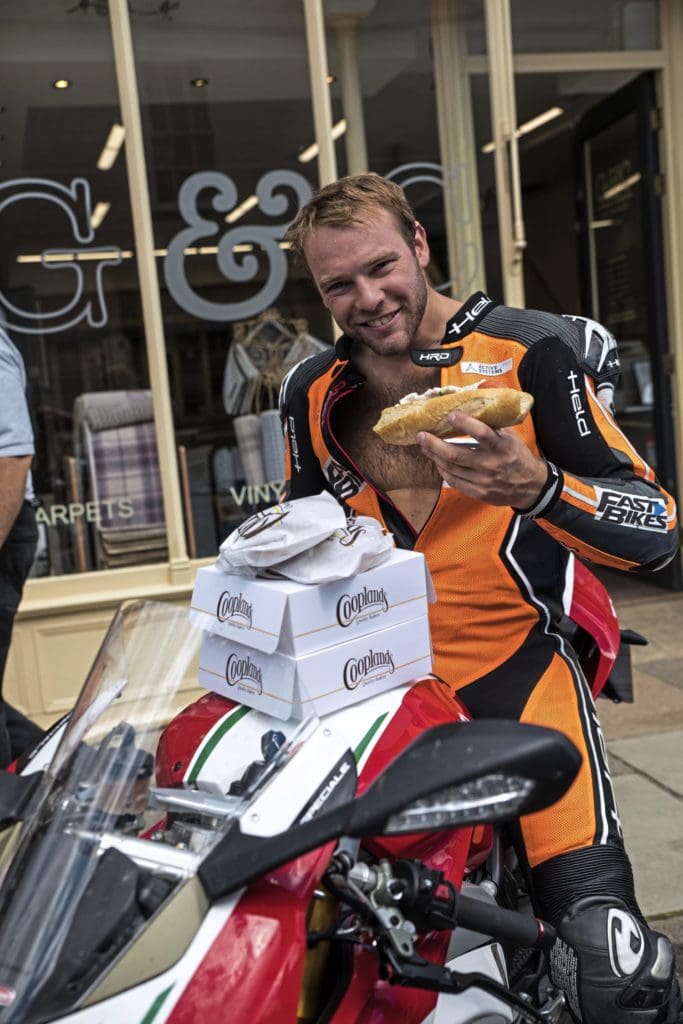 The sound from that Akrapovic exhaust nearly made my ears fall off. It sounds great but it's very, very noisy. Aside from that, it's very similar to any other Panigale V4; it's fast, its nimble, the breaks are awesome and it looks great. Ok it looks better than great in its fancy pants tri-colour livery and it was more than just fast, it was absolutely bonkersly fast, with wheelie inducing power from tick-over to redline. But the V4S, and even the standard V4, don't look bad and certainly aren't slow – and they might not be a cheap alternative but they are a fraction of the price of a Speciale.
I did enjoy riding the Speciale, but it was bordering on being too loud for me – although if you spend £35k on a bike I suppose you'll want people to notice you.
Electric avenue…
In some way the Desmo RR's lack of electronics counted against it as despite the GP bike running traction control, the Desmo was given nothing in the way of assists. Considering its price tag this was a bit of an omission, especially as the 1098R arrived just a year later with a traction control system, taking a bit of the shine off the RR. The Panigale is left lacking nothing with the latest generation of Ducati's electronic assists, called EVO. Controlled by 6-axis Inertial Measurement Unit (IMU), the Panigale has three-level cornering ABS, Ducati Traction Control EVO with a 'spin on demand' function, two-level Slide Control, Wheelie Control, three-level Power Launch, an up and down quickshifter, Engine Brake Control, three Riding Modes and even semi-active suspension on the S model. The desmo RR has nothing and its mode button just alters the dash's display…
Desmosedici RR vs Panigale V4 – what makes them tick?
Both the RR and Panigale run a 90-degree V4 motor with a desmodromic valve train, so in this aspect they are similar, however the V4's crank rotates counter-clockwise while the RR's runs clockwise. MotoGP bikes also generally run counter clockwise, however Ducati never admitted when their GP bike adopted this format.
Based on the GP6 MotoGP bike, the Desmo runs a 989cc capacity through an 86mm x 42.56mm bore and stroke (MotoGP swapped to 800cc in 2007 from 990cc) while the Panigale is 1103cc with a 81mm x 53.4mm bore and stroke. Which shows just how massive the RR's bore was! Both bikes run a desmo valve train, but the RR has gear driven cams with titanium valves while the Panigale has steel valves with a cam chain turning the one cam, which turns the other via a gear. And while the RR has sand-cast cases, the Panigale has gravity die-cast items, which are faster and easier to mass produce, with magnesium used on non-stressed covers. The RR also gets a cassette gearbox, which the Panigale lacks, but both bikes have slipper clutches.
When it comes to power, the RR makes a measured 177bhp @ 13,750rpm with 104Nm of torque while the Panigale churns out 198.5bhp @ 13,000rpm with 118Nm, helped by its extra capacity and variable length intake funnels, which the RR lacks.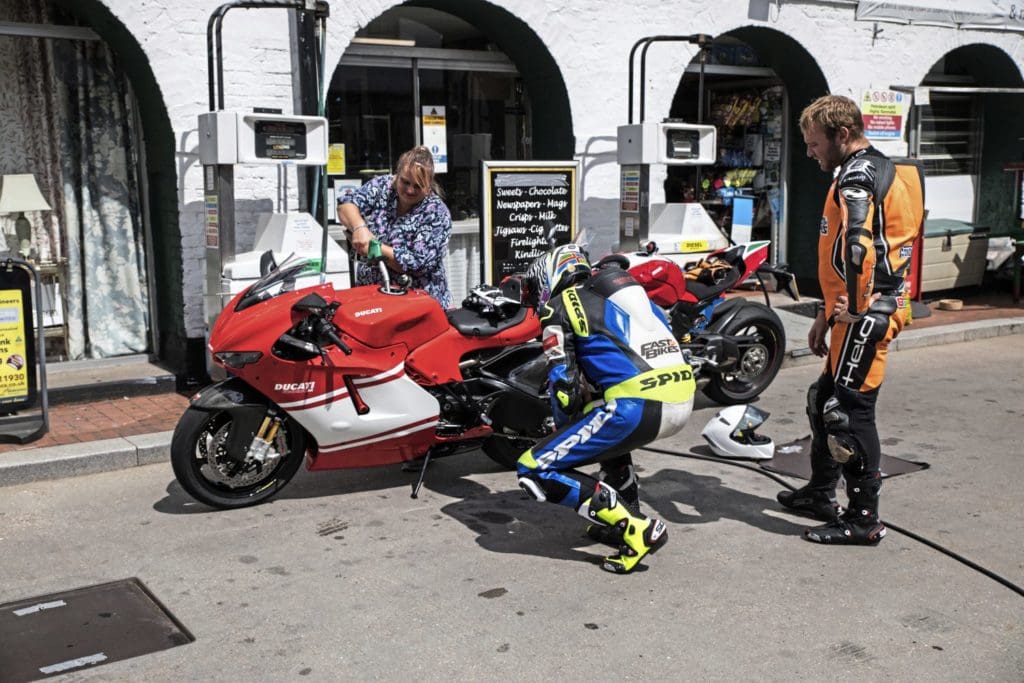 Desmosedici RR vs Panigale V4 – under the skin
The MotoGP bike's chassis has long been a source of frustration for Ducati and the race team has experimented with a carbon monocoque, steel trellis and aluminium beam, which it now runs. In the early days it used Ducati's traditional steel trellis, which is what the RR runs where the Panigale has the firm's new aluminium alloy 'Front Frame,' which is an evolution of the monocoque design debuted on the 1199 Panigale. With an adjustable rake of 23.5-24.5-degrees (claimed by Ducati to be the same geometry as the GP6) and 1430mm wheelbase, the RR is shorter than the 1469mm Panigale, which has a fixed 24.5-degree rake. Uniquely, the RR also runs a 16-inch rear wheel (which was the size used in MotoGP at the time) where the Panigale has the now industry standard 17-inch items. The RR also manages to usurp the Panigale by having its Marchesini wheels made from magnesium alloy where the V4 has forged aluminium wheels. Impressively, the RR's rear is a 200-section, like the Panigale's, but the modern bike's tyre has a taller 60 profile where the RR is a 55.
Suspension-wise, the RR was the first, and only, road bike to run Öhlins FG353 gas-pressurised forks, while the Panigale gets event-based Öhlins Smart E 2.0 semi-active suspension. Both use 43mm diameter forks and both run Öhlins shocks, but again the Panigale's shock is semi-active.
Due to its GP heritage, the RR gained a double-sided swingarm where the Panigale gets a single-sided unit. This is very much a race track vs fashion and style decision and it is believed the WSB-homologation Panigale will have a double-sided swingarm as it is both stiffer and lighter, which matters on a track.
When it comes to stoppers, it's radial four-piston monoblock Brembos all the way, however the Panigale benefits from the latest design and caliper construction, not to mention electronic back up…
Finally, the RR has a carbon fairing and self-supporting carbon seat unit where the Panigale has a plastic fairing with a shell-cast aluminium subframe that mounts to the rear cylinders and the frame.
Desmosedici RR vs Panigale V4 – electronics
In some way the RR's lack of electronics counted against it as despite the GP bike running traction control, the Desmo was given nothing in the way of assists. Considering its price tag this was a bit of an omission, especially as the 1098R arrived just a year later with a traction control system, taking a bit of the shine off the RR. The Panigale is left lacking nothing with the latest generation of Ducati's electronic assists, called EVO. Controlled by 6-axis Inertial Measurement Unit (IMU), the Panigale has three-level cornering ABS, Ducati Traction Control EVO with a 'spin on demand' function, two-level Slide Control, Wheelie Control, three-level Power Launch, an up and down quickshifter, Engine Brake Control, three Riding Modes and even semi-active suspension on the S model. The desmo RR has nothing and its mode button just alters the dash's display…
Conclusion
So there we have it, two very special motorcycles. As to which one you should go for, that's a pretty subjective decision… and one your bank balance is likely to have something to say about. But if money's no problem and you were to choose a bike using your noggin, there is only one choice. For the easy life, the greatest amount of power and the best tech to keep you from launching yourself down the road, the Speciale wins hands down.
I really did enjoying blitzing it around, proving effortlessly adaptable to all roads, speeds and conditions. It was a piece of piss to ride, being so much more predictable and manageable than the Desmo – especially where cornering was concerned. It was the most comfortable too and lacked the air of intensity that came with hammering around an irreplaceable £60k Desmo. But nerves and edginess aside, the RR really did feel special.
From a performance point of view it might not have been anything exceptional, but it was the one my heart enjoyed most. The Desmo has reached iconic status, like that favoured t-shirt you keep in your wardrobe that's slightly faded, has the odd Pot Noodle stain and probably doesn't fit anymore, but reminds you of the best summer you've ever known. Essentially, it's precious, and better for ogling than riding, but for some people that's all they need, and who am I to question them? If I won the lottery I'd definitely buy one, it'd take pride of place in my lounge, and it'd sport big Marlborough livery across those vacant white spaces. I can see it now, even if my bank balance can't. But hey, we can all dream, right?
Want more Fast Bikes? Subscribe from just £10
URL: https://www.classicmagazines.co.uk/fb130

Enjoy more Fast Bikes reading in the monthly magazine.
Click here
to subscribe.