Boothy's loves R1s so to celebrate their 20th anniversary, the lucky bugger's spent a week getting his leg over a 20 year old model.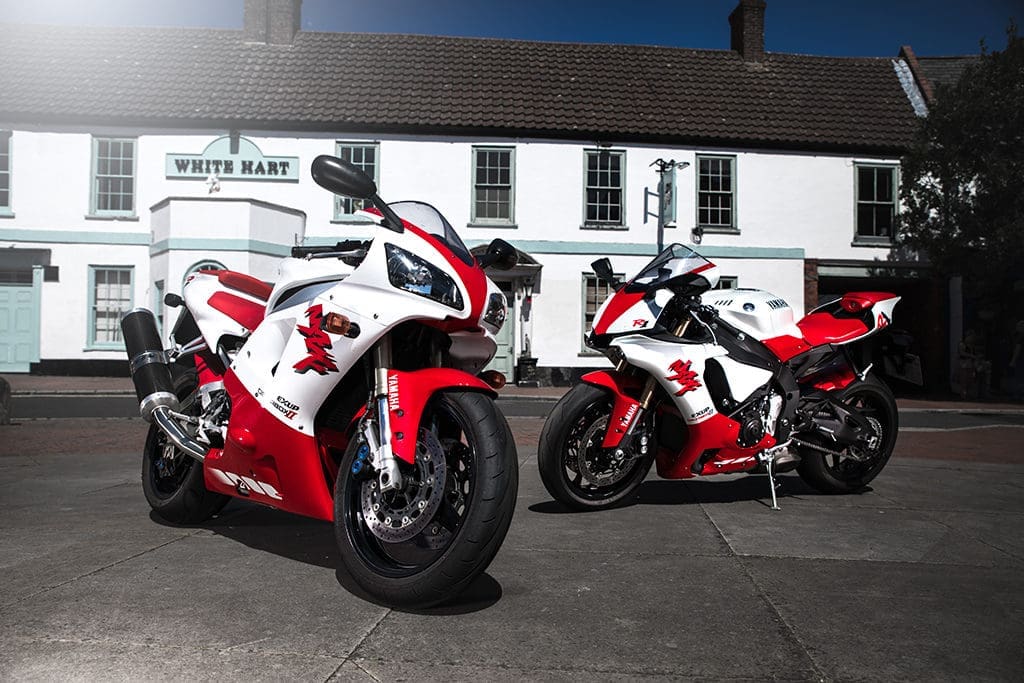 When I look back now I realise my 1998 Christmas list might have been a little bit ambitious. I couldn't see the appeal of yo-yos, I already had Dr. Doolittle on VHS and I didn't need any more Lynx Africa. All I wanted for Christmas was my two front teeth and a Yamaha YZF-R1 – I didn't think that was too much to ask but Father Christmas obviously didn't get the memo. To most seven and a half year olds, a new litre sports bike might not have made much sense, but to me, even then, I knew it was a game changer.
Since then I've always had a real soft spot for the R1 dynasty. And it's a soft spot that turns into a raging hard one, almost every time I throw a leg over my current 2018 R1M long termer. They are absolutely incredible bikes and despite there being a massive amount of competition in today's litre sportsbike market the current R1 has been able to hold its head high in any group test we have done in Fast Bikes. And the same can be said for all the incarnations of R1 that have come before it. So to celebrate the R1's 20th birthday we thought we would see just how far Yamaha have moved things on since Boyzone and B*Witched were fighting for top step of the Pepsi Chart.
On paper, things have moved on a lot. Back then, the R1's EXUP exhaust valve, digital speedo and self-diagnostic dash were considered pretty cutting edge, but to compare that with today's R1's fuel injection, TFT dash and electronic rider aids package, is to compare a Nokia 8210 with an iPhone X. And as far as power figures go, well the 98 R1's claimed 150bhp is actually nearer 130bhp by the time it get to the back wheel; it's never going to be able to hold a candle to the modern bike's 190+ ponies.
But we don't care about holding candles, here at Fast Bikes. And we don't really care about which models spec sheet can shout the loudest, either. So to find out first-hand what 20 years of development is like, we borrowed our mates completely bog-stock original 1998 YZF-R1 and blagged a go on Yamaha UK's very own 2018 YZF-R1 in its Anniversary Special custom colour scheme. And as if an umpteen hundered mile road test isn't enough, we popped down to Silverstone to spin some laps with non-other than multiple British champion Niall Mackenzie. Here's how we got on.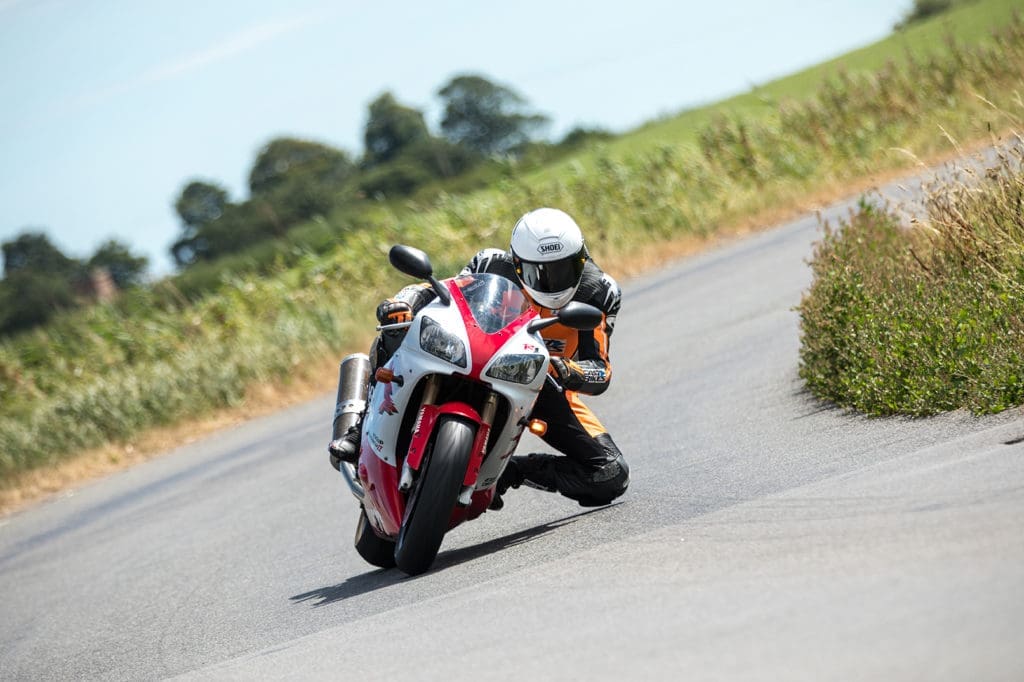 A modern classic?
It might be 20 years old, but the '98 R1 doesn't look like a classic bike, just yet. It doesn't have the aggressive poise that the modern bike has, and from some angles it does look a little lardy but it's by no means a fat minger. It certainly wouldn't look out of place parked up next to a bunch of much newer sportsbikes at trackday or bikers café.
When I climbed aboard the R1, it seemed to maintain its lardiness, but this wasn't a bad thing. Its soft, wide seat, which is 40mm lower than the modern bike's, was not only a favourite with my arse cheeks, but gave a feeling of sitting in, rather than on top of the bike. A less sport riding position, granted, but a more comfortable one.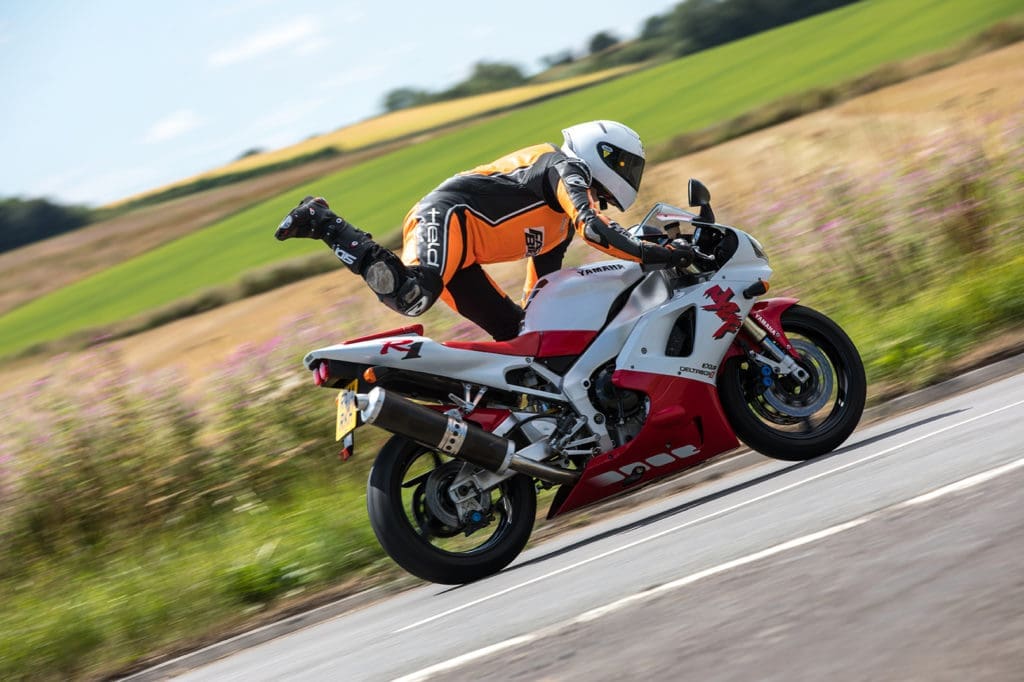 In the comfort stakes, a slightly higher screen wouldn't have gone a miss. Before you even get going, it's quite clear that the minuscule excuse for a windscreen isn't going to do much to deflect the onslaught of air that is inevitably going to come your way.
A further scan around the cockpit reveals plenty of tell-tale signs that the old girl is no spring chicken. The manual choke lever on the left hand switch gear, the spindley little ignition key and the clock-dial rev counter all show the R1's age.
With a bit of choke and a touch of throttle, the R1 fired into life. Upon firing up, the needle spun round to 7,000rpm (just the needle, the engine remained ticking over) and stayed there for a second or two, before returning to the tick-over zone. This ritual was to let me know that there was a problem with the EXUP exhaust valve, but I'd been reliably informed that a few taps with a screwdriver would free the job up, which is seemed to do, as the needle stopped waving at me and the engine revved cleanly. The fueling from the R1s carbs was clean for the most part, but a sharp twist of the throttle when things weren't fully up to temperature could sometimes result in a bit of a bog before a symphony of revs; a symphony of muted revs, that is, through that whopper of an end can. The '98 model did seem slow to rev, too, compared to the '18 plate bike, but when it did rev, it was an exciting inline four scream, rather than a big-bang thump, as was audible from the modern bike.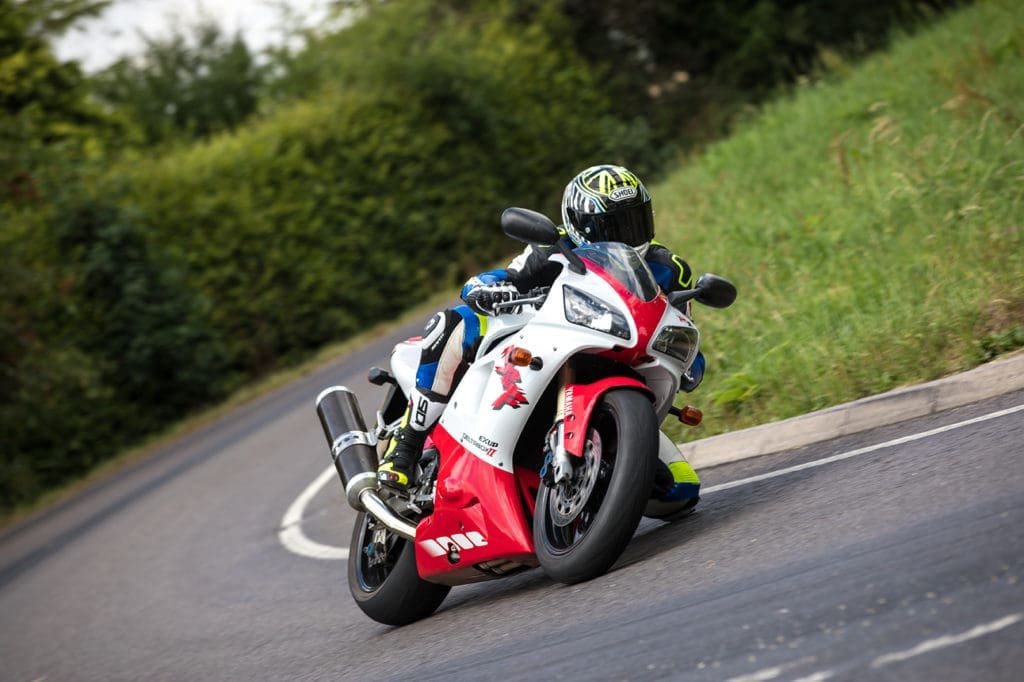 I was like a dog with two… erm bones, when I got on the original R1. I'd waited 20 years to have a blast on one so it didn't take me long clunk her into gear and start giving it the berries. The first thing you notice, when you open up the taps is the lack of power. After jumping off the modern bike, the original R1 feels almost as though there is something wrong with it. The motor feels wheezy and asthmatic in comparison. Even through the giant silencer, the bike sounds as though it should be pulling harder than it is – but that's only really when making a direct comparison with the 20 year younger, faster, more advanced machine. It's not a slow bike, far from it, you can easily be doing a ton plus, way before you know it, but to get the most from the engine you have to really make it sing and keep it in a narrow power-band from about 8,500rpm to 10,000rpm.
I soon got used to the R1s bhp deficiency, just as I got used to the quickshifter and blipper deficiency. We've probably been spoilt by modern tech systems, non more so, I'd suggest, than up and down shift shifters (which can be found on new R1s, and plenty of other modern bikes for that matter). So when I say I got used to the dipping the throttle and pulling the clutch in to change up and down through the gearbox, I did so begrudgingly.
The thing that you soon realise on the old R1 is that it's a bike you really have to ride. Unlike a modern bike, with rider aids aplenty, nothing is done for you. And that gave the R1 a charm that many modern bikes can only dream of. You could ride the R1 hard, but you had to be precise, yet firm with it. Dropping out of the revs meant dropping right out of the power so it was mega important to be in the right gear when accelerating. What was even more important though, was being in the right gear when braking; with no slipper clutch, too many downshifts in one hit would lock the back wheel up and send it skipping and bouncing out of line, most unceremoniously. But it all added to the fun. Precision has never been my strong point, but you needed in bucket loads to get the most out of the old girl.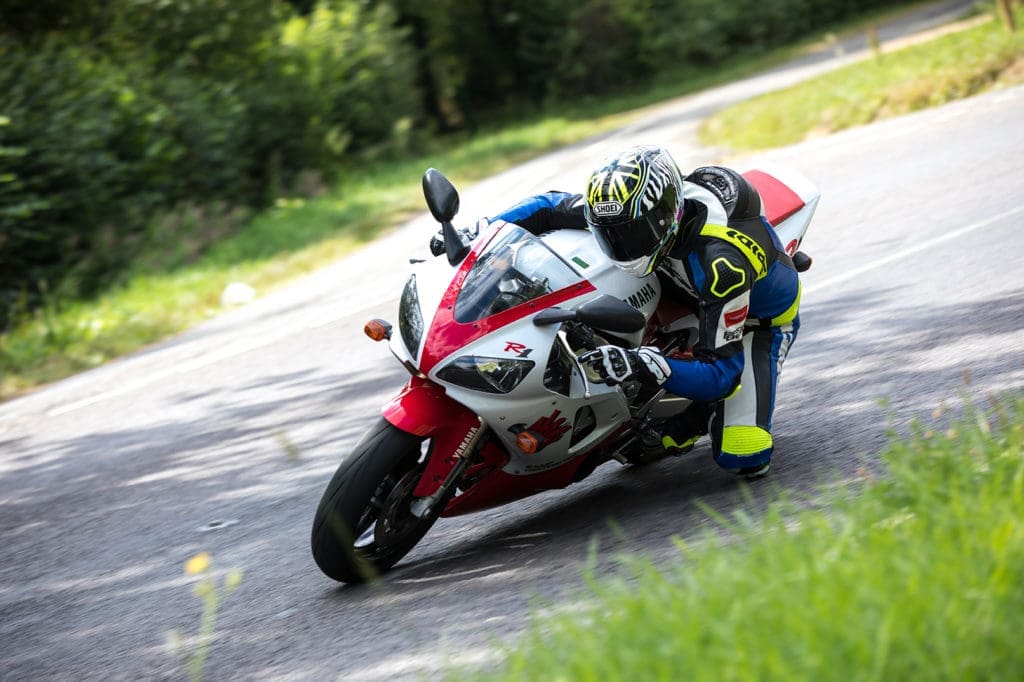 The more I rode the '98 R1 the more I got use to how you needed to ride it, and the more I loved it. I felt so much more involved in riding it than I did on the modern bike. And the faster we went, the more interesting things became. Under hard acceleration, the front felt skittish and vague and on a number of occasions bumps in the road sent the bars into a tank-slapper inducing shake. It was a little bit scary, if the truth's know, but it's nothing that a steering damper wouldn't fix.
On the road, the old R1 charmed the socks off me. I loved riding it and I loved the way it made me feel. But to see how it really handled, I took it to Silverstone to stretch its legs and twist its melons, man.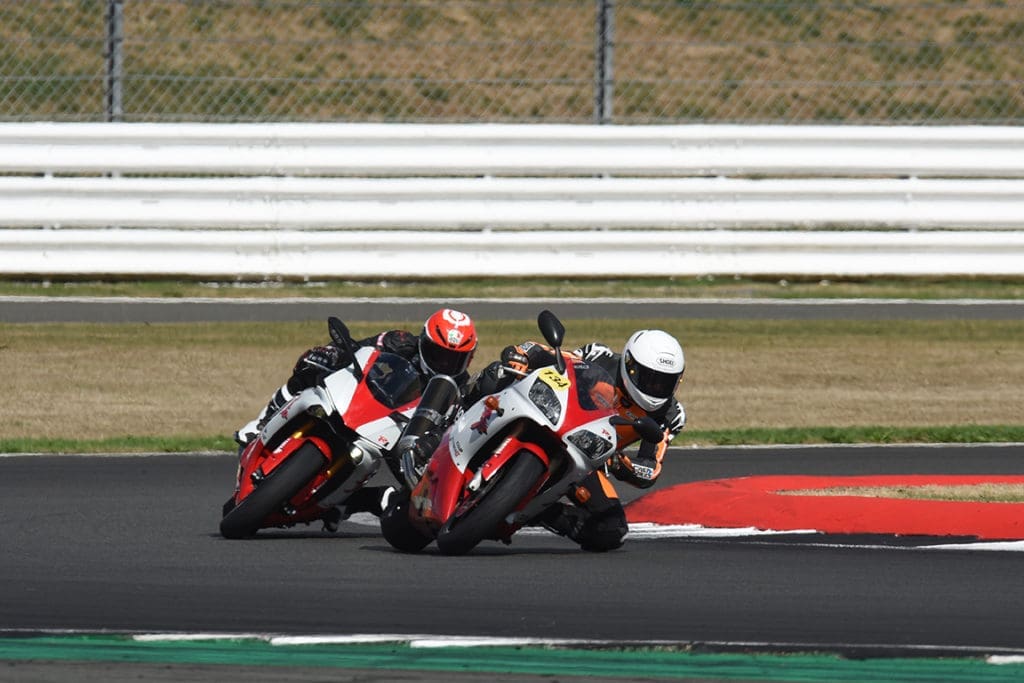 Circuit specialist
Silverstone is a great place to test a bike. There's fast stuff, slow stuff, tight stuff and wide open stuff to get your teeth stuck into so it was the perfect place to see just what the superhero superbike of yesteryear could offer.
Like on the road, the old R1 does seem a little lethargic compared to its modern counterpart, especially down the long, wide straights on Silverstone's Arena GP circuit. But that was to be expected. What is a slight pain on the track was the low screen which didn't create much of a void to hide your head in; I found myself looking over the top of the screen rather than through it which I don't suppose did my lap times any good.
Again, a quickshifter would have been nice on track but I managed ok. The main thing I struggled with was the shifter itself. It has rubber underneath to grip your boot on upshifts, but I think it must have been a little worn out after 20 years, as my boot slipped off the side of the shifter more times than plenty when trying to get the upshift. I wasn't a big fan of that feature. The gearbox itself didn't seem bad, it just felt like the external selection paraphernalia could have done with a little bit of work.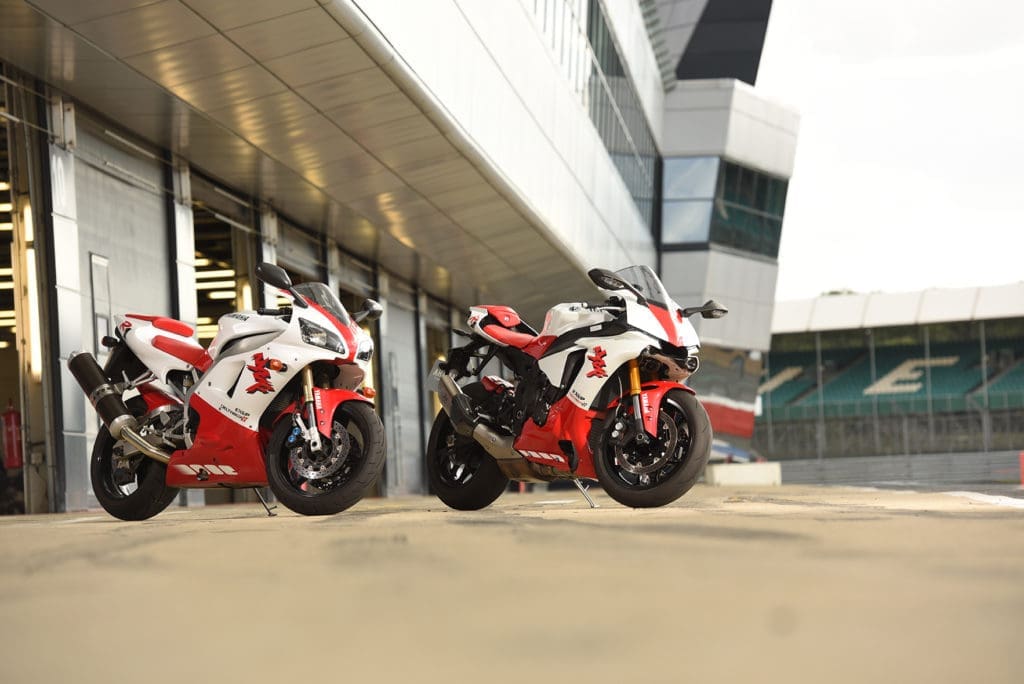 Aside from the engine, the '98 R1 held its own remarkably well at Silverstone. I had been reasonably impressed with the brakes on our road test, but had expected a track outing to find them wanting. It did not. Ok, Silverstone isn't mega hard on the brakes and there is ample time for things to cool down between big handfuls of anchor, but big handfuls of anchor I was giving it and there were never any signs of fade.
Despite it actually being lighter than the '18 R1, it did feel bit heavier to turn and to change direction. The soft set up made you feel as though you had to take up all the slack in the suspension before the bike would do any real turning. And as comfortable as the low seat was, it didn't make turning the bike any easier. It would turn and it would do everything else you needed it to, but with nothing like the same razor sharp reactions as the modern bike. It also has a slight tendency to want to lift up and run wide when opening the throttle mid-corner. But it was only a slight tendency.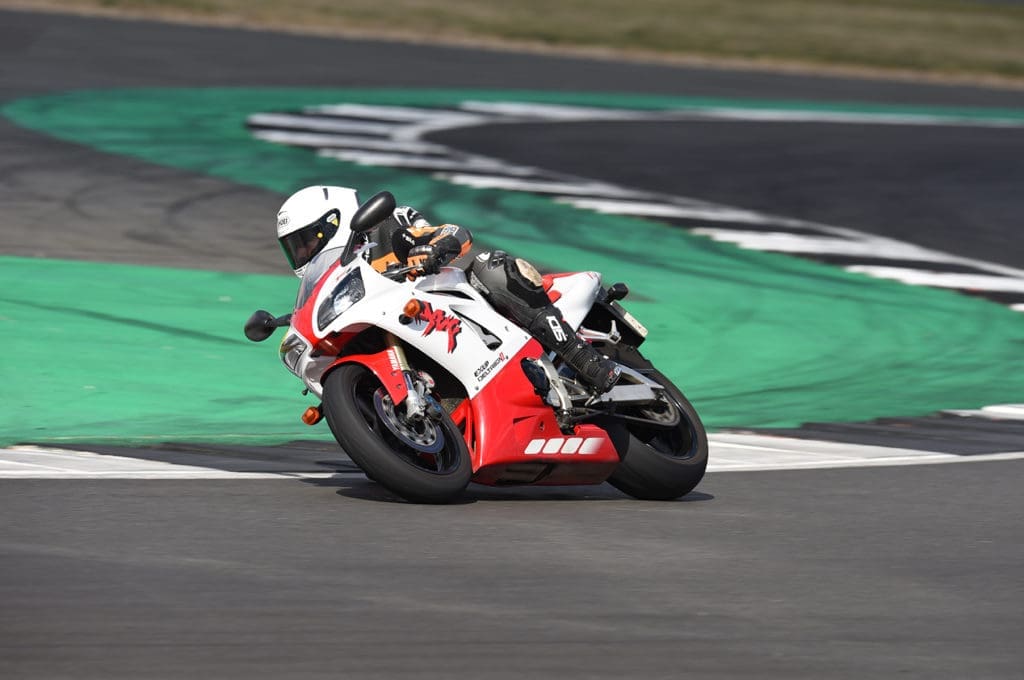 A slight niggle with the '98 bike, which I feel I have to mention, was the foot-pegs. Probably down to it being 20 years old but the springs that hold the pegs down seemed a bit floppy, so I'd quite often inadvertently kick the pegs back whilst trying to shift my body position on the approach to corners. It wasn't a show stopper, but it did prove to be a bit annoying.
I was lucky enough to do a session or two following bike racing legend Niall Mackenzie whilst at Silverstone. I'm not going to pretend to be half the rider that Mr. Mackenzie is, but seeing what he could do on the original R1 gave me even more confidence to push it that little bit harder, and the more I pushed it, the more I loved riding it.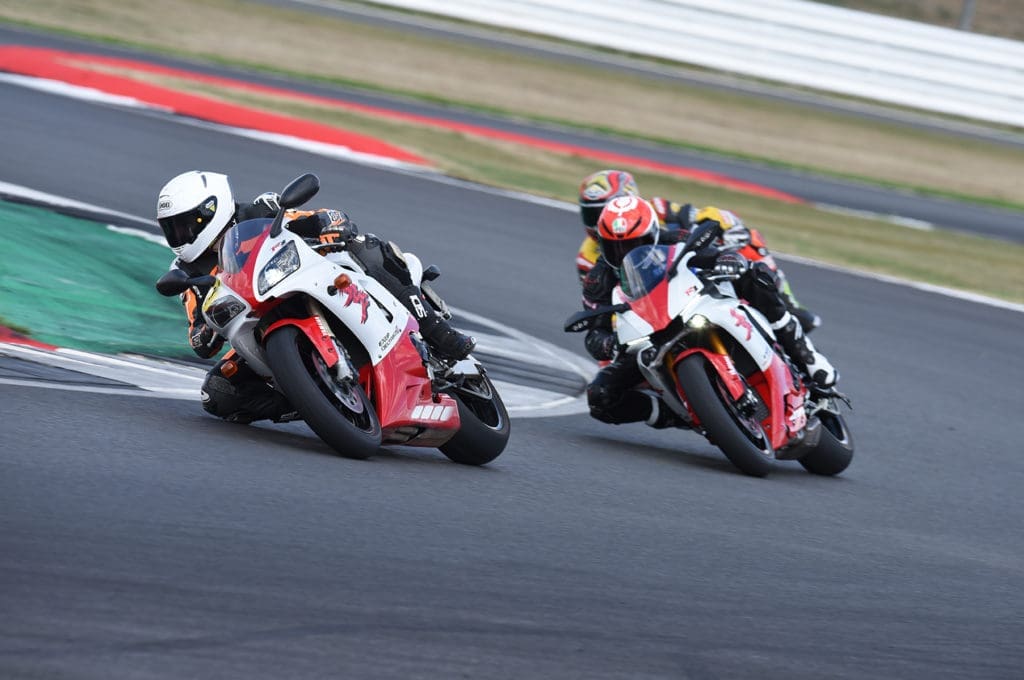 Conclusion
I know they say you should never meet your heroes, but who ever said that has probably never ridden an original R1. When I told my old man how excited I was to be doing a test on a 1998 model, he thought I'd end up being utterly disappointed. But I wasn't. It did something to me that modern bikes can't. It's a totally raw sportsbike; you can tell there has been little thought into making an easy bike to ride, or indeed a safe bike to ride. It's all on you, the rider. And I love that. Anyone who likes riding sportsbikes will love riding a bike like this, because it's from a time when you really had to ride them.
I've never been one for classic motorcycles, I've always thought they were ugly and, well just a bit crap. I know, the '98 R1 isn't really a classic bike (yet), but it has taught me something about classic bikes, or rather why they are so popular – it's given me an appreciation for the nostalgia that surrounds bikes like this.
And I can honestly say that despite it not having any of the mod-cons, I had as much fun riding this bike as I have ever had riding any other bike on the road. It might not have 200bhp but it could still wheelie its way into three figure speeds and stoppies, skids and knee down antics were easily achieved. In fact stoppies and skids are more achievable on the old bike then they are on the ABS infected '18 R1.
Not everything is easier on the old bike though, it does require a bit more effort to ride fast, and a lot more precision. But easy isn't exciting, is it? Sportsbikes aren't supposed to be easy, they are supposed to be exciting, and that's definitely what the old Yam is.
The whole experience was incredible. I'll never forget the day I spent riding such a legendary bike, round such a legendary circuit, with such a legendary motorcycle racer (running rings around me). I was desperate to own a Yamaha YZF-R1 as a kid, back in 1998, and now I've ridden one I'm desperate to own one as an adult too. The problem is I'm quickly running out of space in my living room. Does anyone want a sofa… free to a good home?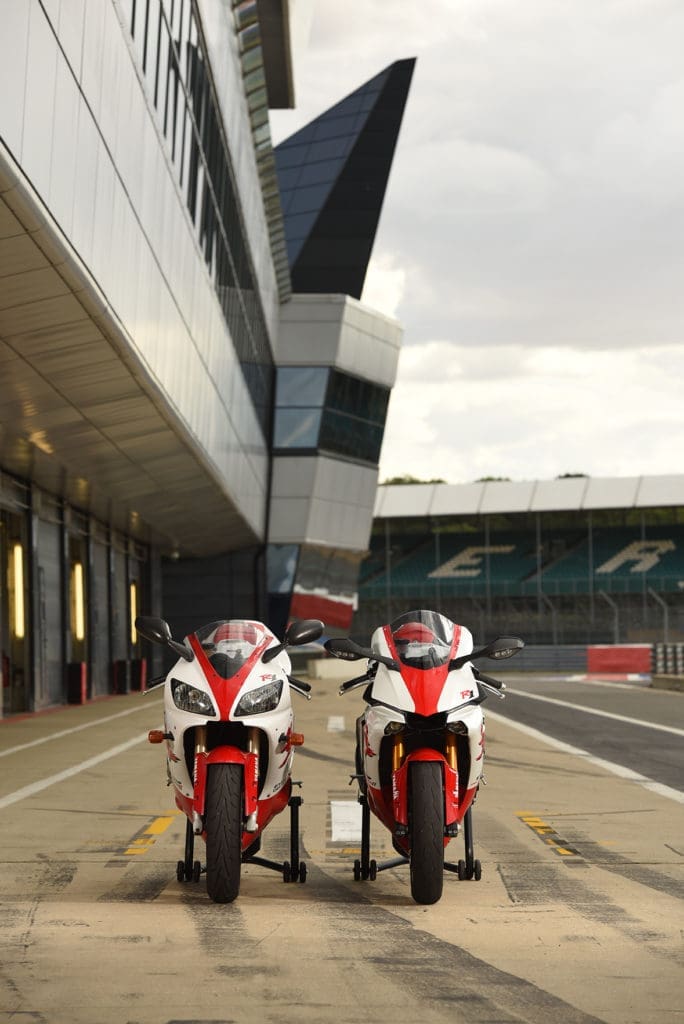 2018 Yamaha YZF-R1
Engine
Type: 998cc, 4-stroke, DOHC, Cross-plane crank, 4-cylinder
Bore x Stroke: 79.0 mm x 50.9 mm
Compression: 13.0: 1
Fuelling: TCI
Claimed Power: 197bhp @ 13,500 rpm
Claimed Torque: 112.4 Nm @ 11,500 rpm
Electronics
Riding Modes: Yes
Traction Control: Yes
ABS: Yes
Quickshifter/Autoblipper: Yes/Yes
Wheelie Control: Yes
Launch Control: Yes
Chassis
Frame: Diamond
Front Suspension: 43mm Adjustable KYB forks 
Rear Suspension: Adjustable rear monoshock
Front Brakes: Four-piston Monobloc calipers, 320mm discs
Rear Brake: Twin-piston calipers, 220mm disc
Dimensions.
Wheelbase: 1,405mm
Seat Height: 855mm
Wet Weight: 200kg
Fuel Capacity: 17 litres
Price: £16,499 From: www.yamaha-motor.eu/uk
1998 Yamaha R1
Engine
Type: 998cc, 4-stroke, DOHC, inline 4-cylinder
Bore x Stroke: 74mm x 58mm
Compression: 11.8: 1
Fuelling: Carburetor
Claimed Power: 150bhp @ 10,000 rpm
Claimed Torque: 98.6 Nm @ 8,250 rpm
Electronics
Riding Modes: No
Traction Control: No
ABS: No
Quickshifter/Autoblipper: No/No
Wheelie Control: No
Launch Control: No
Chassis
Frame: Diamond
Front Suspension: 41mm Adjustable USD forks 
Rear Suspension: Adjustable monoshock
Front Brakes: Four-piston calipers, 298mm discs
Rear Brake: Twin-piston calipers, 240mm disc
Dimensions.
Wheelbase: 1,405mm
Seat Height: 815mm
Wet Weight: 175kg
Fuel Capacity: 18 litres
Price: C. £5,000 From: www.ebay.com
1998 Yamaha YZF-R1: Verdict – 7/10
It doesn't do all the things that modern bikes do, but it'll definitely put a smile on your face. I knew I'd love it, but the original R1 was even better than I'd imagined.
+ Nostalgia, rawness
– No mod cons, lacks ponies
Highlights
A future classic
Carburettors
Mega comfort
XXXkg
Braking – 7 – Good for its age
Stability – 6 – Loose front end
Agility – 6 – Not the sharpest
Drive – 5  – Poor by todays standards
Fun – 9 – Loved every second

Enjoy more Fast Bikes reading in the monthly magazine.
Click here
to subscribe.