Ever wondered what it takes to ride a 215bhp British Superbike without traction? We did too…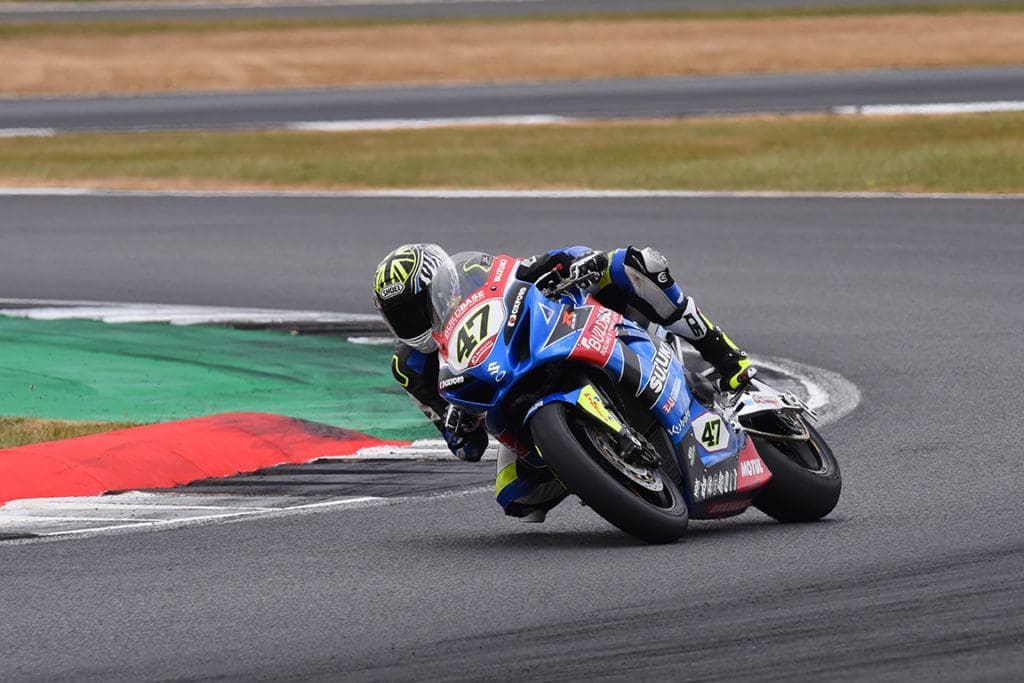 When I was growing up I wanted to be a superbike racer, but that turned out to be hard work so I took up writing instead. Thankfully my mate put the graft in, and when he grew up he bagged a ride on the Hawk Suzuki superbike… and then he let me test it. Friends don't come much better than Richard Cooper who, following a simply awesome year for the Hawk Racing team on a stocker last season, got the coveted ride to partner Brad Ray on the factory-backed BSB Suzukis in 2018. A bike that's now been in development since the start of last year and has taken several wins from several different riders.
If you're wondering how they've got it so good so soon the answers are multiple, with the core being that the men behind the magic, Stuart and Steve Hicken, know a thing or two about making bikes go fast, and riders feel confident. Having worked with most of the top brands and even more top jockeys over a period of several decades, there's not much the dynamic father-son duo don't know, which pretty much explains how they powered Michael Dunlop to his Suzuki-shod TT win in the 2017 Senior on the box fresh Gixer. Of course, what you can do with a bike racing the roads compared to one kitted for BSB is really quite different, with the latter made all the more limited by the controlling measures intended to keep big wallets from simply buying wins like lottery tickets.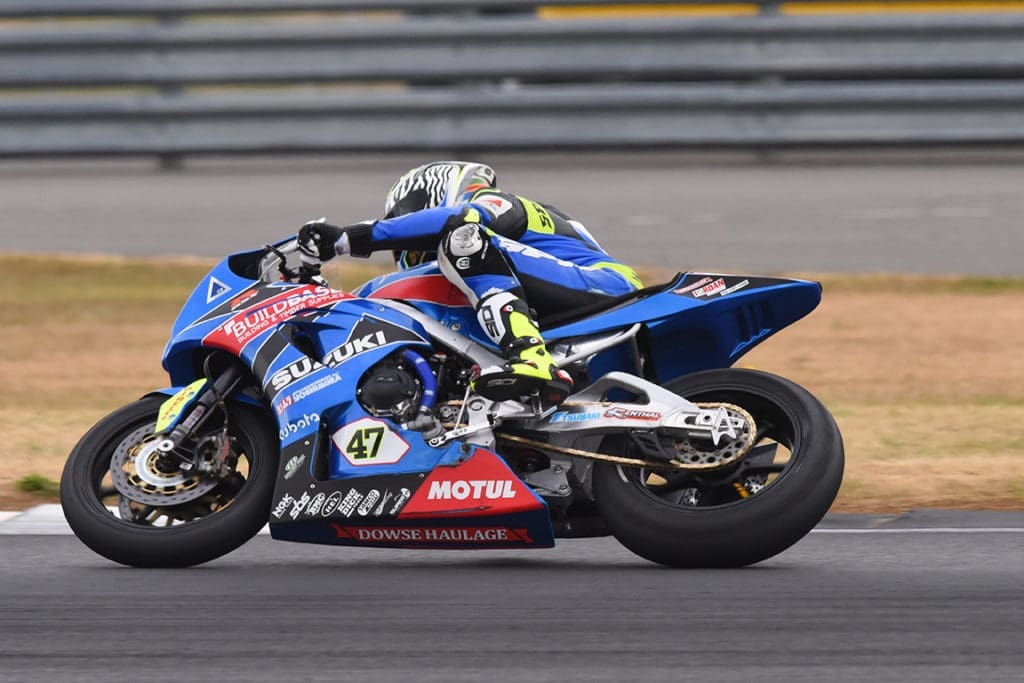 BSB bikes have controlled electronics for starters, being governed by Motec ECUs that render them only slightly less technophobic than black and white tellies. And then they're limited on minimum weight (167kg), made to run on control tyres (Pirellis), and don't allow for any engine work below the cylinder heads. BSB's hardly the pioneering development scene that it used to be, but it's all the better for such limitations, as the racing's never been closer. That said, it really did surprise me when Steve started talking me over Cooper's bike, which not only had stock radiators, but only a mildly modified swingarm that allowed for a slightly longer wheelbase and easy wheel changes. Surely there had to be a bit more magic to the bike that had got the better of Shakey and Co. on plenty of unforgettable occasions. And thankfully there was.
Being the official Suzuki team, the Hawk bikes benefit from factory spec cylinder heads, cams and fuel cells. The Yoshimura full system can't be bought, and the same goes for many other of the trick bits, such as the factory spec race fairings and bespoke designed rearsets and yokes. The more I heard, the more special the bike became, and once I'd had a sit on Coop's Gixer that level of special was taken to a whole new level.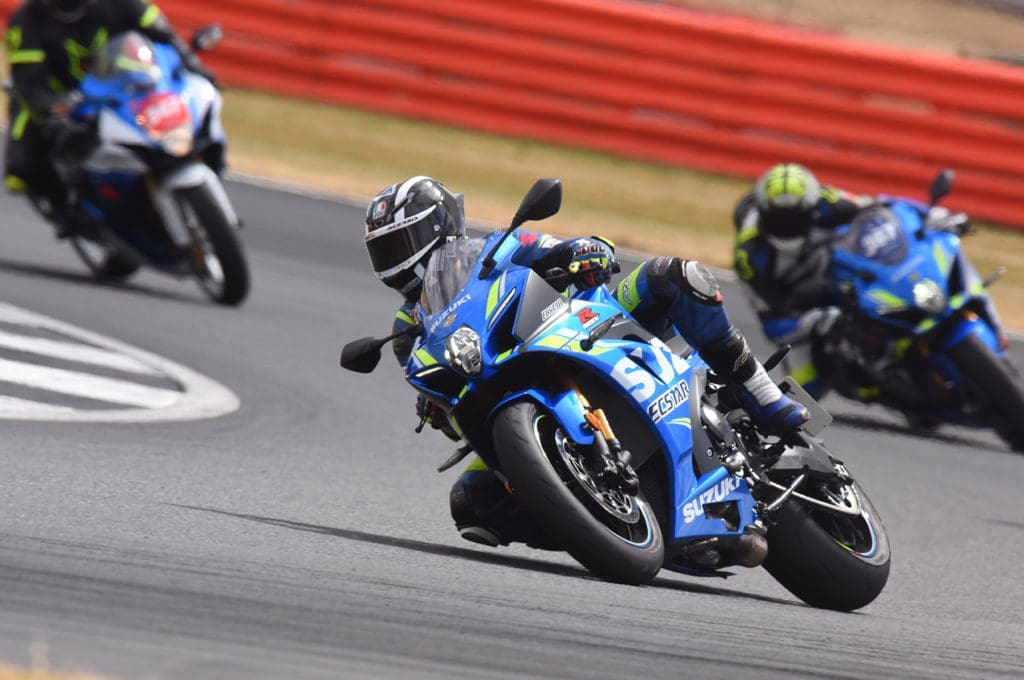 Time to test
Having given the old limbs a warm up with a few laps around Silverstone on a stock GSX-R, the time had finally come to give the BSB bike a bit of a tickle. It was a buzz to be reacquainted with the familiarly taller, firmer and wider 'barred disposition that all superbikes tend to have, but what made Richard's bike that little bit different was the chastity belt holding me in place. Being pinned to the tank by a pronounced bum-stop, I initially thought this was just Coops taking the piss, but he explained it helped him keep his weight forward and he said I'd never feel it once I got hustling into bends (which turned out to be true).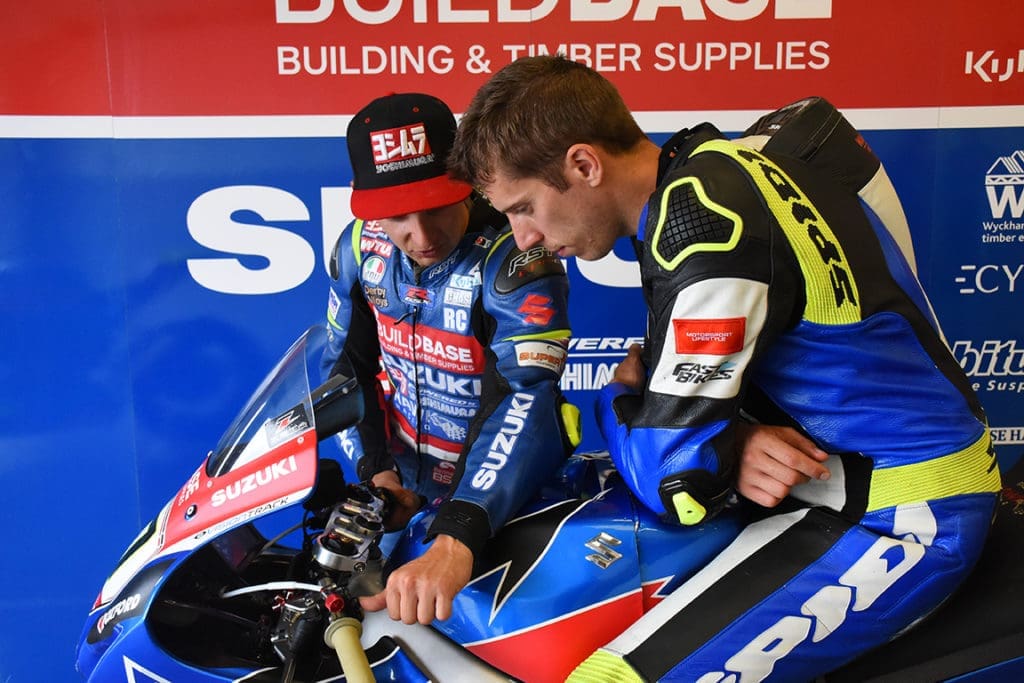 The rest of the bike felt spacious, with the factory-spec fairings and the bespoke MRA screen giving me an office big enough for Rick Waller to nestle behind. Naturally, the Suzuki's Nova gearbox was in race shift, and naturally, I'd just have to man up and deal with the fact Gixer had absolutely zero traction control to govern its 215bhp output – it only slows you down anyway, eh?
The touch of a green button on the right switchgear fired the Suzuki into life, lighting up the Motec dash and giving me a distraction from all the questioning onlookers who probably wondered how the hell I'd wangled such a jammy ride. It's not who you know… although that proverb fell on its arse as I fumbled my way through the pits wondering how to disengage the limiter. I hadn't a bloody clue, but the answer became clear once I'd changed gear and joined the track.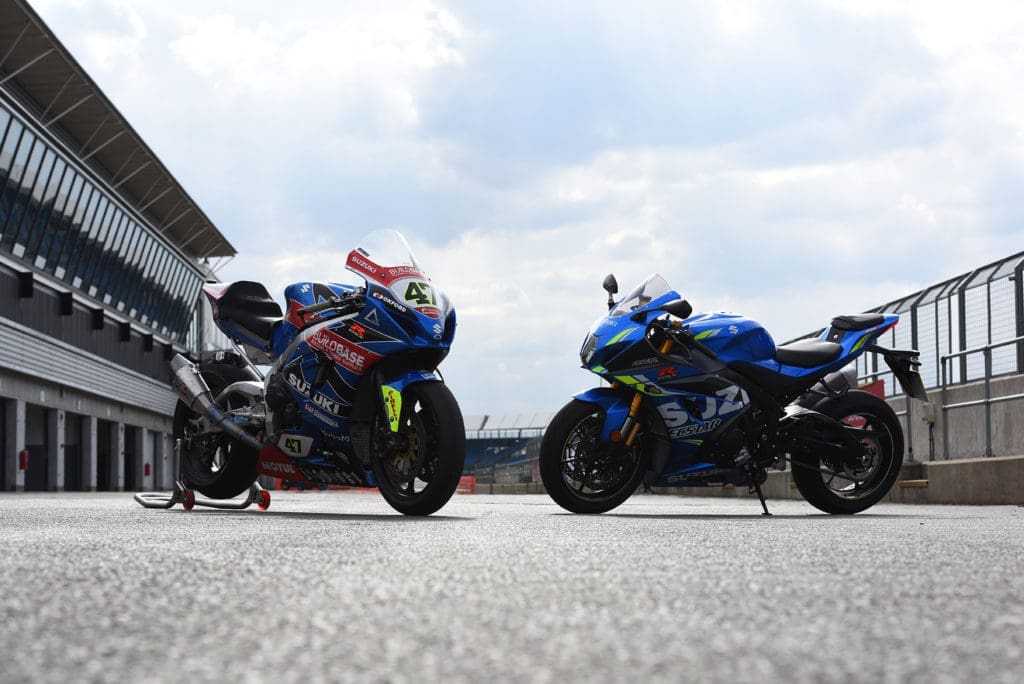 Unrestricted, the rush of power was tantalising as my body was forced rearwards with the cracking of the throttle. But even more impressive than the power was the agility of the bike, which flopped on its ear quicker than a hooker drops her draws, pitching into Maggots with such ease even Pretty Boy could've muscled it. Probably owing to the taller seat height, the wider circumference Pirelli slicks and the even greater ground clearance, the superbike seemed to want to lean for England. It also wanted to hold a tight line and required greater entry speed to stop the thing from turning too sharp. It felt heavenly, and within a lap I was really feeling at home on it.
The road bike had been a bit of a mare, feeling soft, grip-less and physically hard to manoeuvre where I wanted it; the Hawk bike felt lighter than a ballerina with helium shoes. Regardless of a corner's speed, it just obliged and made light work of the numerous late apex corners on track that demand you to pull impossibly tight lines to line the next corner's entry. I only managed a handful of laps before the session got red flagged, but being the generous guy that he is, Steve agreed to let me head out for another stint.
Ten with Richard Cooper…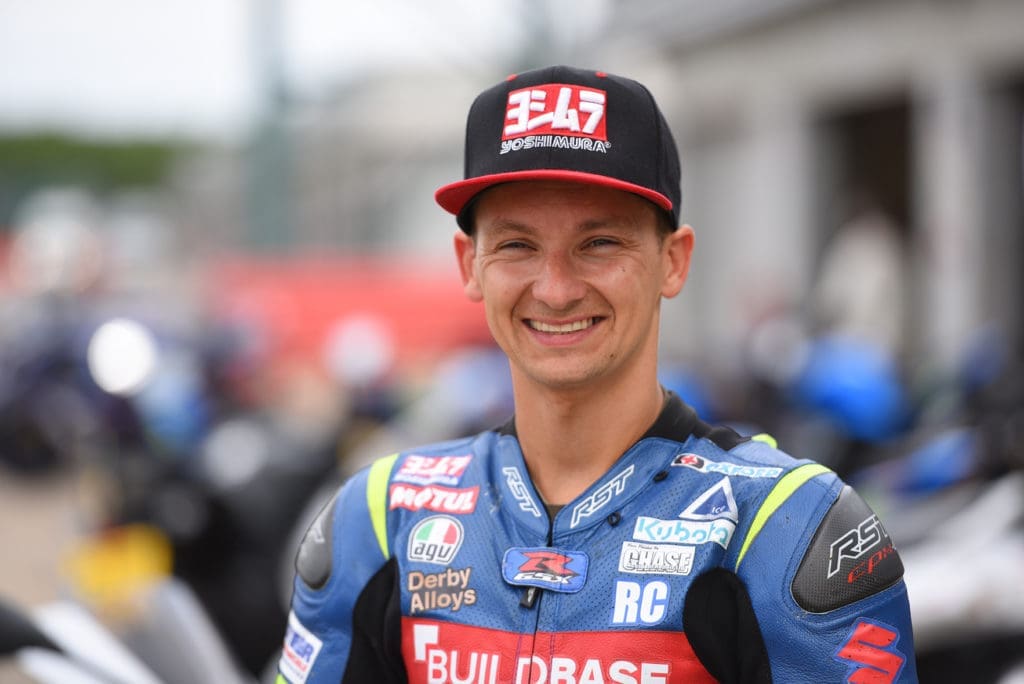 FB: How's your year going so far?
"I went into the start of the season with an idea of where I should be and what I should be doing, and as always I aimed pretty high. Problem is, BSB is incredibly hard, and if the smallest bit is wrong then the results show that! I didn't have the start to the season I wanted as it didn't quite click, but now it really has clicked into place. I was 9th and 7th at Knockhill, with a load of race winners behind me so things are going in the right direction! The way I'm riding the bike now means it's happening, and things are coming together. I said to the team at the beginning of the year when things start going my way, I'll be able to beat Brad – and it's getting closer. You always want to beat your teammate, and I've got a big target now."
FB: How great is it being back on a Superbike?
"As a rider you want to be the best, in the best championship, which is Superbike. But then from a sponsor's perspective, it was more beneficial for me being in Superstock, where I was winning races and being right at the front. It makes it really hard choosing between glory or fighting the best of the best, so it has its advantages and disadvantages."
FB: Do you enjoy riding the Superbike more than the stocker?
"When it's all going right, definitely! You probably felt it yourself, when you leave pit lane everything just feels right, and easy. When you have the Superstock bike there's always a part holding it back due to the regs, so you can never get to the whole potential. Better tyres, brakes, suspension, wheels, just everything makes the Superbike just that much sweeter to ride when you string it all together."
FB: What do I need to know to ride a Superbike well?
"I think the hardest thing about riding a superbike is being consistent for a full race distance which I've just about got nailed now – it is hard work when you've got two twenty-odd lap races within the space of a day. The thing I struggled with so far this year as well is putting one lap together, going beyond the limit to get the qualifying right. A superbike is fairly forgiving giving loads of feedback, but to push beyond that for a decent, balls-out grid position is really difficult. Most people could jump on and be really comfortable, but to go beyond flat-out is tough; especially at somewhere like Knockhill."
FB: So using Knockhill as an example, where do you struggle the most?
"One corner in particular is the chicane out the back, where you run loads of kerb and have a really quick change of direction. Coming it at 60kgs it's difficult for me to get the bike turned and settled, meaning I was losing two or three tenths coming out of just one corner. And I wasn't that much slower, so I was just clawing it back elsewhere."
FB: So does size hold you back?
"I think it has at times, being able to manhandle the bike. There's a time where I have to be so physical getting a bike to do what I want, whereas for someone a bit bigger it would come a lot easier. But then again it's probably given me advantages in other areas, with power to weight. It's all a trade-off."
---
---
End game
Feeling every bit the rockstar and armed with some idea of what to expect, that second bout was nothing short of ecstasy. From the get-go going fast was my only focus, fighting my way to the front of the traffic and buzzing like a speed addict as I peaked at 14,000rpm in sixth down the back straight. God knows what speed I was doing, but it felt fast. Stupidly fast. But all it took was a bit of squeezing on the svelte actioned front brake lever to scrub off some 100mph in readiness for Stowe.
The stopping power of this bike's Brembos felt as impressive as its acceleration, being aided further by a harsh engine braking map that had been dialled in for Knockhill a few weeks before. I wasn't as keen on that bit of the motor as it gave the bike a tendency to snatch from the rear the minute I let off the throttle, which on corners like Farm meant I had a few sketchy moments at lean. Another thing that gave me visions of pain was the aggressive way the bike would kick when snatching up another gear mid-corner, under heavy drive.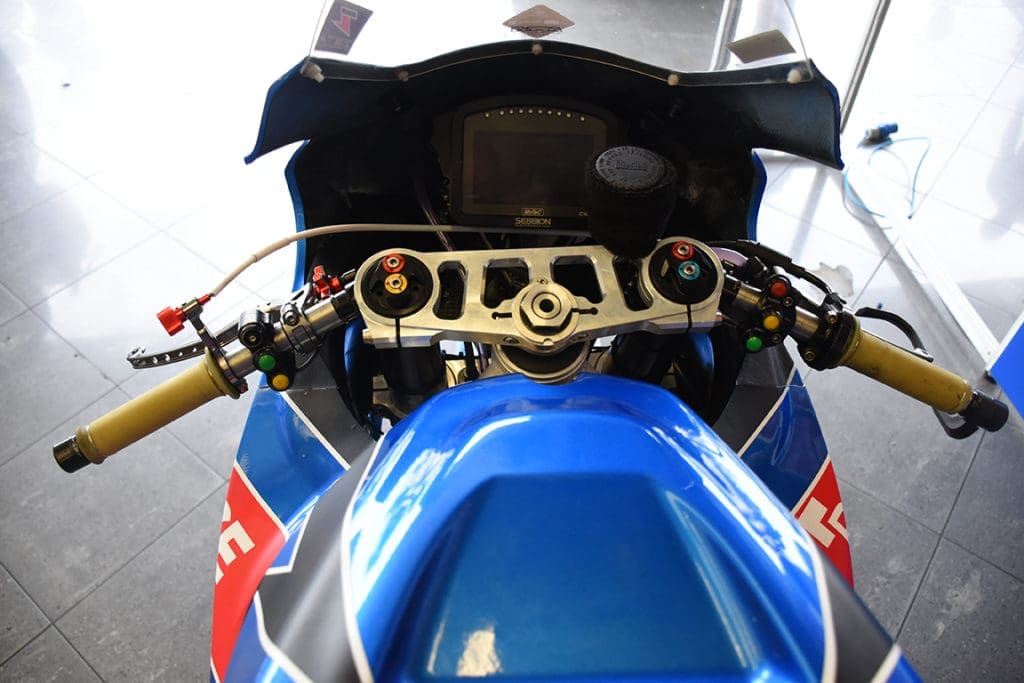 On a lesser powered bike it's seldom such an issue, but keeping a wide throttle and hooking up on the Gixer would almost cause it to bunny hop in a bend – I later spoke to Coops about this and he said the answer lay in body positioning and a bit of rear brake. As far as raw power goes, everything about the experience felt as excitingly speedy as I'd of hoped it to be, but the Hawk bike didn't turn out to be half the animal I'd expected. I rode McAms superbike R1 last year and that scared the crap out of me, feeling harsh and unwieldy by comparison. The nicest trait to the Gixer was its throttle delivery that felt both predictable and manageable, being very similar to that of Hutchy's 2017 Tyco BMW. I liked it, even if it didn't like being toyed with unnecessarily – you needed to be either on or off the throttle. After another eight laps I'd learned this message well and truly, maybe even feeling a little too confident for my own good. Woodcote is a fast corner; it's fourth gear on a superbike.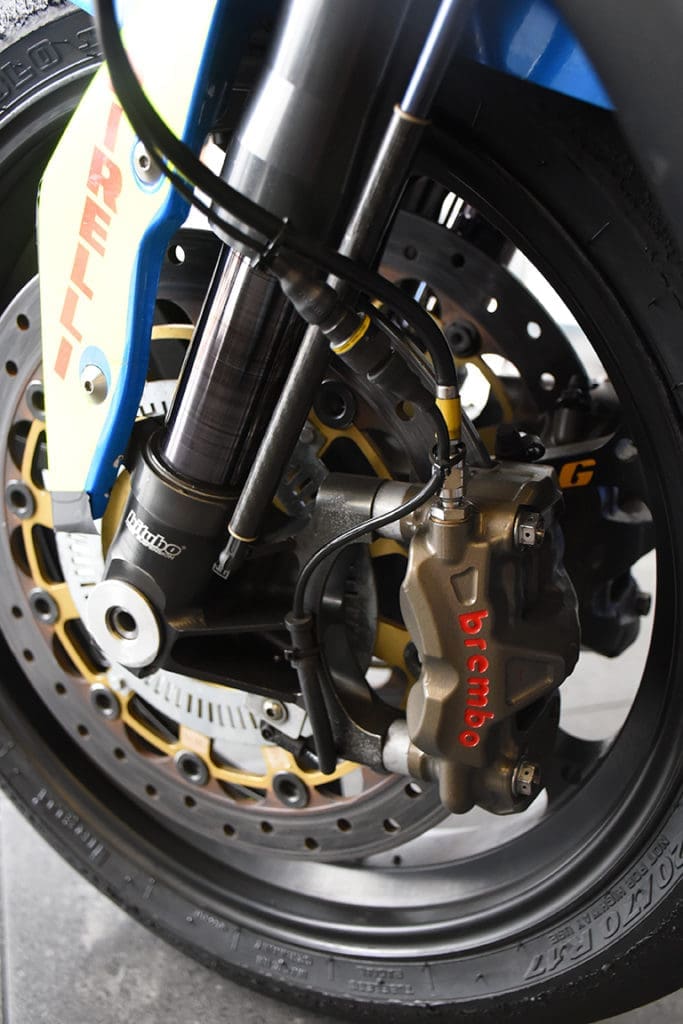 You build speed into it until you're holding the throttled pinned, hanging your body off to the inside of your bike, fighting with all your might to stop the thing from bucking like a pissed off bull, while burying all thoughts of vulnerability to the deepest, darkest storeroom your brain has to offer. On a street bike you prepare for slides. On a 215bhp superbike with a shagged Pirelli SC0, you prepare for the mother of all highsides. But you still do it. The rear feels as though it's on ice, the revs rise unpredictably, the exhaust note peaks and troughs as traction's lost and found. The front's fighting hard too, desperate to take the abuse fired its way on the chin, but on a mileaged BSB-spec slick in hot temperatures and with an unseasoned jockey at the controls, it doesn't really have much of a chance. The bike crabs, your heart's in your mouth, you're adrenaline's bouncing off the limiter.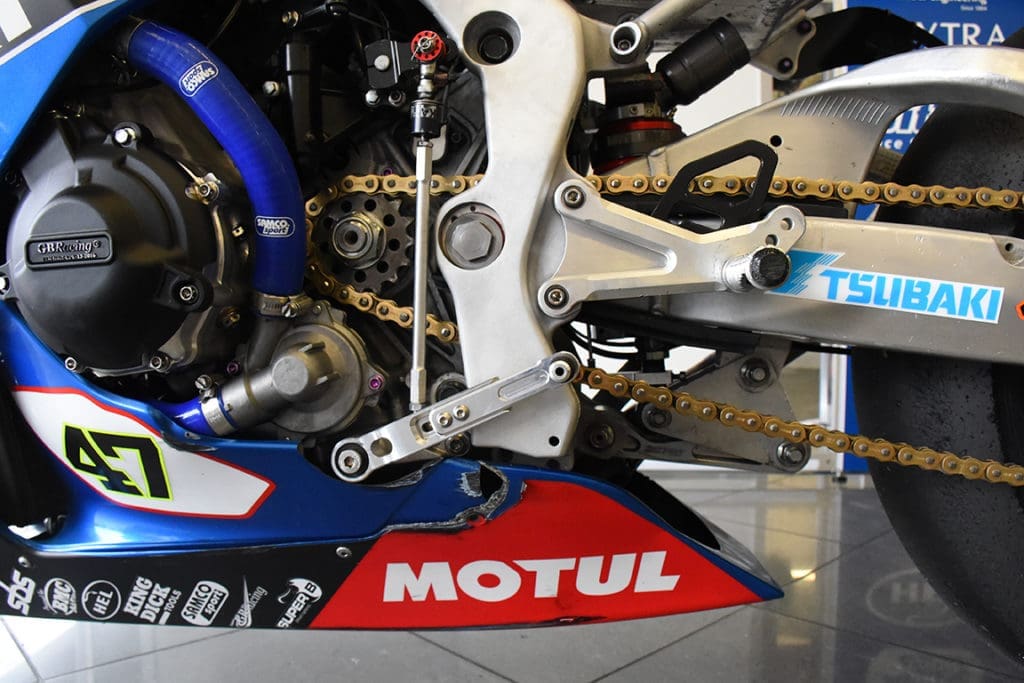 This is living, but like kicking a cage fighter and pulling on their ears, such antics can only end with a trip to A&E. Or mine would have done had Hawk's crew chief not have hung off the pitlane wall, flapping like a flustered pheasant trying to quash my adolescent larks. For me that meant game over, but what a game it'd been. What a bloody bike.
---
Verdict: 9.5/10
The full-on superbike dream with oodles of oomph, sexy shiny bits and super handling. A BSB race winning package that guaranteed to get you laid on trackdays.
+ Handling, power, pedigree
– Can't be bought
Highlights –
– Factory spec engine
– Motec electronics
167kg
215bhp
£75,000
Braking 10 – Squeeze for a please
Stability 9 – Like a rock
Agility 10 – Loves to lean
Drive 9 – Plenty of punch
Fun 10 – It hurt to give it back
---
Suzuki GSX-R1000R
Engine
Type: Liquid-cooled, 16v, inline four
Bore x Stroke: 76.0mm x 55.1mm
Compression: XXXXXXXX
Fuelling: Fuel Injection
Claimed Power: 215bhp @ XXXXXXX
Claimed Torque: XXXXXNm @ XXXXXXrpm
Electronics
Riding Modes: Three fuel maps
Traction Control: No
ABS: No
Quickshifter/Autoblipper: Yes/Yes
Wheelie Control: NO
Launch Control: XXXXXXX
Chassis:
Frame: Aluminium twin spar
Front Suspension: 43mm Bitubo Factory Superbike Forks, fully adjustable
Rear Suspension: Bitubo factory rear shock, fully adjustable
Front Brakes: Brembo Monobloc endurance-spec four-piston calipers, 320mm discs, SBS pads
Rear Brake: Twin piston Brembo calipers, 220mm disc
Dimensions
Wheelbase: 1,420mm
Seat Height: 840mm
Dry Weight: 167kg
Fuel Capacity: 22/24 litres
Price: £75,000 From: www.hawk-racing.co.uk

Enjoy more Fast Bikes reading in the monthly magazine.
Click here
to subscribe.