Good things come in threes, or so Yamaha would have us believe. Their radical new creation is here to stay but is three a crowd, or is it really the magic number?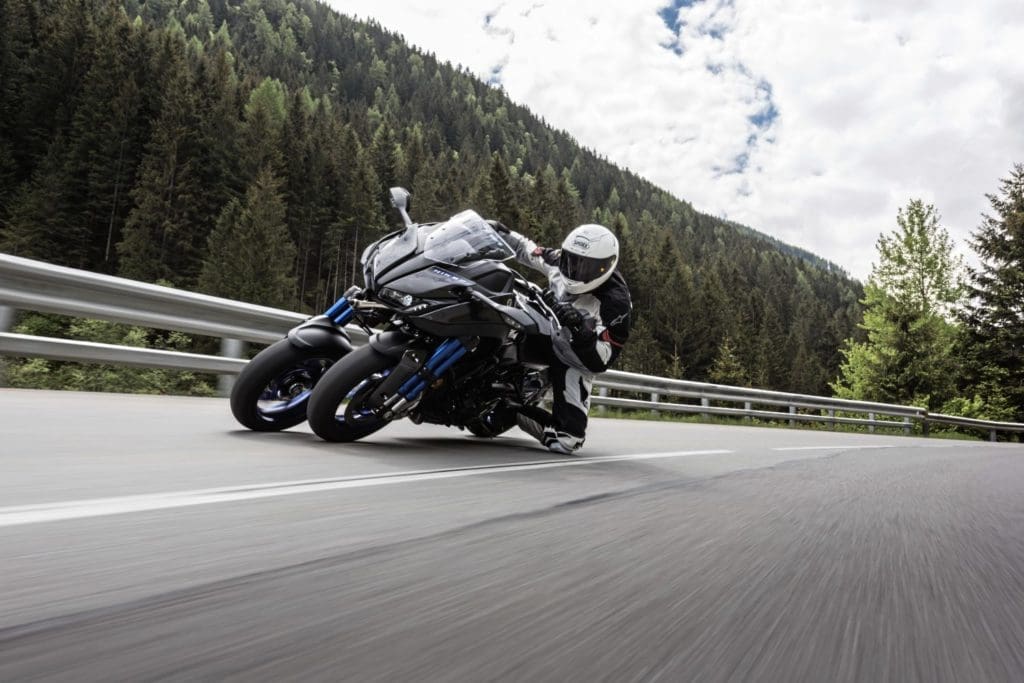 I've been involved with motorcycles for a quite some time now and one thing I have noticed is that they, traditionally, come with two wheels. So I know what you're thinking; the new NIKEN from Yamaha looks as though it's got one too many. And there'll be a certain fraternity of people out there that wouldn't entertain a three wheeled wonder even if it could boast MotoGP levels of performance, but if you have read as far as this, you have passed the first test and you're obviously open minded enough (or perhaps just curious enough) to give the NIKEN a chance.
Yamaha, who have been working on the NIKEN principal for over 10 years, reckon their new CP3 engined creation has got what it takes to revolutionise motorcycling. It's not a radical concept bike that just happens to have been put into production. It's not Yamaha's way of flexing their design muscles and showing off their engineering prowess. The bizarre looking three-wheeler is a genuine attempt at improving front-end grip and stability, thus improving corner speed and confidence. And who can knock them for that?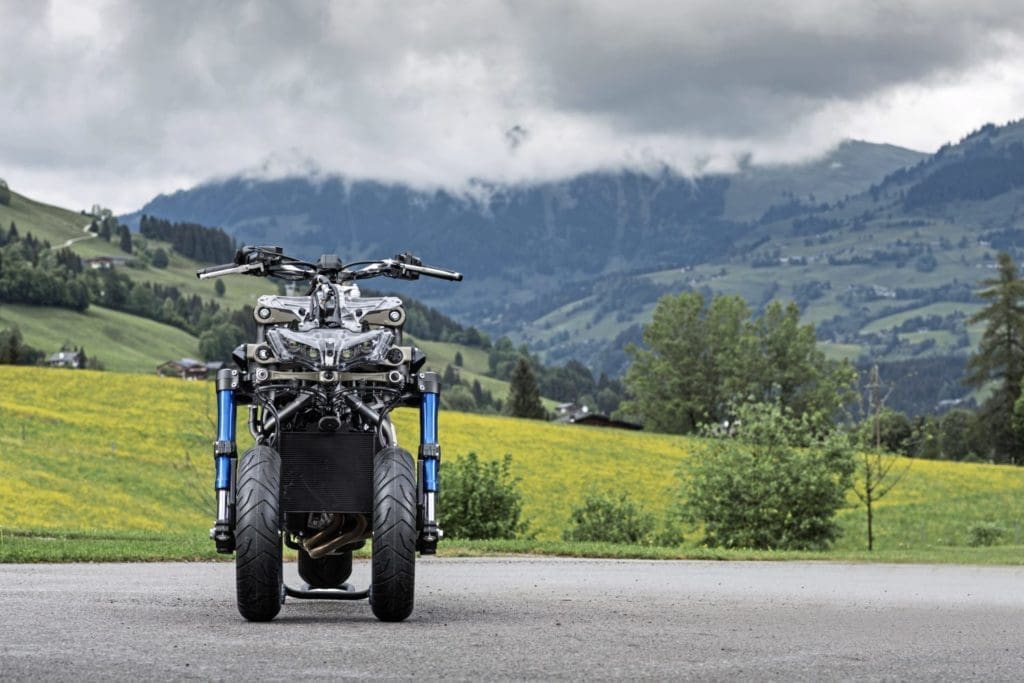 Chucking an extra tyre into the mix might seem like a simple remedy to improve grip, but the reality is that the system used to make it work is actually pretty complicated. A pair of forks on the outside of each wheel keeps everything pointing in the right direction, and allows a decent sized space between the wheels permitting lean angles up to 45° (but no more).
At the heart of the 'leaning multi wheel' (LMW) system there is a parallelogram linkage which allows both front wheels and both sets of forks to work independently, whilst still being actuated by the same, single rider input. A pair of tie rods also ensure the turning circle of the outside wheel is slightly larger than that of the inside wheel, to compensate for its 410mm track width.
There's a hell of a lot going on under there, but what we were really interested in was whether or not all that complicated physics could translate into unprecedented levels of grip, bags of stability and control, mastery in 'non-perfect' road conditions and ultimately make you a better rider. Yamaha told us it could, so we nipped over to Austria to find out for you.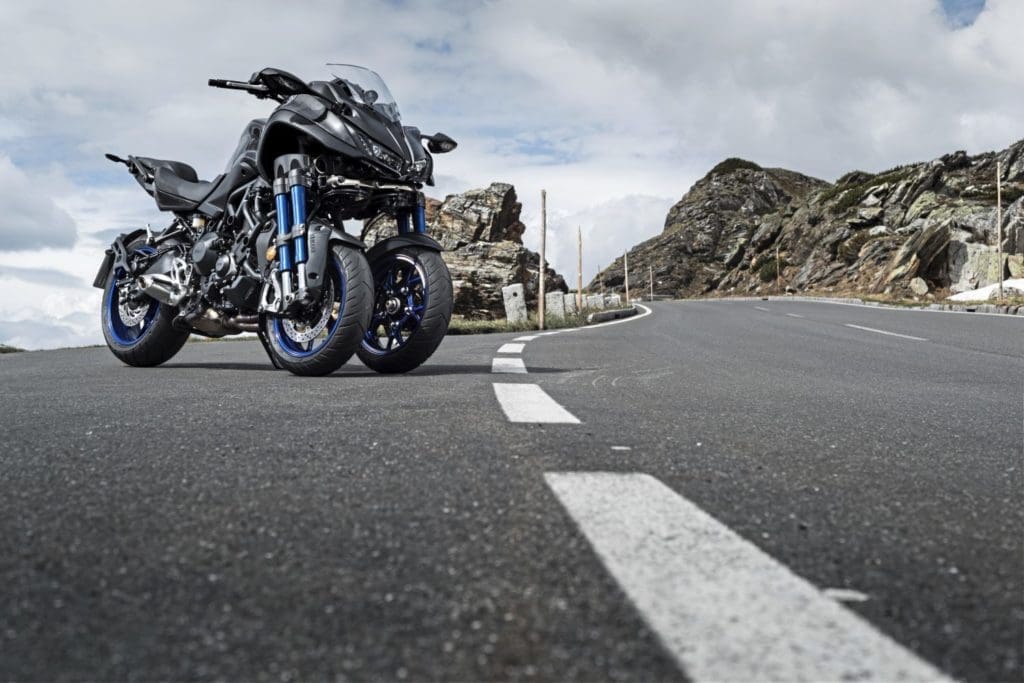 Beauty's only skin deep
You should never judge a book by its cover, but let's face it, we all do and I doubt there will be many people out there who get a twinge in their private parts when they clap eyes on the NIKEN. It's looks have apparently been designed with a scorpion in mind, which I can sort of see but to me it looks more like an elephant that, despite all of its futuristic technologies in the steering department, lacks the sharp lines and angles that one has come to expect from mega modern motorcycle.
Up close and personal though, you can see the work that has gone into manufacturing such a beast. It's got an all-new, hybrid chassis consisting of a steel tube diamond frame, a cast steel headstock and a cast aluminium swingarm mount and swingarm. And underneath the bulbous front nose come, seeing the rods and pivots work their magic really is something to behold.
The two front wheels disappear beneath a mass of plastic when you climb aboard and you soon forget that you're not sat astride a conventional two wheeler. Unlike some three wheeled 'bikes' of years gone by, they NIKEN won't hold itself upright if you let go of it. It'll fall over. Well, unless the side stand's down. Fired up, the (slightly tweaked) cross-plane crank triple (CP3) 847cc, 113hp engine that Yamaha have robbed out of the MT-09, the XSR-900 and the Tracer 900 purred away just as nicely as you would expect it to.
As per the MT-09, there are three levels of power and two levels of traction control (plus 'off'), so with the question of whether or not the NIKEN will wheelie burning a hole in my skull, rather than acting like a grown up and starting with the safety net of traction control fully activated I threw cation to the wind and pressed the little button on the dashboard to kick the TC system out of touch.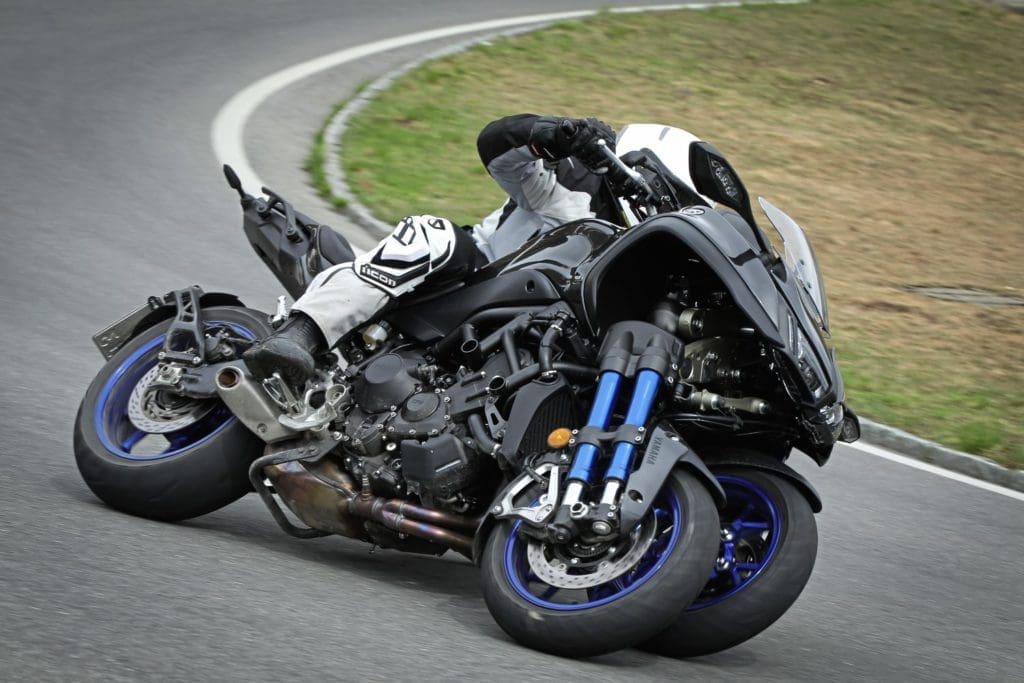 The first section of our ride was rather steady and was spent mainly swaying from one side of the road to the other, in an attempt to identify the idiosyncrasies of the NIKEN's LMW steering system. I had very few preconceptions before I rode the NIKEN, but I did expect there to be a significant difference to the way it felt to steer compared a more traditional bike (one with, perhaps, two wheels). What I quickly noticed is that for normal, fairly upright riding, it didn't feel any different to a normal bike, really. In fact I could've quite easily forgotten that I had an extra wheel underneath me, had it not been for the multitude of pedestrians and parked up motorcyclists double-taking and staring at the peculiar looking steed upon which I was perched.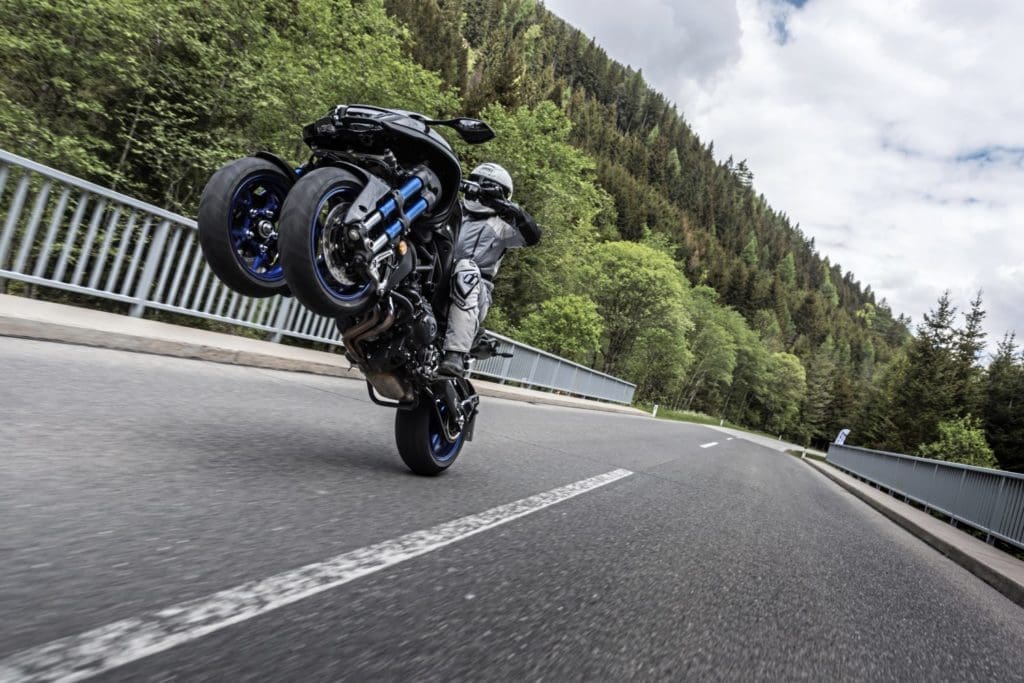 The rubber-neckers soon dwindled as our route took us away from civilisation so I thought it prudent to answer the question on everyone's mind. And the answer is yes. I can categorically say that, despite all the development that has gone into the LMW system on the NIKEN, the engine was more than happy to make the two front wheels temporarily redundant. Wheelies were just as easy to perform as on most other things with comparable power. And just as fun.
The CP3 engine is a fantastic thing really. Yes, it'll let you pull huge mingers (I'm good at that), but it can also deliver power smoother than Utterly Butterly, mixed with Clover with some melted Lurpak drizzled on top. It's not a ballistic engine, but it's one that drives cleanly from low down, never gets flustered and did a perfectly reasonable job of hauling 263kgs (plus my gut) along and pushing the NIKEN's huge frontal area through the fresh Austrian air.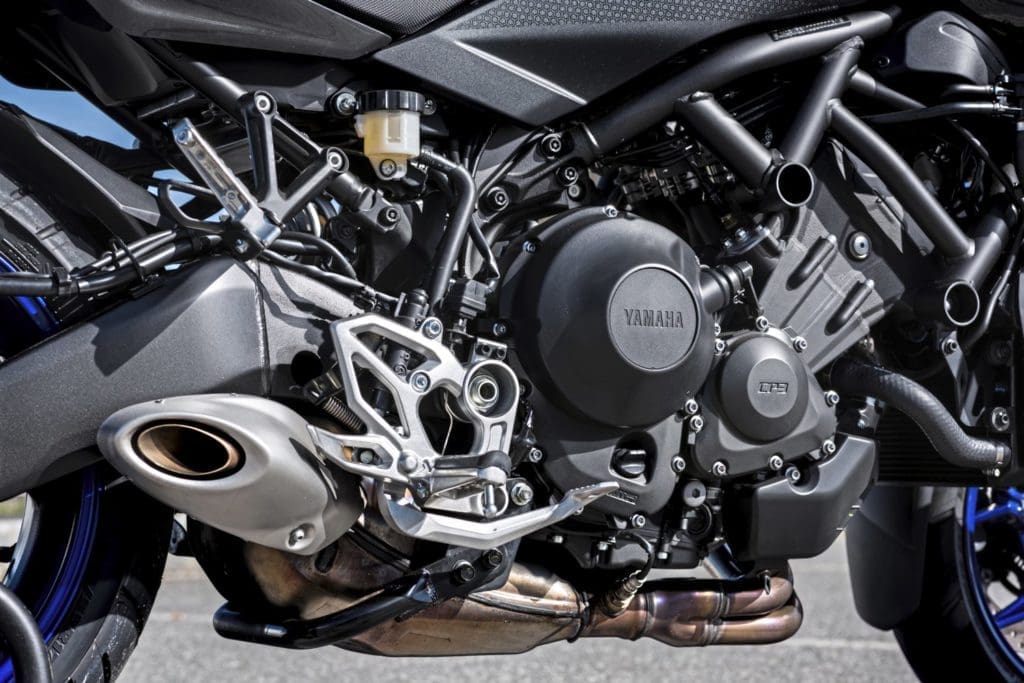 And on our ride the easy to use CP3 matched the bikes characteristics perfectly. Everything was easy on the NIKEN, and the comfortable riding position made it a really relaxing bike to ride. I did expect wind protection to be an issue, owing to the low windscreen, but as the riding position is fairly far back (50mm further back than the Tracer 900), in an effort to compensate for the extra weight at the front, I found myself far enough out the wind that it was never an issue. Interestingly, this shuffling back of the rider, Yamaha say, has allowed them to achieve near 50:50 front:rear weight distribution (well 25:25:50), with a 75kg rider and a full tank of fuel. If it wasn't for my haemorrhoids, I'd have happily sat on the NIKEN for however long it tool to drain its 18l tank, which Yamaha reckon is good for 300km (186 miles).
Scratchin'
As comfortable as the NIKEN was, it had been sold to us as a something a little sportier then its Tracer 900 sibling, so I was keen to see what it could do on the winding mountain passes of the highest mountain in Austria, the Grossglockner. As soon as our route threw some twisty roads at us the confidence that the two front wheels gave me to attack the bends was quite astonishing. I didn't feel as though I had to work loads of heat into the Bridgestone A41s, it was just a case of firing the thing in and seeing if it grips, which the front tyres always did.
The rear tyre, on the other hand didn't always grip. There were several occasions where big handfuls of throttle got the back wheel spinning and stepping out of line, but it never caused any real dramas (ok it might have got a little out of hand once or twice, but I got away with it. Just), in fact power-sliding was that easy to do, everyone was having a go at it.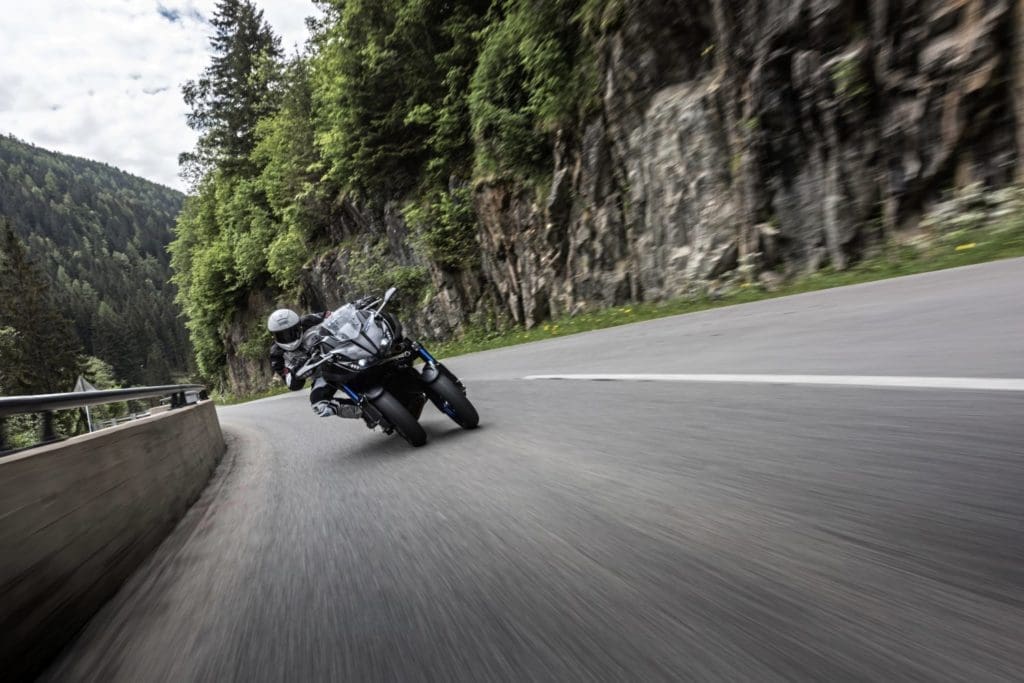 It didn't take long to reach the NIKEN's 45° lean angle limit, and I knew I had done when I heard the sound of steel scraping on tarmac as I felt the hero blobs smite the road beneath me. I wasn't sure what 45° would feel like on a bike like this but it was all too easy to get there and I couldn't help wondering if Yamaha could have engineered a little more leanability into the LMW system.
I also wondered just what would happen if the hero blobs weren't there and I was able to lean the bike further than the LMW's 45° limit. Would the outside wheel lift, or would the bike simply understeer? It was a question left unanswered thanks to the pesky hero blobs.
The quicker the pace got, the more scraping the hero blobs did, until it stared becoming quite the nuisance. I was also starting to ask more and more from the brakes, which were fine and dandy when I had my touring head on but when I had hairpin after hairpin to contend with, I could have done with stoppers that were a bit sharper and stronger.
The extra stability that the LMW system has afforded made Yamaha opt for 15 inch front wheels (which would typically sacrifice stability), in order to improve the NIKEN's agility. The problem with small wheels is you can't fit a decent sized brake disk in there, hence the brakes aren't as good as some would like; at 265mm the disks are 33mm smaller than the supposedly less sporty Tracer 900, despite it being 49kg heavier.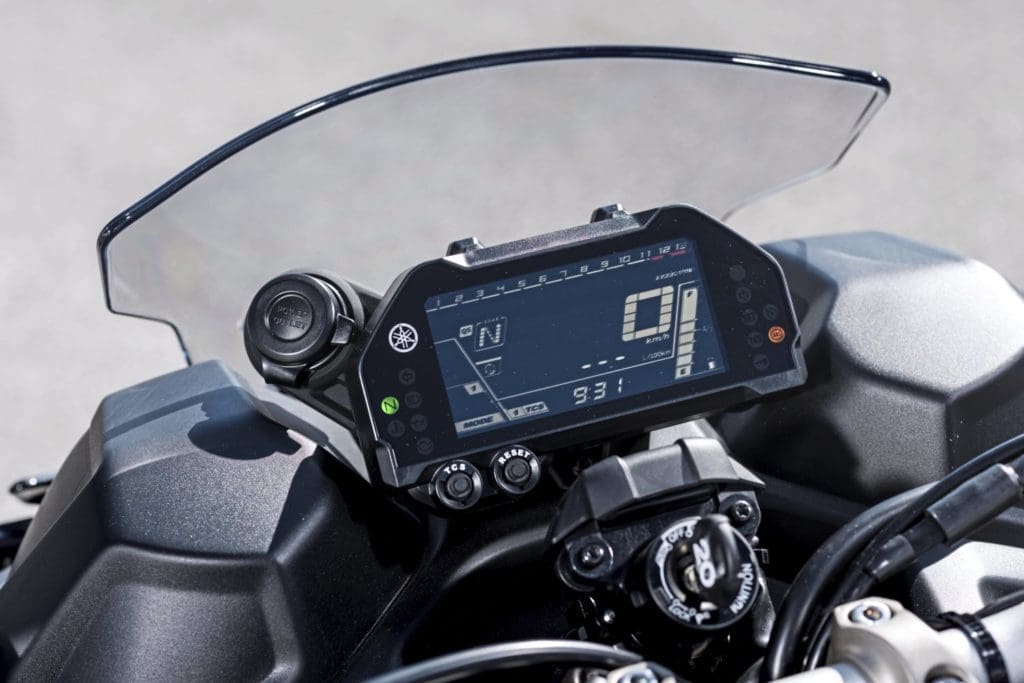 The geometry of the bike, though, and how it handled did give me loads of confidence to grab the brakes fairly hard, however far over I was leant.
Interested?
I'll admit, when Yamaha revealed the NIKEN's price tag I was pleasantly surprised to see relatively modest £13,499. Ok, that's still a chunk of money but for this innovative, I was expecting to see a price the wrong side of £15k.
This 'affordability' is a theme that Yamaha have been maintaining for a little while now, particularly in its MT range (from which the NIKEN has robbed an engine), without it ever feeling as though quality has been compromised too much. That said, there are few areas where you can see Yamaha have saved money; the dashboard is a little bit dated for example, and you don't get a choice of colour (its 'Graphite' or 'Graphite'), but it's certainly nothing that takes anything away from the character of riding the bike.
The frill deficiency on the NIKEN was deliberate; it was an attempt to ensure the price alone wouldn't be too much of a contributing factor for people not to buy the bike – Yamaha didn't want price to be a barrier to the success of their new technology.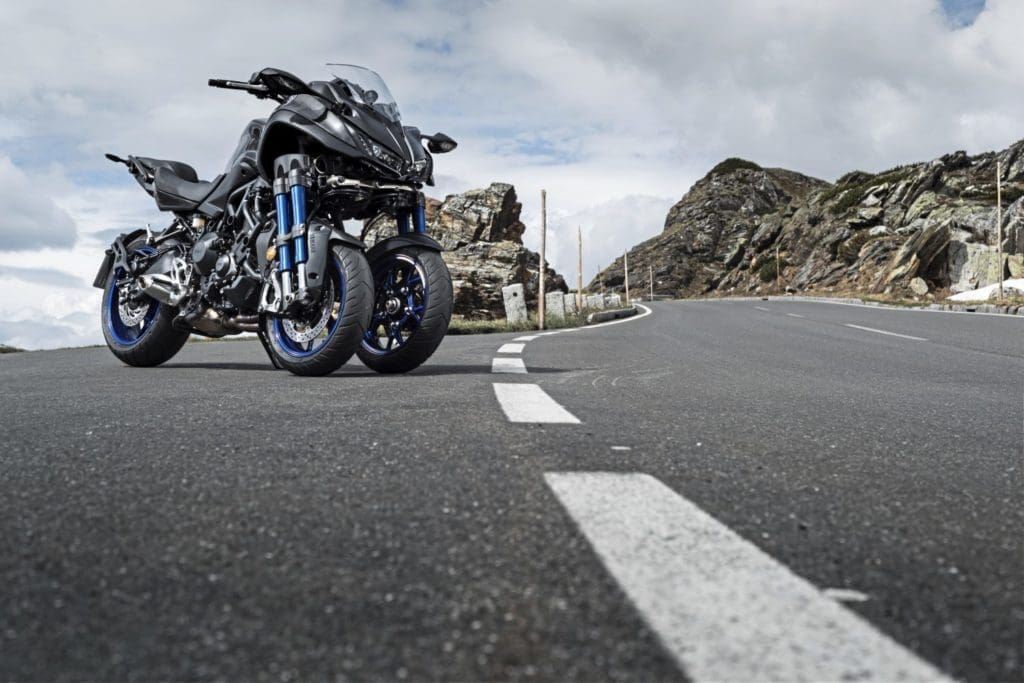 And it's a technology that I, for one, am really quite impressed with. The front end of the NIKEN inspired oodles of confidence when cornering without it ever feeling like your riding something other than a normal motorbike. But I don't see it as a bike that you would spend too much time throwing into bends and firing out as fast as you can.
In the fun/touring spectrum, Yamaha have positioned this NIKEN somewhere between the MT-09 (towards the pure fun end) and the 900 Tracer (towards the travel end) but having ridden all three bikes I'd be inclined to swap the NIKEN and the Tracer 900 over – its comfortable, relaxing to ride and mile munching would be a pleasure aboard, but whilst its confidence inspiring front end is a real winner, its 263kg can't hold a candle to the Tracer 900's agility.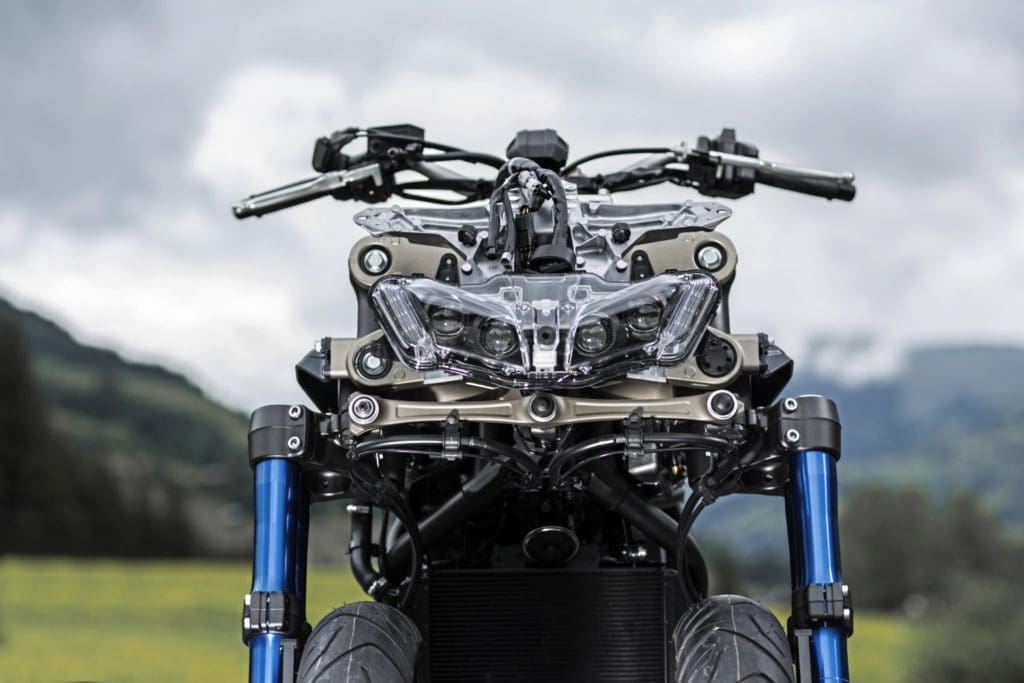 The 'I can't believe it's not butter' smooth CP3 engine works in anything that Yamaha seem to throw it at but the engine was never going to be question mark where this new and innovative model is concerned. It's that wacky front end, and although the technology is mega impressive, I'm not sure it has fully translated into the sporty, exciting bike that Yamaha sold to us. Don't get me wrong, it's got loads of character and to ride such a machine was an awesome experience, but I'm not convinced the NIKEN is the bike Yamaha say they wanted it to be – I would place it a little bit nearer the touring end of the spectrum.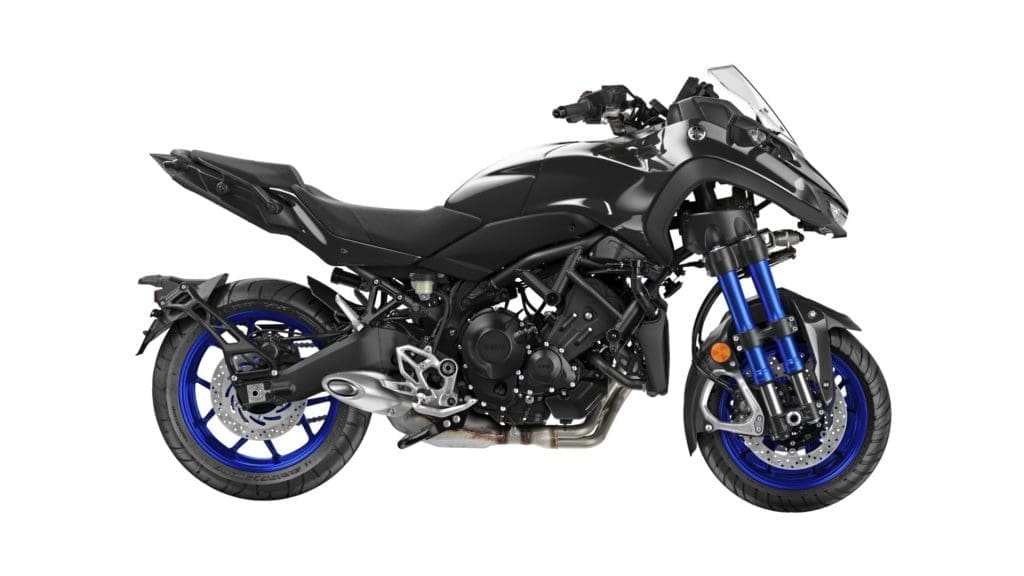 And as for whether or not it'll catch on, well I'm not so sure but half an hour on the NIKEN is a lot more fun than Pilates… I said that would never catch on but it's going from strength to strength so maybe there's hope for Yamaha's newest creation, yet.
Tech Data – 2018 Yamaha NIKEN

Type: 847cc, liquid-cooled, DOHC, 3-Cylinder
Bore x Stroke: 78.0 x 59.1mm
Compression: 11.5:1
Fuelling: RBW EFI
Claimed power: 113bhp@10,000rpm
Claimed torque: 87.5Nm@8,500rpm
RBW/Riding Modes: Yes/ 3modes
Traction Control: Yes/ 2 levels and off
ABS: Yes
Quickshifter: Yes
Wheelie Control: No
Launch Control: No
Autoblipper: No
Frame: Diamond steel tube
Front suspension: Adjustable KYB forks
Rear suspension: Adjustable KYB forks
Front brakes: Four-piston calipers, 265mm discs
Rear brakes: Two-piston caliper, 298mm disc
Wheelbase: 1,510mm
Seat height: 820mm
Wet weight: 263kg
Fuel capacity: 18 litres
Price: £13,499
From: www.yamaha-motor.eu/uk
Verdict – 6/10
2018 Yamaha NIKEN –Yamaha's attempt at improving front end grip and stability has definitely worked, but the third wheel and LMW system have given the NIKEN bit too much of a heavyweight feel when it comes to sporty riding. Great for touring though.
+ Smooth CP4 engine, innovative design.
– Weight, Brakes, street cred
Who is it for?
We asked Clément Villet, Powered Two-Wheel Division Manager at Yamaha Motor Europe who on Earth is going to buy a NIKEN,
We haven't done lots of surveys and we have no data from hundreds of thousands of customers, we have come to our own conclusions, whilst developing the bike, who we think will be the target audience. We have split them into three groups, the first group we have called 'innovators'.

When we talk about the innovators we mainly mean males, 35-45 and always looking for the latest technology; maybe they like to show off a little, but they are driven by the innovation. The second group is the expert riders. These are the people that have ridden all kind of bikes, which means they can compare one bike to another and one technology to another and so on, and are looking for the best riding experience.

And the third group that we talk about is what we call the functionalists. These are the guys who are looking for the extra confidence, the extra stability that the NIKEN can offer, and who have been riding an adventure or sports touring bike because they are very versatile. They want to find the perfect tool and they are willing to pay a premium to get the correct spec of bike for what they want to do.

Clément Villet

Enjoy more Fast Bikes reading in the monthly magazine.
Click here
to subscribe.