We love doing skids and wheelies here at Fast Bikes, and we reckon you do too, so we've rounded up a pair of sexy supermotards to see what they have to offer.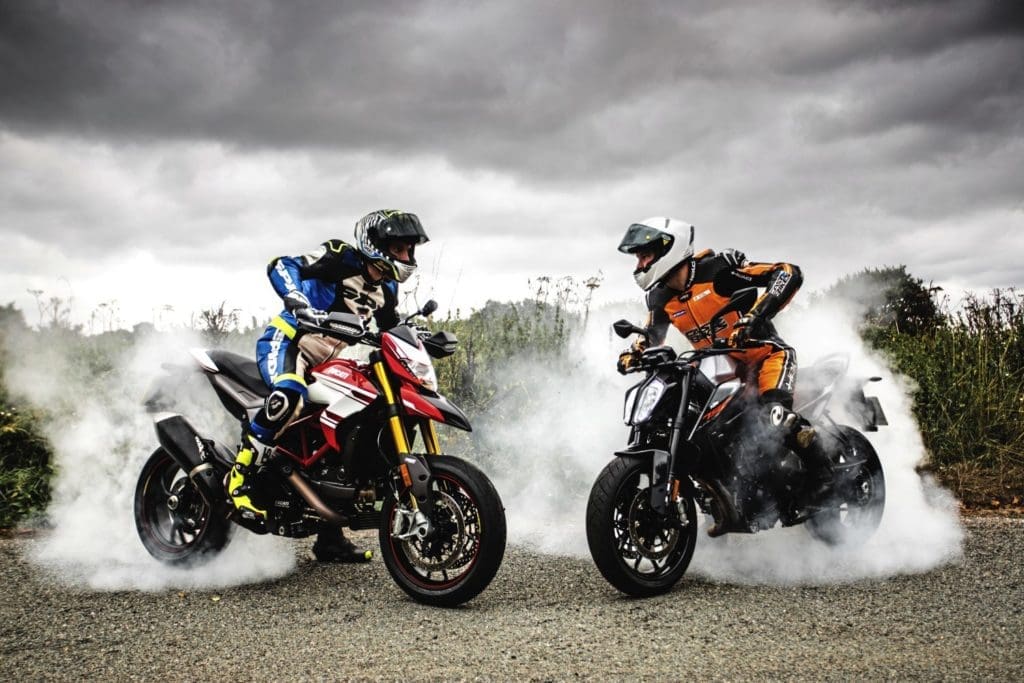 Are you looking for a good time? By virtue of the fact that you're reading a copy of Fast Bikes I think we can assume, with some confidence, that the answer to that question is yes. Some bikes are designed for out and out speed, others for cornering prowess. Some are designed for comfort. Some don't do any of that stuff very well, but at least look great. Some motorcycles, though, are designed with one thing in mind and one thing only. Fun. And a fraternity of bikes that fits well and truly into this category is the supermoto style street bikes we call supermotards. There is a bunch of them to choose from, and they come in all different sizes from the little Aprilia SX125, to the big old Ducati 1100 Hypermotard, of which there are still plenty kicking about.
We wanted to know how much fun you can have blasting round on a halfway house between a road and an MX bike, with not much more than 100bhp between your legs. Pretty boy was busy doing his hair, so we didn't need to bother with any A2 friendly kids bikes, and Dangerous Bruce is… well dangerous on anything with too much power, so we sourced a pair of middleweight supermotards, from opposite ends of the price range, to see if we got the bug.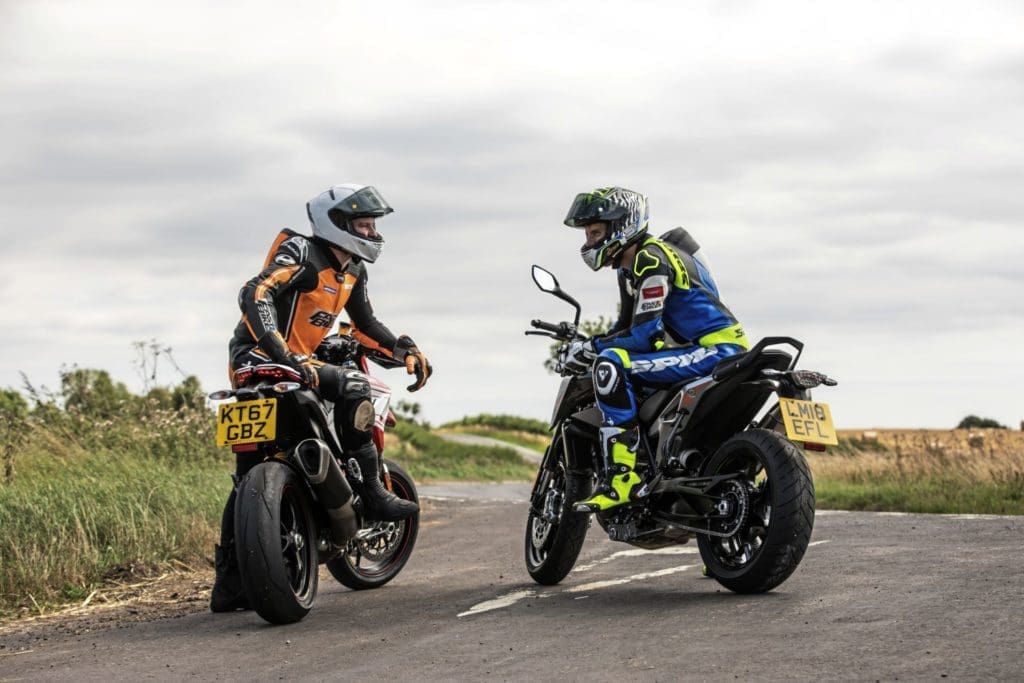 In the value for money end of the pool, the KTM 790 Duke comes in at £8,499. It's new for 2018 and when Pretty Boy rode it at the launch he raved about it, so we were looking forward to taking it for a blast. If splashing out is your modus operandi, then you will be interested to know that we have also bagged a Ducati Hypermotard 939 SP with a price tag of £13,895. To find out whether the 939 is £5,396 more fun than the 790, Dangerous and I headed out for a blast on the road and then took the devilsome duo to Cadwell Park to see how they fared on track. It's a tough job, but someone's got to do it.
KTM 790 Duke
Despite the 790's comparably modest price tag, it does come with a decent enough looking spec sheet. I realise that 103bhp isn't going to inspire the vast majority of Fast Bikes readers, but 87nm of torque isn't to be sniffed at and you do get all the juiciest rider aids like launch control and a shifter/blipper, as well as all the usual stuff.
A quick scan around the bike, though, does reveal one or two tell-tale signs that the KTM isn't the absolute premium package. The swinging arm looks a bit like a an old girder that someone has found lying about in a scrap yard and the pillion peg hangers look like a couple of bits of bent pipe welded together… well that's because they are a couple of bits of bent pipe, welded together; they're fit for purpose but not that easy on the eye. What I did like, though, was the KTM-emblazoned callipers. It's a nice touch, although it might have been a nicer touch if it had said Brembo on them. Maybe next time.
The dash is smart and the motor sounds great when you fire it up. The fuelling did seem a little fluffy at the bottom end when blipping the throttle from tick over but it was never a problem when rolling along. Sat in the cockpit of the Duke was all pretty bloody nice actually – the seat was low and comfy, the pegs and bars were in the right place and even the clutch and throttle had a lovely light action to them.

And the first thing that hits you when you open the lovely light throttle is that 87nm of torque, particularly when in sport mode, which has the most direct throttle control. Other modes to choose from are 'street' and 'rain' which are the more 'comfortable' and 'safer' options, respectively. And whilst we are on the subject of 'modes' the KTM Supermoto mode it pretty cool; it deactivates the ABS to the rear wheel, so you can do monster skids, Supermoto style! But we will get back to the brakes later. In sport mode, the motor easily has enough oomph to hoist the front wheel, which is really quite important on a bike like this, but you're going to want to turn the MTC (Motorcycle Traction Control) off if you're in it for the wheelies. It's easy to do, with the buttons on the left hand switch gear, but like the ABS system, it has to be done each time the engine is turned on, which is a bit of a pain.
Although the motor had enough grunt to lift the front, the 790 didn't feel the most natural bike on one wheel. Don't get me wrong, wheelies were definitely doable, but it felt a bit long to me so I struggled to pull any huge mingers on the KTM – I could get it up, I just couldn't keep it up.
The other thing that makes wheelies harder than they need to be is its lack of revs. The 790 seems to crash into its rev limiter way too early, at about 10,500 rpm. And that isn't just annoying when you're trying to pull wheelies either, it took me quite a few miles on the KTM to get used to changing gear in time. You do eventually get used to it but I felt as though every upshift was a short-shift. That said, the quickshifter and blipper were very welcome.
There was a bit more play in the selector than I would have liked, but the lever was light and the electronics helped everything slot into place nicely, without the need to be too heavy footed. The upshift system worked very well, and the down-shifter wasn't bad, but it wasn't the fastest acting system about; who's rushing downshifts on the road, anyway.
I promised I'd get back to the brakes didn't I? Thankfully the Duke has switchable ABS so stoppies and skids were plentiful on our road test and although it doesn't come with posh Brembos, like the Ducati, there was always enough stopping power to haul the 790 to a stop. But I never felt like I needed to do a load of hard braking – the thing was just so light and easy to throw into corners. It was so much fun to ride and certainly didn't feel like a budget bike.
2018 Bennetts Track Day. Cadwell Park, Lincolnshire, 22nd August 2018. Mike Booth, Fast Bikes Magazine

2018 Bennetts Track Day. Cadwell Park, Lincolnshire, 22nd August 2018. Mike Booth, Fast Bikes Magazine
Ducati Hypermotard 939 SP
The Ducati certainly looks a lot more like a 'motard' than the KTM. It definitely looks cool, and in its red and white SP colour scheme it certainly turned a few heads on or road test. Really though, it needed to look the part because it doesn't have anywhere near the same amount of bling as the 790, but what it does have is a typically Ducati sized price tag. On paper it's nothing short of extortionate. £13,895 isn't far off litre sportsbike territory and although you won't get a V4 Panigale for anything like that sort of money, £13k-odd gets you plenty of motorbike; and that's before you even start going down the used bike route.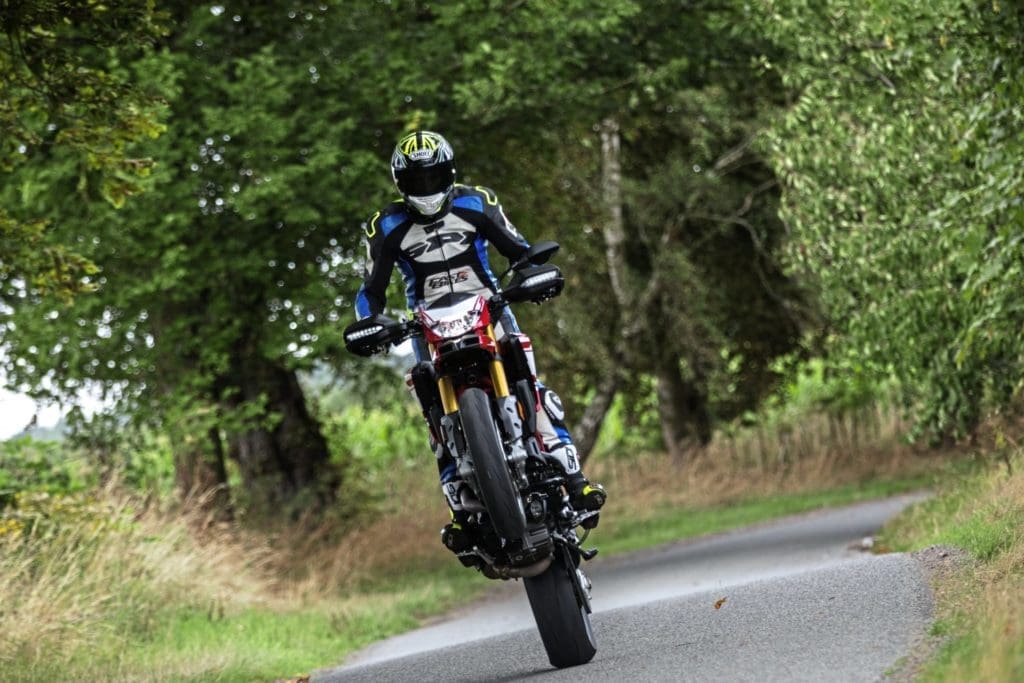 As soon as you sit on the 939 you realise it's a completely different animal to the 790. Its wide bars aren't dissimilar, but that's where it any likeness ends. The 65mm higher seat is instantly noticeable, even for a reasonably tall feller like me as I wasn't able to get both feet flat on the floor at the same time. It felt much nearer a motocross bike than a road bike, certainly more so than the KTM. It even had MX style handlebar grips.
Struck up, the Ducati's V-twin engine sounded sweet but did seem to suffer with a slightly fluffy bottom end when cold, as the KTM had done previously. Like the KTM, though it soon sorted itself out when things got warmed up.
The Ducati doesn't win any brownie points for its dot-matrix style dashboard. I don't mean to keep banging on about price point, but I think in 2018 we ought to be able to expect something a little flashier for that sort of money. It does its job amicably but it's very plain and not very exciting.
The dash might not have excited me but the 95Nm of torque and the Hypermotard's throttle response certainly did. First, second and third gear wheelies were nothing but a twist of the wrist away and fourth and fifth gear mingers only needed a slight tug or a crest in the road to flourish. And wheelies seemed a lot easier to control on the Ducati than they were on the KTM; it's difficult to put my finger on exactly why this was the case, but there was definitely something about the motocross-like geometry that aided in the hooliganism department.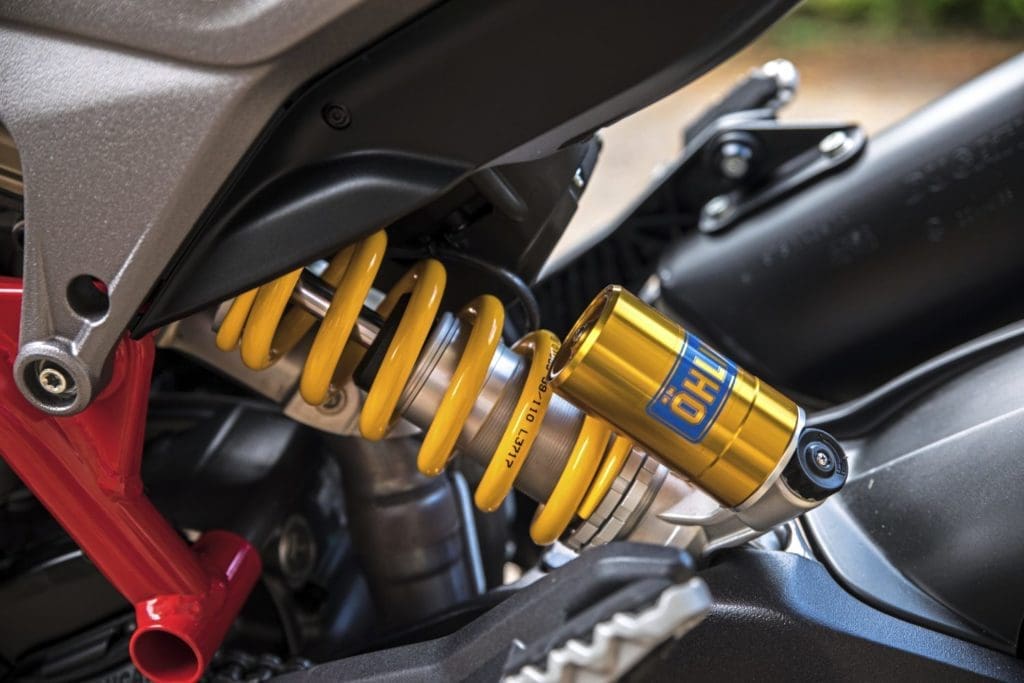 Also helping you to wheelie and ride fast in general were the extra revs, compared to the KTM. It wasn't a lot more but it just meant you could be a tiny bit lazier with the gearbox. And this was a good thing really because despite being the Öhlins shod SP model, there was no sign of a quickshfter or blipper… cough, £13,895 (sorry). It didn't make the bike any less fun at all, but it would've made life easier.
Like the KTM the Ducati has very little (well nothing, really) in the form of wind protection and the high-up riding position on the 939 really made you know it. It made ton plus riding hard work but it's not a bike for that. It's a bike for dicking about at much more sedate speeds, not for rushing around on at the illegal end of the speedo.
One thing I love about the vast majority of Ducati's are their brakes. Their front brakes in particular. And the Hypermotard is no exception. The KTM's brakes were good but the Hypermotard's were great. Mega sharp and mega strong, and even with ABS on its most minimal setting (level 1), you could still get the back stepping out with the rear brake and up in the air with the front. It's a fantastic example of how to make an ABS system that you don't feel the need to turn off, should you want to have some fun with your motorcycle.
I was also impressed with the DTC (Ducati Traction Control) system. I was lucky enough to get chance to ride the 939 in the pouring rain. The standard fitment Pirilli Supercorsa SP tyres wouldn't have been my first choice for wet weather riding, but as it happened, the systems all kicked in to keep me safe and sound when the rear started to spin, which it did a lot but the DTC never cut the power so harshly that the bike unsettled itself. I put the ABS on level 2 for the wet, but if I'm being honest I never pulled the brakes hard enough to feel any intervention from the system.
2018 Bennetts Track Day. Cadwell Park, Lincolnshire, 22nd August 2018. Mike Booth, Fast Bikes Magazine

2018 Bennetts Track Day. Cadwell Park, Lincolnshire, 22nd August 2018. Mike Booth, Fast Bikes Magazine
The Ducati Hypermotard 939 SP is possibly the ultimate hooligan bike and we loved riding it but you'd have to be a hell of a Ducati fan to part with that sort of money for such a (dare I say it) low spec bike.
Conclusion
We loved blasting round on this pair of naughty little supermotards. It just goes to show that you don't need to be on a bike capable of doing 200mph to have an absolute hoot on the road. In fact both of these bikes were more than capable of doing 100mph, but that wasn't where the fun was at. In fact 100mph on either of the bikes on test wasn't really much fun at all, unless you like having your head buffeted around and having to hang onto the bars with all the strength you can muster.
What we loved about this pair of head cases was just how much of a pair of head cases it turned us into. I'm not sure whether Bruce's ASBO has turned up yet but I'm fully expecting mine to come through the past any time soon. Rational thought and sensible behaviour is suspended when you throw a leg over either of these motorcycles and we loved them for it.
The Ducati might not have been as comfortable getting ragged round Cadwell Park as the KTM, with its high centre of gravity and its off-road stylee seating position. But out on the street where wheelies skids mean more than lap-times its extra grunt and broad balance point were two joker cards too many to best the KTM 790 in the stunt stakes.
But when it did come down to out-and-out pace round a track, the KTM showed the Ducati who is boss. Both bikes struggled with ground clearance, but the KTM at least gave you the option to get your body weight as low as possible Marc Marquez style (ok maybe not quite like that). It ad much more of a sportsbike feel to it whereas the 939 felt too much like a motocross bike.
It's really difficult to choose our favourite bike out of these two absolute weapons. They're both great and make you grin from ear to ear in their own separate ways. But the question still remained, was the £13,895 Ducati Hypermotard 939 SP worth the extra spondoolies over the £8,499 KTM 790 Duke? Well in all honesty, in our humble opinion the answer to that question is… no.
2018 KTM 790 Duke
Engine.
Type: 799cc, 4-stroke, DOHC, parallel twin-cylinder
Bore x Stroke: 88mm x 58mm
Compression: 12.7: 1
Fuelling: Fuel injection
Claimed Power: 103bhp @ 9,000 rpm
Claimed Torque: 87 Nm @ 8,000 rpm
Electronics.
Riding Modes: Yes
Traction Control: Yes
ABS: Yes
Quickshifter/Autoblipper: Yes/Yes
Wheelie Control: Yes
Launch Control: Yes
Chassis.
Frame: Chrome Molybdenum tubular frame
Front Suspension: 43mm WP forks
Rear Suspension: Adjustable WP monoshock
Front Brakes: 2 x four-piston calipers, 320mm discs
Rear Brake: Twin-piston calipers, 240mm disc
Dimensions.
Wheelbase: 1,475mm
Seat Height: 825mm
Dry Weight: 169kg
Fuel Capacity: 14 litres
INFO
Price: £8,499: From: www.ktm.com
Verdict – 7/10 –2018 KTM 790 Duke
The 790 comes with a decent amount of tech for a budget(ish) bike and it's great to throw around, but we would have like few more revs.
+ Nimble, fun
– Brakes, Rev limit
2018 Ducati Hypermotard 939 SP
Engine
Type: 937cc, 4-stroke, Testastretta L-Twin
Bore x Stroke: 94.0 mm x 67.5 mm
Compression: 13.1: 1
Fuelling: TCI
Claimed Power: 109bhp @ 9,000 rpm
Claimed Torque: 95 Nm @ 7,500 rpm
Electronics.
Riding Modes: Yes
Traction Control: Yes
ABS: Yes
Quickshifter/Autoblipper: No/No
Wheelie Control: Yes
Launch Control: No
Chassis
Frame: Tubular Steel Trellis
Front Suspension: 48mm Adjustable Öhlins forks
Rear Suspension: Adjustable Öhlins monoshock
Front Brakes: 2 x Four-piston Brembo calipers, 320mm discs
Rear Brake: Twin-piston caliper, 245mm disc
Dimensions
Wheelbase: 1,498mm
Seat Height: 890mm
Dry Weight: 178kg
Fuel Capacity: 16 litres
INFO
Price: £13,895
From: www.ducati.co.uk

Enjoy more Fast Bikes reading in the monthly magazine.
Click here
to subscribe.