A fan of exotica, Bobby Mathers tells us all about his much-loved MV Agusta 675 Brutale.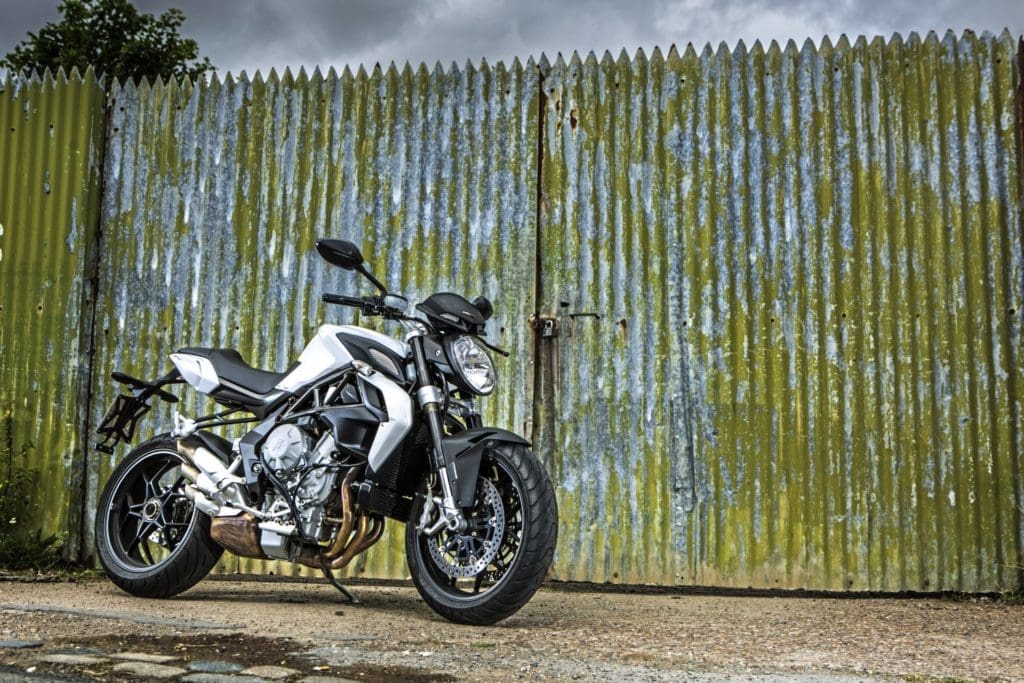 I can park it pretty much anywhere and guarantee people will swarm over for a closer look at it. It's something of a magnet. Maybe it's the stacked triple exhaust cans? Or the gorgeously crafted fuel tank? The Brembo monoblocs are another talking point, along with the tubular steel trellis frame. And then you've got that race-style dash and the singlesided swinging-arm to chat about. The features don't stop coming… and nor do the questions.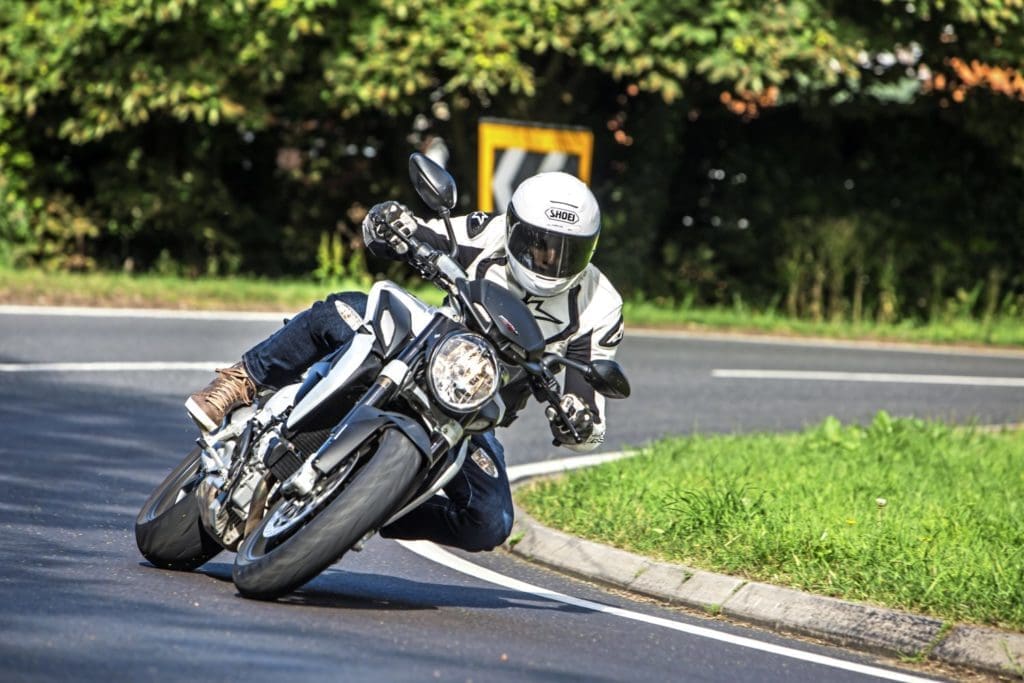 That's what drew me into buying this bike in the first place. It's mint. It's different. People like it. Don't get me wrong, I was pretty drawn to the Triumph Street Triple too, but the MV had a bit more exotica about it, plus a load of my mates had Triumphs in one form or another. The Brutale is pretty essentially a stripped variant of the brand's mid-capacity supersport machine; MV's F3 675. The key differences being a lack of fairings, wide bars and a rework to the F3 derived inline-triple-cylinder motor. It's also a lot more comfy.
My mate bought an F3 in 2012, which got me interested in the Brutale in the first place. I bought my MV a year later, having had a few rides on his triple. There were lots of bits I liked about it, but it was a bit too cramped and focused for me. Plus I wanted something with a bit more oomph in place of top end; the F3 makes 128bhp, but the Brutale's motor is reworked for more torque, producing 110bhp. I felt that tweak straight away when I took one out for a test ride; I loved it and put the cash down there and then.
I've clocked over 20k miles on it in the past five years and I don't regret the purchase one bit. That said, there's plenty of bits I'd still like to change. I'm not the biggest of blokes, but the stock suspension isn't the most inspiring. It's alright for blatting around on, but when you start cracking on you soon learn it's a bit budget – the damping is rock hard and pings the rebound is cranked up ridiculously fast.
Worse still, it's non-adjustable. I've done a few trackdays on the bike and it works nicely on smooth surfaces, pitching in to corners without much effort and holding a good line. But it's like a wild bull on the roads when you get hitting a few potholes. It's a shaky ride, and it feels like the rear squats under load and the front goes light. It's not the most powerful of bikes, but it's punchy enough to fuel a few tank slappers, which are never all that drastic, but you have to be ready for them. Even hitting a cat's eye is enough to kick one off.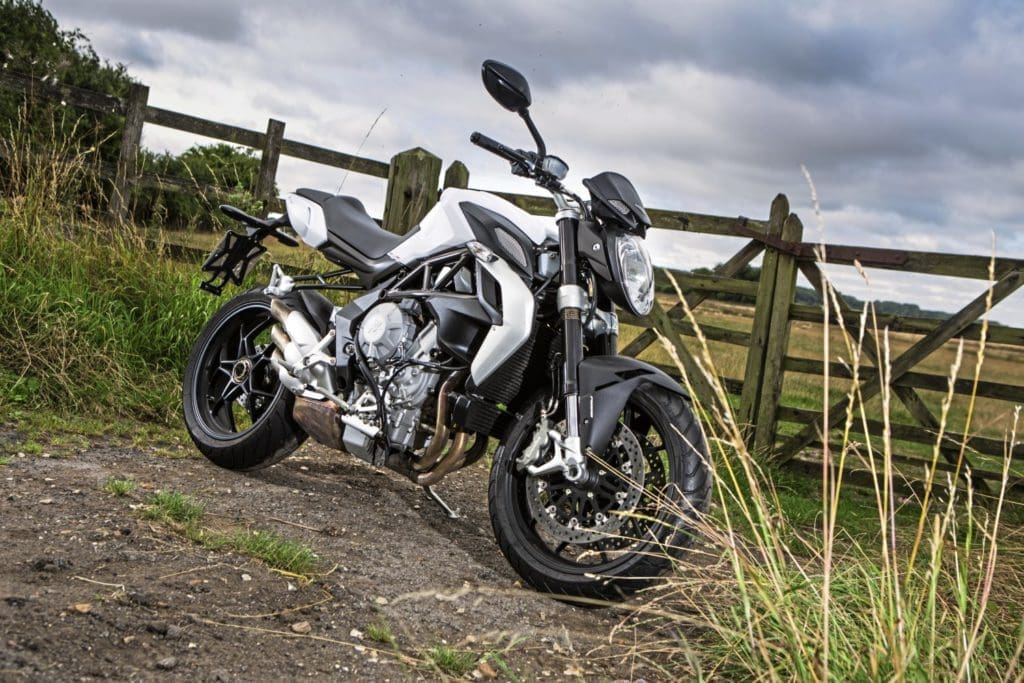 That's where the tech can help a bit. Maybe it's a tad overkill to have eight levels of traction and four rider modes (Rain, Normal, Sport, Custom) on a middleweight naked, but hey, I'm not complaining. The traction system's a little much if you've got it on one of the higher settings, but I've found levels one and two pretty decent for road riding, though I always keep the power in its most potent setting. It's pretty easy to alter the settings, but I can't be arsed to keep going into menus and changing things all the time. That said, I do make the most of the switchable ABS. The system works well on the road, but I'd recommend it switched off on track.
I've considered changing the stock cans a few times, but I like the look of them too much to bin them off. They give the bike its signature look, and shout out that it's a triple. You could probably find a bit more power and a slightly nice tone from a race can, but these work for me; the noise is deep and throaty. As far as comfort goes, I've got no qualms.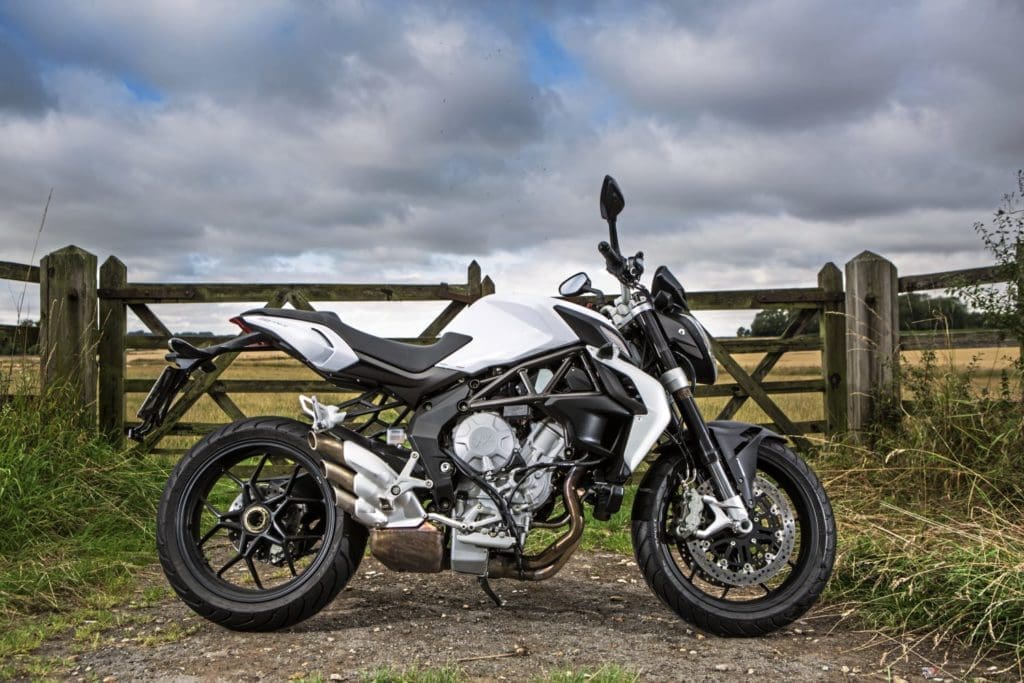 People say the seats pretty tall, but I'm 5' 10", and I don't find it a giant of a thing. You kind of sit in the MV, being plonked pretty far forward and nestled behind the race-style dash. I say race-dash, but it's actually a bit aged by today's standards. It looked trick as owt when I bought it, and it does a good job of keeping tabs of the essentials. The sculpted tank was one of the big draws to the bike. I still reckon it looks pretty stunning and I like how you sit your knees into it. There's nothing else out there quite like it.
The pegs are pretty sporty, but they're fine for big trips. I'd had a few rides over to Europe with my mates, plus a few long rides to the Lakes and Highlands. I've ridden much more cramped bikes. The big 'bars help the job along, too, but you have to get used to how exposed you are to the wind and rain. I bought a fly screen a few years back to try and help in this filed, but it looked pretty shite, as all of my mates let me know. It had to go. From an aftermarket point of view you could say I'm a bit boring, because everything's mostly stock on my bike, but I'd argue that's because it's decent enough for what I need.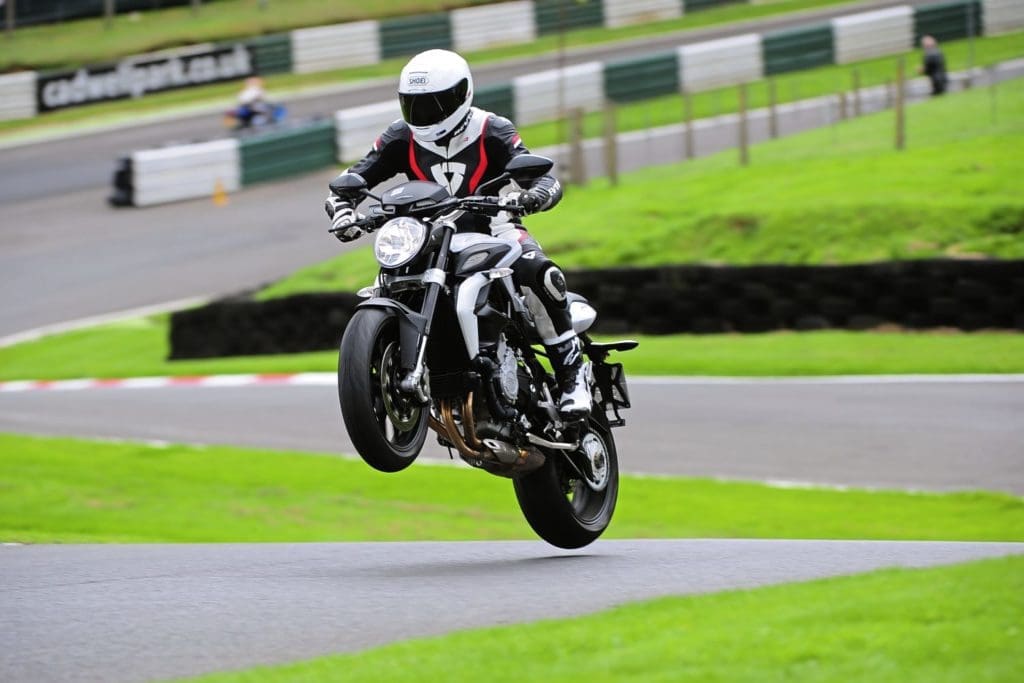 There are a few scabby areas of the bike, though. There are quite a few exposed block connectors around the bike, and I've had a few electrical problems because of them. The switchgears are particularly bad, and there's a block connector to the side of the engine that's caused me some big headaches and workshop bills too. I coat everything in ACF-50 and that's stopped a lot of corrosion, and problems, but you'd have thought the guys at the factory would have wired the bike a bit better. It's common sense.
The thing I like most about the bike is its engine. From as low as 2000rpm, providing you're not too far up the gearbox, it's got a fair amount of get-up-and-go. The throttle feels light and the connections pretty slick, although I've heard people benefit from remapping theirs. The power really starts to take shape after you're over 5,000rpm, from which point the bike rockets forward. The more revs, the merrier.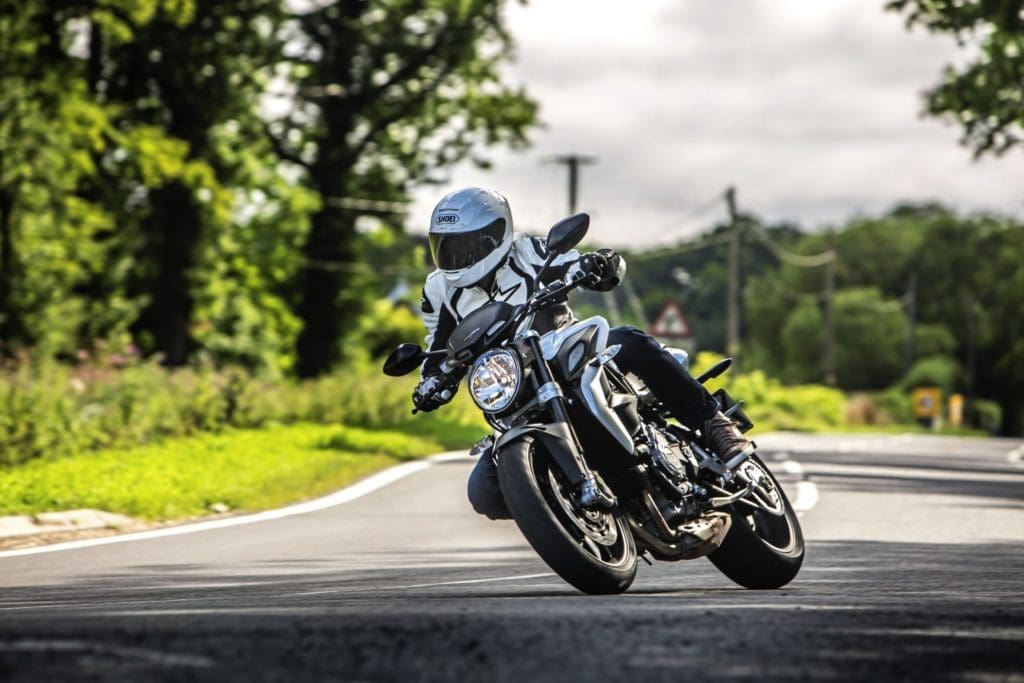 The stock bike also came with a shifter, which never fails to impress. There's a bit of a lull if you're smashing up through the 'box, but I'm never normally in that much of a hurry. A blipper system would be nice, and I reckon I might invest in an aftermarket item just to finish off the job. That said, the clutch is pretty mega and I can throw a few gears down the engine's throat before it starts kicking off and locking the rear wheel. I like it when the things gets a bit lively because it makes it more characterful. I don't want a Honda, I've always be drawn to more exciting bikes, which is probably why I can live with the flighty front end. It scares my mates when it happens, but it's just part of the furniture nowadays.
Overall I rate the MV pretty highly. It's ticked every box I've ever asked of it in style, maybe being a tad unreliable at times, but nothing too major's happened. It's weathered pretty well too. I use it in all weather, but I do look after it. It gets cleaned more than my missus. Am I ready for a change? Yeah, probably, but I paid a premium for this bike and it's no longer worth anything like what I paid for it, and that gets me wondering about what would be worthy of my cash. The 800 Brutale is right up there on my radar, so maybe one of those will come next, but I'll need to win the lottery first.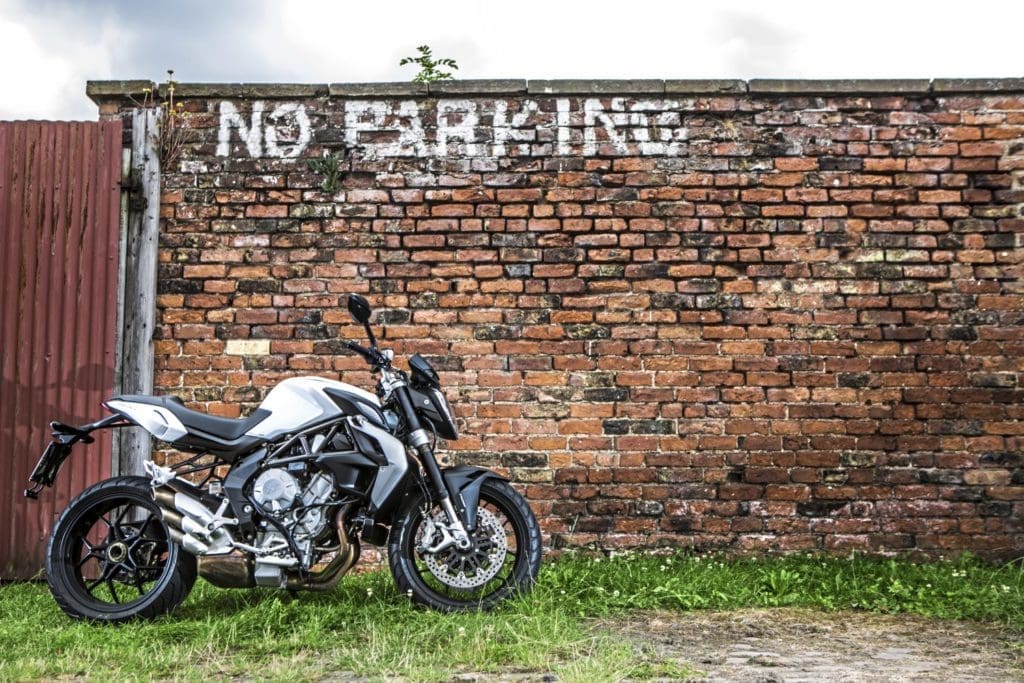 Tech Data: 2013 MV Agusta Brutale 675 ABS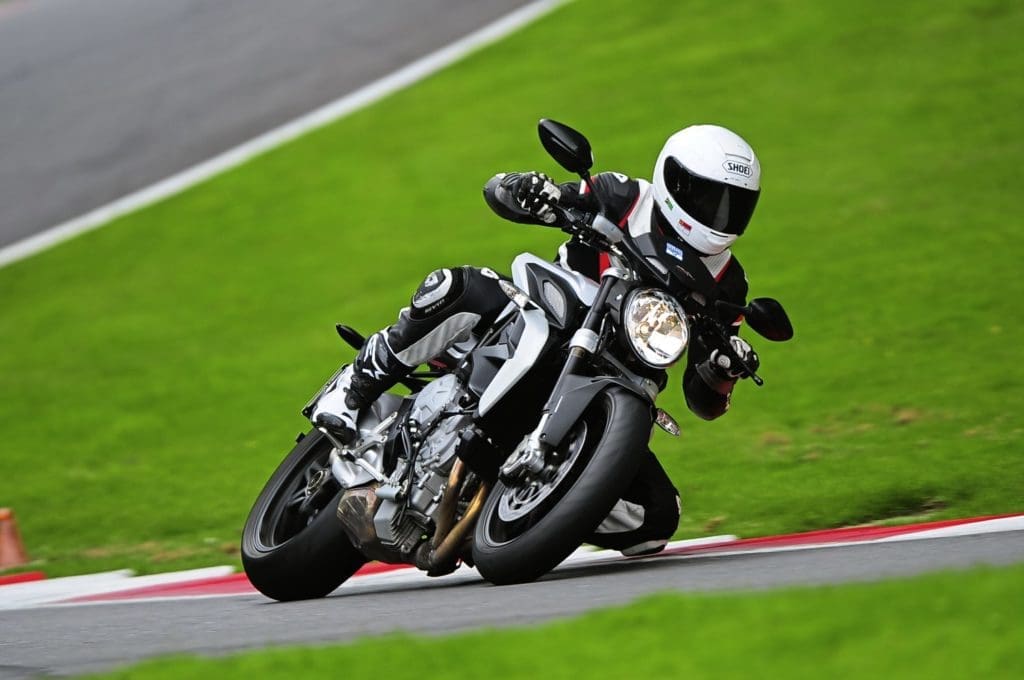 Type: 675cc, liquid-cooled, inline-three-cylinder
Bore x Stroke: 79.0 x 45.9mm
Compression: 12.3:1
Fuelling: Electronic fuel injection
Claimed power: 110bhp @ 12,500rpm
Claimed torque: 65 Nm @ 12,000rpm
RBW/Riding Modes: Yes/Four
Traction Control: Yes/8 Levels
ABS: Yes (switchable)
Quickshifter: Yes
Wheelie Control: No
Launch Control: No
Autoblipper: No
Frame: Steel tubular trellis
Front suspension: 43mm non-adjustable forks
Rear suspension: Monoshock with adjustable preload
Front brakes: 2 x 320mm discs, 4-piston calipers
Rear brakes: 220mm disc, 2-piston caliper
Wheelbase: 1,380mm
Seat height: 810mm
Dry weight: 167kg
Fuel capacity: 16.6 litres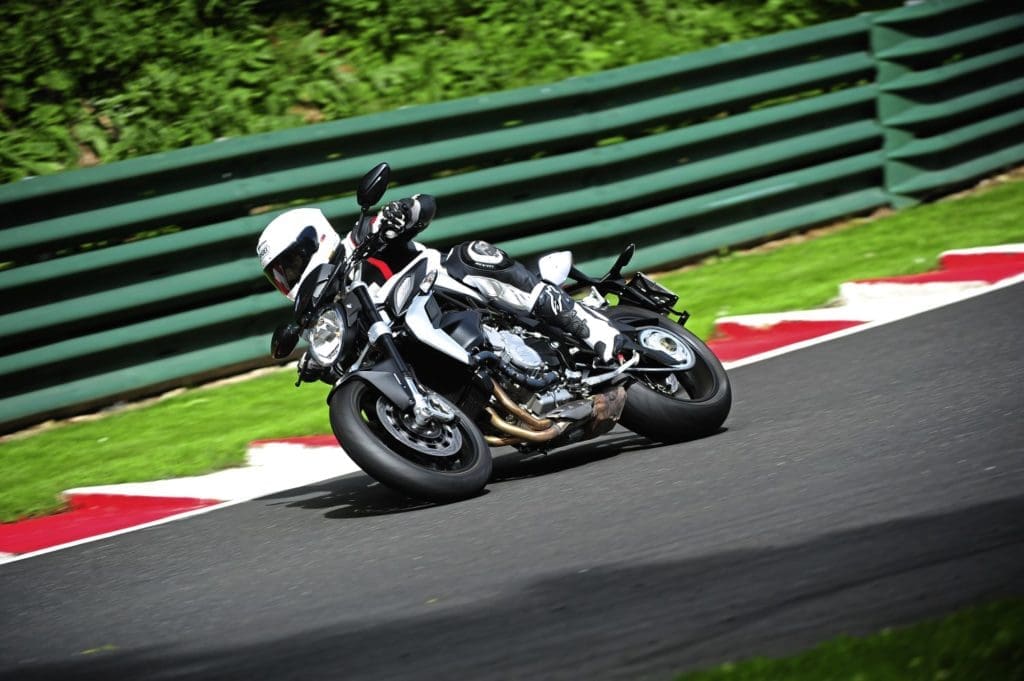 Price: £5,100
From: biketrader

Enjoy more Fast Bikes reading in the monthly magazine.
Click here
to subscribe.