Phone mounts are pretty damn handy whatever bike you're on, and if you've got a shortage of room they don't come much better than this…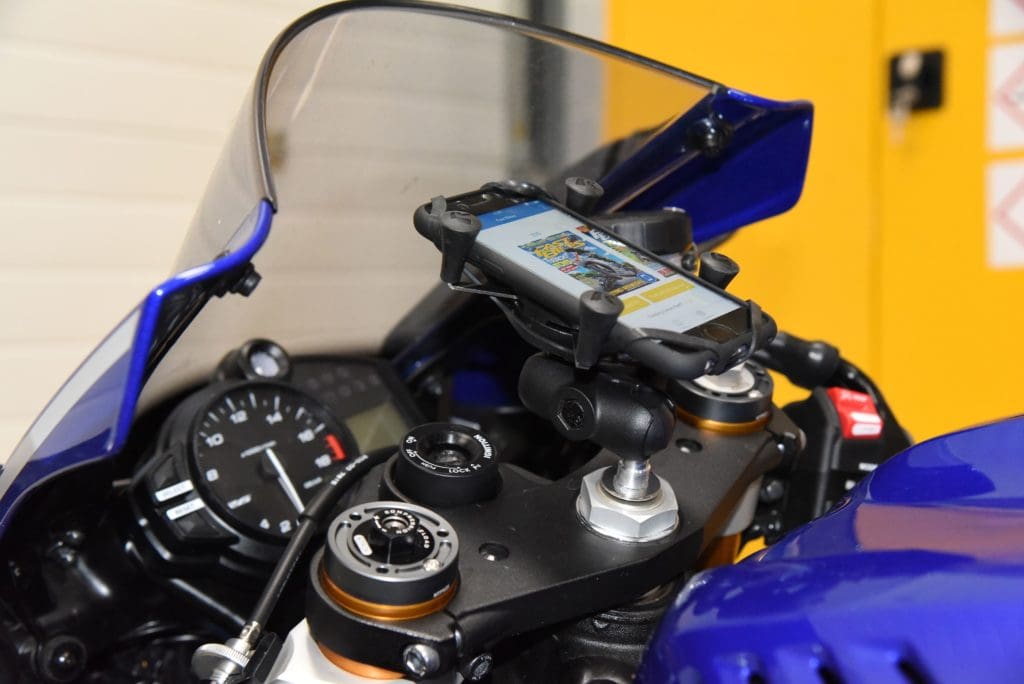 There is so much interchangeable tech on the market nowadays that finding 'aids' to your bike riding is not difficult – but as a sports-bike rider attaching them to your machine can be. Take my R6 as an example, the cock-pit is snug as it is and the clip-ons are pretty much too close to the fairing to add anything substantial even if there was room to do so, which is where the 13mm Stem Mount from Ram Mounts comes into its own.
A very simple and effective solution that involves simply sliding the mount into the stem before tightening it into position via an Allen key that expands the rubber plug inside the stem. Finally, complete the ball mount with a cover that is inserted into the 6mm hex of the mounting bolt. What you are left with is a sturdy ball socket that can then be used for any number of interchangeable mounts, again available from RAM and the companies they support be that for your action camera, sat-nav or mobile phone (as pictured with Small X-Grip smartphone holder-£42.99 and Short Arm double socket £19.99).
Though simple in design it's extremely effective and non-obtrusive when not in use, but when used with a phone for example, the vibration absorbing rubber cuts out vibrations en route. As importantly as getting the bits on, it's just as easy to remove your devises too for security or in case you have been pulling the occasional naughty and you don't want the law to see if mounting a camera. The R6 is a 13mm size but larger stems are catered for with the 15-16mm and 19mm. £40 well spent on the mount, as with the X Grip mount featured. Oh, and there's a whole host of bits on www.tranam.co.uk if you fancy…
RAM MOUNTS: STEM MOUNT HD
TESTED BY : Charlie
MILES : 2,000
TIME : 3 Months
PRICE : £39.99
WEB : www.tranam.co.uk
Comments
comments