Aprilia's opened the floodgates to some top totty RSV4 tech. Here's what to expect from the build-it-yourself Factory Works concept…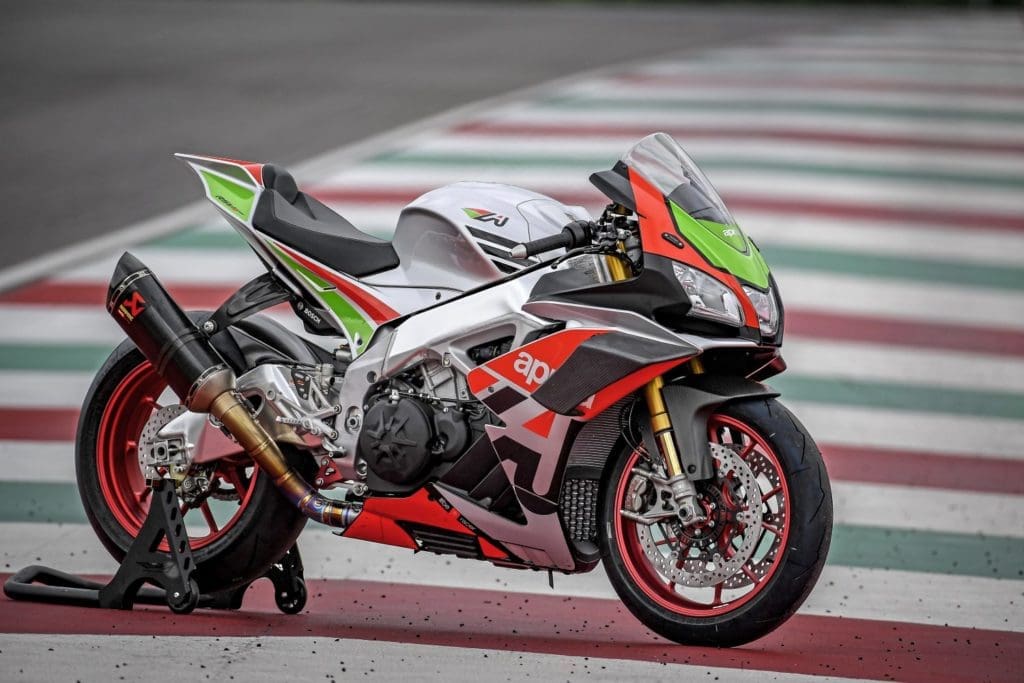 When you're writing your list to Santa this Christmas, don't forget to slap an RSV4 RF on the list. Or an RR, if he's being a bit tight. Bottom line is that without either of these Italian jubblies Aprilia's Factory Works (FW) dream will remain just that.
But what exactly is an FW and how can you get your filthy mits on one of these winged wonders? Well, that's where things get a bit interesting. In essence Aprilia's opened the door to you, me and anyone else with access to a huge enough bank loan to build a 212bhp beast that weighs 10kg less than a RSV4 RF and, to guarantee everyone has a good old glance at you when you rock up at Tescos on one for some bog roll and crisps, they've fashioned GP-inspired aerodynamic winglets into the mix. All good stuff, but here's where it gets a bit blurry.
Every ounce of added oomph, saved grams and bolstered looks is the product of an order-book; you can't just head down the dealers and buy an RSV4 FW (but that's where you'll go to buy the bits). There are dozens of accessories for the stock RF, plus a further 12 items that specifically slot into the Factory Works bracket. If you want more power there are several different glitzy bits you can bolt on to your bike, with the full shebang including lighter, single ring pistons, a wholly different cylinder head and cams, plus a richer fuelling ECU.
Throw a featherweight Ackrapovic titanium race system into the mix and, voila, you've got yourself a 212bhp crotch rocket. That latter part of bolt-on magnificence also plays a major role in seeing the FW shed 10kg in unwanted blubber, when paired up with carbon mudguards, a lighter fuel tank, a CNC top yoke and the removal of the bike's mirrors (replaced by blanking plates). Aesthetically, the one item that will make the most impactful addition are those wings, and there's purpose behind the carbon goodies which are drilled and fixed into place from the inside of a stock RSV4's fairing panels (better get your drill on charge)…….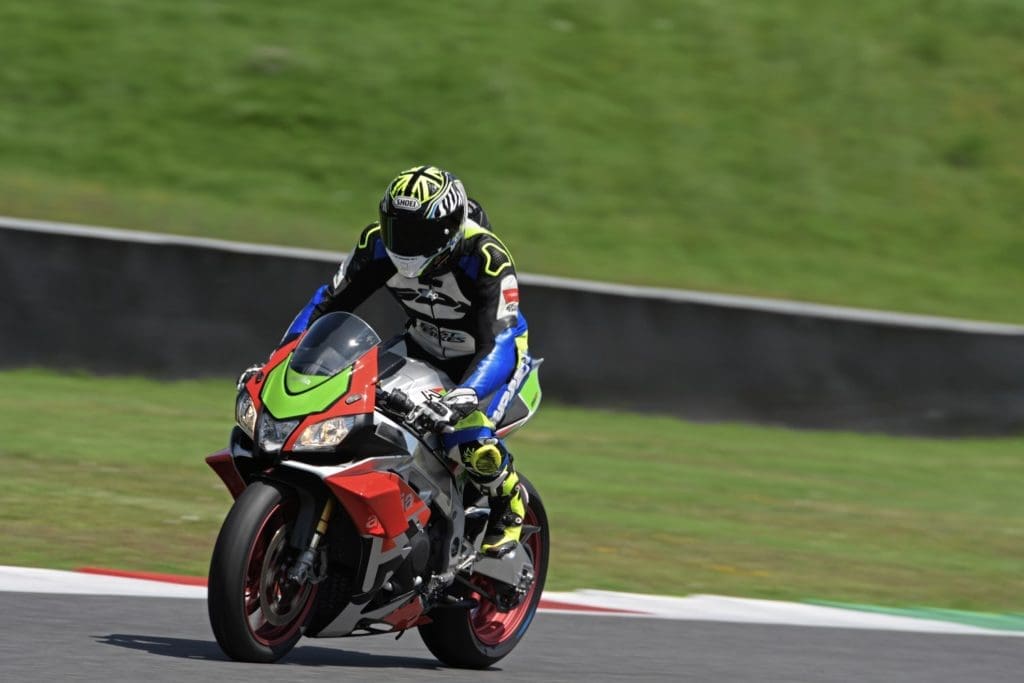 ---
IN THE PITS WITH: Scott Redding
It's not every day you share your pit garage with a motorcycling legend, but GP racer Scott Redding struck lucky on this occasion. Dangerous asked him for his take on the FW…
"What a difference that made. I know I'm used to GP bikes, but the standard bike (he tested first) felt like I'd hit the wrong rider mode or something in that first session. The FW felt much more like it; much more like a racer. There was a decent amount of power on tap and I could tell straight away how much better it was in the corners. The weight difference made the bike much easier to put where I wanted it to be. It was hard to tell exactly what difference the wings made, but they looked pretty smart. That's got to be worth something. In fairness, I'm that used to riding with wings now that I can't really tell the effect they have."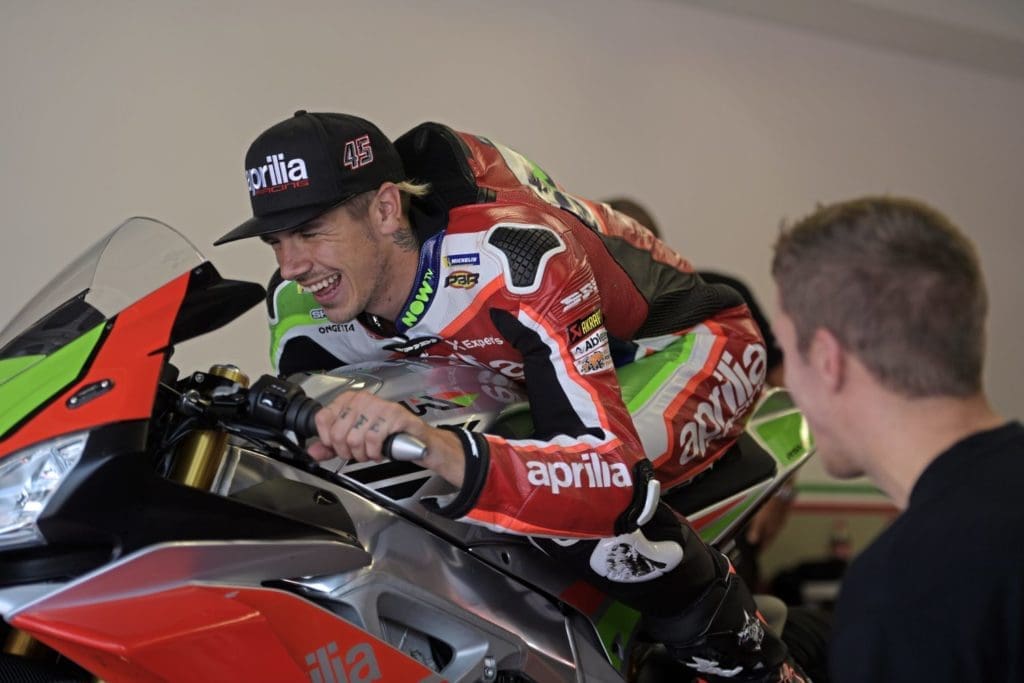 "They make a big difference on my GP bike at high speed; places like Silverstone and Phillip Island where you've got some really high speed corners. They help to load the front in a bend, getting you into a corner easier and helping to keep the front loaded when you're getting on the gas, and they also offer better stability when you're on the brakes. I can't see why these on this bike wouldn't do the same. I like them."
---
…….As tried and tested in the magical realms of GP, the wings are claimed to aid stability on the straights, limit the aggressiveness of unwanted wheelies and help with braking performance by forcing the front wheel into the ground. But do they really work? I swanned off to Mugello to find out.
Having never sampled the delights of the picture-postcard circuit, I was pretty glad there was a standard RR road bike kicking around for me to get to grips with the place. Even in stock shape, the base model Aprilia proved the perfect sparring partner for Mugello's flowing curves. I was loving life but tantalisingly desperate to see how this little soiree could be taken to a new level of utopia.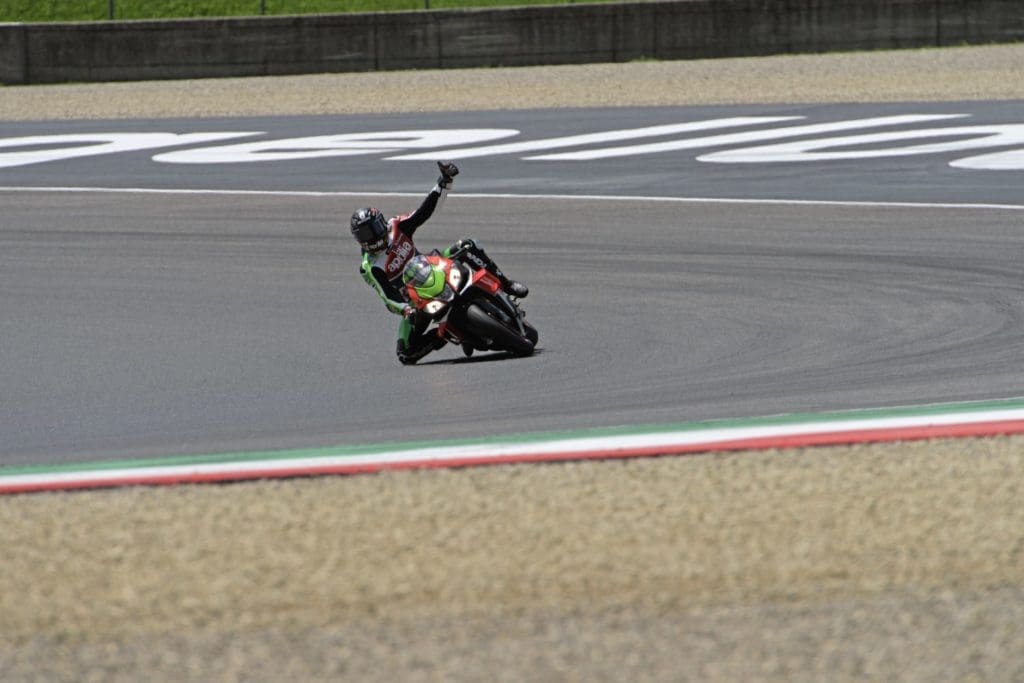 Naturally, I had high hopes and it didn't take long for those preconceptions to start hitting home, fast. Very fast, at that. Exiting pitlane and blatting down towards San Donato (the first uphill right hander), the FW's lust for pace made the RR feel like a gasping asthmatic on forty cigs a day. The motor was both pokier in the bottom of the range and, more notably, so much freer revving up the top. The blitz up to Poggio Secco was my first real chance to open the motor up in anger, feeling the rear Pirelli SC1 squirm beneath me as it got the kicking of its life time. The throttle connection felt sharper than a razor to the ball bag, but the delivery was still very manageable and in keeping with the V4 virtues that've seen the Noale-built beauty bully more powerful machines in the race for pace. Going fast felt effortless; trying wasn't necessary.
Without even thinking about it I needed to hook a gear higher in a few sections to try and quash the motor's desire to smash its own back doors in. On an unfamiliar track, that made life a little harder, demanding more gear shifts, more input and more focus to nail its flowing features. A few weeks earlier I'd razzed BMW's equally powerful HP4 Race (212bhp) around Almeria, feeling very much abused by its relentlessly screaming in-line-four motor, that refused to be ridden at anything short of max revs.
The Aprilia was showing a lazier, more manageable style that allowed me to extract the goodness from its V4 lump in a much more palatable manner, being sneakily as potent even if it didn't feel like it. But that's what V4s do, isn't it; offering that enviable half-way house of torque and peak power. I liked it, and better still I liked the way the stock clutch, blipper and gearbox manned-up effortlessly to the job of handling a tuned motor. But let's not get too excited. Unlike the Beemer, which needs a refresh every 4,000km, the Aprilia's state of tune (despite achieving the same output) didn't warrant such rigorous maintenance and upkeep. The pistons are more focused for sure, but stop a long way short of the WSB-spec items that power the factory world superbikes (and are changed after every race meeting).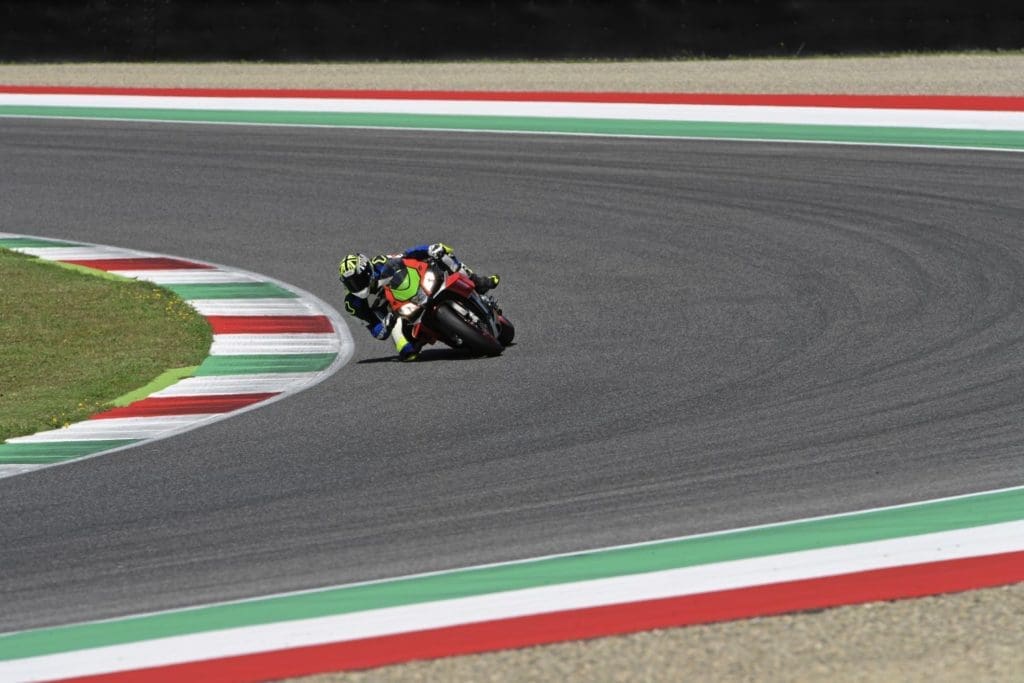 The surface treated cams go to reduce friction, and the blueprinted valve package that comes part and parcel with the wholly new, gas-flowed cylinder head has the mileage in them to take long term abuse. Ideal for a motor that's likely to see a good chunk of action on road and track. But there's the catch, or should I say another one: assuming you opt to spec up the engine to the FW-max, it'll no longer be road legal. Hell, just putting the Akra on the bike will make an emissions tester have a fit. And because those wings aren't homologated, they'll potentially cause you a headache down the cop shop too – unless you're really good at bluffing. Now, before I get too sensible and whittle on about a load more 'what ifs', I'll turn things back to the positive.
In terms of speed, the FW found an extra 8mph over the RR on the start straight, which could come in pretty handy in a police chase. The fuelling was also a damn site more crisp and dependable, making mid-corner throttle openings a clinical and crisp procedure. After a twenty minute stint I'd readily acclimatised to the Aprilia's added oomph, which seemed to engage nicely with the stock core of the bike. With no changes to the electronics, chassis or pogos, this notable increase in performance had the potential to rock the proverbial apple cart, but it didn't; the package felt slicker than a dolphin covered in Utterly Butterly.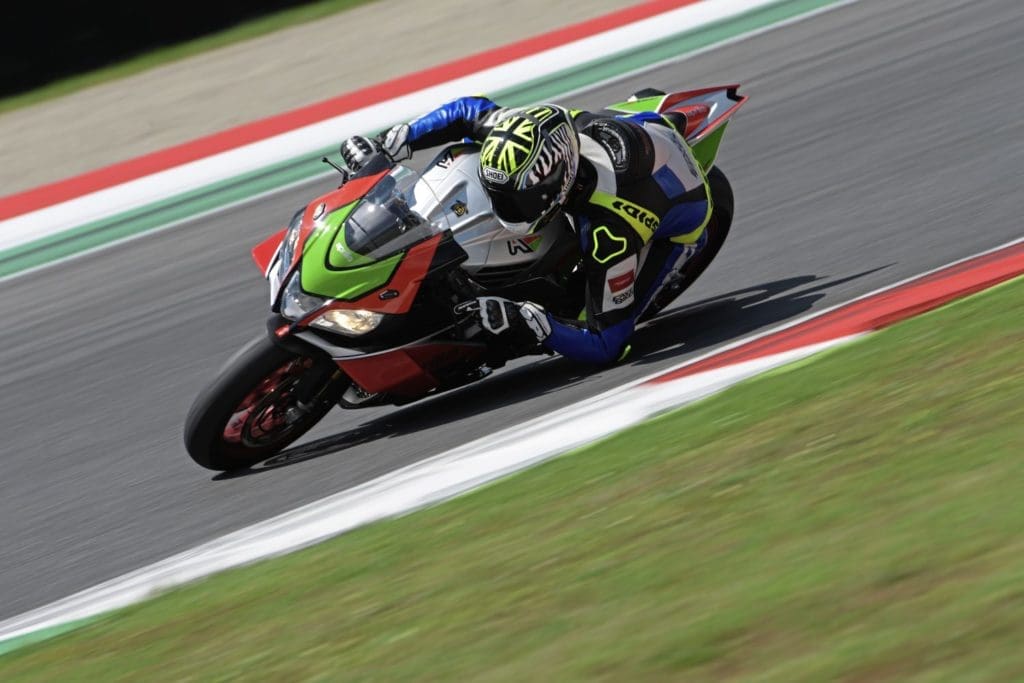 For nine years now the Aprilia's frame has blown us away, and it excelled itself further on this test. Of course, being some 10kg lighter would never do any bike any harm, especially one as weighty as the stock RSV4. It's never been a featherweight, so this Slim Fast approach was of blatant benefit. I ticked off over an hour of track time on the FW, but from that very first lap every corner had been made so much easier to pitch into, to hold a line, and counter physics on corner exits when hard acceleration did its best to ping me wider on bends.
Cornering entries had got so much sexier I had to recalibrate my lines and energy levels to stop the thing turning back on itself. It was nowhere near as agile as a HP4 Race, but felt more akin to a sharp shooting R1M. I could deal with that. That said, the stock bike feels as planted as a scrote on benefits mid-corner, and there was no drastic improvements to note in that respect. And I'd be a liar if I said I felt the wings made a major difference at reducing wheelies or aiding my braking.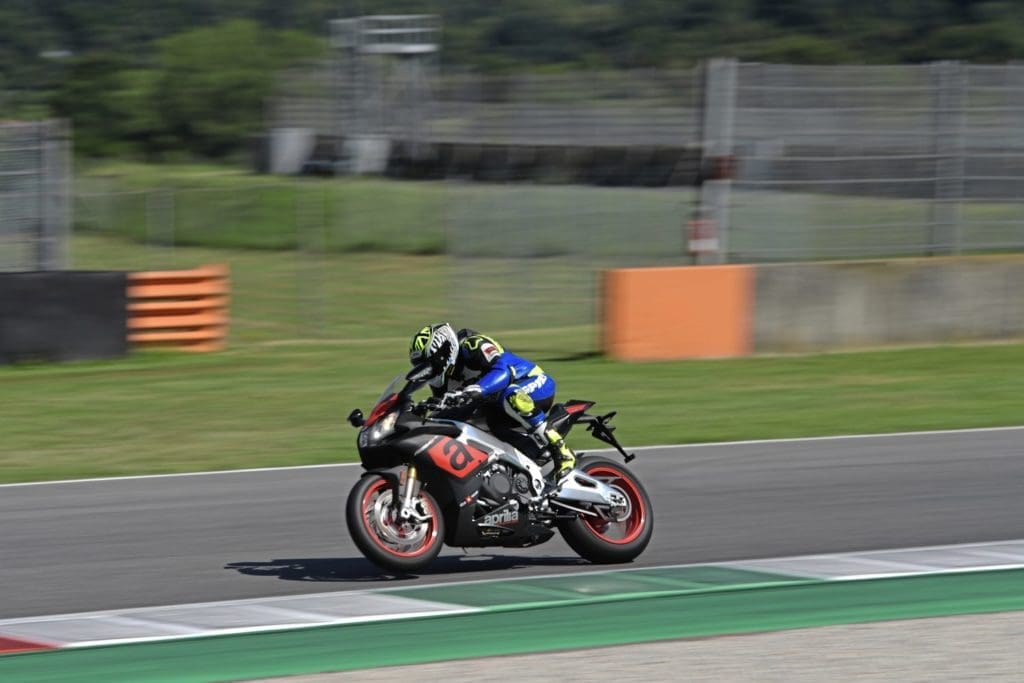 Even Scott Redding, who'd swung by for a blast, admitted he couldn't always feel the benefit of wings on his GP bike, or at least once he'd got the thing out of its wheelie-prone range. The one place the bike did feel better was over the start straight's speedy crest. You hit it at about 170mph, and I'd been having wheelies and wobbles on the RR, but they vanished when the FW was doing its think, which is ironic considering I was hitting the crest a good deal faster. So are they a gimmick? Pretty much so, but they're a pretty gimmick at that, and you can guarantee your mates would be all over them if you rocked up with some for a Sunday ride… though they'd probably spend the rest of the day taking the piss.
When all's said and done, wings are set to stay and it wouldn't surprise me if Aprilia, who are keen clearly keen ambassadors of the tech, become the first litre sportsbike manufacturer to incorporate them into the expected RSV4 model update which will show its face this year at EICMA. They look cool, they suggest performance, and it'll no doubt prove beneficial to the World Superbike guys, for whom these will be then be homologated. As to whether motorcycling, wholesale, is needing of them, the answer's no.
If I was faced with the option of bolting-on weighty wings or shedding a few more pounds, I'd probably go for FW-spec the carbon huggers in their place, and save a few quid while I'm at it. That's the thing with this bike and its concept; it is what you make of it. While I'd have preferred an out the box FW-spec bike, negating the agro of ordering items and paying for fitment, I get why Aprilia's done it this way; it's like buying an action man, then saving up to treat him to a grenade launcher one month and a commando knife the next. It keeps the customer engaged and gives owners to make their bike truly unique in the process. There's no harm in that, but there's a pretty hefty bill if you're gonna go the whole hog. The last time I checked there wasn't a spare £15k down the side of the sofa, so I'll just have to make do with the otherwise brilliant RF.
Tech specs: Aprilia RSV4 FW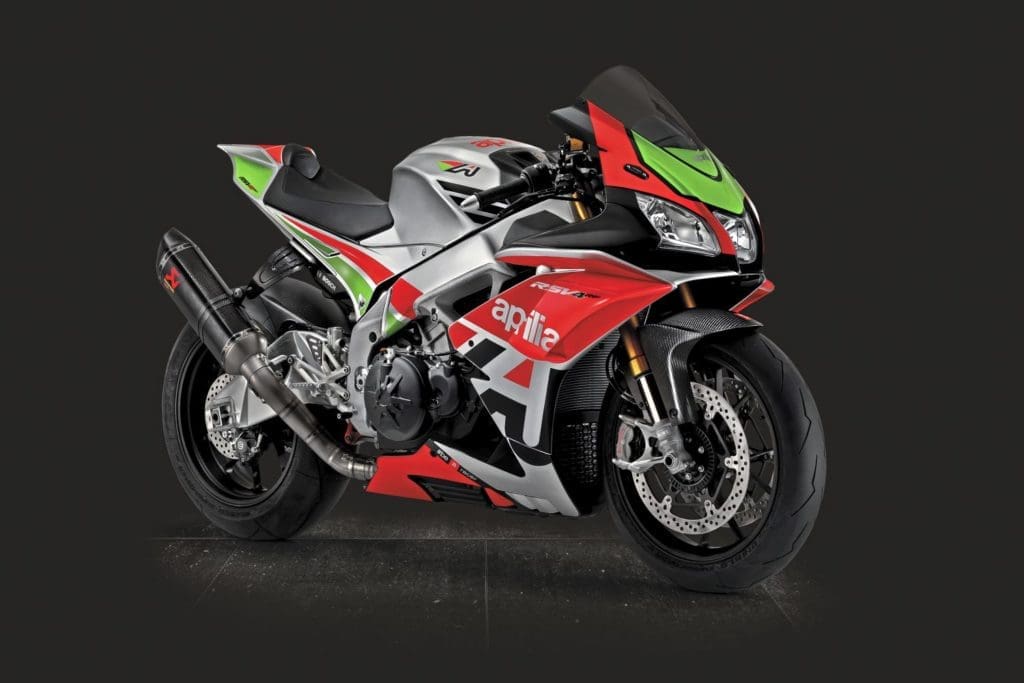 Engine
Type: V4 DOHC
Bore x Stroke: 78 x 52.3mm
Compression: 13.6:1
Fuelling: Fuel injection
Claimed Power: 212bhp @ 13,000rpm
Claimed Torque: 119Nm @ 10,500rpm
Electronics
Riding Modes: Yes
Traction Control: Yes
ABS: Yes
Quickshifter/Autoblipper: Yes/Yes
Wheelie Control: Yes
Launch Control: Yes
Chassis
Frame: Aluminum dual beam chassis
Front Suspension: Ohlins NIX30 forks, fully adjustable
Rear Suspension: Ohlins TTX36 shock, fully adjustable
Front Brakes: Brembo Monobloc four-piston calipers, 320mm discs
Rear Brake: Twin-piston Brembo caliper, 220mm disc
Dimensions
Wheelbase: 1,420mm
Seat Height: 845mm
Dry Weight: 170kg
Fuel Capacity: 18.5 litres

Enjoy more Fast Bikes reading in the monthly magazine.
Click here
to subscribe.