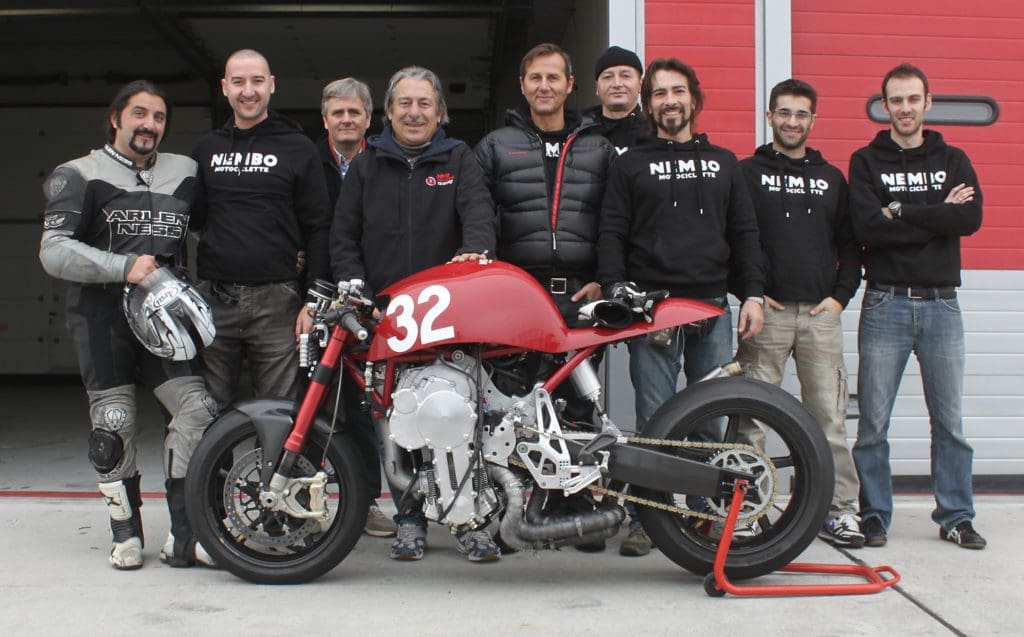 Upside-down two-litre triple, made from scratch by touched Italian engineer…
ALBERT EINSTEIN'S definition of insanity was 'doing the same thing over and over again, while expecting a different result'. So by that standard, what you're seeing here is very much not insane. It's nothing less than the wildest motorbike engine design we've seen in a long time. And we've seen some mad old stuff over the years.
This queer-looking beastie has a massive, 1,814cc capacity, in three enormous cylinders. So far, so daft. But look closely and you'll see that the pipes at the front of the engine aren't the exhaust – they're actually the inlet manifold pipes, running from under the tank down to the bottom of the bike. Yes – the whole engine is upside-down, with the cylinder heads closest to the ground, and the spinning crankshaft up high under the fuel tank. What. The. Actual. Fuck?
The designer is an Italian called Daniele Sabatini, and he's been working on this bike – called the 'Nembo 32' (3 cylinder, 2 litre) for the past ten years. He's shown it in action at the Concorso d'Eleganza Villa d'Este custom/concours bike show, and as you can see from the pics, he's ridden it on a few track days too.
Let's be honest – it's no looker is it? Indeed, it looks like one of those shitty car-engined specials from the 1980s, with pipes, wires, casings and random lumps and bumps all over the engine. The engine makes up most of the main frame, with the twin-sided swingarm hanging off the back of the cases, and a small trellis subframe up at the steering head. The running gear is strong – 50mm Marzocchi USD forks, carbon wheels, air monoshock rear suspension, Brembo radial calipers. And the claimed performance of the engine is immense: restricted to 200bhp at just 8,300rpm, and 210Nm of torque. With a claimed dry mass of just 160-70kg, it should be an utter missile.
But the big question is 'why have an upside down engine?' Well, it's not as unique as it might seem. Honda built an 'upside-down NSR500 GP machine back in the 1980s, with the light expansion chambers and engine mounted up high where the 'fuel tank' would be, and the heavier fuel load on the bottom of the bike. Upside-down V-12 engines were widely used in German piston-engined aeroplane designs in WW2, where it allowed better packaging of guns and propellors, shorter landing gear and easier access for servicing the engine top-end. One big problem is lubrication – the oil will tend to pool round the pistons and cylinders, and you'll need a good dry-sump lube system, as well as special piston rings to stop excessive oil consumption.
The point here though is about centre of gravity. Now, many folk think a low centre of gravity is a good thing for handling – and it is, on a car. Wide, low long cars can't tip up in a corner, so won't have roll-over crashes like you can get with tall, top-heavy 4X4 cars and trucks. But on a bike, a low CoG is more complex. Many cruisers like the Harley above have long chassis with low-down CoG, and that makes them very stable – hence, more difficult to lean and turn.
A low CoG reduces weight transfer under acceleration and braking too – so a long, low cruiser will 'push' the front tyre under braking, locking the tyre, and spin the rear before it will wheelie.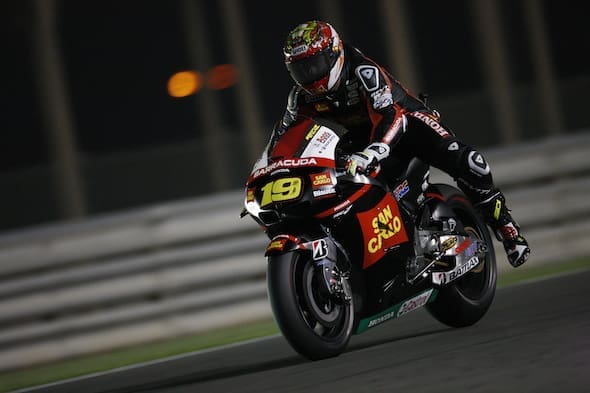 On a sportsbike, the weight is held higher up, and undergoes massive transfer forwards and backwards under braking and acceleration. This increases tyre grip (more weight over a tyre pushes it down onto the Tarmac harder, so it grips more), and while the limiting factor is then wheelies and stoppies, it makes for a more dynamic package. The same applies to cornering – a chassis with a taller center of gravity will 'fall' over into a bend more quickly, thus steering quicker.
The CoG is a complex matter though – and there's no one 'good' setup. It's another part of the overall chassis design of a bike, and moving it about can change handling characteristics massively.
Back to the Nembo 32 – and the designer reckons the tall CoG makes it far more nimble than you'd think from looking at it. He also claims that putting the crankshaft closer to the rider helps 'centralise' the mass of bike and rider more effectively. Now, mass centralisation is something that firms like Honda have long championed, and this does make sense in physics terms. A bike with most of its mass focused in the middle of the chassis will be much more agile, because of the reduced moments of inertia. It's common sense stuff – if you have a heavy weight held in close to your body, you can move it about more easily than if it's held at arm's length.
So – a handmade, €60,000 upside-down-engined Quasimodo-styled bike with 200bhp – where do we sign up? Well, funnily enough, your man Sabatini is now at the crowdfunding stage. He's looking for finance to get the Nembo into limited production, with a larger 2,000cc engine, and a redesign to move away from the current hand-made design to a proper low-rate production version.
More info here: https://www.indiegogo.com/projects/the-nembo-32-no-bike-is-alike
And you can see more about the bike and the builder here: http://www.nembomotociclette.com/index.html
Here's some video!
SPECS:
2014 production bike specifications:
Chassis: aluminum engine crankcase plus Cr-Mo steel hand-welded and CNC machined trellis;
Seat frame: Cr-Mo steel hand-welded and CNC machined or full carbon;
Swing-arm: hand-layered carbon fiber double arms – vacuum molded body autoclave treated, axle to axle length mm 670/690, pivoted onto the engine block, adjustable pivoting and lenght;
Front wheel rim, five-spoke 17 x 3.5 carbon fiber hand layered and vacuum molded body, autoclave treated;
Rear wheel rim, five spokes 17 x 6.0 carbon fiber hand layered and vacuum molded body autoclave treated;
Front tire: 120/70 ZR 17, rear tire: 200/55 ZR 17;
Front suspension: 50 mm Marzocchi USD telescopic fork, fully adjustable;
Rear suspension: air monoshock Double System / Bellapadrona, fully adjustable;
Front brakes: Brembo T-Drive 320mm floating double disc. Discacciati or Brembo radial calipers;
Rear brakes: Discacciati or Brembo 220mm single disc and Discacciati or Brembo radial calipers;
Seat height: 80/86 mm, adjustable;
Wheelbase: 1450mm (with 680mm swing-arm lenght);
Dry weight: 160/170 Kg depending of the chosen components;
Fuel tank: 12 liters – Oil tank: 4 liters, handcrafted aluminum;
Body: carbon fiber hand layered and vacuum molded, autoclave reated, tilting body;
2014 production engine specifications:
Width: 470 mm, Height: 470 mm, Length: 410 mm;
Type: Inverted – naturally aspirated, 4 stroke / in-line, 3 cylinder;
Bore: 104 mm, Stroke: 77 mm;
Capacity: 1962 cc – 119.70 cubic inches;
Compression ratio: 11.5 : 1;
Distribution: SUHC – single under head camshaft, driven by chain and gears;
Number of valves: 2 per cylinder;
Engine coolant: air / oil;
Lubrication system: dry sump – inverted oil pumps;
Clutch: hydraulic / oil bath;
Transmission: 6-speed, extractable gearbox;
Fuel system: EFI;
Maximum power: limited at 200 bhp @ 8300 rpm;
Maximum torque: 210 Nm @ 5500 rpm;
Maximum engine speed: 8500 rpm;

Enjoy more Fast Bikes reading in the monthly magazine.
Click here
to subscribe.