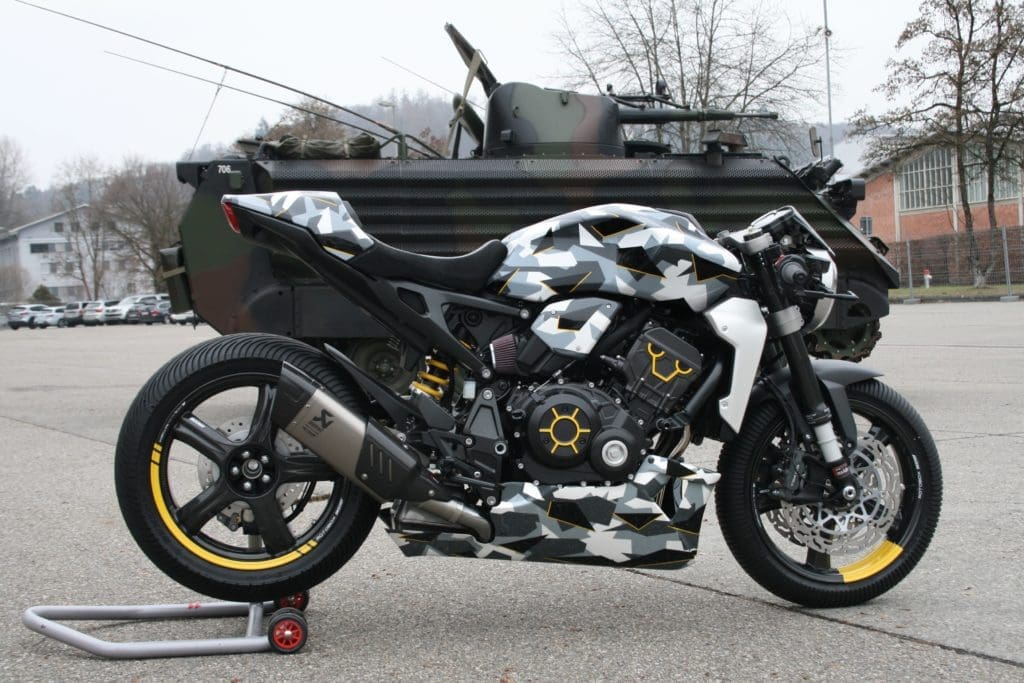 All the way from the land of Toblerone and questionable gold transactions comes this rather trick Honda CB1000R…
It's a fact that Brits are still obsessed by WW2. So when an email comes from a firm called 'Fuhrer Moto', the chuckles are never far away. The company in question is based in the German-speaking region of Switzerland, and was set up by former MotoGP technician Stefan Fuhrer. Stefan and his team have made a few really sweet custom bikes over the years. And this is their latest – a slick, trick, carbon-drenched CB1000R NSC.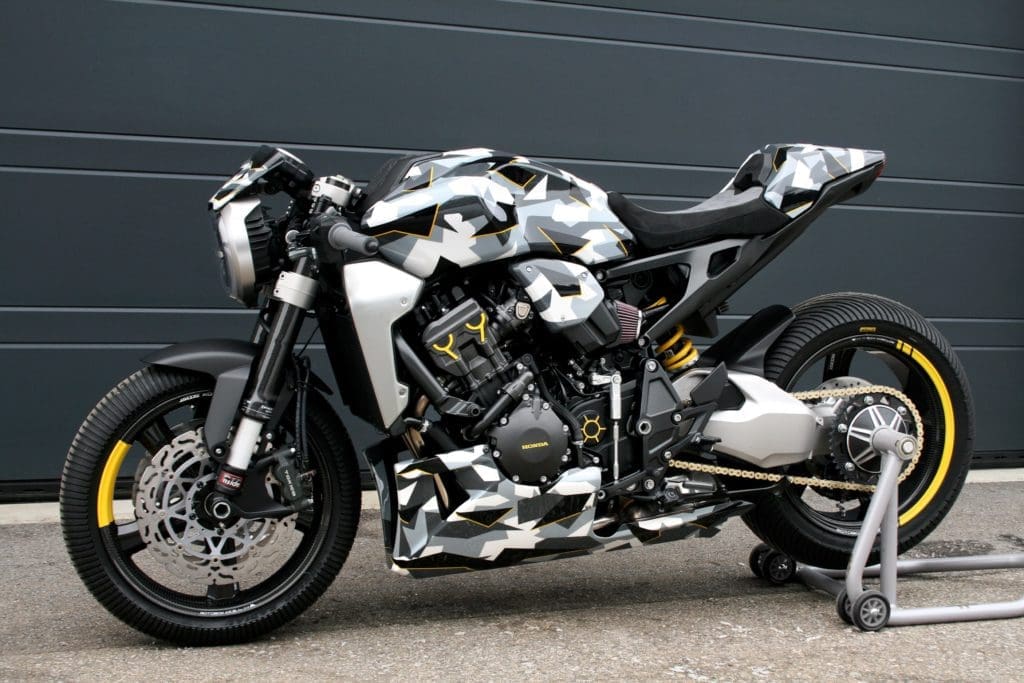 We rode the new CB1000R last year, and we were quite taken with it. We liked its decent wheelie-ability, stylish looks and solid build quality, although it's down on max power and madness compared with the proper lunatic super-nakeds out there like the BMW S1000R and Yamaha MT10.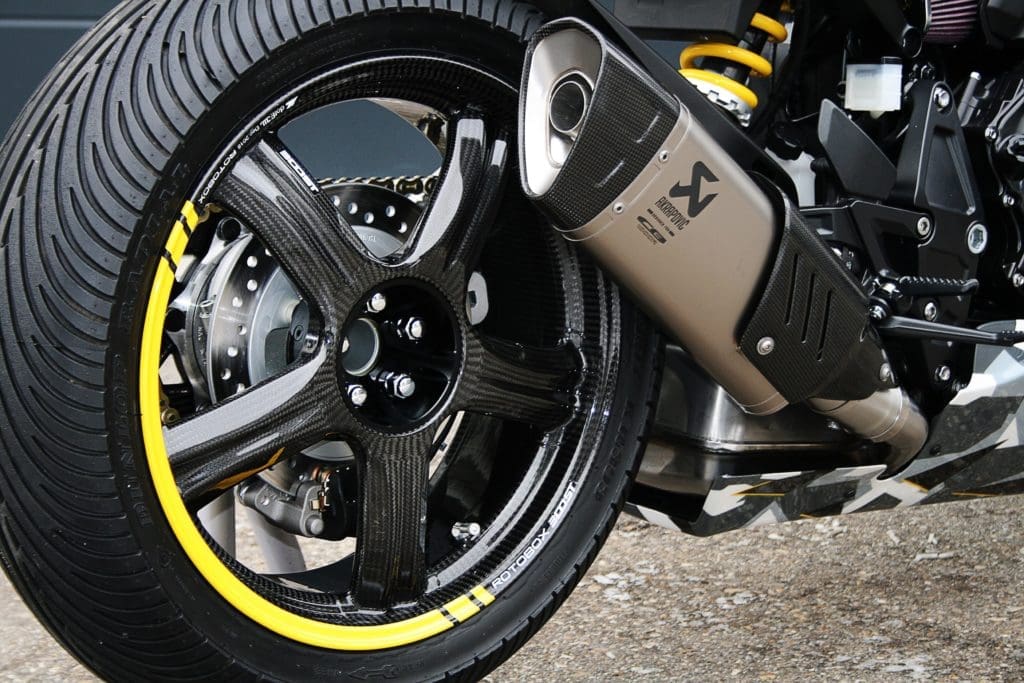 Fuhrer Moto has gone to town on this one though, in partnership with Ulfert Janssen from neighbouring design studio Gannet Design. The base bike is lightly tweaked – the motor has individual K&N intake filters on the throttle bodies, and a sweet Akrapovic pipe. But it's the wheels and forks that are really interesting.
First up, the guys bolted on some Rotobox carbon rims from Slovenia. We've tried some of these wheels, and they are properly tasty – super light, and with a massively stiff design, thanks to the big-bore spoke structure. Rotobox hadn't yet developed a wheel for the Honda's single-sided rear end when Stefan Fuhrer spoke to them, but they got onto the design computer and rustled up an all-new fitment inside a month – good work!
Carbon wheels are sweet, obvs, but the forks are even more impressive, and we've not seen a lot of these about. They're the latest CeraCarbon design, which uses carbon and Dyneema aramid fibres to make the stiff, light fork tubes, with a unique patented ceramic surface material to give a chrome-like hard-wearing smooth sliding surface. They're hilariously light: the firm claims its 43mm front fork tube has a weight of just 237 grammes – that's 75% lighter than conventional steel front fork inner tubes, and reduces the unsprung weight by 1.5Kg on a complete front fork. Nice. They also look hard as diamond nails.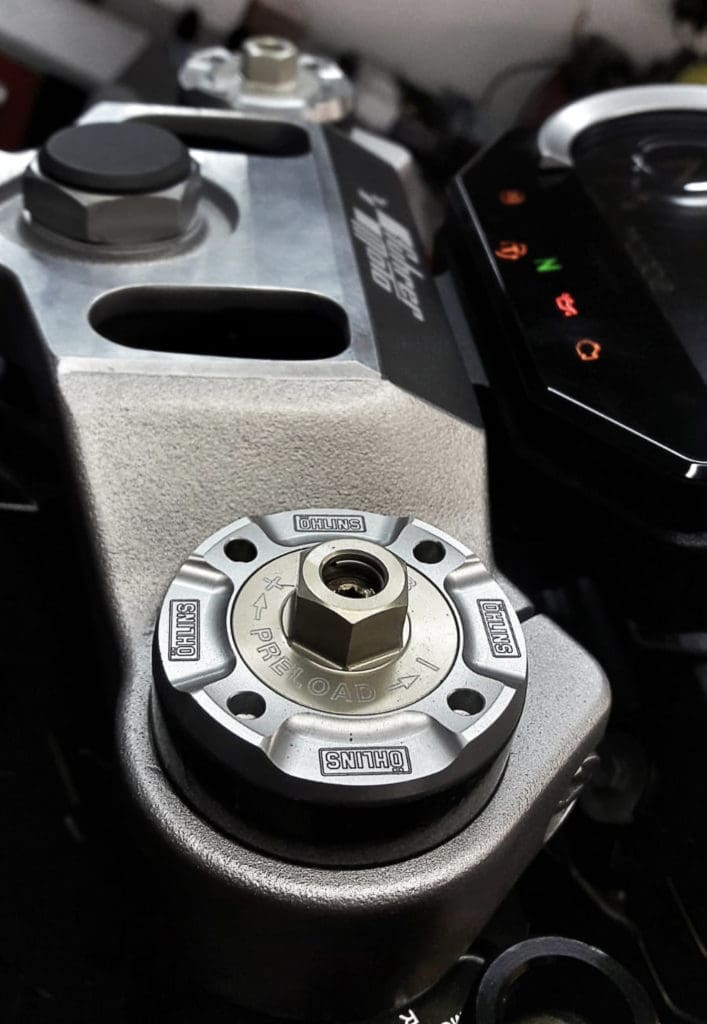 The ceramic treatment also goes onto the sprockets – the bike features an all-new design which uses an aluminium rear sprocket for lightness – but adds a tough ceramic coating to reduce wear closer to that of a steel part, giving the best of both worlds.
They've also fitted Dunlop Moto2 wets, because, why not, they'll be good in the Alpine slush we guess. And finally, the Fuhrer machine looks ace in a proper old-skool urban camo paint job. It's real paint too, not a vinyl wrap, and took seven layers of spraying to achieve the final result.
The 'CB1000R-adical', as it's sadly been dubbed, recently won the best custom Honda prize at the Swiss Moto Show in Zurich last month, and will also be on show at the Glemseck custom show, The Reunion at Monza and other events this year (The Bike Shed Show in London might be a chance to see it too).
Check out the firms' work on their sites:
– Gannet Design: www.gannetdesign.com
-Fuhrer Moto: www.thal-garage.ch/moto or on Facebook: fuhrermoto/facebook

Enjoy more Fast Bikes reading in the monthly magazine.
Click here
to subscribe.