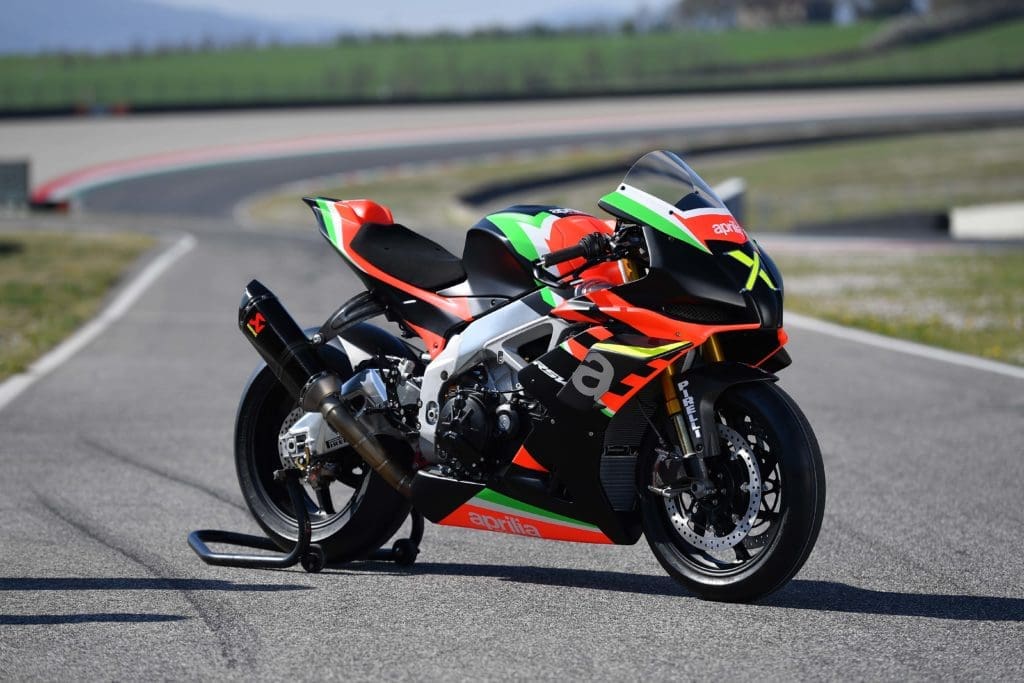 RSV4 X marks ten years of the V-four superbike
WE WERE at Mugello last weekend for the launch of Aprilia RSV4 1100 Factory – and you can read what Boothy reckoned to it in the next issue of the magazine.
But as well as knocking our collective cocks off with the new 1100 Factory, Aprilia also launched a fancy limited-edition track version of the bike. Dubbed the RSV4 X, it's really limited – only ten will be made. And it's laden with eye-popping trickery: how about a special MotoGP-spec gearbox, with neutral at the bottom (or top) of the shift pattern. That saves vital nanoseconds on the change from first to second – the gearshift mechanism has less distance to travel, so you get a proper change, instead of the traditional clunky cog-swapping there. Aprilia's called it the ANN Aprilia No Neutral system, and we bet it will be taking over the top end superbike sector soon.
The 1100 motor is blueprinted, with more aggressive camshafts to get the extra gee-gees, and is hand-built by the firm's race division. Sweeeeet.
The weight loss comes from a few areas: full carbon bodywork, titanium and carbon Akra exhaust, and forged Marchesini magnesium wheels. It also goes large on the brake calipers: Brembo's GP4-MS calipers, which are the latest race-rep calipers from the firm, and cost £2500 a pair, eek! And since it's not road-legal, it comes with a set of Pirelli Superbike slicks.
We're not sure who will buy though – it's not legit for racing as an 1100 (maybe Macau or the TT??!!…), and the price is steep for a trackday tool – but not horrendous, at €39,900. If you do pick one up and need a hand running it in at a Mallory Park practice day, just give Boothy a shout and he'll be right round to help…
Article continues below...
Advert
More info: https://www.aprilia.com/en_EN/news/2019/rsv4-X/
Article continues below...
Advert

Enjoy more Fast Bikes reading in the monthly magazine.
Click here
to subscribe.