Round 1 of the Bridgestone 500 series hosted by the East Midlands Racing Association (EMRA) has been and gone and we are hurtling toward Round 2 on the 12th May very quickly.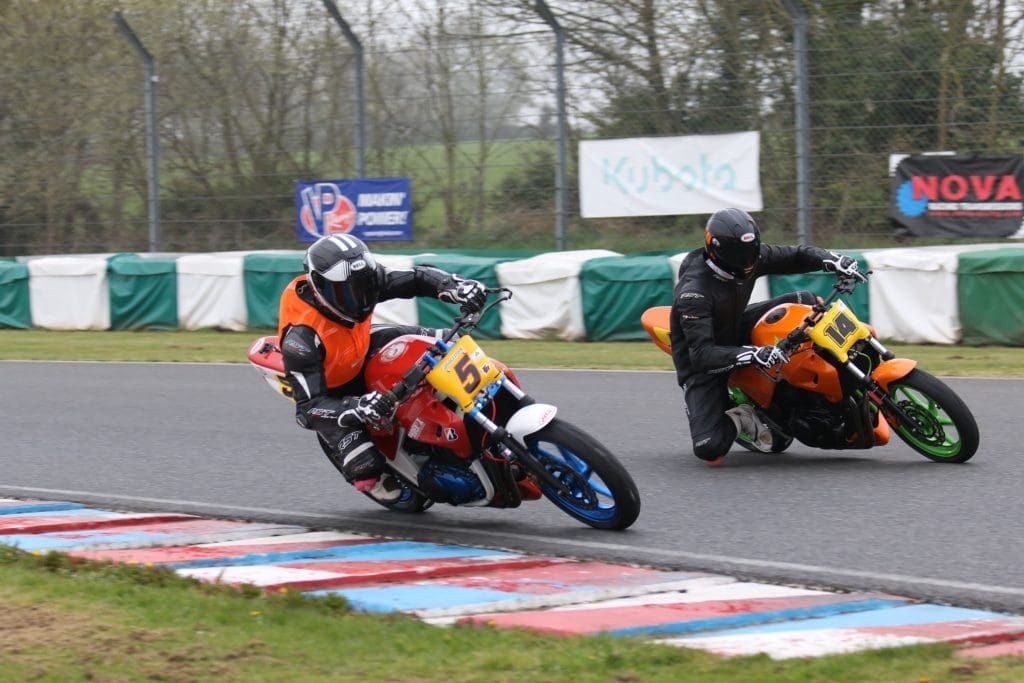 The first outing of the year was a massive learning experience for both Gary and myself starting as we were for our first full season of racing. I have quite a journey to Mallory, thus shirked much of set up which included my bike which had had some last minute prep from our chief spanner Lezzo, replacing a seal that I had blown the weekend before.
The entourage were all present, Lezzo & Jayney, Mick, Angela, Chris the "fish" his Dad Gary, and Benny from BGR Motorsport all present and ready to help Gary and I on what was beginning to feel like a bit of a quest.
With the setting up of the awning and all things in place the nerves marched in, a really serious bout that I could only control by pacing, I missed out on a lot of banter and the fun of it all with a sick feeling that only really disappeared when I was on-board Sunday Morning lining up for qualifying.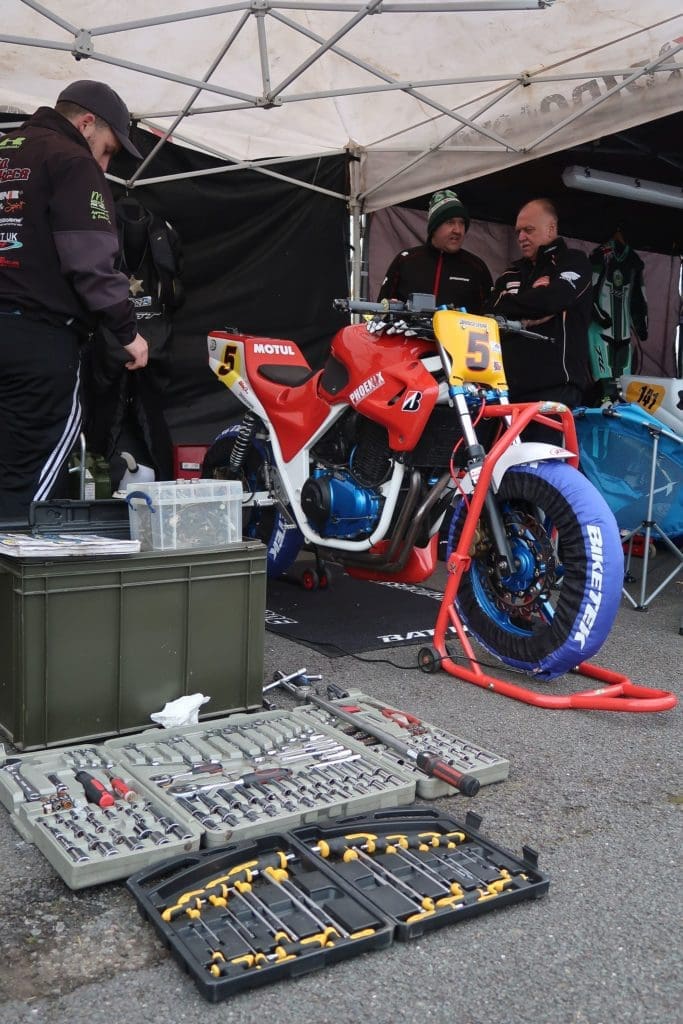 I am ashamed to say if I had a Matrix style offer of the 'blue pill' to make it all go-away, lose no face and reverse all of the hard work that others have put into this I would have taken it – I would also have missed one of the best days I have ever had on a motorcycle.
First qualifying was actually the Minitwins, a secondary race that both Gary and I entered because we could, and indeed should to practice as much as anything else. As it is there were so many CB500's on this grid that SV650's and the like were a rarity meaning that EMRA have now actually introduced a separate CB500 championship table within the Minitwins category.
The twins qualifying was steady away, 21st on the grid and 11th CB – happy with that as this was the first time I had ridden with any real conviction since August last year. The qualifying for the main event was next, a qualifying time which knocked a full second off my PB for Mallory securing 19th on the grid – I could just about see Gary sitting 11th.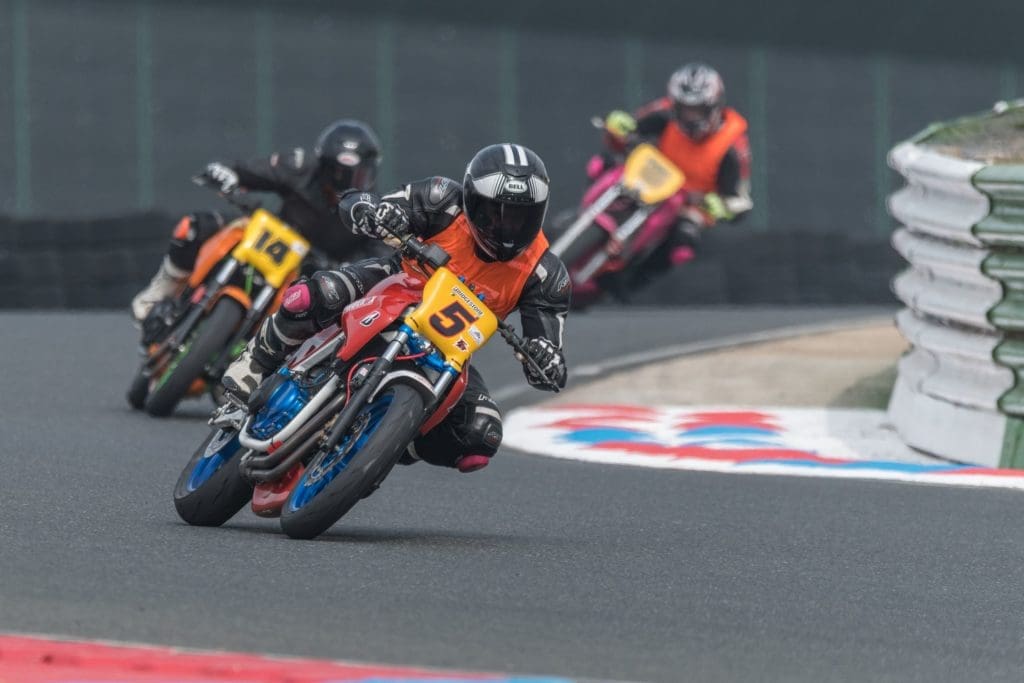 As for the racing, well if you are interested watch the EMRA CB500 RACING video on Fast Bikes YouTube Channel, that should give you the gist of the weekend, it's not a Hollywood production but captures the mood for sure.
Rule #1 in racing, beat your team-mate. I didn't – but I have nibbled into Gary's times in the races I completed, and showed more improvement albeit from a lower base.
In the first CB Race I had started 19th on the grid coming in at 15th after some brilliant battles, some won, some lost but all confidence inspiring finishing 9 laps in 10 minutes, Gary was 5 places and some 27 seconds quicker over the distance.
Next up the Minitwins, a PB once again breaking the 1:03's but more importantly finishing the 8 lapper 15 seconds behind Gaz and securing 12th place, 7 places up from my grid slot.
The 2nd Minitwins race was a similar affair, finishing in 16th with Gaz 5 places and 14 seconds the better but the gaps are closing and it won't be long before Gary starts seeing my front wheel pushing him when diving into he Bus Stop.
Make no mistake Gaz and I are loving the Minitwins, but it's the Bridgestone 500's that is out primary reason to be there and given a three way split grid due to the mass of CB500 entrants I found myself 10th on the grid. My chance to secure some serious championship points and get a top ten finish – one of my season goals that I could achieve in the very first round.
Having a brief respite from Race#17 of the day with the twins we were out again for Race#19 – warm up lap completed loaded and the red lights almost upon us. A problem held us on the grid leading to competitor Nigel Lunn being removed from the grid. Cleared, Red lights on and then off…..
A mass of steam engulfed me as the expansion bottle popped its top, a showering of dirty radiator water and my hand up in the air as a warning to riders hurtling my way – I was going nowhere. Being so high up on the grid I clenched my arse cheeks together and awaited a collision, I thank my fellow racers for their avoidance skills – the marshalls too, they couldn't have got me off the grid quicker as you can see in the latter part of our video.
Thus I finished the day rueing a missed opportunity but cheering Gary in to a 6th place finish. Not bad for a guy nursing a cold and massively jaded having flown in from launching his S22 tyres to a load of thirsty journalists only the day before.
The irony that my secondary racing screwed over my primary Bridgestone CB500 focus has not escaped me. But in the end its all racing and with Round #1 over I just cannot wait for my next crack at it, I just need to tame those bloody nerves, keep improving and aim for the big 'Bridgestone-B' on Gary's back….
Round #2 – 12th May at Mallory Park

Enjoy more Fast Bikes reading in the monthly magazine.
Click here
to subscribe.