On reflection I guess it had to happen, despite a few technical snags over the past two rounds of the Bridgestone 500s at EMRA all had been going so smoothly – then round #3 decided to rough us all up a bit…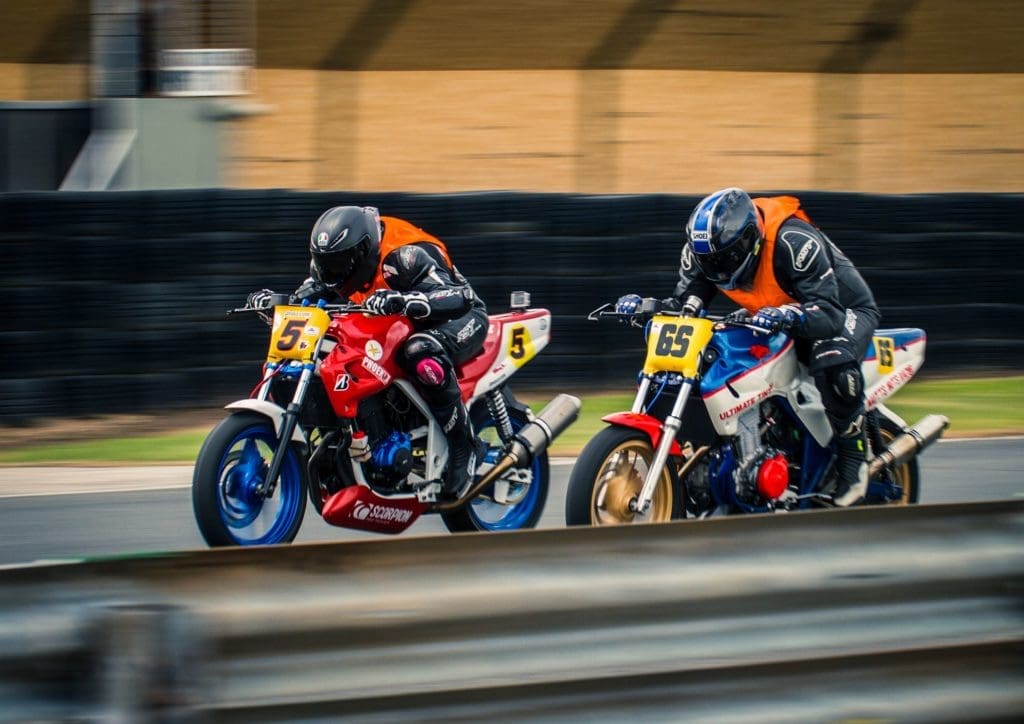 The gang were back with reinforcements ready for another day of racing at Mallory. Lewis Bramwell and Stewart Grice had parked up next to Nick and James of LBR, Jimmy Reynolds was in place as was 14 year old Louis Rendell, family friend and Thundersport Whizz-kid currently second in the Superteen championship.
It's a busy paddock, but having Louis around meant that I could bring my boy too – fresh from our weekend at the IOM TT my Finn was going to see what this old-man could do on two wheels. Bring in the support of Mick and Ange, (or Angel as I would refer to her after her Paddock BBQ), Chris, BGR Benny Grayson plus significant others the party was right here – next to the holding bay, at Mallory Park.
Our expanding race community is certainly not exclusive in the paddock, they are everywhere – families all meeting up on a monthly basis to enjoy the evenings before rolling their sleeves up and all doing their bit for the racing the following day. The social is such a massive part of the EMRA experience.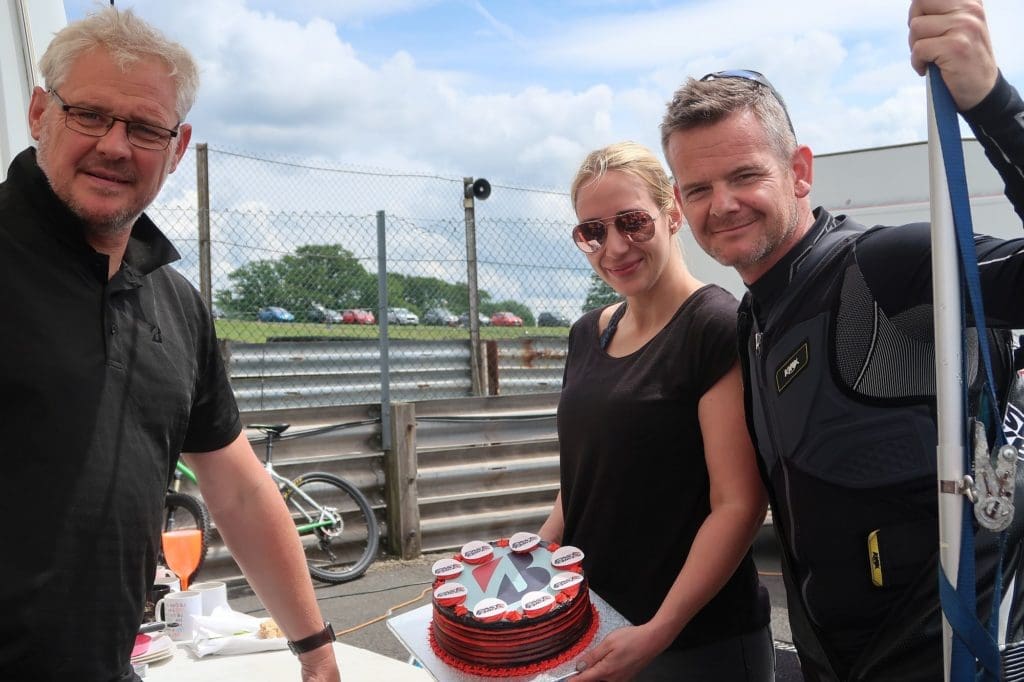 The banter had started, Nick Hyde from LBR produced a glass trophy too rude to picture here – the likelihood of trophies from EMRA are pretty slight for most of us – but to be the 'C*** of the Round' we all had the chance of winning, and it was his team mate James Barley on his CB500 who was the early favorite.
As usual it was practice/qualifying and two races for each discipline, and as Gaz and I are both in the Bridgestone 500s and the Minitwins, the latter has been in such CB500 demand that it pushed all bikes above 500 out into another class – Sorry Jimmy SV650 Reynolds. Thus two practice/qualifiers and 4 races awaited me.
So qualifying for the Bridgestone 500s started, and I made my way round steadily for the first couple of laps, thanks to new and untested suspension set up from JHS Racing and sparklingly new Bridgestone R11s fitted for the round – I had some familiarization and bedding in to do.
Once up to speed I was making good progress on my pace just behind James exiting Gerard's onto the Stebbe Straight, he was wide and knew he was, target fixation took him closer to the grass and by the time he tried to pull away his back wheel hit green and he was off. I was so close to this that mud sprayed off of his back wheel onto my visor, it was pretty spectacular but he walked away returning to us with a broken finger and a playtime is over ruling from the Medi-Centre. I thought we had already found our C*** of the round, but there was more to come.
The first Bridgestone 500 race was 2nd on the cards, Gaz had qualified well, back to his best and pushing his lap-times into the 1:01s and he wasn't alone – in the qualifiers the first 16 places were taken up by riders posting quicker lap times than I had ever done, which meant I could see it was going to be a day scrapping in the mid-pack for me. There is a relatively even field of speed groups: 6 riders qualifying in the 1:03s myself included, with 1:04s and 1:05s again well represented so wherever you are on that grid you are racing someone. Talking of which, LBR Nick had the wrong transponder number recorded for the qualifying, which put him as Trophy contender 2.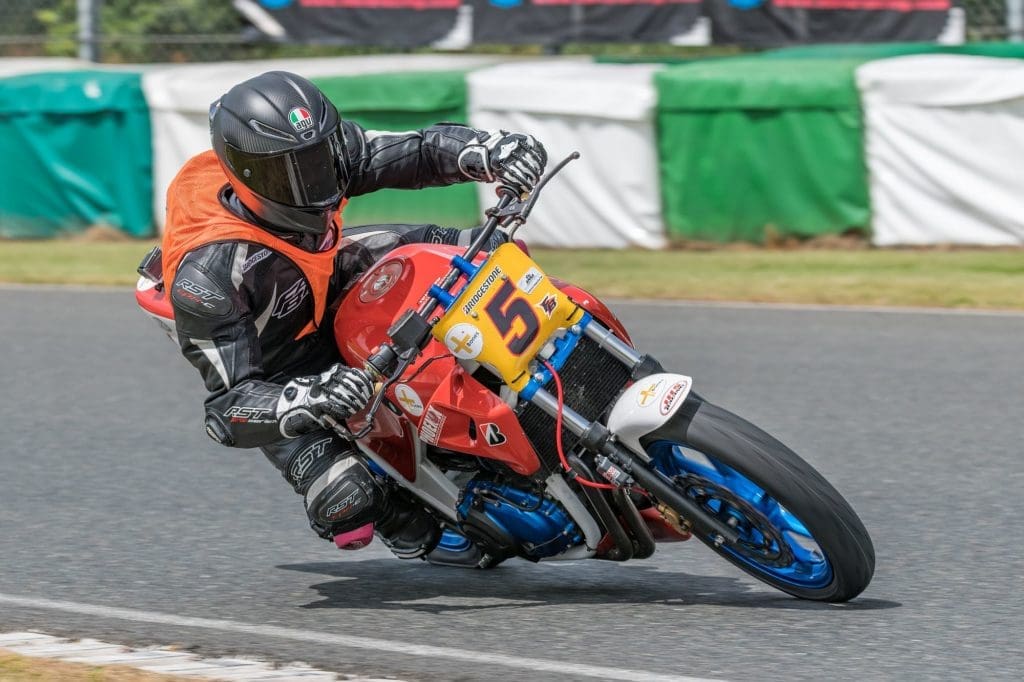 Warm up lap, lights on, lights out and away and my god, a relatively decent start for a change meaning I was in amongst it heading around Gerard's – and what a rush that was. Wheel to wheel, bike to bike as we all jostled for position heading into Stebbe Straight down to Edwina's.
This is where I have made the most improvement, breaking heavily into the chicane and making the turn as tightly as possible to get the drive out – a crucial move on the first two laps according to BGR Benny, as riders can be too polite on the first lap so I decided to be as rude as I could muster.
I made up a couple of places, found a decent rhythm making up for my piss poor negotiation of the hairpin and bus-stop with a close to flat stick Gerards and late breaking at Edwina's. This time however I saw the familiar site of our Gaz in his bright RST leathers and parts of his Captain America CB strewn across the grass run off – a sizeable high-side which I wont detail as I am sure he will mention it in his blog, but it was undoubtedly a big one.
Team Bridgestone/Fast Bikes are very lucky to have Motodirect as a sponsor with us both being top to toe in their product, and I have no doubt that Gary's RST suit helped to cushion a sizeable blow on his landing – his Arai was unscathed despite an off that had flung him high into the air and would rule him out for the remainder of the meeting.
Then on the 7th lap of the same race came a red flag on lap 7. This time it was Nick who had been caught up in an incident, over-cooking it into Edwina's and hitting the deck taking fellow CB'er Barry Wratten #14 with him. Nick was quickly stretchered into the ambulance and we awaited news from the medi-center. Suspected broken wrist, bumps, bruises and thankfully a massive smile on his face when he wandered back to the awning.
So by the lunch break of the four original Bridgestone 500 riders there was only me left, with three races to go my 'purpose' was waning as I was here to chip away at Gaz and keep the LBR boys safely in their box behind me.
But I had to get on with it, Louis Rendell was in my twins race and the novelty of racing one of Finns best mates was not one I was going to pass on, despite the fact he rides his restricted Aprilia 450 like a dream and records times some 4 seconds faster than me, if he lapped me there would be a tenner in it for him – from four of us.
However in the first twins race he had to pull in with a mechanical issue, and so did I.
Heading into Edwina's the brakes felt a bit more spongy than usual, I worked them into the hairpin and ran a little wide but was managing it and then via Gerard's and flat out on the Stebbe straight once more they went completely – I was diving under two riders and had no front brake.
I ran on, cutting in front of Barry Wratten #14, the poor bastard that Nick took out in the first race, thankfully no collision and I did what I should have done when the brakes felt spongy the lap before – got myself off the circuit, parked up, sat over the barrier and had a chat with one of the Marshals.
The brakes were cooked, my pads had pretty much disintegrated and I was metal on metal – it would appear that Gaz's partner Paula had been right, and "Bad luck happens in 3s". James, Nick and Gaz had taken those spots for the team and I had thankfully gotten away with what undoubtedly could have been much worse for me and those around me.
That was race #10, and I was out again in Race #19 – a long time to think (and I don't mind telling you) I was almost calling it a day as the others packed away around me. I had done okay up until that point but it had once again been a rollercoaster of emotions that day and I felt sick to my stomach.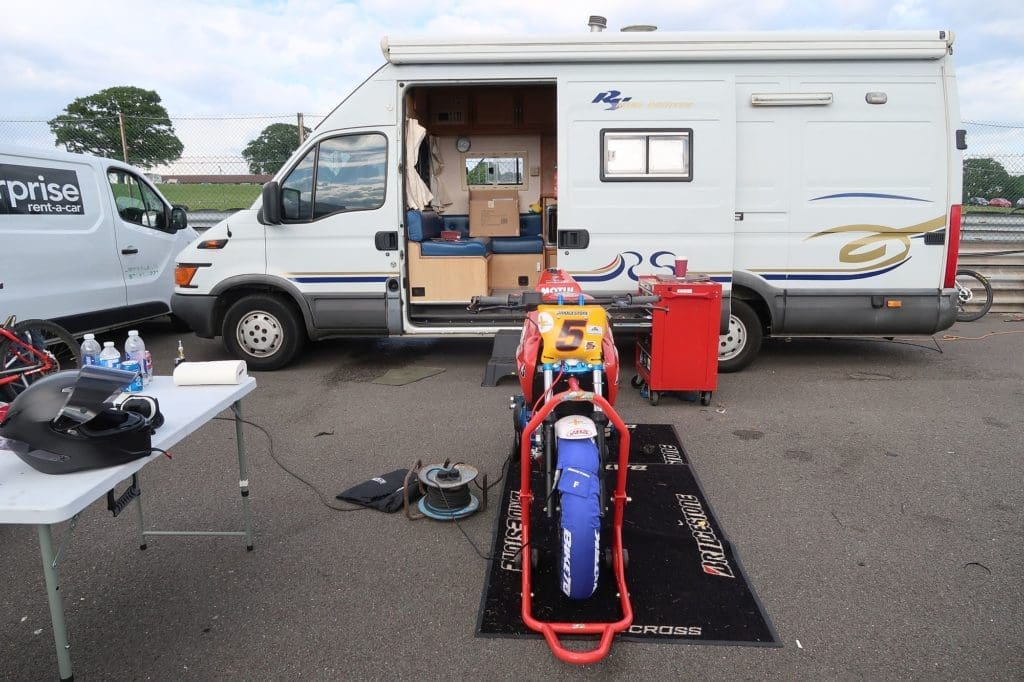 Looking around me though Louis was struggling with his Aprilia and was not going to get out again, Stewart had blown his RS125 – he had bought a CB in the paddock so he could compete that day and couldn't get it working and then there was the three walking wounded – well, what they wouldn't do to be three races in with another to go and a rampant CB to ride. Had I decided not to go out again I would have won Nicks trophy without a doubt, and not for the fun of it either.
Steady away I told myself, I told BGR Benny that too as he like so many others wished me luck as I prepared to pull away from the now dismantled awning – 'No' he said – "you are here to race". He was pretty stern, and I needed to hear that… and race I did.
Lining up with Barry Wratten (the rider of the round for me) taught me a real lesson – what a day he had had and was still plugging away with a massive smile on his face – I had started near the back, and came home mid-pack, elated and feeling like I had accomplished something incredibly important – overcoming a massive battle with my doubts and my demons.
So a negative view of Round #3? Absolutely not. We had bangs bruises and breaks but this is the place to do it – The Marshals were absolutely on it, what a great bunch they were and yes, it may have been said before but we would not be able to do this without them and they are worthy of every possible praise.
With my race day complete, packed and shipping out Finn told me "I looked really cool", which is not bad going for a 44 year old rookie – "Thanks Finn" I replied, "Let's go to Burger King".
Round 4 – July 7th at Mallory Park.
Thanks to:
The Marshals and Medics of Mallory, Ange, Mick, Chris, Benny and all those that turn out to help us boys have all the fun.
And for your pictures Jacks Snaps, David Chapman and Mick Brown.

Enjoy more Fast Bikes reading in the monthly magazine.
Click here
to subscribe.