A fellow Bridgestone 500 racer put the following post up on the EMRA Facebook group last night, a couple of hours after Rd#4 had drawn to a close – "had a coming together with a bike in race 8 at the hairpin, I stayed on but other guy crashed. Just wanted to check he was okay. Anyone know who he was?"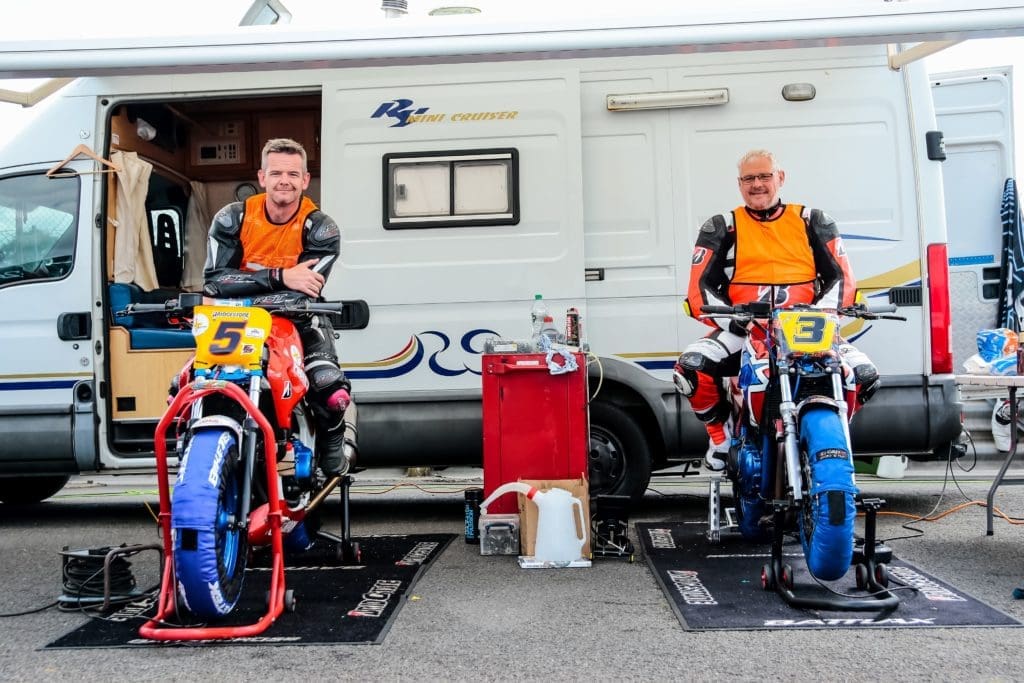 The post was from Mark Ssawyer #142, I remember him wandering the paddock apologetically looking for the guy on a red bike that he had hoofed off – I have a red bike so he naturally came to see if it was me.
It wasn't, it was Ste Sewell who owned up to being the "chubby bloke" as he had been described graciously commenting, "Yeah, I was absolutely fine luckily. Fresh set of bars and I was back out. It's a good place to watch from at least. Glad you stayed on the bike"
Do not get the wrong impression from this exchange, EMRA CB500 racing is not tea with mother with doylied china plates handing out the digestives. It's bloody hard fought wherever you are on the grid or timings, but the chequered flag is a natural switch that turns your grit, determination and dogged fuck off-ness to keep your position and progress past those in front, to a mutual respect for the battles had just seconds before crossing the finish line.
That was very much the story of my Rd#3, but even more so in Rd#4 because this time my adversary was my very own Team Fast Bikes / Bridgestone stable mate, Gary Hartshorne.
Our Gaz has not had the best run of it this season, the first round he was full of cold, second round he hardly got out due to mechanicals and as for the third…. Well a high-side out of Edwina's tossed him high in the air causing extensive bruising that even made him go through the indignity of not being able to hoist himself off of his own toilet for days.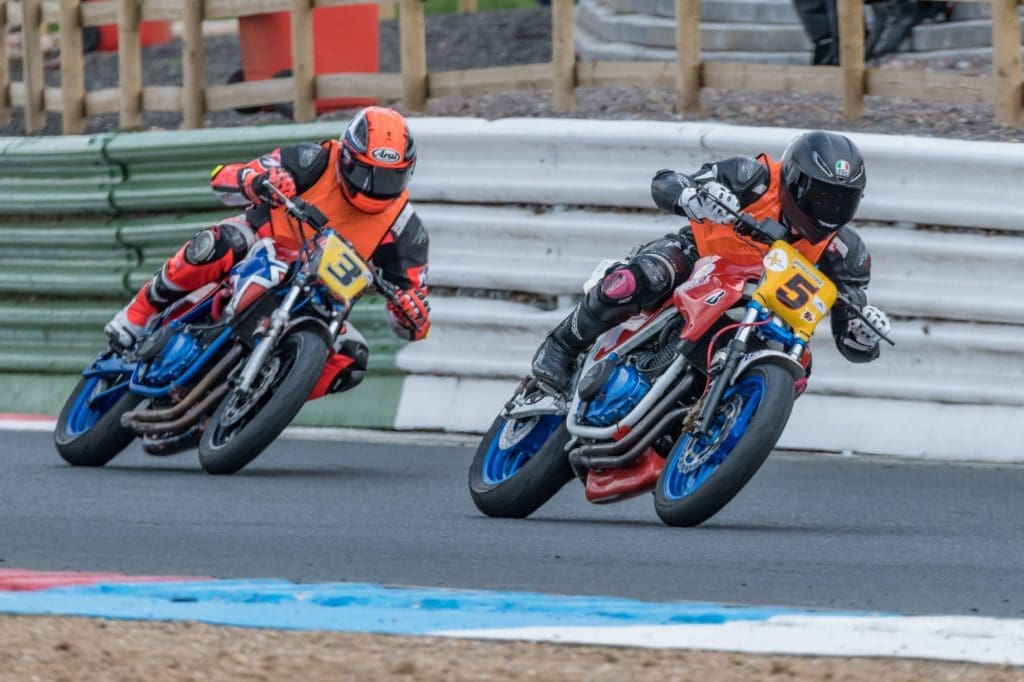 Round #4 started much the same for him, black flagged in second qualifying as his exhaust was hanging off which can only have been a delayed result from his smash, his leathers came off and once again I thought I would be racing alone.
Our camp was already depleted as the boys from LBR, Nick and James whom we have adopted as evidence of the solid friendships made that are inevitable in this paddock, were also absent due to third round knocks.
Fortunately though Mick, Chris and Lezzo were there to put Gary's bike right. Lezzo had popped in en-route to the WSB's and got his hands dirty straight away. Firstly to fix my rear brake lever that I had grounded out and bent up in qualifying, then on to make sure Gaz would get out for Race #1.
Honestly, these buggers should wear capes.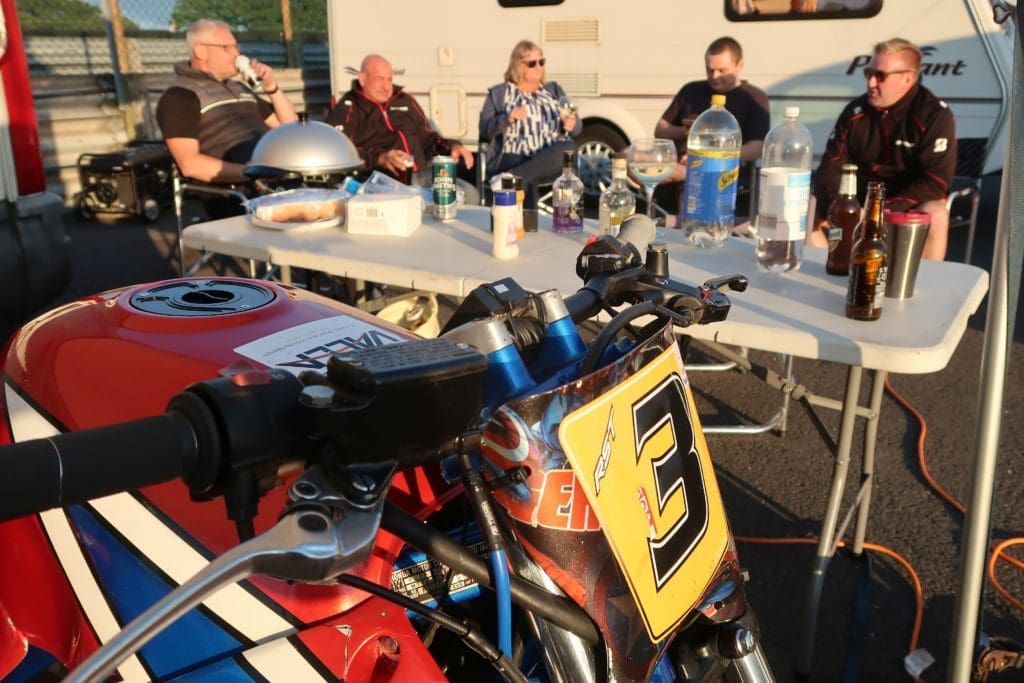 Despite past injuries and his first return which must have screwed with his head a bit Gaz had qualified well. On the grid a full second in qualifying ahead of me put him the row in front which in previous rounds would have been the last time I would see him, but something was telling me that this time would be different and I was right.
Without boring anyone with blow by blow and pass by pass accounts, what occurred over the following ten laps between Gary and I had LBR's Nick 'bouncing up and down' watching the race as he was on TSL timing from home.
In true Chuckle Brothers style we battled to get in front, to you – to me – to you – to me. I had made the first move at Shaw's Hairpin, ducking under Gary and overtaking him for the first time ever which considering the amount of track time we have shared over the last ten years must have come as a bit of a shock – many a C-word uttered then I would wager. The race was on.
On lap six he out-braked me into Edwina's, but moments later I did the same again at the Hairpin – lap eight he had me at Edwina's once more which, and I have to admire him for this, is where he has crashed (so spectacularly) the round before.
I would say Gary was running a second down on his usual pace, I was running a second faster than mine and it was evident that come the last lap flag that I had finally found some balls. Down the Strebe Straight I knew there was just one chance to get a final move on Gary, lined to the left heading into Edwina's, so I watched and waited for Gary to get on the brakes; when he did I kept it pinned, showed him my front wheel and threw the bike over as quickly as I could to make the turn in front of my teammate.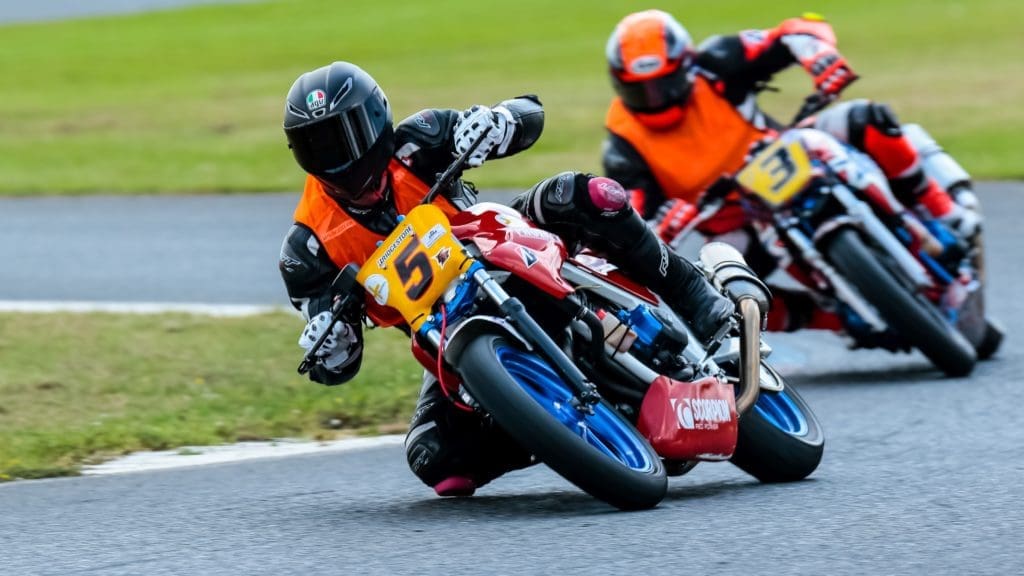 It stuck, I held him at bay round the hairpin and crossed the line with my head bobbing as if I had won the entire championship.
We fist pumped around Gerard's – I had given all I had got completing the 10 laps in 10:42.770, some 9 seconds quicker than I have ever done before. In turn Gary, a mere 0.188 behind me on this occasion has completed the 10 lapper a good 3 seconds quicker than on this occasion but damn it, what a rush…. That was what I joined this race series for.
If anyone was happier than me, it was Gary for me – we had pushed each other hard, he made me quicker (Getting a fastest lap in the 1:02s for the first time) and I had forced his hand to get that confidence back and somewhere near his best.
After lunch we were out again in Race #8, and having battled with #109 Adam Stamps (a rookie who has got quick – quickly) I had lost touch with Gary relatively early on, where he came in 13th to my 15th. Once again we were both in the points, Gary still a second a lap off his pace and I had once again gotten into the 1:02s.
With two more races left the heat of the day was taking its toll. I find entering two classes on one day as pretty hard going but you don't get all dressed up for nothing. Lining up for our race three Gary already knew that this would be his last for the weekend – he was aching before we started let alone now after the morning's antics.
A smaller field this time had bumped Gary and I up the grid, which meant this was our chance to get some serious points as many of the 'top-guns' had already had a run out in a previous race. It was a similar story to Race One, I had dived under three maybe four riders on the second lap again at Edwina's, and Gary had been one of them. Heading up to the hairpin I had left Gaz tussling with other riders to get back to me which he did in the 4th and 5th laps, only to be detained by another rider until the 7th when he was all over my arse once more.
Gary crossed the line 0.294 seconds behind me. We had come in 11th and 12th, running at an average pace just off of 78mph, yet we still hadn't broken the top 10…. It's competitive out there for sure.
A further race for me at the end of the day was hard, as I'd had had a great day and didn't want anything to spoil it – in the end I was beaten into 14th place by riders with more energy and urgency than I had left in my arsenal.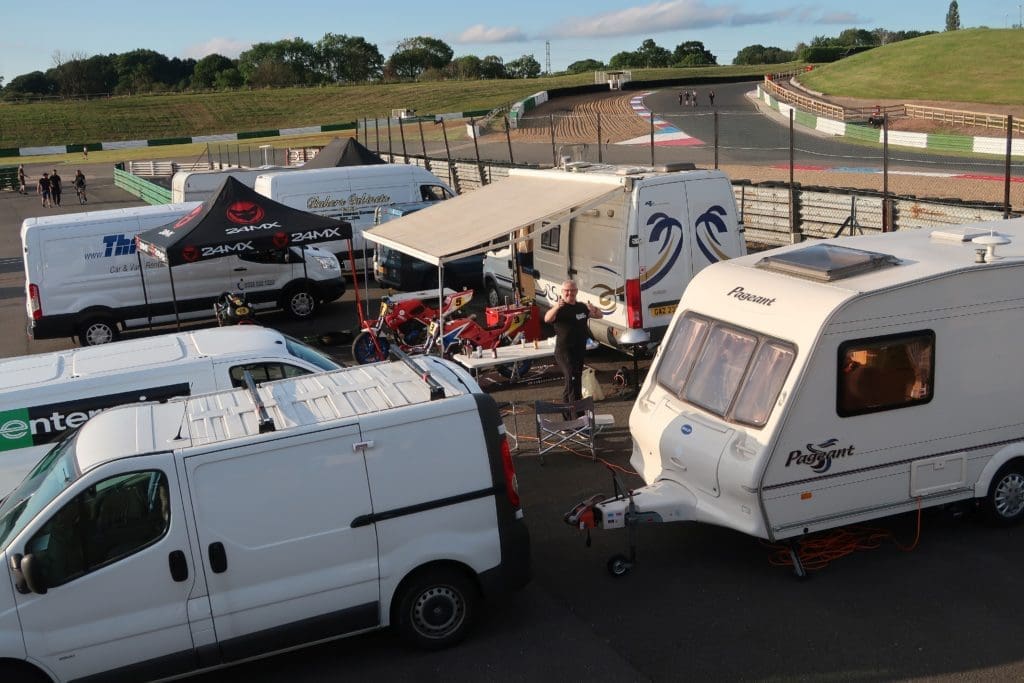 At the end of the day my CB was loaded into Chris' Van, I had trouble with my rear sets decking out and the front wheel was binding with the Brembo calipers which is a common and not terminal trait, however spin Gaz's front wheel and it keeps on going with his Nissin calipers – mine were stopping after a turn and a half.
This had not bothered me up until now, but given my improvement over Round Four decided on the additional investment of new calipers and rearsets – we are talking 100ths of a second now and any legal gains I can make I will for the remaining two meets and 12 races.
Round #4 was a blast, I have bungee jumped, skydived and scuba dived 80 metres below the surface of the water but nothing compared to the feeling of tussling on track with my mate Gaz.
If undecided on whether racing is for you do come along to Mallory for the fifth round on the 11th August and come see us, see the way the event is run, witness the camaraderie, the racing, the passion and ultimately feel the friendly 'all in this together' atmosphere.
It's genuinely breathtaking.
I sincerely hope to see you there.
Thanks too
Everyone involved. EMRA staff, Medics and Marshals.
…..and you brilliant photographers Johnny G, David Chapman and Jacks Snaps.

Enjoy more Fast Bikes reading in the monthly magazine.
Click here
to subscribe.