If you're into your dirty weekends and fancy a new bit on the side, Yamaha's box-fresh Ténéré 700 could be just the match for you.
My lips are bleeding, my eyes are packed with dirt and my back feels more battered than a chip shop haddock. I've not been in a street fight… this is the result of two full days sampling Yamaha's new Ténéré 700, on road, on dirt, and nearly off a few cliff edges.
Bear with me; I know this bike's not the norm for us, but every now and again it pays to broaden your horizons and embrace your dirty side. Yamaha's middleweight trailblazer is all-new for 2019 and features a mildly modified MT-07 crossplane CP2 motor, kicking out 72bhp and weighing in at just 204kg kerb weight.
It's got about as much tech as a digeridoo; the throttle's cable operated, there's no traction control in sight and, as for skids, a button on the portrait-set, mini-iPad-sized dash means you can disengage the rear ABS and slide your rubber into an early grave.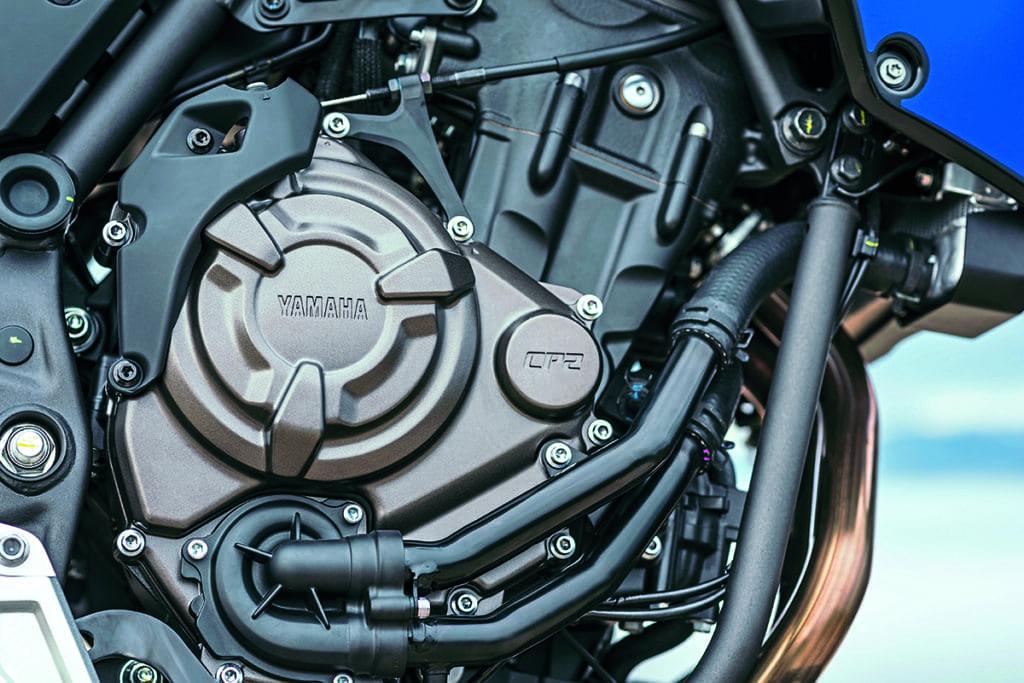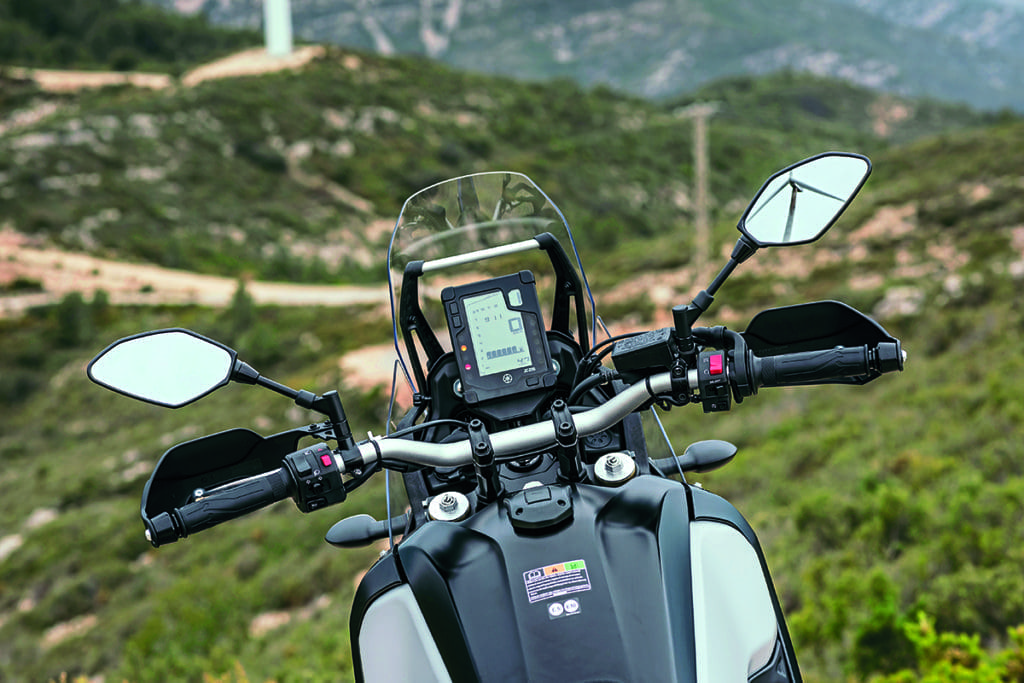 This bike's been on our radar for a good few years, and Yamaha didn't hold back in admitting it took them far longer than expected to get the dual-purpose, steel-framed adventure machine fettled as they wanted it (as we came to learn intimately during a two-hour, beer-free, torturous presentation).
That bit hurt more than the blisters on my feet that began to incubate just a few minutes into our 477 kilometre test ride, spanning the length and breadth of the Els Ports mountain range, a few hours south of Barcelona. 
If you're thinking this was some Charlie and Ewan-style soiree, complete with champagne and strawberries, think again (we had cake and beer).
---
Highlights
72bhp
68Nm of torque
204kg Kerb weight
Nails off-road
Weekend weapon
Proper laugh
£8,399
BRAKING: 7 – Squeeze hard
STABILITY: 8 – Solid performer
AGILITY: 8 – Loves a flick
DRIVE: 7 – Strong to start
FUN: 8 – Well-rounded hooligan
---
In true MT motor style, the 700 proved the ultimate dangerous-riding-competition counterpart right from the very off, offering wheelies aplenty from its torquey motor, despite the lengthened (1,590mm) wheelbase and long travel forks that sucked up road imperfections faster than a tramp on chips.
As road bikes go, despite the stock fitment 21" front wheel, the Ténéré was proving up for the craic, pitching into corners with ease and holding a disciplined line. I was impressed, and I was having a right blast for the initial hour's ride on flowing roads. It felt like a big, comfy bike, being tall-seated, low-pegged and sporting relaxed, broad handlebars.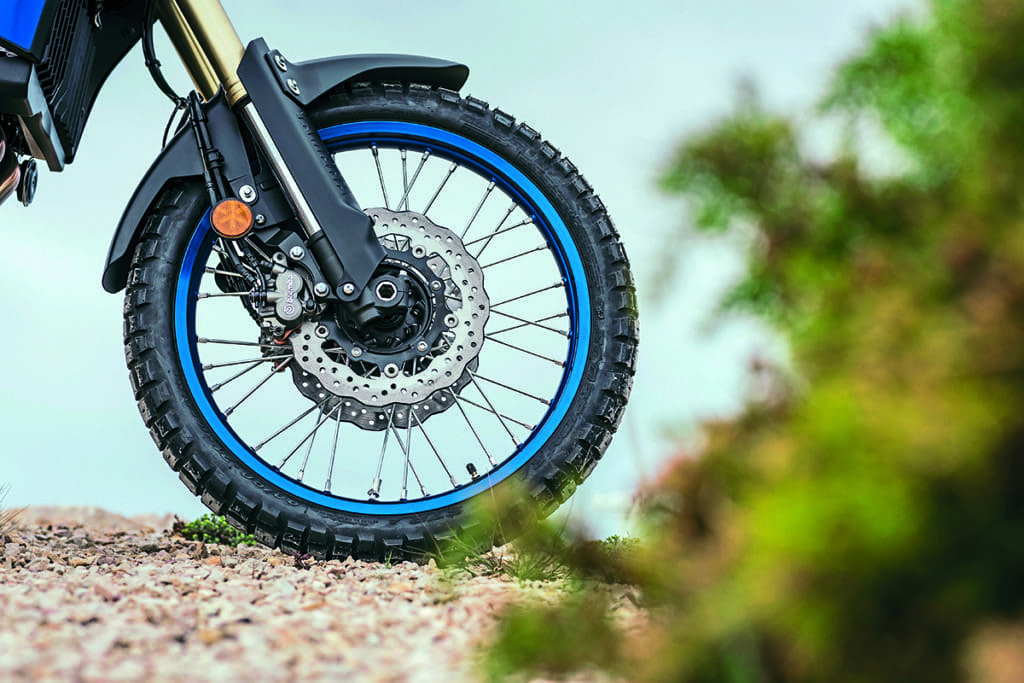 The fuelling felt brilliant, delivering the kind of silky, tactile connection to the rear wheel that many a manufacturer would kill for, backed up by a useable, linear wallop of energy. From as low as 2,000rpm in sixth, the motor would pull through with only a few coughs and stutters, as the crank got up to pace and the abstract dash saw the rpm measure switch from reading vertically to horizontally.
The initial pickup was impressive but, while the Yammy definitely wasn't slow, it was hardly ripping my arms out of their sockets because as the revs climbed the performance became that bit more asthmatic. While I'm grumbling, there was no shifter to help you hold a wheelie as you snicked up through the not-so-cashmere-smooth 'box, and a lack of blipper meant down shifts were often greeted with a whole lot of back-torque, sometimes causing the rear wheel to lock if you dared to bang down too many gears, too fast.
That said, I never missed one selection the whole trip, even with my clunky motocross boots doing their best to stymie any feel of the selector.
In terms of speed, one guy claimed to have clocked over 120mph from their bike, and with the wind in your favour, and a slight downhill descent, I could very well believe it. But here's the thing. This is no sportsbike, no super naked or anything in between, yet we were still having a proper hoot on the roads, throwing it around like it was some track-crafted lightweight TT machine, trailing the reasonable Brembo front calipers deep into corners, before cracking hard on the throttle in a desperate bid to unsettle the surprisingly grippy stock fitment Pirelli Scorpion Rally block-type rubber.
They were bloody impressive, and probably even more so when we hit the first of our trails.
I'm no off-road guru (as Boothy would be too keen to tell you… and everyone else). If I can do a few skids and end a day's ride with straight 'bars and only a few bruisers, I'd say that was a good day in the office. That point considered, it's probably unsurprising that I felt well out of my depth as our group was let loose on a trail of shale, with piles of the stuff parked on corners to guarantee you lost the front and looked a nob in front of your mates. I did not want to be the first guy to launch a Ténéré, so I got all boring and built my pace and confidence accordingly. Why was I being such a wimp? The power didn't bother me.
Even without traction control, the predictability of the power delivery, and the abundance of mechanical rear grip, meant that there was never any cause for alarm when gassing it. But being such a gangly, supple and heavy bike, it felt like the front was never too far from throwing in the towel.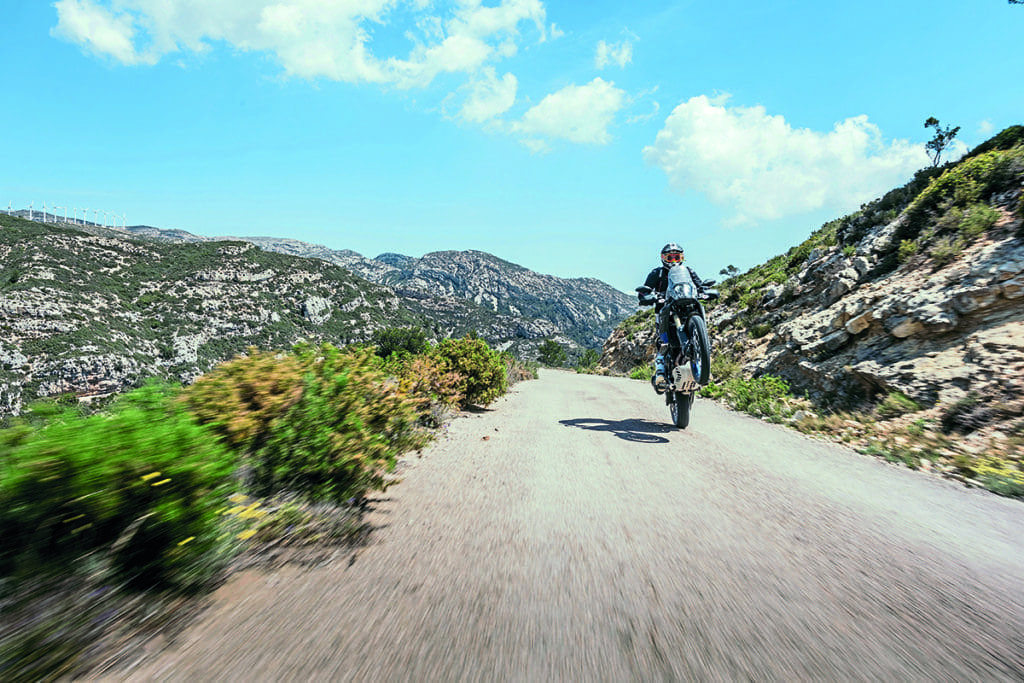 In its sector, the Yamaha's about the lightest offering on the market, but there's nothing featherweight about a 204kg machine off-road, with a tall-mounted 16-litre fuel tank to really make you feel the weight up top.
I was forever dabbing at the ground, somehow managing to stop what repetitively felt like the world's biggest front end slides (that probably averaged 5mm if you were to measure one), desperate to regain composure and tag back on with the bigger boys of my group who were vanishing into the dust in the distance.
There was only one thing for it… to grow some balls and pin it. Remarkably, that seemed to be the correct attitude. The faster I went, the better the bike felt, especially through bends where a little bit of throttle would push the front tyre through the loose stuff without drama.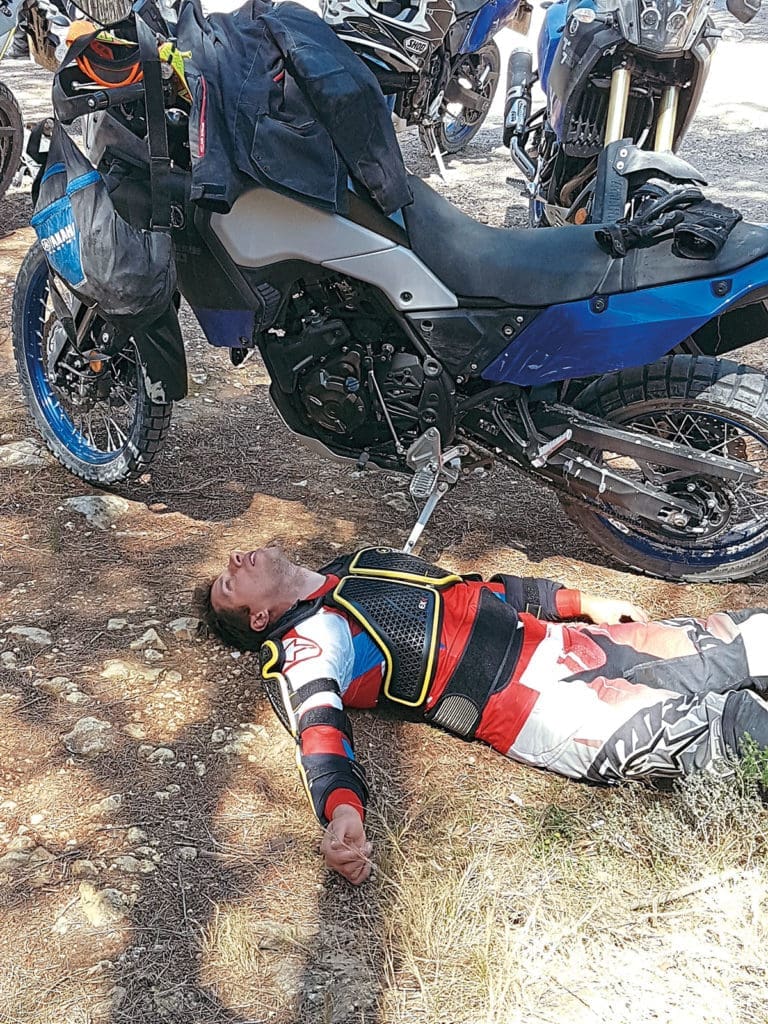 By midday, having spent a good few hours off-road, broken up by the odd bit of road work, the Ténéré was feeling much more natural. Every lump in a trail was a chance for a jump, every corner exit, a chance for a slide or wheelie. Wisdom wasn't playing much of a roll in my performance, but the fun I was having and the confidence I was building helped me realise that overthinking things was the wrong solution.
Stood high on the pegs, inhaling lung-fuls of dust, riding just a few feet from cliff edges and sudden death, I realised I was living the dream; this bike was awesome! The thing that really hammered that message home was the final stint of our first day's ride, being back on a smooth road surface, and absolutely adamant to off-set my off-road incompetence by beasting the 700 on the kind of track I was most familiar with.
With lots of suspension travel on tap there was a bit of slop to suck up before the Yamaha firmed itself up, but once you accepted this and learned to trust in the general brilliance of the bike, the stuff you could do on it was amazing. It's performance blew our whole group away, feeling more like a supermoto than a bike that'd just been climbing mountain trails and ploughing through deep sand and rock fields with true adventure bike competence. The more I rode it, the more I loved it.
After a few beers and a good sleep, we were soon at it again, hammering around stunning Spanish mountain roads, barking harsh exhaust notes from the stock exhaust can, before switching to the trails and being treated to a second dose of the brilliance we'd encountered the day before. From the fastest of roads to the roughest of trails, the Ténéré seemed to take it on the chin and plant a beaming smile across my chops.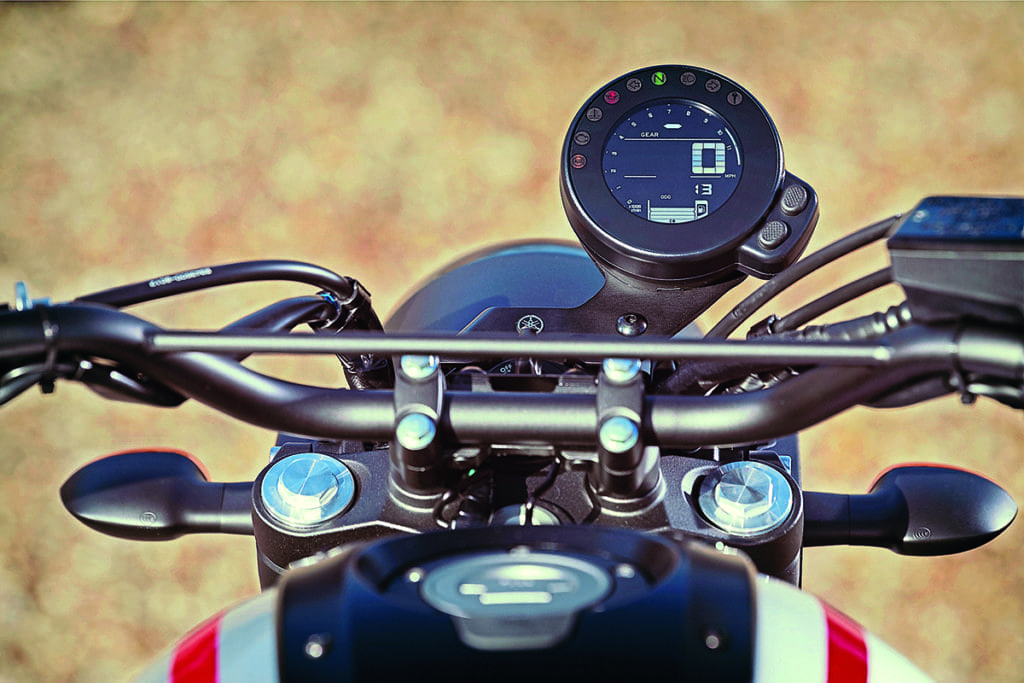 It was genuinely gutting when our two-day excursion came to an end, having had such a laugh on this bike, from both riding it and watching others fall off it.
I wouldn't have believed one bike could blur the lines of disciplines so well, so comfortably and for such an affordable price tag. Let's be honest, £8,399 is not the kind of money you'd find down the back of the sofa, but if you're into this scene, or have access to enough credit cards to buy yourself a new toy to sit alongside your sportsbike, you'd be wise to invest in one of these.
It's not particularly fancy, it's not particularly fast, but if hitting trails and pulling big skids is your thing, this should be right up your street. It was mine.
VERDICT: 8/10
+ Good price, comfy, versatile
– A bit basic
Yamaha XSR700 XTribute: This is just a tribute…
Any beard oil lovers out there? Loafer fans? Chequered shirt wearers? I'll get to the point.
For those wanting to look the part outside their local cellar bar, wearing vintage jackets and swigging soya lattes through a 100% recyclable (organic) straw, the good news is Yamaha's taken its already 'hipster' XSR700 and has made it even more 'hipster'. Well, more of an urban scrambler, if I'm to be precise.
2019 sees the arrival of the Yamaha XSR700 XTribute (to give its full name), which is basically a nod to the XT500 of old, meaning this latest XSR gets goodies like swept 'bars, off-road-style pegs and a colour scheme that harks back to 1981… and a time when people who owned scramblers actually took them off-road (lunatics!).
Of course, I'm being pretty pedantic, because the truth is this is not a bad bike at all. Having lapped up every mountain trail and forest road around Barcelona, our attention then turned to terrorising town folk and shredding sand down a local nature reserve. This was my first time on an XSR, which shares a good chunk of its DNA with the MT-07.
The key differences being that it's a bit more wallowy, a bit more chrome and, for some unknown reason, allows you to do stoppies through its delectably sharp front anchors. Our bikes had been pimped out with Akrapovic link-pipes and cans, and they didn't half sound good. As per the MT, there was also a good chunk of torque on tap, which meant the front tyre was seldom on the ground. As for cornering, that bit wasn't too inspiring.
The general feel of the bike was thwarted by the stock fitment Pirelli MT60RS block tyres, which made it feel like the front was fighting the rear as you threw a bit of pace and lean into the equation. The general agility of the bike hadn't been compromised, but if I was to buy one of these, the first thing I'd junk would be the tyres.
I could live with the rest of it, including the soft and comfy saddle and clean, simple dash. There was nothing extraordinary about the bike, which mostly did what was asked of it and provided a good few laughs along the way.
There was no tech to toy with and unlike on the Ténéré, the rear anchor had ABS permanently engaged. We spent four hours behind its 'bars and I learned why a bike like this would make sense in town, if you wanted to turn heads and pump out plenty of noise. But for fast road riding and the wearing of anything other than double denim, you'd be wise to stick to the MT-07 if you were deciding between the two. It just wasn't my cup of green tea.

Enjoy more Fast Bikes reading in the monthly magazine.
Click here
to subscribe.