If Carlsberg did sportsbike line-ups, they'd be crap compared to this.
More to the point, they might not have been able to have exploited the virtues of this meteoric line-up, so we got stuck in instead, having kitted the bikes out on top-drawer rubber from our friends at Bridgestone (using their new S22s), and having secured every bike head to toe with R&G's awesome protection products. Here's what we made of them…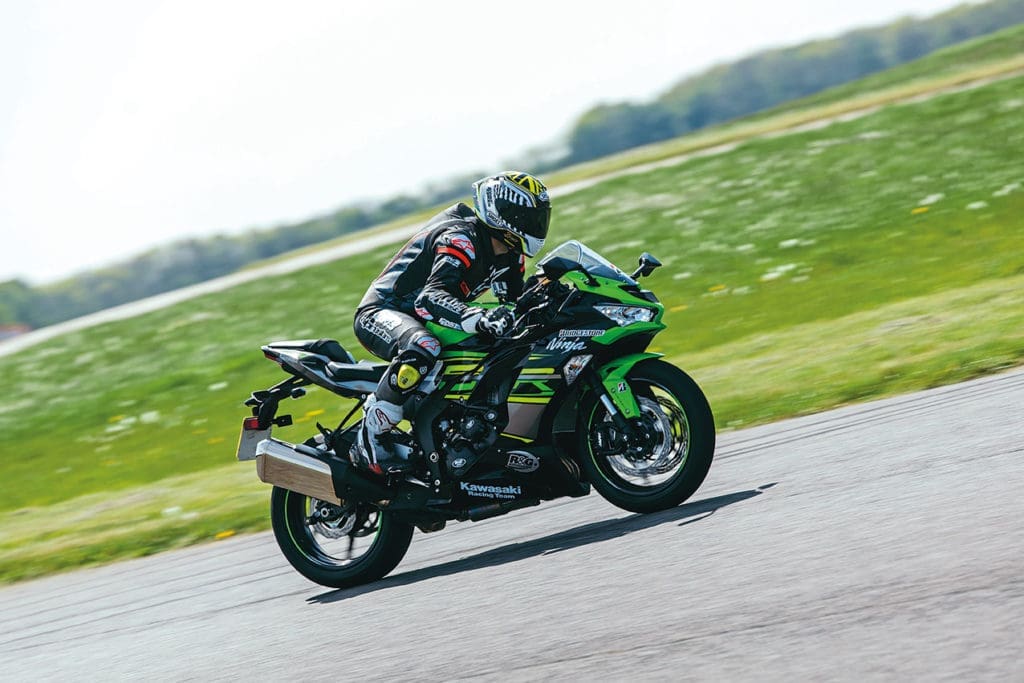 8th Place: Kawasaki ZX-6R
I was more excited than you might think at the prospect of throwing my leg over the only 600 (well, 600ish) in our Ultimate Sportsbike test, and I'll tell you why.
I have already done a bunch of miles on one of these babies this year and I loved every minute of it. The 2019 Kawasaki ZX-6R was looking super snazzy in its KRT race rep colour scheme and despite it looking a little slimmer than the rest of the beasts in the line-up, it didn't feel small or cramped aboard.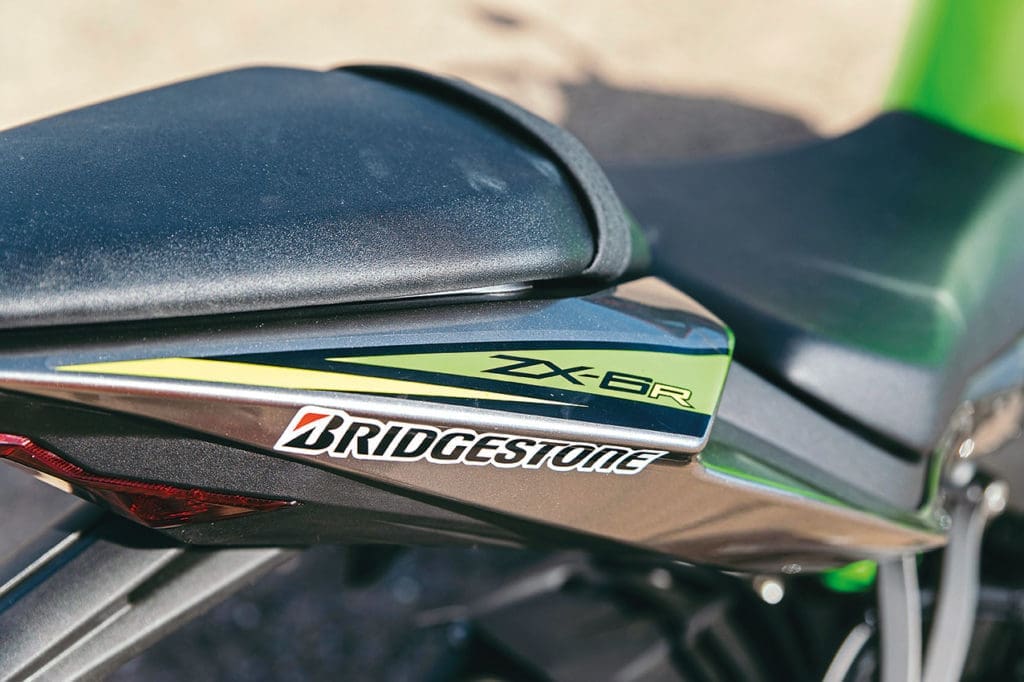 Snazzy though the colour scheme may be, you aren't treated to an exciting, space age dashboard and cockpit, as you might be on the other 'new for 2019' models. Instead, the baby Kwak comes with an actual needle to tell you where the revs are, a plethora of LED warning lights down the side and a Casio watch-esque digital read-out for your speed, gear position and all that jazz. It works just fine, but it's not the flashiest looking thing in the world.
From the moment you set off on the Six, everything feels really light and manageable – the 'bars feel nice and loose to turn, the steering is light and the bike is happy to flop from one side to the other. Nothing is an effort, and straightaway the little Ninja feels like a beautifully behaved bike.
When you have just jumped off a 200bhp fire breather, it's easy to think that a 115bhp machine isn't going to cut your custard and that you'll need to rev the absolute knackers off it to make it get out of its own way. Not so.
The 636cc engine isn't one that you have to constantly work to get the best from on the road, like you might expect; through town and indeed anywhere where we weren't wanting or needing to stretch the cables, the motor proved to be a proper little diamond and it's got some proper go, low down in the rev range. The bike's mid-range made the thing so usable round town and top gear was capable of speeds as low as 20mph before the thing started chugging and jerking. It was deliciously easy to ride.
Peachy as the motor might be, obviously it's never going to out-drag a thou', but on the road there was always enough poke, and when the boys on the big bikes started getting a bit excited, a few extra revs was all it took to cling on to their shirt-tails.
At a reasonably quick road pace, the ZX-6R did take a bit more work to keep up with the 1000cc bikes, but at no point were the Six and I in any danger of losing them. You can't use all a thou' has got to offer on the road (unless you like washing with pube-covered prison soap); in fact I'd say the same would go for anything over about 100bhp, ZX-6R inclusive, but at least on a smaller bike, like the little Kwak, you can get closer to really wringing the thing's neck, closer to feeling like you are in charge of it and closer to the bike's true potential.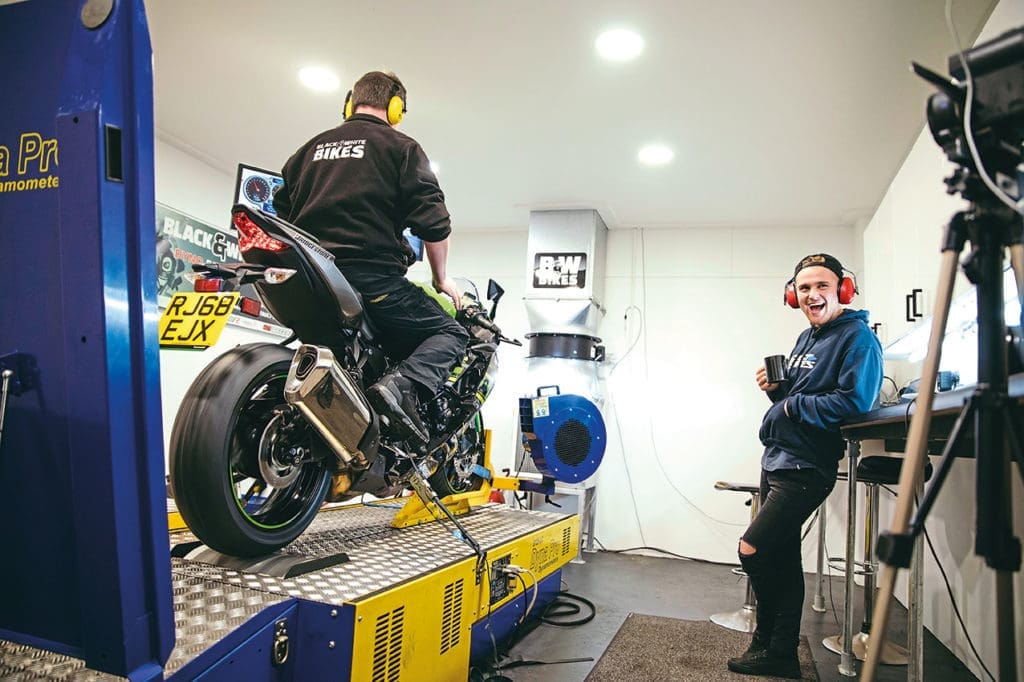 And when you do, the rewards just keep coming. When your head's behind the bubble and you're hurtling towards the 16,500rpm rev limit, you're treated to an aural extravaganza that would put the Royal Symphony Orchestra to shame.
She doesn't only sing, but she can dance, too. On our road test, we took the ZX-6R on some tight twisty roads and some fast flowing roads and after almost every turn I had that 'wow, I could have done that loads faster' thought, such was the Kawasaki's composure (or was it my incompetence?).
It's nice to have traction control, and there are some power levels to play with, but in all honestly I'm not sure if they're needed on the Six. The shifter works well, but it would have been nice to have a blipper. I mean it's 2019 after all.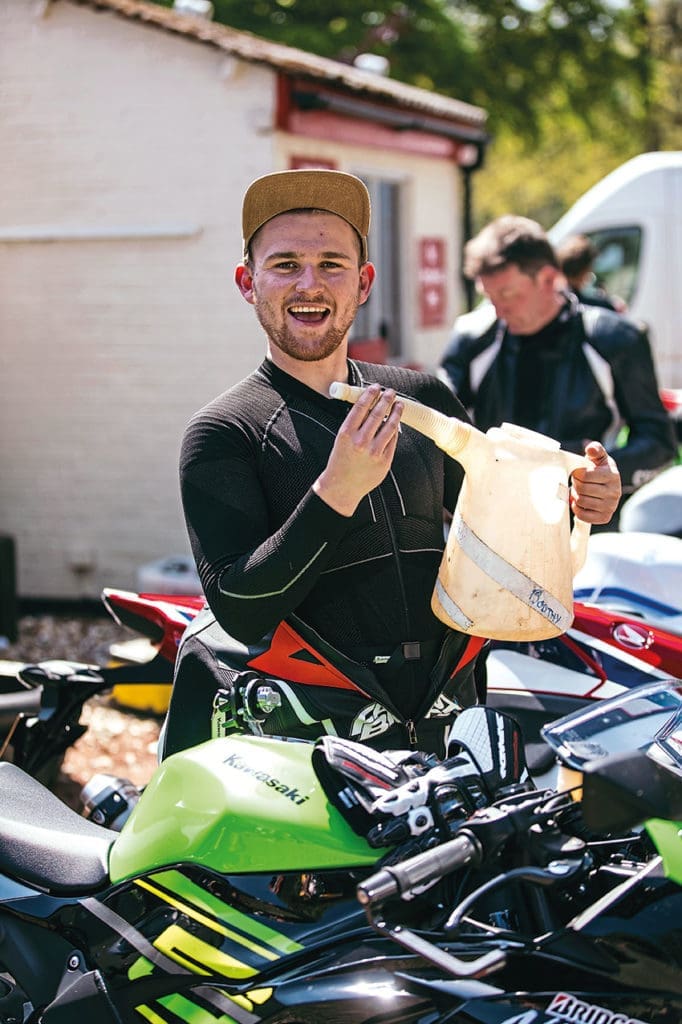 If there was one thing I wasn't keen on, on the little Ninja, it would be the side stand – it works, but woe betide anyone who parks their ZX-6R facing down even the slightest of hills.
But pants side-stand or not I loved the 2019 Kawasaki ZX-6R. If I had £9,699 to spend on a new motorbike, there would definitely be one of these puppies at the top of my list.
Come back this time tomorrow to find out which bike came seventh in our countdown to find the Ultimate Sports Bike.

Enjoy more Fast Bikes reading in the monthly magazine.
Click here
to subscribe.