Rd#4 of Bridgestone CB500 racing had been a 'Battle Royale' for Charlie and team-mate Gary, who shared the spoils. But Rd#5 was to bring a new adversary to the EMRA race series – not only Fast Bikes magazine's Carl Stevens on a guest ticket – but the bloody weather.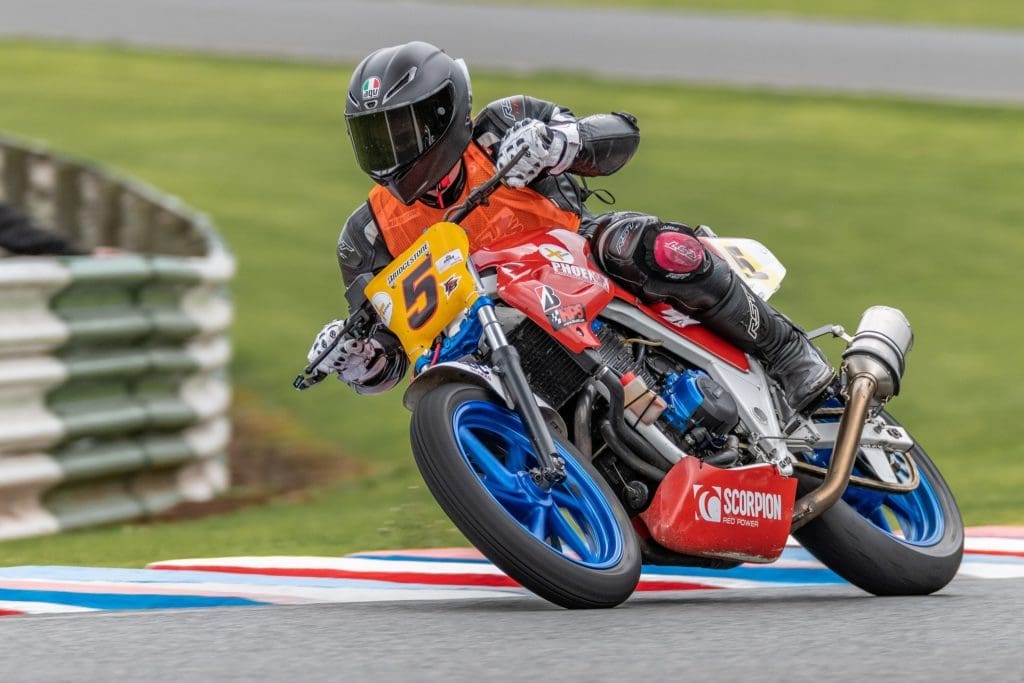 I trundled up the M5 to Mallory Park on August 10 knowing that this would be a very different round to those before – my bike had been with Chris getting upgraded, the majority of our support were holidaying and I had a new teammate for the round, Carl Stevens, fresh from a No Limits three hour endurance at Cadwell Park.
As ever Gary Hartshorne was there to welcome me into the paddock, his motorhome all set up in the usual place with my pristine CB lined up alongside a new ride for our Carl.
Gary had decided the week before that he would not be racing, having been collected on a track-day at Croft aggravating his Rd#3 bruises. The injury slowed him up enough to allow me to have a proper crack at him in the following round – but it was time for him to take a break before the double header in September.
To his credit, there was never any doubt that Gary would be there to help out joining Chris Smith, a No Limits instructor who has been with us all season to make sure that we had mechanical expertise on hand – only this time he bought his own bike for our Carl to abuse.
'Pretty Boy Stevens' took Gary's place and the #3 front plate, bringing a new dynamic to the team. A young, hungry and experienced racer better conditioned to BSB on Gixxer Thou's than EMRA on 500s. But, he had never raced a CB, never been round Mallory Park, having never even seen the bike he would be riding PLUS the rain clouds looming…. This was going to be interesting.
It wasn't long, with the threat of being crucified under the weight of office banter, before Carl firmly put me in my place.
Carl said he would follow me around in Q1 to learn the track, and after very few laps I overtook two into Edwina's to my right, only to see Carl duck under me on the inside and it was time for me to follow him.
Which lasted three corners.
Despite my efforts he was gone, as were my hopes of walking round our office with an L-shaped out of my thumb and forefinger raised to my forehead everytime I saw him for the next three years….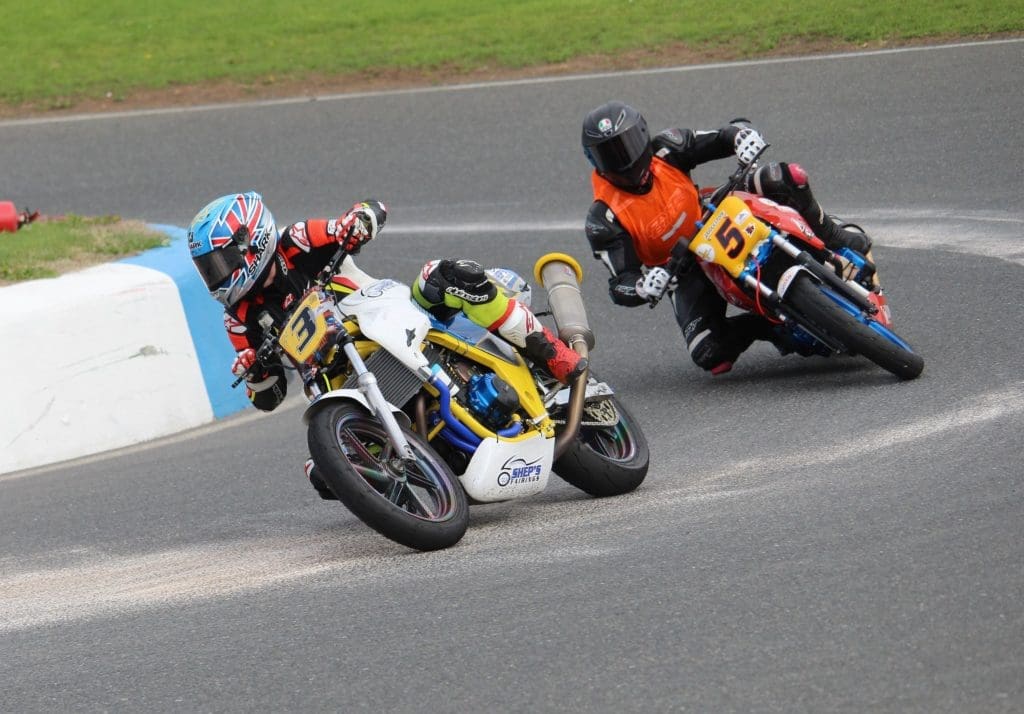 I still qualified as normal with times of 1:04 down to 1:03 in Q2 and progressed towards the race pace that had seen me get my fastest lap-time for the season in the previous round – my best result by far.
I was pretty confident and happy with the work that Chris had put into the CB. New rear-sets, bedded in the new R11s from Bridgestone, and I got used to my new Nissin Calipers, complete with Brembo pads from HPS that replaced my previous set up that had been binding the round before.
But as the racing started, so did the problematic weather. We all love the dry and I had every confidence in the Bridgestone W01 wet set up, but Mallory was neither with intermittent downpours mid race, even mid-circuit which seemed to dry out as quickly as it became sodden.
The yellow flag-fest began, many a brake lever snapped and engine cases scuffed that weekend, but few bikes that slid from under the riders that morning did not reappear. That is the beauty of these robust CBs – proper workhorses.
Gary slipped a wet front in for me before Race One, we kept the dry rear to hedge our bets and I knew if we had rain I could still brake heavily into the chicane and hairpin, and nurse the bugger round in damp conditions – it was a gamble and it paid off.
On the warm-up lap the rain came down, a few dry set ups didn't even line-up on the grid, which included Carl. Had it been his own bike I have no doubt he would have pulled the pin and raced, but it wasn't his bike or a risk worth taking.
The ever-changing surface conditions had the red and yellow flags flying at almost every marshal station as we headed off.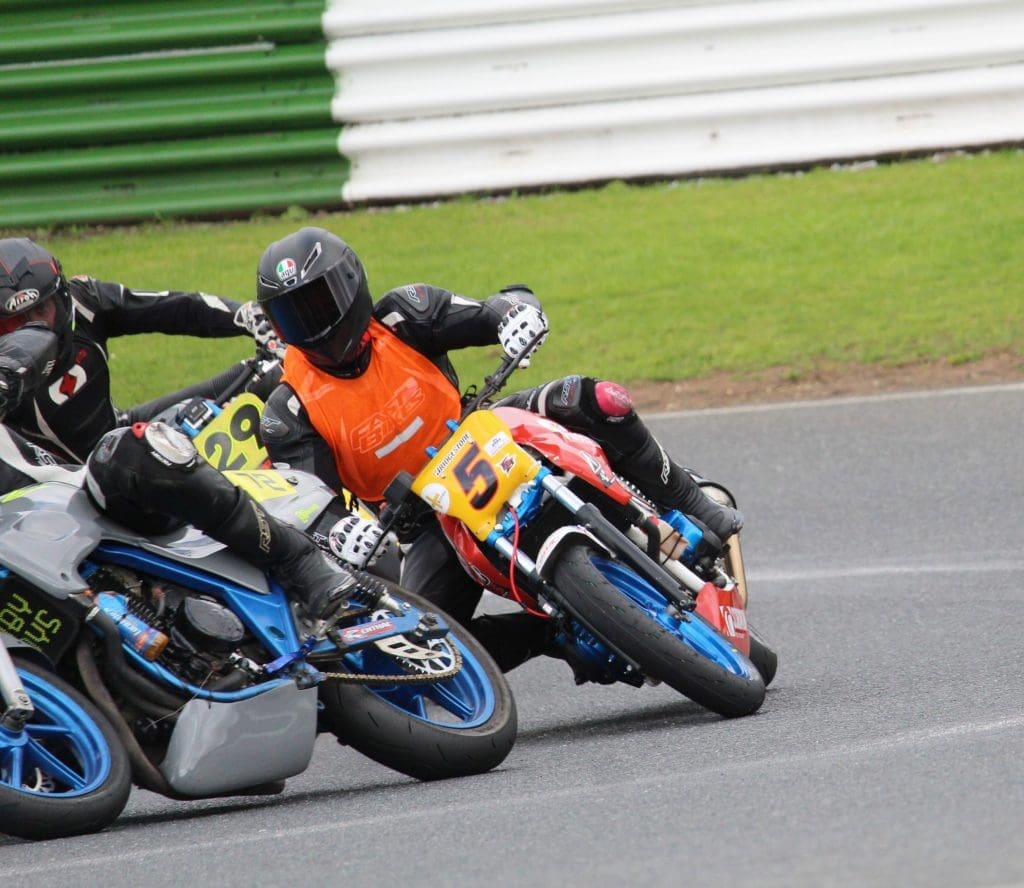 As the race progressed these were joined by yellows as dry tires let go, leaving faster more experienced riders than me hitting the deck.
Having picked my way through a few incidents, keeping well away from the curbs and white lines, I was putting all of my faith in my Bridgestone set up, amazingly running in 4th position with pressure coming from Howard James #248 who edged past me heading into Edwina's mid-race.
This was unchartered territory for me and I gave chase to get my position back. But it was too sketchy, and he was quicker than I was willing to be in these conditions.
Howard James was chasing his first trophy in 19 years, so I would settle for 5th. Given one of my main aims for the season was to secure a top 10 spot, this was an unforeseeable and unbelievably great result.
I crossed the finish line in 5th after 10 laps of the most intense concentration I have ever experienced on a bike.
But then, after Wayne Sutton received a 30 second penalty that sent him tumbling down the results sheet, I was officially 4th in the race and 3rd in the veteran class. Result!
Pure elation goes nowhere near the feeling and I finally got a taste of that front-runner feeling.
Despite my killer result the day belonged to Carl who will be blogging his amazing introduction to CB500 racing and I for one cannot wait to read it.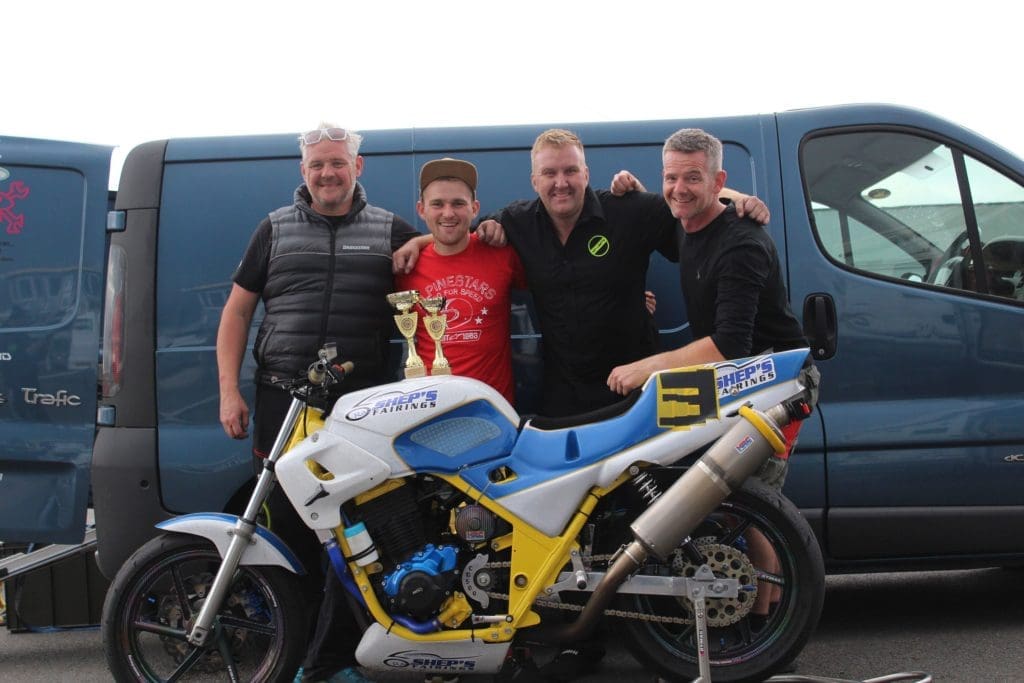 The rest of my day included a DNF as my fuel tap had been knocked into the off position, bringing me to a halt at the fastest part of the circuit in race 2, another 10th place finish and last race of the day a steady but pleasing 12th.
It was Carl that brought the silverware, podiums and a huge new character, which brought down the average age of our little race team that are just there for the crack – though a little bit of success was so very, very welcome.
So to the final round, a double-header in September (21/22) that will hopefully bring the whole team together for one final hurrah in the Bridgestone CB500 EMRA Championship for 2019.
Having now completed my 10 races at three different circuits, I will be the one without the orange jacket – another very special box ticked.
If I still have your attention please allow me a couple of shout outs…
A big 'Get Well Soon' to Mitchel Baines and Wayne Sutton firstly and all those that the weather caught out – there will be some garage lights burning the midnight hour after Rd#5 I am sure.
To Iain, Joyce, Mark and all at team EMRA who give up their free time so we can enjoy ourselves and of course, as ever the medical staff and Marshals – you are the gift that keeps on giving.
See you all at Round #6/7?
And you sponsors.
IMAGES via Chell Clix Photography, David Chapman and Jacks Snaps.

Enjoy more Fast Bikes reading in the monthly magazine.
Click here
to subscribe.