You know that you have made it in life if you own a Ducati, right? Well, I'm sure that's what people that own Ducatis say anyway. I don't say that. But I must admit, the Panigale V4S does look like one hell of a motorbike.
The V4S exudes class from every extremity, from its shiny red paintwork to its suede saddle, not to mention its £24,295 price tag.
When I climbed on the V4-powered red rocket, my first reaction was 'wow, this is small'. And it is small – it's a narrow motorcycle, but in actual fact, when you reach for the 'bars they are plenty wide enough for the red rocket to feel like a proper man's bike.
The same can be said for the footpegs, though they are low enough that the Duke doesn't feel at all cramped. The dash is really trick, and the when you fire the thing up there is a monstrous sounding rumble from the big V4 motor. Throttle blips weren't as aggressive as I would have liked them to be, and the standard can didn't seem to amplify the engine note very much either.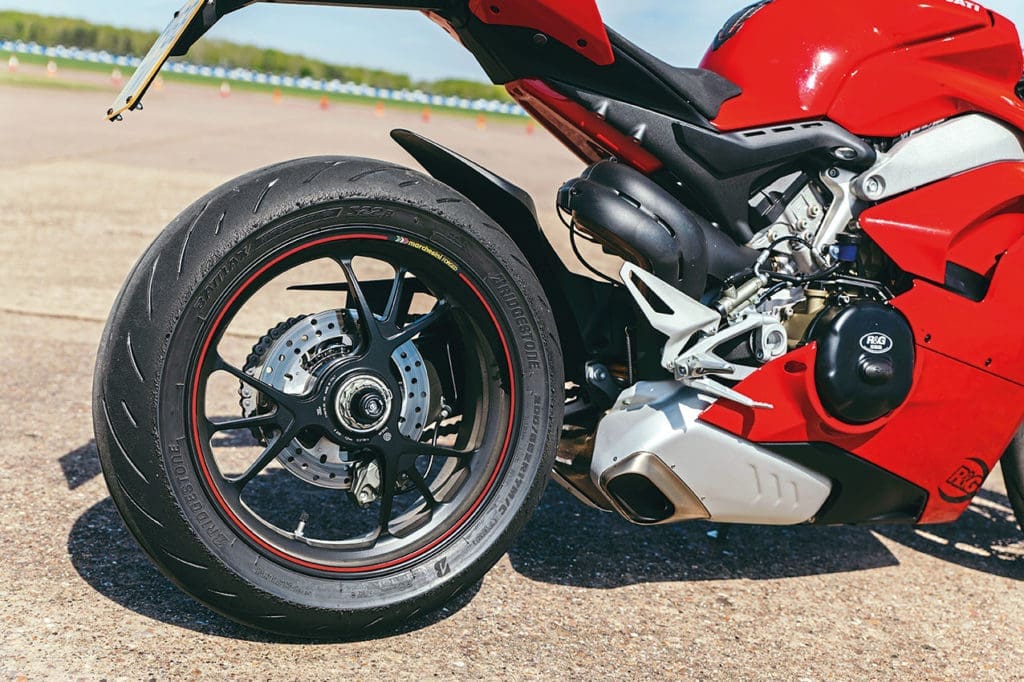 I had a bit of deja vu when I set off on the Duke, or should I say tried to set off on the Duke. The motor likes plenty of revs when you drop the clutch, and if you don't oblige, it will stall. Like I did. Twice. Once I'd figured out the basics of motorcycle riding I was up and away, and loving life on the Panigale. The grunt of the engine and then the power that follows it are nothing short of phenomenal.
In fact it's actually quite funny, until you get used to it. It doesn't matter where you are in the rev range, if you open the throttle, the thing will just take off! In all honesty, after a little while with all that power on tap, the novelty of having a bike lunge uncontrollably forward every time you ask for a little bit of power starts to wear off.
The V4S isn't really a bike for riding round town, or trying to ride anywhere slow – it's engine is jerky, it rattles like a bag of spanners and it is generally a bit of a pain unless you are giving it the big 'uns.
And as for the mirrors that look like they'd blow off in a strong wind, they shook so much above 5000rpm, they would of been as much good to Stevie Wonder as they were to me. While I've got this rant in full flow, I should probably point out that the mirrors don't even fold, so you have to get the Allen keys out if you're trying to fit the bike through a narrow space or want to load it in a van. I guess such details are a small price to pay for a machine that is otherwise so sublime.
If speed is your thing, it'll not come any easier than on the V4, which is bad news if you live near any speed cameras (because speeding is very naughty, you know). Some people would call it character, but another trait to mention of the powerful motor and steadfast, minuscule frame is the Panigale's inherent weave that comes to life when you're getting a lick-on. It's not actually dangerous, but it's a trait you have to get used to.
We tested the Ducati, like all the bikes in USB, on Bridgestone's S22 hypersport tyre, which Ducati weren't really keen on us doing as, according to them, their package had been designed for Pirellis, but in all fairness we have tested the V4 on Pirellis in the past and this weave is no different on its OE tyres.
It feels as though the engine has too much power for the chassis to cope with and it just tries to tie itself in knots. As amazing as the electronic Öhlins suspension is, there's naff all you can do to get rid of this phenomenon, so you're best just embracing it and looking like a hero to your mates as they try to keep up on their duller, lesser-powered machines.
Overall, the Duke is a superb bike, with an incredible engine, fantastic brakes and a plethora of easy-to-use electronics, but it's hardly a very practical road bike.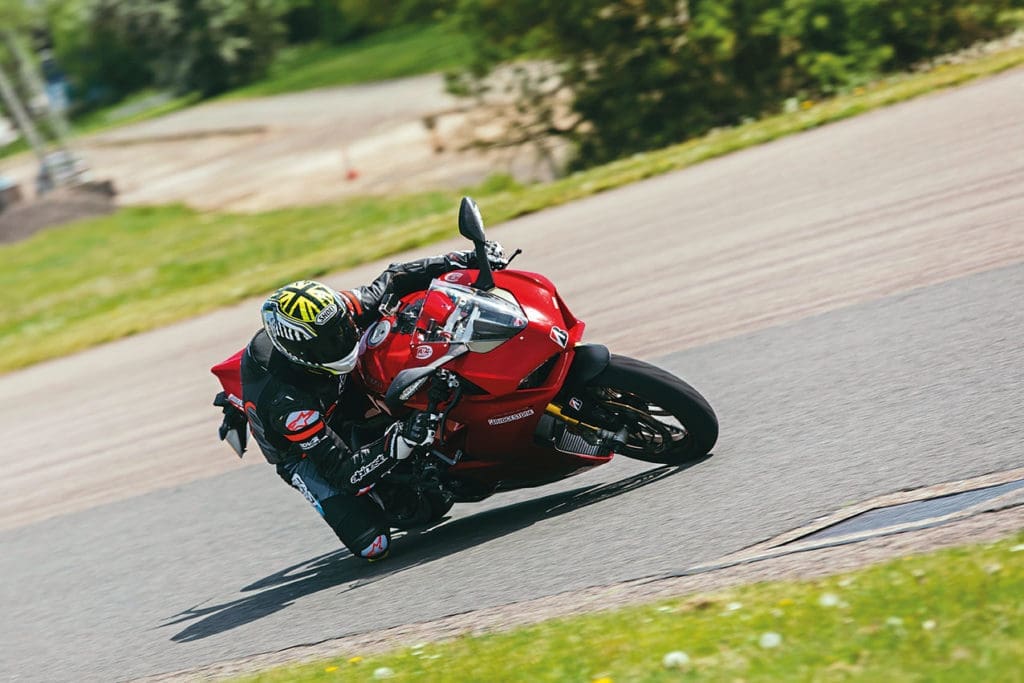 Alongside the crap mirrors is the world's worst side-stand that makes you cringe if you try to locate it and operate it with your boots. The smarter, safer option is to reach down and position it with your hands – assuming you've been keeping supple with yoga, because it is quite a reach.
Another thing to be mindful of is how hot the bike gets when get caught out in traffic, so my advice is to pick your roads carefully and keep the throttle pinned. That's when you get the best from what's on offer. 
This bike feels fast. It's bonkers, but in the best of ways. Around Cadwell it was a right laugh, weaving its way relentlessly down the back-straight before hooking up a sixth gear wheelie and making you feel like a flea on a dog's derrière.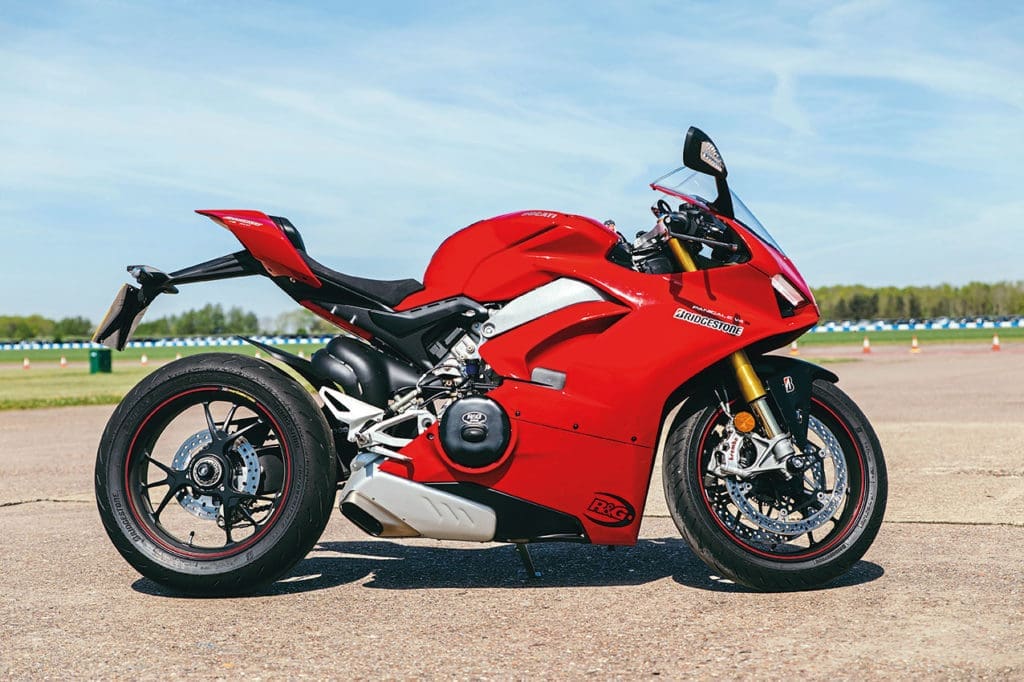 The power is so raw, it's menacing, to the extent that you can't just hop on the V4S and ride it like you want to. You have to adapt to its style, to its aggressive nature and embrace its wayward inclinations.
This bike's not as loose as the 1198Rs or 1299s that came before it, but it still feels very much like a motocross bike on steroids. The engine is the bike's soul focus, as the V4 powerhouse is so consuming. The torque on tap is ridiculous, and as well as all its low-down grunt, there's plenty of power to see you through the rev-range.
The gearbox is super slick, the stock slipper and shifter are unreal, and as for the brakes, I don't know how you'd improve on them. I'm also a fan of the track-focused arsenal of tech, that's a doddle to utilise and does exactly what it says on the tin. Ducati's always been brilliant in that respect and the V4S doesn't let the side down.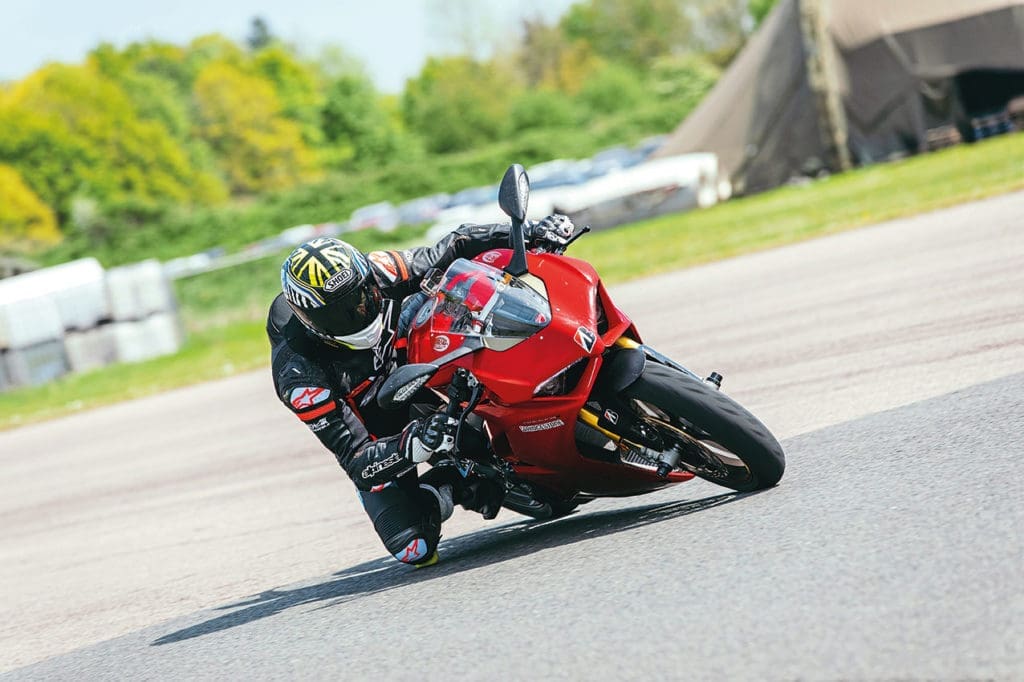 But as far as fast laps go, they don't come easy. The instability of the bike is its biggest problem. Just like the Blade and R1M, the V4S is kitted with Öhlins' semi-active electronic suspension, but unlike on those two bikes, the sophisticated system doesn't seem man enough to tame this beast, in, through or out of a bend.
The thing's a live-wire, relentless fidget and that can prove massively unnerving when you're aiming the £24k-plus masterpiece into a bend, hoping it'll stop flexing in time to make the apex and see you round the corner… as otherwise things are about to get very costly. Don't get me wrong, that's all part of the buzz of this Ducati, because it feels so edgy, but its loose nature is certainly not conducive to fast laps.
Even with the brilliant traction control system lending you a hand, it's still a job to get the V4 out of a bend with the wheels in line. And heaven forbid you're mad enough to get on the gas with big lean on the go, because if this thing lets go, your highside is likely to end you up in Australia. It makes for a tough customer, and it's not aided by the lumpiness of the throttle.
The first corner at Bruntingthorpe is a long radius, double right-hander, with a crest on the exit. It's the kind of place that shows up any throttle inabilities, and the V4S' offering proved the worst application on test.
It proved hard to moderate the throttle marginally, without experiencing a sudden surge or lunge in power, which consequentially got the suspension throwing a wobbler and meant your chances of get on the gas strong were next to zero. It was more than a bit frustrating, and despite the Panigale setting a reasonable lap time, it was one lucky lap, when all the stars were aligned, that gave it the result it bagged.
The Panigale experience is never consistent, but that's what's so charming about its character… it's actually got some. Would I want one of these as my track bike? Definitely. Would I choose to go and race one? I think I'll pass, thanks.
Come back this time tomorrow to find out which bike came second in our countdown to find the Ultimate Sports Bike. 

Enjoy more Fast Bikes reading in the monthly magazine.
Click here
to subscribe.