Having read, watched and giggled myself through all of the antics from the recent Bridgestone 500 races with EMRA, when an opportunity to have a craic myself came up, I jumped at it with two hands…
Writing this column, I still have a grin on my face from my first experience with EMRA on the Bridgestone 500s – having been riding full time in the No Limits Endurance championship with the rest of the Fast Bikes posy, we were sitting third in the championship and plodding along quite nicely.
Now the best part is, the Endurance racing only runs on one day on the Saturday – meaning that when Gaz rang me up and said he was too battered to take part on his 500, there was absolutely no chance that I was going to miss it.
So, after finishing P2 in the No Limits Endurance at Cadwell on the Saturday on my big ol' GSX-R1000R, I packed up my troubles (alongside a crate of beer) and headed on over to Mallory Park for my first taste of the pigs. Alas, on my arrival Gary's bike was having a few teething issues, which is where Chris Smith – esteemed No Limits instructor and full time joker, saved the day and lent me his Honda for the day. What a ledge.
As far as first impressions go, chilling out with the lads, sinking a few beers and talking rubbish into the evening is about as good as it gets. Between us as well, I was almost feeling the nerves a little bit; I'd never ridden a race spec CB or Mallory Park, and Charlie was looking bloody confident – if he got the better of me, I'd never live it down.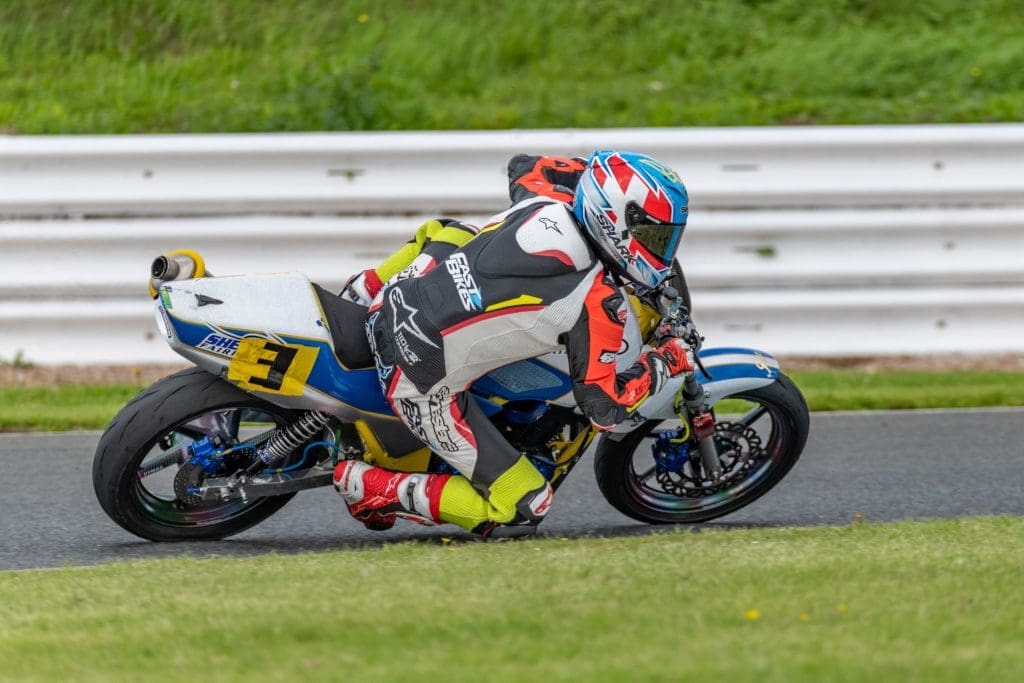 Thankfully, the boys had got the CB noise tested and scrutineered before I arrived, so come Sunday morning, all it took was an easy sign on process and chat, before getting ready for the first session of the day. Sitting on the 500 for the first time, I wasn't quite feeling too confident; the levers were slightly high, the gear shifter was way too far out (I had to take my foot of the peg to change gear!) and best of all, it was in road shift.
Nonetheless, once we finally got the bloody thing bump started (who needs an electric start?) I made my way out on track for the first quali – in my head, my goal was to follow Charlie, get an idea of the bike and track, and just go quicker than him. In reality, I missed a chunk of the session and only had 5 laps to get acquainted with the CB, yet even so I felt pretty happy from the get go, sticking in a 1:02 minute lap to start the day with a tenth position grid slot – but most importantly, beating Charlie. Have that sunshine!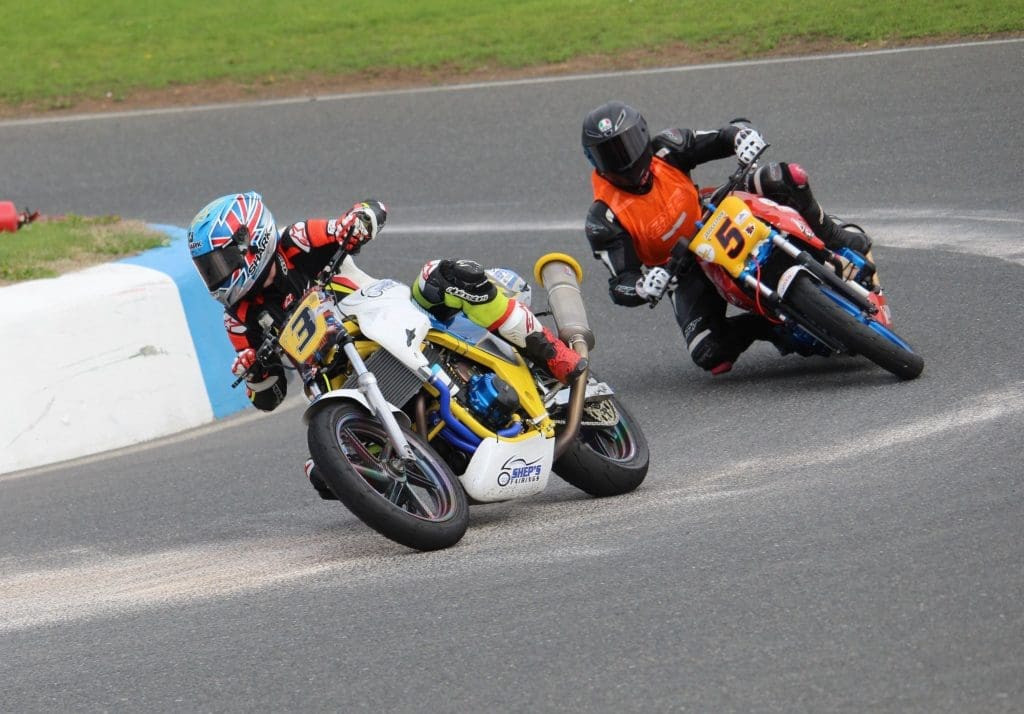 With another qualifying session in the bag, a quicker lap and a front row spot for the final two races, it was time to get down to biz. Unfortunately for me, the weather had other ideas; Charlie opted for a front wet Bridgestonewhile I opted to stay on R11s, and as we came to the grid it started to properly piss it down.
Being as it wasn't my bike I ditched the start and headed for a warm cup of tea and spot to watch, and Charlie managed to pull of his best result so far – he rode with his noggin, has some bloody good pace and brought it home in tough conditions. That massive smile on his face was great to witness and experience. He was like a dog with two… you get the picture.
As for me, with a DNS in the bag and three more races to go, I had to pull my finger out; I was still getting the abuse that Gaz had lapped Mallory Park quicker than me, so with a dry-ish looking 500 race out next, I went out and just had some fun.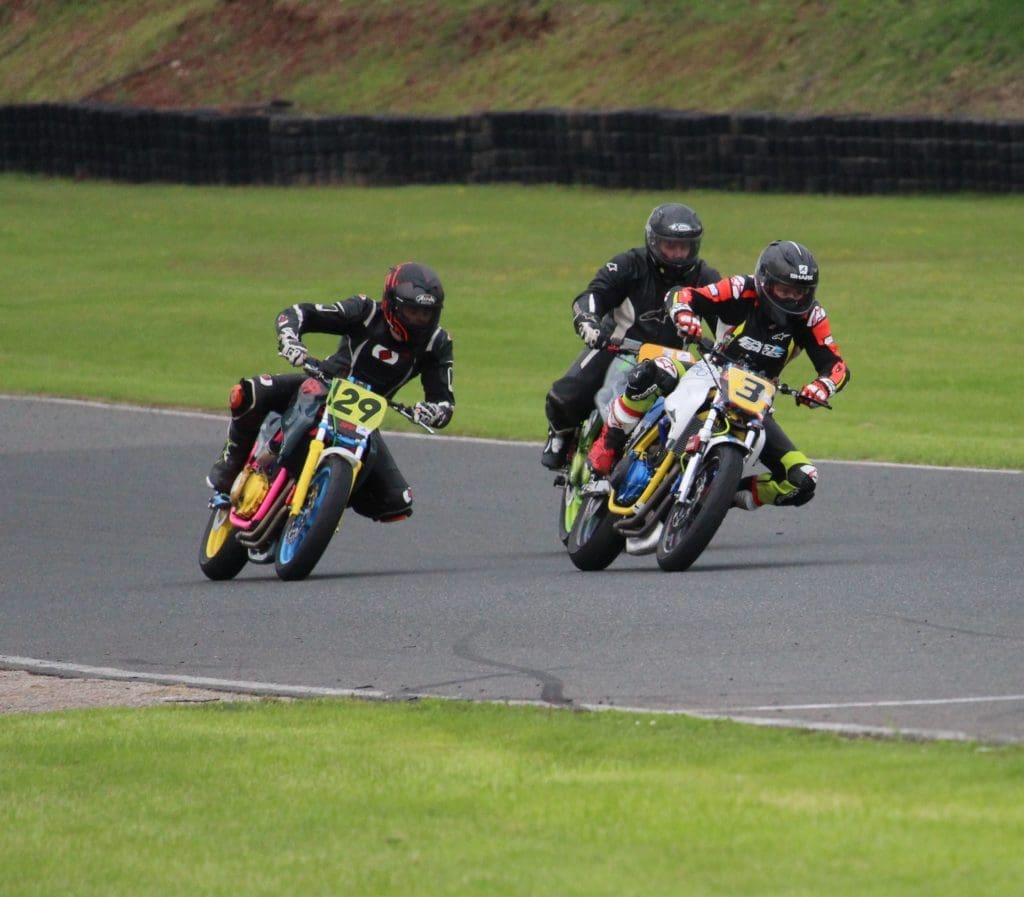 Jumping from a thou' straight onto a 500 takes a lot of adjusting, but riding around the rest of the pack made the transition a whole lot easier; I might have had a pretty shocking start, but I managed to up the pace and get happier, comfier, and ultimately faster – bringing my times down into the 1:01s, and after some fine duels and a shower on the last lap, a third place. Buzzing.
With the weather still not making its mind up, we were getting ready for our third race of the day, this time in the Bridgestone twins class. Having stuck it on the front row in quali I was feeling pretty good, and with a good start I managed to lead into turn one. Whoop whoop! Sure I could hear the bellowing sound of pigs queuing up behind me I finally found a rhythm on the 500s, broke into the 1:00 lap time and came across the line with the top spot. Alas, I managed to pull out a five second lead, so I didn't even need to bloody push! Boom.
Alas, the same couldn't be said for third and final race. I cleaned the inside of my visor and made a bit of a mess of it, so coming up the line it looked like there was rain. Great. I got a good start and managed to get into turn one in first, but with the weight of someone else's bike underneath me I knocked by times back half a second or so, and in doing so, had an absolutely cracking battle with the lads around me. Although the race was shorted, we had some great bar banging action throughout, and going into the last lap in P2, I made a dive up the inside of Edwina's, before I held my own all the way through to the Bus Stop. With another win in sight, I was out-dragged to the line, which meant I ended up with a DNS, 3rd, 2nd & 1st to boot. Not a bad clobber for my first day's riding with EMRA.
I had a great day out, but there were some pretty big crashes throughout the day, so I hope everyone involved is already on the road to recovery. As always, a big thanks goes out to all my personal racing sponsors, alongside Gaz at Bridgestone, Charlie at Fast Bikes, Chris from No Limits and all the EMRA lot who make the racing happen. It was a great laugh, and maybe, just maybe I'll be back again. Between us, I was pretty gutted I didn't break into the 59s, so I've got some unfinished business…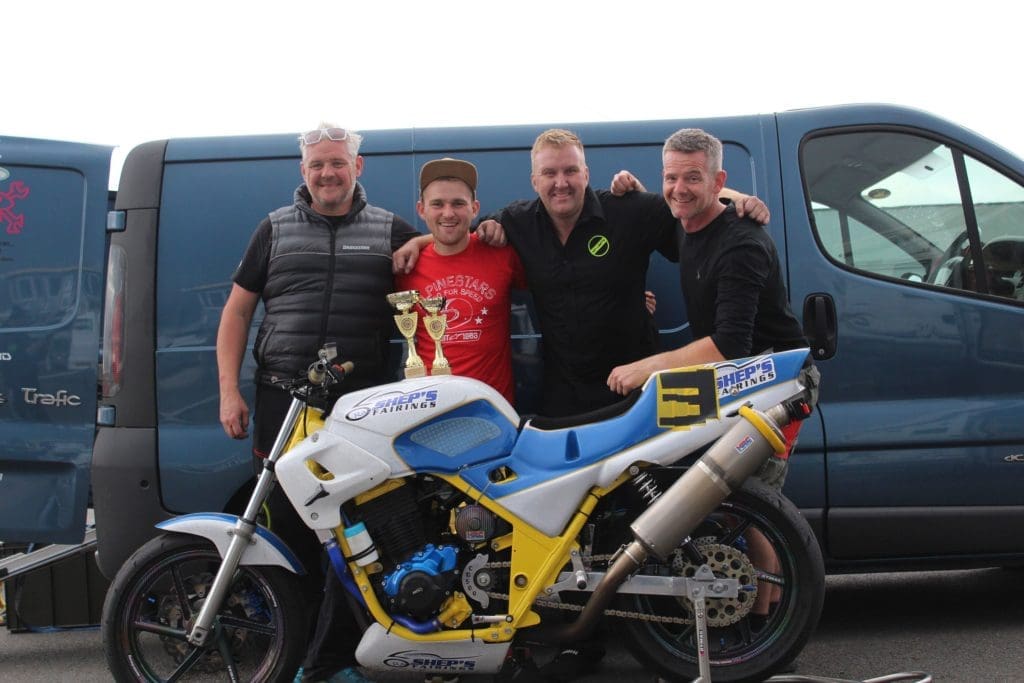 IMAGES via Chell Clix Photography, David Chapman and Jacks Snaps.

Enjoy more Fast Bikes reading in the monthly magazine.
Click here
to subscribe.