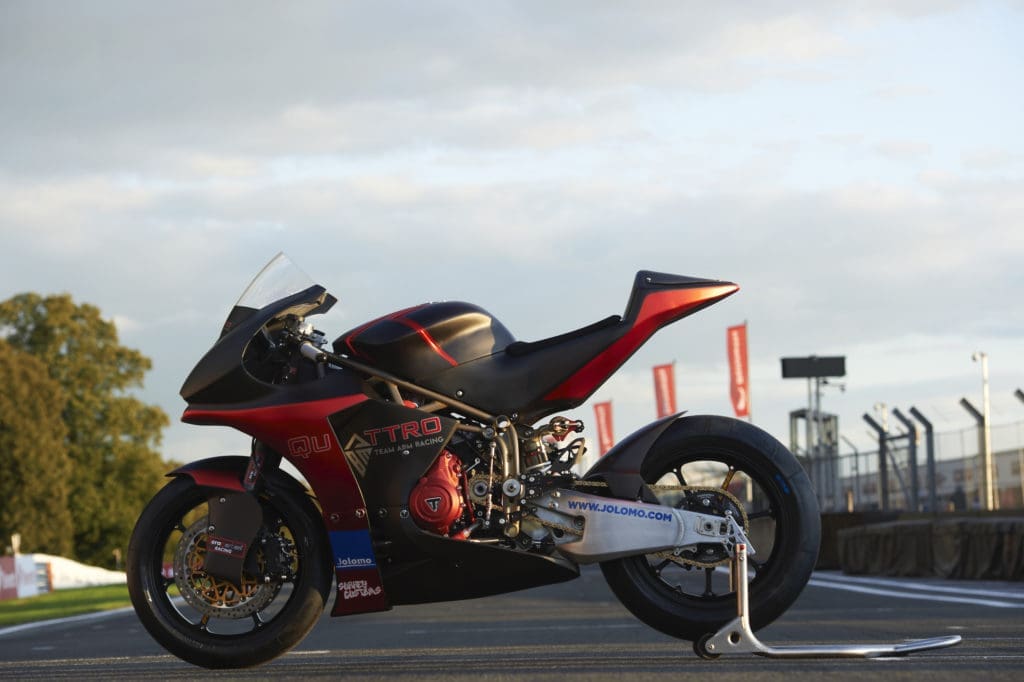 Carbon/ceramic forks, carbon sprockets and a spanking Triumph 765 motor – what's not to like?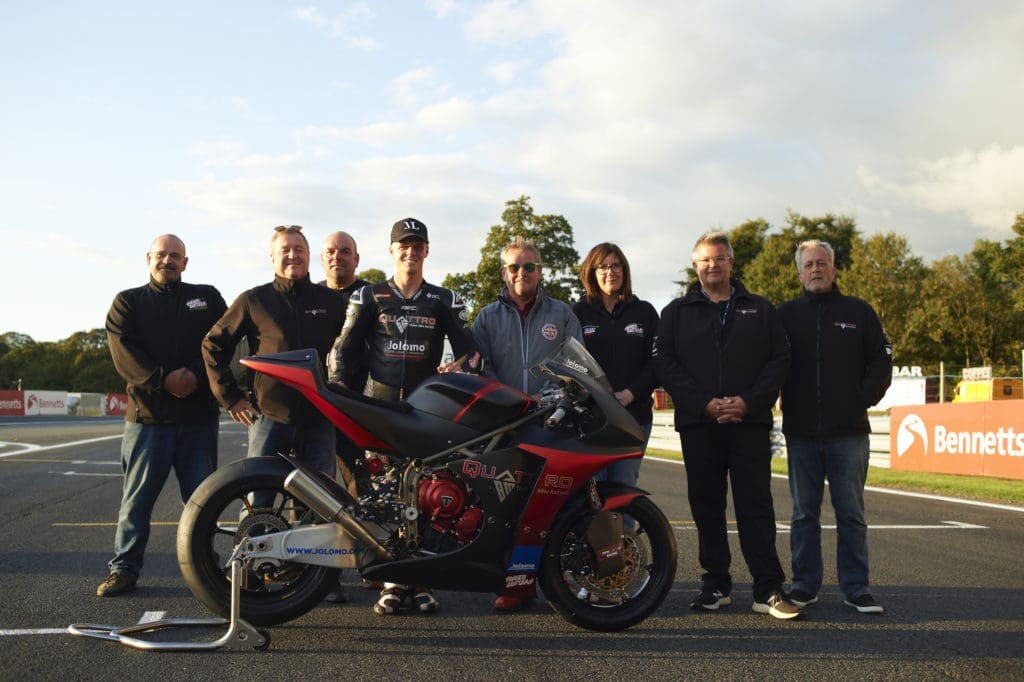 If you were slightly underwhelmed by the new Triumph 765 Daytona Moto2 replica, then feast your eyes on this piece of total filth. Built in Kent by Associated British Motorcycles (ABM), the GP2 machine is the first bike to feature the 765 motor outside the Moto2 paddock, and has been developed by Mason Law and the ABM Quattro Racing team.
The team's partners CeraCarbon have come up with the high-tech chassis parts, featuring advanced composite carbon and ceramic components. We've seen the carbon forks before, on various limited-edition specials, but the carbon-fibre rear sprocket is a new one for us, and is pretty jaw-dropping. It's not all-carbon (that would wear *really* quickly we imagine), rather there are stiffening carbon inserts inside an alloy skeleton. So you get hard-wearing metal teeth and bolting points, with carbon sections providing the strength and stiffness with less weight.
The forks are stunning. Carbon/Dyneema outers and ceramic/carbon inner stanchions give a 2kg weight saving, which is mostly unsprung mass, over standard superbike forks. They also look incredible. Price will depend on who ye are and what spec ye need, but don't expect much change out of £10k.
Away from the carbon trickery, the frame is an in-house design, manufactured at the company's base in Kent. The super-slick aerodynamic bodywork is also an ABM design, and is being made available for sale to riders in the racing paddock. The bike itself is lovely overall, but it's aimed mostly at proper privateer racers, looking to compete in the GP2 class. But it does show what's possible these days, and we'd love to see this sort of bike for the road, or more prosaic trackday uses.
The British GP2 Championship organisers are evolving their regulations to potentially accommodate new machines, this will include additional series organiser specified controls which include fitment of a mandated ECU and air restrictors. For open evaluation, the ABM 765cc will participate in the Free Practice sessions of remaining Britsh GP2 Championship rounds.
Article continues below...
Advert
ABM boss Tony Scott said, "This is a unique machine and follows our long standing desire for a prototype GP2 class in UK racing – something that we spearheaded back in 2017 with our development bike ridden by Alastair Seeley. We've continued that this season with Mason Law and as this class has grown and developed, we've developed our plan to sell competitive, cost-effective machines to the privateer GP2 paddock. This project also helps showcase the ABM brand and I'm grateful to the BSB organisers for giving the machine time and consideration and allowing us to pitch it against the existing GP2 machines."
More info on ABM here: www.associatedbritishmotorcycles.com
Article continues below...
Advert

Enjoy more Fast Bikes reading in the monthly magazine.
Click here
to subscribe.