It was always going to be emotional. The final round of my first ever racing season with EMRA in the Bridgestone 500 series was coming to a close. And like the five rounds before it, this was going to be different.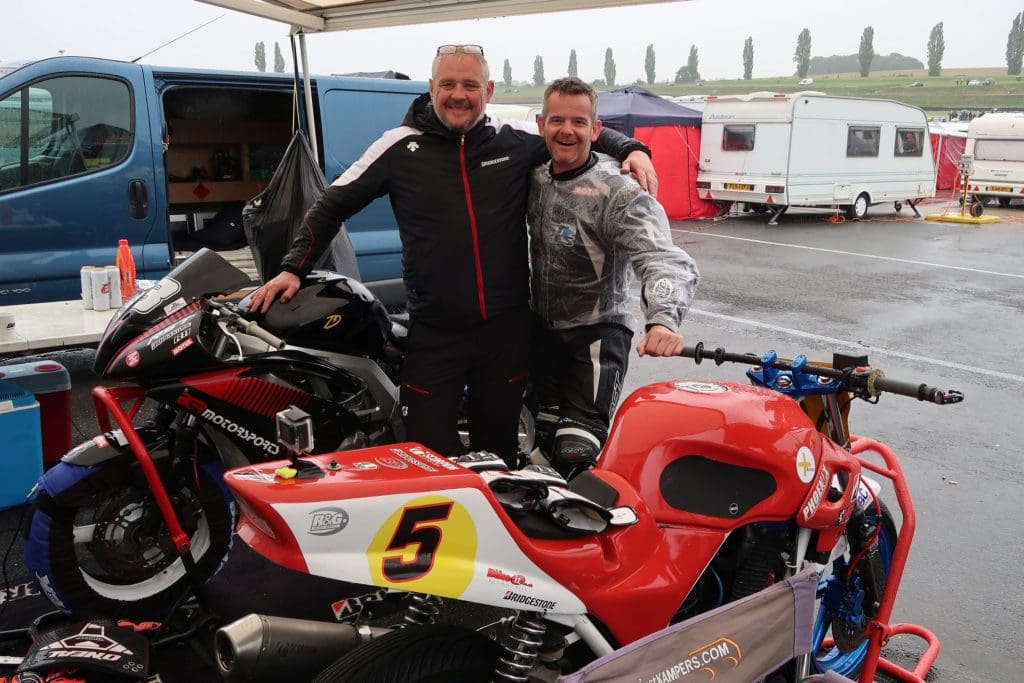 The final round ran as a double header, a two-day meet as opposed to the single Sundays that had preceded it. I continued with the CB500 and Bridgestone 500 mini-twin series which would keep me busy for the two practice qualifiers and two races on Saturday, with a further four races on Sunday.
Teammate Gaz had different plans, with a sparkling BGR Racing fettled SV650 with R6 race fairings stood on the Bridgestone garage mat where his CB used to be. Gaz decided that the SV650 was a better fit – and his results this weekend were to prove him right.
At the start of the season I set myself a few challenges for my first full racing season: rack up enough races to lose my Orange Bib, get a top ten finish, have a decent battle with Gaz and see out a full season unscathed. The latter was all I needed to do this weekend, but the first day ended in frustration.
On one of the hottest days in September the final round began. I qualified in 1:04 then down to the 3 even though I was carrying far too much fuel on board – stupidity on my part.
Gaz had run into trouble from his first ever outing on the SV. He came in after qualifying with a silencer that had disintegrated, and the look of despondency on his face was hard to bear. His run of bad luck matched paralleled with my good luck. Eventually, my luck rubbed off as I had packed my spare silencer from my CB, which was removed when my Scorpion Exhaust went on. It fitted and thankfully Gaz was back in the game.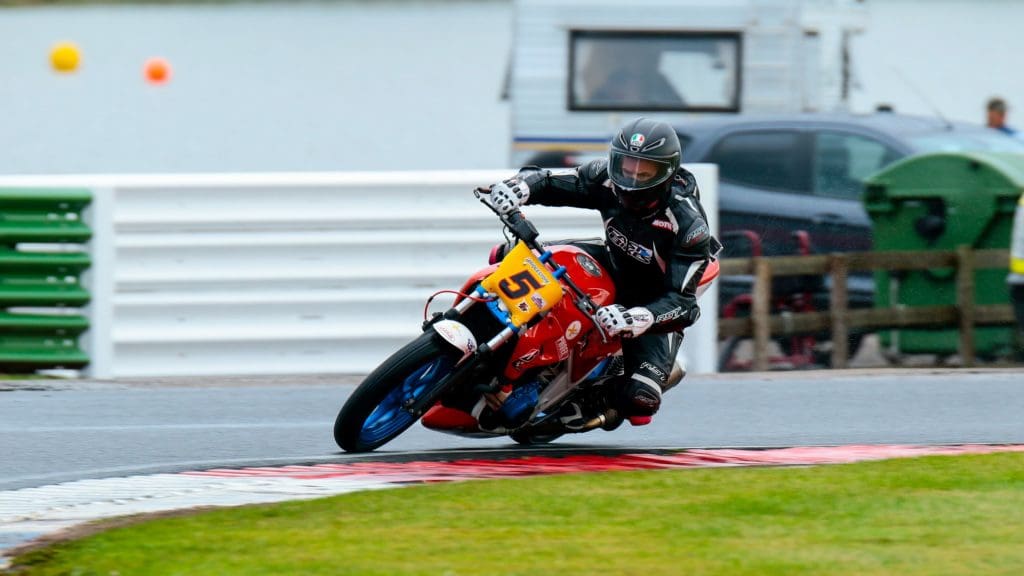 The red lights went out twice for me that afternoon, and two 'bibless' 11th place finishes would have had me dancing at the start of the season. But, I knew I could have done better and pushed harder. I learning that perhaps getting round unscathed was the wrong mindset. If you are going to race, then bloody race man!
I settled on my camp bed in the back of the van that night, determined that the four races the next day would have to be different if I was to leave Mallory with the same sense of satisfaction I had from all previous rounds.
The following morning was different alright. The sun had gone, thick black clouds emerged and it proceeded to smash it down for much of Sunday – but with my Bridgestone wets in place I had new optimism despite the weather.
As Gaz and fellow SV650 rider Jimmy Reynolds sat and drank coffee in their pyjamas, I was lining up for race #14 on the card, my first of the day complete with my R&G wet package with sliders, a rain jacket and a fresh determination.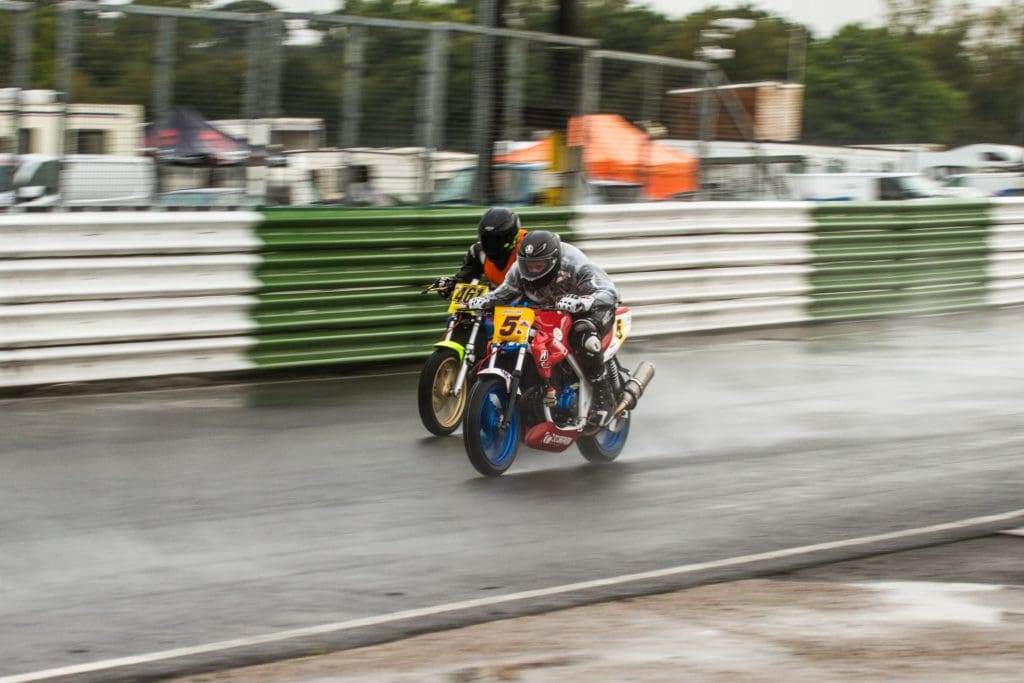 Given the conditions the first race was a sketchy affair with the wet levelling the field, with the fastest lap by the eventual winner only just breaking the 1:05 mark. Despite being four seconds off the pace, I finished in 9th place, but more importantly I was happy with that. I was getting back to pace.
This increased over the following races – another two 9th places were invaluable championship points and a few battles emerged where I held my own and left the circuit beaming.
The final race of the day was emotional. Gary and Jimmy were out in the race before so I was on my own. I wasn't warming the wets in the way I knew I could, rather letting them warm up themselves on track and finding my own grip as the race went on. I rolled out as the lads rolled in and the final race of the day began.
A very respectable 7th place was well earned. Over the latter stages of the nine laps I felt the presence of Howard James #248 behind me, so cutting corners tightly and riding as defensively as possible I thought my final battle of the season would end as my victory.
Exiting the 'Bus Stop' for the final time with my head on the tank I felt the need of one more gearshift. It was enough to give Howard 6th place by less than one hundredth of a second – a placing that meant little to me on the grand scheme of things but gave Howard the points to get third in the Championship.
I could not be disappointed as Howard shook my hand around Gerard's and stopped at the exit to congratulate me on a hard fought race – what a lovely fella.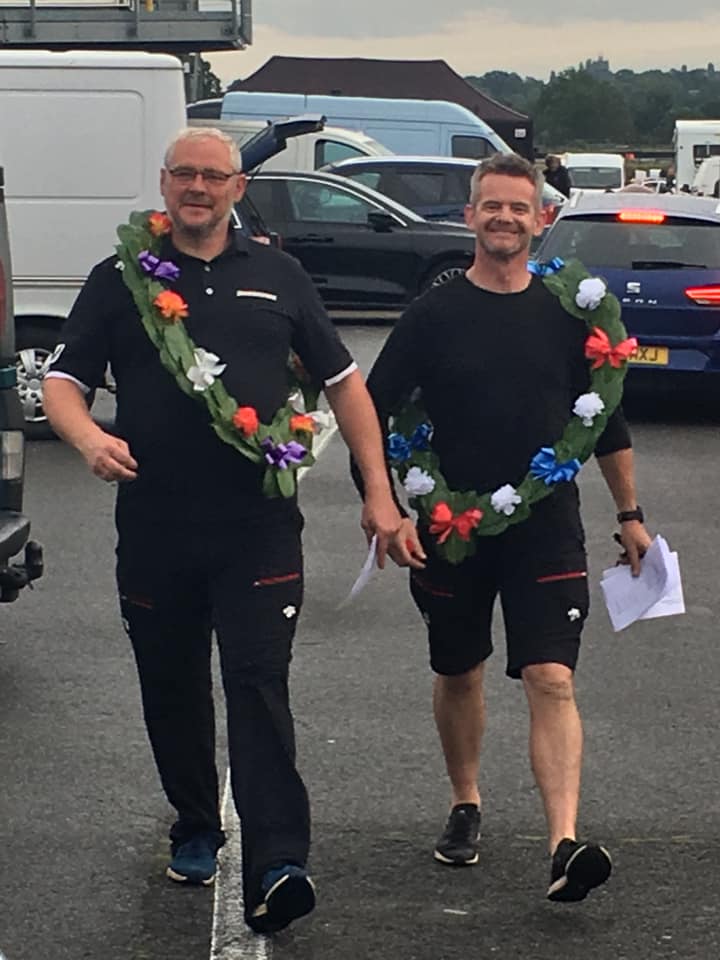 I was done. My season was over and as the rollercoaster came to a halt, my emotions ran riot – I had achieved all I could. These final points rewarded me with 12th overall in the CB500 Championship, 8th in the Bridgestone 500 twins and 7th in the CB500 veterans. For someone who had tasked himself a top 10 finish at some stage in the season I could not be more delighted with that.
I consider myself very lucky to have been able to race with EMRA, meet the people that I have over the season and been able to document this with video, blogs and columns in Fast Bikes magazine. I really hope that they have encouraged more people to take the plunge and give racing a go, it is such a buzz and I cannot recommend it enough.
There are too many thanks to give in this blog, but if it wasn't for Bridgestone I would not have been there at all, if I hadn't had the support of Motodirect I would not have been kept so safe and comfortable in the RSTs and my awesome AGV Helmet, and EMRA staff, Mallory Park marshals and medics all deserve a rapturous round of applause from all competitors.
As for next season, I will be back with EMRA but as a spectator, the racing I need to put on ice for the time being with other commitments – however the paddock buzz and amazing people I have met will be tough to stay away from.
I sincerely hope to see more full grids, more CB500s and more people racing around Mallory experiencing what I have this season, an experience that I will have for life: when I was a motorcycle racer.

Enjoy more Fast Bikes reading in the monthly magazine.
Click here
to subscribe.