Words: Boothy | Images: Chappo
You only have to take one look at these two models to see that a lot has changed over 20 years. But what exactly does two decades of development mean for Triumph's flagship naked bike? There was only one way to find out…
Whilst we were all busy worrying about whether or not the millennium bug was going to initiate a self destruct sequence on our plasma screened desktop computers, the good people of Hinckley were working on a machine that, along with the Daytona (on which it was based), would reignite the brand's popularity the world over. And I'm glad they did because 20 years later I found myself astride reader Nick Mowbray's gleaming example of said motorcycle, the Speed Triple 955i.
But what for, and why, I hear you ask? Well, the last 20 years have been pretty exciting times as far as new bikes go, with more powerful engines, lighter and more efficient chassis, better suspension, and that's not to mention all the electronic systems that adorn all our super-modern space-aged superbikes; things keep getting faster, easier to ride and (arguably) safer.
But how much have bikes really changed? And how far have Triumph got in their quest for the perfect motorcycle? We wanted to find out, so what better way to do that than to pitch their beautiful brute from yesteryear directly against the latest version of the same magnificent machine, the current Speed Triple 1050 RS.
We tried and tried, but we couldn't think of a better way so that is exactly what we did. Frodo and I took both bikes for a big old road test and then had an hour or so ripping around Bruntingthorpe's handling track to push both bikes to their limits to get a real feel of what 20 years' worth of Hinkley magic feels like.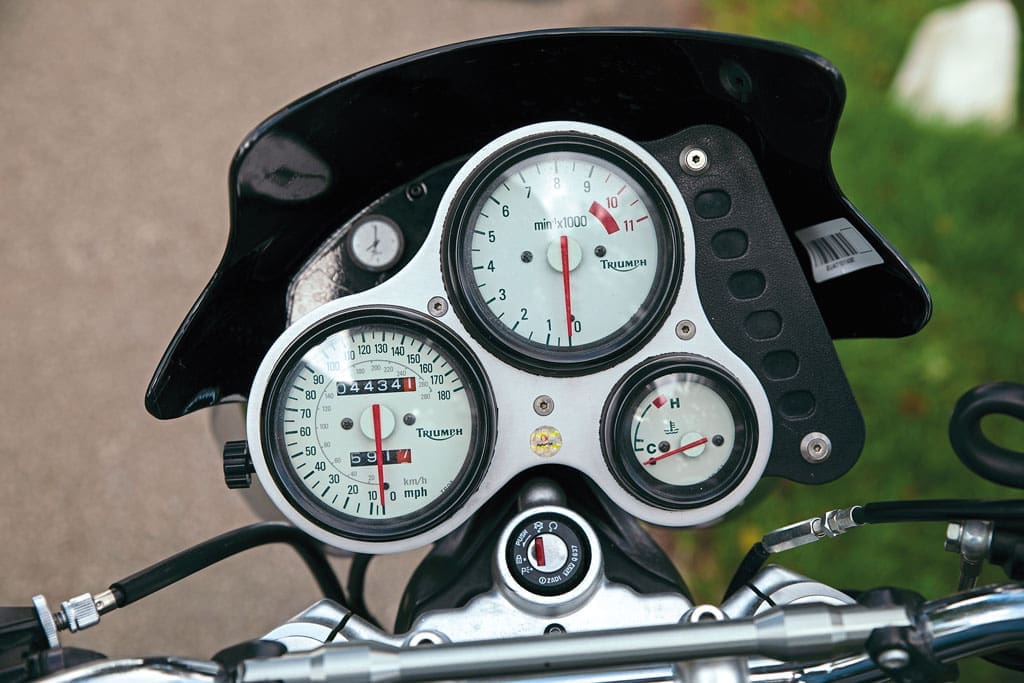 The test of time
When the 955i came along, superseding the T509 with its 955cc engine, it was considered pretty cutting edge, with its fuel-injected engine and its 120bhp. It was a man's bike. Big, bulky and brutish it may have been, but under-seat cans and a single-sided swinging arm gave the Speed' the 'edge' that made it stylish as well as substantial.
The more I looked at the thing, the more it struck me as a kind of halfway house between the modern and the retro; its aggressive stance wouldn't look out of place in a supernaked line-up even today, but its twin round headlights are a real throwback to the days of old.
The new Speed's twin headlights, whilst they seem to pay a loose tribute to those of the old bike, look sleek and modern. Conversely, whilst I know the under-seat pipes on the old bike would have been all the rage back in the early naughties, it's like nobody has told the latest Trip' that that kind of thing has long fallen out of vogue – its 2020 for Christ sake.
Before you even fire the old bike up you get a real sense of its size just from sitting on it. And its weight. It feels like a big, heavy lump, but the high and wide bars give it a really muscly feeling, as though sitting on it might make your bead grow faster. A simple turn of the key and press of a button was enough to spark the 955i's engine up, which was actually reasonably novel, after the faff of the 1050's keyless ignition system – which really is a pain in the arse.
In my 20-odd years of motorcycling, I have never once heard anyone complain about a conventionally keyed ignition on a bike. Not once. So why on earth Triumph decided to break the mould with a key that you have to keep in your pocket, I do not know. So, to fire up the 1050, you have to remember which button to press to unlock the steering lock, then remember which button you have to press to start the engine, and it doesn't like to be rushed.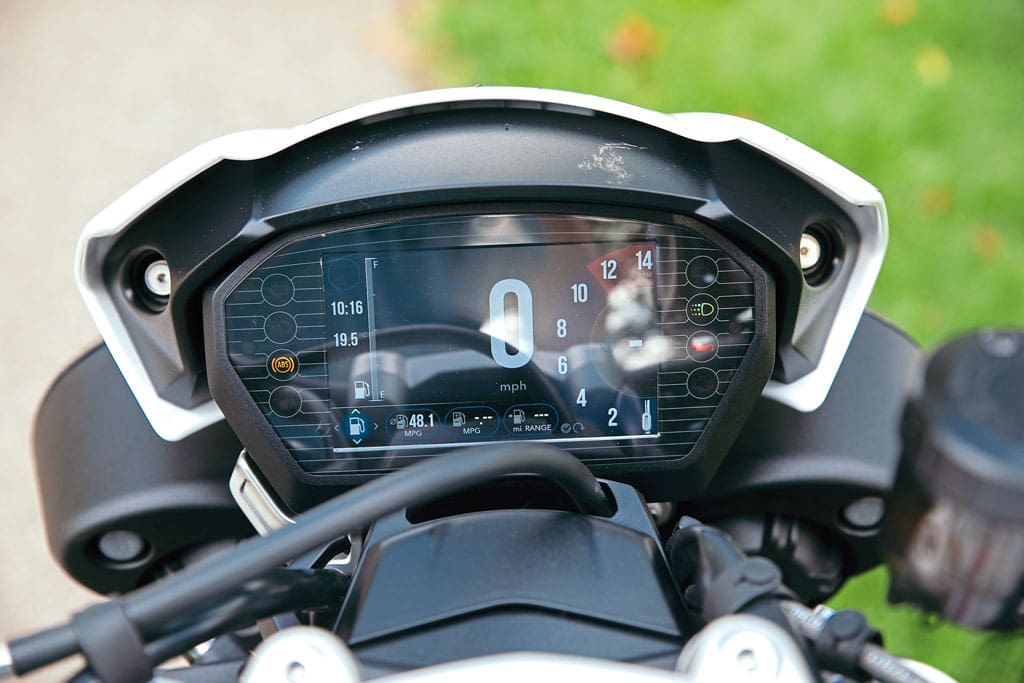 You also have to remember NOT to leave the key on the garage windowsill and, provided you do put it in your pocket when you go for a ride, you have to remember which pocket you put it in when you get to the fuel station, rather than having it staring you in the face, as is the case on the 955i. It's a real nuisance.
Both bikes have a very distinctive three-cylinder whirr (it's all very 'Triumph'), but they do sound quite dissimilar. The 1050 has a smoother, slightly quieter tone with a slight whistle to it, whereas the 955i sounds a little lumpier and slightly more agricultural. Once you have mustered the strength to heave the 955's heavy clutch in, the gearbox obligingly does its thing and before you know it, you're on your way.
Slow speed riding isn't where the 955cc engine is most comfortable and although the gearbox felt mega solid, the engine seemed to jerk a little bit if you found yourself changing gear between about 2,000rpm and 4,000rpm. In all honesty, I'd put this down to the bike's early fuel injection system; the on/off/on throttle transitions were far from smooth and tended to upset the bike quite nastily if you rushed them. The 20 year newer 1050 had no such problems, whose fly-by-wire throttle gave an unrivalled sense of control.
Ground control
In fact, 'control' seemed to be the name of the game on the new bike. Traction control, cruise control, as well as all the other rider aids you can think of – well, most of them. And to compare the 955's jerky gear changes with the 1050's 'shifter and 'blipper aided gear changes would be like comparing a musket with an M-16; rather than being slow, lumpy and awkward, gear shifts on the modern bike were fast, precise and easy. On the more open roads, the slight jerkiness of the 955 soon became a thing of the past, as once we got up to the exciting end of the rev range, the three-cylinder motor was beautifully smooth.
The 955 had considerably less poke compared to its modern day counterpart, and it wouldn't have stood a chance in a drag race, but once you got the thing rolling along, it felt just as elegant. Whilst the 955 mightn't have had the power that the 1050 did, the refreshing thing about it was that all the power that the bike did have was available as soon as you opened the throttle, with no electronic systems castrating the fun.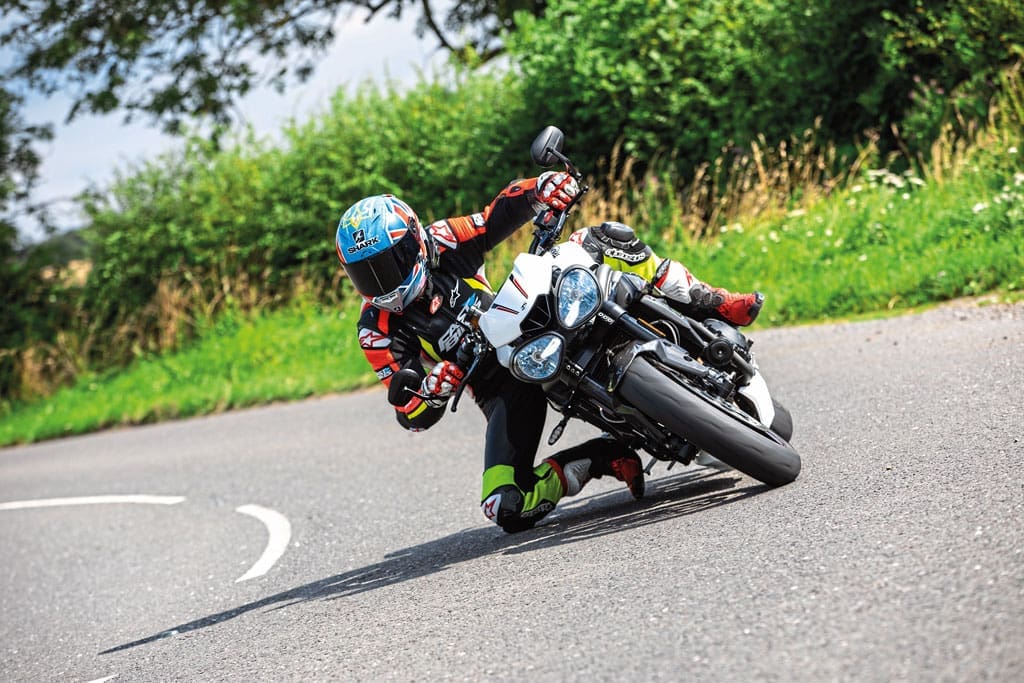 On today's version, unless you spend a few minutes working out which mode you are in and what systems you've got activated (and to what degree of interference), there is every chance that you'll open the throttle and the computer will say 'no'. The Triumph's electronics are actually some of the more intrusive, but the good news is that everything can be turned off, if you wish.
If you do want to run with things turned off though, you've got to turn them off every time you get on the bike, as it all defaults back to a 'safe mode' once the ignition has been turned off. I'm told that if you put the thing in 'Rider Mode' and adjust all the settings within that, it makes it easier to have the bike's electronics set as you want them each ride, but it's all very complicated – way more complicated than the 'old' trip'.
Despite the size and weight of the 20-yearold Triumph, it was more than happy to move and shake on the road. In fact, I was quite astounded at just how agile a bike it was. Even on the twistiest of roads I never even started working up a sweat, thanks to the bike's tendency to drop easily into the turns. It really wasn't what I was expecting from the Triumph, but I put it down partially to the big, wide bars offering plenty of leverage when you try and get the thing to turn.
The conventional 'right-way-up' forks are pretty soft, as is the shocker, so bumps are dealt with amicably, if a little bouncily, making for a comfortable-ish ride. What doesn't make for a comfortable ride is the seat, which is harder than you'd like – not bad at first, but after an hour or so perched on it I was definitely ready to get off and stretch my legs. And if that wasn't enough discomfort, the rear of the fuel tank doesn't seem to match the contours of the human body very nicely and digs uncomfortably into your legs.
It wasn't a major issue when we were sat up and having a steady ride, but when we started to giving it the berries and moving our bodyweight around, it was less than pleasant. The 1050 has no such ergonomic foibles; it's a really, really comfy bike. You could quite easily put up with its armchair-like riding position for an extra-long day in the saddle, if you needed to – and in all fairness, it's that nice a place to be, you'll probably want to!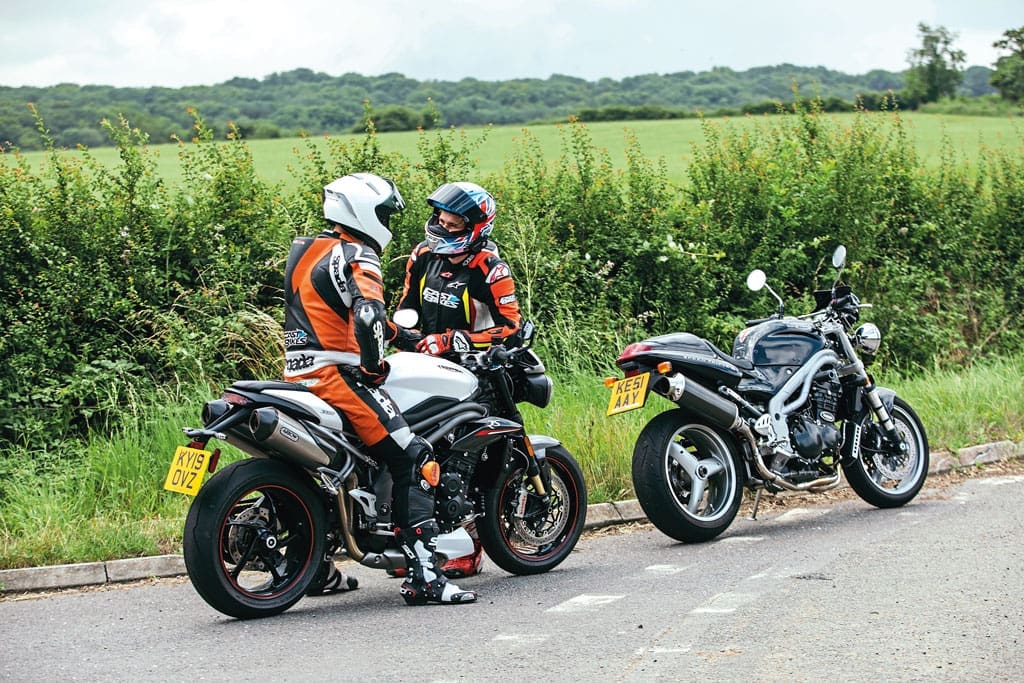 The fancy pants Öhlins suspension (front and rear) only adds to the RS's plushness and not only does it soak up most of the road imperfections without any ado, it copes tremendously when you start to have a bit of a go on the road. There were a few times that I thought I might have overcooked it slightly on the 1050, but no matter what I seemed to do, or how many liberties I seemed to take, it'd rail round any corner I could throw at it, without batting an eyelid. The old 955 was good on the road, but the new 1050 was nothing short of marvellous.
Track time
When we got to Bruntingthorpe's handling test track we were long past concerning ourselves with comfort levels and pothole management. We wanted to know what the bikes would be like when pushed a bit harder than you can on the road. If the truth is known, this is where the 955i started to show its age (and weight).
Initially it was as impressive as it had been on the road, with a flickability that defied its weight, but the more we upped the pace, the more the 20-year-old behemoth was found wanting. Don't get me wrong, it didn't completely loose its agility, but there are some long, fast bends at Brunters, and once I'd got to a certain pace, the 955i just didn't want to hold a line and would run wider, and wider and wider.
The modern Speed Trip', on the other hand, felt more than comfortable in the fast and slow stuff at Brunters. It's by no means a superbike, and the riding position alone makes going into 'track attack' mode a bit peculiar, but other than that, everything felt calm and collected on the 1050, and it never did anything that I didn't want it to do.
Whilst the shifter and blipper made the road ride that bit easier on the modern bike, it made the track ride that bit faster, too. It's undoubtedly a quicker, more efficient way of changing gear and blipper-assisted downshifts definitely unsettled the bike less on the way into the turns, but the biggest benefit for me was that it's just one less thing to think about (and one less thing to wear you out!).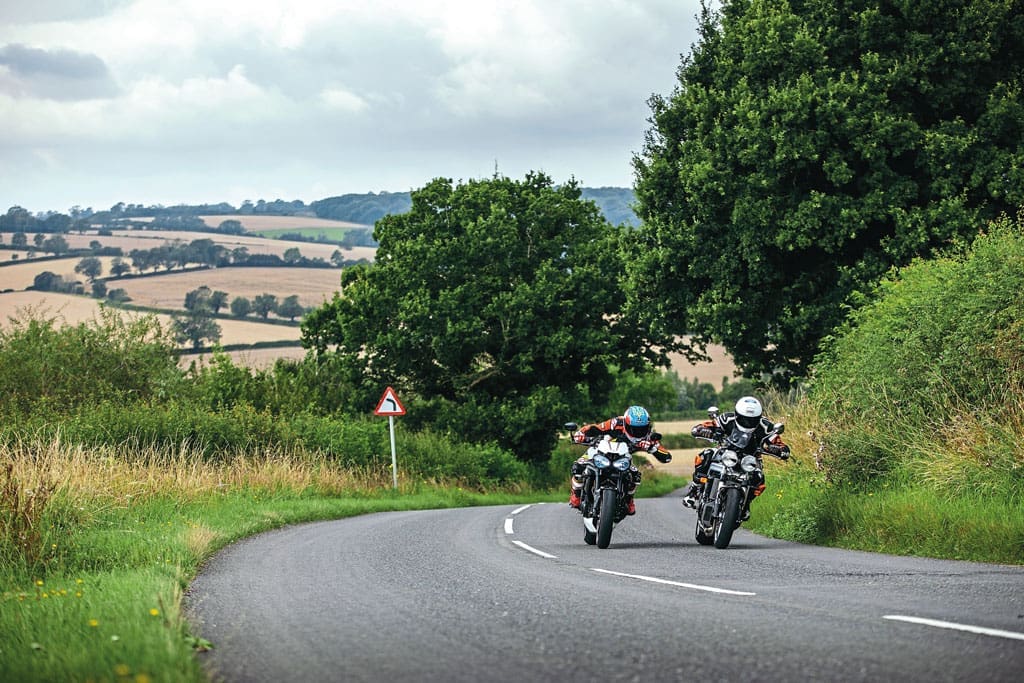 There are a couple of hard braking zones on the handling track too, which I thought would be a challenge for the older bike. Oh ye of little faith. I was pleasantly surprised how good the brakes on the 955 were. They weren't quite as sharp feeling as the anchors on the modern bike, but there was more than enough power in them to get things hauled up in a hurry, without needing a right forearm like Popeye's (good job, its only my left that's like Popeye's). There was no real sign of brake fade either, despite putting in quite a few laps on the old girl.
I'm not wanting to sound like a broken record, but it was nice getting on the old bike and knowing that the ABS wasn't about to rear its ugly head and have you running on, left right and centre. In fairness to the 1050, the ABS can be disabled, but it's just an extra bit of aggro.
I'll be honest, it was quite frustrating not being able to hold on to the shirt tails of Frodo, as I watched him disappear into the distance on a machine 20 years newer than the thing I was perched on. On the newer bike, he could brake deeper, corner faster and accelerate harder than I could on the older weapon. It's probably fair to say that the 955i wasn't in the same league as the 1050 RS on the track, but I don't think anyone can say it embarrassed itself.
It's clear to see that things have moved on substantially, and fantastically in the last two decades. But not every piece of space-age tech is worth its weight in gold. There is no question that the latest Speed Triple is a better motorcycle than the 20-year-old Speed Triple that Nick so kindly let us take for a spin; it's faster, lighter, comfier, easier to ride, the list goes on. But it's also five or six times the price (£13,600 for the 1050 RS, like the one we tested). Can you have five or six times the fun on it, though? Well, I'd say probably not.
I know it's not just about fun; you'd expect a lot better reliability from an uber-modern bike, and there is always the question of what the neighbours will say when you wheel a gleaming new toy out of your garage. And anyway the extra cost isn't the only price you pay for all the added electronic wizardry – you have to take the faff factor into account; it can be a real pain in the arse, setting up the systems to your riding preference, every time you swing a leg over the bloody thing.
It really is horses for courses. If money was no object then me and Frodo would both agree; we'd definitely go for the new Trip', but if you are on a budget and the best you can afford is something from 20 years ago, provided you do your homework and get something that has been properly looked after, we don't think you'll be disappointed.

Enjoy more Fast Bikes reading in the monthly magazine.
Click here
to subscribe.