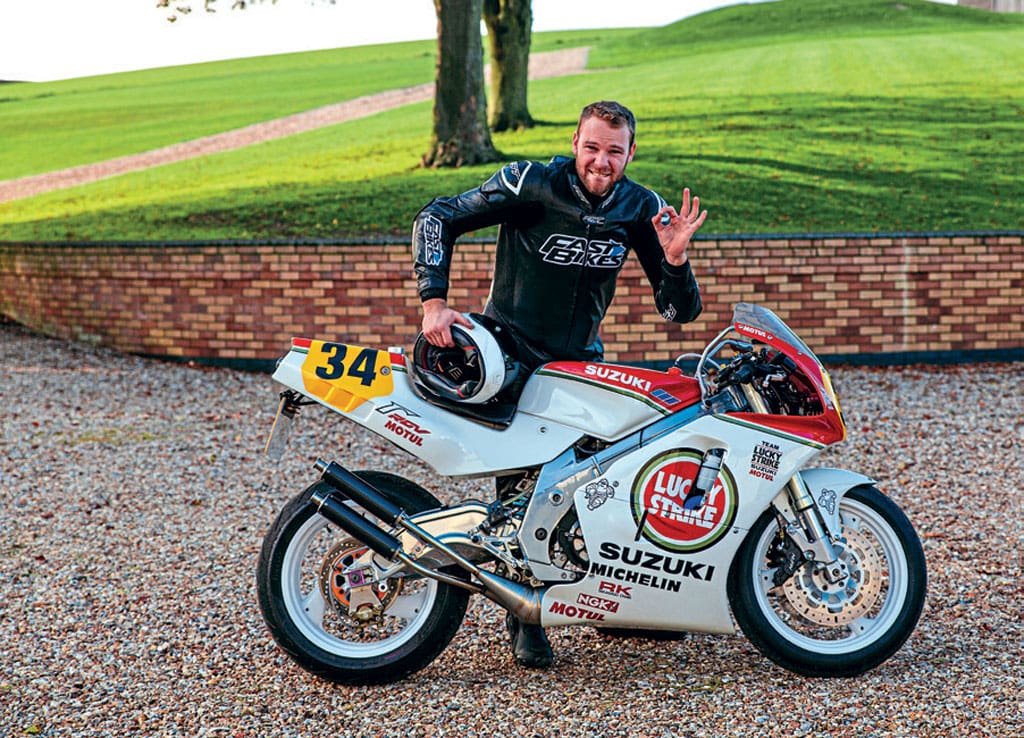 Words: BOOTHY | Images: CHAPPO
This isn't any ordinary Schwantz rep. Oliver Lawrence has gone to town with his Suzuki project to perfectly replicate the American racer's 1991 World Championship bike, and he's left no stone unturned…
We all had our idols growing up, didn't we? If you'd have asked me in the nineties who my hero was, I'd have said with absolutely no hesitation, H from Steps. Effeminate though he was, as far as I was concerned, there was no other A-lister in the music industry at the time who could perform a perfect twist-step-and-jump-2-3-4, without going off key. But whilst I was singing Tragedy into my sister's hairbrush, gazing jealously at H's blonde curtains, Oliver Lawrence from Lincolnshire was eyeing up Kevin Schwantz's RGV500.
You see, the posters that adorned Oliver's childhood bedroom wall starred not the musical heartthrobs of the 80s and 90s, but the two-wheeled, singing smoke machines that, back then, were considered at the very cutting edge of bike racing technology. And taking centre stage on Oliver's wall of wonder was the aforementioned 1991 Suzuki RVG500 XR76.
Now he's a grown-up, he simply had to have one. It was a long time coming, but Oliver is now the proud owner of a Schwantz Replica XR69. And that's 'Replica' with a capital R; we're not just talking about a paint job and some vinyl numbers – the lengths that have been gone to on this project to ensure the bike is absolutely identical to the one Schwantz raced back in 1991 are beyond meticulous.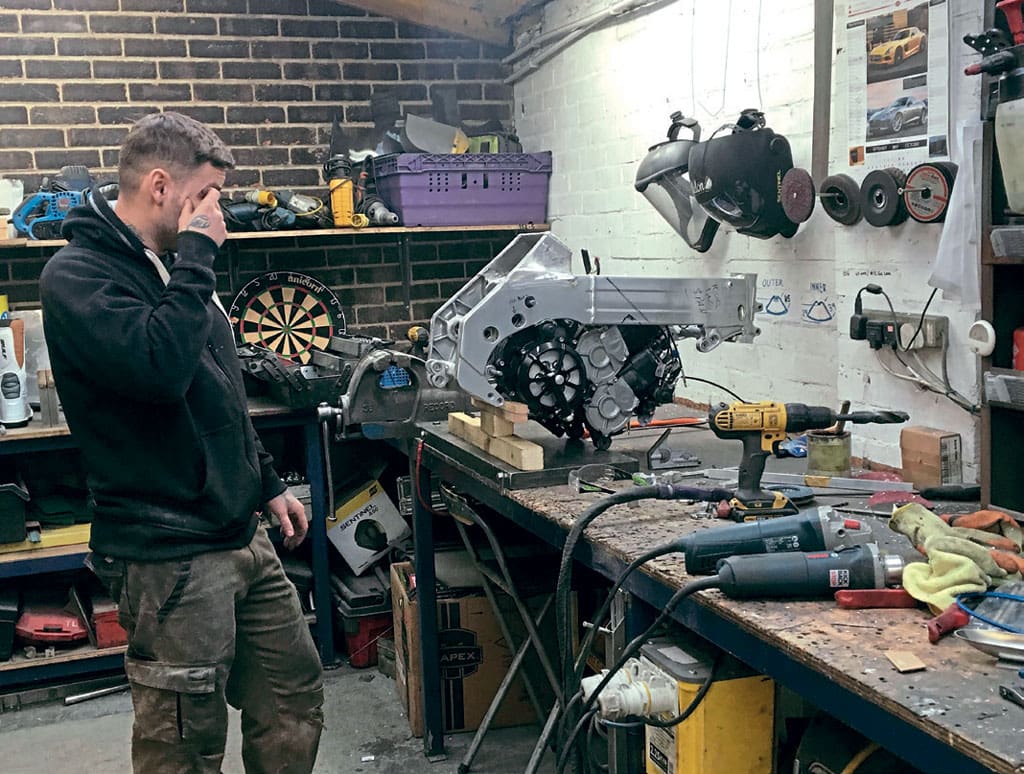 We spoke to Oliver to hear, straight from the horse's mouth, exactly how much work has gone into this project, "It started with a set of exhaust pipes that I bought on eBay, then I bought an engine from Canada, which was all stripped and in boxes. It was the only way I could get a proper 500 gamma engine, and I wanted to do it properly, rather than use a 400 that's been bored out. Mick Grant (seven-time IOM TT winner and ex Suzuki works rider) is a neighbour of mine and he put me in touch with a guy called Paul Boulton, who builds all the Team Classic Suzuki engines.
"I sent him six boxes of bits and everything was there, but a barrel needed re-sleeving and the gearbox wasn't in very good nick. Luckily, he had a Nova Racing close ratio gearbox lying around, so he chucked that in, rebuilt the cranks and then all of a sudden had a working engine.
"The frame started life as a RGV250 VJ22, but it's been completely modified to take the RG500 Gamma engine, and because we have chopped it about so much to fit the engine, we've massively braced it inside. I did get a kit that mounts the engine into the frame, but it was crap; the engine was tilted forward and it didn't sit where it should; the sprocket alignment was all wrong; and the carbs were at the wrong angle so I binned most of it and just used some of the brackets. Once we had the engine fixed in place, we had to chop even more out the frame to get the carbs in and level.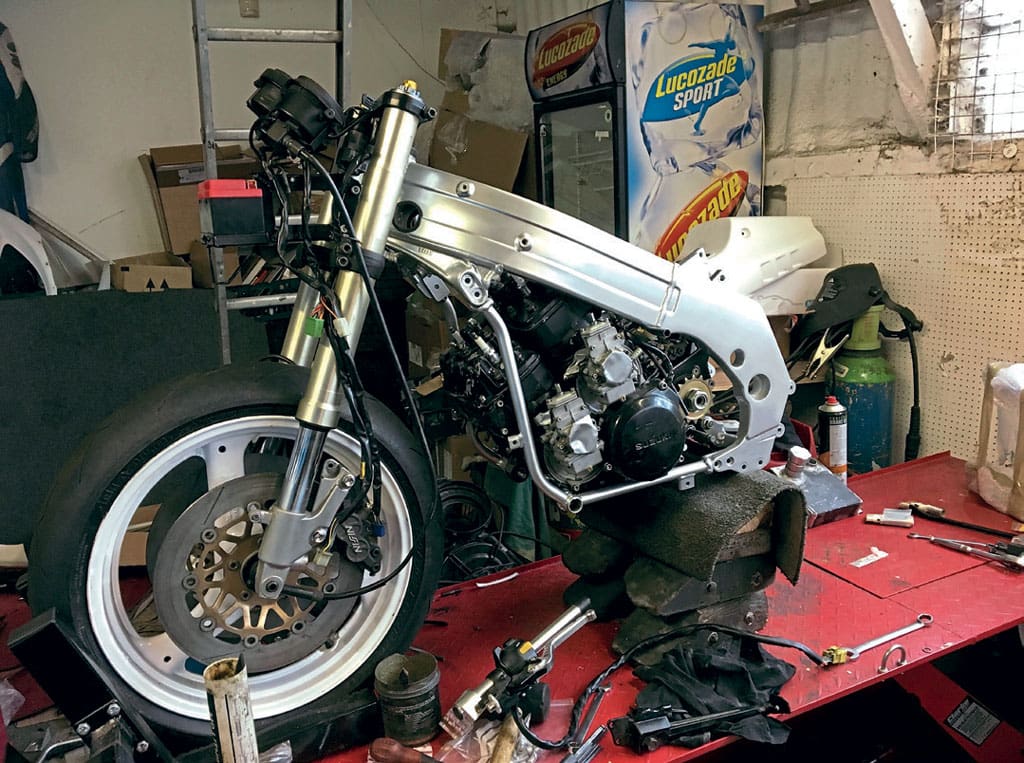 "The swingarm is out of a Japan only model and is the only one that you can fit a 180 tyre in – all the European bikes had 160. I had to have the bigger wheels, and they had to be the three spoke wheels too, not the five-spoke ones that were on the later models, but that meant we had to machine some more out of the frame as the wider tyre and wheel pushed the chain further out.
"I had a bespoke subframe made up to get the under-seat pipes in. Mark Dent at Performance Fabrications made the exhausts (the pipes I'd previously bought off eBay didn't quite cut the mustard), but we ordered them in parts so that we could get them to fit the bike perfectly. They took a while to come, but when they did my mate welded them up for me so we could get them fitted.
"I used Tiger bodywork, but modified all the fairings with bits and pieces of all sorts so that it looks like it was made specifically for this bike. I had to have the fuel tank imported from Spain, and the seat unit had to match the Schwantz bike exactly, so it needed to be one with three fins, rather than two, but I managed to get hold of one. Simon and Dave at Marshalls did all the paintwork for me and it's absolutely perfect – I'm so happy with the way it turned out.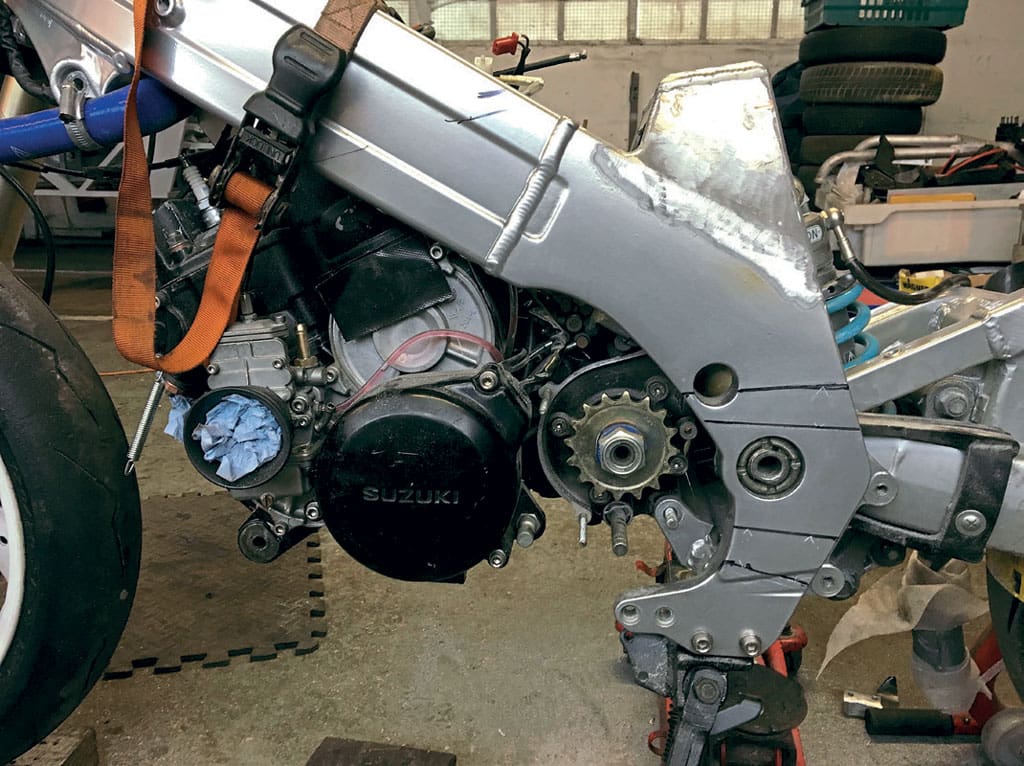 "It's not long been finished, so I haven't had time to do many miles on it yet, and the engine needs a bit more running in, but Paul (the engine builder) reckons it'll have in the region of 120bhp, and we weighed it for its MOT and it was 130kg, so I know it's going to be fairly rapid when I can open it up properly."
….For the full feature, pick up the January issue of Fast Bikes. For more information on how to get your hands on a copy, click HERE.

Enjoy more Fast Bikes reading in the monthly magazine.
Click here
to subscribe.