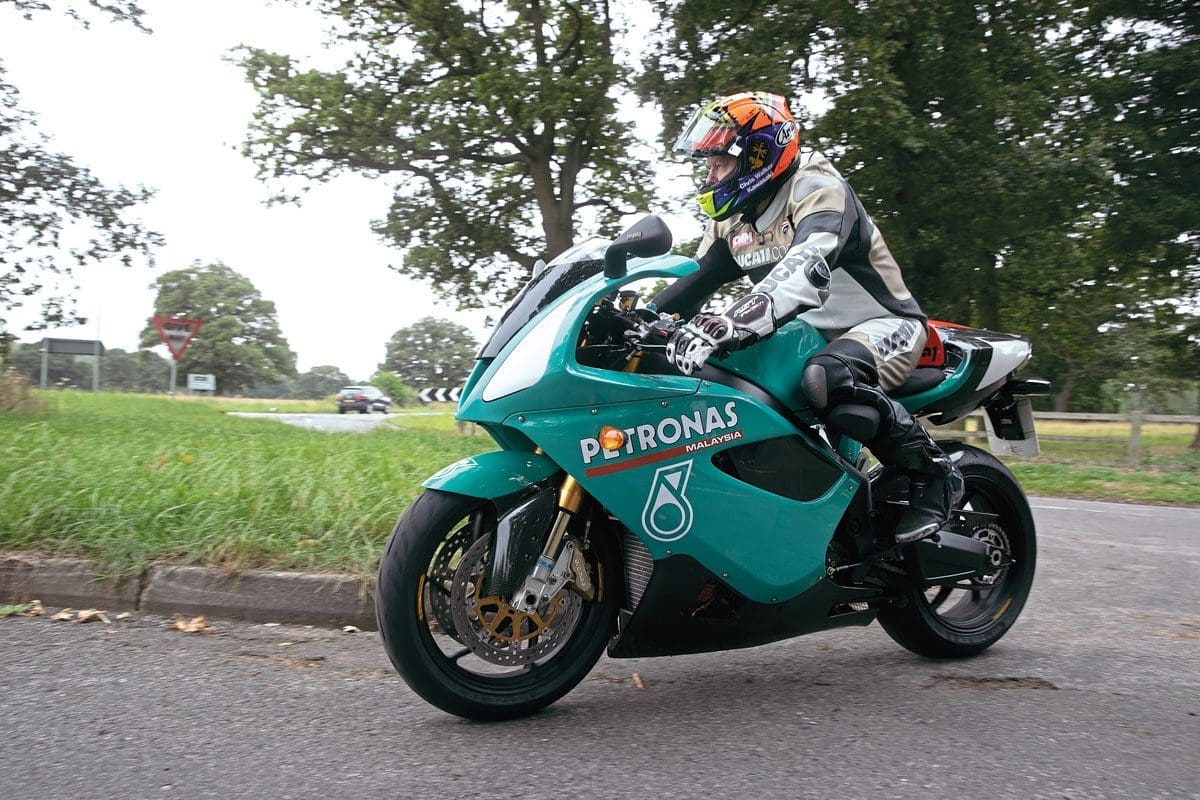 Stalker's racing career has proven both exceptional in length and results, but his year on the Foggy Petronas FP1 perhaps stands out from all the rest.
The Petronas racing project only lasted four seasons from start to finish – that is, if you can even call its fourth and final season in 2006 racing. The total amount of retirements from races achieved by Steve Martin and Craig Jones in the 2006 season was a whopping 22 from a combined total of 48 race starts, with a best finish of 11th by Steve Martin… little wonder that they didn't come back in 2007.
The season before in 2005 wasn't much better, with 20 retirements registered from 47 race starts, and Steve Martin and Garry McCoy finished 18th and 22nd respectively in the championship standings with a combined points tally of just 50 points between both riders from the whole season.
If you were going to race the Petronas FP1 for any season of World Superbike racing, 2004 was when to do it. It's all relative, of course, even then; compared to the rest of the grid, the Petronas was massively underpowered and much like taking a knife to a gunfight.
Nonetheless the bike did score its only two WSB podiums that season, and its two riders scored a combined total of 274 points – 70 points more than the combined total of the 2003, 2005 and 2006 seasons. And 57% of all the Petronas FP1 WSB points were scored in just one season by Troy Corser and Chris Walker.
In fact, by all accounts, the 2004 season wasn't that bad. The history books will always show a third finish in the manufacturer's standings, ahead of Kawasaki, Suzuki and Yamaha. As luck would have it, Chris Walker lives about 15 miles from me, and I figured that if he took Gareth's FP1 for a ride, it might bring back some memories of the project's purple patch. He didn't disappoint…
"The year before (2003) was my best year in WSB. I was Toseland's teammate at GSE, riding the HM Plant Ducati 998 ex-factory bikes. From memory, Toseland's bike had been Bayliss's and mine was Xaus's, so mine was brand new because he crashed so much and wrote so many bikes off. It was so competitive and I had a fair few podiums that year on it – some really memorable ones, including a complete British lock-out at the German WSB round stands out. It was Toseland's first win, Hodgson was in second, and me in third.
"To be honest I didn't have many offers for 2004, except Paul Bird wanted me to ride in the British championship in 2004 on the new Ducati 999. He called me at the end of 2003 and put an offer on the table to go back to BSB, which would have been amazing. I was already an old boy then because I didn't start racing until my mid-20s, so my heart told me that if I went back to Britain at that point, I'd never get back to a World Championship again.
"I really wanted to come back to BSB at some point, but not then. I hadn't ticked enough boxes at World Championship at that point, so I had to turn Birdy down, and that is one of the hardest 'nos' I've ever had to give. I could have jumped on his bike and competed for the BSB title that ultimately, I never won, but in my heart, I wanted to stay in the World Championship.
"I'd done a year on the Kawasaki in 2002 and a year on the GSE Ducati in 2003, and both teams folded at the end of those seasons so I had a 100% strike rate of being with teams in their last season. It wasn't that I was getting flicked; it was that there wasn't the option to stay. So, with GSE folding and not much else on the table for World Championships, the Petronas didn't seem that bad an option.
"I certainly didn't sign for the money. The rumours were that Hayden did that much crash damage the year before that there weren't any left for 2004! Seriously though, the way the funding worked was that they got a huge amount one year and less the next to help fund the development at the factory of, I assume, the road bike. Also, I think if you're the second rider to Troy Corser in a team at that time, there wasn't as much money left over for you… but I still got the first podium.
"So, I went to the pre-season test at Valencia where I'd had a double podium on the Ducati and rode my Petronas race bike for the first time. I did my first three or four laps and straight away remember thinking this was going to be the longest season of my life. I was at least two seconds slower.
"Granted, it was still in its infancy and at the total opposite end of its development cycle than the Ducati, which was at its peak in 2003. The Petronas was pretty much having its first full season in WSB; even though it had done a season before, it was a bit hit and miss. I could tell, because it still felt like a prototype rather than the finished article that the Ducati was. It was an eye-opener.
"I was led to believe that the chassis geometry was copied from the Ducati as it was the ultimate, so that was the 'go to' setting. The team also had quite a few staff who had worked on Ducatis, including the chassis engineer, so stuff like the swingarm length and head angle were based as close to the 2003 Ducati as they could, but the Ducati had a very narrow V-twin engine with a different crank position, so the weight transfer was totally different. It always felt odd – not wrong, just odd.
"There was also a problem in the team structure because there was a dedicated team of people who just looked after the engine, which was always temperamental and underpowered because of the rule change. The gearbox was always snatchy and the fuelling wasn't great, too. The chassis was looked after by a completely separate team, and the two teams didn't really mix. If you had a shit weekend, the chassis people blamed the engine people and the engine people blamed the chassis people, so it took forever to get things sorted. It was a shame because the bike had so much potential and the people were amazing. It was just the structure that was odd.
"Foggy was a superstar and the team was incredible; so well-funded and organised… it had everything it needed – except a competitive motorbike. I did a lot of trips to Malaysia and the Far East to promote Petronas, visiting the gas and oil refineries. It was a wonderful experience that I wouldn't have had with any other team, and I was lucky enough to ride the road bike back then, too.
"Petronas was partially owned by the Malaysian government so it needed to be seen to be doing 'good' things for the community and workers to warrant this huge expense. My understanding was that the thinking was that at some point the gas and oil would run out, so something else was needed for when that happened. It wants to be known as a country of engineering excellence, hence the reason for its involvement in F1 and MotoGP today, and at that point WSB; it wanted to create a motorbike of its own.
"I rode one of the road bikes back then at one of those promotional events in Malaysia and remember how light and agile it was. It was unfortunate that it was such a hot and humid day; the thing was running so hot that the fuel was evaporating before it could do its job, so it didn't run properly.
"I got Petronas its first podium at Round One at Valencia, my very first race on the bike. It had a clear tube hidden behind the dashboard poking over the top and when that filled with oil, it meant you had to stop because oil was about to end up all over the back wheel. A giant hugger was put on the back just to try and keep some of the oil off the back tyre because it was such a common thing to happen on that bike.
"It was a wet race that became dry and so with some luck and people falling off, I was in fourth place with about three or four laps to go. Then I could smell oil and got a horrible feeling, thinking it might have been going on the back wheel and wondering if I would get to the end. Unbeknown to me, the one and only time it wasn't coming out of my bike, it was instead coming out of Steve Martin's Ducati up the road in front in third place. He retired with a couple of laps to go, and I got third on my Petronas debut. It must have broken Steve's heart because I think he was on for his first podium!
"Foggy fell off the pit wall into the track when I finished third. There are photos of him standing in the middle of the track if you look them up. He literally jumped off the pit wall when I was on the last lap and was in the middle of the track waving his arms because the Petronas had never been anywhere near the podium. That was a really special day for everyone.
"It ended up being quite a decent year, to be honest. I thoroughly enjoyed myself and Foggy was great. He did do the odd thing that still makes me smile, like he'd give me a squeeze on the leg on the start line and say 'I'll give you a call from the airport' as he was leaving the grid – because he would leave the circuit as the race started so he could miss the traffic. I suppose he probably thought it was better than watching Corser and I bring it home in 10th, so on a few occasions I'd speak to him after a race and he'd already be in the departure lounge of an airport! He was brilliant and it so good for me.
"Corser was brilliant, too – I mean, what a teammate to have. He's a legend… you think of how good he was at superpole, so to have someone like that on the other bike giving similar feedback was really cool. I think he also got a podium for the team by the end of the year, too.
"I can't talk about my season on the Petronas without mentioning the time when my balls got set on fire. It was at Silverstone, and I genuinely don't know what it was, but I was tipping into Bridge (as it was back then on the old circuit) and realised I was hotter than the previous lap. In fact, I was engulfed in a ball of flames, so jumped off at about 70mph before I was too badly burned. As it was, all my pubes were burned off and I'll never forget the smell of burnt flesh from down there… I was so sore. To this day, I don't know whether it was the fuel or oil, but sometimes they literally just went up in flames.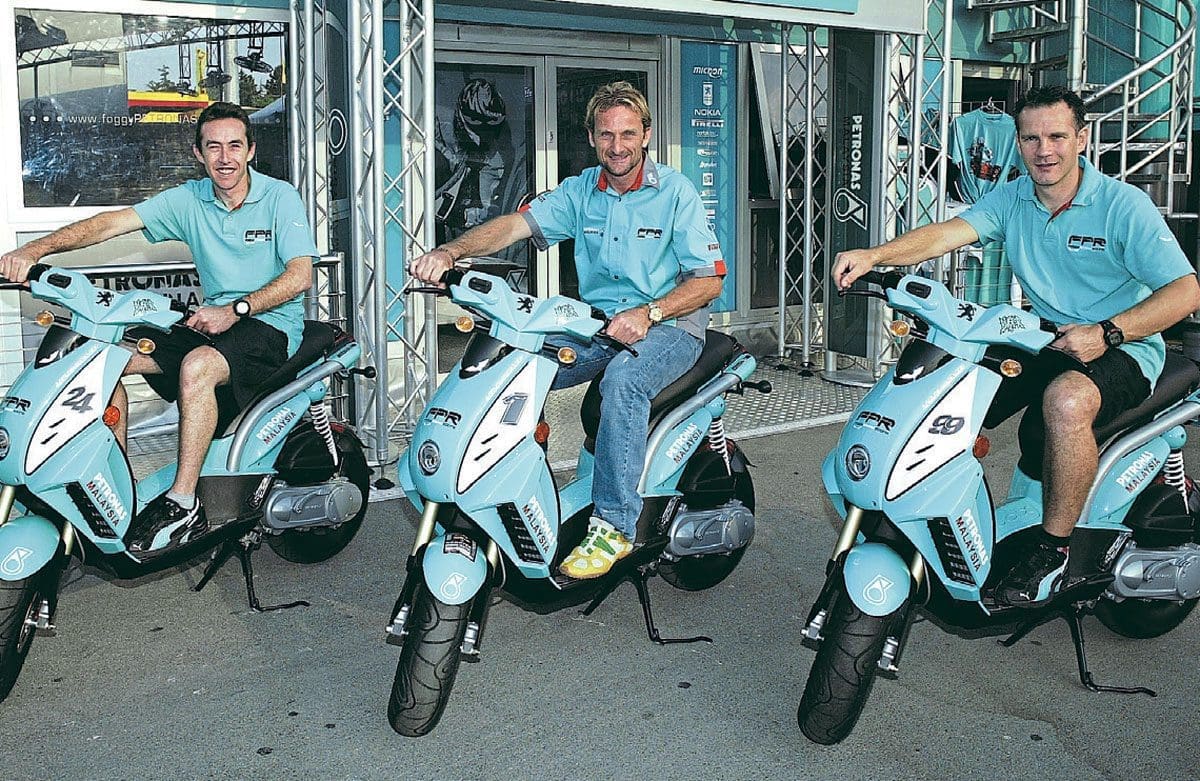 "When I joined, it was the first year that Pirelli became the control tyre for WSB. The previous season, with Hayden and Corser, was on Michelins, which disguised some of the bike's problems because the tyres were so superior. When I got on it, that advantage had gone and the weaknesses were exposed even more. For example, it always had a bit of a chatter problem at the rear going into the corners, and when you needed to carry high-corner speed due to not being very powerful, the chatter got worse on the Pirellis.
"Jack Valentine joined the team after I left, he understood the nature of the problem and set about sorting it. In fact, he did make the bike quite competitive over one lap, but it was still hard to race because it didn't have enough grunt. Steve Martin got it on the front row a few times, but it never raced that well.
"The team made me a fantastic offer to stay in 2005 but ultimately, I'm a racer at heart and I knew the bike couldn't change enough because it was built to the old rules. Also, I didn't know about any new bike in the pipeline, so the thing for me was to at least look around.
"I was offered a ride with PSG-1 Kawasaki for 2005, which was the opposite of Petronas – a very under-funded team but with a really fast bike. I'd never won a WSB race and I was desperate to. The chance to be world champion had passed me by at that stage, but I felt there were more podiums in me still, and that was never going to happen on a Petronas.
"Petronas was very highly regarded in the paddock; everyone knew that the machinery was flawed, which doesn't detract from the road bike. I also think everyone knew that, given the sort of funding, plus the experience in that team, if the team had just gone and bought some Ducatis, Suzukis, or whatever, they'd have been fighting for championships.
"PSG-1 was a little Italian team that was never going to fight for the championship but the bike was always going to be better, so I left one of the most professional, best-funded teams I ever rode for one at the opposite end of the scale. The crew was brilliant; one of them now works for the Factory Ducati MotoGP team and was Dovizioso's mechanic last year, and another now works for the Kawasaki WSB team and is the mastermind of the electronics on Johnny Rea's ZX-10R, so while it was a small team we did punch above our weight. In 2006 the gamble paid off and we got the win that I reluctantly left Petronas to try and get."

Enjoy more Fast Bikes reading in the monthly magazine.
Click here
to subscribe.