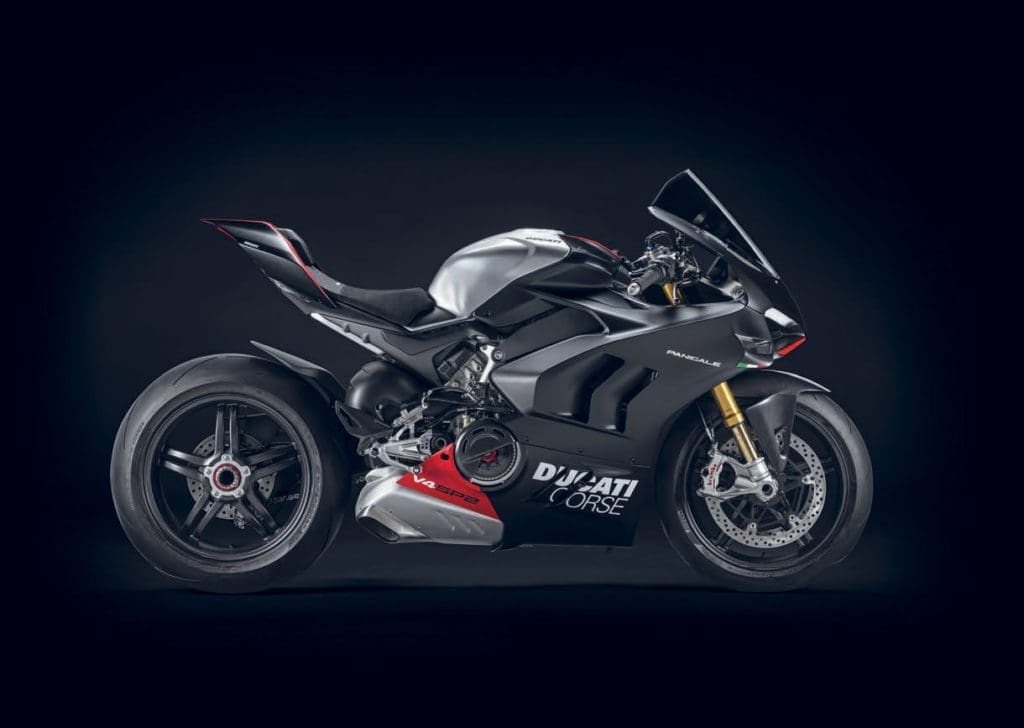 Ducati Panigale V4 SP2
For all you young guns out there, the SP2 moniker probably seems like an exclusively Honda deal, first seen on its VTR1000 SP2 WSBK homologation machine at the turn of the century and more recently on the firm's CBR1000RR Fireblade.
But, as any old bike geek will tell you, Ducati actually built Sport Production 2 bikes well before Honda's VTR. In the early 1990s, the 851 and 888 Superbikes both came in SP2 form (and SP3, 4 and 5 for the 888). Now the firm has jumped back on the SP2 wagon with this, the 2022 Panigale V4 SP2.
It's an update on the current SP version (which we tested – and loved – last month), with all the 2022 Panigale updates. The mods are largely similar to the previous 2021 V4 SP but applied to the 2022 Panigale V4 S, which was itself a pretty hefty update on the 2021 model, so you get the 1.4kg lighter carbon fibre split-five-spoke wheels, carbon fibre wings and front mudguard, Brembo Stylema R brake calipers and MCS master cylinder, machined billet yokes, exposed aluminium fuel tank, STM-EVO dry clutch, 520 final drive chain, and posh SP seat. And they're all added on top of the 2022 base model updates: more power, sharper aerodynamics, smarter electronics and improved ergonomics. There's a supplied track kit too; mirror block-off plates, numberplate bracket removal cover, and an open carbon fibre clutch cover for that perfect Sports Production rattling sound. Adjustable footpegs from Rizoma, standard GPS module for the Ducati Data analyser, single seat unit and Winter Test livery rounds off the wild spec.
The numbers are, of course, pretty impressive. The SP2 makes 215.5bhp as standard and weighs 173kg dry. Fit the optional Akrapovic race exhaust and you get a stunning 12.5bhp more, up to 228bhp, while also shifting 5kg off the mass; 228bhp and 168kg dry are stark numbers (almost double the power of the first 851 SP2, and 20kg lighter) – as is the price; £34,295 is a hefty chunk of change. But for what the firm itself calls 'The Ultimate Racetrack Machine', it might just be a bit of a bargain – whether you're a young gun or an old geek. V
2022 Ducati Multistrada V4 S
Article continues below...
Advert
No massive changes for the already excellent Multistrada V4S – but the 2022 model does have a rather interesting set of electronic upgrades. Not so much the updates themselves – there's a new lowering mode on the electronic suspension set-up, which lets you set minimum preload to drop the bike down a bit for riding through town with lots of stops, and the infotainment system gets a new menu system and upgraded user interface. What is interesting is that these upgrades can be downloaded onto existing bikes – a firmware update, if you will. You need to go to the dealer to have it installed at the moment, but it's an intriguing sign of what could be coming soon – better rider aids packages, improved power, and upgrades to electronic suspension performance, all downloaded like a new smartphone OS.
The other upgrades include a new white colour, a suspension lowering kit, and new alloy hard luggage.
More details: www.ducati.com
Article continues below...
Advert

Enjoy more Fast Bikes reading in the monthly magazine.
Click here
to subscribe.