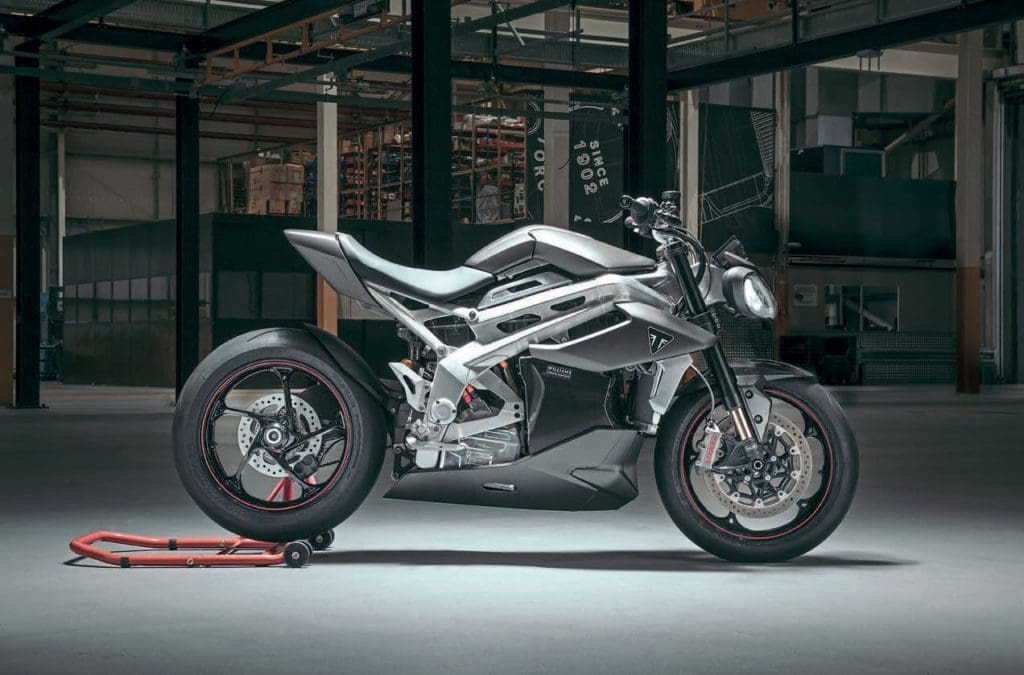 If you speak to anyone in the bike trade about electric motorcycles, the answer is always the same – we need one of the big firms to launch one that's properly engineered. The current (yes!) offerings from firms like Zero, Energica, and Harley-Davidson LiveWire are very good for what they are but remain a bit of a niche prospect for much of the market. And while the bottom of said market is rammed with budget Chinesemade mopeds and scooters, there's still no such thing as a genuinely mainstream electric bike, in the way you have now in the car sector.
That's got to change soon – and this is perhaps one of the earliest signs: a real-world, running prototype of Triumph's TE-1 electric bike. The Hinckley firm released drawings of the planned machine last year, but this is the first time we've seen it as a full-engineered test mule. And it looks pretty impressive.
It's clearly a Triumph, with classic looks borrowed from the Speed Triple: aluminium frame, single-sided swingarm, dual headlamps. But under the bodywork lies, of course, a very different powerplant. There's no three-cylinder fuel-injected 12v DOHC petrol-powered internal combustion engine here. Rather, you've got a combined motor and inverter unit from Integral Powertrain LTD, a battery pack from Williams Advanced Engineering, and a load of control electronics produced by Triumph with help from the University of Warwick.
Stuff we haven't seen before includes the final drive, which uses a carbon fibre toothed belt rather than a chain – and a large radiator. That might seem superfluous when there's no super-hot engine but small, high-output electric powertrains often need liquid cooling for the motor. And super-compact battery packages also need advanced heat management systems to keep the lithium cells in good condition, and prevent overheating during charging and discharge.
The rest of the chassis wouldn't look out of place on many other premium Triumphs: Öhlins USD forks and rear monoshock, Brembo M50 brake calipers, and minimalist black bodywork. The TE-1 project has just completed what the firm calls 'phase three' of its development, which is all about bench testing and integrating all the components together. The next phase (four, unsurprisingly) will see the beginning of 'real-world' testing, including rolling road runs for throttle calibration, range, and battery consumption, rider power mode mapping, thermal optimisation and power/torque output.
Triumph's also poised to get the new TE-1 onto the test track in this phase to examine the handling, acceleration, braking and regeneration strategies – and how far you can wheelie the thing before it blows a fuse. Nice.
Article continues below...
Advert
Phase four is set to be completed by summer 2022 – a pretty impressive rate of progress. That also means we should see a running bike, with full specs, by the end of the year – though it remains to be seen how close to 'production ready' it will be. Strangely, this latest press release doesn't mention the specs that the firm released last March when it first showed it off. Back then, it was claimed that the TE-1 would make 177bhp and weigh 220kg, with a 120 mile range. Whether those numbers have turned out to be wrong, or if the firm is simply being a bit more guarded, remains to be seen.
Now, we're as cautious as the next rider about how electric bikes are going to turn out, and it looks like the technology still has a way to go to match the present state-of-the-art petrol machinery. But the TE-1 looks like a solid start and we're pretty keen to see how it goes, and where this project is heading…
Article continues below...
Advert

Enjoy more Fast Bikes reading in the monthly magazine.
Click here
to subscribe.