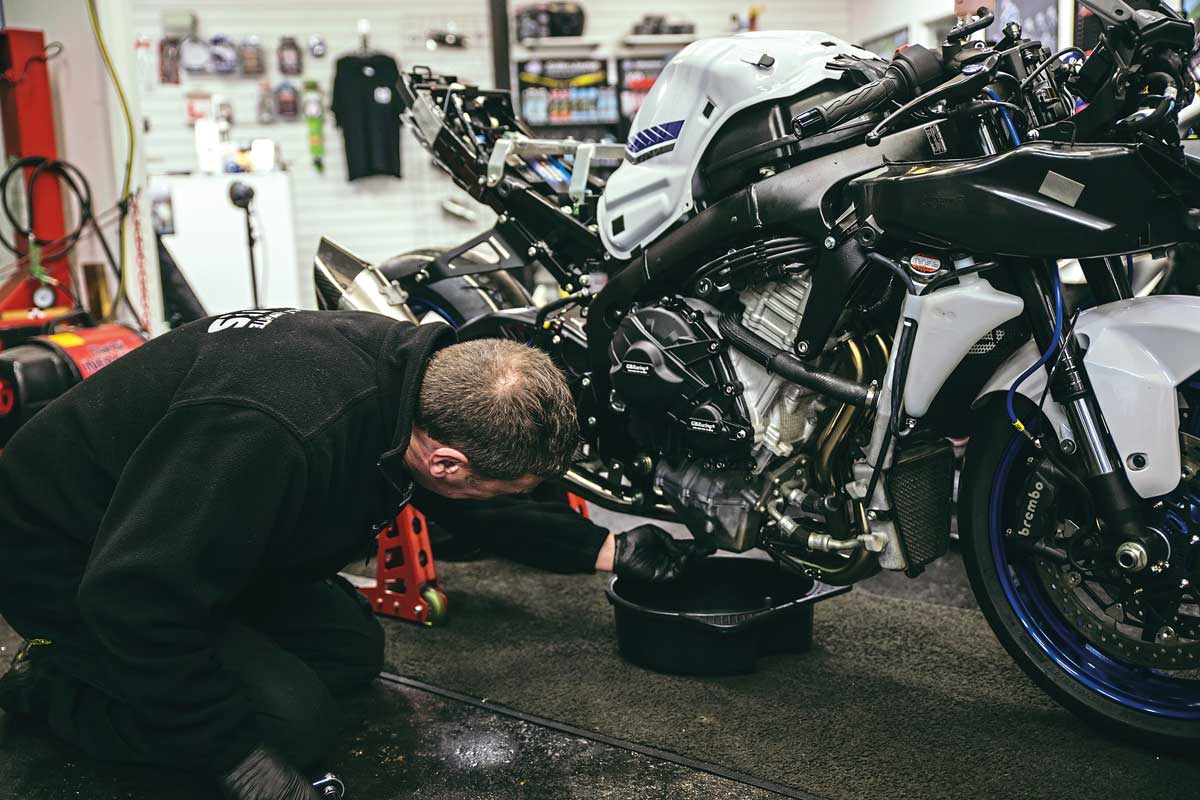 We all know that we need our bikes serviced, but do we really know what it takes, what to do and what to look out for?
 The team at Fast Bikes asked Paul at Black & White Bikes for a few pointers…
Q: What is the point in servicing a road bike?
Paul says: Well, you've got to keep it running sweet! The point of a service is to keep the bike going, especially as a lot of riders I encounter don't like doing any of their own maintenance – or very little at that.
Mind you, even if you do, it's always good to get someone else checking over it, as it will keep your bike at its optimum, and can stop any issues becoming bigger.
Think about preventative maintenance, and replacing worn-out items before they are fully worn out – you won't know what worn-out oil does until the engine goes pop, for example!
Q: Are there different levels of servicing?
Paul says: Yeah, there are, depending on what you want. Alongside manufacturers, we offer different levels that can go from just an oil and filter, to a major service which includes valve clearances, spark plugs, air filters and even chassis components.
We also offer an interim service in between the two, which does top-ups rather than full changes, but has a lot more checks than a minor one.
Q: What about if you take care of your bike anyway, do you still need it?
Paul says: Sometimes it's always good to have another pair of eyes check things over, and one of the best times to have it done is just before an MOT to make sure it doesn't fail.
It can save a lot of messing about!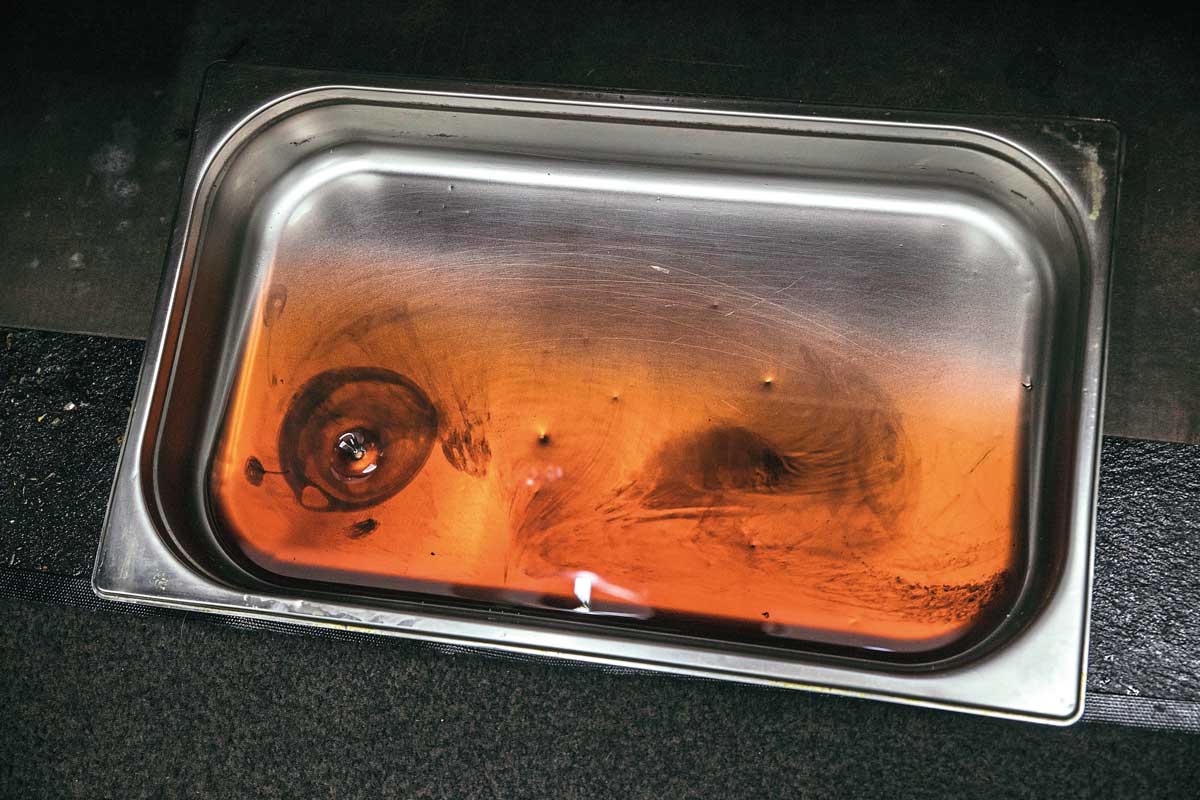 Q: What would be the usual process for the engine for a full service?
Paul says: For a full service on the engine it would mean replacing the oil and filter, giving a new air filter, new spark plugs, and checking the valve clearances.
Sometimes we have to change the clutch, but we don't usually replace it until the customer knows that it's worn out, or wants to check, as most people don't want to pay the expense for it.
We also check and adjust the chain and tension, alongside replacing the coolant. It's funny actually, because although some manufacturer service manuals say different things, it's always best to change the fluids like that every couple of years – and without a service, people tend to forget.
Q: What about the chassis and suspension?
Paul says: Of course we'll check over the chassis and sub-frame, but the main work comes from greasing the bearings.
We'll do everything from the headstock bearings (even though it's a pain in the ass!) to wheel bearings, swingarm bearings, and so on. Suspension is a funny one, as there're not many manufacturers that have a time limit on fork oil, even though it does go off.
So although a regular service doesn't include checking and changing fork oil, we do recommend having it done as a separate entity.
Q: How about the brakes?
Paul says: Unlike at a lot of places, with every service at B&W we remove the calipers and pads, and clean them – even as part of just a small oil and filter service.
They take a lot of abuse, so it's best to keep them properly clean, and fully functioning. You should check them, but a lot of people don't, and during the bigger services I'll do the brake fluid as well.
Q: What about for a track bike?
Paul says: Well, if you have a track bike, services should become much more regular! It will go through a lot more abuse than a road bike, so on a race bike preventive maintenance tends to be brought forward – you don't want your clutch, or even your brake pads, going halfway through a session.
It's not just about changing things earlier either, as you have to keep an extra eye on items that wear, such as your chain and sprockets. Although we check them on road bikes, it's the race ones that really suffer.
Q: When should you service your bike?
Paul says: Funnily enough, if you're going for a big service I'd say to go at the end of the year. Bike shops are all quieter over winter, so get your bike serviced when things are slower – just before the summer is the worst time.
For the average road bike which does about 5000 miles a year, rotate the small, interim and full services around, but make sure the bases are covered – especially if you're one for riding hard.
Oh, and I know the winter thing seems odd, but funnily enough I'd say one of the reasons is an old wife's tale; it's been suggested that some oil becomes slightly acidic after a while, and you don't want that sitting in your engine – you want it all done over winter ready for the summer ahead!
Q: How much does it cost?
Paul says: Looking at your local independent bike shop, they're going to be different where you are, and what you're after.
Here at Black & White, for a regular machine, we'd be looking at £120-£150 for a small motorcycle service, about £200-£250 for an interim service, and then £350-£400 for the main job – but don't forget, that will be much cheaper than going into a dealer.
If you want your suspension serviced on top, that would be around £150 for forks, and the same again for shocks, but it all depends on what you've got.
Just make sure wherever you're taking your machine, the shop has the proper suspension kit!
For more, visit www.fastbikesmag.com or subscribe to Fast Bikes magazine – home of the best sports bike tests on the planet! Click here to see the current subscription offers.

Enjoy more Fast Bikes reading in the monthly magazine.
Click here
to subscribe.