Kawasaki Racing Team riders Jonathan Rea and Alex Lowes ended the WorldSBK weekend at Estoril on a high, with Rea winning both Sunday races and Lowes securing fourth place in Race Two.
Ever-changing overhead conditions made each aspect of the final day in Estoril difficult to judge, but the hugely experienced Rea was able to make the difference in each race.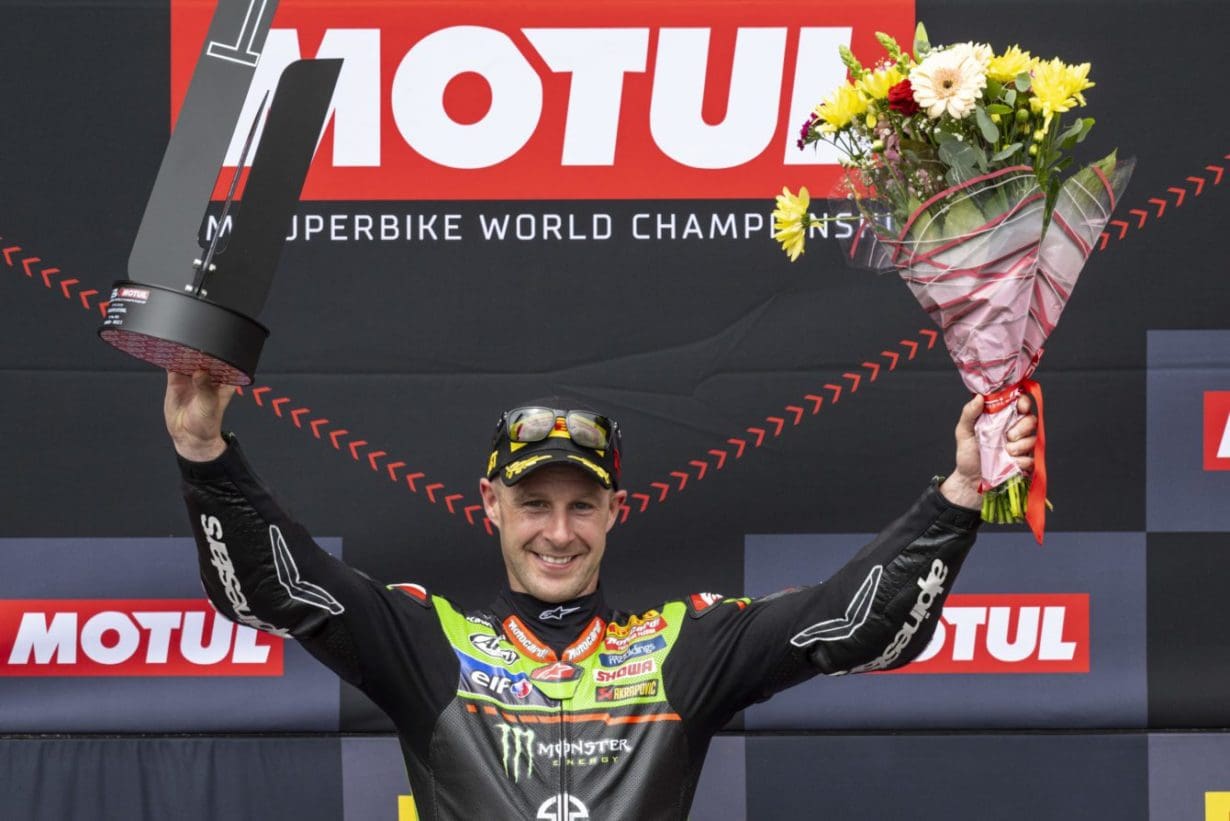 The Superpole race, run over 10 laps as usual, started after a fully wet morning warm up session. With damp patches still around and some narrow dry racing lines developing lap-by-lap, the race was an intense affair for all.
Rea had been run onto a wet section of the circuit under braking by his race-long rival Toprak Razgatlioglu, but Jonathan fought back strongly. Closing in on the final lap he was to have a stroke of good fortune when Razgatlioglu almost crashed, and Rea swept past to hold onto the lead in the final corners and take the race win.
In the full 21-lap Race Two Rea eventually battled with Alvaro Bautista, after breaking away from a four rider fight with Razgatlioglu and his own team-mate Lowes. It took two late attempts to pass Bautista but Jonathan timed his final manoeuvre into the slow chicane very well and prevented Bautista from mounting an immediate comeback and soon the chequered flag was waved on another Rea victory.
Sunday was a successful day for Lowes, with a sixth place and then a fourth adding to his championship points tally, as well as boosting his personal confidence.
Starting off riding with a margin of safety in the Superpole race Lowes moved forward to take his top six finish once he understood the track characteristics more fully.
In Race Two Alex was on course to fight for a podium finish all the way, only slowing relative to the leaders the latter stages to take a highly positive and rewarding fourth place.
In the overall championship fight Bautista has 161, Rea 144, Razgatlioglu 109 and, in seventh place, Lowes has 54 points.
With the Estoril weekend now complete, Round Four takes place at the Misano World Circuit Marco Simoncelli between 10-12 June, with all regular classes in attendance.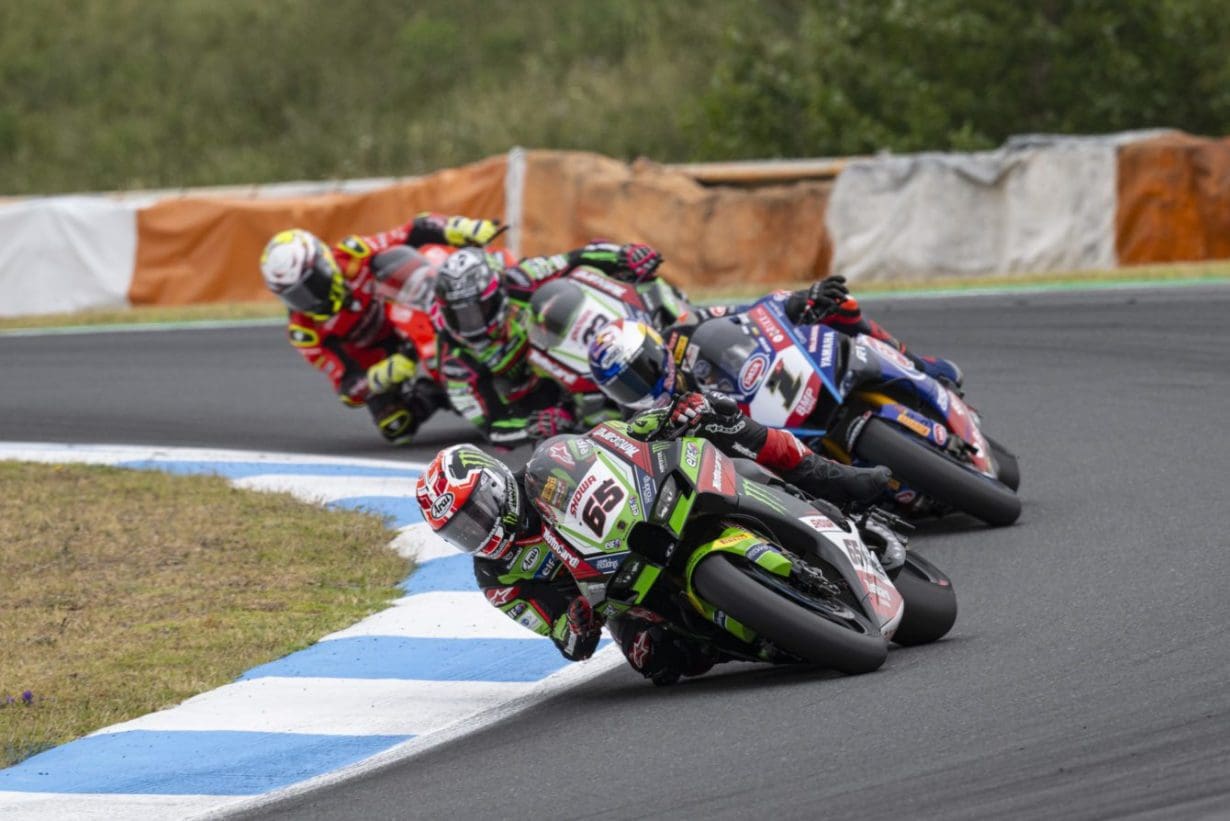 Jonathan Rea, stated: "The Superpole race was a little bit of a gift really. Toprak just got really deep into the chicane, used a lot of back brake, and that took the weight off the front. He lost the front and then I just kept my line. I wanted to lead into that last long right corner, and we did it. That was an exciting final race today! I had made a small mistake but in the penultimate lap I was quite strong and able to recover everything. Going into the last lap I just got really good traction from the last corner onto the straight, used the slipstream for the first part and said to myself, 'just brake, don't mess up.' I was able to stop, hook the corner, and by T3 I was right there with Alvaro. My traction was really good out and I was able to drive close to him. I tried to pass in T7 but he cut back then parked in the apex of the chicane. I did my line and tried to make a good exit. On the final corner I had such a big slide that I thought he was going to 'do me' but I just kept riding the slide, riding the slide, and then eventually I was able to get the job done. It is really nice when a last lap goes your way. Race Two was a great battle, right from the early laps."
Alex Lowes, stated: "I was happy because in the second race, in dry conditions, at least I was able to mix it with them at the front for 12-13 laps. No-one has been able to do that. That is nice because I have been a long way off. The start of the year looks worse because of two DNFs at Assen. If you take them out, I have been pretty consistent all year. I struggled a bit in practice here, the base setting we had in the winter and in the first two rounds didn't work, because this is a little bit of a strange track. It is quite tight and you need the bike a bit more on its nose to turn. Once we got that worked out the bike has been working quite well. I felt good this morning in the wet. I was a little bit cautious in the first few laps of the Superpole, race on slicks, and there were a couple of corners with just a little, thin, racing line. I dropped right back but my speed at the end of that Superpole race was good, even on the SC0 tyre. The changes we made on the bike settings from yesterday were good. I knew that starting from the second row in that final race my pace was going to be quite strong. We used the SCX tyre in Race Two and felt quite good except for the last five or six laps. In general, it has been a pretty solid weekend."
#morebikes #morenews #moresport #kawasakiracingteam #jonathanrea #alexlowes #worldsuperbikes

Enjoy more Fast Bikes reading in the monthly magazine.
Click here
to subscribe.