Jason took the British Superbike championship by storm last year, racking up 22 podiums and 11 wins, only to narrowly miss out on the title at the end of the season. With his eyes set on taking the 2022 championship, we caught up with him…
Words: Max Silvester
Pics: Tim Keeton / Impact Images
FB: You dominated the season last year up until the showdown. What happened?
JO: "It was a really good year. It's hard to have a faultless year from start to finish. Unfortunately, my couple of crashes and worst results came in the last three rounds, whereas other riders' crashes came in the rounds previous to the showdown. Although I made fewer mistakes than everybody last year, I was heavily penalised because of the point in the year that I made mine. I had some issues that began after the crash at Silverstone; I started to struggle a bit physically. At Oulton I wasn't really that comfortable, crashing on the Saturday afternoon when I was leading, finishing second place in the second race on the Sunday, and then crashing out of the last race. That was the beginning of the bad turn. With all the showdown rounds being so close – Donington was the following weekend – we didn't have any break after that. It was straight back into the racing and, yeah, I didn't quite recover. It was still quite strong for us but it was just unfortunate that the wins I had came before the showdown stage."
FB: You've made some great progress in the last couple of years. Do you feel there is extra pressure to take the title this year?
JO: "No, I don't think there's any extra pressure. From myself, there always is because I want to be the British champion. But after last year, with scoring the most amount of points and not winning the showdown, there is bound to be pressure on myself to try and win the title this year. But I don't feel like there is any more external stress than there was last year. We had a really successful season, winning a load of races – a lot more than I've won before. Maybe there will be a little bit more expectation from other people, but at the minute I don't feel any more pressure than I did last year. I would go on to say that I'm not putting enough pressure on myself. To be honest, I'm probably more relaxed because it's not the unknown anymore. In previous years I was always hoping to win races; I won a lot of races last year and I know how to do it, so it's just about trying to replicate that now."
FB: Does having a teammate who's such a close rival on track cause issues – or does it spur you on?
JO: "It causes tension in the teams, for sure; when one of your main rivals is your teammate, it makes it more difficult. It's not so friendly all the time because you're competing against each other – it would be much easier to have a really fierce rival who was in a different garage. Then you could maybe battle with each other more and you wouldn't have to deal with any situations, whereas for us, we obviously try to get on the best we can. That's the negative side of it, but if you want to look at the positive side, certainly in the last two years we've pushed each other on and made each other get better because we don't want to get beaten by the other. That is a huge success for the team. The level we've been riding at has allowed the team to keep developing the bike and keep moving forwards. Although we have had our bad moments, crashing into each other and having some tense times, the positive side of us being teammates far outweigh the negative side. The results last year from a team perspective were phenomenal, so you have to say it works."
FB: This year marks three years since you made the switch to McAMS Yamaha. Has this played a part in your progress as a rider?
JO: "Leaving Honda and joining McAMS Yamaha was a completely different environment – I was at Honda for so long. It was a very different way of working and doing everything. When I jumped into McAMS Yamaha, I got going really well to start with, then I got injured that first year and I just hoped it was going to turn around and get better.
"They are a great bunch of guys to work with. The bike has been fantastic from 2020 to 2021; it has been the best superbike I've ever raced and that's allowed me to push myself, bring the best out of myself, and bring my level on; then the bike moves on and I progress with it. It allows you to keep moving with each other, whereas in the past at Honda, the bike was so old and it had its limitations, so that limited me as well as a rider.
"Joining McAMS Yamaha certainly allowed me to move my skill set forward because the bike has allowed me to move forward. In the last two years, the number of races we have won and podiums we've had speak for themselves."
FB: Was there ever a thought about moving back to Australian superbikes?
JO: "Yeah, definitely in the early days – it probably would have been much easier to do that. After a year or two, it would have been much simpler to pack up and go home, live a nice life from where I grew up, and do a bit of racing in the Aussie championship. I think the same reasons why it would have been easy to do that were also the same reasons that kept me here. It was so difficult and then you start to make your way a little bit and you think, 'I'll just go another year'. Those tough years are why I'm in the position I'm in now. I'm glad I stuck it out because it's been worth it; it's starting to pay off now, why I did what I did in the early days.
"In the future, I'm not sure. I'd love to finish my career racing in British Superbikes. I haven't really had much thought of returning to Australia to race in the Aussie championship but never say never. You can't know what's round the corner, so we'll have to wait and see what the next few years bring."
FB: What would you consider to be an ultimate goal for your racing career?
JO: "I want to be British Superbike Champion. That's the number one target for me because I feel like last year, I sort-of half ticked the boxes. I won a lot of races, and a lot of podiums and points, but in the reality of it, I didn't win the championship – I didn't get the trophy, so I've got to come back this year and try to do that. If I did manage to win British Superbikes, I wouldn't be against trying to win another national championship, like Moto America. A lot of people say that if I ever won BSB, I'd go straight to World Superbikes. Would I do it? Of course, if the right opportunity came up, but in reality, that opportunity is probably getting slimmer by the day. There are too many riders and not enough seats. In British Superbikes, they would probably go for someone younger than me, even though I think that I am much better now than I ever was in my mid-20s. That's just the reality of bike racing; they go for the younger guy, whereas Moto America is back on the up, getting stronger every year, and I think it'll be quite cool if I could win a British Superbike Championship, then go to Moto America and win the championship there. That would be something unique and it's not been done for a number of years. It's something I would certainly consider."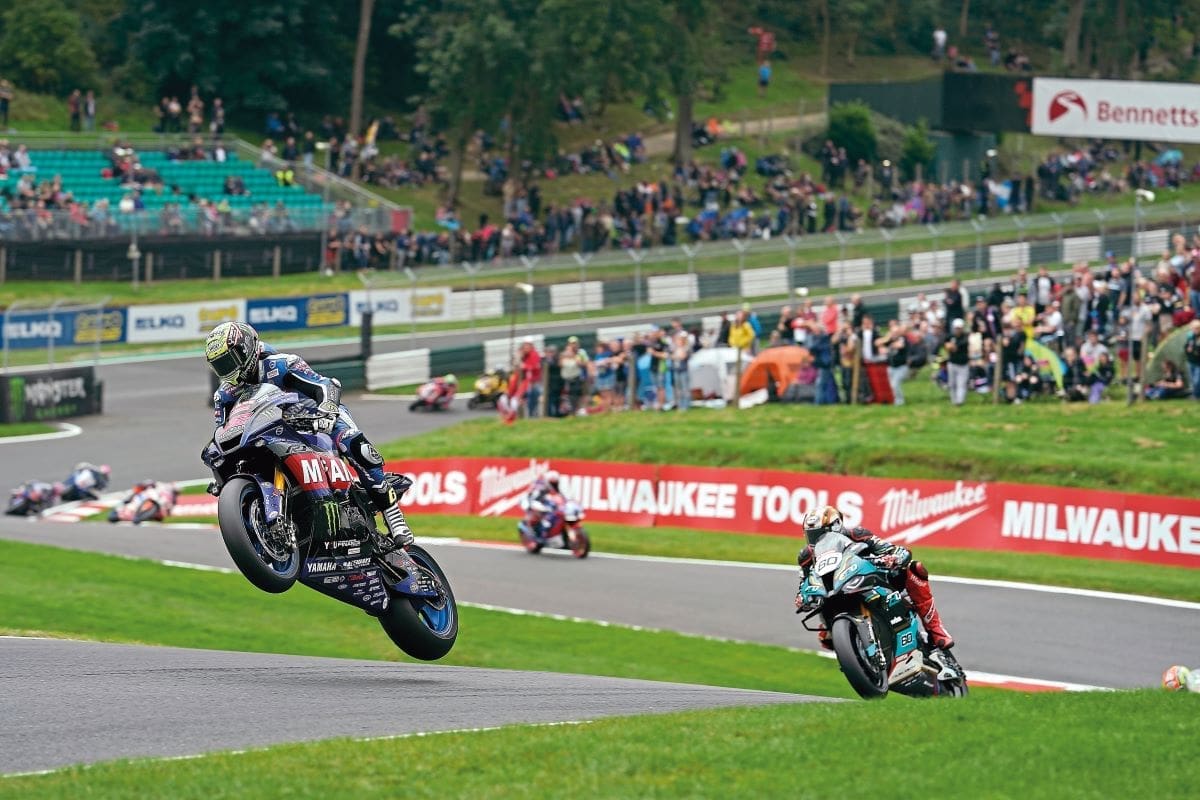 FB: Have you ever found your age affecting the opportunities you could have been given or could get given in the future?
JO: "It's really strange. As I've gotten older, my opinion on it has changed. I'm one of the older riders now, rather than one of the younger ones, but, for instance, my fitness levels today in my early 30s are so far ahead of where they were in my early 20s. Everyone develops and learns at a different rate. I would say I'm a much more rounded, better, fitter rider now than I ever was in my early or mid-20s. Motorcycle racing as a whole, especially at MotoGP and World Superbikes, they look at it differently – their riders are picked up so young. By the time you get to 20 or 21 years old in the MotoGP paddock, you've probably done a Junior World Championship at 12 or 13, probably Red Bull rookies at 14, and Moto3 at 15. By the time you've reached 20 they've known of you for several years. If you are in your late 20s and they've not picked you up already, you are considered an old rider that maybe isn't going to make it, opposed to a lot of people in superbike or national championships who have come through a different route. I never raced superbikes full-time until I was 27; I did a few wild cards and then I went back to support classes.
"My superbike career really started at 27. I feel like I'm coming to my peak now, in my early 30s. I'm experienced now, I know how to train, I know how to prepare, I know how to ride superbikes, manage the tyres, and set everything up. Age is a tricky subject; I much prefer the 33-year-old version of me than the 12-year-old version. It's very strange in sport. If you look at marathon runners, cyclists, or boxers – something that takes a huge amount of physical endurance, strength, and fitness – they will peak in their 30s, whereas in motorcycle racing, it's always a case of having to be really young. But I think it's just a different perception of how young they see European riders in the junior championships.
FB: Are you doing anything different than last year to ensure you've got what it takes to win the championship?
JO: "In all honesty, everything is very similar to last year – it's just refined. Each year I try to find some improvements and ways to get better based on the previous year, so things like training, preparation, and physical preparation. Riding the motorbike, I analyse everything and try and make it better. When you look at last year, it's hard to make it better other than saying, 'don't fall off at round nine or 10.' It's not like I'm looking at the season and saying, 'I needed to change this, I need to change that' – because it was all quite good.
"For sure, I need to make sure I'm prepared and ready for the showdown, the last three rounds. I need to make sure that the season's planned around September/October time, not peaking or not getting too excited too early. It's a long year – nothing really matters until September, so keep that in the back of your mind. Hopefully, we get a better version again of what we had last year."
FB: Who do you think could be a threat to your chase for the title this year?
JO: "I see everybody on the grid as a rival, a competitor – and someone who's going to challenge me for the title. I think I have to say Tarran again; he's the champion from last year. I'm sure that when PBM turns up, whoever they bring to the table will be very strong. The OMG guys are now on Yamaha so I'm sure they are going to have some very strong races and will be competitive. I'm sure I've missed out loads of other people.
"You never really know who's going to spring a real surprise. Look at my last year. I won 11 races; would anyone have picked me to win 11 races? Probably not… I won three the year before. It could be anyone; anyone could come out firing and get on with their bike and find a good setting and feel comfortable. I'm just trying to stay in my own lane and focus on myself. I know if I do my preparation, and do my work like I currently am, then we will be competitive and we'll be one of the front guys. I look forward to the challenge from everybody and hope we can put on a good show for all the fans."
FB: Rachel seems like your partner in crime at race weekends. Does she play a key role in your success?
JO: "Yeah, huge! it probably goes a little bit too under the radar, to be honest. When you've finished the race and you've won or you're on the podium, you never really get a chance to thank the people who are directly helping you. You're getting pulled from pillar to post, and you've got about a minute's worth of TV time. You're always trying to thank sponsors and get everything in about the race… it's quite a frantic period. I don't get a lot of time between getting off the bike, doing Eurosport, MSV, and any other interviews, then to the podium, it's a really busy time in the parc fermé.
"Rachel and I committed to each other a long time ago to go motorbike racing together and to try and make a career out of it; something we can make a living from. We didn't have a lot when we did. My success has been helped by the amount that Rachel does, from the organisational side of things to my bookkeeping, making sure I'm on time for everything… even planning the weekend… my nutrition, food, and hydration. Everything, from start to finish. I've just got to do what I'm told.
"Along with that, she also helps me in the pit box and does all my split times, taking them off the screen, writing them all down for me, all colour-coded so I know who's faster, who's not, what sector I'm good in, and what sector I'm bad. She also writes down all my notes when I'm speaking to my crew so I have information to look at when I'm back in the motorhome.
"Rachel's job is probably busier than mine on a weekend. I'm busy and I exert a lot of energy doing the physical side of it, whereas she does the mental side. She's organising everything, making sure everything is planned and keeping everything on track. At the level we're doing that at now, I couldn't do it on my own, that's for sure. She has played a huge role in my last couple of years of success."

Enjoy more Fast Bikes reading in the monthly magazine.
Click here
to subscribe.