Feast your eyes on this weapon. It's extra in every sense of the word, and when it comes to trackday bikes, they don't come much tricker than this…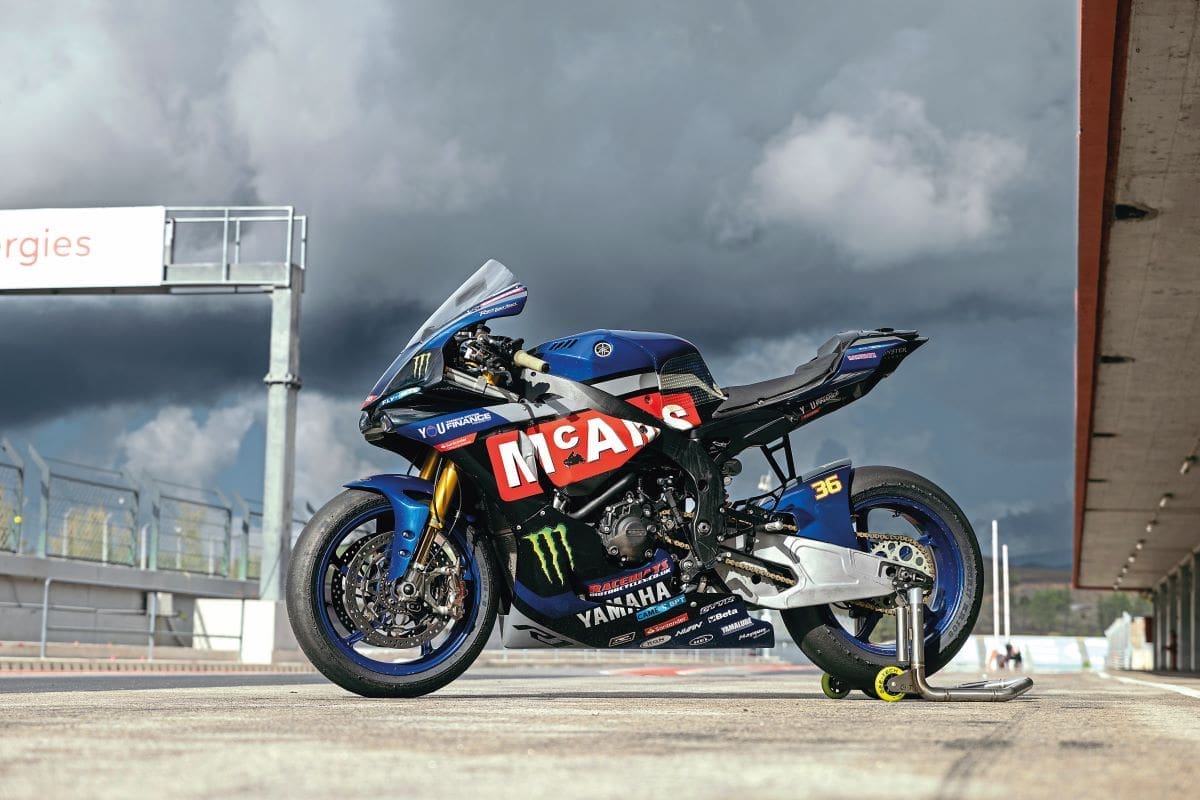 WORDS> TIM NEAVE  PICS> CHAPPO
If you had the choice of anyone building you a superbike, you wouldn't need to look much further than the lads over at Raceways Yamaha in Fleetwood… they are last year's British Superbikes champions, after all. Luckily for Glyn, he knew these lads, and that's where the project started. He could have bought an ex-race bike at the end of 2019, but since Yamaha released an upgraded R1 for 2020 – which brought about more mid-range torque and a better top speed – as far as Glyn was concerned, it was a no-brainer and it had to be a 2020 model.

Glyn purchased a new standard road-going R1, but the first he saw of it was in boxes when the redundant road-going kit started turning up at his house. The new bike went straight from the showroom and onto the bench at Raceways for its hefty makeover, and it's safe to say it was good hands. The boys and girls over at Raceways have built some brilliant bikes over the years and having won more races than anyone in the British Superbike championship last year with Jason O'Halloran and Tarren Mackenzie, you could argue that they're clued up and know how to make these R1s tick.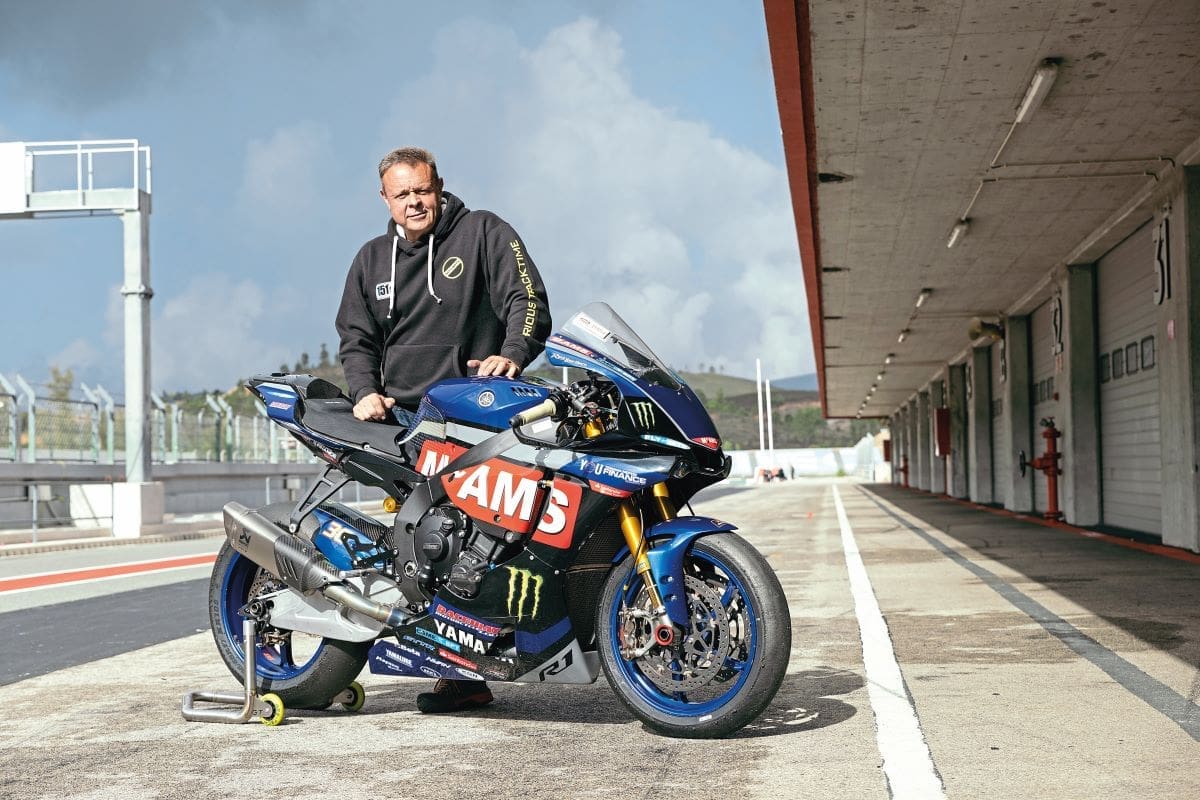 Glyn's bike cost in excess of £60,000 to build and features an incredible spec that would see it sitting pretty on the British Superbike grid. For Glyn, it was simple: he wanted to build a bike with the best possible chassis so he could experience what the factory riders have at their disposal. Well, he's come pretty damn close to that; to most bike fans, it could easily be mistaken for Taz's or Jason's superbike.
Having known the lads at Raceways for years, Glyn got first dibs on the some of the spare and ex-race kit – as you can imagine, he was like a kid in a sweet shop. A set of factory Öhlins RVP 25 forks (which are £12,000 new!) were a must, and a Suter swingarm, which has been developed and used in WSBK and BSB, was the next biggy to tick off the list. It's stiffer and lighter than the standard swingarm, so provides better grip, handling, and more feel – you'd be stupid to let that one slip through the net. To get the chassis rolling, a pair of lightweight OZ Pista magnesium wheels with Dunlop KR range tyres have been fitted, and to get Glyn pulled up into the corners, he's looked no further than the very best – a full Brembo set-up, Corsa Corta master cylinder, Brembo GP4 RX calipers with Z04 pads… oh, and not forgetting the scooter-style rear brake lever that was designed by the factory Yamaha WSBK team. Factory triple clamps allowing for offset adjustment ties the front end together, and IMA clip-ons that push the bars out an extra 20mm further help the big man get tucked in down the straights… every little helps!
Looking at the bike, I presumed Glyn would have been running the Motec electronics system, but since BSB rulings state you can't use rider aids such as anti-wheelie or traction control, Glyn opted for the Kit YEC loom and ECU as it's a far easier system to bolt on and go use while retaining the rider aids. He has found the anti-wheelie system to be a little peaky, which is another reason why he opted for the scooter-style rear brake – just to try and keep things settled during hard acceleration. Glyn is running the standard dash at the moment, and he hasn't added any data collection to the bike as it does everything he requires. He hasn't bothered using an aftermarket quickshifter either, as the standard one does the job and it's what the BSB team uses on its superbikes, believe it or not. It works with the kit loom nicely and is fully adjustable with the software.
Glyn's running the 2019 carbon fibre body work because Raceways had some fairing kits left over from the season and they work perfectly with the upsized SBK tank and cowlings.
The big question is – is it really a superbike if it's got a standard engine? Of course not. Kev Stephenson, Raceway's engine builder, has worked his magic on the cylinder head and used factory cams to give the motor that little bit more umph. He's kept the bottom end standard to keep the costs down and maintain some reliability, and the kit airbox with velocity stacks and the titanium Akrapovic exhaust system keeps everything breathing properly.
Glyn's had his bike built to a very high standard and it oozes trickness, but still, my burning question… why go for superbike spec over superstock spec? It was quite simple for Glyn: "We all want to try the best possible, and I've always wanted to ride Taz or Jason's bike but that's never been likely, so this is as close as it gets for me. I guess I'm lucky enough to be able to build a bike to such a similar standard."
Fair play.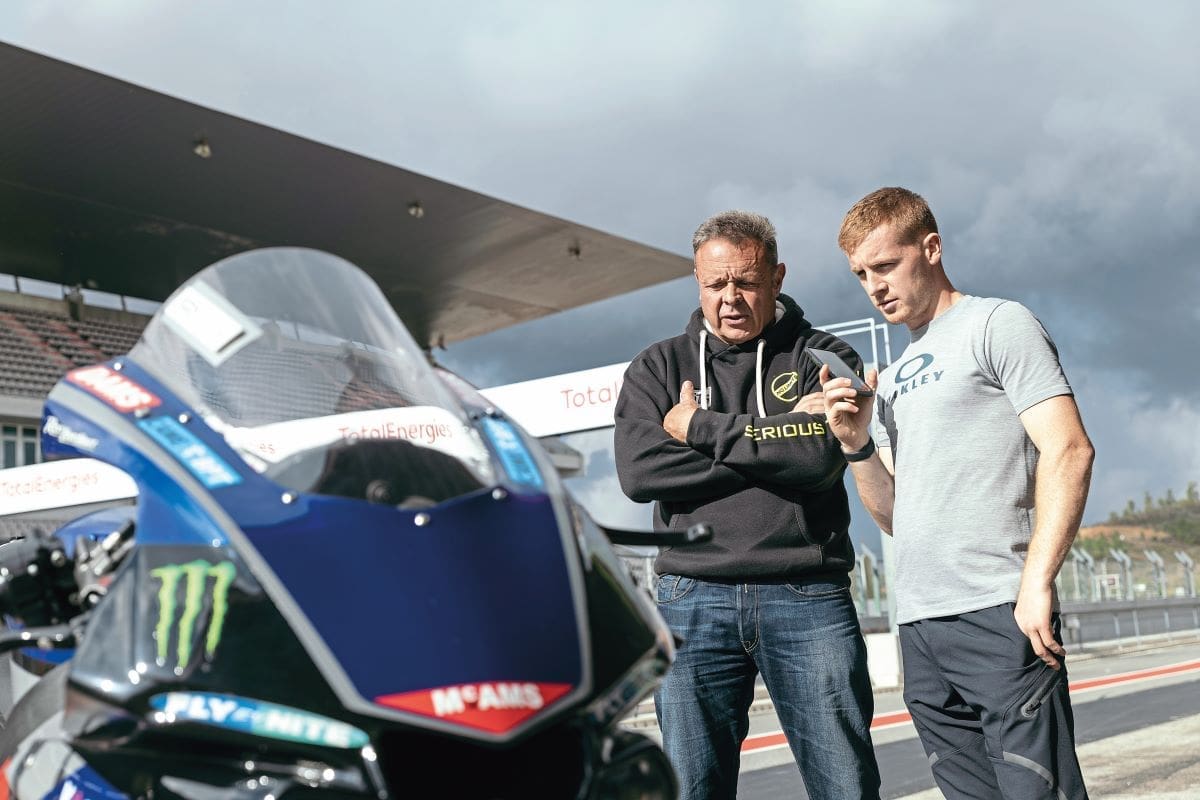 We wanted to know a bit more, so we asked Glyn…
What are your future plans with this bike? Any more upgrades?
"With the Kit YEC electronics, there is room to add two potentiometers for data collection… I'm thinking front suspension and front brake pots as they would help me with the set-up – I'm going to look into that over winter. If we are to go down the data route, I might stick an I2M dash on it as well, you never know… as the bike develops and I get better with it, then I think I'll end up getting one. I've now got Mick Shanley looking after the suspension, so the bike's been back in for a spring change and a bit of personal tweaking, and that seems to be ever-evolving."
Why Yamaha? Is it the right bike for you?
"Going back to when I first got involved with trackdays, I was running R7s and I've always just had a bit of a tendency to go towards Yamahas ever since. They've always just seemed to work for me. I've ridden other things, but they don't seem to float my boat. With the Yams, they are almost twin-like in the way they ride; the noise, the gruntiness, the way they come out the corners and the way they go into corners… I just love the bike."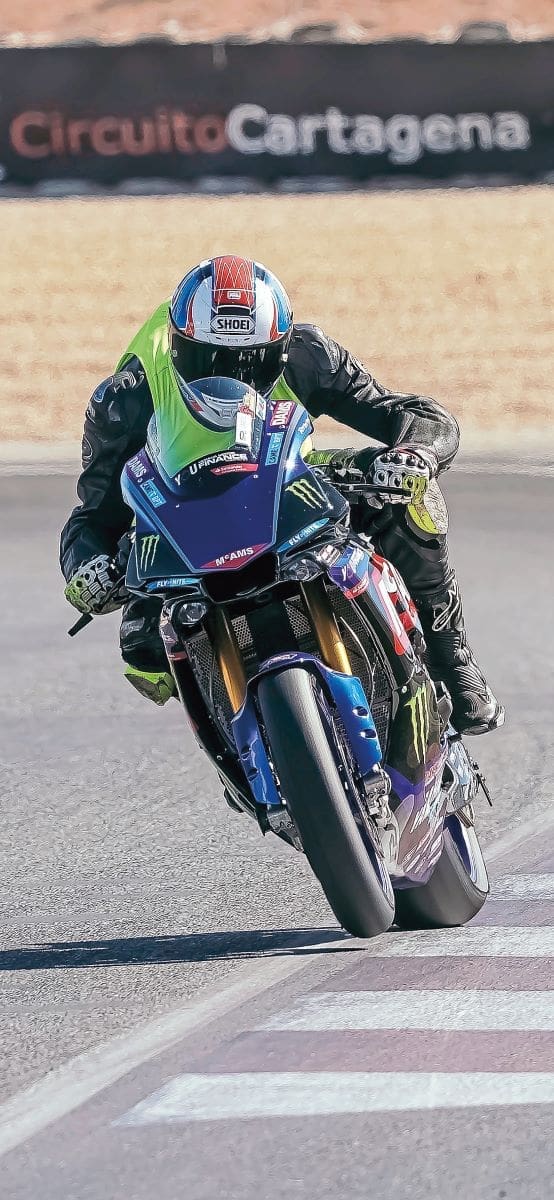 Is it easy to maintain?
"The main job is changing the oil and oil filter, which I do mainly at the trackside in between trackdays. I change the oil on a maximum of three trackdays and the filter every second oil change, and I'm running it on Silkolene Pro 4. Other than that, it's just general cleaning, and nut and bolting. I do like to give the calipers a proper strip clean with hot soapy water and an old toothbrush every couple of trackdays, as well.
"Mechanically-wise, I've never had any bother with the R1s. I guess that's one of the advantages of having two bikes. I try and split the load between the two of them, so it keeps the wear down throughout the year. I send them back to Kev through the winter each year for a refresh. I'm doing about 20 European trackdays per year and a few UK days that includes a lot of instructing, so I am racking the mileage up on them both."
2020 Yamaha R1 Superbike
Kit ECU and loom
OZ Pista wheels
Öhlins RVP25 forks
Öhlins TTX shock
Bembo GP4 RX calipers
Brembo Z04 pads
Brembo Corta Corsa master cylinder
Brembo discs
Factory triple clamps
WSBK scooter brake
IMA clip-ons
Factory 22-litre tank
Suter swingarm & carbon hugger
Akrapovic titanium system
Raceways rearsets
Kit airbox with velocity stack
Light engine tuning (STD bottom end with polished head/factory cams)
MB Motorsport water and oil cooler
2019 carbon fibre bodywork
Renthal sprockets
Tsubaki chain
Dunlop KR 106/108 tyres

Enjoy more Fast Bikes reading in the monthly magazine.
Click here
to subscribe.