From back-alley roads to BSB contender on track, let's take a closer look at how Aaron gets the most out of this born-and-bred racing machine.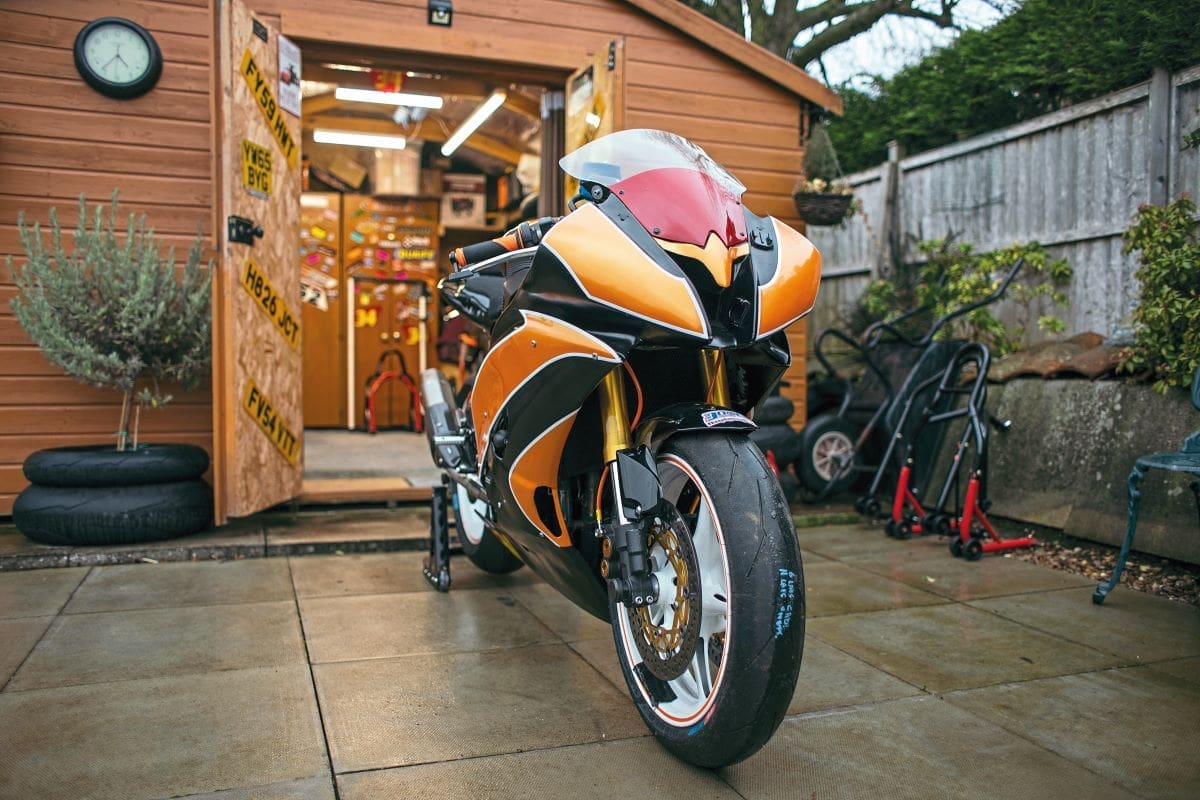 Words and pics> Max Silvester
As the battle for the best superstock bike rages on between the newer Yamaha R6 and Kawasaki ZX636, I'd like to take a look at a rather unexpected contender in this battle. Aaron made multiple top 10 appearances last year in the Junior Superstock Championship on his 2015 Yamaha R6, put together with his chief mechanic and uncle, Andrew, of A & J Racing.

The Lincolnshire family team has been supporting Aaron in his whole racing career, from club level up to British Superstock. Despite most teams at this level of racing throwing heaps of money in the hopes of picking up the newest, fastest bike and throwing the best kit possible on it each year, Aaron and A & J Racing had to take a more affordable option to attack the Junior Superstock Championship. An older model of bike has allowed Aaron and his team to gather parts second-hand, building a great spares package each season for a fraction of the price required to run a brand-new bike. Aaron noted that despite needing to take a more affordable route, nothing would have been possible without the continued support of his team, sponsors, and family.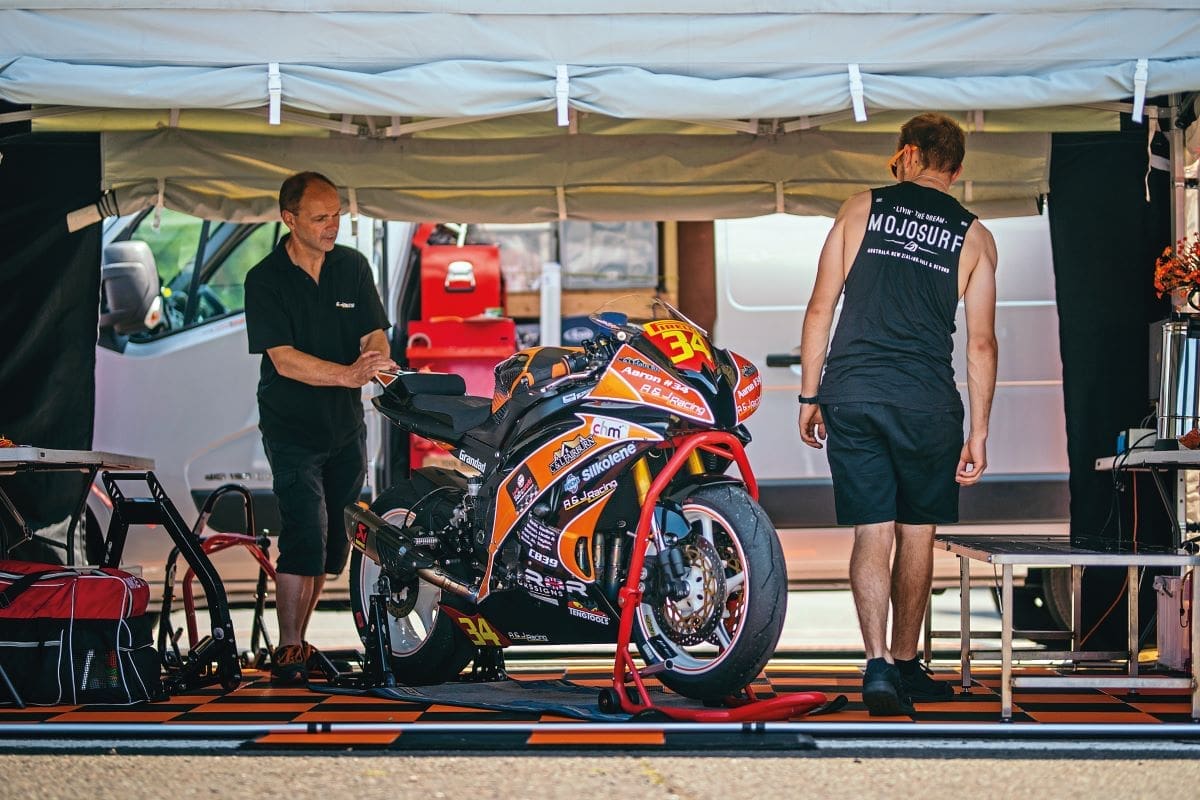 Aaron first jumped on a similar model of R6 at the end of 2015 after claiming a MiniTwins Championship on an SV 650 and took on the club racing scene, picking up multiple trophies from the Thundersport GB 600 class, eventually taking on British Superstock 600 in 2018. But Aaron unfortunately crashed at the third round of the year, Oulton Park, breaking his leg and causing him to miss most of the 2018 season. His bike was damaged too much to repair. After fundraising contributed to his recovery, hyperbaric chamber and physio costs, he picked this Yamaha R6 as a 'newer' road-going 2015 model, converting it to his current track bike, and it has been Aaron's trusty steed since 2019.
With its aggressive looks and amazing handling, this bike has packed a punch against the competition. Throughout his 2019, 2020 and 2021 seasons, Aaron has progressively picked up the pace again, picking up multiple top 10 finishes and setting his sights on the podium for 2022.
Riding one bike for so long has allowed him to come to terms with it, compiling tonnes of data and settings that are perfect for him. Unfortunately, we won't see this bike for much longer at BSB. With high demand for newer, faster options, older gen bikes simply won't be allowed to run in the Junior Superstock class. It's even rumoured that this year, 2022, is the last you may see this bike in action.
Let's take a closer look at the R6, which is kitted with Diamond rearsets. The components haven't just proven to be highly adjustable, strong in a crash and kind on the eye; they've also impressed Aaron massively in the wet, where the grip levels are really quite special. In the handlebar department, Renthal clip-ons are his product of choice, rating them for their adjustment on tap and solid demeanour, that has meant they've survived many a crash, or at worst, a new 'bar has been slid into place.
On the topic of crashing, GB Racing engine covers and bullet sliders are fitted to the bike, having been tried and tested on many occasions, always minimising damage to the bike.
Aaron also mentioned the use of custom-made crash protectors that are simply press-fitted into the rear axle. Added to this mix is a whole load of other products, including a highly rated Öhlins steering dampener to steady the front end and improve comfort when riding. The CRC fiberglass fairings, despite the steep cost, seem to be the best option available, as all the parts are interchangeable and fit together perfectly.
And once Aaron has used vinyl to create his distinct orange, black and white design, it's hard to miss the Yamaha out on track.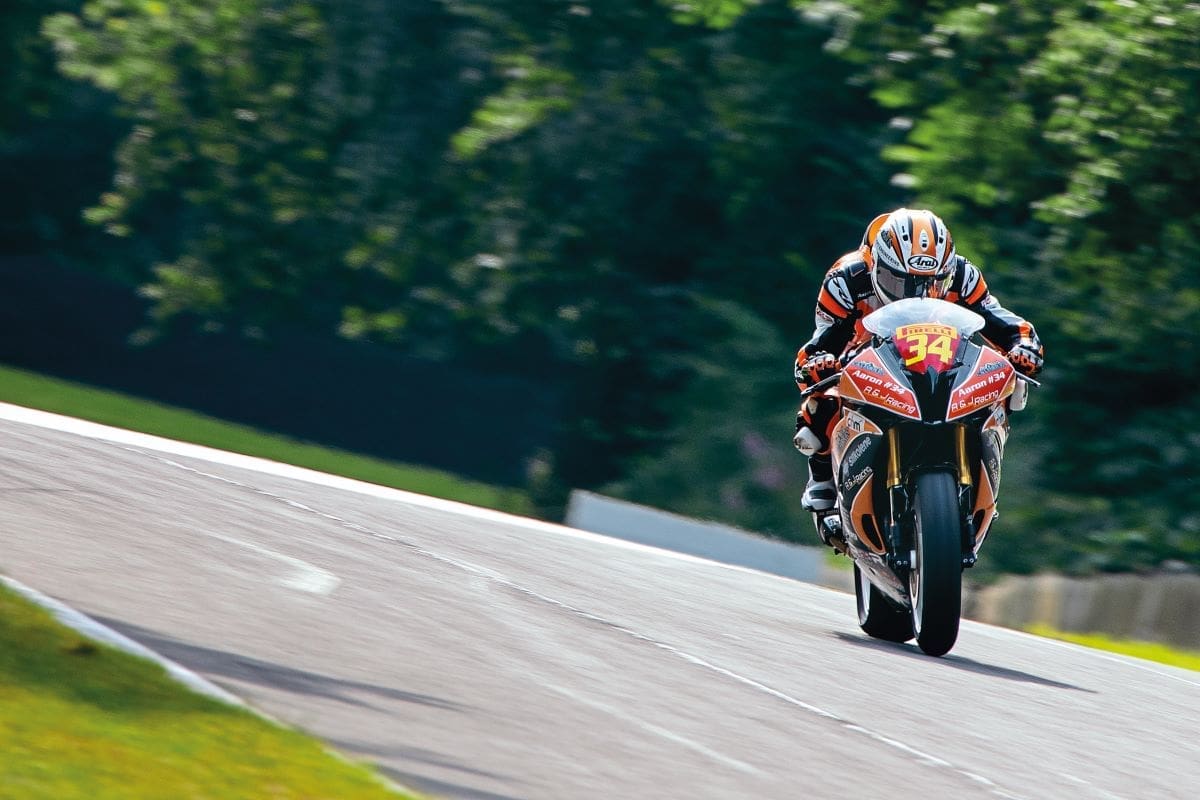 Besides the addition of 'H pattern' Hel performance brake lines, Brembo Z04 brake pads and EBC disks, the braking system is standard. Aaron uses stock levers, the standard master cylinders and calipers, too, which give great performance out on track. On the suspension front, he's kitted the front forks with FKR internals that are fully adjustable and offer great feel. At the rear he's got an Öhlins TTX rear shock that allows for tweaks to the compression, rebound and preload – all to suit Aaron's preferences at any track. This blend of suspension helps deliver great handling and seems to work well with Pirelli's Supercorsa tyres. As the control tyre for the Superstock class, they prove perfect for the UK series, with great ability to provide grip in the colder weather and on damp tracks that's common early on in the season.
As of last year, it became part of the regulations that all bikes could run quickshifters… as they were standard on newer bikes. This came as a great benefit for Aaron, who's now fitted a HM quickshifter that helps him run through the gears with ease. The rules of the series means no modifications are permitted to the engine, so the motor's as stock as they come. That said, the fitment of a Dynojet Power Commander has maxed the motor's potential and made sure Aaron's got the smoothest of power deliveries imaginable. At the end of that power is an Akrapovic exhaust system, boosting the output and ensuring everyone gets to hear the awesome soundtrack of a screaming inline-four. The engine's lubricated with Silkolene Pro 4 engine oil, which not only helps to maintain the motor's performance under strain, but it also minimises frictional losses and means the bike makes a very competitive 120bhp on the dyno.
Another custom modification that's been made to the R6 is the welding of the rear brake caliper bracket to the chain adjuster, which dramatically helps in the wheel changing department. Tweaks like these are what have made Aaron's bike a pleasure to ride and a treat to work on. It might not be the newest or shiniest bike on the superstock grid, but it's one of the most sorted R6s you'll come across. And one of the fastest, too, with the A & J Racing machine ranking fifth quickest around the insanely rapid Thruxton circuit. Who knows, it might even go even faster this season when Aaron gets back there with the BSB Championship in a few months… we sure hope so.
To learn a bit more about his bike, we asked Aaron…
What made you go with this model of Yamaha?
"A & J Racing supported me with a 13S model in 2017 before the new BN6 had been released so at the time we felt it was one of the most competitive 600 models out there. We have pretty much just stuck with the same model since, trying to develop my riding rather than learning about a new bike every couple of years. The known, attractive handling trait of the R6 which favours the front end also matched my style of riding."
Does the older model hold you back?
"Being an older model is probably the main reason that myself, my Uncle Andrew and my Auntie Jo (who make up A & J Racing) will be going racing again in 2022! Due to the fact that many people rave about needing the newer model to be fast, this makes the 13S second-hand and parts are so much better value and plentiful. Now that the regulations in Junior Superstock 600 allow us to fit a quickshifter too, we are not too far off being level with the newer model. The only other potentially small difference people notice is the aero, compared to the new fairings, but following a top five result at the fastest circuit in the country last year, we didn't consider it an issue."
Any plans for future modifications?
"The regulations don't allow us to make any further modifications to our bike, but if we looked to do Supersport with it, it would mainly just need some engine and gearbox upgrades to be competitive, and that's about all the budget we could handle."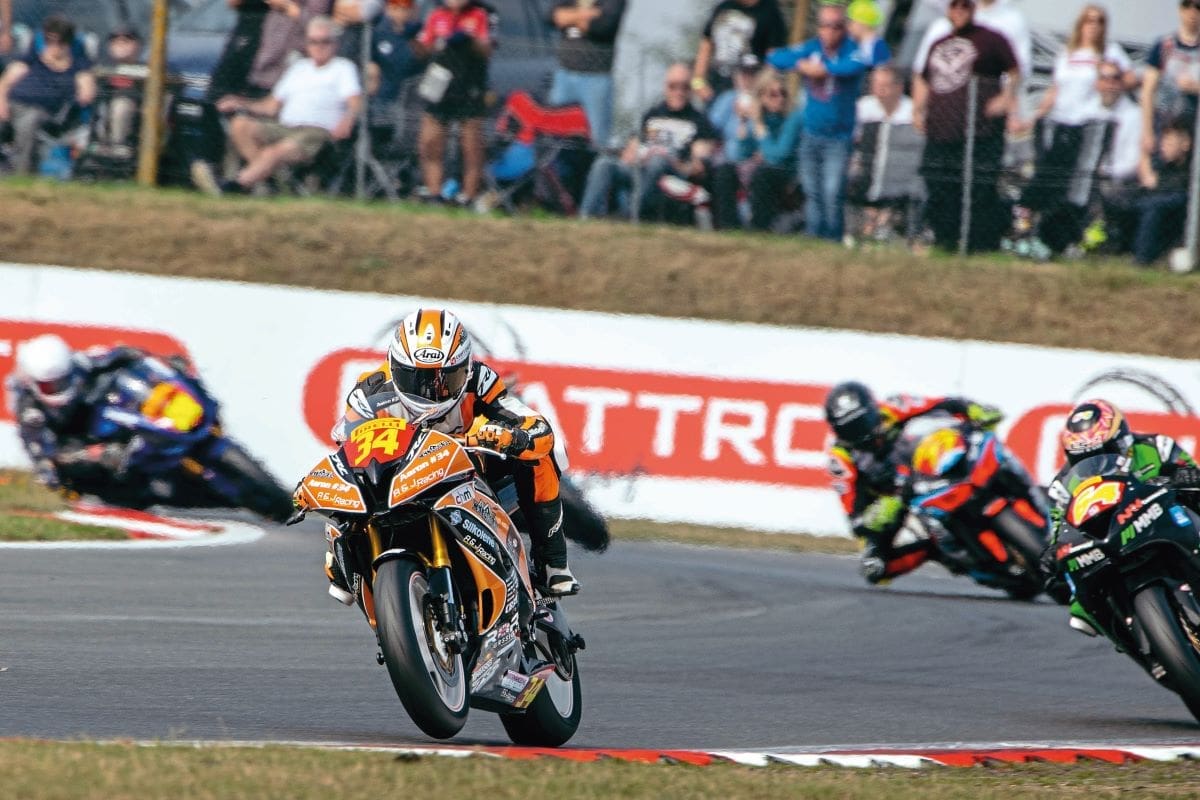 Enjoy more Fast Bikes reading in the monthly magazine.
Click here
to subscribe.