If you like your wheels out of line, your riding off the limiter and if convention makes your head ache, you'll probably like a taste of what Yamaha's new Ténéré 700 World Raid has to offer.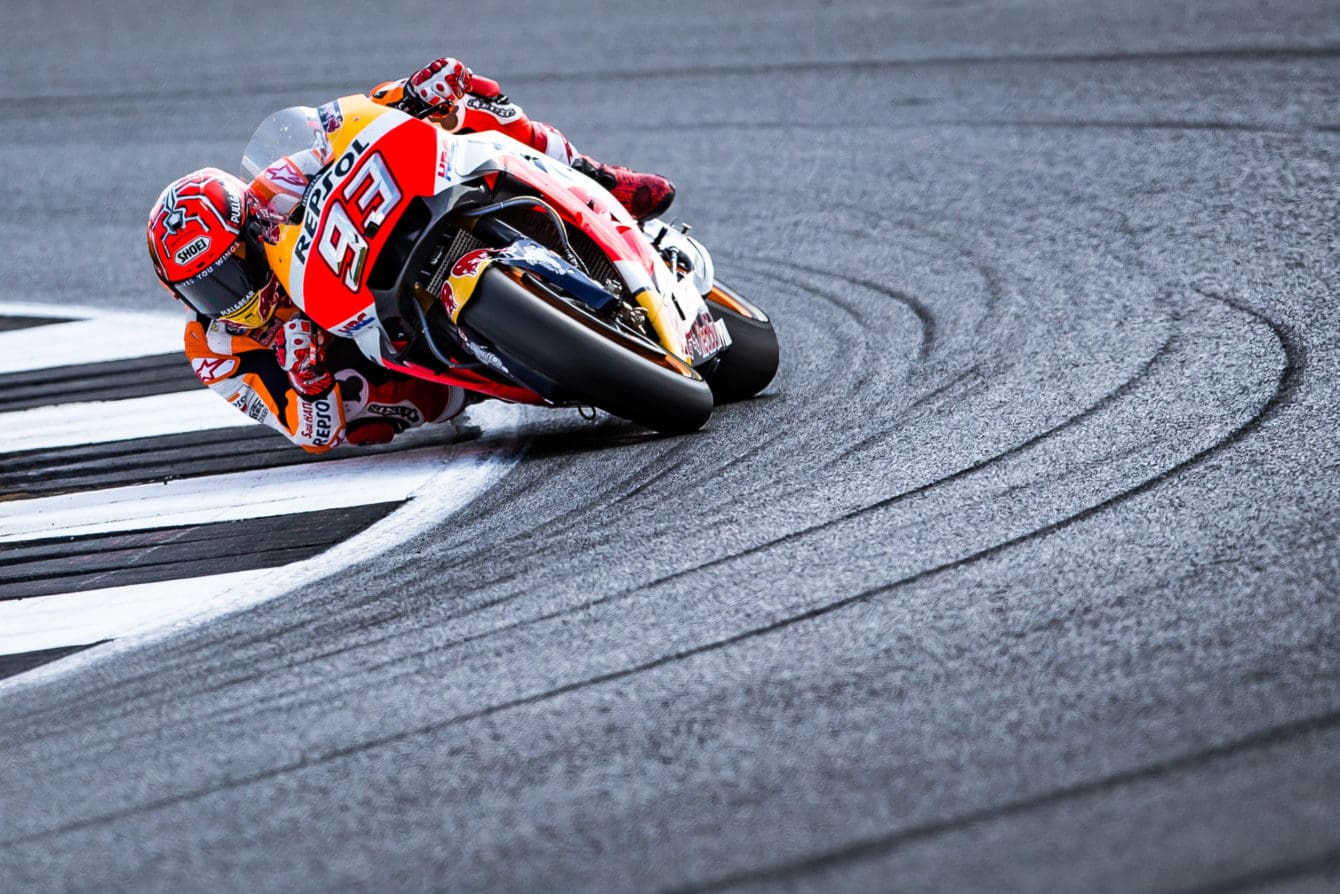 Words: Bruce Pics: Yamaha
I wasn't sure what would hurt most: the physical pain of smashing into the deep, rocky riverbed, or the impact it would have on my pride. To keep on ploughing through was my only option – literally, sledging the crossed-up front tyre with big handfuls of throttle, while licking the dirt from my teeth and sucking up the sting from the sweat that flowed into my eyes like a leaking tap. Some 300km into the day's ride, my energy levels were on empty and my brain was mush, exhausted from computing the milliard of decisions it had taken to get me this far under a gruelling 30°C. The front-end saves, the relentless decisions to pick the least traumatic-looking lines, the physical strength exerted to hustle a 220kg behemoth around… it'd all taken its toll. No one said this was going to be a ride in the park, but I'd been too hyped up during the presentation of Yamaha's new Ténéré 700 World Raid to take heed of the organiser's warnings, let alone the offer of an easier route should the challenge become too much (who does that?). I wanted a proper adventure, including the pain and the satisfaction that comes in tandem with a sense of vulnerability and loneliness as you travel trails few people have ever seen before, let alone ridden. And that's exactly what I was getting.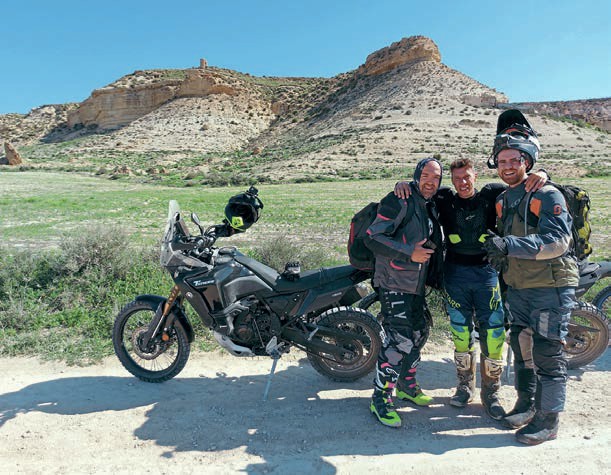 As ill-prepared as I was for this test, I couldn't say the same about my sparring partner. Building on the solid foundations of the Ténéré 700, launched in 2019 and boasting a significant 30,000-plus sales to its name, the World Raid was that next step in the pipeline – amore focussed, genuine globetrotter with a whole host of enhancements, including a whopping 23-litre fuel tank. Or, should I say, tanks. Nestled below the eyeline of the new 5in TFT notebook-style dash, complete with three optional screen faces (street, explorer, raid), were two saucer-sized fillers, adjoined internally by a pump to balance the fuel levels (you still have to fuel each individually), though they were otherwise completely independent and looking every bit Dakar-esque. But they weren't just a styling cue, with the obvious gain being a 7-litre enhancement to the Ténéré's fuel capacity and the more subtle benefit being to the weight bias of the bike, meaning the mass was more evenly spread with a 50/50 ratio on the cards. This had been done to help front-end feel, and so too had the fitment of new 43mm KYB forks that offer 20mm more travel than the original Ténéré 700's, as does the new KYB rear shock, which is also longer, fully adjustable, and comes with a new spring rate and a different linkage to help suck up harsh bumps better. Yamaha was clearly gunning for a more refined, more purposeful proposition with the World Raid, and the fitment of an Öhlins adjustable steering damper only hammered home that rationale, being refined further with a flatter, higher seat and larger pegs. The new, taller screen and USB power point might not be on the top of everyone's Christmas list, but both make perfect sense on big rides, alongside the bike's alterable ABS settings that allows the user to switch from utter decorum to full ASBO with a few scrolls of the right switchgear's menu button. Unlike before, you now get the option of full ABS, front-only ABS, and no ABS at all… which is probably music to a lot of people's ears.
Unfortunately for me, not long into the day's 326km route, I was to discover that the ABS could not be adjusted on the go, meaning my Ténéré was the only one in our gaggle not skidding into corners as the morning's initial road journey led us out of Lorca, meandering towards the distant, snowcapped mountains. It had been three years since I last rode a Ténéré and I'd be a liar to say I was immediately at home on this slightly heavier, taller version. It felt substantial in size, with its wide 'bars and chunky tanks, rolling on dual-purpose Pirelli Scorpion Rally tyres that whined as we pushed their speed ratings to the limits. They were far from bad, but like the bike's brakes that felt initially flat, they took a bit of getting used to. So did the motor. For whatever reason, I'd remembered the parallel twin being a whole lot fruitier than it transpired, meaning big revs was a prerequisite to get the motor cruising at a discerning speed, and the shifter-less 'box felt harsh and on the agricultural side. Admittedly, riding in hefty motocross boots meant my footwork had the finesse of a bull in a china shop, but after hooking a string of false neutrals in the first 50km, it became a case of when, not if, another one was headed my way.
On a more positive note, the exhaust sounded throaty, backing up the bike's striking image, while the pimped dash was easy on the eye, with all the essential info a doddle to digest. The saddle was sizeable and supple, backed up by the beefy pegs that offered loads of grip and little vibrations. This was clearly a bike capable of going the distance in comfort, but that wasn't the real meaning of the day's test… today was all about hitting the dirt and heading into the horizon where very few other middleweight machines could even dream of going.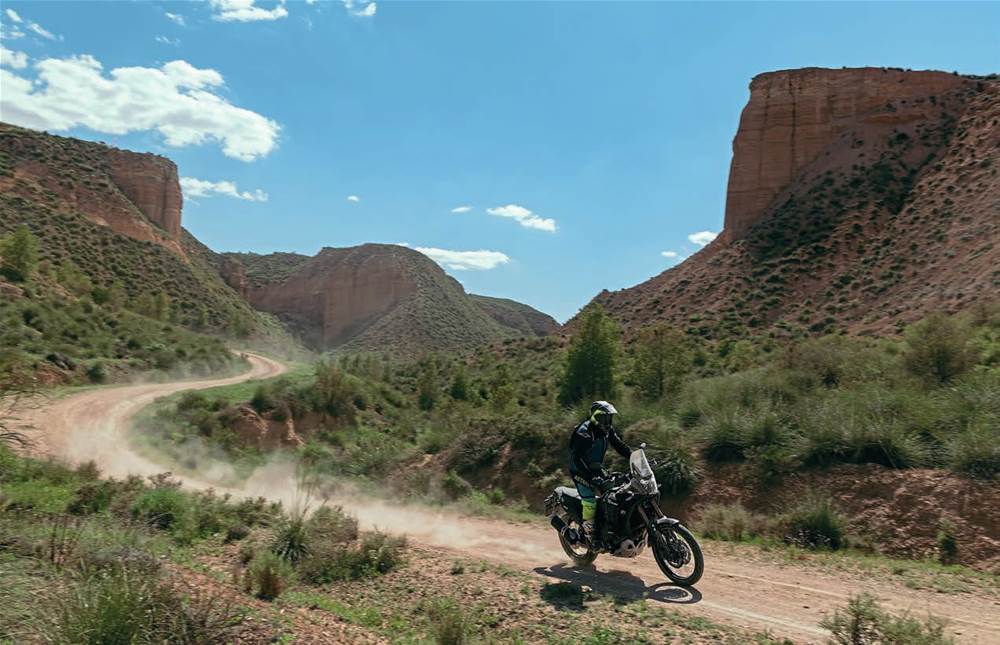 I was chomping at the bit to hit our first trail and after an hour in the saddle, there it was – a largely flat, dusty route with the odd crevasse thrown in to keep me on my toes.
The surface was mostly hard-packed, which suited me as I built up speed and confidence on the Ténéré. Stood tall on the pegs, the view was domineering and the feel from the front end egged me on to push further and further out of my comfort zone… only to be slapped back down to earth with the occasional wash of the front tyre. On smaller enduro machines you can get away with murder, but big bikes like this demand respect… or skill, of which I had very little to offer. Still, I wasn't about to let a potential face-planting hold me back for long, meaning the process was repeated more times than I'd care to admit, learning little by little the limitations of the tyres' grip. I often find there's a fine line between fear and fun, and that was the path I was blasting along, indulging in the versatility and playfulness of the Yamaha; I was in my element, even if my racing heart was telling me otherwise.
While the brakes hadn't tickled my fancy on the road, the front anchors were awesome off-road, even with the ABS engaged. What they lacked in power, they made up for with feel through the adjustable spanning lever. It didn't take me long to trust in them, taking liberties in how hard I could squeeze them, with the occasional outburst of ABS telling me that I was giving them a good seeing to.
In a similar vein, the motor came into its own. Throughout the day I'd come to love it more than I could anticipate, but from the outset it won me over with its linear delivery and usability from stupidly low in the rev range. You could be a few gears higher than you rightfully should be, ticking along at just a few thousand revs, and the twin would boom its way back to speed, kicking the back wheel out in the process in the most playful of slides.
There was a lot to like about this engine, as I'd originally discovered back in 2019. Other than now being Euro5 and sporting a modded airbox, the lump was largely untouched, still pumping out a worthy 73bhp, which was proving more than enough on the dirt.
Getting back on the roads was a depressing, albeit necessary, reality; once you've had a taste of the good stuff, that's all you crave. As short as that first section of shale had been, I knew tracks and trails were the Ténéré's natural habitat, away from the rigours of speed limits, traffic and everyday boredom. Riding in a group of people with a similar mentality ensured that when we returned to the dirt for our second stretch, no holds were barred; it was every man for himself, with big grabs of throttle being the order of the day. The dust clouds were towering and the laughs endless, adjoined by a focus so intense that my head began to hurt as I knitted my way between the rocks and piles of loose, sandy ground. To just pull the bars, steering the bike literally, would have put me on my arse before I'd had chance to think about it, so meaningful direction changes were made by weighting the pegs.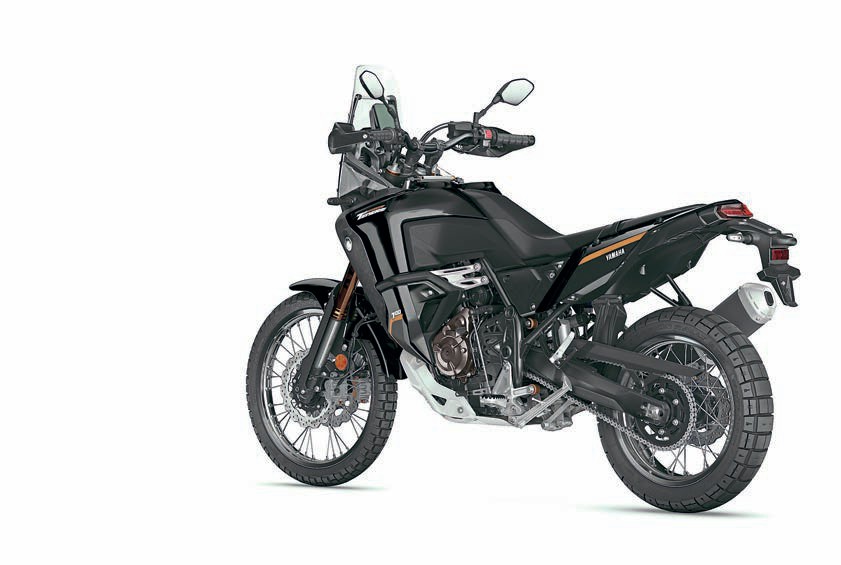 It's mad how much leverage you have over a motorcycle with your feet, and I was impressed by how obligingly the World Raid reacted to my actions. I wouldn't say the Ténéré is overly top-heavy, but like so many big trailies, you know there's a lot of mass between your legs. And when the tanks were full, like they were at the beginning of the day, I'll admit I had my work cut out. Every rock and surface depression had the scope to derail the bike's planted manner, and I had to be quick enough and strong enough to catch it… or, more honestly,simply lucky.
It was hard-going, especially when the trails became really quite hardcore, climbing high along mountainsides, with towering, sheer drops ready and waiting to gobble you up. And then there were the descents to tackle, too. All that weight, aimed downhill, with a surface that looked like a sadist had just let loose the world's biggest bag of marbles, got me excited for all the wrong reasons. It was tense stuff, using the motor's engine braking and additional rear brake to keep the bike something like under control.
The climbing and descending kept going for hours, right up until we reached our midday lunch stop, where rest, rather than food, was top of my agenda. The sun was now scorching hot and the prospect of another six hours in the saddle, where we were promised things would only get harder, had me questioning my fitness and my sanity. To this point, the Yamaha had exceeded my expectations, taking us places where normal folk just wouldn't go, but how would it cope if the riding got as tough as the guides said it was going to get? I mulled the thought over as I washed down a slab of ribs with a litre of Fanta naranja, topped off by as much dessert as I could stuff in my fat face… if I was about to die, I wasn't going to go hungry!
They broke us in gently when the ride recommenced, with a 30km stint on the roads. It was a well-earned breather, but soon enough I was bored again. Better stuff was out there and I was fired up at the thought of it. I was also buoyed by the now-familiar stance and feel of the bike. On the whole, it was bog basic, with naff all distractions from fancy tech or feature. You got on, turned the key, and hit the starter; by today's standards it felt somewhat refreshing. The mirrors showed more than my elbows. The seat wasn't prompting of piles. The long reach down to the pegs meant I never got cramped knees. On the whole, there was a lot to like about this bike.
That adoration continued as the tarmac road vanished behind me, cloaked in a dust cloud of my own making. It was like someone had released the pause button on my favourite video game… I was once again in my happy place. Or so I hoped. An hour in, concentrating harder than a swot doing algebra, we arrived at this ginormous ravine.
I'm not quite talking Grand Canyon style, but big enough to break every bone in your body a million times over. The sides dropped 200m and the gaping hole in the terrain spanned around half-a-mile wide, stretching as far into the distance as I could see. It was impressive, but even more impressive the straight face of our guide, Pascal, when he told us we were going to descend to the bottom. I've seen plenty of goat trails in my time, but never one as nadgery as this, let alone as pockholed and sketchy. When you're in a group, riding with your mates, you're prone to doing dumb things, and that's probably what prompted me to tackle it first. A snail could have overtaken me at the speed my descent began, trying hard to focus on the slim slither of dirt in front and not the bottomless drop a foot to my right. It was proper heart-in-mouth stuff and the weight that was lifted when I eventually reached the bottom is a feeling that'll probably live with me forever. Big bikes shouldn't do this kind of thing, but the Ténéré had done just that, without drama or hesitation.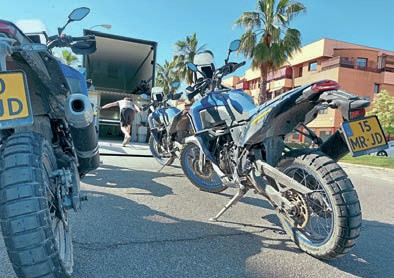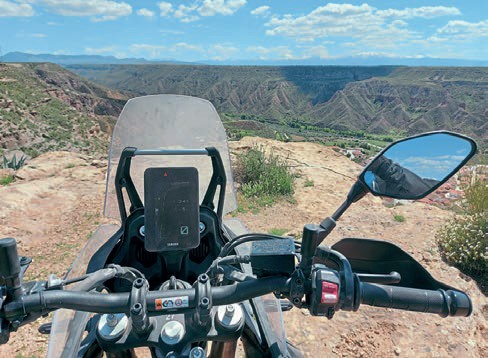 With the group regathered, the next step in the journey began, blitzing along the guts of the gorge… that was once we'd ticked off a quick photoshoot, or so it should have been. One of my mates, who was riding amazingly all day, came a cropper at this stage, washing the front and battering himself in the process.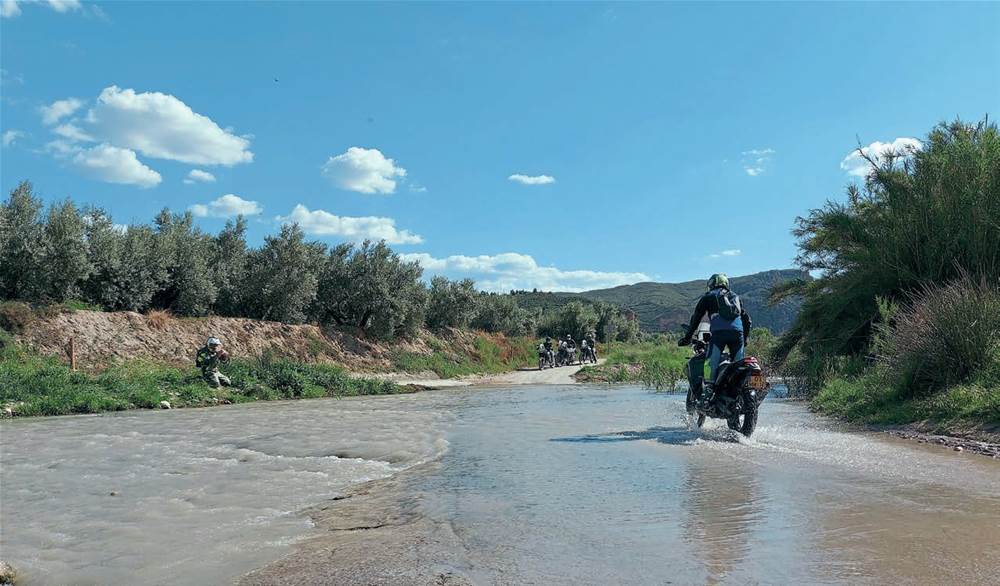 The Ténéré was many things, but forgiving it was not, as his broken toes and tibia vouched for. After persuading him not to ride on, much to his disgust, and with a recovery vehicle eventually on-site to take him on his way, we cracked on. There was no let-up. In fact, things got tougher. I've ridden adventure bikes all around the world, in all conditions, and if there's one thing I hate more than anything else, it's deep, loose, dry riverbeds.
You struggle for traction at the rear, and if you can get the front wheel pointing forward, you're a better rider than me, that's for sure.
Standing on the pegs, it was torturous, and with my mate's smashed body fresh in my mind, I chose caution over pride and sat in the saddle for the mile-long stint, occasionally dragging a leg to keep the bike shiny side up. It was hard work, and probably the first time all day where the sheer mass of the Ténéré had properly gone against it. But I'd reached the end and, after a swig of water, my blood pressure was nearly back to normal. All that was left was to climb back out of the valley, in much the same way as we'd gotten into it, tracking along a nasty-looking trail. In truth, going up on a bike like this is so much easier than going down, especially when you've got a motor like the Yamaha's to keep you punching skywards. Through pure persistence, and with disdain in my arms and legs from gripping way too tightly, the summit was reached and the challenge that had been undertaken to reach this promised land was now a distant memory. A few light trails onwards, it was as if it'd never happened, with the only obvious sign being the absence of our mate… plus a couple of others who'd dropped out because the going was too tough. I didn't blame them, but I did feel sorry for them because half an hour later we arrived at an amazing, disused railroad bridge, spanning another huge valley. It looked as old as they said it was, so this time I let someone else take the plunge first. As heavy as the Ténéré is, it's not a speck on an old locomotive, so we all made it to the other side without collapsing this landmark.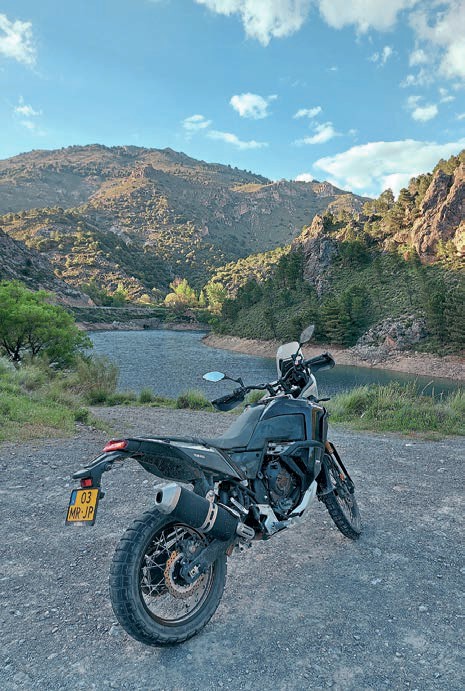 We'd been on the go for nine hours by this stage, taking in our stride the wrath of the route. The trails had been amazing, the vistas out of this world, and the challenge quite unlike any I'd undertaken in recent years. Whatever came our way, the Ténéré would tackle it and we'd all somehow make it to the next waypoint. But by this part of the day, I was well and truly feeling the exhaustion of the ride – not so much physically, but mentally. I've said it before, but the level of concentration and constant engagement with the Yamaha was really taking its toll. To put it bluntly, I was feeling knackered, and I was in good company. That's why when we came across yet another dry riverbed, I was convinced I was done for. This is where the going got really tough and I found myself bouncing from one feature to the next like a pinball, using and abusing the heavy clutch to power me out of the deep, loose surface that sucked all of my energy, and the bike's. It was hard-going and too many times I accepted that my luck was up as a submerged rock knocked the 'bars from my hands. With better, more off-road orientated tyres fitted, things might have been a little different, but that was a luxury we hadn't been afforded. Grip was a gift I simply didn't have, and with the daylight drawing in, time wasn't either. I just had to keep going – it was that simple. And by some miracle, that's how things played out.
For the first time all day I was actually relieved to get back on the roads; to sit back on the seat, relax my grip on the 'bars, and power my way down into Grenada. That night's bed could not come soon enough, but not before we'd sunk a few beers in the hotel lobby, trading tales and reliving our experiences.
People throw the word 'adventure' around too causally these days, but that's the best way to describe the launch of the Ténéré 700 World Raid. The bike had proven every bit as purposeful and rugged as it looked, taking us to places physics said it shouldn't have… which is exactly what hooked me to it. Is it better than the Ténéré 700? Most definitely. Is it worth £1900 more than the base model?
For me, yes, because if I bought a bike like this, I'd plan to use it like we did, never having to worry about its fuel range or toughness, or whether ABS would be an issue. The base model is a cracking machine, there's no doubt about it, but the World Raid felt so much more refined and credible, plusher too, thanks to its bettered suspension, improved levels of engine protection, and greater off-road pedigree… which is what I'd want, primarily. There are plenty of lookalike adventure-style options littering the market but few that actually back up the appearance with the conviction of this bike… a bike that Yamaha's got so much faith in that it's set to compete in desert rallies the world over, reigniting the glory days of big twins tackling big dunes and all that, flat-out into the abyss. Knowing what I now know, with the right rider on board, I say this bike will be right in the mix – or at least it deserves to be. And if it is, I daresay other brands will soon follow in the World Raid's path. This is just the beginning, trust me.
Engine 

Type:                                   689cc, liquid-cooled, parallel-twin           
Bore x stroke:                   80mm x 68.6mm                                           
Compression:                    11.5:1                                                
Fuelling:                             Electronic fuel injection 
Claimed Power:                73bhp @ 9000rpm                                        
Claimed Torque:              68Nm @ 6500rpm                         

Electronics

RBW/Drive Modes:         No                                         
Traction Control:              No                        
ABS:                                     Yes / 3 switchable modes                           
Wheelie Control:              No                                                      
Launch Control: No                                                                     
Quick Shifter:                    No                                                      
Autoblipper:                      No                                                      

Chassis

Frame:                                Tubular steel     
Front Suspension:            KYB 43mm fully adjustable forks, 230mm travel   
Rear Suspension:             Fully adjustable, KYB monoshock, 220mm travel               
Front Brakes:                    Twin Brembo, 282mm discs     
Rear Brakes:                      Brembo single piston caliper, 245mm disc                        

Dimensions

Wheelbase:                        1595mm                                                          
Seat Height:                      890mm                                             
Wet Weight:                      220kg                                                               
Fuel Capacity:                   23 litres                                            

Price:                                                                                                             

New:                                   £11,800                                                           
From:                                  www.yamaha-motor.eu     
Verdict 7/10
Yamaha's taken the goodness of the original Ténéré 700 and made it so much sweeter, smarter, and even more capable. A true go-anywhere, middleweight adventure bike.
+ PLIABLE MOTOR, STRIKING LOOKS
– HARSH GEARBOX, HEAVY CLUTCH, LOW-TECH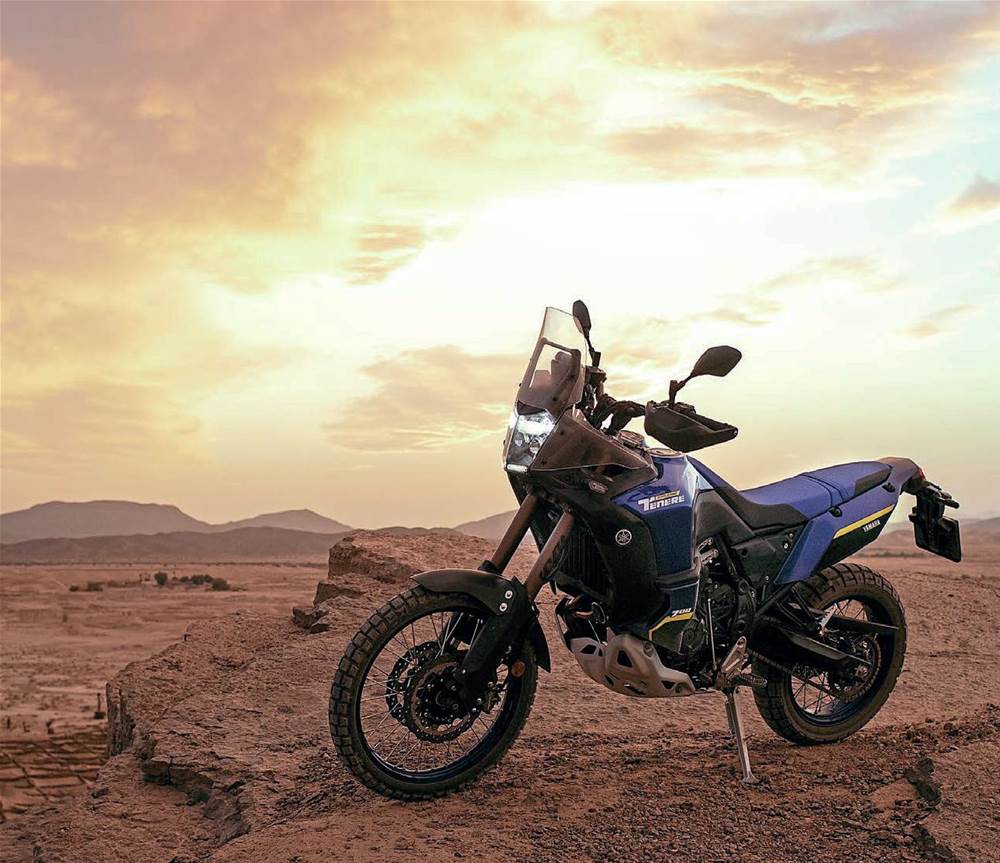 Enjoy more Fast Bikes reading in the monthly magazine.
Click here
to subscribe.