You've probably got more chance of winning the lottery than taking a guided tour around the Isle of Man with John McGuinness, but thanks to our friends at Honda, we did just that, listening with intent as he talked past and present about the circuit that's made him a living legend.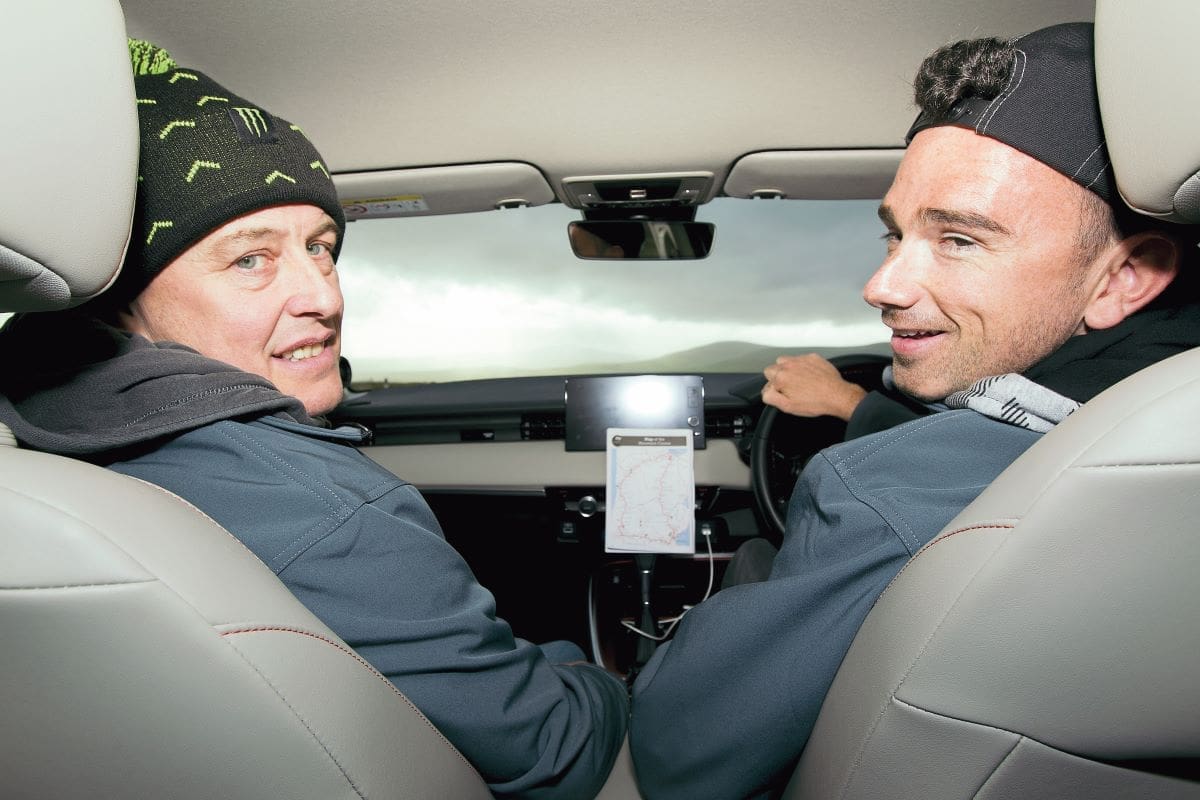 Words> Johnny Mac
Pics> Double Red/ Honda/ Mortons Archive/ Mac McDiarmid / Tim Keeton
Some things are just meant to be, and John McGuinness on a Honda Fireblade at the Isle of Man TT in June is just one of motorcycle racing's non-negotiables. After being together since 2006 (McGuinness has officially been with Honda since 2000, but the McGuinness/Fireblade marriage began in 2006), they decided to have some time apart between 2018 and 2021. It's safe to say that during this time apart, neither McGuinness nor the Fireblade got close to bothering the top step of the podium at the 2018 and 2019 TTs. The Fireblade mustered up a few trips to the podium in 2018 and 2019 thanks to Conor Cummins and Dave Johnson, but the reality is that the Fireblade just didn't have the firepower required to be competitive.

Even if the 2020 and 2021 TT races had happened, which they didn't due to Covid, McGuinness would have been racing a Kawasaki as the literal and emotional wounds of 2017 still needed to heal. However, for 2022, Honda has a brand new weapon to take to the Isle of Man, which, strictly speaking, isn't new – it just hasn't had the chance to race at the TT yet. And as if the gods of motorcycle racing weren't content with just having Honda setting sail with a vastly different Fireblade, they also provided a scenario that even the most romantic scriptwriter couldn't come up with.
The Fireblade celebrates its 30th anniversary in 2022 and McGuinness will start his 100th TT race at this year's race, so it just had to happen that quite possibly one of the most iconic pairings in motorcycle racing would be reunited. The McGuinness/Fireblade combination has been formidable over the years, with McGuinness claiming 12 of the Fireblade's 21 TT victories between 2006 and 2015. For perspective, the next most successful rider at the TT on a Fireblade is Ian Hutchinson with four wins… just let that sink in for a moment.
The rest of the Fireblade's wins at the TT have been in the hands of Michael Dunlop (two), Bruce Anstey and Steve Plater (one), and a very special mention to Jim Moodie, who also won one race on a Fireblade in the 1998 Production TT that was not only the Fireblade's first TT victory, but also Honda's 100th race win at the TT. McGuinness was also the first person to average 130mph over the TT course on… yes, you guessed it, a Fireblade in 2007. More than half of McGuinness's 23 TT wins have been on a Fireblade, so of all the various plots and sub-plots at this year's TT, the reunification of McGuinness with a Fireblade – but this time a genuinely competitive one – is mouth-watering.
How the story plays out is anyone's guess, which is why we love bike racing so much, especially the TT. Could there be a fairytale comeback by both Honda and McGuinness? Nobody knows, least of all the man from Morecambe, but the whole world will by the time the sun sets on June 10. In the meantime, there's not much point in trying to speculate or predict what might happen.
There are too many variables at the TT, too many things that can go wrong, and too many things that are out of your control that need to go right on the day, so what do you ask someone who has started 99 TT races? Well, I wasn't going to waste the opportunity by asking him about his 100th – there's no point.
I kept it simple and asked the most successful living TT racer what are the moments and memories that he'll remember forever…
1999 Senior TT:
"In 1999 I was number five because your start number was what you qualified in during practice; Joey was sixth, so I was 10 seconds ahead of Joey at the start of the Senior. I was riding the two-stroke Honda NSR500 for Paul Bird and at the start I set off thinking that Joey was my ultimate hero, so my arse was twitching, waiting for him to catch me. I was expecting him to catch me but sooner than he did; it took a whole lap for him to do it, then he passed me on the second lap at Crosby, so I got to follow him for pretty much a whole lap. That second lap was my fastest-ever lap at the time, but following Joey on his RC45, I could see that his bike was handling like a pig. It looked like a right handful to ride; it was weaving everywhere. I was desperate to hang on to the back of him during that second lap and I pretty much did. At the end of the lap, we had to stop for a pitstop and I came in with Joey, just thinking I really had to get back out with him because I was learning so much. At that point, I was in joint third with Ian Duffus, and I think David Jefferies was away with it, so I was having a strong ride.
"But then it all went wrong. I lost probably 20 or 30 seconds because my mechanic tried to change my visor in the pitstop and made a bit of a mess of it. My helmet was an Arai that had those side pods that were notoriously fragile, so it was panic stations, but luckily we had a spare helmet – which a lot of riders even today don't have in the pit stop, just in case. It's a perfect example of why I do, because if I didn't have one that day, that would have been the end of the race. So, the crew chief Stuart Bland was shouting to grab the spare helmet and he just rammed it onto my head. He's like a big gorilla and he put it on so quickly that it folded my ears in half. Then he did my strap so hard that I was choking. By the time I had chance to loosen the strap, he was pushing me away to bump start the bike and get back into the race, so I was going down Bray Hill half choking with my ears folded in half. If you've ever ridden a bike like that, it's really distracting.
"So, there I was coming out of Quarter Bridge and I'm trying to shove my ears back into where they are supposed to be and loosen my strap. I lost a load of time and was in a no man's land with a big gap behind me and a big gap in front of me, just thinking 'shit'. I got knocked out of my stride and rhythm because it's a lot easier to follow somebody, and because I'd been following Joey, I was also learning loads. I think it probably was my first-ever encounter with Joey on the course. He must have passed me somewhere before then in practice, I'm sure, but that was the first time I got into a proper race with him. It's rare you get into a proper race with someone like that, especially Joey.
"In the early days I'd got passed by the likes of Joey and the others who were doing the business at the time and they'd just disappear, but that was the first time I was able to hang on to one of them, and because it was Joey, it just made it really special. I'd done my time; I'd been in '96 and '97 and had my podium in the 250 race in '98, and in '99 I won the 250 race so I was hungry and younger than them, but I didn't have their knowledge. I had ridden the 500 a bit in various races at Macau, the Race of the Year at Mallory, and at Scarborough. Back then, we used to race all over all sorts, but now everyone's programme is that sliced down that they just can't. We did everything; we were always in the truck! That 500 was good – it didn't have the legs of a big 1000c four-cyl bike at the TT but it was light and turned good. It was quite a frustrating bike because it was really sensitive to gearing and wind direction changes. It didn't rev like a four-stroke, which can over rev a bit; the 500 had two big 250cc pistons, so it would only go to 10,500rpm, so you were just 'wop-wop-wop', sort of short shifting through the gears because if you over-revved it, it just detonated and you'd get into having all sorts of problems. If you came in and took half a tooth off the rear sprocket, it wouldn't pull it and you'd just be sat there going 'buuuuuurrrr', then change down a gear to 'waaaaaaah', then back to top and 'buuuuuur'. It was frustrating, but I didn't know any different. I'd always been on two-strokes at that point and I loved it. We even had it in 2000 when I rode the SP1 with Joey, and that SP1 was a scary thing to ride…"
2000 F1 race:
"In 2000 I was Joey's teammate. I'd come off the 500 and this was my big chance. I had James Toseland's SP1 from BSB, so to me it was a really important year. I rode it at the North West 200 and the bike was really unstable there; I really struggled, changing this and that. Joey was on a factory SP1 which was actually Aaron Slight's world superbike, so there was Joey, loads of Japanese engineers, factory Showa suspension technicians, and I'm there, this 27-year-old, on the up but still really young. It was hard. There was a lot of pressure from all angles, plus it was my first time on a superbike. Even so, being Joey's teammate was a dream come true. It doesn't get any better than that.
"All this was going on and I'm just wanting the ground to swallow me up. I was really struggling, and I was even going faster on my 250 than I was on the superbike. My elbows were black and blue, and the inside of my knees were, too. I was just thinking that it was horrendous. The bike was literally tank-slapping the whole length of the Sulby straight which is a mile long, and usually, when you get to it, you're thinking it's a chance to rest, but then it was when I got to the end of the straight that I was thinking, 'thank god for that' because it was so sketchy and so hard to just hold on to the bike. Pulling the bike up when you're having a tank-slapper needs to be done with the throttle; it's bullshit that you can't close the throttle. You've just got to loosen your grip.
"That bike was just horrible and I didn't know what to do because I had no experience. I didn't know how to fix it or what to say. I was trying to make up shit in the briefings, so it was tough. This is where life had to change, I had to step up if I wanted to have a career at the TT, and I was miles off and no idea how to sort the problem. In the end we changed the tyres from Dunlops to Pirellis on the quiet, under the radar, and they transformed the bike. I went from completely hating life to finishing third in the F1 race behind Joey and Rutter while actually enjoying the race and the bike working perfectly. I was living my best life from being rock bottom just a few days before. There comes a time when you can tell the story about the tyre change; nobody is going to get offended by it. I've always been warned to never have an excuse book. I've taken a lot of stuff on the chin and held my hand up when I've not been good enough or not felt it on the day, but that was one little sweet story at the end of a very difficult week that I'll never forget and reminds me that racing is like that. Everything can change.
"Joey was coming to his end at that time; he was the same age as I am now. Rutter was carving out his career too, and there were a few other young ones coming through, like Jason Griffiths, and they were all there or thereabouts.
"Rutter always had a little edge on me and was probably a bit stronger than me, but not so much at the TT. But at the time, Joey was my idol and Rutter was one of the fast new names that I had to beat, and all of a sudden, all the pieces of the jigsaw fell into place and bang – I'm on the podium with them both. I had to justify it to Dunlop because I'd been involved with the brand and developed that many tyres to be successful, so switching away to a rival was a big call. Joey won that race on the tyres I couldn't ride the bike with, and to this day, as long as my arse points to the ground, I'll never understand how he did it. I don't know how that was possible. It was evil, it was horrible, and I hated every second I was sat on that bike, especially Sulby straight. It wasn't very powerful; I got the kit engine in mine and Joey got the factory engine, which he 100% deserved.
"Years later in 2012, I encountered some more trauma on Sulby straight during my stag do. A group of us decided to have a pint in every pub on the TT course during the day – there are 14 – so by the time we got to the Sulby Glen Hotel, we were well and truly on our way. For some reason we nicked a bucket of parsnips from there, so the day after I called up the landlady and apologised. I asked if there's anything I could do to make up for it, but in the meantime, she had reported me to the police and it was in the newspaper and all sorts… she really went to town on me. I asked if she had a charity so I could make a donation but she was a right cow about it. I'm not Mother Teresa, I know that, but I really don't like offending people. There was a few of us having a bit of fun and we stole some parsnips; we also stole some onions from The Raven. I don't think I'll ever be allowed in there again."
On that note, I declare that the challenge is accepted and 10 minutes later, John and I are sitting outside the very same pub, looking down Sulby straight with a pint in our hands, imagining what it must be like to be in the exact same spot on race day as superbikes go past, absolutely maxed out in top gear, wondering if there is a more perfect place on the planet to watch a motorbike race from… and thanking our lucky stars that the pub is under new management.
McGuinness's Corner:
In 2013, McGuinness had possibly the ultimate tribute paid to him by the TT organisers when he got to pick a corner on the course to be named after him. Not so much a memory of a TT race or a heroic tale of daring here… this is special to him in a different way.
McGuinness was obsessed with the TT long before he even contemplated taking part in it, let alone writing his name into its history books, and it's safe to say that the honour of having a corner named after him isn't lost. With so many corners available to choose from, just how do you go about picking one? McGuinness says that you'd think he'd find somewhere really cool or iconic on the track, but no – there is one corner he loves that meant it took him about one second to answer the question. A fairly innocuous left-hander between Handleys and Barregarrow, but which on a superbike on race day is a totally different proposition.
Rather than prime McGuinness with a stock question about the corner, I get a rare opportunity to eavesdrop on a conversation that's taking place in the back of the car between McGuinness and fellow Honda rider Glenn Irwin, who is preparing for his first TT.
Racer to racer conversations are always far more interesting than racer to journalist, so unwittingly Irwin does my job for the next few minutes as he gets McGuinness to talk him through the section that has McGuinness's Corner as it's highlight. The detail of recall is extraordinary.
McGuinness: "At Sarah's Cottage, turn in late but get hooked right into the bank: it's left, two rights then a left. Just build and build, and as always round here, don't shut the throttle just roll it. You need to keep the bike settled and not transfer too much weight. Get into the left – I dragged my arm through that hedge on the electric bike, I was all green on my leathers, I just clipped it. Flat out here through the left-right kink, the Honda used to wheelie there, then it's a big jump; it's alright if it takes off, there's plenty of room. Have a deep breath here, all that is hard work up to there, and that's your first chance to relax in the whole lap, you're up, down, left, right, you name it… all the way from the start to here. It's busy and physically hard work to here. Dean does that in sixth but I'm in a habit so go back to fifth; I need to learn from them, I do the same thing every time."
Irwin: "Do you sacrifice the right here for the exit of the left?"
McGuinness: "Hmm, you can scratch your balls there if you want. Tell you what, there's a few gone down there. Hutchy did; it's easy to do on that left. You just ride it, and it can go from under you. Let the bike just drift to the left, get over to that sign, then it's Handleys. You've got the bike hunched and then you know it'll open up for you, but if you're behind it, all of a sudden it'll go 'uhhhhhhh'. This is so important, because you can guild build down to my corner, and you can pass people there if you line Handleys up good and you're catching somebody up. I passed someone there once and I remember afterwards him saying that my bike was ridiculously fast. I didn't say anything but I'd just lined the pass up back there, so after my corner I just rode past him with momentum. They'll paint the curbs and cut the hedges for the TT. My corner is a thrill to go through: coming out of it is like being fired out of a gun. When I get it bang-on, I actually feel a bit nauseous because of the g-force that can build up through it.
"Then the bottom of Barregarrow is a few seconds later and nothing like my corner. It's big-time twitchy, and it doesn't get any easier because you've got a straight leading up to it, so you've got more time to think – which makes it worse. If you're just going from corner to corner, it's easier. But here you hit the bottom of it and you don't know how the bike is going to react. It's sheer momentum that gets you through. Rutter hit a load of oil here after James Hillier's bike smashed its sump off there, and it was just that momentum that kept Rutter upright, even so the tank slapper he had ripped the steering damper clean off his frame, and he had to retire from the race.
"It's properly violent and every lap through there is a heart-stopping moment. It's a biggie and there's nowhere to hide. There's no smooth way through – you've just got to take it. If you want to win the race, you've got to push hard through it. If you've got a 20-second lead you can roll off through it, which I've done a few times.
"Cameron Donald smashed his bike there in 2008 when the new Fireblade came out. Me and Cameron were going at it and I couldn't shake him off. I was leading by 0.5sec, then he'd be leading by 0.5sec, then I got off the hook a bit because he smashed his engine there and split the motor but still finished the race with oil pissing out of it.
"I wouldn't say it's a fun bit of the track, just a bit that you've got to deal with and get through."
The 130mph lap:
In 2007 McGuinness became the first person in history to average more than 130mph around the TT course – a feat that to this very day 15 years later, only 19 other people have managed to achieve and join the exclusive 130mph club, but McGuinness was the first. The significance of it is not lost on him, but it's safe to say that it's probably a lot more meaningful to him today and he rates it as one of his best memories because he went on to win the Senior TT he did it in. He did the 130mph lap on the second one of the race, and so was told about it during his pitstop, which didn't really register at the time, because the job he was there to do was to win the race. There is no bonus or pay day for lap records, just race wins.
The conversation about the 130mph lap inevitably leads to topics related to going fast and where to make the time up around the course to put you in with a chance of lapping very fast, but it starts with the great commentating legend Murray Walker in pieces…
"Murray Walker was in tears. He said to me that he thought he'd never witness a 130mph lap in his lifetime. He saw the first 80, 90, 100, 110, and 120mph laps, and he was doing his post-race interview with me in the winners' enclosure while crying. When I was on the podium, I could see him there watching in disbelief, just soaking it all up.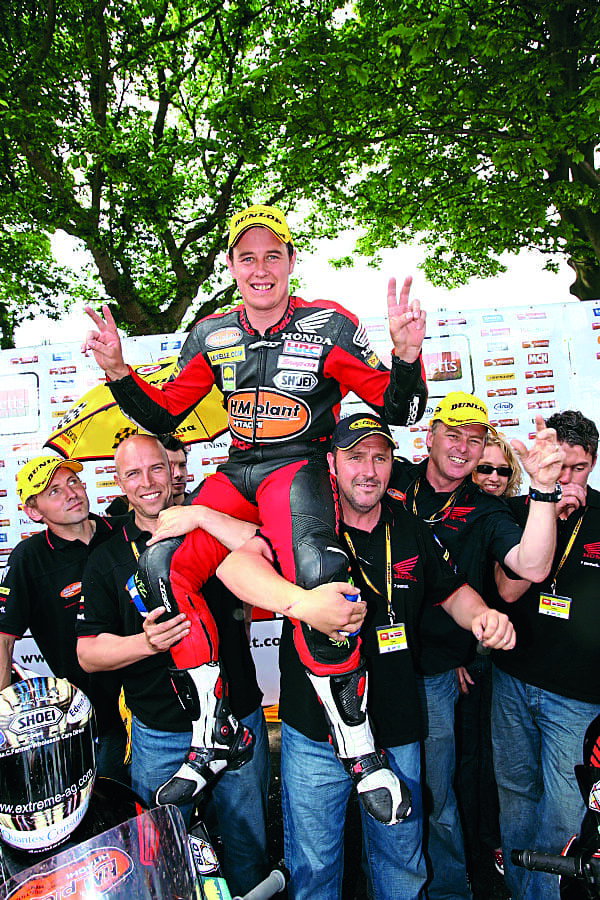 "With the 130 lap, it was really me just doing my job. It means lots, but if I broke down on lap six, I wouldn't have got a penny and Guy Martin would have won the race, which really would have hurt. Guy stuffed me at the Northwest. He ran me up the slip road at the Magherabuoy Chicane and after the race, he said to me, 'what you gonna do now, factory Honda rider? Go and polish your motorhome?' It stuck in my head, so smashing him in the Senior was my main priority – which I did. There's a picture of me and him shaking hands after the race and you can see how hard I'm squeezing his hand. It's a cheeky picture, but look at his face. He knows…
"If you're asleep in the first 100 yards, you've lost half a second, and straight away there's a chink in your armour. If you watch me start a TT race, I'm giving it a full-blown BSB start… them Hondas, the clutch is strong as hell. It really does matter, because if you get a good one, you're like, 'yes, that was a good start' and if you've done a 2.1 0-60, it puts you right in the mood. You see people and they're like 'brap brap brap brap', revving the engine to launch, but you just gotta be 'waaaaaaaaaahhhh', then boom, out with the clutch and bosh-bosh-bosh with the gears. Nailing a good start can really put you in the right frame of mind.
"When David Jefferies did 127.2mph 20 years ago in 2002, it blew my mind. That was so fast, and he just did wheelies and skids all the way round. Yeah… he could do it. He was British Superstock champion and he didn't get enough credit. He was 6ft 2in and 16 or 17 stone, a mountain of a bloke, and so unbelievably gifted that he could do it in his sleep and there wouldn't be a bead of sweat on him at the end of the race… he could piss it. DJ did what I would never have done in that race when he set that lap record. He was about a minute ahead on lap five; I would have cruised in, but he tightened the screw and smashed the lap record to pieces on the last lap when he should have been tiring and cruising to the win. Instead, he went even faster, just enjoying himself. God knows how fast he would have gone if he hadn't died the following year.
"The following year, I rode the Monstermob Ducati in 2003 to second place, and Adrian Archibold won the race with the number zero on his bike. DJ was fastest in practice when he got killed, and Adrian wouldn't take his number one so used zero instead. I was away number two on the Ducati, which was Shakey's Testastretta from BSB. I led the F1 race on it by five seconds up until the pitstop, but we had to use one of those foxy starter things to get it going again at the end of the pitstop because they wouldn't let us start it any other way, so I ended up third with a best lap of something like 125mph."
At that point, there is a brief pause in the conversation. An unspoken moment of quiet reflection takes place in the car for one of the TT's greatest riders who sadly never got to realise his full potential at the TT. It's hard to believe that DJ only contested in six TTs yet managed to win nine. He would be the same age as McGuinness, so their TT careers would have surely run parallel to each other's, and there would have undoubtedly been rivalry.
If doing the first 130mph lap on a Fireblade in 2007 is impressive, how about a 127mph lap on a CBR600RR? A fact that McGuinness just casually drops into the conversation as we approach the fearsome Alpine Cottage bend.
McGuinness: "I was in third position in the 600 race in 2013 and beat William Dunlop by 0.2sec to get onto the podium, and I had to do a 127.3mph on my 600 to do it. It was the best I rode a 600 that day. This one here, Alpine Cottage… it's milliseconds, the bike goes up then in, and I mean really in. I did that flat in top gear on the 600 once."
Irwin: "Through there?!"
McGuinness: "Yeah, flat in top gear, absolutely on the money. I've only done it once or twice – it's a clencher, I tell you. When you come out the other side you go ahh, it's not easy, but you can just do it flat on a 600. Everything has to be bob-on to do that and screwed to the absolute stop."
A few miles later, just after Ballaugh, is Ballacrye Corner, followed by a jump, and McGuinness – once again in the process of giving Irwin some hints and tips – reveals some more insight into just how he goes so damn fast at the TT.
"This corner is important… again, DO NOT turn in early, I know you want to – even going slower – miss this first one. All your brain is telling you to do is turn in there, and that's your apex, but its two lefts, ignore the first. You'll come hurtling down there in fifth gear, but just really take your time here on your first few laps to get your line. You can have a good old screw down here but make sure you have that in your head; eventually when it clicks and everything is happening faster, you cannot turn in too early because look how long this straight is.
"If you turn in too early back there, you've messed all this up and all the next bit is a disaster. Just remember that John says late apex, then you'll see why on the next straight and you'll go 'ahh'!
"Then through this next left and right you can get over to right of the white line in the middle of the road; you don't need to be much further to the right there for a good turn in. Now I'm shifting in to fifth, but I know Hicky does all of that section in fifth, but I do it in fourth and then click fifth because I like more revs. You might not like it in fourth, but I'd go fourth if I was you for now, 100%."
Those words of wisdom are then suddenly substituted for more Manx knowledge that is no less interesting but absolutely no use at all for anyone who wants to lap the TT course at 130mph or more.
Irwin: "Oh look, a dead rat!"
McGuinness: "You're not allowed to call them rats here. It's a longtail. It's a tradition. If you say rat in front of a Manxman or lady, they have to whistle. So, when you're with Conor (Cummins), just make some sort of comment about a rat and he'll stand there and whistle."
Irwin: "I'm definitely doing that!"
Guthrie's Memorial:
Not so much a favourite memory for McGuinness, but more of a favourite point of historical interest and a prime piece of evidence that backs up McGuinness's claim to being a TT fan first, TT racer second.
"Guthrie's is where the TV helicopter waits to pick up the riders. It's bittersweet because if the helicopter is there and starts following you, you're gonna get some airtime, and I've looked over at it and given it a thumbs-up to make sure I get some airtime. A few years ago, the pilots were a lot braver – they'd hover at Guthrie's in the valley right alongside the road at the start of the Mountain Mile and it would give you a bit of a scare. I think now the cameras are better so they don't have to get so close; they can be a bit higher. There are two helicopters this year because they're broadcasting the action live. Obviously it's brilliant but it doesn't really make a lot of difference to me… I've got enough on my plate! The aerial tracking shots they get from the helicopter are a lot like the footage from the Dakar. If you see one, you're either at the sharp end or about to get drilled by whoever is at the sharp end. Either way, you have to give it a wave!
"Because they follow you along the valley, they're sort of alongside you so you see them for a bit, but because the bikes are that much quicker, you sort-of lose sight of them fairly quickly. Then it shortcuts across the mountain and hovers at the Bungalow or Veranda, waiting to pick you up there again.
"Jimmy Guthrie's story is amazing and not many people know about it. He won the German Grand Prix in 1936 and Adolf Hitler gave him the winner's trophy, much to the disgust of Hitler. There's a picture of Guthrie getting the trophy from Hitler in the museum in Hawick. If you're ever passing, you must go to it because as well as the photo, the trophy that Hitler presented to him is there too, and it's beautiful. The following year, he was leading the German GP again and the story goes that Hitler got two of the back markers – who were German – to shove Guthrie off the road, and he died. He had won six TTs, three 500cc European championships, and a 350cc European championship, and was a dispatch rider during the Battle of the Somme. He was the man.
"I always take one of my tear-offs at Ramsey hairpin because it's so slow, and it's just before the mountain. If you pull one off at, say, Ballaugh, you've still got loads of trees to go under and you're f**ked with flies – there are no flies on the mountain, so I'll try and hold on until Ramsey. Brian Reid taught me that. In 1997, he said to me to get some tear-offs and I was like nah, it's alright. Then he and Jim Moodie grabbed me and said 'eh, we're not f**king about'. They sharpened my pencil. I will just do one tear-off per lap, always at Ramsey hairpin.
"Generally, I like the mountain section but it took me a long time to learn it. There's no definition, no turn-in points, nothing to aim for. You know it's three lefts, two rights or whatever, but that's about it. So, when you're learning it, because there's no references or reminders, you're thinking is it two, or is it three? It's windy as well, and can catch you out, plus it gets cold. You'll come up here and sometimes you'll be freezing your balls off, but it's lovely on the last lap, especially if your pit board says 'P1 +21' on the last lap".
Having completed a trip down memory lane with one of the greatest-ever TT racers, whose TT career has spanned more than a quarter of a century, it's hard not to get swept up in the romance of McGuinness starting his 100th TT race this year, being reunited with a much more potent Fireblade than the last one he rode, plus the potential of a fairytale outcome by emulating his great hero Joey Dunlop's superbike race win, also at the age of 50. It would be worthy of a Hollywood script, and there wouldn't be a dry eye on the island.
However, by also experiencing that trip down memory lane in the presence of TT rookie Glen Irwin, I was privileged to gain a very rare racer-to-racer insight into just how forensically detailed McGuinness's knowledge of the course is. Knowledge is power.
Forget any notion that TT2022 will just be a couple of weeks celebrating a wonderful career and the Fireblade's 30th birthday – it won't be. McGuinness has the air of a man who is at ease with his lot and has nothing to prove to anyone, least of all himself. He doesn't have the burden of his or anyone's expectation on his shoulders because his legacy is already written and his records will stand for many years to come.
What he does have is the most intimate and complete knowledge and understanding of the most difficult racetracks in the world to learn; he even knows its smells and what they mean. Did you know that there are parts of the course that if you can smell wild garlic, it's going to rain? McGuinness does. He knows where the setting sun will be at any part of the course so he can prepare to be blinded by the low sun before it happens and not get spooked. He also has a very, very fast Fireblade.
Make no mistake – McGuinness is in the mix, even though realistically the new generation of riders should all have the measure of him. But that is the magic of the TT – anything can happen.

Enjoy more Fast Bikes reading in the monthly magazine.
Click here
to subscribe.