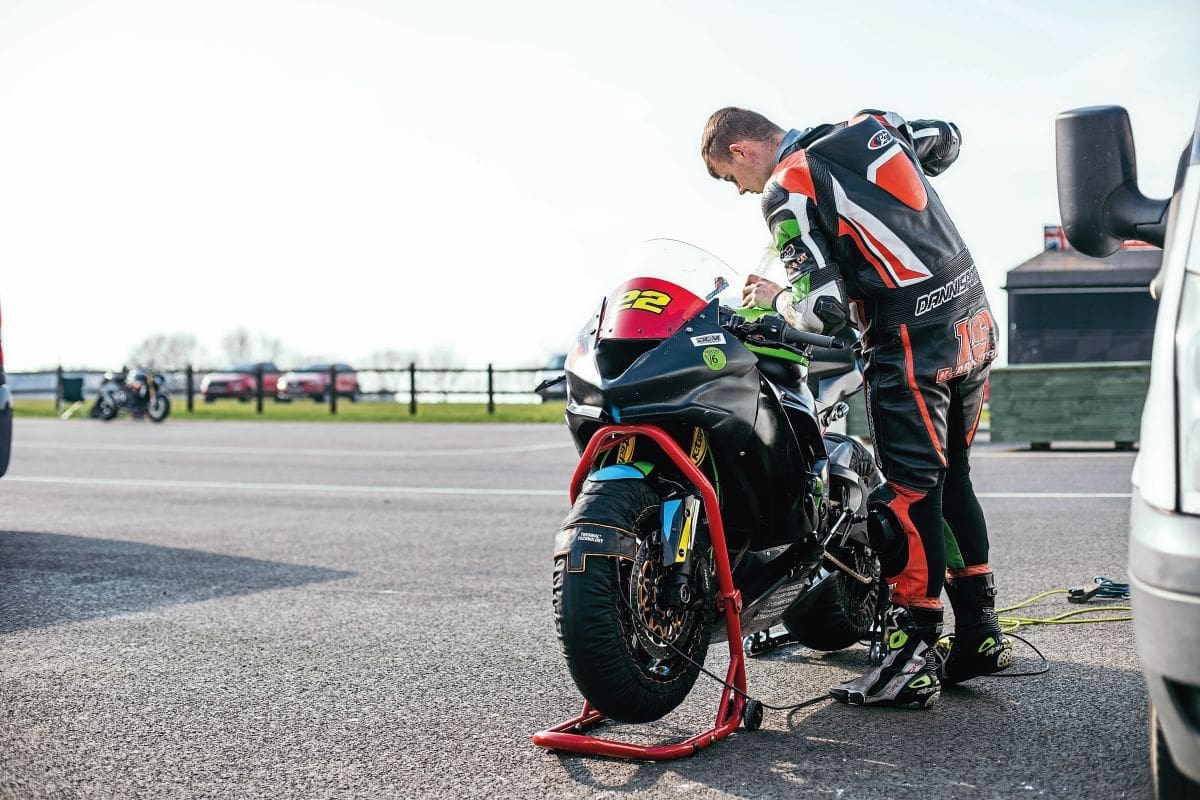 Words and pics> Max Silvester
The manufacturer battle in the National Junior Superstock and British Supersport classes rages on, with the Yamaha R6 and Kawasaki 636 facing off together. While the older Yamaha models can still tussle at the front of the pack, the newer Kawasakis are starting to dominate the field over their older variant, prompting discussions on whether the newer chassis and engine really benefits over the older 2012 models, though many people simply leave it down to rider preference. Despite any differences, the Kawasaki 636 still proves to be a great choice to provide some great results on track.
The number of times I've run into riders from a British superbike level at random trackdays is countless; it's become common place to stumble across people flying up the inside at any opportunity and making a whole new meaning of riding in the fast group on a circuit. Kier has spent many years in the BSB paddock, racing a few years in Junior Supersport on a KTM RC390, before stepping up to the 600 class in 2021 onboard his Kawasaki Zx636-R.
A motorcycle mechanic, Kier mostly preps the bike himself, with his dad and family coming along to the race weekends to help out. We caught up with him when he was testing so his bike was in full stealth mode, but underneath the covert looks is a BSB-spec track weapon.
At first glance, it's not hard to notice that Kier's bike was absolutely jam-packed with crash protection and gadgets, top to bottom – with the official BSB R&G engine covers making this bike really look the part, as well as providing protection all over… with everything from tank protectors, bullet sliders, and lever guards in place to keep the bike off the ground in the event of a crash. Not to mention the R&G exhaust bracket, paddock stand bobbins, swingarm protectors, chain deflector, tank grips, and even the rearrests. For Kier, R&G is something of a one-stop shop, providing the products he needs to run at the pace he does.  The brand's rearsets are fully adjustable, stylish and durable, and he said the engine case covers were easy to fit and have proven their worth on a few occasions. 
Along with all the swanky R&G Racing parts, Kier really embraced the Kawasaki green to match his race fairings with Samco sport green coolant pipes and Hel braided hoses backing up the look. Even with the test fairings on, these little flashes of colour really make this bike look the part. Kier makes use of MSS Performance bar mounts and clip-ons that are finished off by Renthal grips. The bars are kitted out with a Strada 7 racing clutch lever on one side and a Nissin radial brake master cylinder on the other. This bike has to run the stock Nissin four-pot radial front calipers, which are backed up by Brembo HPK discs in and TRW pads to get the best stopping power possible.
Kier has the standard forks fitted with the K-Tech DDS cartridges up front, and at the rear he's got a K-Tech DDS Pro rear shock absorber. This means he's got top-class suspension that can be adjusted for compression, rebound at preload in an instant, plus the changing of spring rates if needed. A bonus for the DDS Pro rear shock is the external hydraulic preload adjuster that means no tools are needed to make adjustments for the rear suspension – perfect for on-the-fly adjustments in a quick pit stop.
This bike is also fitted with a K-Tech steering dampener connected to the top yoke and front tank mounts.
Due to Kier competing in the Junior Superstock Championship, the engine is run completely stock, though still putting out a competitive 126bhp with only the addition of a power commander. For the same reason, most of the bike's core ingredients are stock parts, such as the wheels, swingarm, and frame. The quickshifter is too, but the tyres he uses are Pirelli's Diablo Supercorsas that are a control tyre in his series.
These tyres have been the choice of the championship for many years, though for 2022 the 600s can now run on a 190-profile rear, which offers more edge grip and a slightly taller centre to help the bike turn faster. Kier is really happy with his choice of weapon, and his lap times go to show it. If anything, he backs up that a well-prepped, properly kitted 600 stocker can be all the bike you'll ever need on track. 
We asked Kier…
Are there any upgrades you'd look at doing in the future?
"In the near future I would probably want to put a full titanium exhaust system on, mainly because of the weight saving aspect of it. Also, I would fit the HM dash that we are allowed to use in Stock 600; it shows you a lot more information and I can use the data logging in FP1 and FP2."
What is it like to maintain this bike?
"It's fairly basic to maintain, really – just regular oil and filter changes, as well as the air filter. Other than that, just general maintenance. The only real issue with them is that they get regular gearbox problems."
Is this the right bike for you?
"Yeah, I'd say the bike suits me pretty well. It compliments my riding style."
What changes would you make to this bike?
"Are you asking if I'd make any changes to the bike from the factory? If so, then definitely making the gearbox stronger, and just make the bike lighter where possible, as it's the heaviest 600 available. Other than that, they're pretty solid bikes."
2020 Kawasaki Zx636-R
■ Rear shock: K-tech
■ Forks: Showa
■ Cartridges: K-tech
■ Brake lines: HEL Performance
■ Calipers: Nissin
■ Pads: TRW
■ Discs: Brembo HPK
■ Exhaust: Akrapovic
■ Crash protection: R&G
■ Rearserts: R&G
■ Lever guard: R&G
■ Clip-ons: MSS Performance
■ Sprockets: JT Racing
■ Chain: JT Racing
■ Tyres: Pirelli Diablo Supercorsa

Enjoy more Fast Bikes reading in the monthly magazine.
Click here
to subscribe.