Training on minibikes seems to be more popular than ever right now, but what's the hook? And how do you get stuck in?
Words> Max Silvester
Most of us are wired up to buy the biggest and fastest bikes we can. Why wouldn't we? More power equals more speed, right, so it's a no-brainer. It's inherent in all of us to want more, but does buying a bigger, faster bike actually deliver more pleasure? Does it make you a better rider with more confidence? Some people might say it does, but they should ask themselves if they're getting the most from their bikes – or whether they're the ones being taken for a ride every time they twist the throttle. More to the point, how often do they have the chance to twist open a full throttle? On the road, that's a near impossibility, unless you have a penchant for prison food or only ever choose to ride around in first gear (each to their own).
There is another way to not only get a performance fix, but to also up your skills, all year round, with minimal risk. It's not often that we suggest people slow down, but hear me out. Back in 2019 I was introduced to the world of minibikes by my brother. He'd bought a completely track-ready CRF 150, and after blagging a few goes on his Honda I soon found myself reaching deep into my own pockets to follow suit with a CRF of my own. The laughs that followed were priceless, riding as often as we could with full-on elbow-banging action down our local karting track. In reality, I couldn't keep up with him to save my life, but I had a good go and seemed to adapt to the challenge with every lap clocked. And there were plenty of laps clocked.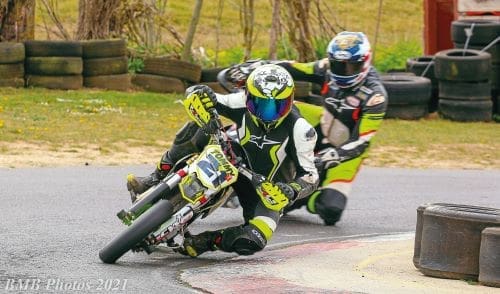 Nothing can prepare you for riding a punchy single with motocross-style 'bars and 12-inch wheels that require you to be incredibly precise with the movements of the 'bars. Any jerky movements while cornering will most definitely cause a crash, promoting a Moto3-esque riding style, demanding big corner speed and smooth, sweeping lines.
The ability to drill techniques like these into your memory is something that very much comes in handy when you're taking your big bike out on track, or even if you apply it to small-capacity bike racing. Anyone who's been following this magazine for a while may have heard of the Freetech endurance racing championship. And if you follow the likes of 44teeth, you may well have heard of Bruce's and Fagan's championship win in 2020, which I can assure to you, Bruce is still bragging about…
The 125cc road bikes, coming in at about £1500 for a race-ready bike, are also a perfect way to train and improve your ability on track, or even just on the road with bigger bikes… not to mention, these endurance races allow riders to get hours of valuable track time. Something any track rider will complain about is not getting enough track or seat time – something that these little bikes offer a perfect amount of. Having the opportunity to train and race in less-than-ideal conditions with bikes that can withstand crashes is a huge benefit.
Understandably, running around kart tracks on minibikes can get repetitive, but where else can you say that you paid £30 to turn up to a track and run more than 150 laps in one day? With the added extra of these tracks being open all year, there are no excuses to not get out on your bike. And ne of the best parts is you'll probably only use two sets of tyres in the span of two years, even if you are blitzing it out of every corner and doing skids. The range of tyres available are completely suitable for all-year-round running, with PMT being a dominant supplier; its super-soft slick tyre will suit most conditions. Though its 'R' cut slick tyre proves a great fit for typical UK track and conditions, the incredibly soft rain compound tyres it has provides optimal grip in near-freezing temperatures and even on damp tracks. I've even seen people run this compound in freezing and very wet conditions.
CRFs and Freetech street bikes aside, one popular make rising to fame is Ohvale, with models ranging from 110cc automatic to 212cc four-speed – these are made for pure minibike fun. The Ohvale range has become increasingly popular even up to the top level of motorcycle motorsport. Despite being such small bikes, it's become common to see the likes of Marc Marquez, Alex Rins and many others training on these bikes… they're not just made for kids. Unfortunately, Ohvale is at the steeper end of the price range, with the 190cc four-speed coming in at about £5639.99, so they're maybe not for everyone. That's where the pit bikes and motocross bikes come in. You can pick up a ready-to-go 140cc or 160 pit bikes for anywhere from £600 to £1500. Similar to a CRF 150, these bikes are converted from dirt to track with some adjustments to the suspension and a set of wheels with track tyres on them. One major advantage with these motocross conversions is their sturdy engines, with the exception of the 140s trying to rattle apart every now and then… there's not much maintenance that goes into them. Even if you do need to do some extensive maintenance, these little bikes have some of the simplest engines to work on; it would even be worth buying a cheap 140cc engine to strip and rebuild just for fun. Besides keeping the bikes clean, bolts tight, and regular oil and filter changes, then generally, any other maintenance is completely based on how much you crash it.
Speaking of that, one thing that makes these bikes great to train on is the ability to crash them. The offroad bike conversions commonly come absolutely loaded with crash protection – it's almost like you were meant to crash them. Either that or the mate I bought mine off was trying to tell me something.
No one likes to fall off their bike, but what you can learn by pushing just that little too much is very valuable; a rider's ability to avoid a crash has become a vital skill in racing these days. Any rider who's unlucky enough to come off their bike will know you don't have a lot of time to think when you're barrelling into a corner and the front end tucks, but many have learned to sense the imminent disaster and react by digging an elbow or knee into the ground to save a bit of paintwork and pride.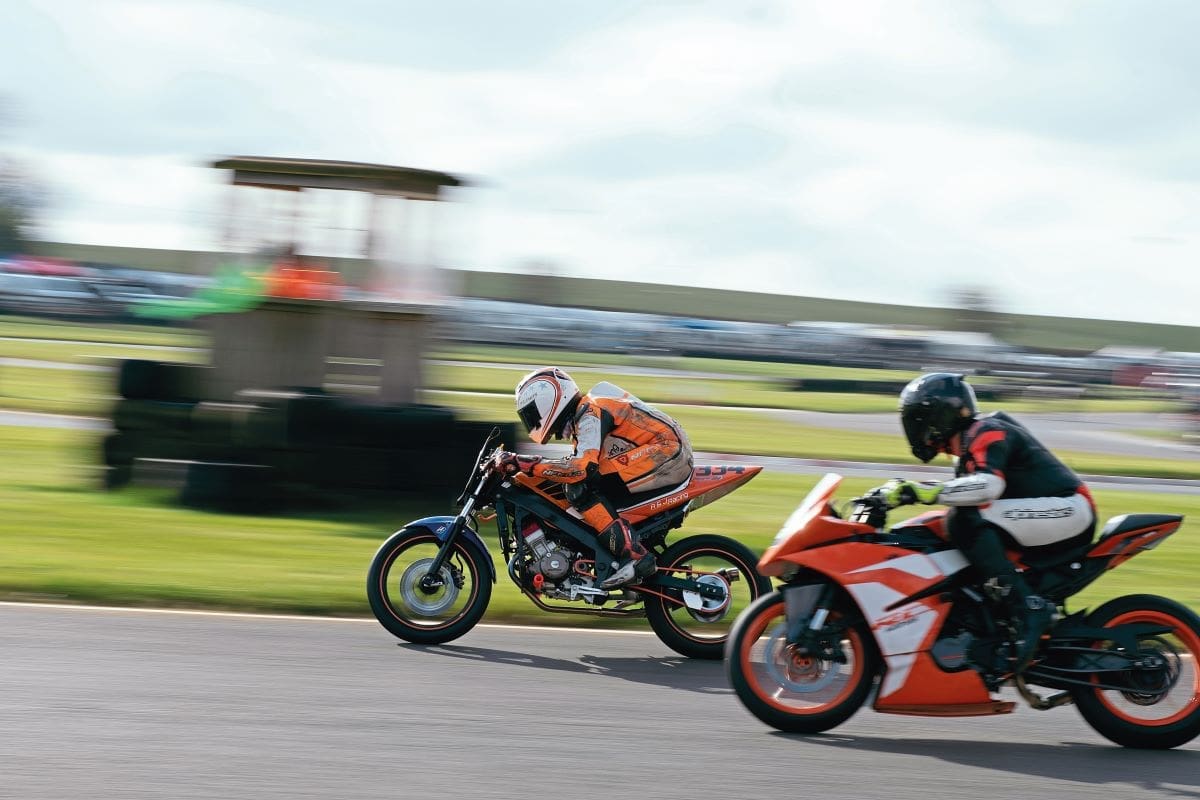 That split-second decision is something that comes from consistent training, pushing, and most likely a lot of crashing. Saving yourself almost becomes automatic after a while. It gets to the point that you might even see riders on smaller bikes planting their knee down as early as possible to brake as hard as possible while the bike is leaning over… pushing the maximum out of the front tyre, tucking the front on the way in, then picking it up, and powering it out.
Although I have fixated on purposes that help with racing, jumping on little capacity bikes is a great way to introduce yourself, a child, or just about anyone to riding bikes. My brother recently inducted his missus to the world of minibikes; it was just as much fun for her as it was for us watching her wobble around for the first few laps before she got the hang of it.
The skills and abilities acquired while riding these capacity bikes prove to be an amazing way to start riding, whether that leads to racing or not. Overall, minibikes are a great and affordable way to keep fit, have fun, and get out riding, even in winter when there are no trackdays on.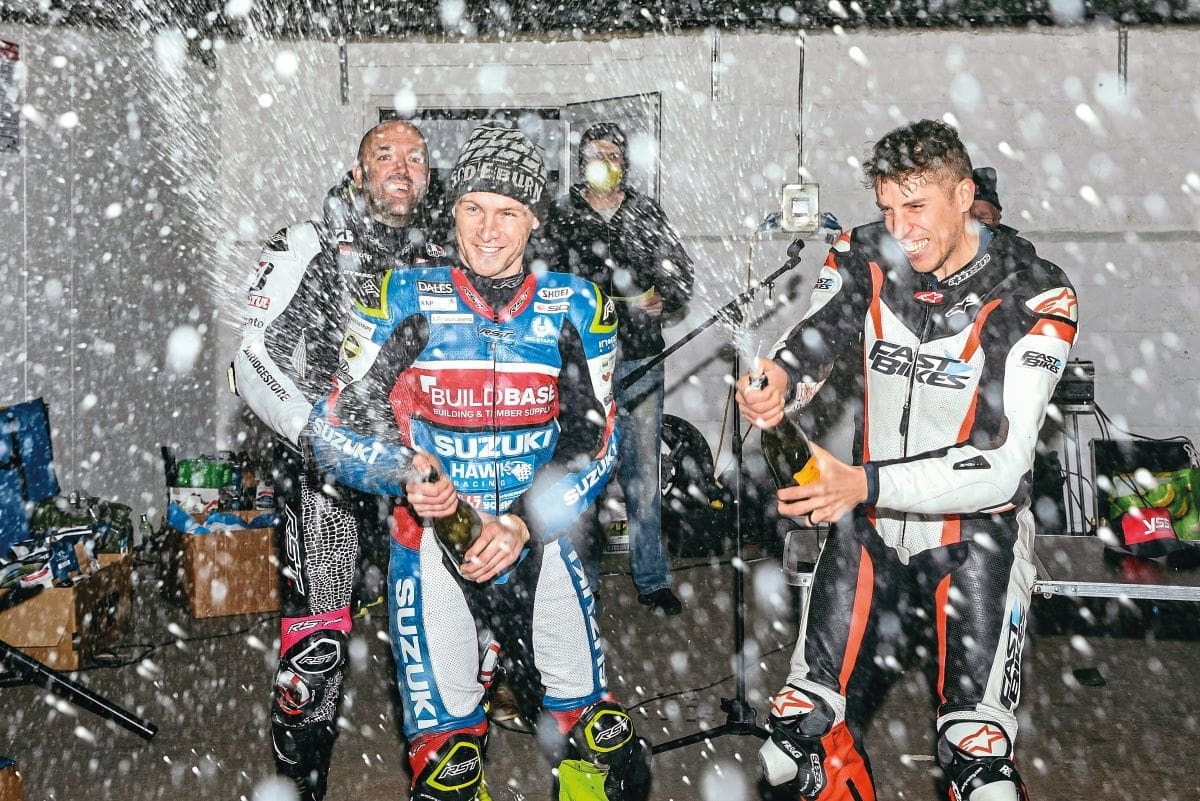 On the fitness note, training – depending on the track you ride – can be just as physically demanding as on bigger bikes. In most cases, being kart tracks, there is a lack of straights. You only manage to get anywhere from four seconds of rest per lap on smaller tracks to 10 seconds of rest on larger tracks, and then you're straight into hard braking again. Doing anywhere from 20 to 45-minute sessions can become quite the workout.
The absolute best part, which any rider can agree with, is there's no better way to get 'bike fit' than actually riding a bike. Doing long stints will directly help improve the muscle groups used while riding.
Hopefully, what you've just read has whetted your appetite and you're now ready to go out and play on a kart track for the first time… but you obviously won't get very far without a bike.
As already mentioned, some are a lot cheaper than others, and vice versa. In truth, every bike will be equally as fun as each other in their own little ways. To recap, the lower end of the price range will consist of the pit bikes, 110, 140 and 160cc bikes, mostly with mini pit frames. These are the absolute bare bones of minibikes, and if you're interested in racing, the 140cc and 160cc classes are some of the most populated classes in the British Mini Bike championship… you're never too old or young to ride one.
A step up brings you to the supermini bikes – these entail anything from a CRF 150 to a KTM 85 that's been bored out to 112cc. They're powerful, and often feature endless customisation, but can range from £1800 upwards. Many competitive bikes have been known to reach prices well over £5000.
And lastly, you've got the like of Ohvale and Freetech machines, but also MiniGP bikes. These are essentially scaled-down race bikes, with options ranging from 50cc or 70cc two-stroke engines, or 140cc two-stroke engines.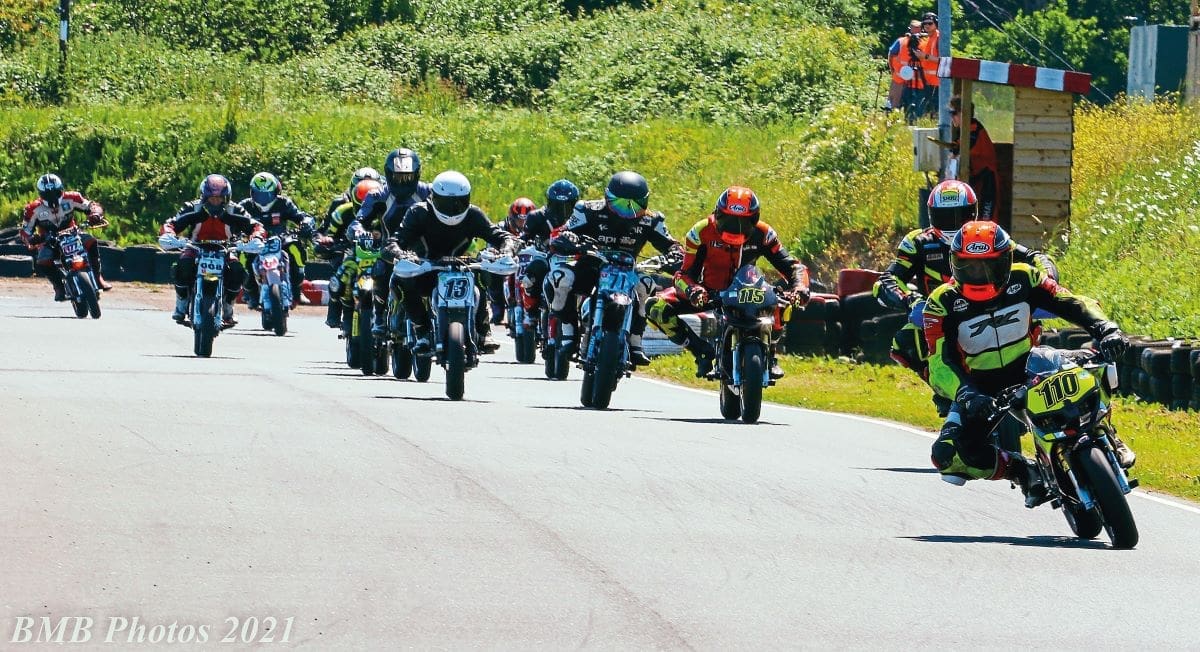 Similarly, to the Ohvale, the small frames are absolutely ideal for kids. At about £1200 to £2000, they make a great alternative to the much more expensive Ohvale bikes.
The ideal way to buy these bikes is to keep an eye out for second-hand ones on eBay or on one of the many active and friendly communities on social media. Trust me, there are plenty of options out there, whatever direction you decide to take.
The main thing is that you go into your purchase with a clear vision of what you're hoping to get out of it. Fitness? Fun? Practice for big bike antics? Once you know this, you'll make the best call on what machine to purchase.
Then it's just a case of hunting down your local track and rounding up a bunch of mates to get stuck in with you.
Trust me, you won't regret it.
Where can I ride?
Most karting tracks around the UK are willing to allow bikes, with some tracks, such as Fat Cat Motoparc in Doncaster, being open practically every day of the year. If you're not sure if your closest track allows bikes, just give them a call. There have been many times that I have called a circuit that doesn't usually allow bikes but are happy to have me along for the day. Keep yourself updated on social media and you'll see any announcements when karting tracks are holding bike days or racing events. In the case of bigger bikes, such as Freetechs, the same rule applies with kart tracks, but some bigger circuits, like Blyton Park, now hold small bike trackdays that are ideal for 125cc bikes.
Isn't crashing a lot bad for you and the bike?
Crashing is never great but most of the time, with high speeds of 40mph to 60mph flat out on straights once you've scrubbed off that speed for a corner, you won't be going fast enough to do any considerable harm to yourself. As mentioned, the amount of crash protection on these bikes protects them from any major damage. It is important to say that even though it's unlikely you'll badly hurt yourself, it's not impossible. Keep in mind that wearing the correct safety gear while riding is still very important. If anything, the more you crash early on, the safer you'll be later on if you crash.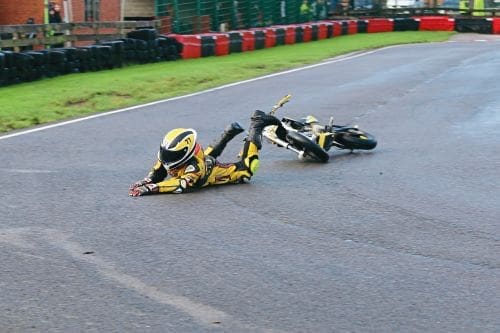 Enjoy more Fast Bikes reading in the monthly magazine.
Click here
to subscribe.