Dave Croft's Krämer HKR EVO2 R is not your everyday trackday bike, that's for sure, but you'll probably wish you owned one.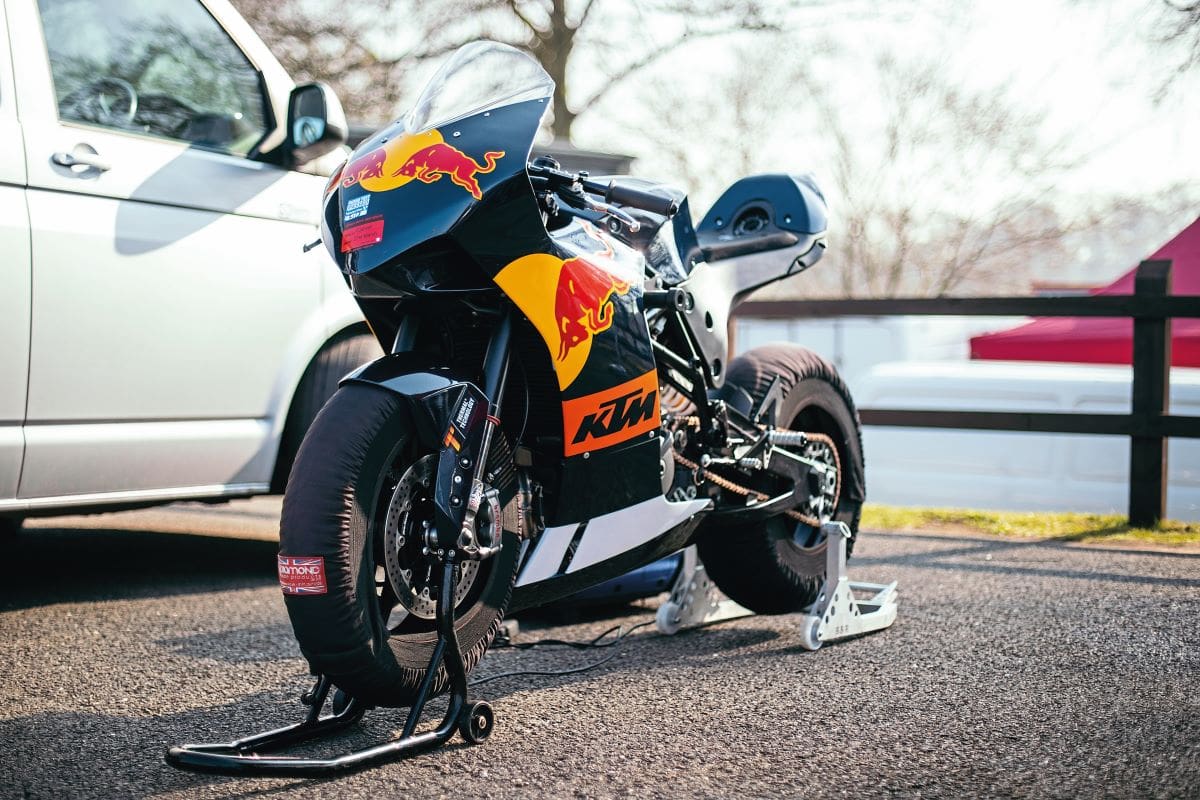 Words and pics: Max Silvester
After seeing the Kramer GP2 bike for the first time in the BSB paddock last year, my interest was piqued and I was surprised that I'd never even heard of one before then. Luckily enough, on an absolutely glorious day I came across what I can only describe as the GP2 890's agile little brother, the HKR EVO2 R. I couldn't help but feel like a kid in a toy shop when I saw this bike… I had to go and take a closer look.
The HKR EVO2 R sports an 85hp KTM 690cc LC4 single cylinder engine, similar to what we saw in the KTM 690 SMC R. The KTM LC4 features a reworked cylinder head and super light internals, plus an incredibly strong and ultra-light piston and con-rod. Even a second balancer shaft is used, reducing vibrations usually caused by large single cylinder engines, and the air intake has been rerouted through a resonator, widening the powerband by an extra 1000rpm. Pair this lightweight engine with Kraemer's chromium-molybdenum steel trellis frame, the core of the bike's durability and handling, and you've got something truly special.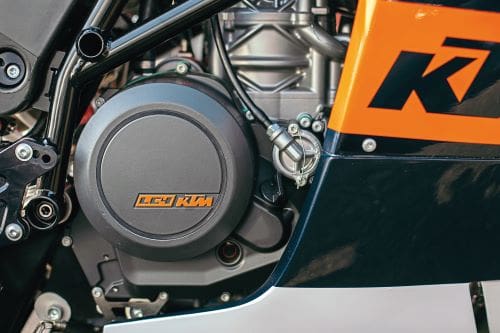 This bike was practically made with performance in mind, which is aided nicely by its minuscule mass, weighing in at just 118kg. Kramer describes this bike as 'the ultimate "moto3" for adult hobby and amateur riders' – and who are we to disagree with that?
Owner Dave picked up his Kramer in August 2021 for £16,000 plus VAT, saying that he bought it during a 'mature moment'. He wanted to better his riding on track, with the main focus on improving corner speed – and there couldn't have been a more perfect bike to do so on. While it may not be able to keep up with the big boys in a straight line, it will definitely make up time through tight and twisty corners.
Dave explained that there's not much difference between 120mph and 160mph in a straight line when you're racing on track in the end; it really all boils down to your ability to ride through corners with speed.
The first striking feature of this bike is its Red Bull KTM-style livery on the reinforced fibreglass fairings, sprayed by Tony's Race Paints. The shape of the stock fairings are somewhat reminiscent of the KTM RC 08, with a pointy yet sleek look to them. Take a closer look and you'll notice the lack of a fuel filler hole where it would traditionally be, adding to Kramer's already unique design, with the single piece rear subframe doubling as the seat mount and fuel tank holder – it can hold up to 14 litres of fuel and comes as standard with tank foam in place. Dave chose to swap out the fully adjustable WP monoshock for a Mupo rear shock and replaced the stock fork internals with Mupo CSP30 cartridges.
The only other change Dave made to his Kramer was swapping the SST Racing underfloor exhaust with a Spark exhaust system. Most of the bike has stayed as is: the Brembo front and rear calipers mixed with the dual front floating discs, Dymag wheels, and a Brembo Corsa Corta brake master cylinder all come as standard. It's even kitted with a Magura clutch master cylinder and lever, all held on some replaceable handlebar tubes fitted to CNC clamps, as well as CNC machined triple clamps with offset adjustment.
As stock the Kramer comes with adjustable rearsets and a Translogic quickshifter, as well as an AIM MXm dash and data logger that has the ability to adjust the bike's engine braking, and also comes with a wet or dry engine mapping to choose from. And it's packed with crash protection fitted to the bottom of the forks and out the side of the frame.
One of the biggest hurdles Dave has encountered is getting the correct gearing for his bike, as the KTM engine has an off-road derived gearbox. He has found the first three gears to be short-lived, meaning he often finds himself dancing on the gear leaver more often that you'd expect to ensure the right selection.
Fourth and fifth are pretty conventional, but sixth is super-long and overdrive. It's not ideal, but neither is it the end of the world… and when you've got a bike this special, it's a trait that's easily forgiven. 
We asked Dave a little more about the bike…
FB: Are there any upgrades you're looking at doing in the future?
"No, it comes as a race-ready package – there's only so much you can actually do that would improve it. It has a lighter flywheel, bigger piston, high comp head etc. It's got those sorts of upgrades that you wouldn't expect. For me, it's got a quickshifter but no blipper. People might think it's not going fast enough to justify a blipper but it would be a nice addition. As for anything else, let's be honest, what can you do? You know you can't lighten the thing. It weighs 118kg."
FB: Is it easy to maintain?
"The engine is full of galleries, and each gallery has a gauze filter in it; even with that, an oil change is only 10 minutes to complete and a refill is only 1.5 litres, so it's cheap and easy. It's a nice bike to work on."
FB: is this the right bike for you?
"No. I wish I had bought the twin (Kramer GP2 890R). Without being melodramatic, I feel like I could ride it more traditionally, so I don't have to banzai in and carry the corner speed. I don't mind carrying the corner speed but I would rather feel a bit more relaxed as a way to go at it. I think the bigger engine would give me an easier time."
■ Rear shock: Mupo
■ Forks: CSP30 Mupo
■ Dash: Aim MXm
■ Brake lines: HEL
■ Calipers: Brembo
■ Pads: Brembo
■ Discs: Moto-Master
■ Exhaust: Spark
■ Crash protection: Stock
■ Rearserts: Stock
■ Clip-ons: Stock
■ Steering dampener: Hyperpro
■ Fairings: Kramer
■ Sprockets: JT Sprockets

Enjoy more Fast Bikes reading in the monthly magazine.
Click here
to subscribe.