Behind every great racer is a great team, more often than not. And at the head of that team is a great team manager – someone like Joe Richardson, who's led his riders to a National Superstock 600 title and countless more podiums along the way. We had a natter with JR Performance's leader to find out what owning and running a team is actually like.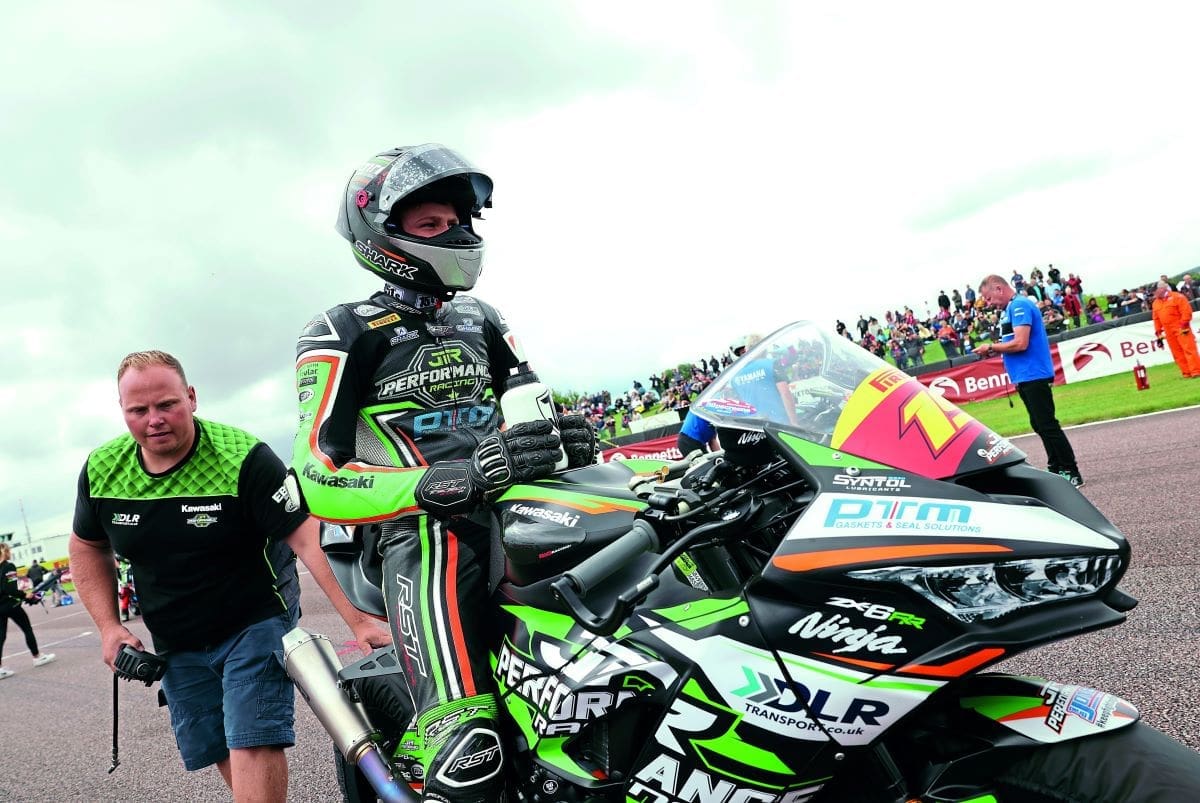 Words: Max Silvester Pics: Bonnie Lane
FB: How did you start working in the BSB paddock?
"I started working in BSB in the Superstock 600 class with a kid called Tom Young. We did three years in that class but it eventually came to the point where he didn't want to carry on with his career anymore… he stopped racing. But from there I'd got the bug for racing and working on the spanners."
FB: So what happened next?
"I could only think, 'What am I going to do now?' I asked around the paddock. I was good friends with Danny Buchan at the time and asked him if he needed any help on the spanners for next year and he said yeah. I helped Danny out in 2010 and went to work with him in Stock 1000. He was riding for MSS at the time – then one of the MSS superbike riders got injured and Nick asked if Danny wanted to make the step up onto superbikes. His dad thought it was a great opportunity so they stepped up and I followed along as a mechanic with Danny and MSS. With that, I followed Danny along to Bournemouth Kawasaki. Danny got replaced by Barry Burrel halfway through the season, but I ended up finishing the season with the team.
"I was at the point where I'd had enough with going racing until I spoke to Steven Bradley at Milwaukee Yamaha; it was looking for a second mechanic for the team, and I did another season working with Milwaukee Yamaha and Tommy Bridewell. Finishing third in the championship that year was pretty special."
FB: Have you worked with bikes outside of the BSB paddock?
"After working with Milwaukee Yamaha, I stopped going racing and worked for Chris Walker Kawasaki, directly for Chris at the motocross track, looking after the track for him. It must have been in 2015 that he set his shop up. I worked there for a couple years, looking after the workshop, doing bits of dyno work, selling bikes, and a load of other bits and pieces. Eventually, I started missing racing again and spoke to Chris Anderson at MCAMS Yamaha… it was looking for staff, so I started to work there in 2018 and went racing again. We went testing, and after a couple rounds I decided it just wasn't for me and knocked it on the head."
FB: Tell me about your team, JR Performance.
"After leaving Milwaukee Yamaha, I spoke to Mark Fisher at G&S Racing. As I wasn't up to much, he asked if I wanted to come help out with Ben Luxton; he was struggling, and just had his grandad helping him out. I said I'd definitely be up for it and did the last three rounds of the year with Ben, getting some of his best results of the year, even finishing on the podium at Oulton Park and a strong finish at Brands.
"I was due to work with Ben again in 2019 but due to one thing or another, it didn't quite work out.
"Ben ended up asking if I would want to run him myself. I put some things together, with my uncle at DLR Transport – we put two and two together and away we went. That's when JR Performance racing began, in 2019, with Ben on his own. He bagged some really solid results as well, with Dan Brooks joining at the tail-end of 2019.
"Following on, I bumped into Joe Talbot and his dad in Spain. He was on a KTM 390 at the time and I told him that if he wanted a go on a 600 to give me a call. Funnily enough, we got that call at the end of 2019. This ended up with us having a three-rider team for 2020 with Joe Talbot, Dan Brooks, and Ben Luxton. Ben won the championship for us that year, with Joe Talbot never finishing outside the top 10 and Dan managing probably one of the best years he's ever had. Because Ben had won the championship, he moved on; I wanted to try and keep him in a Stock 1000 class. Little Joe stayed with me and Liam Delves joined us.In 2021 Joe just missed out on the championship by something ridiculous over the line, and Liam had a really strong year in regards to finishing in the points.
"That's kind of where we've come from and leads us to where we are now.
"Because Joe was in the top three in 2021, he had to move on from the class, which is why he's now on Stock 1000s, but we're also running Finley Arscott and Sam Laffins in Stock 600."
FB: Do you feel more passionate about racing now you're running your own team?
"Yeah, massively. The younger lads really appreciate what you do for them, sort of looking up to you like a god and finding your help really useful. When you are with superbike teams, the experience is brilliant but it is also very professional – you do your job role and that's it – whereas at the moment I find myself doing everything, from mechanics to looking after the bikes and setting them up and obviously I have my crew around me that help me out with all that over a race weekend. I love it now."
FB: Have you seen a benefit from running a rider in a team as opposed to them running in a family-run team?
"I wouldn't really say a benefit, no. Obviously, with them joining someone like myself who has the experience and knowledge around setting up the bikes and running the bikes, that's why they join the team. Of course, they have to pay for the benefits of having somebody with some experience to guide them in the right direction, but it's difficult because you see so many guys in 'dad and lad' teams out there who can't afford to do it any differently. I think that if you want that little extra step in your career to be a little more successful, you've got to look at going down that sort of path."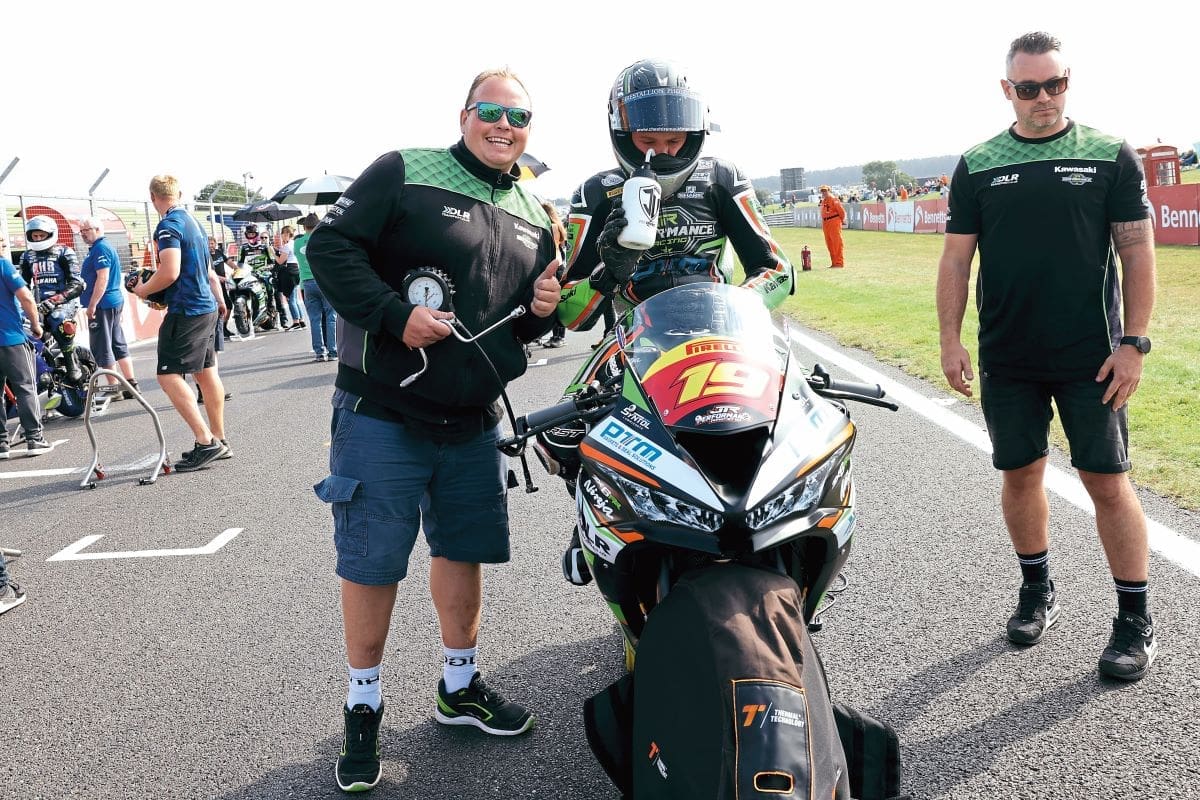 FB: Have you ever considered running bikes in the British Superbike class?
"Maybe. It would be a dream for me. This year we have a new sponsor on board, Cheshire Mouldings.
"Owners John and Jackie are fantastic people and they are helping my team a lot, with it now becoming 'Cheshire Mouldings, Powered by JR Performance' – so now it's our team really, not my team.
"I would like to think that in the future we can look at putting a superbike out there and progressing Joe Talbot onto it… especially if he does a great job in Stock 1000, which he is doing currently."
FB: What would you consider your ultimate goal for the team?
"I'm only 35 years old and I'd like to think I have quite a big future ahead of me. For me to finish racing as a team manager of a BSB championship-winning team would be a major goal ticked off and I don't think I would go any further.
"I don't think the likes of going to World Superbikes or something like that would come about. I just don't think it would be possible. The infrastructure alone is so big; I think you just have to be realistic with it and set realistic goals but, 100%, if I could be the manager of a BSB-winning team, that would be amazing."
FB: Do you have plans to support any of the junior classes?
"It's brilliant that the classes are there – you have to have these stepping stones. It is serious at that level, but the kids grow into young racers. For me, I like to wait and take them on board when they're taking things a little more seriously. Also, you have to be careful of what you take on; if you start snowing yourself under with too much to do and too many classes, you'll be stretching yourself too thin and then everybody doesn't get your attention. And that means as a team, you are not at your strongest."
FB: Has being a team principal for BSB support classes become a full-time job?
"That is all I do, 100% – I do everything by myself. I get back from the race meeting and unload the truck, and then get everything into the workshop to start going through what needs sorting. In the days between races we are really lucky now, as before, during the pandemic, it was back-to-back… it became really difficult. Now we have some space between so we have the time to go through the bikes thoroughly, make sure everything is right and sort any crash damage out, even checking for spare parts we have used and ordering parts to stock the spares crates back up… just making sure we're on top of everything. Obviously, when it's time to go racing again, we are packing on a Wednesday, setting off to get in Thursday morning, and then off racing for the entire weekend. It takes a lot of dedication and commitment."

Enjoy more Fast Bikes reading in the monthly magazine.
Click here
to subscribe.