With new owners, big ambitions and a shed-load of money behind it, Norton is back – and not just with the V4, but with the iconic Commando 961 too…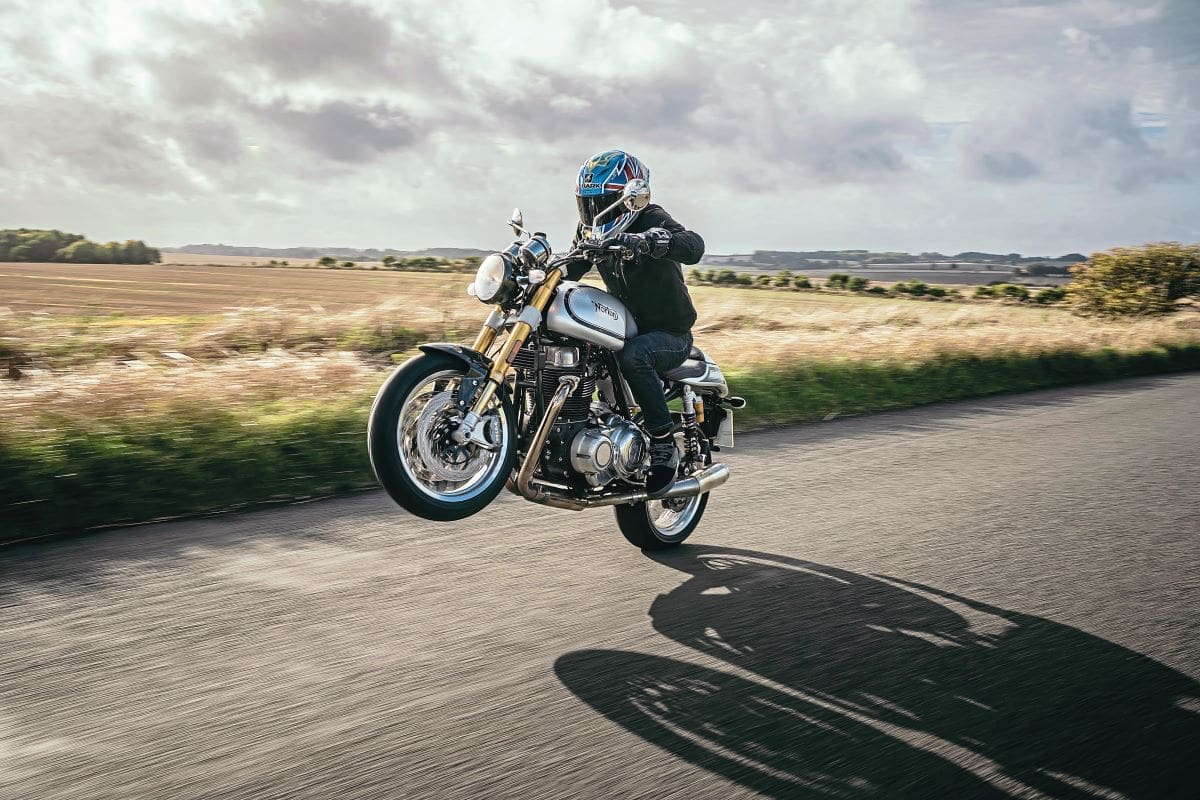 Words: Carlos
Pics: Norton
Oh, Norton Motorcycles. For some people, those words alone will do nothing but bring back nightmares, while for others they are a symbol of not just nostalgia, but pure British-built brilliance. And in a lot of senses, that's all in the past, as the era of Norton Motorcycles begins not just with an expanding range of V4s (we can't wait to ride the spicy new supernaked) but of course with the 'rebirth' of some iconic machinery, too. Unless you've been living under a rock, you'll know that this is possible due to the acquisition by TVS in 2020, which in turn has injected the new age of Norton with a shed-load of money, a state-of-the-art facility in Solihull, new staff, and now with this – the latest iteration of the Norton Commando 961.
Before we get started on the bike, we must address the big ol' elephant in the room of previous quality issues and what's improved with this latest page in the Norton saga. The answer, according to the head honchos at Norton HQ, is pretty much everything; it has employed new staff from Triumph, KTM, Royal Enfield and others, and in the past few years has devised its own tests in order to give its machinery a proper standard to live up to. As an example, a whole host of special testing devices have been built that work alongside regular mileage tests such as a working rig, and where the previous generation of Commando would last for just 2.5 hours under harsh conditions before falling apart, the latest models are now lasting more than 80 hours. This is because the team at Norton has had to change a whopping 350 parts (36%, in fact) compared to the previous model to bring it in line with its new quality control standards, which has led to everything – from a re-engineered valve train to a new fuel tank and even big alterations within the frame itself – changing.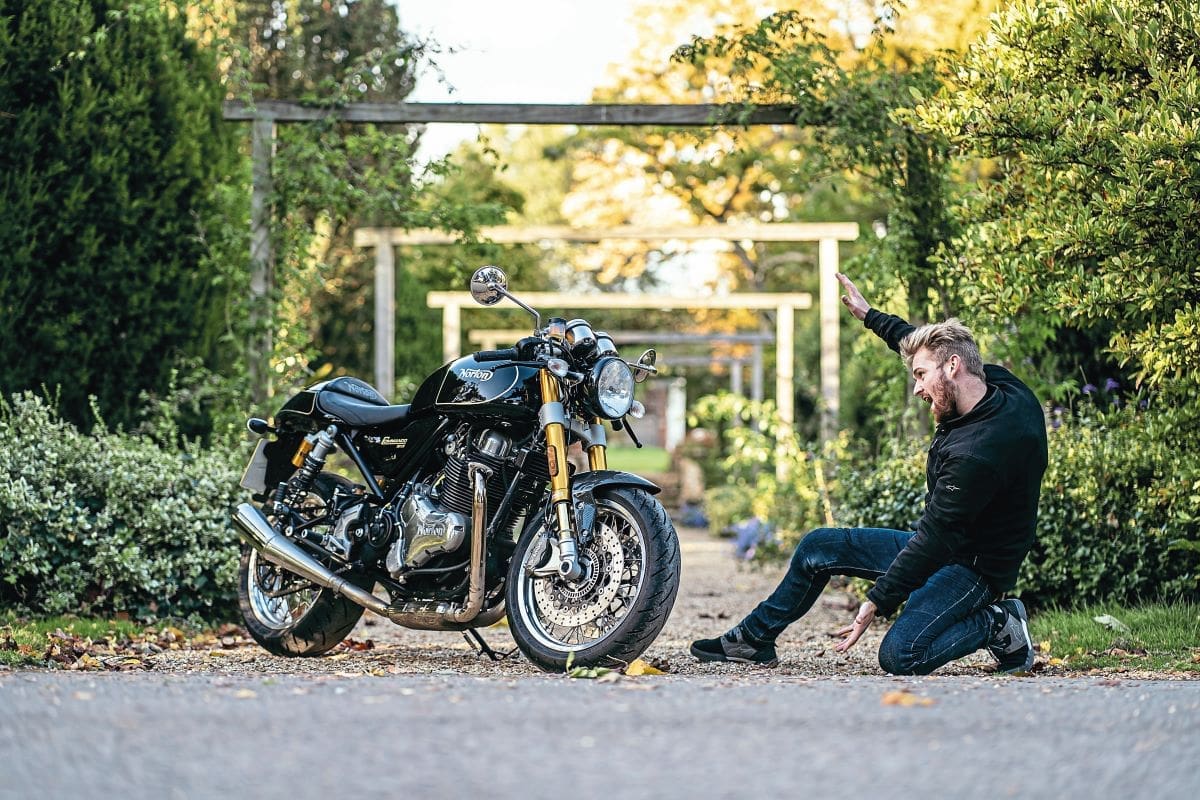 Yet even with all of these changes, Norton was keen to hammer home that it's tried to keep the Commando 961 true to itself, as a retro beast. For starters, due to the fact that they are sold with Individual Vehicle Approval, the 961 isn't Euro5 compliant (yay!), meaning that the air and oil-cooled 961cc engine truly is one of the last of a dying breed, with no big radiator, no fancy tech and no gimmicks – just a big five-speed parallel twin that pumps out 76.8bhp @ 7250rpm, along with 81Nm torque @ 6300rpm. And contrary to the mind-blowing amount of electronic wizardry we find on pretty much every new machine, with the Commando you get absolutely nothing besides a basic ABS system. No rider modes and no messing about… but on the flipside are fully adjustable Öhlins at the front and rear, radial mounted Brembo brakes, Dunlop rubber, and a hand-crafted frame and exhaust system. Nice.
With a wet weight of about 230kg it's a big old beast, but in the flesh it is a beautiful-looking machine, with smooth lines and sheer bareness oozing out the very essence of retro. Norton has tweaked a few bits for this generation, including the tank and seat, and it really does look the part, with a quality paint finish and stunning welding completing the look. Saying that though, there's a few bits that don't quite match up with the fairly monstrous £16,499 (or £16,999 for the Café Racer) price tag. Although the analogue clocks are nice in presentation, they are still very bare, the switchgears do look a bit cheap, and the swingarm isn't exactly what I'd class as premium. But then again, it fits in with the Commando's design brief and jumping on it does feel like a time machine. There's no excess in terms of tech, and firing up that parallel twin is a laborious affair in the best kind of throaty way as it bursts into life… but only with some assistance from the throttle.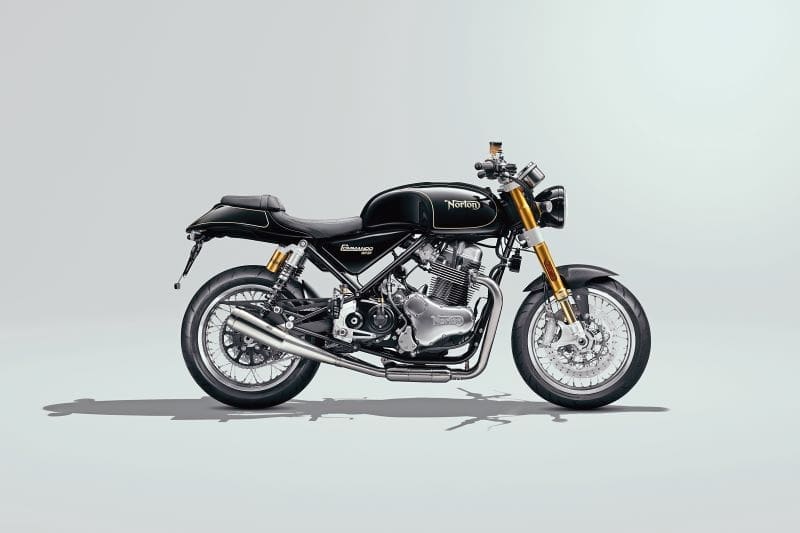 Engine:
Norton has kept the engine simple by modernising the air-cooled 961cc parallel twin with dry sump lubrication. It's not Euro5 compliant, which gives it a mighty roar from that hand-built exhaust, and comes with a five-speed gearbox.

Chassis:
Norton has worked incredibly hard on creating something gorgeous in its chassis, which is a work of art thanks to the fact it is hand-TIG and MIG welded at Norton HQ. In terms of the handlebars, you either get a black anodised tapered higher set on the SP or billet aluminium clip-ons with the CR.

Tech:
If you're looking for a shed-load of tech, then this is not the weapon for you. All you get with the Commando is an analogue speedo and retro tacho, and in terms of rider aids, a basic ABS system.

Suspension:
It may be retro, but Norton has come up with the goods in terms of fully adjustable Öhlins gold, both front and rear. Saying that, it's set up to be more comfortable on the roads than pliant for a spanking.
Starting on the SP with the higher handlebars, I was instantly comfortable, with a nice and relaxed riding position that felt really natural but also at the right level of involving, too. The clutch, although not the lightest lever in the business, works a treat and even though it's a big twin, it is smooth enough at the bottom end once everything has warmed up. One thing that really impressed me about the Commando was not just how gorgeous it sounded when it was singing (thanks to not being Euro5, it has a real growl to it), but how the torque absolutely pulls from incredibly low down; as soon as you twist the throttle, it pulls all the way through to the fairly low, but expected, rev line. It's a really nice engine in terms of performance, which is only let down by the gearbox, as internally it just doesn't feel like the slickest system when going through the gears, especially so between first and second, alongside getting into neutral. On the subject of which, I would have loved a sixth gear, for cruising close to the 70mph mark, things do get a bit buzzy.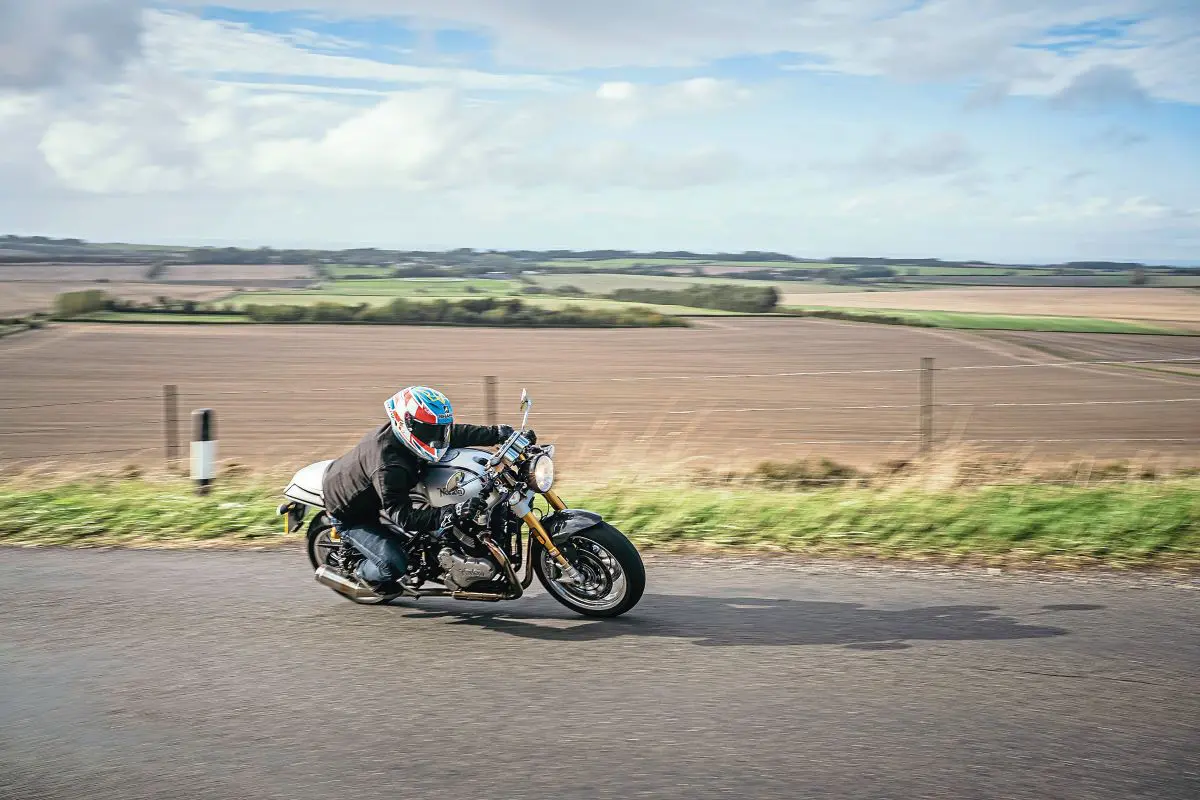 As far as handling goes, the Commando 961 is happiest when bumbling about at cruising speeds and taking it easy through the corners. Although it comes equipped with some gold-laden fully adjustable Öhlins on the front and rear and some big Brembos, the Commando is not the most responsive or sprightly machine when it comes to cornering or stopping, but in turn it actually makes for a really nice, relaxing and predictable ride, and what it lacks in agility it makes up for in stability.
Saying that though, it's worth noting that the CR machine with the lower profile clip-on 'bars offers a bit more in terms of a dynamic riding experience, but in return for that you will suffer in terms of comfort. I found that a 25-minute ride was all I could enjoy on the Café Racer due to how much weight was on my wrists and just how aggressive it felt – and I'm fairly young and intact. It may look cooler, but if you are looking to do any reasonably long rides or have any sort of back issues, I'd highly recommend having a proper sit on one before you part with your cash. Mind you, if knee skids are your thing, the Café Racer is the only way to go.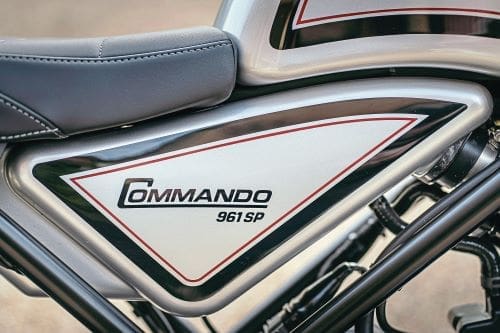 And on the subject of parting with your cash, considering the asking price, there are a few parts on the Commando 961 I would've liked to have seen an improvement on. For starters, the switchgears look fairly budget, and although I get why they've gone down the direction of analogue clock and retro tacho, I would've liked at least a little more in terms of something smarter when parting with that much dough.
In terms of the riding, I would have preferred a bit more in terms of steering lock, as slow speed manoeuvrability is a pain in the backside, and I also would've liked either solid footpegs or a spring in them too, as it's easy to catch them and flick them up – and then when you go to find them they aren't where you'd expect them to be. But saying that, the new Commando 961 isn't a bike made to be the latest and greatest in terms of tech, performance, or usability – it's made to be an icon, and compared to its predecessor, it's a far better machine and a really positive sign for the future of Norton.
After a day of riding the two Commando 961s, I left with a big smile on my face. They bring a rawness to motorcycling that the current crop of Euro5 regulations have driven a coach through, with a big, burbling twin, a distinct lack of tech, and a soundtrack that will make pretty much every current bike on sale incredibly jealous. But then again they're not cheap, nor are they practical; although far better than the previous generation in pretty much every way, it's a bike you'd have to buy for the experience and the ownership, rather than on its riding ability. If you're in the market for a truly retro modern and don't mind losing a big chunk of money, the Commando 961 is one of the last, true raw machines, before the dawn of electric arrives. Sure, it's no willy-waving corner hound, but for what it is, it does its job well.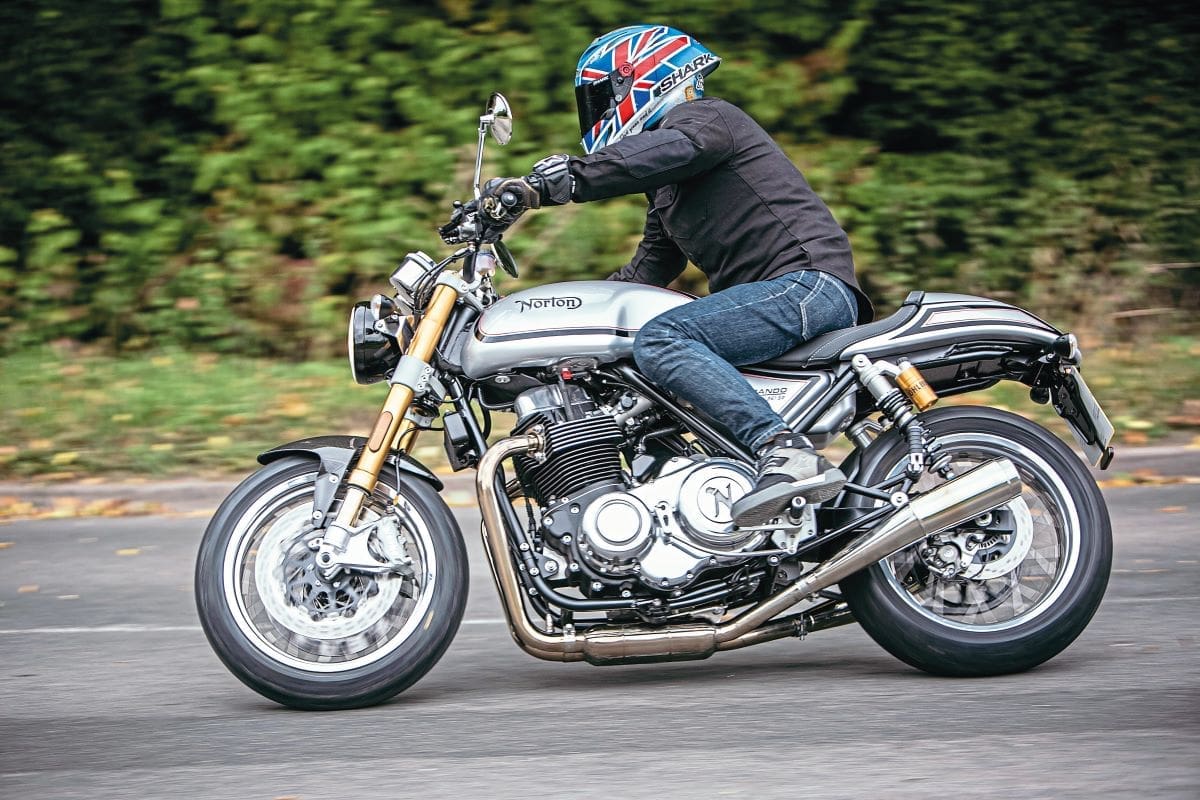 Tech Data
2022 Norton Commando 961
Engine:
Type: 961cc air and oil-cooled parallel twin
Bore x Stroke: 88mm x 79mm
Fuelling: EFI
Claimed Power: 76.8bhp @ 7250rpm
Claimed Torque: 81Nm @ 63000rpm
Chassis:
Frame: Hand-crafted frame
Front Suspension: Fully adjustable Öhlins 43mm upside down forks
Rear Suspension: Fully adjustable Öhlins twin shock
Front Brakes: Dual Brembo 320mm discs with four-piston caliper
Rear Brake: Brembo two-piston caliper, single 240mm disc
Electronics.
Riding Modes: No
Traction Control: No
ABS: Yes
Quickshifter: No
Autoblipper: No
Wheelie Control: No
Launch Control: No
Dimensions:
Wheelbase: 1400mm
Seat Height: 810mm
Wet Weight: 230kg (wet)
Fuel Capacity: 15 litres
Info:
Price: £16,499 – SP | £16,999 – CR
From: www.nortonmotorcycles.com

Enjoy more Fast Bikes reading in the monthly magazine.
Click here
to subscribe.