Suzuki has launched a new Service Activated Warranty, extending a motorcycle's warranty period after three years through regular servicing at authorised Suzuki dealerships.
The Service Activated Warranty is offered once the motorcycle reaches the end of its manufacturer warranty period of three years and is booked in for its next scheduled service within the Suzuki Dealer network. This warranty then stays in place until the next qualifying service. It is then simply renewed again, up to a maximum vehicle age of seven years or 70,000 miles, whichever comes first.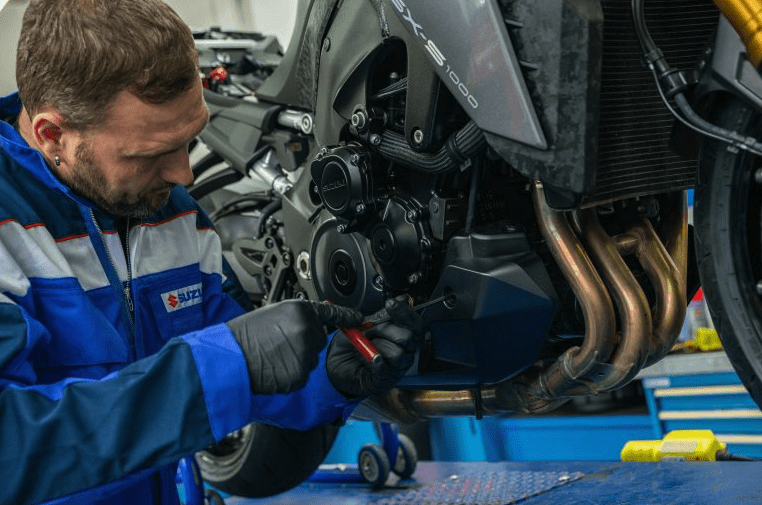 The Service Activated Warranty is offered to customers completely free of charge.
All major components are covered, and should the machine be sold between services and within the seven-year qualifying period, the warranty will simply be transferred to the new owner.
The Service Activity Warranty can also be enjoyed by owners of secondhand machines, even if any original warranty has expired and if there is a gap in the service history. Providing the new owner has their motorcycle serviced at a Suzuki dealership and goes through a Suzuki Motorcycle Health Check in the first instance; it will benefit from a fresh, one-year warranty.
For these customers, the Service Activated Warranty will begin 30 days from the date the authorised Suzuki Dealer service has been completed.
Denis Houston, Director Aftersales at Suzuki GB, said, "At Suzuki, customer experience and retention are paramount, the launch of Service Activated Warranty will certainly enhance this for the future, ensuring our customers get the best levels of service, fitment of genuine parts and avail of the expertise within our dealer network rather than going to a non-franchised repairer once their manufacturer warranty expires. Offering Service Activated Warranty is free of charge to owners, is unique, and we are very proud to offer this as a strong message in support of our customers."
To find out more about Suzuki's Service Activated Warranty, www.bikes.Suzuki.co.uk/saw
#suzuki #warranty #morebikesyoulike #motorcycles #readersrides #motorcycle #ukbikers #bikelife #bikers #motorcyclists #morebikes #morenews #motorcyclenews #motorcyclegear

Enjoy more Fast Bikes reading in the monthly magazine.
Click here
to subscribe.