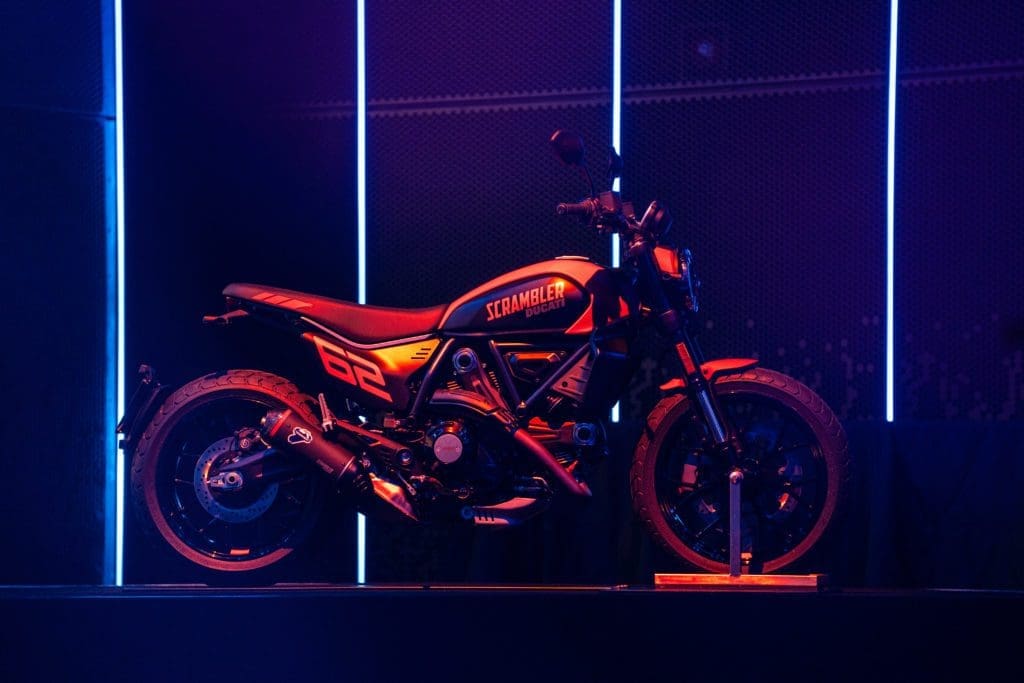 Bolognan firm's trendy sub-brand launches new bikes for 2023 at high-end Soho event
Back in the early 2010s, lots of firms were launching new retro bikes. But Ducati went one better, launching an entire new retro-cool brand in 2015. The Scrambler range owed its style to the legendary Scrambler singles of the 1960s and 70s, which were a bit hit in the US and Europe. But its tech and design was bang up to date – though again, built on the shoulders of giants. The engine was a revamped 800 version of the well-established 'Desmodue' air-cooled two-valve desmodromic V-twin, with its roots going back almost as far as the original Scrambler, but updated with new fuel injection to clean up emissions and improve drive. It lived in a steel-tube framed chassis that was light, easy and fun to ride. Add on some super-sweet variants like the chic Desert Sled and Café Racer, and you had an instant classic range of machinery. It did steal a little of the entry-level Monster's dinner money – a Scrambler Full Throttle seemed fresher and more tempting than a Monster 696, say. But that allowed the Monster to go and do its own thing, with the Scrambler range ploughing fresh new ground for Ducati.
The Scramblers have had a facelift since 2015, but 2023 sees the first major upgrade, with new engine tech, revised chassis, slicker styling and more tech. The bikes now have ride-by-wire engine management, that lets the firm come up with more advanced rider aids, as well as stuff like a colour TFT LCD dash, LED lighting and upgraded ABS. The base range remains with the three stalwart models: the Full Throttle, the Nightshift, and the Icon – though we'd expect more fancy variants to pop up further down the line. The three versions keep the same basic setup in terms of engine and chassis, except the standard wire-spoked rims on the Nightshift, so they have similar performance. The styling, ride position and standard equipment varies though – so there's something for most folk out there.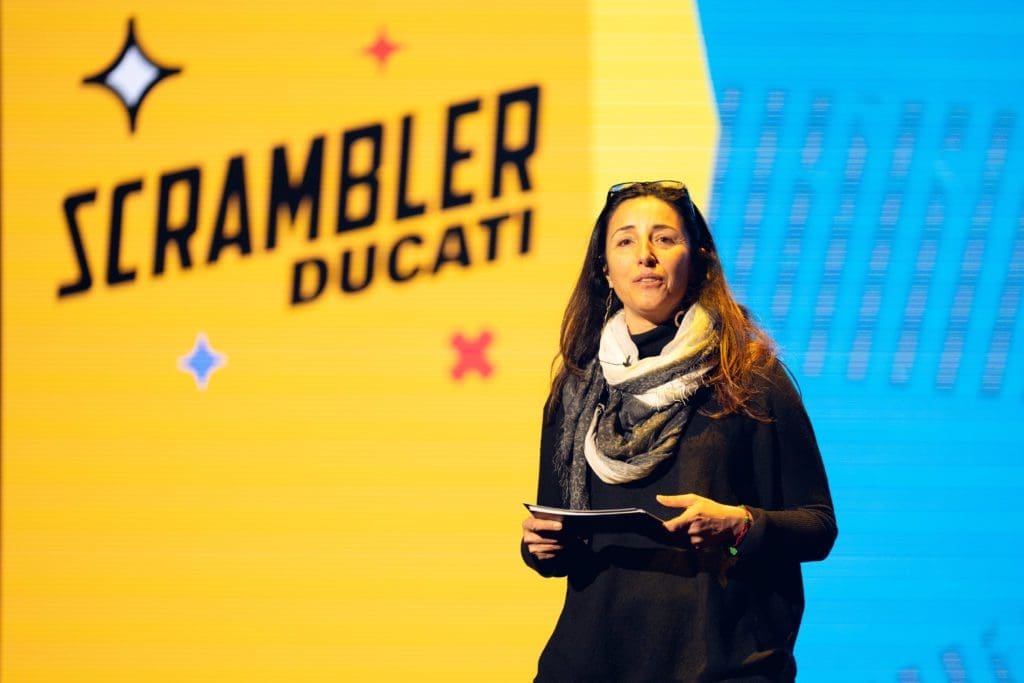 Ducati had a massive launch event for the new Scrambler line in Soho last month, with lots of beautiful people in attendance – and Bruce. Before the show kicked off, we got the chance for a sit-down chat with Patrizia Cianetti, marketing and communications director at Ducati HQ. Cianetti has been at the firm since 2000 – so has seen a lot of change. And she was waxing lyrical about the Scrambler brand – focusing first on the way it has brought in new riders to the Bologna brand. "Scrambler has always been a model able to talk to a wide type of riders, age, riding competencies, male, female. It's also the range with the biggest percentage of female riders in the Ducati family and this makes a lot of sense since women are half of the world!"
Will the new bikes help here then? "Of course, the evolution of this new generation of Scrambler is meant to talk more to the younger generation: all the different colours, customisation, opportunities for self -expression. The way we are presenting and talking to people, the idea of evolving the Scrambler, keeping the same soul, the same attitude and personality, but bringing a contemporary style and more technology, like the LED lights, TFT dashboard, electronics, ABS. But also a new riding experience: smoother, more dynamic and also more fun."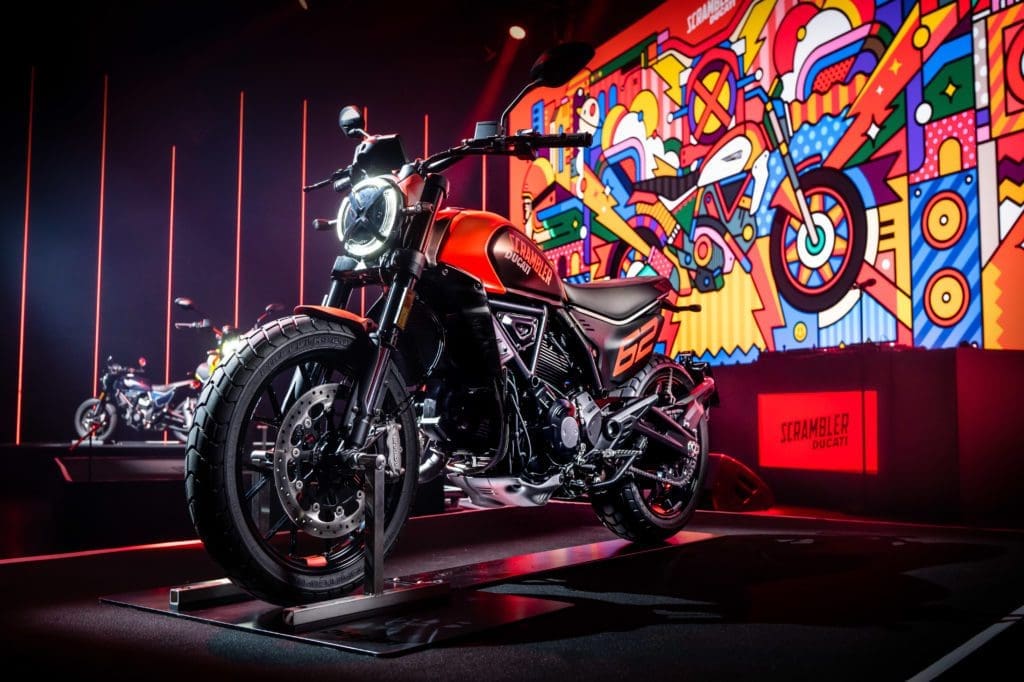 The Scrambler makes a great first 'big' bike for lots of newly-qualified riders, especially A2 licence holders (there's a special limited power version available). But Cianetti reckons the appeal is much wider than just novices. "Scrambler is probably the model in the whole Ducati family is that is able to talk to the very widest audience. We have Panigale riders that have also a Scrambler in their garage. But you may only have a 35kW [A2 licence] Scrambler, so it's really wide. And then of course we also have riders who maybe have had a license, but not been riding for many years and they decide to come back."
Article continues below...
Advert
Does the firm put much thought into how its Scrambler range balances 'proper' Ducati bikes? Is there a worry that Scrambler has affected Monster sales, for example? "We say that Scrambler is more of an addition [to the Monster], and it is really complementary to Ducati, not only in terms of brand and communication codes, but also in terms of product and the riding experience. So we introduce probably the level of fun and excitement as needed, also to talk better to younger generations."
Most of the big firms are expanding their retro offerings, and we'd love to see something like a modern take on the 1970s Supersport models, for example. Cianetti takes a different view though. "We don't like to call it retro, but when we presented the first Scrambler in 2015, the idea was to keep the same style the same values, but with a contemporary interpretation. If you compare it with the other bikes in the segment, the Scrambler looks like a completely modern bike. We love to take inspiration from the past in general so from time to time our designers visit our museums. This is part of our creativity."
A straight retro copy of an old bike would be too simple then? "We don't love normally to copy but when there is both the inspiration and the opportunity, and we believe that it will be a fantastic Ducati, then we try to create a new bike that takes inspiration and elements from our great history, it's not just copying."
Article continues below...
Advert
Sounds to us like 'watch this space' for more saucy trend-setting retro machinery from Bologna.

Enjoy more Fast Bikes reading in the monthly magazine.
Click here
to subscribe.