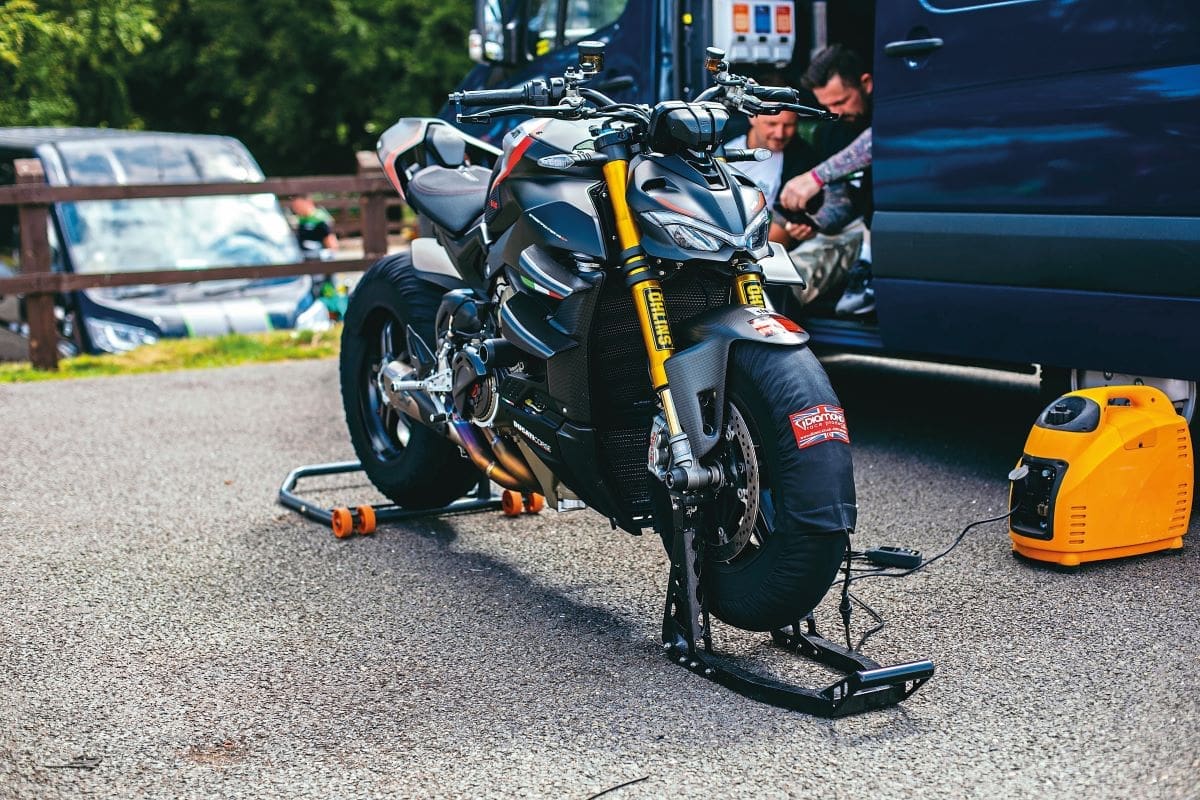 Words and pics> Max Silvester
Ducati rolled out its Streetfighter V4 SP at the start of 2022, bringing the next level of supernaked tech and performance into the hands of consumers. In case you're wondering, it is one hell of a beast on the track and road alike. If you're lucky enough to own one, consider yourself part of a special club, a club that Scott Lawrence joined a few months back. He'd previously owned a KTM 1290 Super Duke R before trying out a Tuono V4 1100 Factory for size. Both bikes he really enjoyed riding, but after jumping on a Streetfighter V4 S, he realised he'd found something really quite special. He bought it, clocked a load of miles, and then got a call offering him the chance to buy a brand-new V4 SP… production number 1075, to be specific. He didn't hesitate.
Scott mainly bought his V4 SP as a road bike, but I was lucky enough to catch him on his first ever trackday on it, where he planned to get better acquainted. He was especially keen to see how the lightweight carbon wheels impacted around Cadwell's tight and twisting demeanour.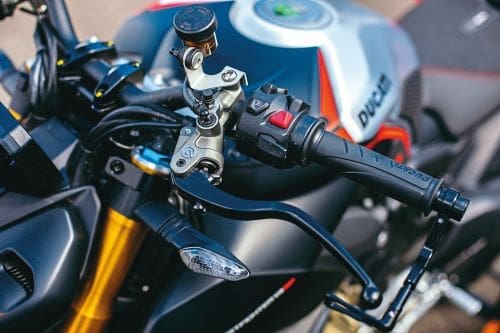 The Streetfighter SP is powered by Ducati's 1103cc Desmosedici Stradale, with Desmodromic timing derived from MotoGP, a counter rotating crank and its 'twin pulse' firing order. This monster delivers 205bhp and upwards of 123Nm of torque. Unlike the V4 S, the SP makes use of Ducati's favoured dry clutch; the classic metallic sound of a dry clutch has become linked with Ducati, and it's not just the sound that makes this exciting. The nine-disc STM EVO-SBK dry clutch guarantees a more effective 'anti-hopping function' and is even capable of putting up with extreme track usage.
The V4 SP shares the suspension with its previous model, like the S, sporting the Öhlins NIX-30 forks and the Öhlins TTX36 rear shock, as well as the Öhlins steering dampener. Unlike the V4 S, the SP shares the springs and hydraulics with the Panigale V4, the only difference being that the fork preload is reduced from 11mm to 6mm.Added to all this smart tech is a whole range of electronics, including ABS and traction, slide, wheelie and brake control, all available to be adjusted to suit your riding style via the left switch cube. When Scott got his bike, he went with the full Akrapovic exhaust system; he had previously run an Arrow system on his V4 S but found it far too loud for extended road usage. Other than removing all the road kit for trackdays, the only other modifications Scott made were purely for protection, fitting Evotech crash bungs, along with carbon rad covers to match the Ducati performance carbon wings and mudguard. We left before the day ended, but needless to say, he looked in his element out on track, which is no surprise.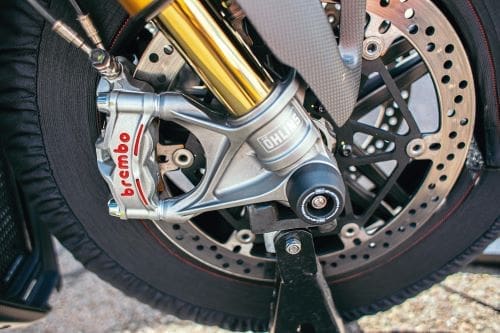 We asked Scott…
Do you plan to make more modifications?
"I would like a custom map as the Akrapovic map, although makes it better, is not perfect, especially with off-throttle snatching. Also, the S had the T800+ up-map doing away with the restriction in the first four gears."
What is it like to maintain this bike?
"Ducati quotes 7500miles for the second service! That's far too long and I'll be servicing it every 2500/3000 miles. The water pump blew on the S at 7500 miles – that was covered under warranty, obviously. The SP is now on 2100 miles and I've not had an issue. Since Audi bought Ducati and the V4 has been released, the reliability has got massively better."
Where are you off next with the Ducati?
"We used to go around Europe every year. I have made up a pillion seat rack for this. We went to the Picos in Spain a few times on my previous bikes. I went to Germany and the Nürburgring in June on the S before the trade-in. If there are more trackdays to be had, I'll have a go. The SP made 164mph down Park Straight – it's not pleasant at that speed."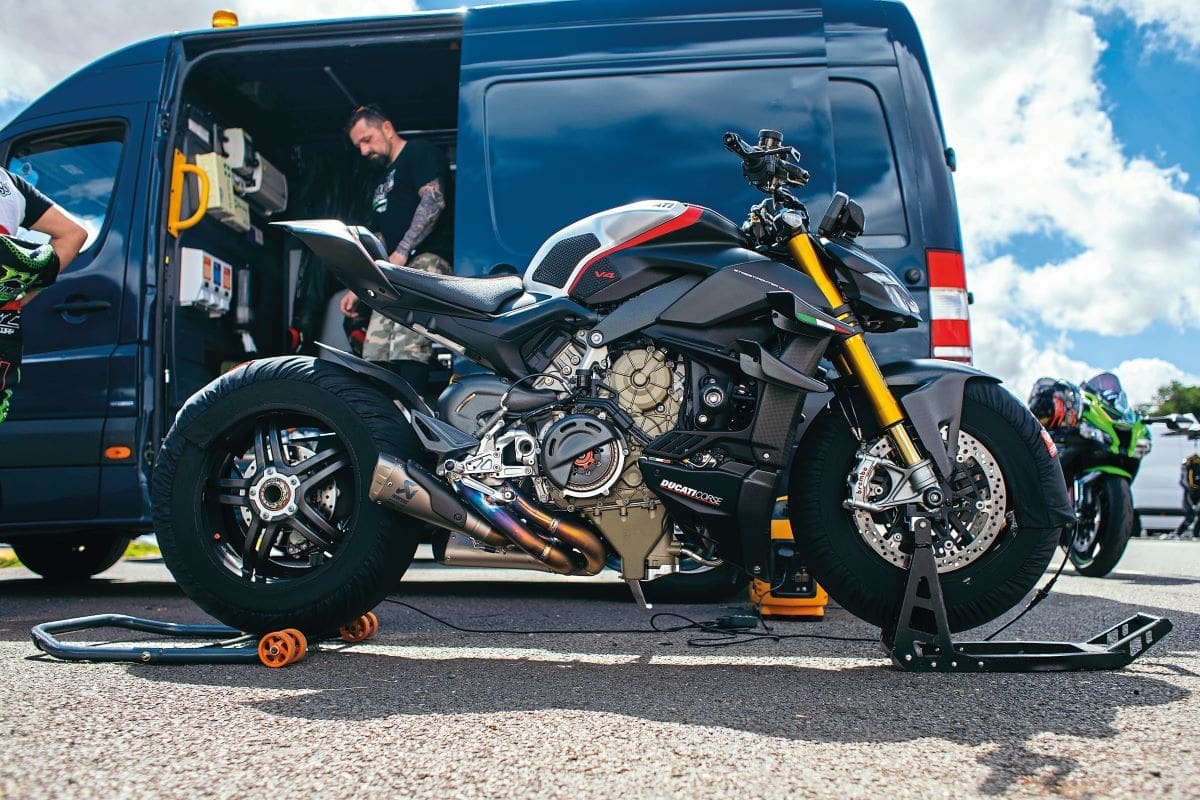 2022 Ducati V4 SP
■ Displacement: 1103cc
■ Gearbox: Six-speed
■ Clutch: Nine-disc STM EVO-SBK dry clutch
■ Exhaust: Akrapovic
■ Wheels: Five-split spoke carbon fibre
■ Gearing sprockets: Ducati
■ Front callipers: Brembo monobloc four piston callipers
■ Front discs: 2x330mm semi floating
■ Rear callipers: Dual piston calliper
■ Rear disc: 245mm
■ Front suspension: Öhlins NIX30
■ Rear suspension: Öhlins TTX36
■ Suspension electronics: Öhlins smart EC 2.0
■ Handlebars: STD
■ Rearsets: STD
■ Grips: STD
■ Levers: STD
■ Tyres: Pirelli
■ Crash protection: Evotech

Enjoy more Fast Bikes reading in the monthly magazine.
Click here
to subscribe.