In 1998, Suzuki attempted to take on Ducati head-to-head. Things didn't go well…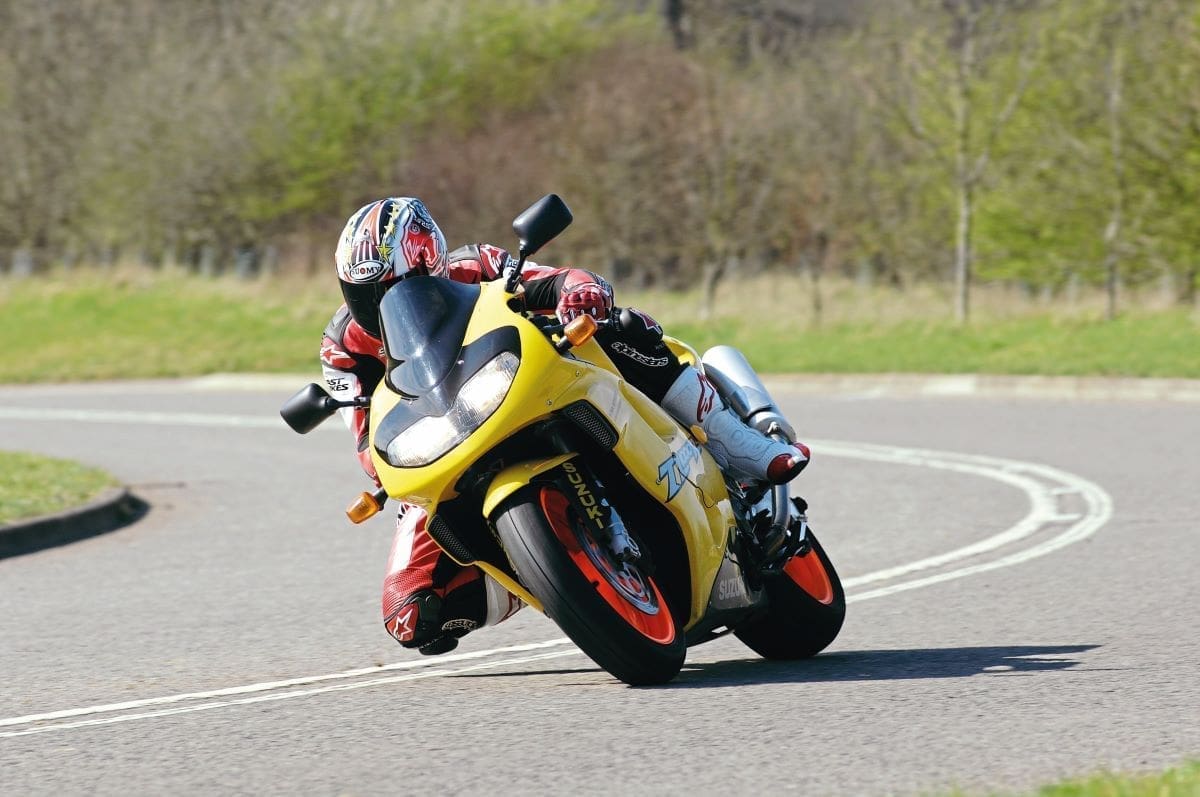 Words> Jon Urry Pics> Mortons Archive
In the late 1990s, World Superbikes popularity was at its height. Hundreds of thousands of fans flooded into race circuits all over the world to watch the action on track while millions more sat at home, glued to their TV screens. But if you were a fan of Japanese bikes, there was a problem – from 1994 until 2000, the series was dominated by Ducati's V-twins. Honda grabbed a single victory in 1997, but that took an RC45, the genius of John Kocinski and an open cheque book for HRC's racing budget. A relatively small company like Suzuki, which was desperate to get in on the action, had no chance, and its GSX-R750 racer was simply outgunned and under-funded. So, thinking outside the box, Suzuki's race department came up with a plan…
In 1997, the firm released the TL1000S, a brand-new naked bike powered by a litre V-twin, followed a year later by a superbike sibling. The TL1000R had arrived… although, sadly for Suzuki, it landed right in the middle of a shitstorm!
We all know the issues that the TL-S had and how the repercussions blighted the TL1000R, so instead let's focus on the good points about a bike that, even nowadays, makes for a brilliant and very characterful road bike. So, where should we start? Why not with that V-twin motor?
More advanced than the TL-S's engine, the R gained forged pistons, bigger valves, lighter conrods and a higher compression ratio – something that, alongside a new twin injector system, boosted its claimed peak power from the TL-S's 125bhp to 135bhp. Okay, the rear wheel reality is closer to 115bhp, but that's still pretty respectable, and the way the TL-R makes its power is far more exciting than a Ducati.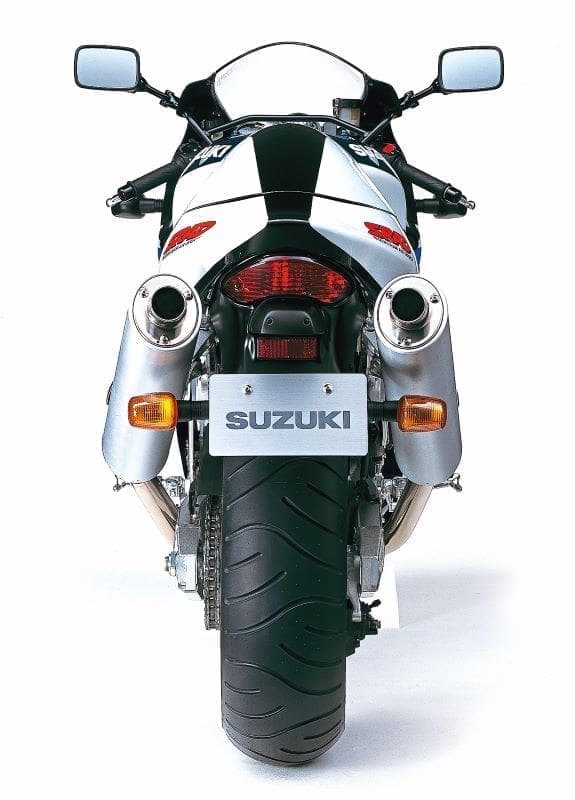 Not wishing to be too cynical, but it is hardly a coincidence that the TL-R has the same capacity, bore and stroke and V-twin angle as the Ducati 996 – as they say, imitation is the sincerest form of flattery. But where the Bologna V-twin is quite lazy-feeling, Suzuki's offering has a dollop of attitude within, making it appear faster-revving and more thrilling to ride, not to mention more reliable – you can merrily hammer a TL-R and even skip a few services without any fear of it all going very badly wrong. So, the engine ticks all the right boxes – what about the chassis? This is where you need to know what you are buying…
Back in 1998 – and egged on by Suzuki's marketing department's claims, it has to be said – riders expected the TL-R to be a proper racing whippet. The fact of the matter was that nothing could have been be further from the truth. Although Suzuki claimed it was just 1kg heavier than the 996, in reality it was about 20kg more – and it felt as much. Big, bulky, and set decidedly for stability over agility (maybe as a result of the TL-S fiasco), when you ride a TL-R, it feels far more akin to a sports tourer than the sportsbike. Heavy steering from the off, the sluggish handling isn't anything to do with the controversial rotary damper, more Suzuki's choice to over-engineer the bike and in doing so add a stack of unnecessary weight. If you expect a nimble, track-focused sportsbike, you will be in for a disappointment. If, however, you treat the TL-R as a road bike first and foremost, it is an absolute delight to ride – and the machine you would pick over a 996 for a ride-out on the UK's bumpy roads any day of the week. And your wrists, back and bum would be delighted at your smart thinking as the TL-R has a pleasingly spacious riding position and remarkably deeply padded seat. Even pillions are fairly well catered for, although sticking on the flat pillion seat does mean you can't have the classic 'duck bill' rear end, which is a huge part of the TL's charm and an instant talking point…
Looking at the prices of used TL1000Rs, it is hard not to assume that they will very soon jump up in value.
For about the £4000 mark (which, it has to be noted, is half the cost of a Honda SP-1), you can get a reliable V-twin that with fairly minimal alterations (exhaust, suspension rebuild, brake caliper refresh) can be made even better and will be more than happy to be used every day of the week, whatever the weather, with no complaints. And, better still, it is actually a very rare motorcycle.
In the UK, Suzuki sold just 2291 TL-Rs between 1998 and 2001. Yes, just 2291.
If you are after an exclusive superbike that turns heads (especially in the classic blue and white paint scheme) but won't put too much of a dent in your wallet, the TL1000R is a brilliant option. Yes, it bombed on track, but who doesn't see a TL1000R and want to take a closer look at this truly unique machine?
Frame cracks!
Like the TL-S, the TL-R's frame is prone to cracking around the mounting points for the suspension system. Check this area very well for any damage or bodged repair welds and if it's dirty, wipe away grease with a cloth and bit of degreaser to be 100% sure of what's underneath.
Rotary damper
We all know the issues with the damper unit and that means there are many replacement units out there. Maxton still builds a conventional shock that does away completely with the damper unit and sits where the original spring was, while Öhlins has stopped producing its alternative.
Rocker
The TL's suspension spring rocker is weak, with owners reporting cracks developing on older examples. Maxton includes a replacement billet unit with its shock conversion.
Stator magnets
A common issue on older bikes, but the TL-R's stator magnets are now starting to come loose due to age and the glue holding them is degrading. Replacement units aren't that expensive (about £90), or you can just re-glue them in with a very strong epoxy if you are a tight-wad.
Fuelling
The TL-R responds very well to a set of pipes, free-flowing air filter and fuelling remap. From the stock 115bhp, you can reasonably expect to see a 10bhp gain, which is not to be sniffed at!
Clutch and gearbox
When the ramps on the TL's back torque limiter (it's not a slipper clutch) start to wear, they cause the clutch to slip. Owners cure this by welding the clutch centre, which seems to work but is quite drastic. Always check the gearbox works as third gear often goes wayward…
Engine
On a test ride, listen for the engine making a knocking sound that indicates the crank bearing is on its way out; it's a common fault on high-mileage TL motors. Also look for signs of oil in the airbox, which is caused by too much pressure building up in the crank cases. There are a few fixes if you go on forums and ask the question.
Brakes
The Tokico brake calipers are pretty poor performing and have a habit of developing sticking pistons. They're not too hard to rebuild (a seal kit costs about £40 a side) and fitting stainless steel pistons helps ward off future issues. A full kit (stainless pistons and seals) can be had for about £150.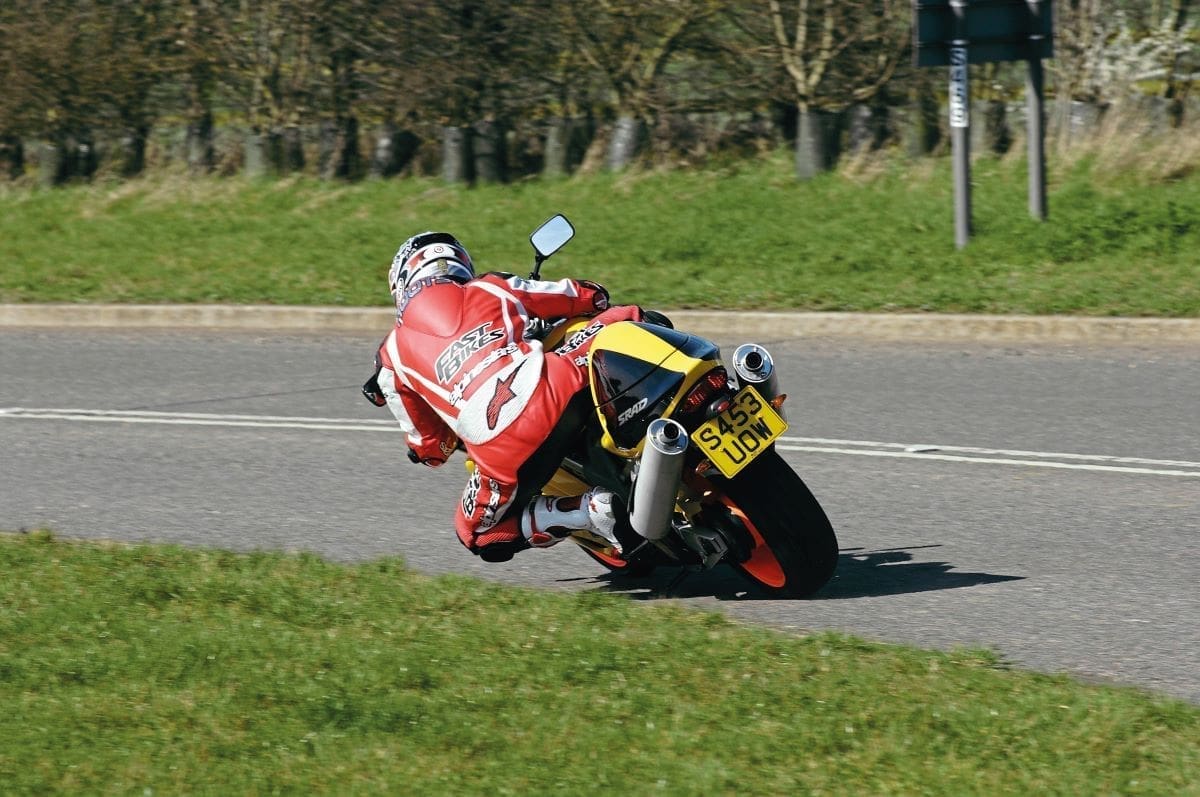 Tech Data
1998 – 2001 Suzuki TL1000R
Engine
Type: 996cc, liquid-cooled, 8v, V-twin
Bore x stroke: 98mm x 66mm
Compression: 11.7:1
Fuelling: Electronic fuel injection
Tested power: 120bhp @ 9000rpm
Tested torque: 100Nm @ 7400rpm
Chassis
Frame: Aluminium twin spar
Front suspension: 43mm inverted forks, fully adjustable
Rear suspension: Monoshock, rotary damper, fully adjustable
Front brakes: Six-piston calipers, 320mm discs
Rear brake: Single-piston caliper, 220mm disc
Dimensions
Wheelbase: 1395mm
Seat height: 825mm
Dry weight: 197kg
Fuel capacity: 17 litres
SPEED
Top speed: 165mph
Running costs
Service interval:
Minor: £4000
Major: £8000
Valve clearances: £16,000
Service costs:
Minor: £180
Major: £250
Valve clearances: £550
Right fairing: £803.42
RH Engine casing: £169.66
Brake lever: £50.82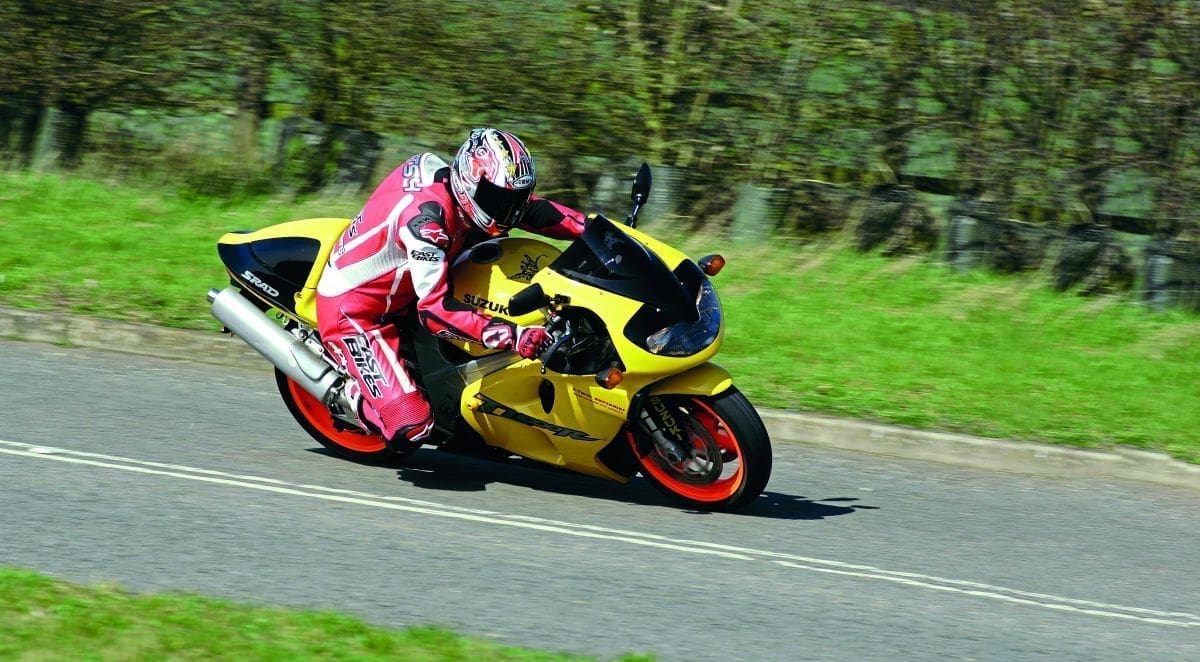 Verdict: 7/10
Although much maligned in its day, the TL1000R has an iconic silhouette, a unique history, and still makes for a beautifully relaxed V-twin road bike to ride.
+ The V-twin is a beauty, high comfort levels, good reliability
– Aging brakes, she's a lardy old girl, handling is sluggish
Also consider these…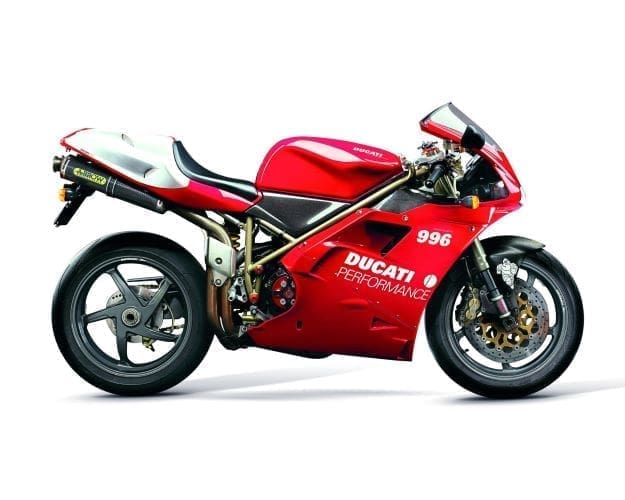 1999 Ducati 996
Private: £7200 Dealer: £8000
Slightly overlooked as riders want the 998 or 916, the 996's prices tend to be a bit lower. It's still a great machine and well worth searching out a good one.
Engine: 996cc, l/c, 8v, desmo, V-twin
Power: 115bhp @ 9500rpm
Torque: 95Nm @ 7000rpm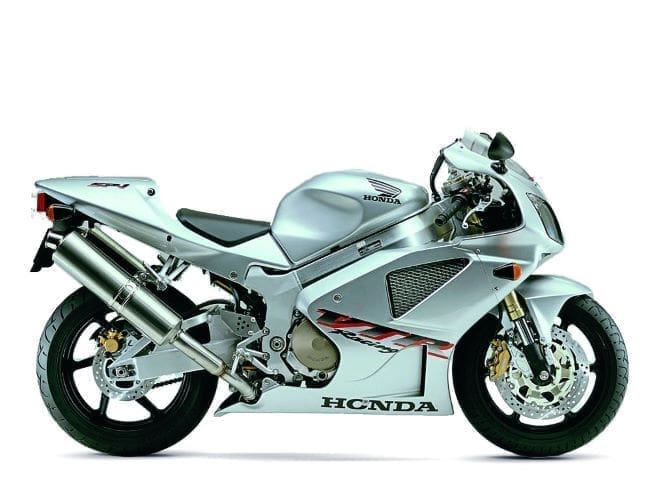 2000 VTR1000 Honda SP-1
Private: £8000 Dealer: £9000
Sadly, the SP-1 has fallen foul of the collectable market and that means prices are sky-high. There are a few bargains out there, but most are over-priced.
Engine: 999cc, l/c, 8v, V-twin
Power: 127bhp @ 9850rpm
Torque: 99Nm @ 7850rpm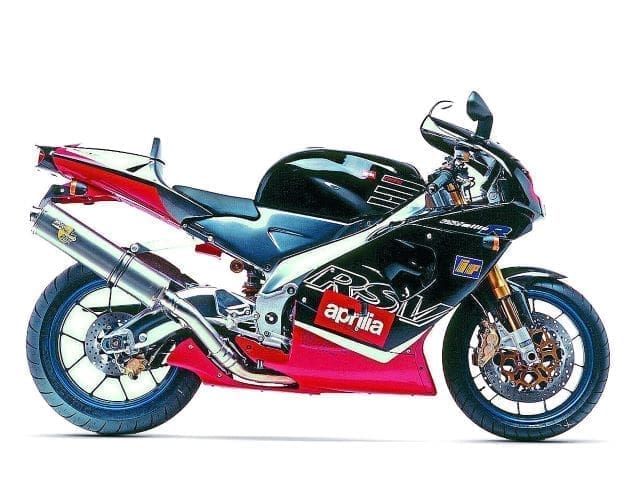 1998 Aprilia RSV1000
Private: £3500 Dealer: £4000
The first generation of RSV was launched in 1998 and took the world by storm. Far less fickle than the Ducati, it's a day-to-day Italian V-twin and sensibly priced.
Engine: 998cc, l/c, 8v, V-twin
Power: 114bhp @ 9500rpm
Torque: 99Nm @ 8600rpm

Enjoy more Fast Bikes reading in the monthly magazine.
Click here
to subscribe.